It was a gloomy, drizzly day. The sky was overcast, the air cold, the people sad and grey. Everything practically begged you to be depressed… except for one thing. The date. December 20th, 2017. The day when, twenty-something years ago, my life changed forever. SURPRISE! I'm talking about the day of my birth!!! I know, that was unnecessarily dramatic. But December 20th this year truly was a cold, gross, drizzly day, and if it wasn't my birthday, I probably would have been as seasonally depressed as the rest of the city.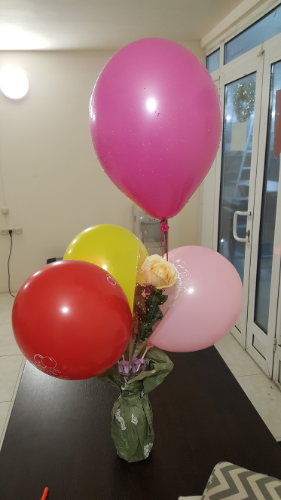 If you know me, you know that I take birthdays VERY seriously. Not just my birthday, though that is one of my favorites, but anyone's! Everyone's! I love them. The fact that everyone has a special day where people just celebrate the fact that they exist is kind of awesome! People say, "Happy Birthday!" but they mean, "I'm going to have an awesome day because thanks to this day, you exist! And since I'm happy about that, you should be happy too! So happy day of your birth!" Okay, maybe that's just me who thinks that… but that's how I give my "Happy birthday"s in my head, so that's how I'm choosing to receive them as well.
Anyway, my day started out with balloons at work! They got me balloons! But wait… that's not all of the excitement that work brought… the ceiling was feeling jealous of the sky, so it decided to start raining too! Yup, that's right. We sprung a ceiling leak about 15 minutes after I got to work. You know how people say it's good luck when a bird poops on you? (Lies.) I think they also say that it's good luck if the ceiling starts to leak on your birthday. (Completely made up.) If that's the case, I'm going to have some incredible luck this year! Once the one leak was under control, a couple hours passed and ANOTHER one started up! It sounded like there was a downpour inside. I have no idea what happened, but they're doing construction upstairs and chances are good that they messed up some pipes. I guess that's one danger of having an office in a basement.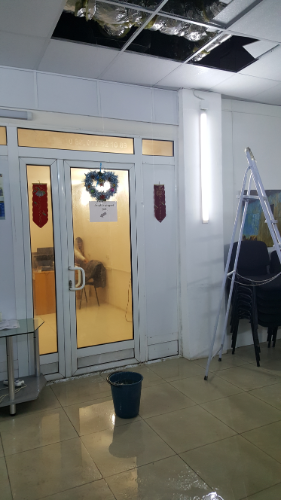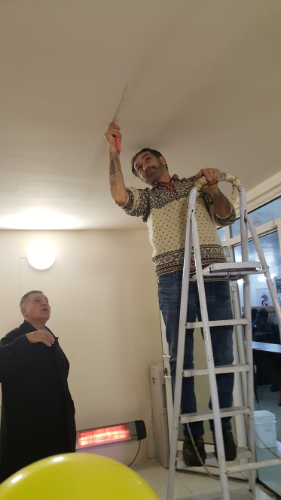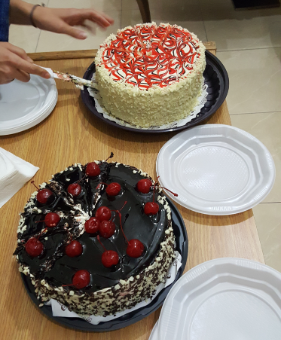 We also had a huge humanitarian aid distribution where something like 100 people came in to get packages, and after work, we ate cake! It was the birthday of someone else at the organization too, so there was a little joint celebration. Side note, I don't think that birthday candles exist here because they basically just stick fireworks in the middle of their cakes. Okay, slightly dramatic again… they're more like giant sparklers. But definitely not the kind of thing you're supposed to blow out, unfortunately.
After work, I had the rest of the night planned. There happened to be an opera, so I figured, why not? Opera isn't my favorite, but it's still cool to go to the show and see the costumes and watch people fake die on stage. The storylines are also always completely ridiculous. This one was "Il Trotavore" (The Troubadour). It was kind of fun because there are subtitles to help you follow along… but they're in Armenian. I got some good reading practice, and I completely understood one line in the whole opera! It was incredibly exciting.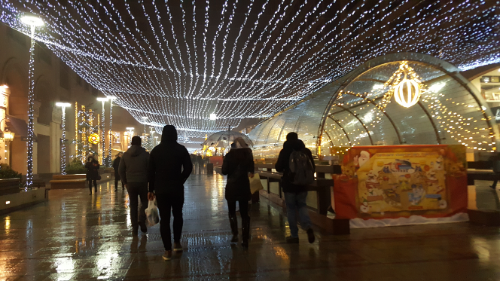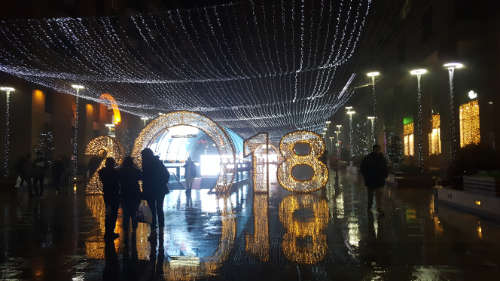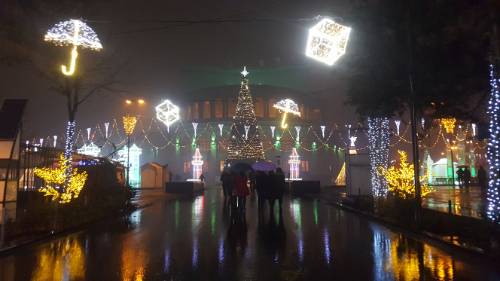 Here's my attempt at a brief summary:
There is a gypsy woman who sneaks into the house of some rich people and weirdly stands over their baby's crib. The kid starts falling apart, so the gypsy is burned alive for supposedly cursing him. She yells for her daughter to avenge her as she dies.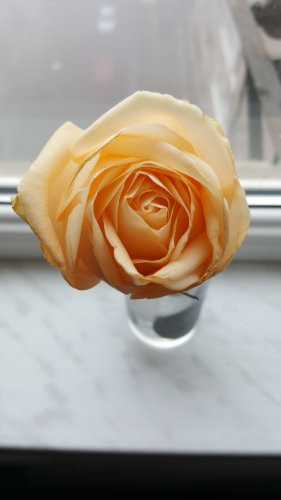 The daughter tries to do just that by throwing the rich people's baby into the fire too, but she accidentally grabs her own kid and he dies instead. She keeps the other baby and raises him as her own.
Fast forward some number of years. The princess is in love with the fake gypsy boy (man?) aka the troubadour. The count, brother of the kidnapped kid (aka the now-grown gypsy man/troubadour), is in love with the princess. They don't know they're brothers. They get into a fight one night, and the princess hears a false rumor that the gypsy man was killed. She is devastated and does what anyone else would do in that situation… she decides to become a nun.
Gypsy man hears about this and goes to rescue her from the convent. He breaks her out, and off they go. Meanwhile, the count captures gypsy mother (fake mother of gypsy man). When gypsy man hears, he declares a war. He loses, and he and the princess get captured.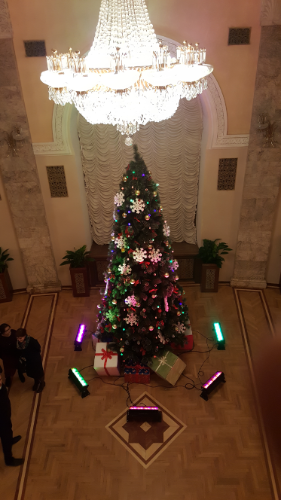 The princess promises to marry the count if gypsy man is freed. The count agrees, and the princess poisons herself with some poison she had in her ring (is this a normal thing to have??). The poison is incredibly slow-acting because she stays alive long enough to go see gypsy man, tell him what she's done, have a fight with him (why is he fighting with her?? She's already definitely going to die), and spend at least five minutes singing about how she's dying, she's dying, yeah, yeah, yeah so just do it already! (I'm sorry, I don't think I'm cut out for the opera. Things take too long to happen.)
Princess finally dies. Gypsy man is devastated, but that's okay because he gets beheaded just minutes later when the count sees he's been duped. Gypsy mother wakes up just in time to hear that her "son" has been killed, she tells the count that he killed his own brother, he falls to the ground in grief, and she cackles about the fact that her mother has finally been avenged. The End.
After that incredibly uplifting show, we went to this dessert restaurant that always results in a full-on sugar coma. I ate a brownie with ice cream on top and a chocolate shot on the side, and it was phenomenal. And I wanted to die afterwards, but that's the way it's supposed to be.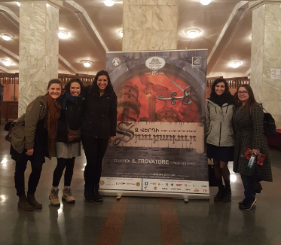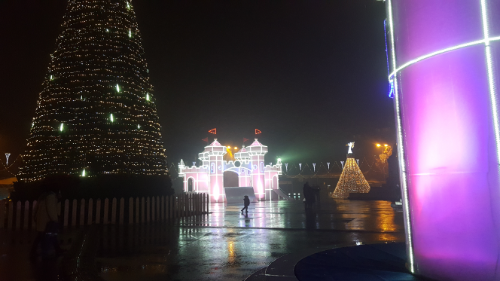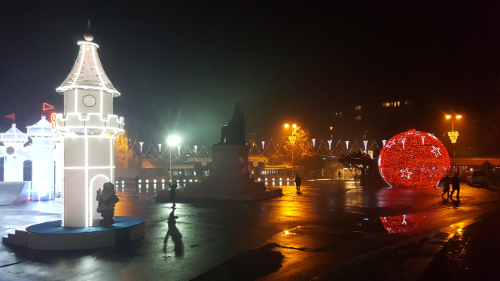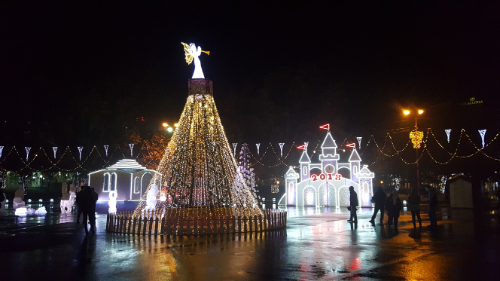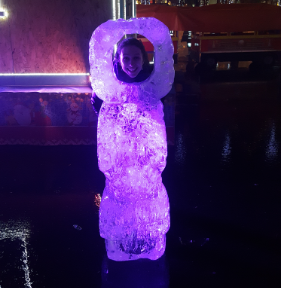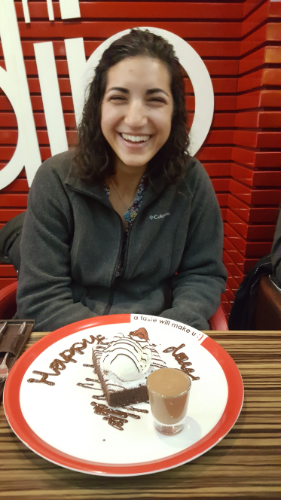 The day was pretty perfect. There was some excitement at work, plus balloons and cake, we watched a bunch of people fake die while singing, I ate enough sugar to power me through the rest of my life, and I got to hang out with my friends. I have a bunch of friends who didn't know each other, and it's always fun when you can make your worlds collide. It didn't seem like anyone hated each other, so we'll call it a success! Anyway, it definitely wasn't like any other birthday, but it was great!