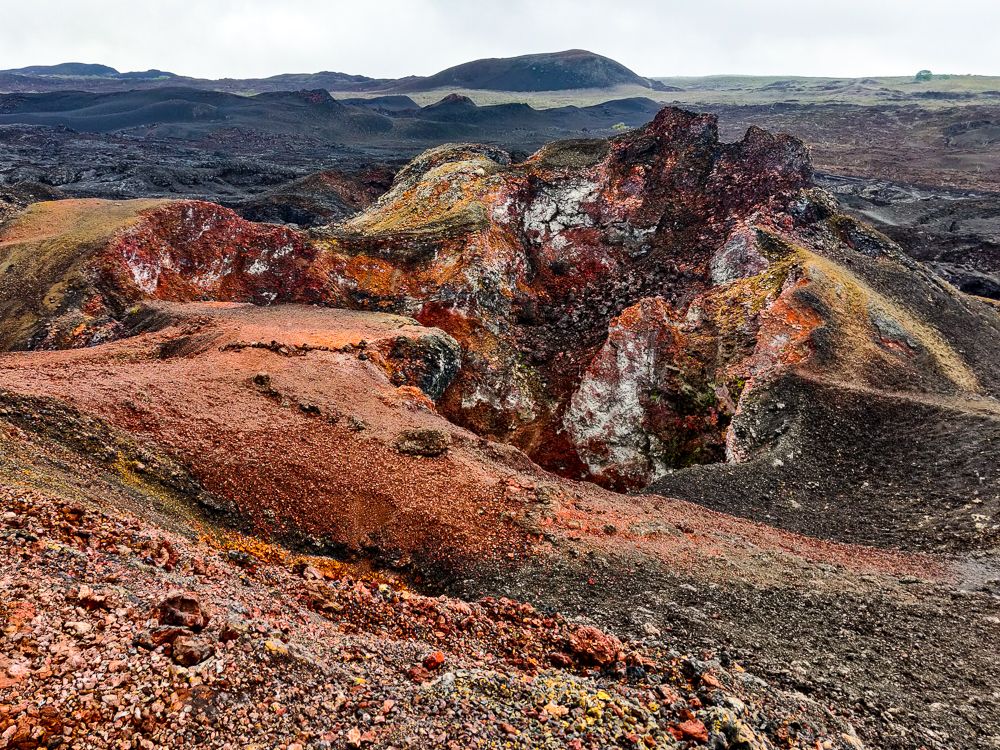 Most Galapagos day tours have a similar pattern… boat ride, walk around and look at animals, snorkel, boat ride, home. On our second-to-last day, we did something a little different and went on a hiking tour! It was to Sierra Negra (Black Mountain), one of the six shield volcanoes that make up Isabela Island, the largest island in the Galapagos. Five of these volcanoes are still active, Sierra Negra included. Its last eruption was in 2018! The main town, Puerto Villamil, is located just to its south, but thankfully, the lava from that eruption mostly made its way north. There are, however, parts of the hiking trail that are still closed because they were covered by lava. Sierra Negra erupts approximately every 15 years, so keep that in mind when you're planning your trip! Hehe just kidding. They're super cautious and monitor the volcano closely, and no one is allowed to visit without a guide. I will say, though, that the previous eruption in 2005 came with no advance warning signs… sooo the only sure bet is to steer clear.
Well, I didn't know any of that before we went, and maybe that's for the better. We were picked up bright and early, as usual, and took a bus from Puerto Villamil to the eastern side of the volcano. The tour involved a hike up the rim, a walk along the perimeter, and then an exploration of the lava fields to the northeast of the caldera.
Sierra Negra, besides being one of the most active Galapagos volcanoes, has the largest caldera. It's oval-shaped, and its long axis is almost 6 miles (9.3km) across! Interestingly, it's also very shallow, only about 330ft (100m) deep, making it the shallowest one on Isabela.
The beginning of the hike was a gradual but constant uphill as we made our way up the side of the volcano to the rim. Remember, shield volcanoes are short and wide and are formed by long-duration eruption events where very flowy lava is supplied continuously. Explosive eruptions, in contrast, are shorter-lived and result in taller and steeper volcanoes. The shallower slope was fine with me! No need to rock climb our way to the rim. Even so, it reaches an altitude of nearly 4,500 feet (1,120m), so don't be imagining some little hill!
There was a decent amount of vegetation along the way, but as we moved farther up, it began to thin. Sierra Negra is the greenest on its southern slope, the windward side, because it gets more moisture thanks to the wind. That's also where the Sierra Negra wild tortoises are mostly found. At the start of the hike, there were green, leafy plants and trees lining the path. By the time we reached the rim, there wasn't much vegetation taller than I am, and the wildlife sightings were limited to a few little birds.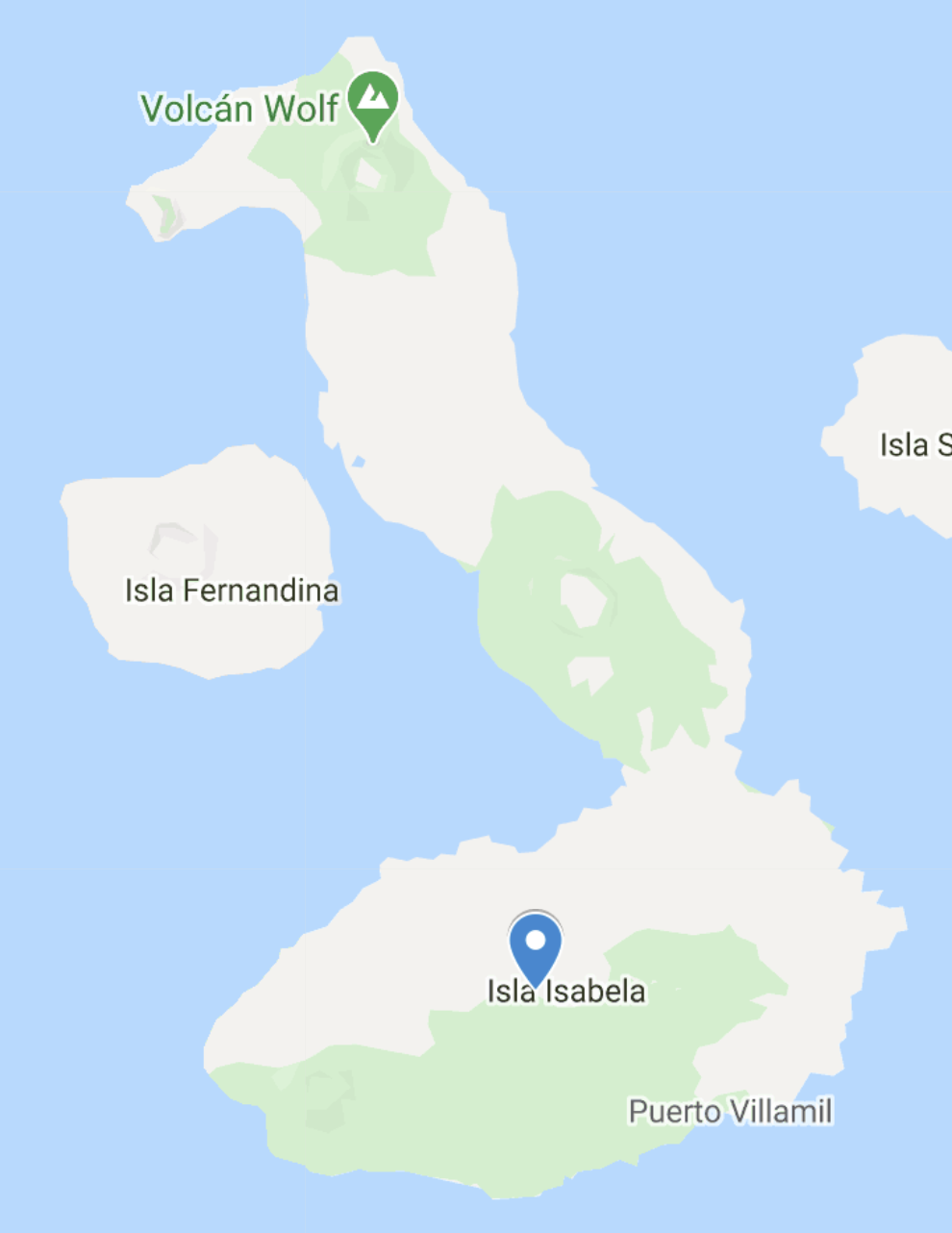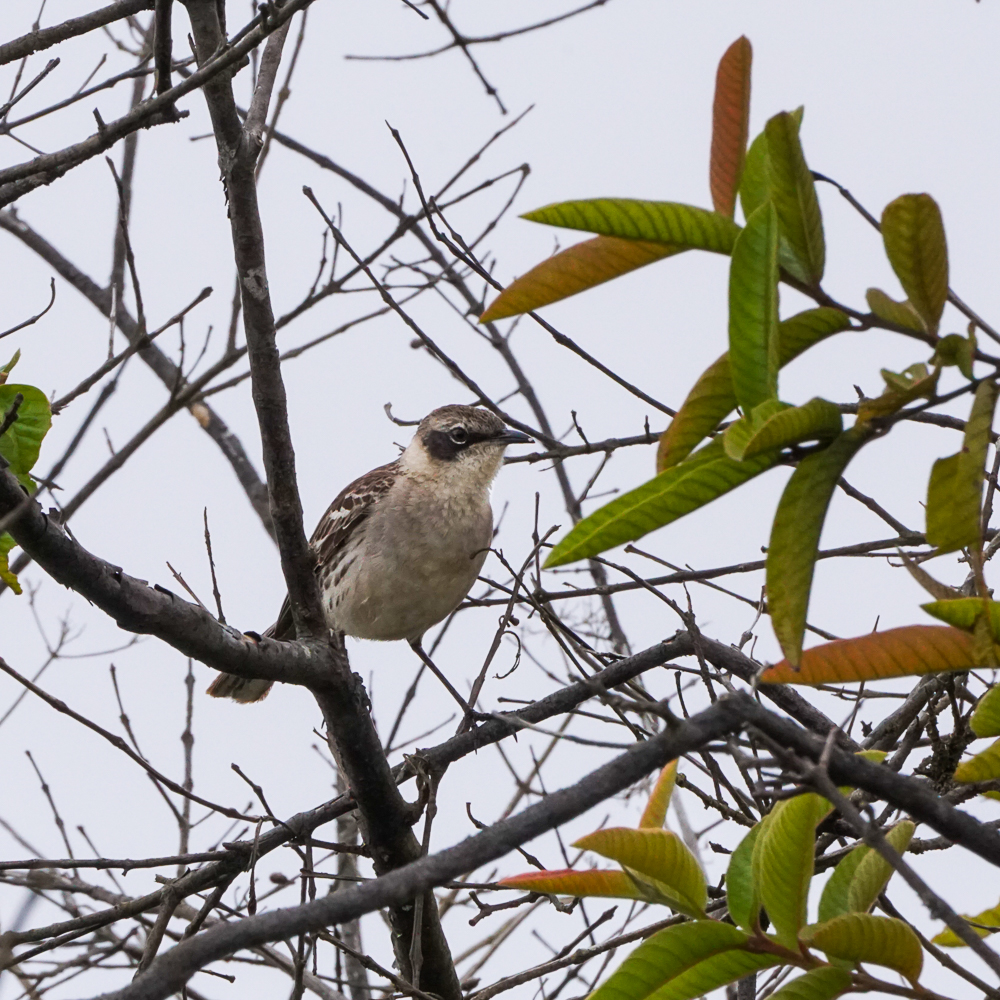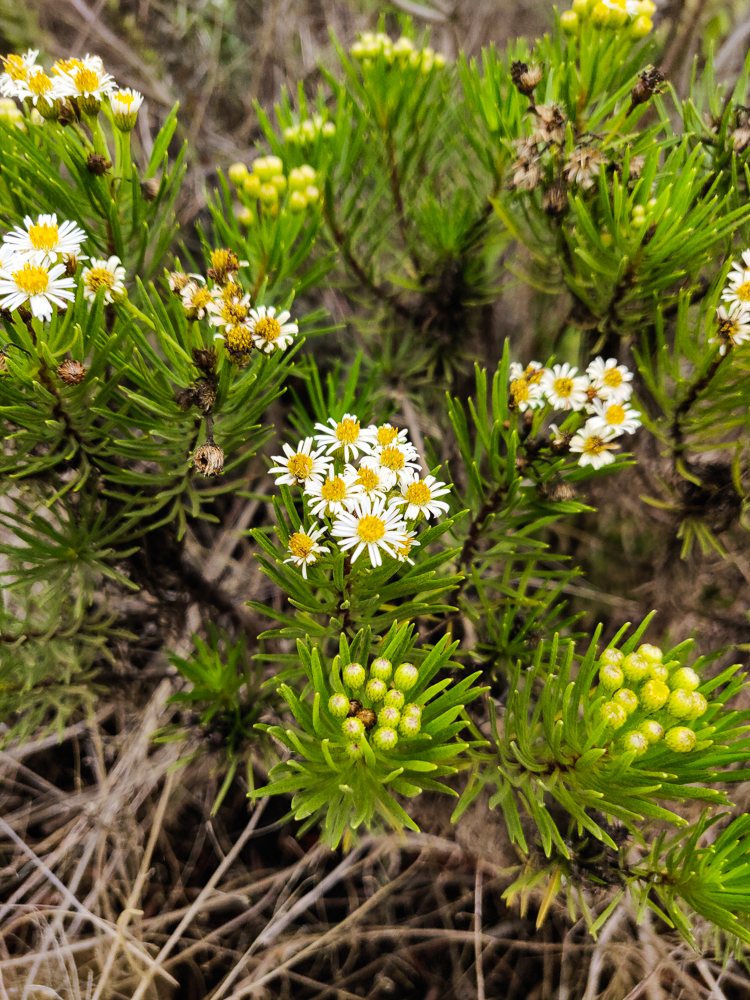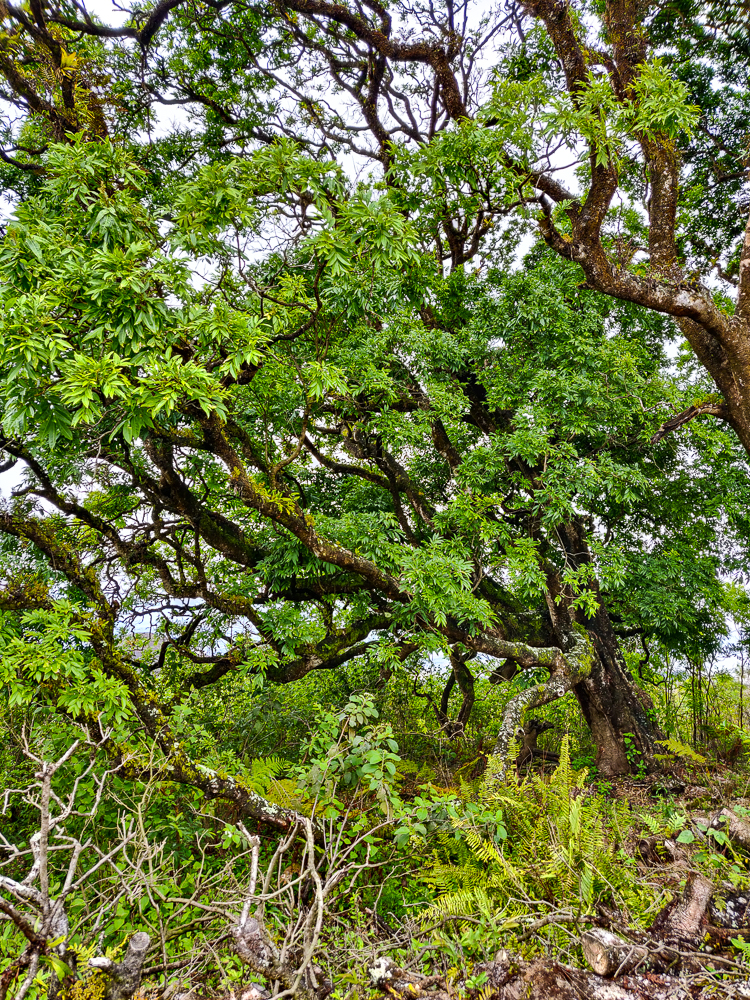 Our first view of the caldera was a bit jarring. We were lucky that it wasn't too cloudy, giving us decent visibility to the other side… which was VERY far away. I mean, I know that I told you how big it is, but to stand there and see miles and miles of black lava rocks… it's a strange sight.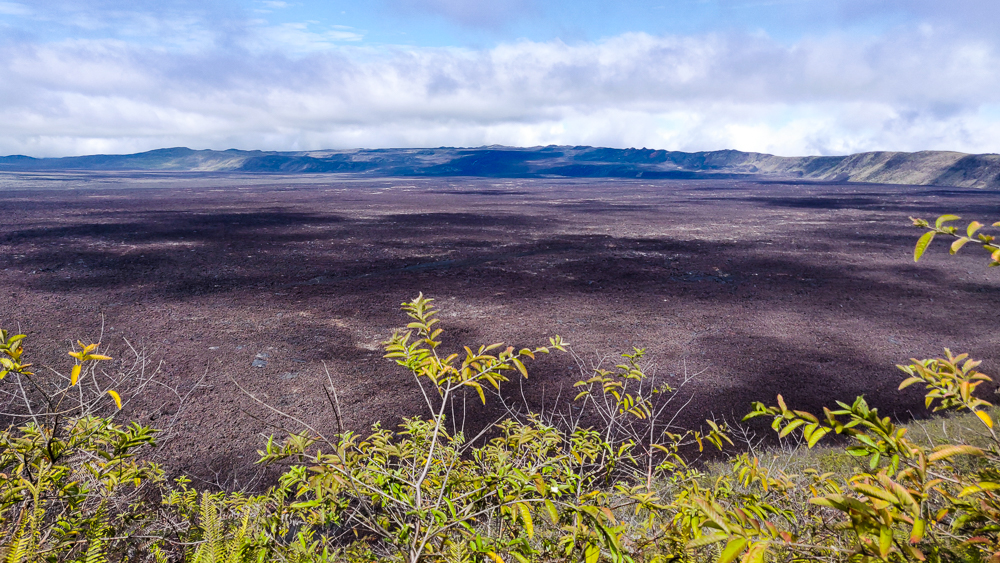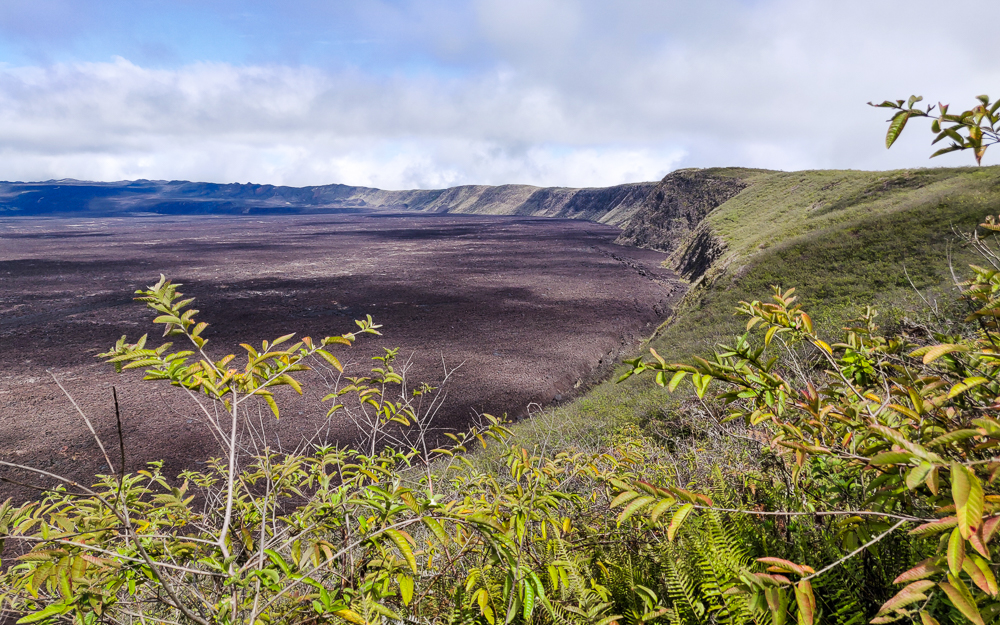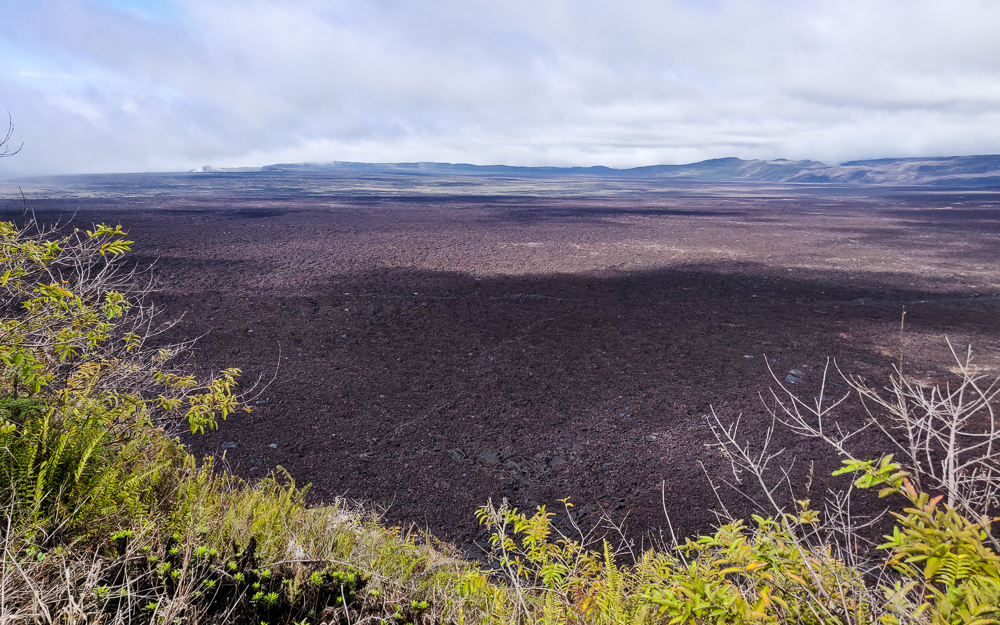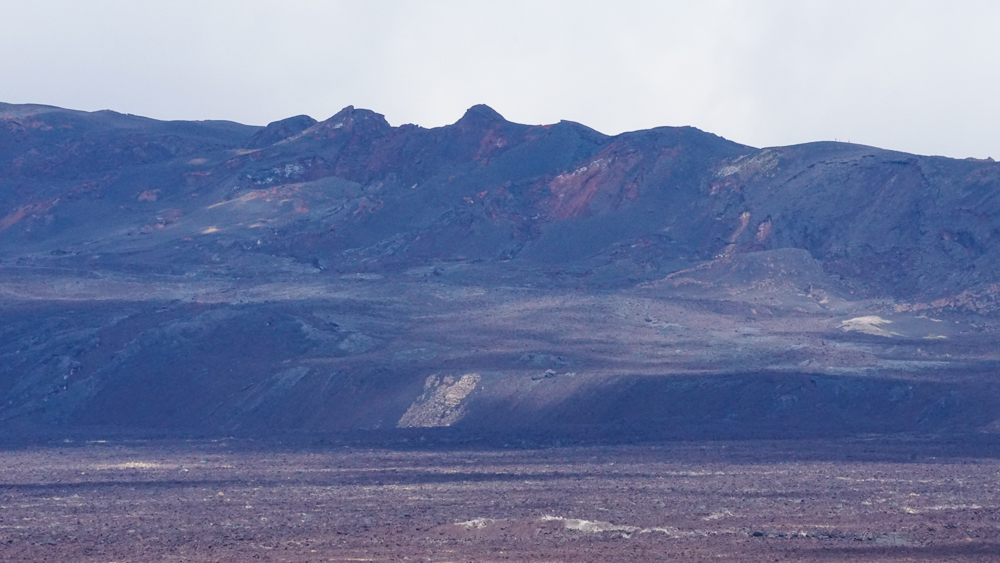 The guide told us that the lava patterns on the floor of the caldera tell the story of how it was formed. I'm not fluent in lava (and honestly, I had trouble paying attention to the guide), so I can't tell you what they say, but it is interesting to see how much variation exists in something that, at first glance, appears somewhat uniform.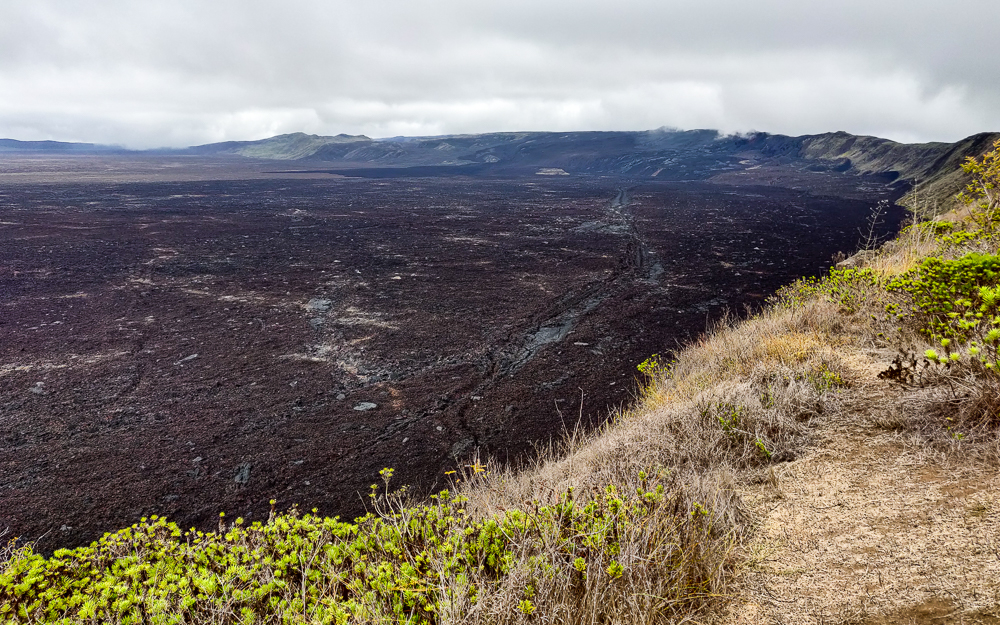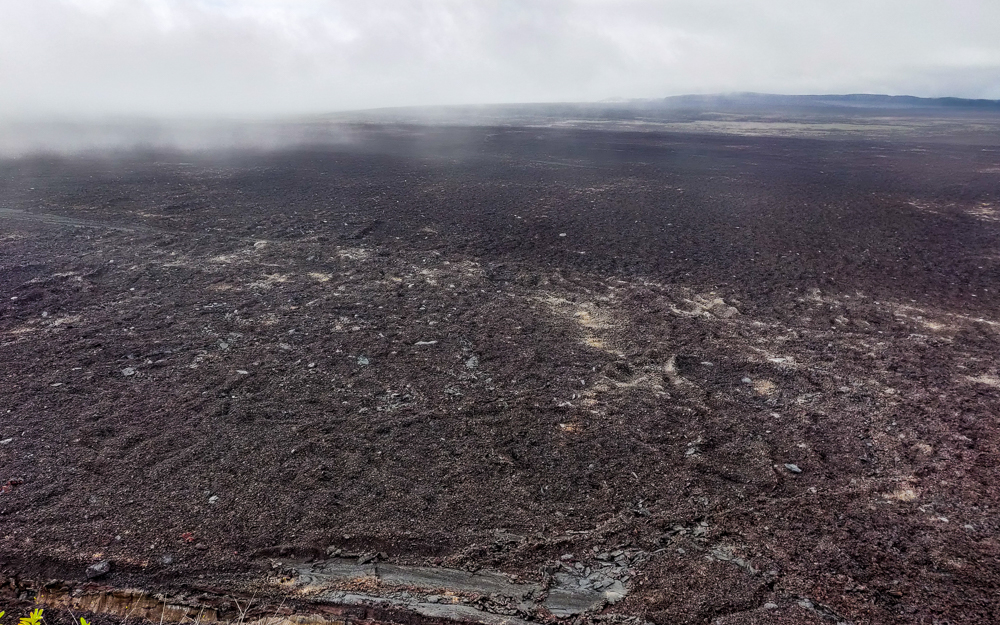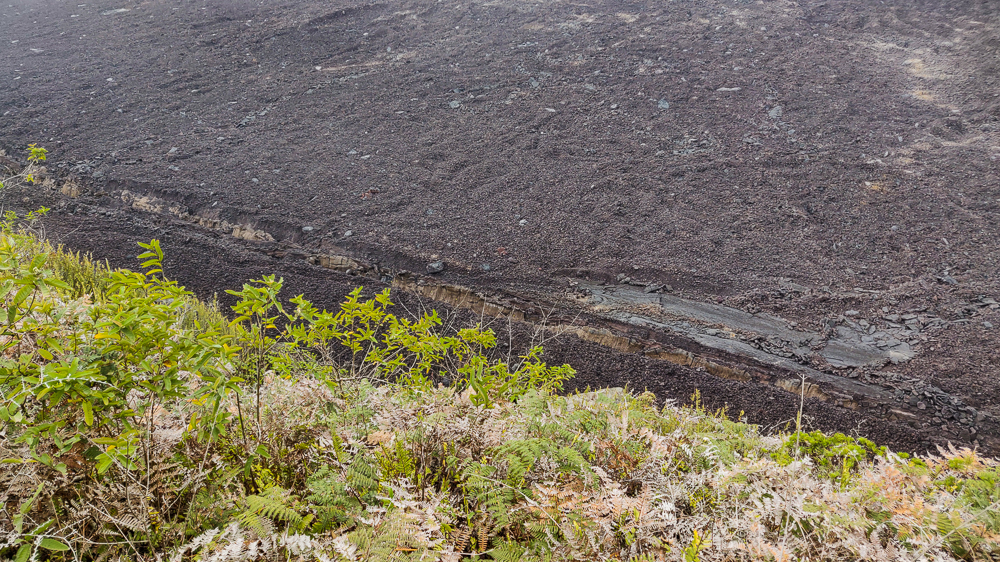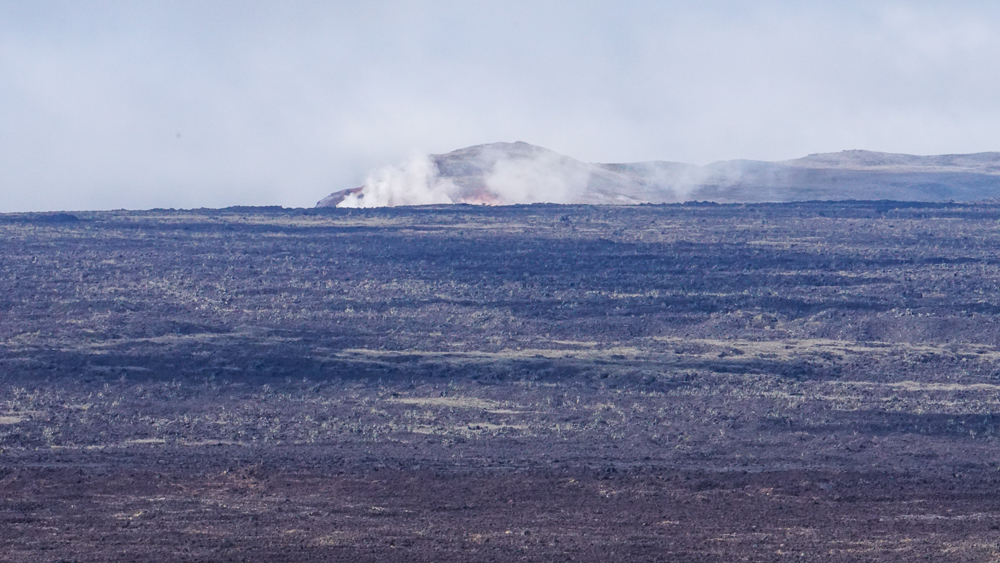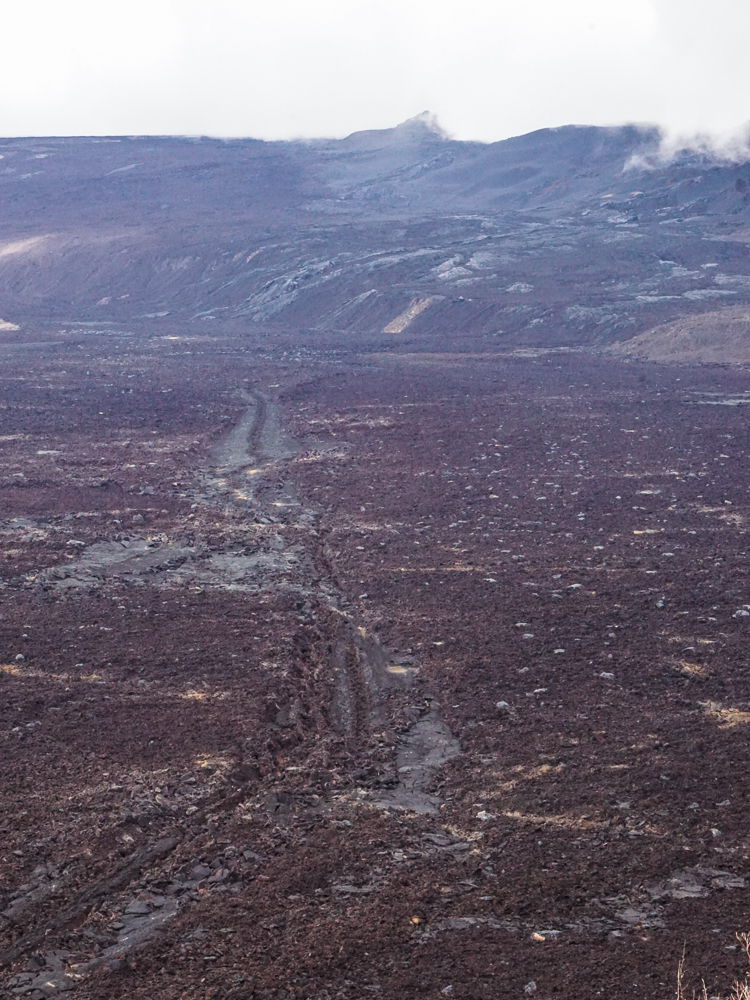 The caldera was cool, but without a doubt, the best part of the excursion was the lava fields. To the northeast of the main caldera, there's a "parasitic cone" called Volcán Chico (Little Volcano). I'm not a big fan of that name… it sounds kind of gross. Alternatively called a "satellite cone", it's a location where lava escapes from fractures in the side of the volcano, outside of the main caldera, forming cone-shaped lava accumulations. The final leg of the hike took us through the lava fields to the cone of Volcán Chico.
The lava fields are… thought provoking? That's probably an uncommon assessment, but for me, they prompted a whole series of "THAT'S CRAZY!" thoughts. For example, Isabela is one of the youngest Galapagos islands. As I walked across the barren expanse of lava, I kept thinking about the fact that at some point, all of the islands looked like that. Seeing that made it even more amazing that plants and animals managed to survive and eventually thrive there. Like… there was NOTHING at the beginning. Now, some of the islands even have rainforests!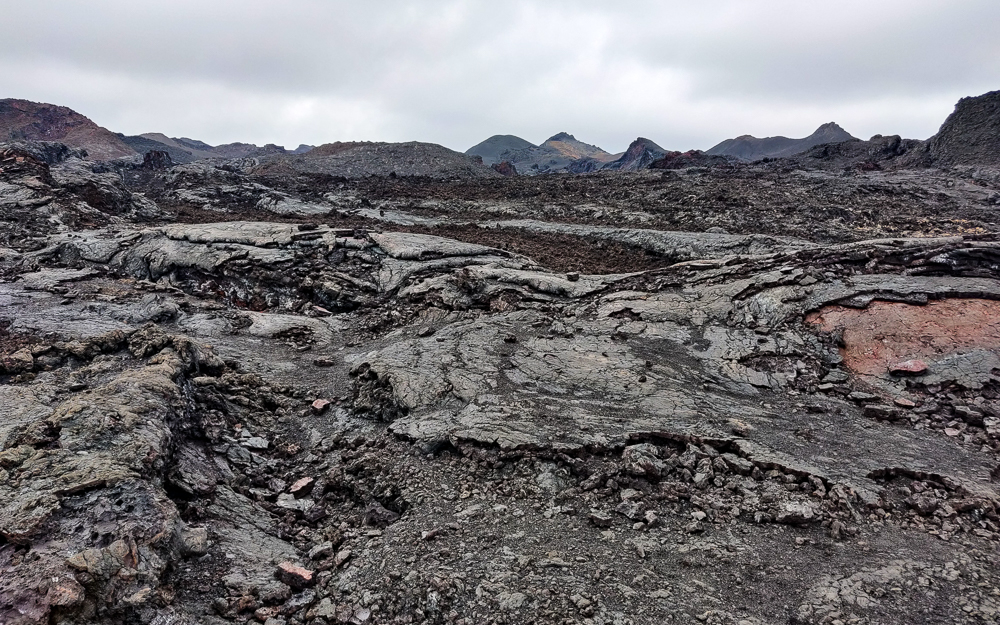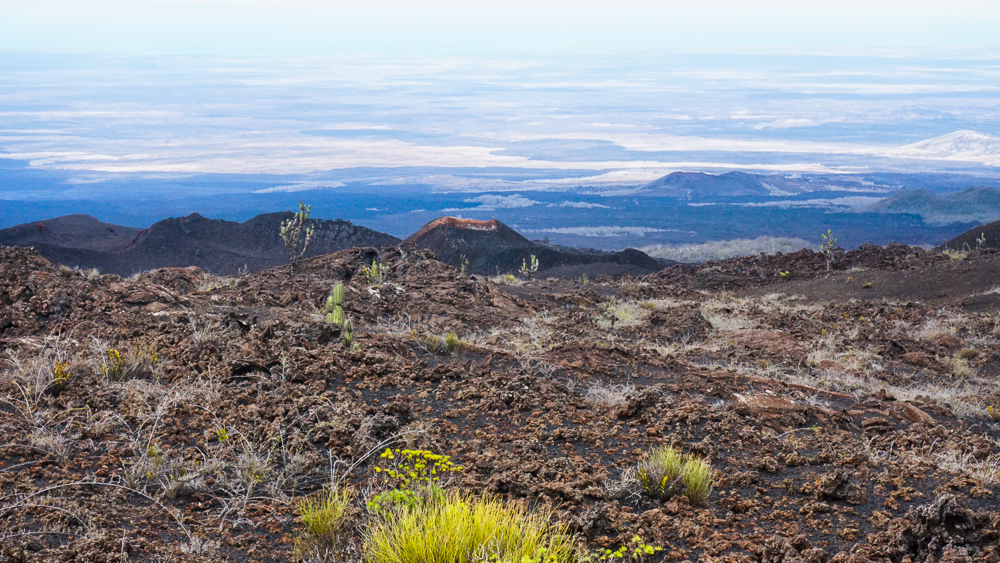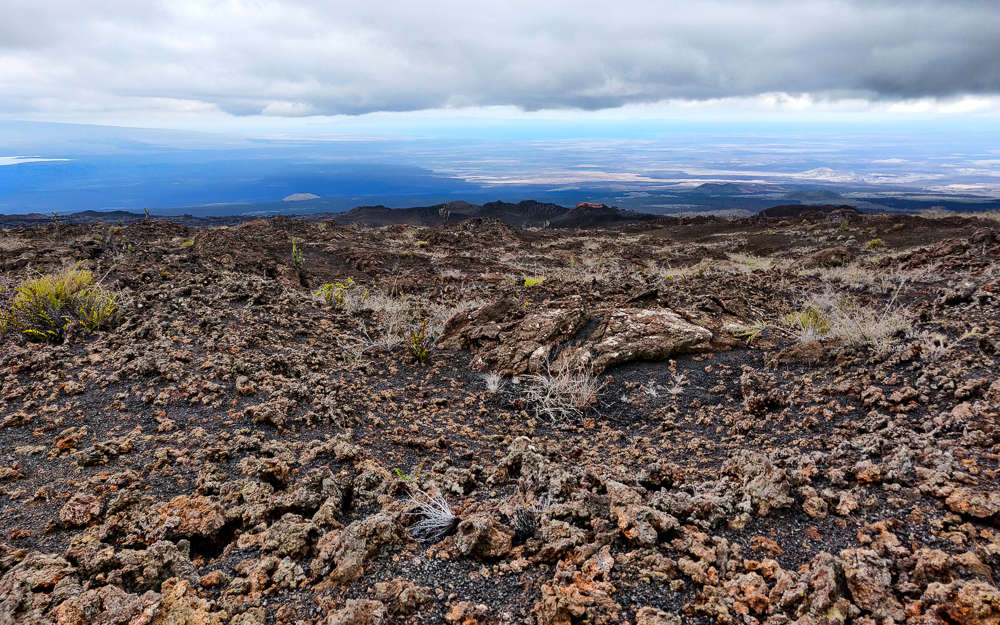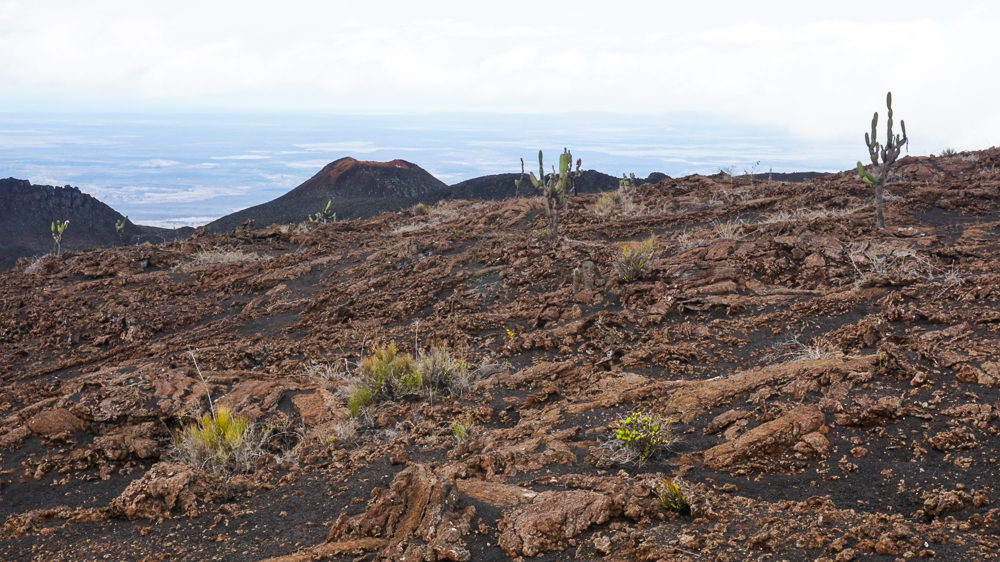 The guide pointed out various formations along the way and explained that the different colors of lava result from the oxidation of various minerals. By looking at the coloring, scientists can determine what lava came from which eruption. The least colorful stuff is usually more recent because it hasn't had as much time to oxidize. I've seen a lot of lava in my life, but I can't remember ever seeing so much color and vibrance. It was beyond amazing. And beautiful!!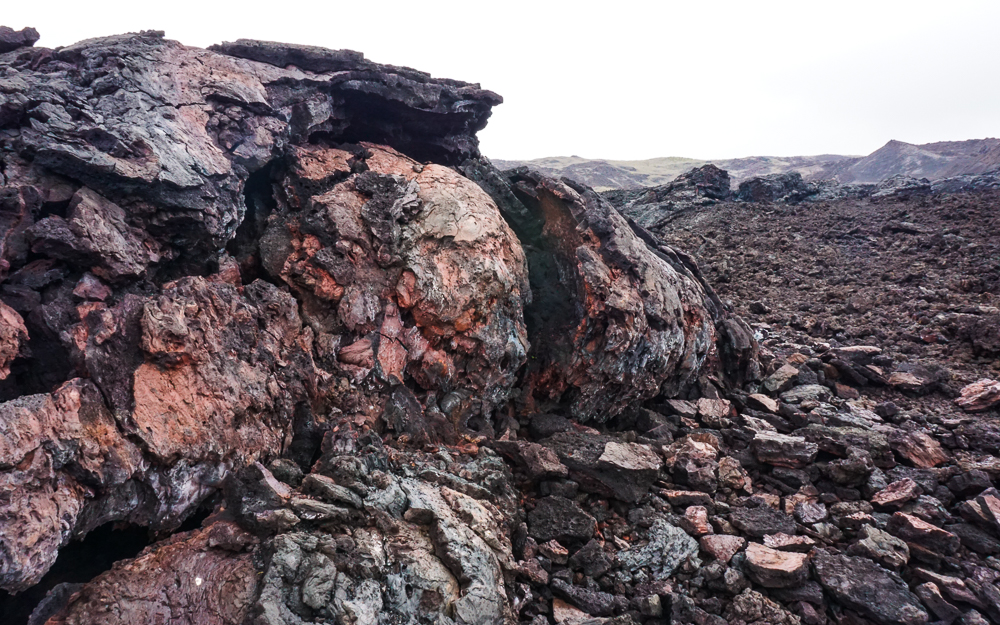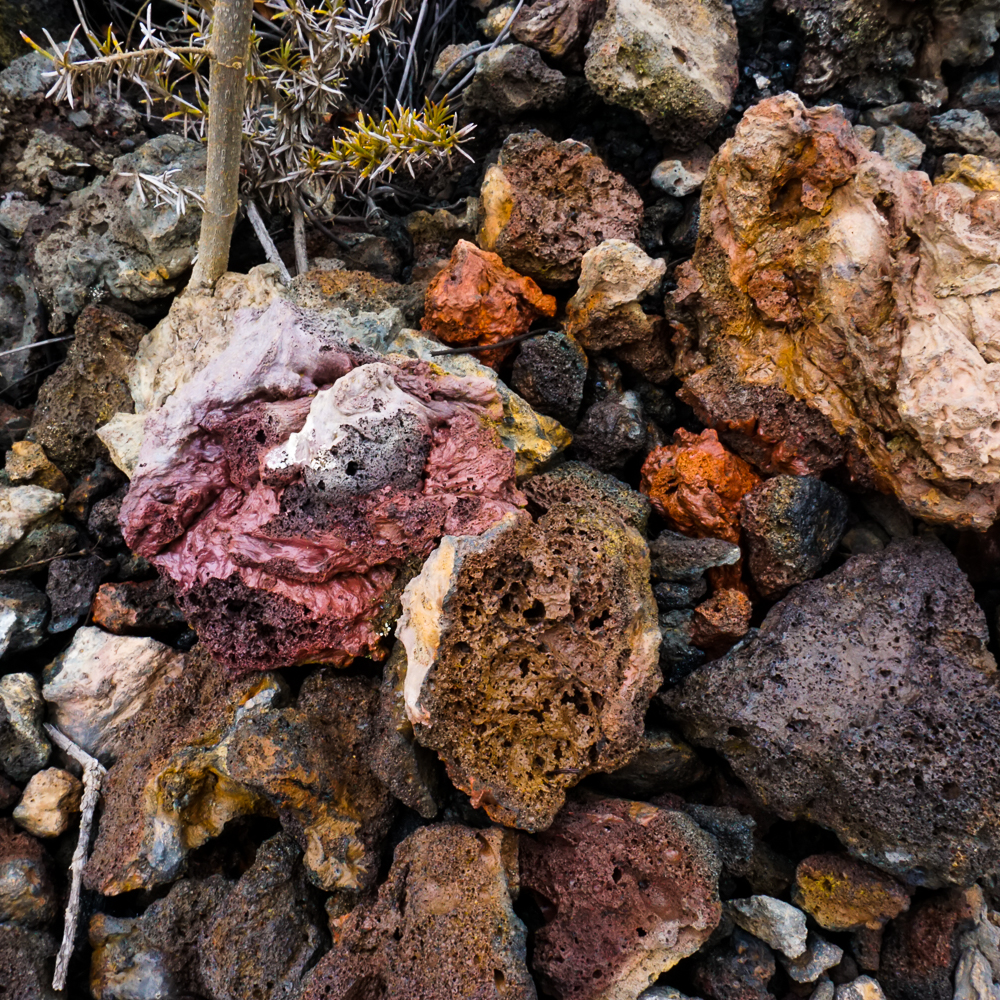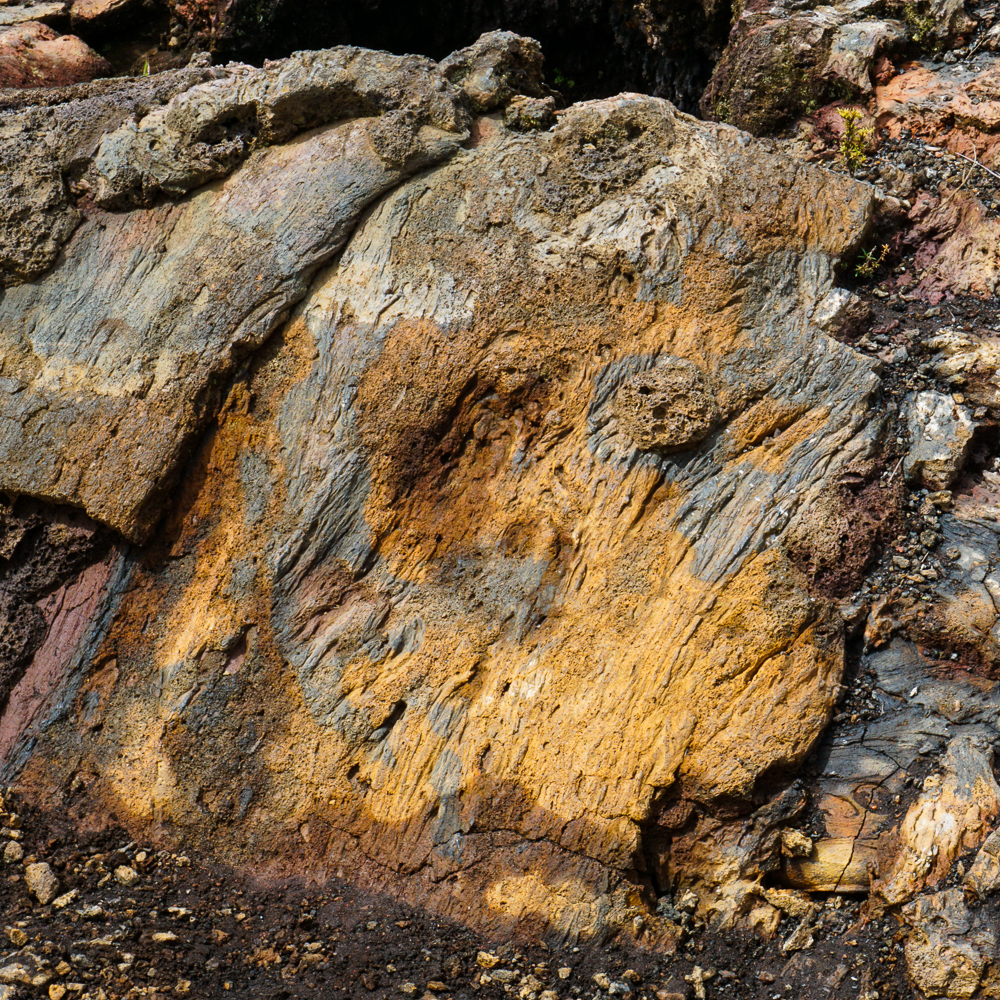 There are also natural vents across the landscape, places where you can hold your hand above a hole in the ground and feel heat coming out. It's a little spooky to think that you're feeling the heat of the Earth's core. Eek! Also creepy is when you see a formation that looks like it could be water, frozen in time. It's a bit of a reality check, like, "Hey! In case you forgot, this used to be FLOWING. Oh yeah, and it wasn't water. It was MOLTEN LAVA." Nope. No, thank you. You can keep that molten lava faaaaar away from me.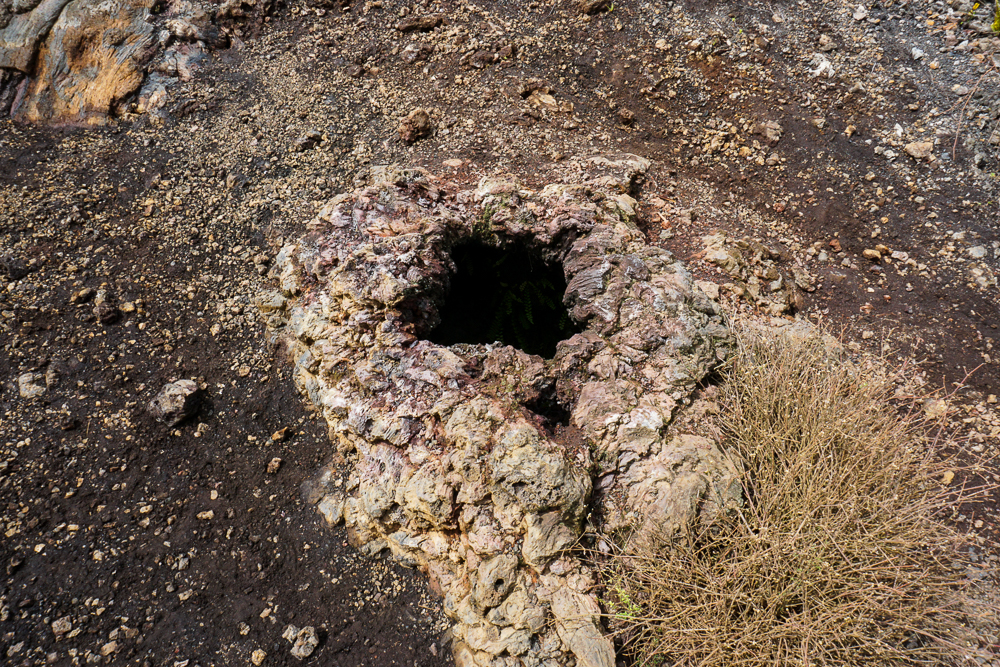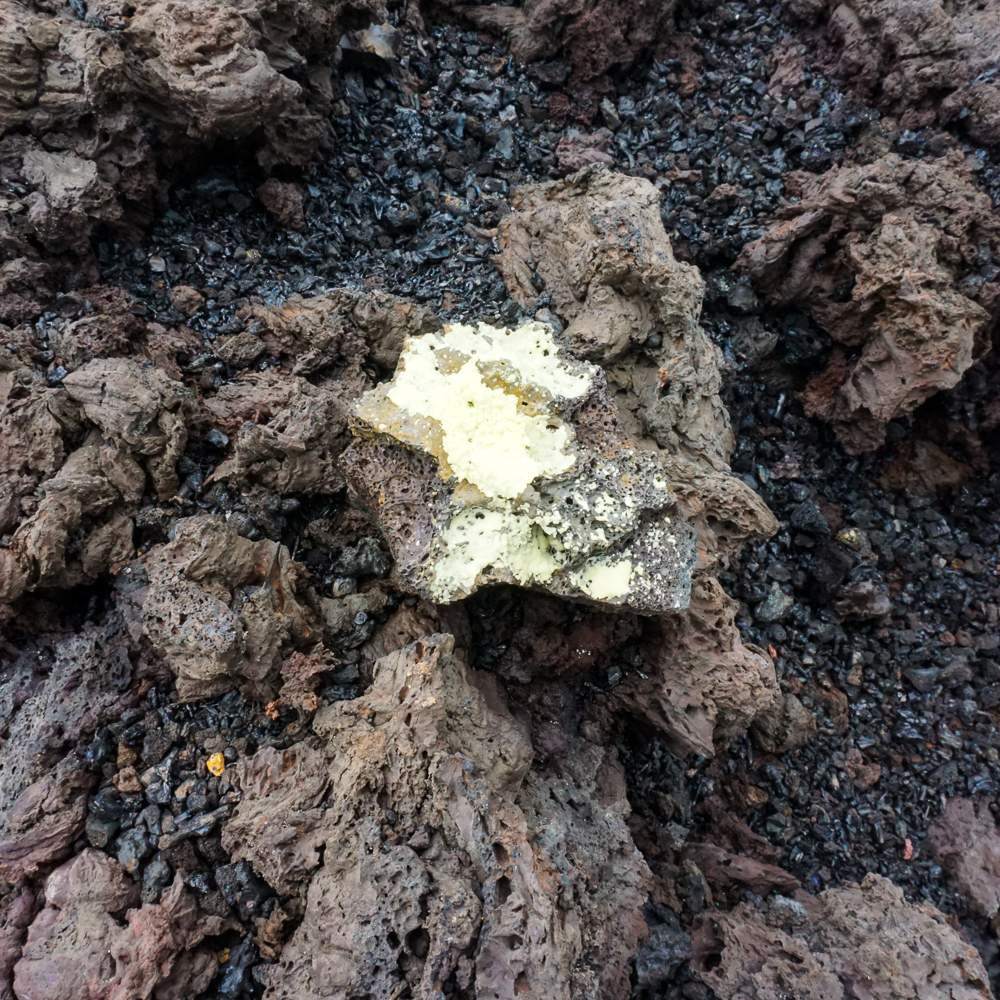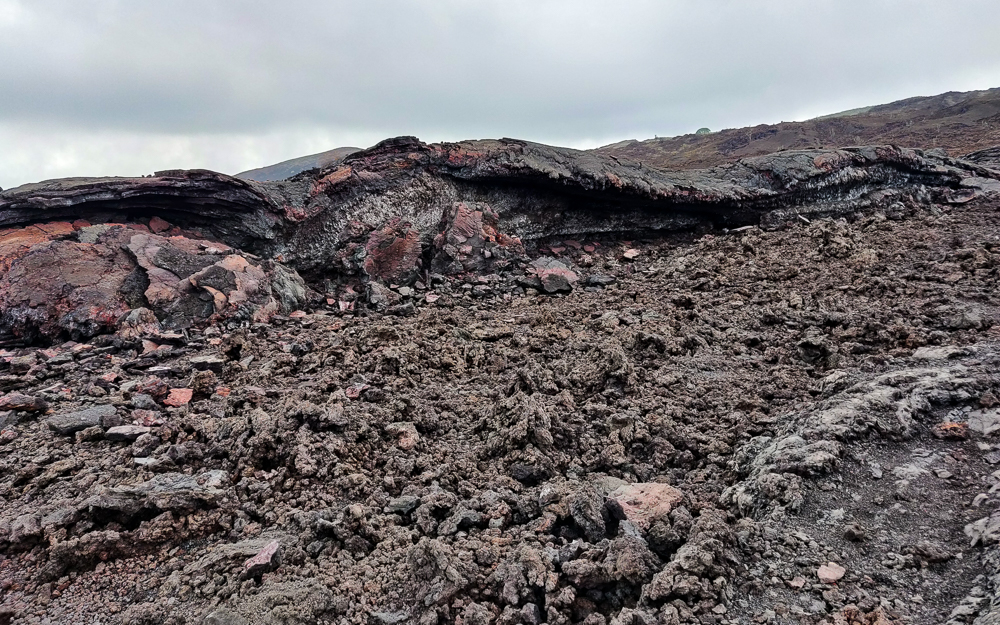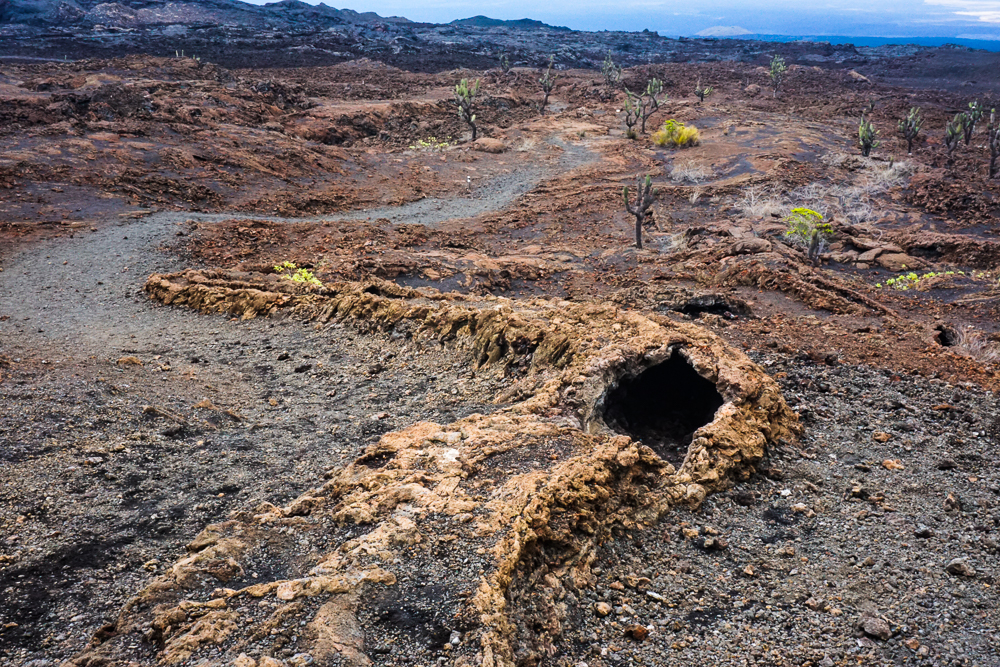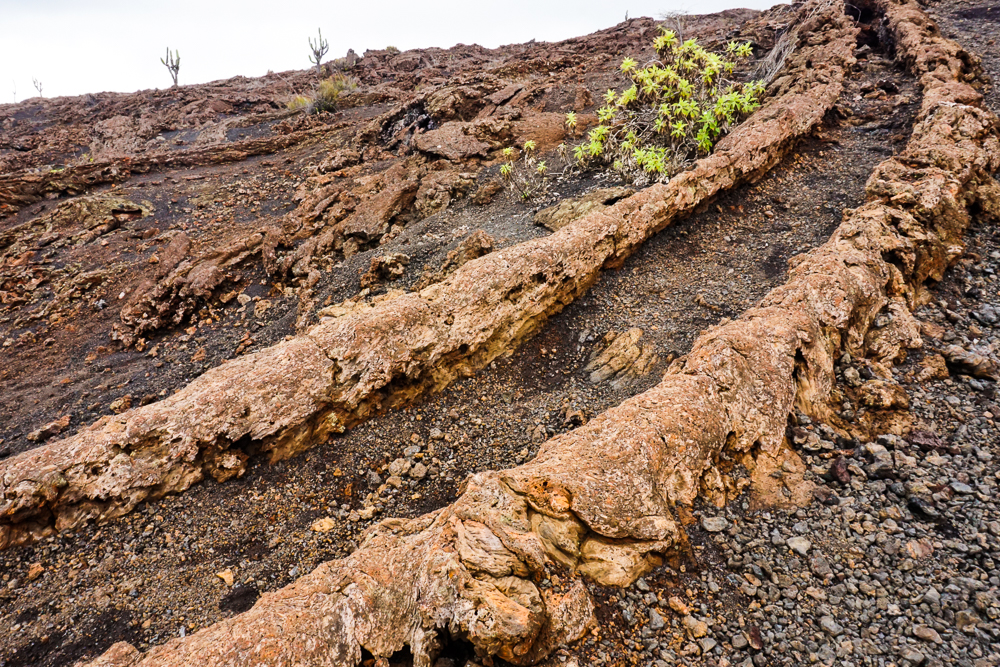 Finally, we reached Volcán Chico. The view is bizarre. You can see the northern part of the island, and it doesn't look like it belongs on this planet. Elizabeth Bay is in the distance. The best part, though, is the COLORS around the cone. I'm not even going to attempt to explain it. Just soak in the amazingness of these pictures.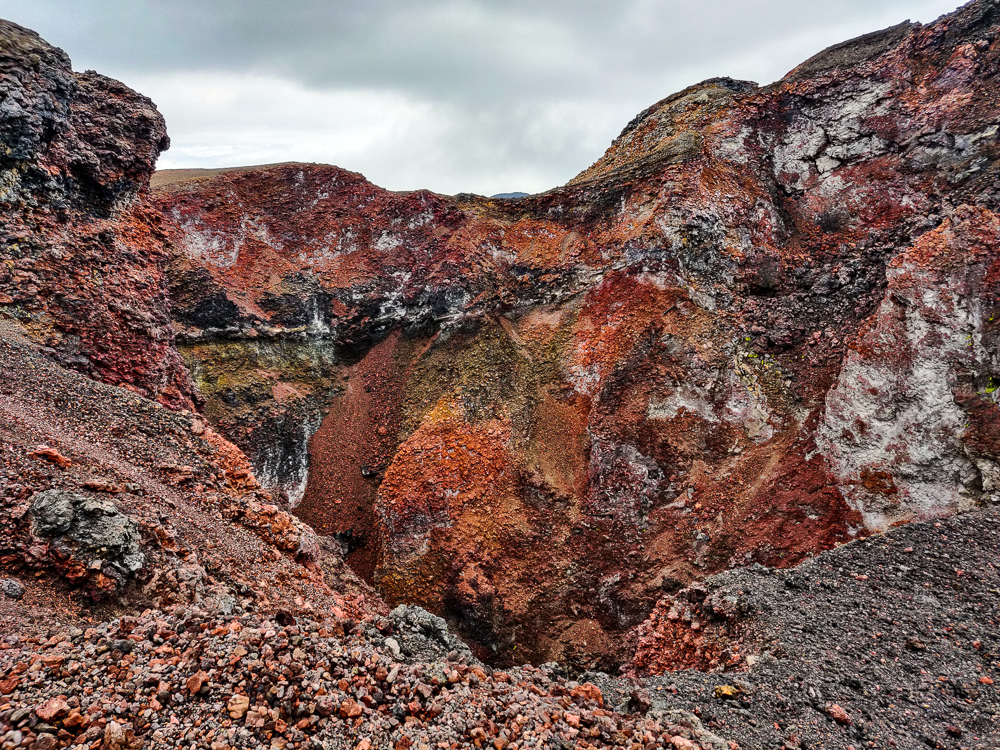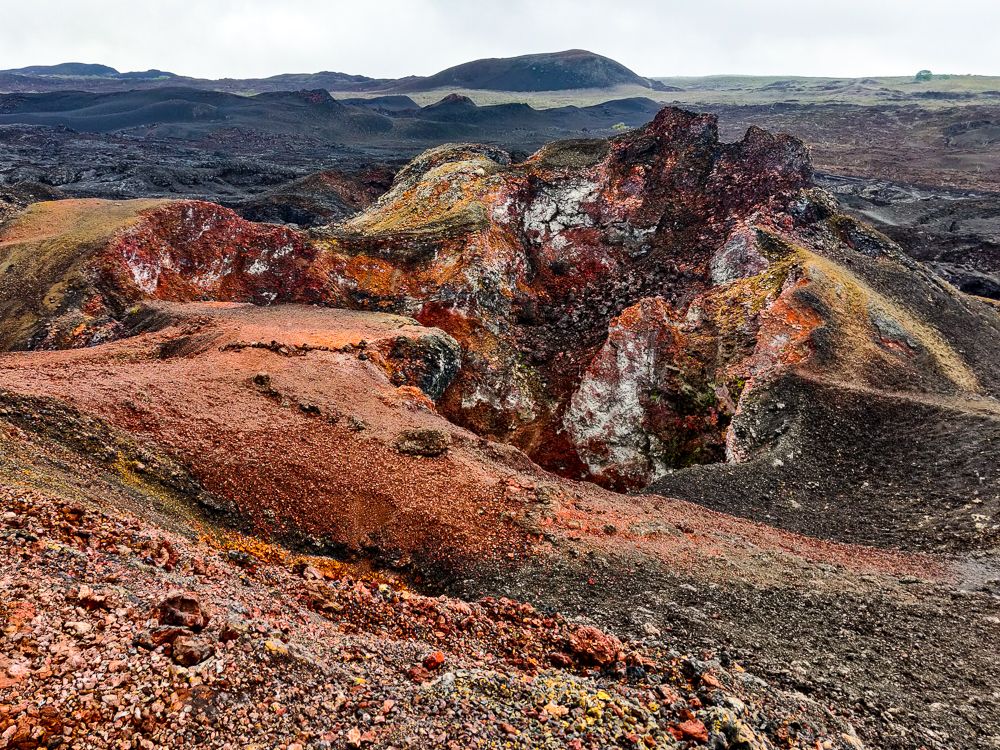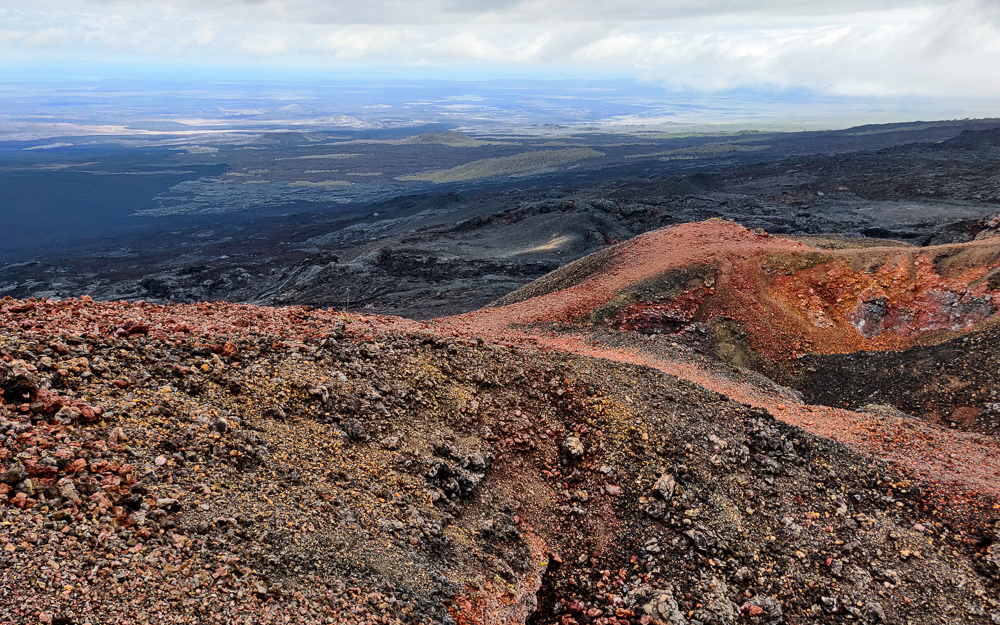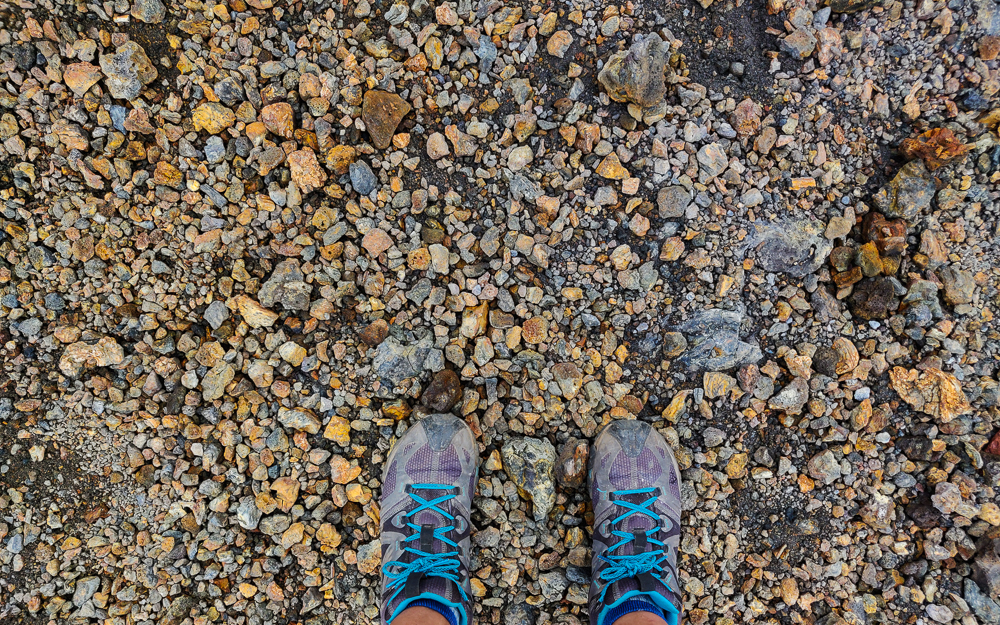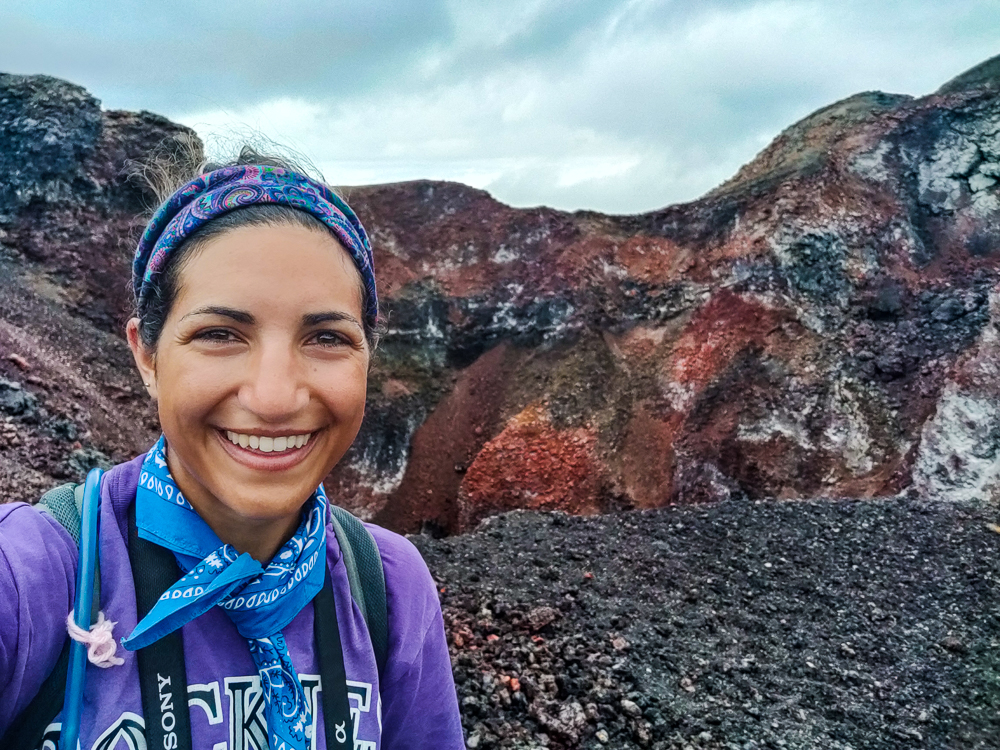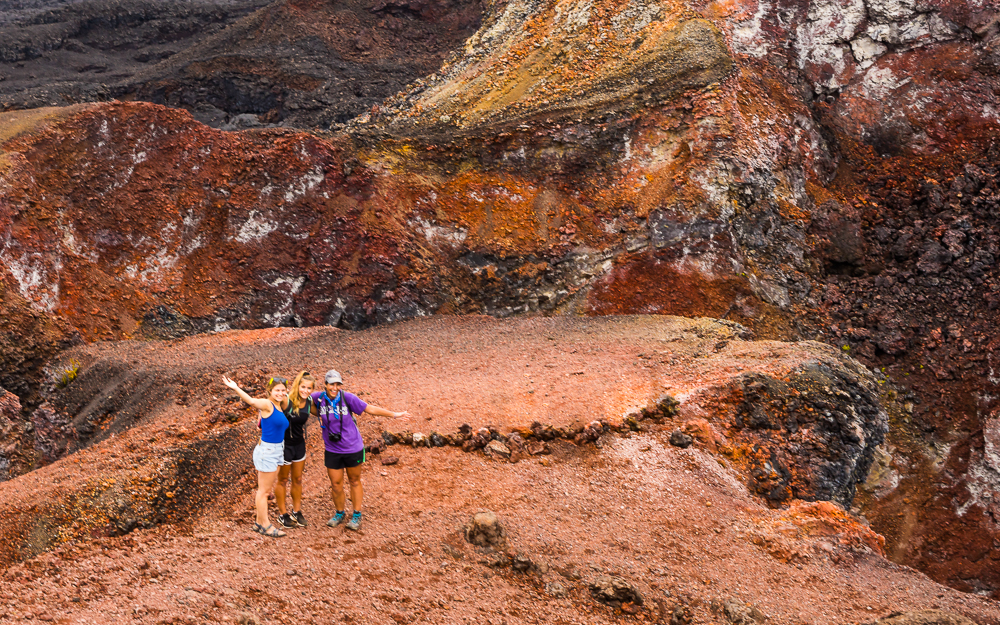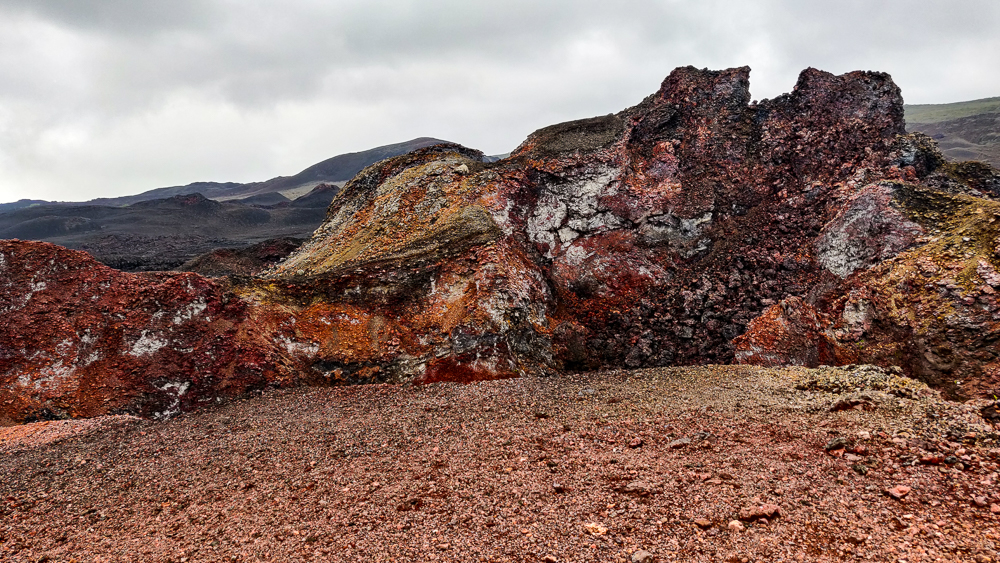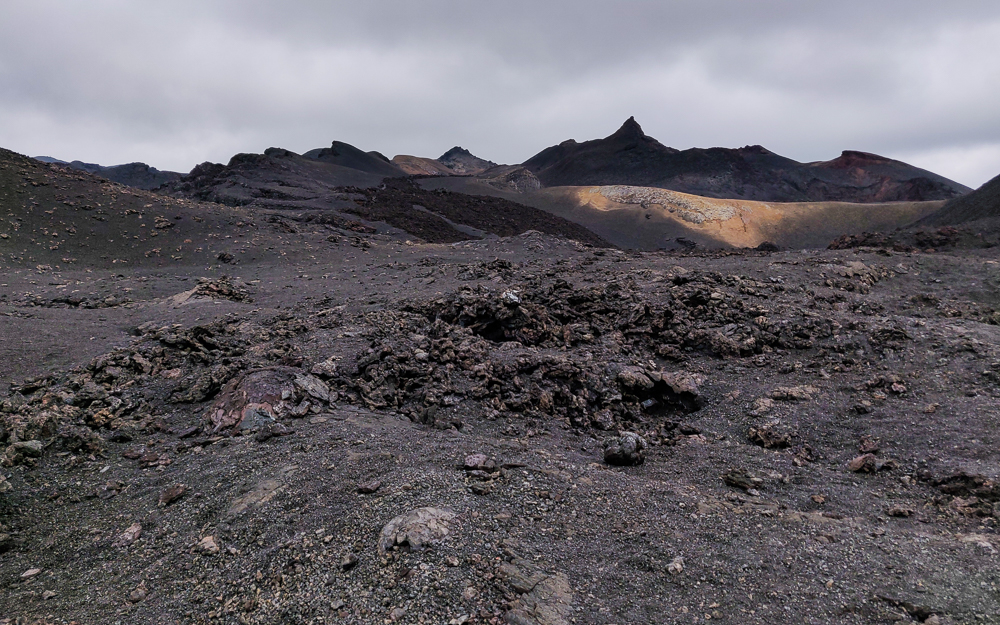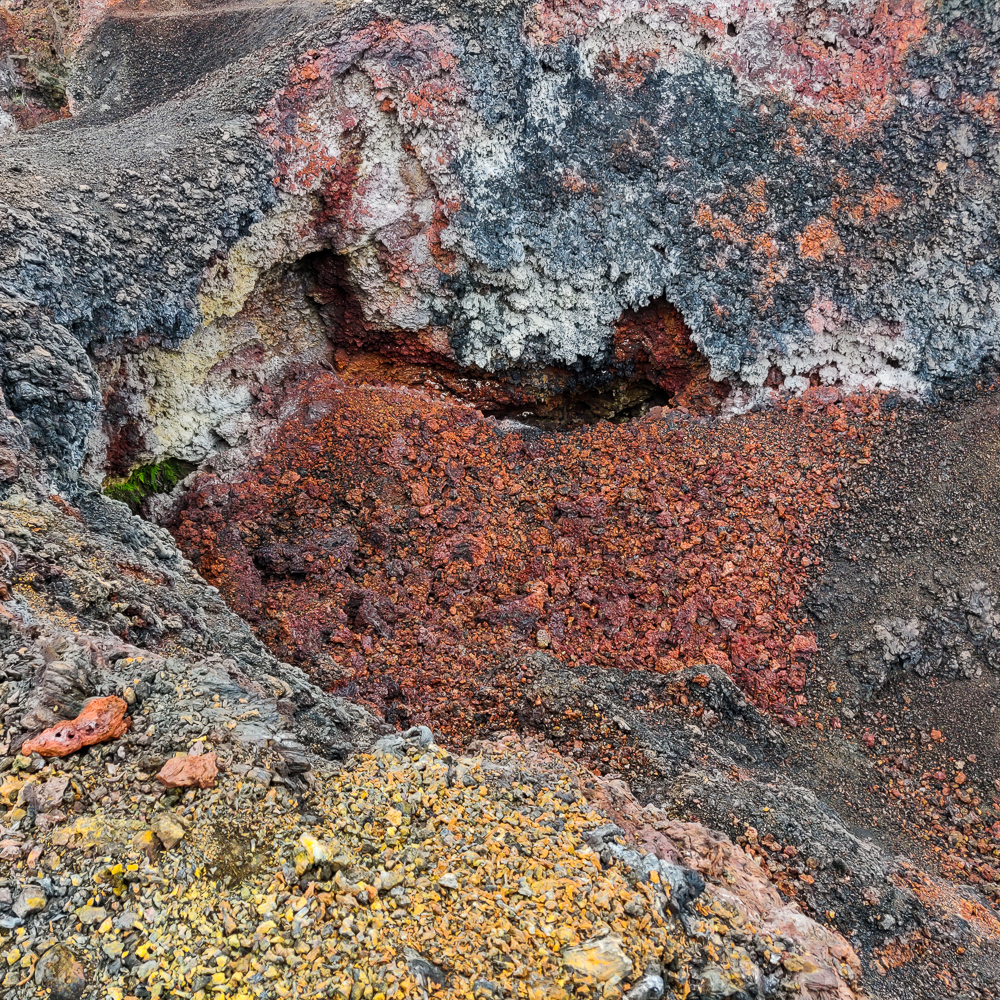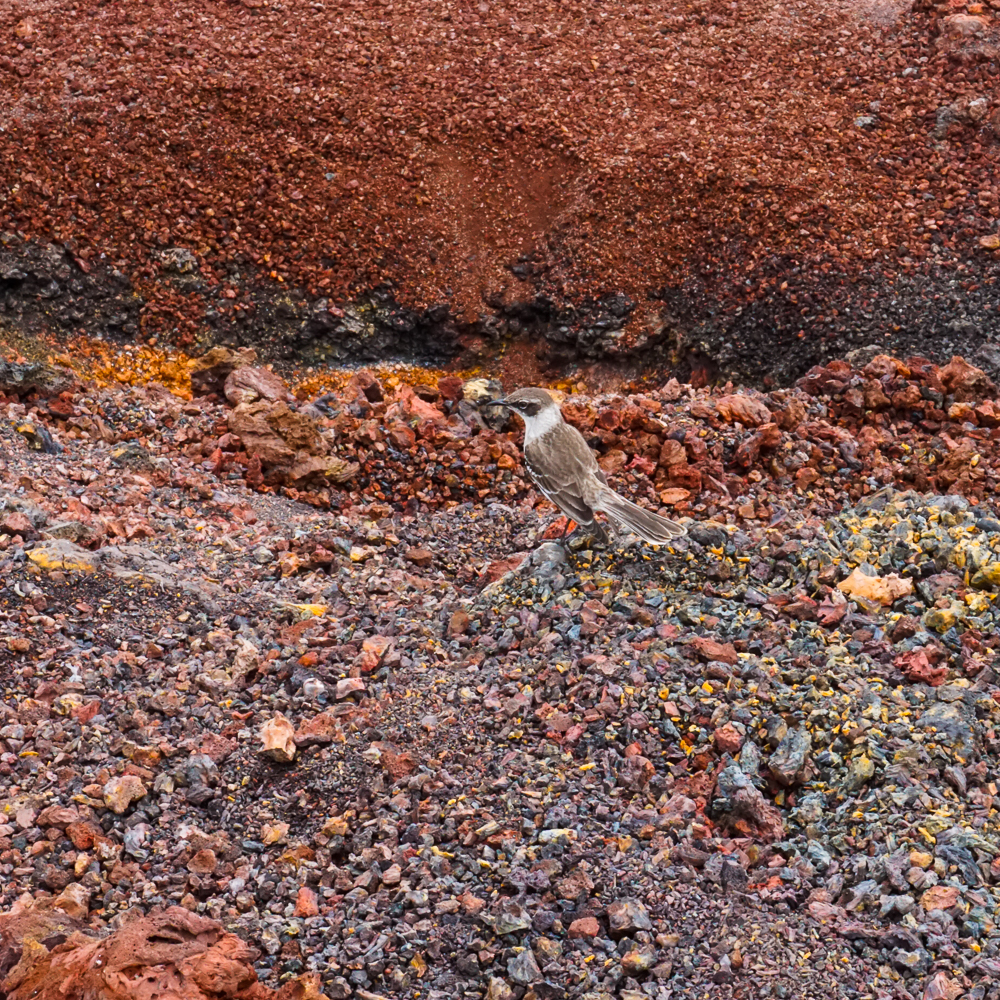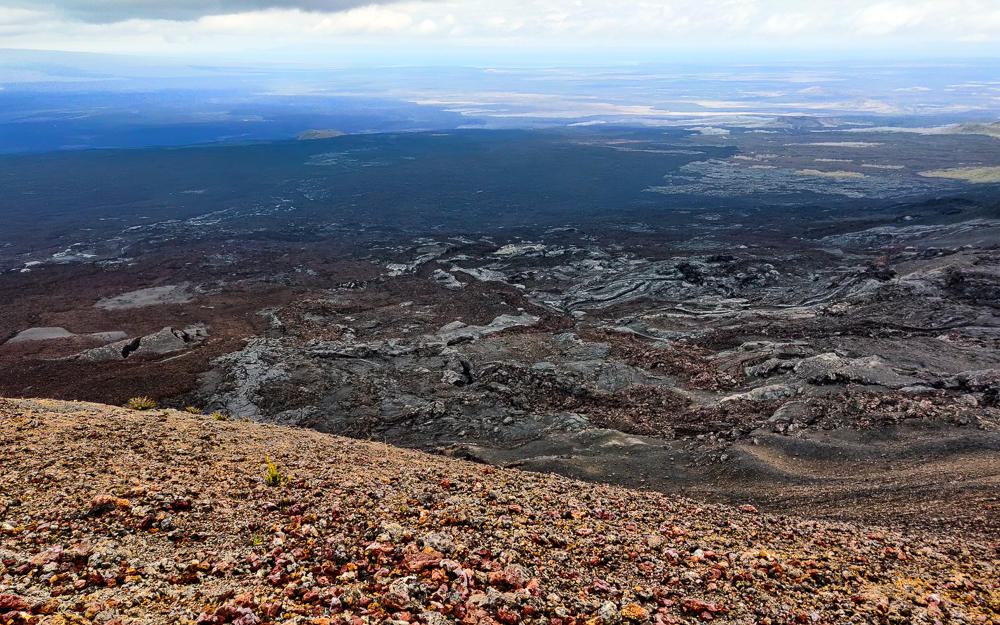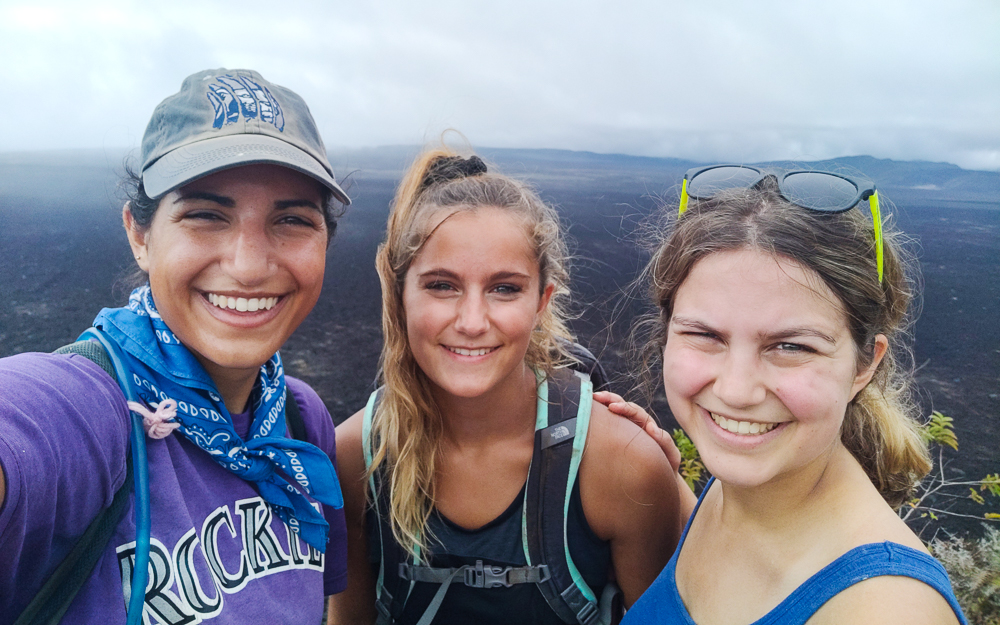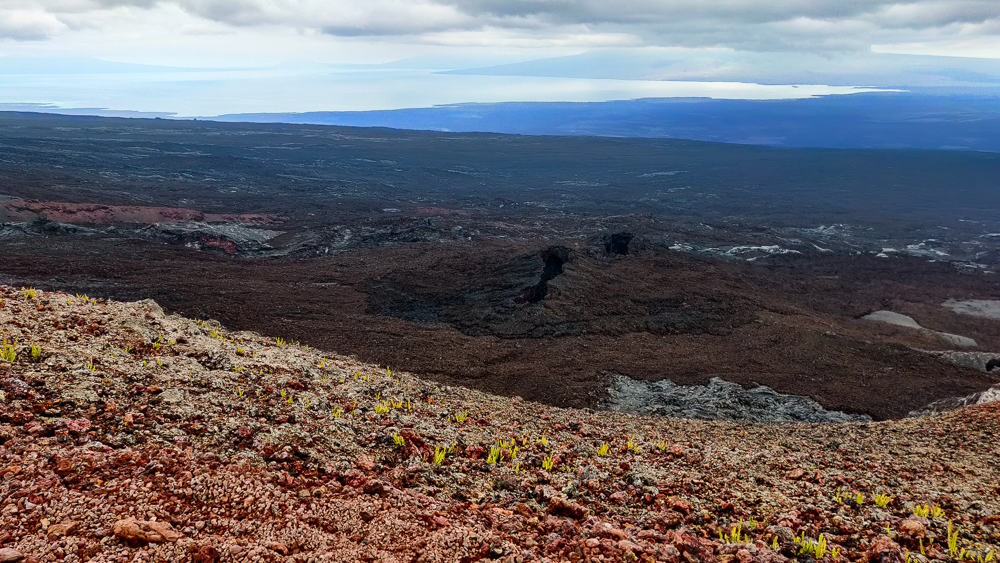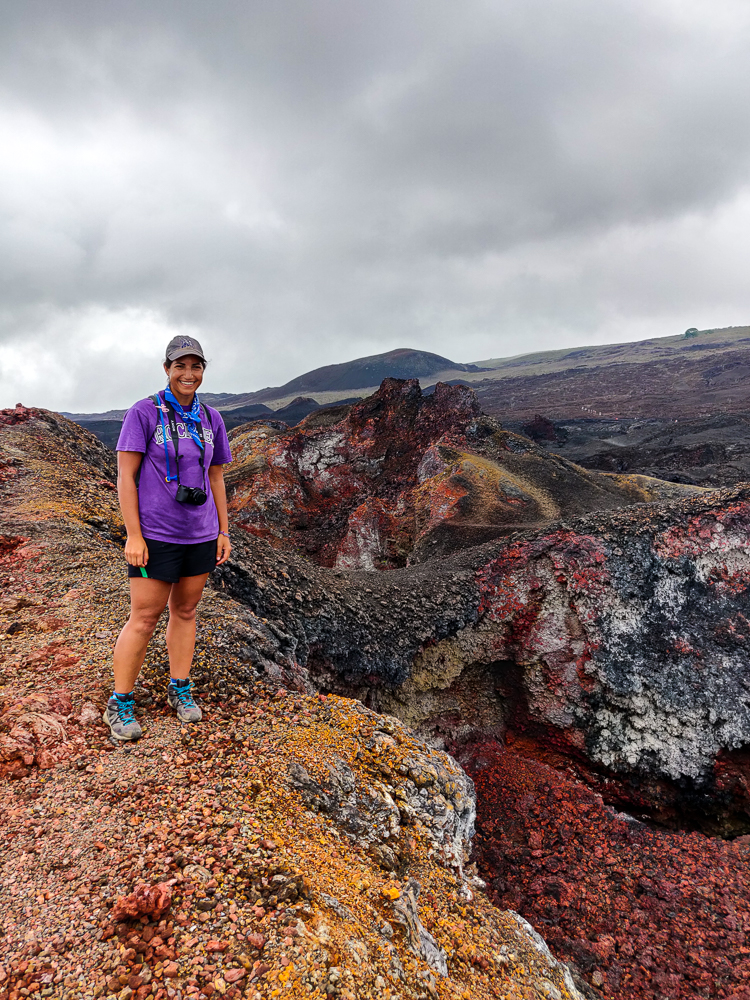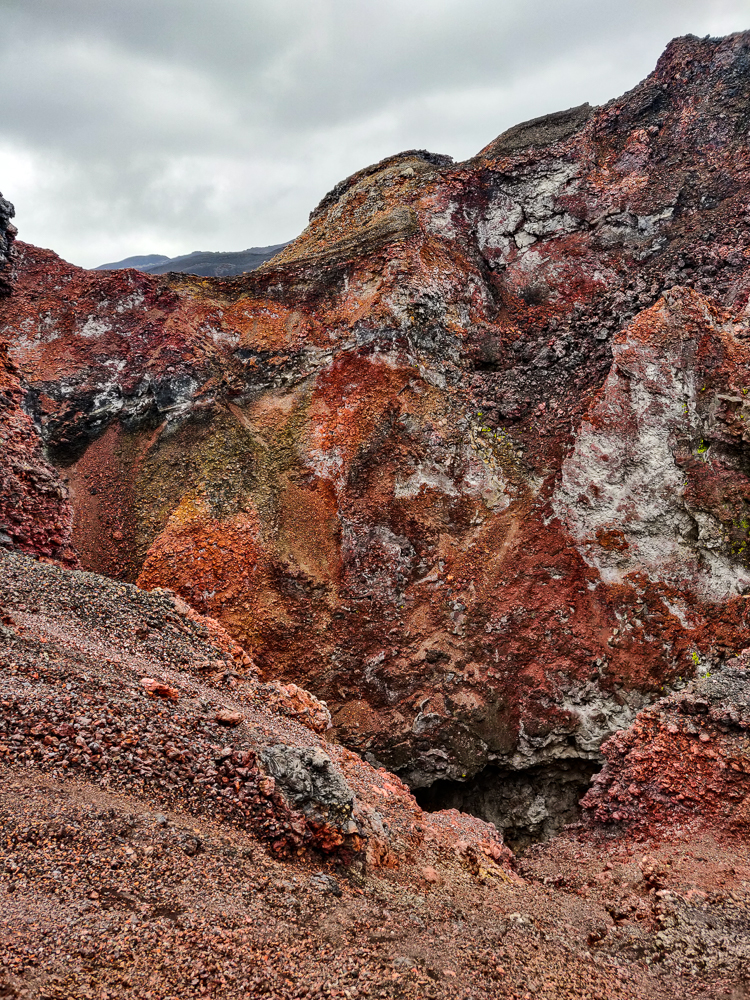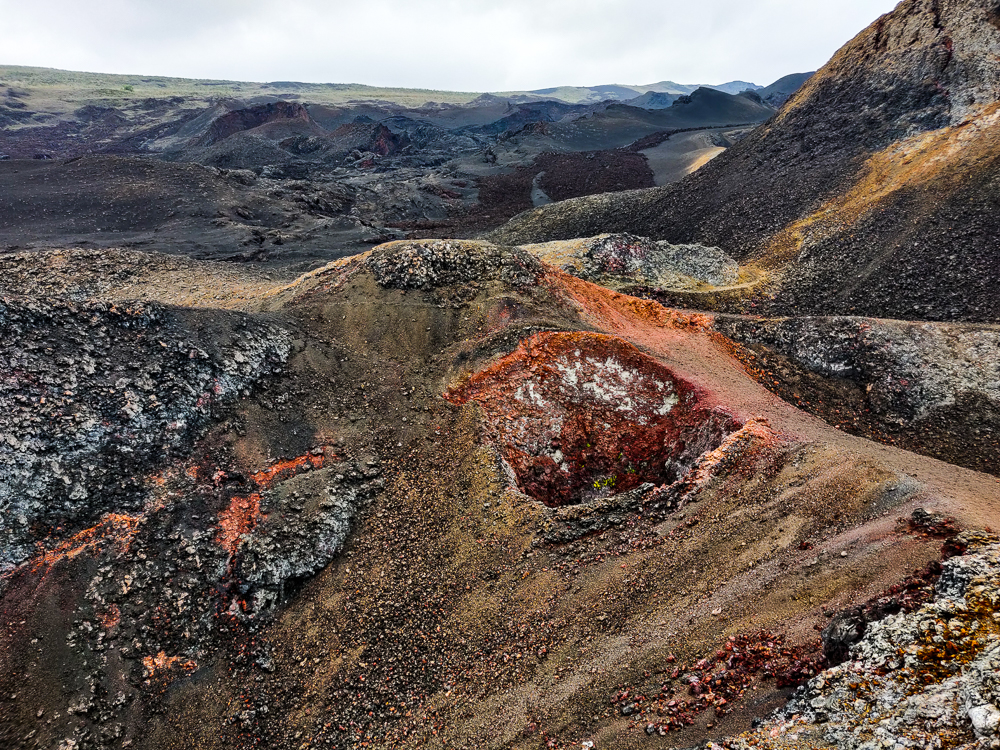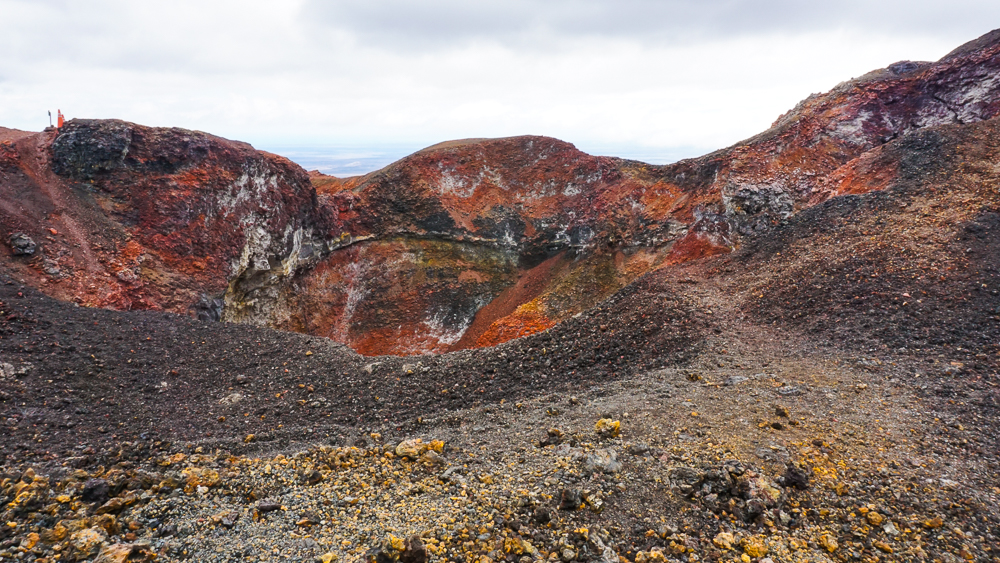 The guides started herding us back to the bus before I was ready to go. It was like looking at really pretty fall foliage, where you wish that you could capture what you're seeing and what you're feeling and bottle it up forever, but since you know that you can't, you want to stay as long as possible to try to imprint it in your brain and heart. You know? Orrr maybe that's just me. But I guess I did an okay job because even now, I get that same feeling when I close my eyes and imagine that I'm back there, gazing out at the otherworldly landscape.
The hike back was mostly uneventful, but we did get to experience the massive difference in weather conditions between the lava fields and the volcano rim. In the lava fields, the weather was hot and bone dry. As we walked along the rim, it got wetter and wetter, and by the end, we were basically walking through a cloud. And I'm sure that at that same moment, the lava fields were just as hot and dry as when we left them. It's all about the wind/topography/it makes my head spin!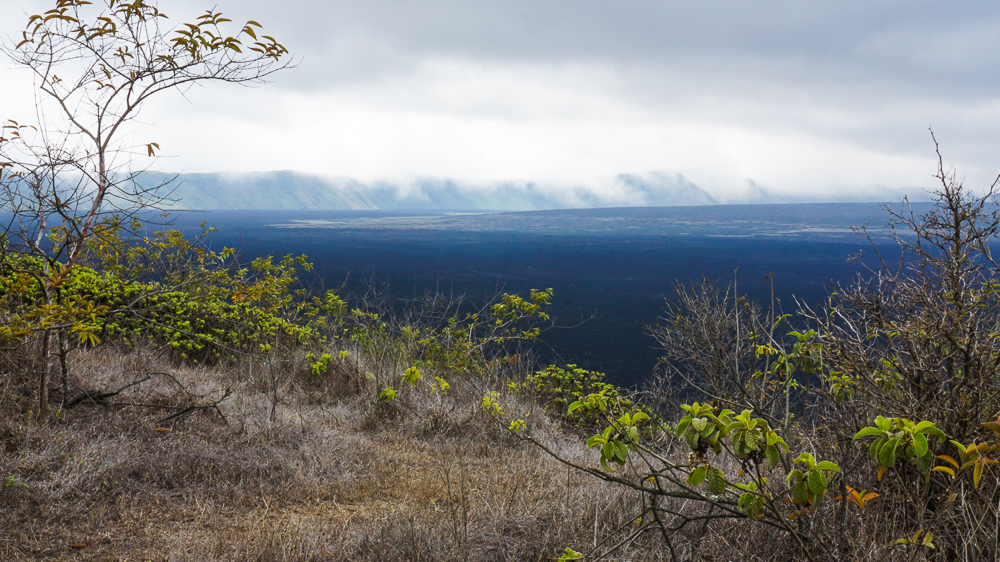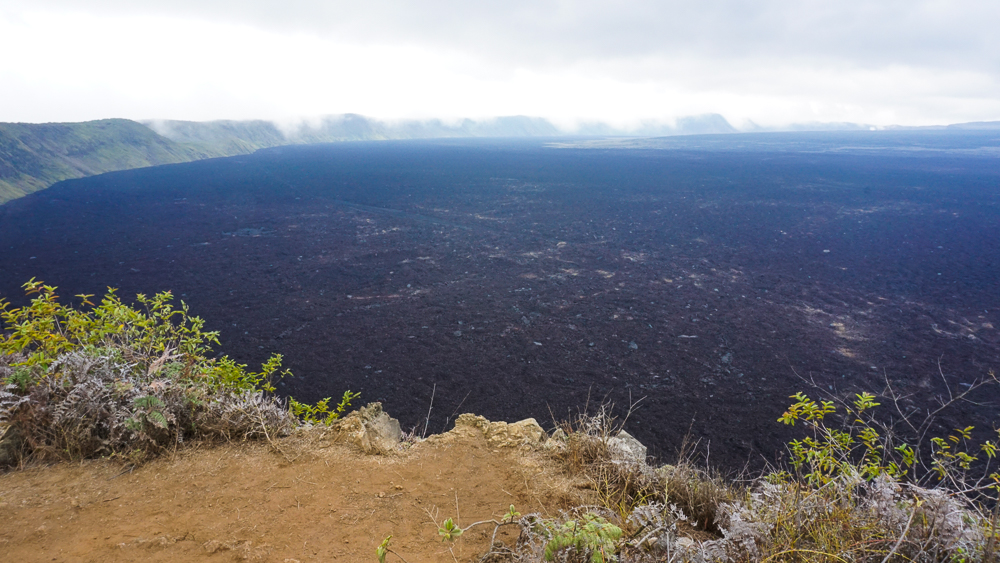 We were exhausted when we got back to town, but since it was New Year's Eve, we went to sleep early and set our alarms for 11:30PM so that we could check out the happenings in the main square. I was only about 20% sure that we would actually wake up, but amazingly, we all dragged ourselves out of bed and joined the festivities!
Ecuador has some funky New Year's traditions. People make effigies, either of actual people or characters or something that represents the previous year, and at midnight, they're set on fire as a sort of cleansing ritual before the new year. You know, on our early morning bus ride to the volcano, I thought that I saw a roadside stand filled with paper mâché heads, but it seemed too weird to be true. I assumed that I was out of my mind because it was so early. Nope! Most families make an effigy, and they need to get their heads somewhere!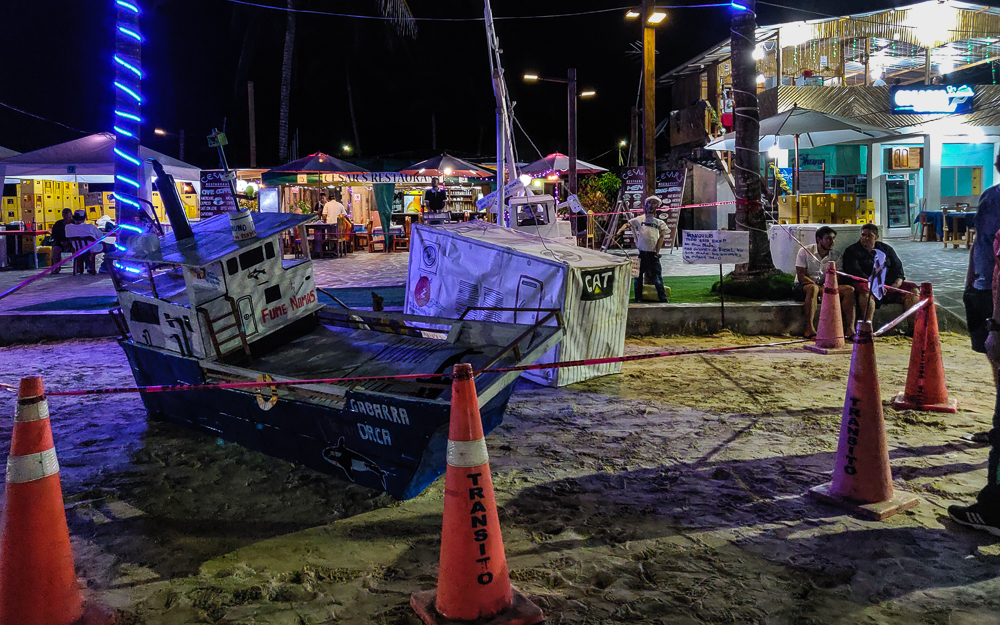 Here's a video of the post-midnight mayhem, and you can see different people coming up to toss their effigies on the fire.
After that, we tried to go back to sleep, but our hotel's great location near the center of town meant that we could hear the New Year's party going on into the not-so-wee hours of the morning. I think I fell back asleep when it stopped at around 5AM. Ugh.
Related Posts
Iceland Lava Rocks – okay, not the official name of the post, but if you want to see more cool lava colors, check it out!
Perito Moreno Glacier – for a completely different otherworldly landscape, do some glacier trekking!
Mount Aragats – speaking of volcanoes, why not visit Mount Aragats, the volcanic crater that gives Armenia its tallest peak?