​I'm exhausted. So far, one of the main things I'm getting out of this year is a massive appreciation for actual teachers. My feet hurt from standing, and I only had 4 hours of class today. My head hurts from thinking and trying to come up with ways to entertain the kids. I'm seriously ready to pass out. Like I said yesterday, the kids are so well behaved though… I can't even imagine how I would be feeling right now if they were out of control. Some issues come up, of course, but they're manageable. It's a beautiful thing.
The morning class today was C4, the oldest group. They're 10-12 years old, and after meeting them and seeing them work today, I can't wait to see what they come up with for the projects we're going to do later on. We did mostly the same thing as yesterday's class. The paper tower challenge was definitely… well, a challenge… but I was happy because the reason some groups had trouble was because they had big dreams that just weren't quite realistic. Even though they didn't "succeed" if you're just measuring how tall their towers were, they were trying to problem solve and be creative and make their ambitious designs work. The winning team used their scissors as a weight in the base of their tower. Technically, we never said you couldn't, so it was legal. YAY for kids thinking outside the box!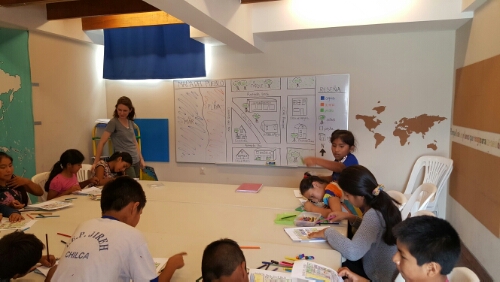 They also did the same coloring/map legend/giving directions activity as the group yesterday, and everyone caught on really quickly. We had them do another activity outside with a map of the Esperanza de Ana compound. We had some numbers written on the map, and they had to walk from number to number, proving that they understood what the map was showing, and drawing their routes as they went. It's such a relief when you make up an activity, have no idea how it's going to go, and everything turns out well! I feel like the kids learned something and weren't miserable doing it, so it's getting counted as a win. High standards for success, right?
The afternoon was a whole different adventure. I had an hour with each of the younger classes. Julie's class has seven 2-3 year olds (C1), and Ligia's has eleven 4-6 year olds (C2). Julie gets about 15 million gold stars for helping me (and by "helping" I mean basically carrying me because without her I'd be as useful as a broken rubber band – aka still capable of doing something, but only if there's no other option). In her class, she explained some basics about what engineers do and then we had the kids build "houses" out of those big legos for an hour. That was probably my favorite part of the day because we just played with blocks, and the kids had a blast making crazy structures.
For the C2 class, Julie and Ligia switched places so that Julie could stay with me. We had the kids draw their dream houses after Julie explained that engineers make plans before they get to work actually building things. My two favorite drawings (which I realize now that I should have taken pictures of, but alas I didn't) were one where the kid put his house on stilts and had a ladder to climb to the front door, and another one where the house was tiny and drawn in the corner, and the rest of the paper was filled by a drawing of a person riding a dinosaur that kind of looked like a llama.
Tomorrow we don't have any engineering classes to teach because it's a beach/movie/fun day (that's the plan for every Wednesday). I'm not sure if I'll get sent along on any beach trips as an extra chaperone, but I'm crossing my fingers for getting a recovery day and having some time to finish creating our activities for the rest of the week.