I had a nightmare a few nights ago. I don't remember a lot of the details, but I do remember being in a car with my mom, driving up a very steep road. When I say steep, I'm talking probably an 80-degree incline. We were halfway up when these massive spools of wire started flying down the hill towards us, and we avoided every one of them until the very last which left a foot-long gash in our back left tire. What does this dream mean? Who knows? But if we're taking guesses, I'm going to say that those giant spools were probably filled with solder wire, and I'm officially having robot-inspired nightmares.

It's amazing how wrong you can be when you take a guess at how long something is going to take. These robots are one of those times. Our time estimate: 3 classes. The actual: hahahahahahahaha. TBD. We got the kids as involved as possible in the assembly process, but some things, like the soldering, are not in the scope of things we're comfortable letting the kids do. If we had only three kids in the class and could fully supervise and give them some training, maybe it would be a different story. With these circumstances, though, Debbie and I are doing all of the soldering. That led to a late night on Friday and another late night yesterday as we tried to get the C4 kids' robots ready for their shells to be glued on today. We also had to do some jerry rigging to get the antennae to stay in place (it involves a complex system of dental floss – the strongest thread known to man – and hot glue), and the method we came up with was way too precise for most of the kids to handle (a lot of them are still at the age where detail work is a challenge. As architect and engineer, Debbie and I are trained in painstaking detail work).


Aside from the extra hours yesterday, things went very well! We only have 2 classes with each older group this week, and we need to assemble our cities!… while also finishing the robots… Yesterday, we reviewed the city project, did some city planning by deciding where we wanted to put each building, and split into teams to paint/name streets, make stop signs, traffic signals, trees, and street lights, and glue the buildings into position. Everything is starting to look really cool! We had the C4 kids again today, and their city is almost completely finished. The trees, street signs, and other details got installed today. I'm excited about the work the kids have done!! I think they have a couple things left to finish, and hopefully Ingrid will give them some time before Friday to wrap everything up.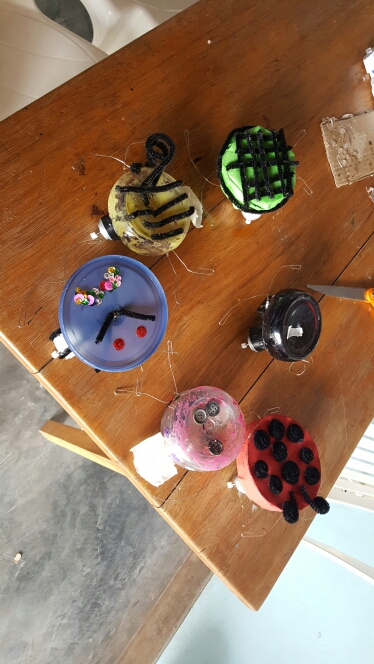 The last robot steps are to glue on the shells that the kids decorated and test to make sure everything is functioning correctly. It was a lot of fun to see the kids play with their robots for the first time and how excited they got when the robots ran into walls and turned around like they're supposed to (I was also excited because it seems almost inevitable that someone's robot out of the 29 we made shouldn't work… but fingers crossed because at this point, we're still doing okay). At the risk of sounding like all I ever say is that everything is "great!"/"awesome!"/"so cool!"… the robot shells that the kids made are all of the above. I'll work on some new adjectives, but for now, I'm going to back up my claims with photo evidence so that you can all agree with me.


The C3 kids have one more class on Thursday, and they still need to finish up the details of their city. They've done some awesome (yeah, I know) work so far, though. Even the kids who seemed completely disengaged produced great buildings! Debbie and I also have to finish up their robot soldering and antennae installations before class so that they can glue on their caps. Thank goodness for class-less Wednesdays!


Finally, this afternoon was our last class with each of the younger classes. Julie deserves a round of applause (and a paid vacation) for helping me out every week. We started in her class (2-3 year olds) and decided to do another lego day because our creativity was wearing thin, and we had to mentally prepare ourselves for what we were doing in the C2 (4-6 year olds) class. No matter though… the kids loved it and stayed engaged for an entire hour. You count it as a win when you have seven 2-3 year olds doing ANYTHING (besides freaking out and trying to escape) for more than 20 minutes.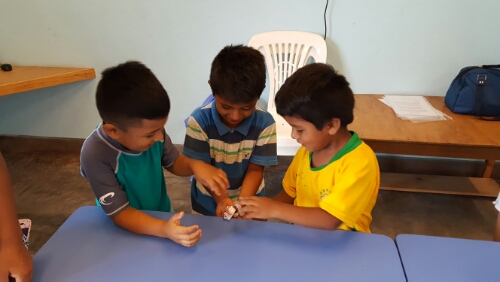 With the C2 class, we were making robots! Nothing to the extent of the ones we did with the two oldest classes, but it was complicated enough. Debbie found these kits online (https://www.teachersource.com/product/scooterbots/electricity-magnetism?utm_source=blog&utm_medium=blog&utm_campaign=bots) which are nice and basic. In hindsight, it would be easy to get the parts for these on your own and make them for a lot cheaper, but it was nice to have something that we didn't have to think about. Forty minutes and a lot of troubleshooting later, we had 10 working scooter bots! The kids loved them! I thought they were kind of dumb because they just vibrate and wiggle around, but even I have to admit that they're fun. If I was 6, I would be pumped about them. After finishing the construction, they spent the rest of class running around and finding different places to play with their robots.
I may be exhausted, but I feel really good about the last couple days! Everything is coming together, and I think I understand why people keep teaching. There are some tough days, but when you get to see your kids grow and show them something new and exciting, it's super rewarding.
You know what else? This is my favorite thing: Irma said that a ton of the kids are saying they want to be engineers now. How cool is that?!