Can you believe it? Today was the last day of summer school! I'll admit that part of me is a little sad, but a bigger part of me is excited for no more late nights of hot gluing antennae on 30 robots.

Our morning was relatively uneventful. I spent about an hour fixing a couple of the robots that we ran into trouble with yesterday, including the one that started smoking when we put batteries in. I'm still not really sure what happened with that, but after I switched out the battery holder, it started working fine. I'm happy to not question it anymore and instead just be pleased with the fact that it works and is potentially no longer a hazard. I say potentially because you really never know… Who knows what happened to it this time, so who's to say that it's not going to happen again?


Anyway, not my problem anymore! All of the kids took their things home, so I wash my hands of any responsibility for the well-being of the robots. I give it a week until everyone's robots are completely destroyed from the kids handling them like they're indestructible. On the contrary, they are quite destructible and have already managed to be a pain in the butt with all of the repairs we've had to make. Granted that has something to do with the quality of assembly when we first put them together, but that's not the point. Point is, you need to be careful with these things, and the kids are anything but careful.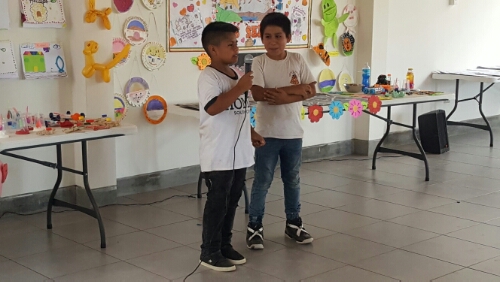 Okay I'm getting sidetracked. Back to business. Since it was the last day, there was a bit of a showcase in the afternoon before the parents took their kids home. All of the teachers put out/hung up their kids' work from the program, and the students showed off some of the things they learned. The three older classes got up and recited the weekly Bible verses that they have been working to memorize, the oldest class did a dance that they learned from Madeleine (she's been helping Ingrid with her class), and Debbie gave a bit of an explanation about what the mini-engineers course involved.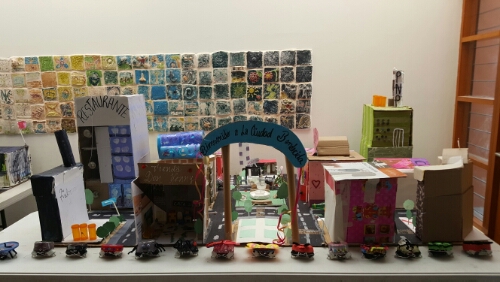 The cities looked so cool!! The parents were all taking pictures, and I don't blame them because they turned out so well. Debbie and I also had an extensive photoshoot before the showcase started. The best pictures were the ones taken at street level that kind of make it look like you're a tiny person in a cardboard city. The older class especially did an awesome job, even adding some stop signs, traffic lights, trees, light posts, and street names.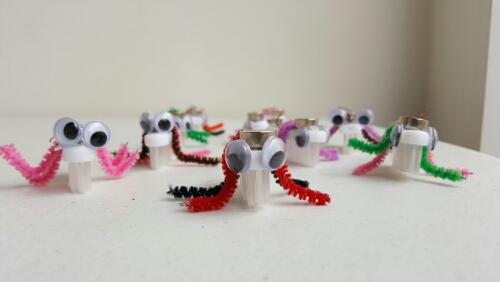 After the performances and such were over, everyone was invited to walk around and check out the work. We pulled apart the city models so that the kids could take their buildings home and handed out batteries so they could finally play with their robots. I also ended up fixing something like six robots which means that, inevitably, they're all going to break again.
Endings are when you get all sorts of surprises. For example, the kids who thank you the most and give you hugs are the ones that you thought hated class and wanted nothing to do with you. I had some good moments with a few of the kids which was nice. It's those things that make the whole teaching thing seem like slightly less of an overall bummer. Without a little bit of positive feedback, you're left feeling drained and tired and wondering if it was even worth the effort. Between today and what Irma said about more kids saying that they want to be engineers when they grow up, I feel pretty good about the whole teaching experience.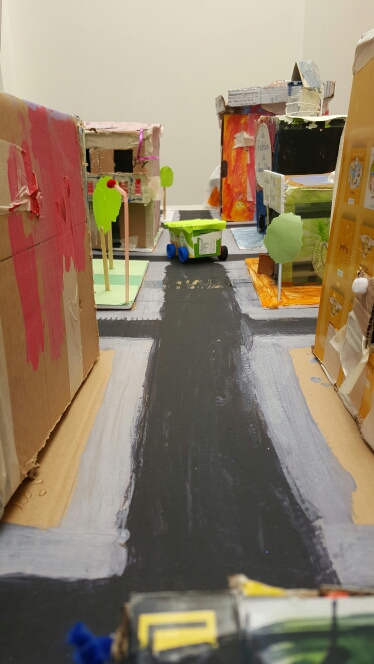 Another thing… Time here moves so much more quickly than in Ghana. There's nothing to mark the passage of time, like new volunteers showing up, and I definitely feel like I have more of a purpose here in what I'm doing. That's a nice feeling (but I also makes the days go by even faster). It will be interesting to see what the rest of my time here is like! I know that there are a bunch of projects they want me to get involved with before I go, so I'm not worried in the least that I'm going to find myself without anything to do. It will just be a less routine/predictable something to do than it has been during the summer program. (Don't even talk to me about how much time I have left here. It's something I'm consciously choosing not to thinking about.)
I know I said that last weekend was going to be a real relaxation weekend, and it mostly was, but THIS weekend is the real deal! No Sunday evening lesson planning, no random class-related tasks that need to be accomplished. We're having an actual WEEKEND! Wish me luck… I might not know what to do with myself with so much leisure time.