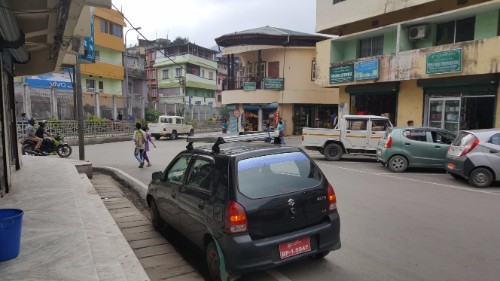 Jenrika and I met up earlier this week to get ready for the extra classes we have to teach, and I learned something VERY exciting. I'm sure I've mentioned before that Jaigaon is right on the border of India and Bhutan. It's very easy for Bhutanese and Indian people to cross between the two countries. It's complicated and expensive for most other people to get into Bhutan because they're trying to minimize Western influences in the country ("high value, low volume" tourism… people have high-quality experiences, but it's expensive so the country isn't overrun). I had pretty much accepted the fact that even though I'm right here and can see Bhutan from my window, I would never get the chance to cross the border.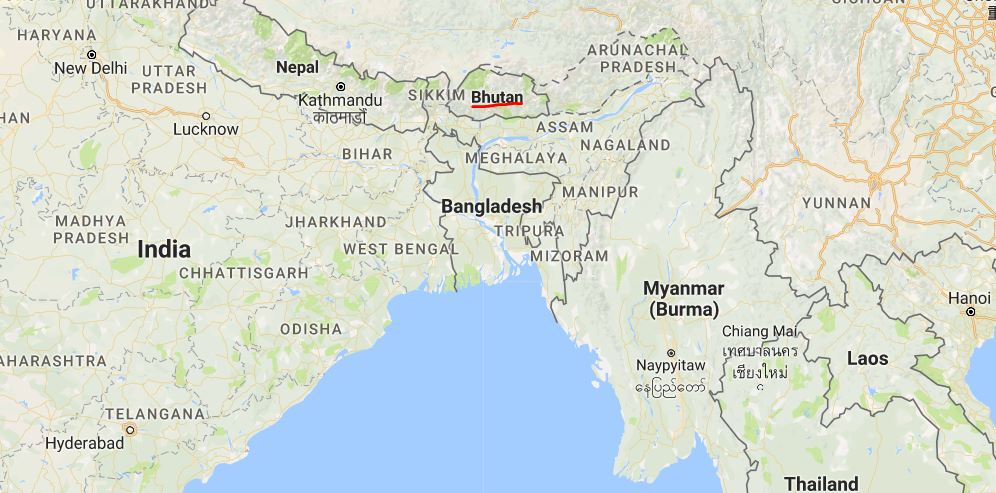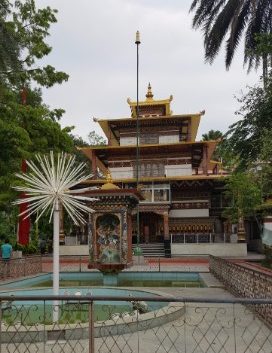 Here's the exciting part… I met Jenrika at the Bhutan Gate, and she started walking like we were going to go into Bhutan. I said that I didn't think I was allowed. She said she thought I was. Sure enough, she asked the guard, and anyone is allowed to go into Phuentsholing, the city on the border!! They check your documentation if you try to go farther into the country, but no matter… I went to Bhutan!!!
Bhutan is an interesting country. It's very small, recently (2008) changed from being an absolute monarchy to a constitutional monarchy, and Mahayana Buddhism is the country's official religion (it's around 75% Buddhist and the rest Hindu). India gives them a lot of money and military support because as it was explained to me "if India doesn't, China will". India and Bhutan have had special treaties for years because Bhutan is like the buffer zone between India and China, and India doesn't want the Chinese army camping out right on its border. The main export is hydroelectric power, and much of the money for that development has come from India. The rest of the economy is built mostly on tourism and agriculture.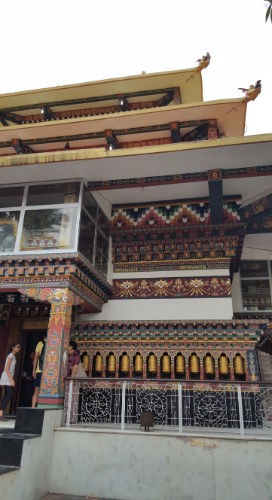 Most of the country covered in forests, and the government has made a strong commitment to preserving and protecting the environment. There's a big push for electrical cars, and between the hydroelectric power and forest cover, the country is carbon neutral. The government has committed to keeping 40% of the country's area as national parks and protected areas and 60% covered by forests. That's pretty awesome!
It is considered a very happy country and attempts to measure its "Gross National Happiness" level. The pursuit of gross national happiness is even included in its 2008 constitution. The caveat to this is that happiness is hard to measure because it's subjective, and just because people say they're happy doesn't mean that there's no more work to be done. Many people are financially poor (about 30% live below the poverty line), and about 70% don't have access to electricity.
It's interesting walking from India into Bhutan because there are some differences that are immediately clear. The biggest one – trash. Bhutan is impeccably clean. There are trash cans everywhere. In India, the street, forest, river, etc. is your trash can. The second biggest one – rule following. In Bhutan, people use crosswalks. They wear helmets on their motorcycles and don't put 15 people on one. No one is sitting on the roof of the buses in Bhutan. In India, especially outside of the big cities, don't expect any of those things to be true. When I saw a park and no trash on the ground, I almost cried. I wish I knew about the whole entry situation earlier because I would have been taking weekly mental health trips across the border!
We went to a café, I drank strawberry lemonade and ate a chocolate lava cake, and we threw some plans together for classes this week. It was like being in a wonderful alternate reality.