After our long first day, I think everyone was happy that Day 2 was only a part day outing. Our schedule included a bunch of things that I actually hadn't been to yet, so that was exciting but also slightly nerve-wracking because I didn't have a good idea of how long we would need at each thing, where exactly they were, how to get in, etc. I did as much research as I could, but the internet only tells you so much, and it tells you even less in Armenia.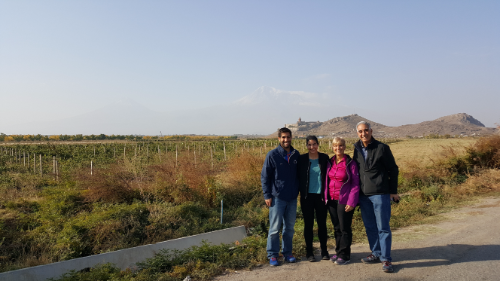 Our first stop was Khor Virap, one of the monasteries that I visited for the first time with Sarah. You can get an awesome view of Ararat from there, assuming that the air is clear, but we unfortunately had a pretty hazy day. Instead of having the mountain jump out at you like it usually does, it was more like a phantom lurking in the background, and you could see it only if you focused extra hard.
If you want to read all about the legends associated with Khor Virap and St. Gregory's imprisonment there, you can check out the post I wrote about my visit with Sarah (plus you'll get some good, random bonus material).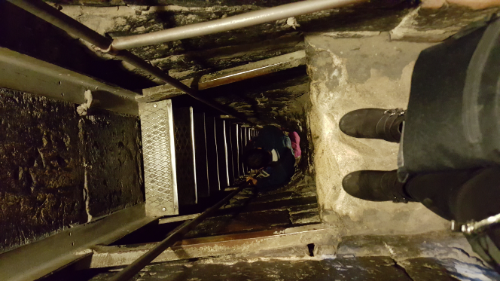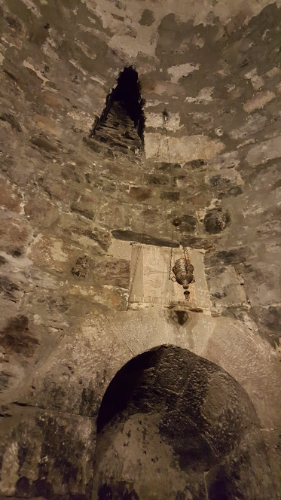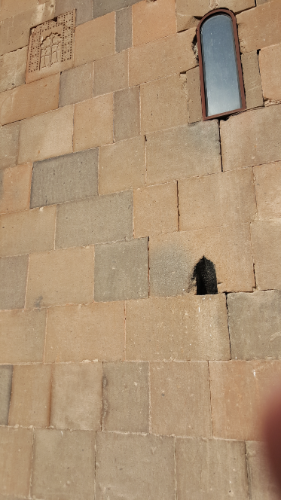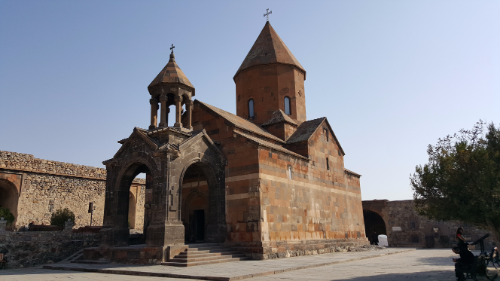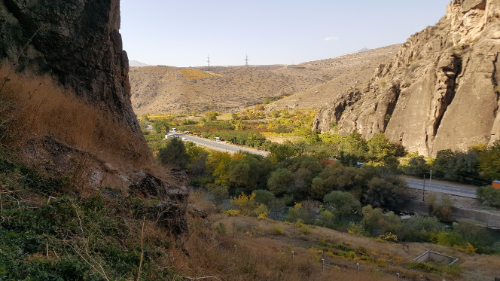 After Khor Virap, the rest of the day was new experiences for me! We kept going south and headed to Areni, home of the cave where the oldest leather shoe and the oldest winery were found. Do you remember when we talked about Armenian inventions and I said that Armenians invented shoes AND wine? This cave is the reason for that claim to fame. I think there are a few different names for the cave, but we'll call it by the official archaeological name, Areni-1. Creative, right?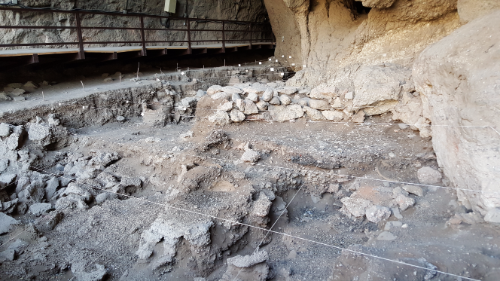 Like I said, I had never been before, so I had no idea how it worked. Luckily, our driver, Arthur, knew where to go. After paying the 1000 dram admission fee ($2 whole dollars to see the birthplace of shoes. What a bargain!), we headed in. I was expecting, well, a cave, but it was actually quite nice. There were stairs up to the entrance, light fixtures throughout, and informative signs talking about what was found in each area and what you can still see.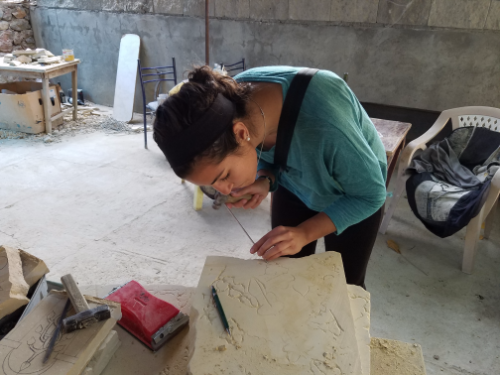 My mom's main question about the whole thing was: why the heck was someone digging around in the cave in the first place? It's not like it was easily accessible before they put the stairs in. Did someone wake up one day and have a crazy epiphany that maybe they should dig in that random cave above that one random cliff and beneath that other random cliff in that random town in Armenia? However it happened, the whole thing is pretty impressive. The dig is very orderly, and it's even cool just to see how they roped off the different areas and kept things organized.
We also did the classic Areni activity and visited Areni Winery. I mean, how can you not go to a winery that's next to the birthplace of wine?? You would think that means it's the best wine in the universe, but based on Mike's and my dad's reports, that's maybe not quite true. Either way, good wine or not, it seems like the kind of thing that you have to do. We got a tour of the winery by the son of the founders, Tigran. He showed us around the different rooms and explained the wine-making process. I'm no wine expert (or even wine amateur), but I always think it's fun to see how things are made. Though it smelled strongly of wine through the whole tour which was kind of gross, but I guess that's an unavoidable side effect of making wine…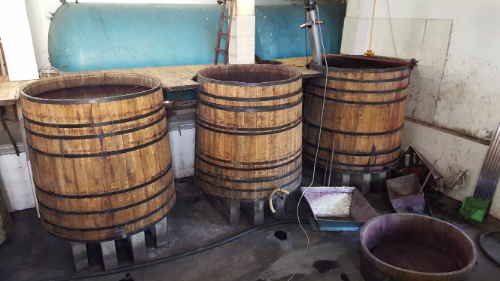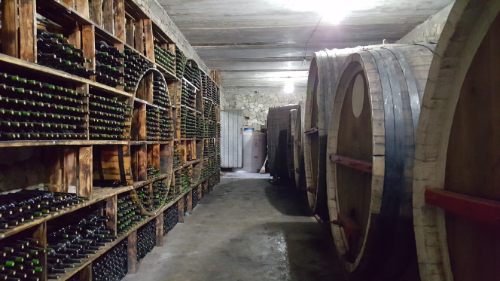 They make a bunch of different fruit wines which is interesting. There were options like apricot (the most Armenian of all wines) and pomegranate. They also have these massive barrels to hold the wine during part of the fermentation process, and they get the oak for those from Artsakh. I kind of wanted one to live in… some of them were definitely big enough for a tiny house. The other claim to fame of Areni wine is that some of their wines use Areni grapes which are ONLY grown there. I'm sure there's some reason like the soil or something science-y to explain that, but I amused myself by pretending that it's just because grapes grown in Areni are Areni grapes, so duh, you obviously couldn't grow them somewhere else because then they'd be Yerevan grapes or Gyumri grapes.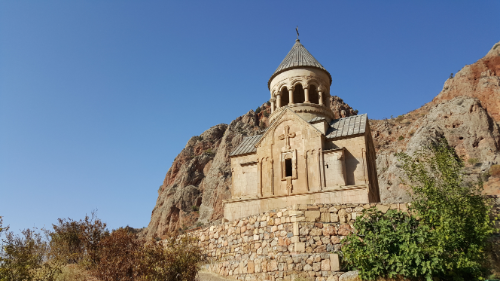 Our last stop before heading back to Yerevan was Noravank Monastery. Noravank is a medieval monastery with construction starting in 1205. There are two things that people usually go to Noravank expecting – an amazing view and a fun picture on the steep steps of the main, 2-story Surb Astvatsatsin Church (apparently a very popular church name… that's the same name as the church at Khor Virap. It means "Church of the Holy Mother"). It's located in the Amaghu River gorge and is surrounded by cliffs. Definitely not an ugly spot! Surb Astvatsatsin was completed in 1339 and was the final work of the designer and sculptor Momik. The church is intricately carved and has a first-floor burial chamber and second-floor chapel. To get to the second floor, you have to climb stairs that cantilever out from the side of the building. Besides Surb Astvatsatsin, there's another intact church (Surb Karapet), a chapel, fortress walls surrounding the complex, and some ruins.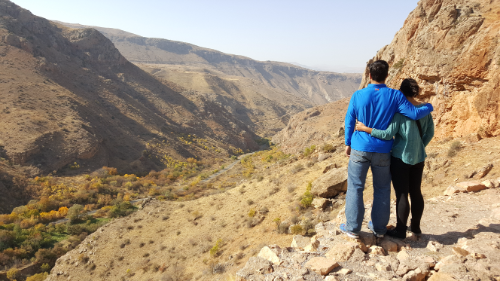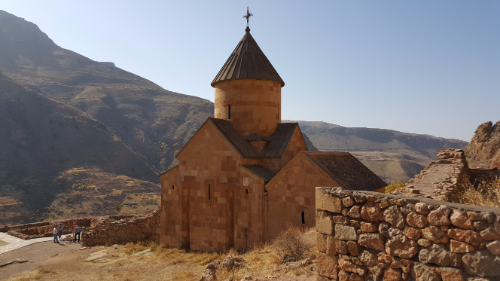 From the beginning, Mike and I were enthusiastic about climbing and exploring every nook and cranny of the complex. Mom was slightly more hesitant and insisted that she wasn't going to climb up the stairs, but there was no chance I was going to let her leave there without doing it. There was a tour group there when we arrived, so we decided to do some exploring of the other buildings before checking out the main event.
By the time we made our way to Surb Astvatsatsin, there was no one else left in the complex. Perfect timing! We did have to loiter a bit, waiting for someone to come to take a full family picture, but we also had plenty of time to check out the church without hordes surrounding us. Mom climbed the stairs about halfway for a picture, and at that point, why not just go all the way up? It's definitely worth the climb to see the inside of the church. There are more windows that most other churches, plus an open dome at the top, making it feel light and airy inside rather than dark and heavy.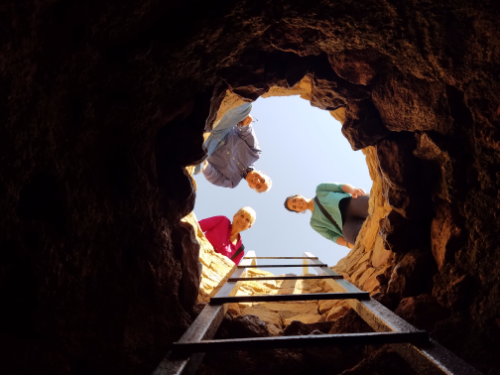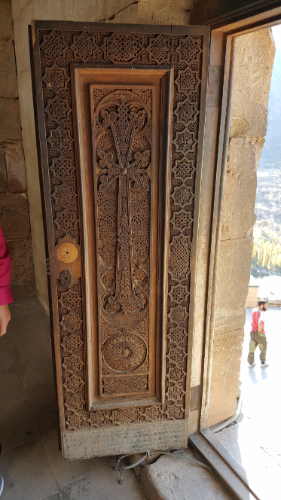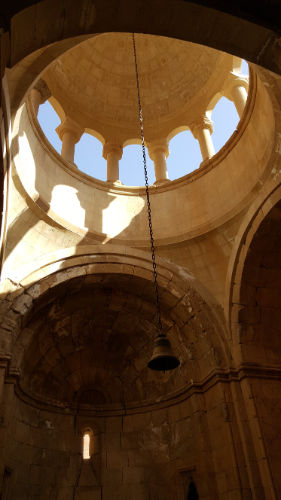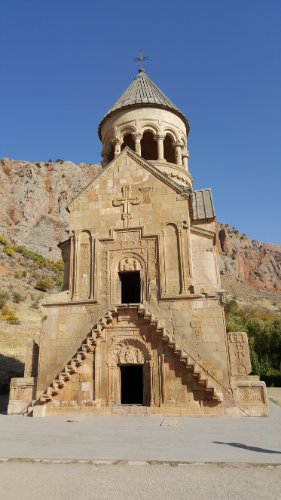 That was our last stop of the day, so after we had our fill, we made our way back to Yerevan and took a trip up Cascade to visit Mother Armenia. Mom and I were normal humans and opted to take the escalators. Mike and Dad were overachievers and not only took the stairs but also counted them. They're clearly a couple of engineers.