The next day, Badveli and I braved the rain and walked around downtown Beirut. This was one of those infrequent times when I wished that I had a step tracker or something to know how far we walked because we were on our feet practically the entire day!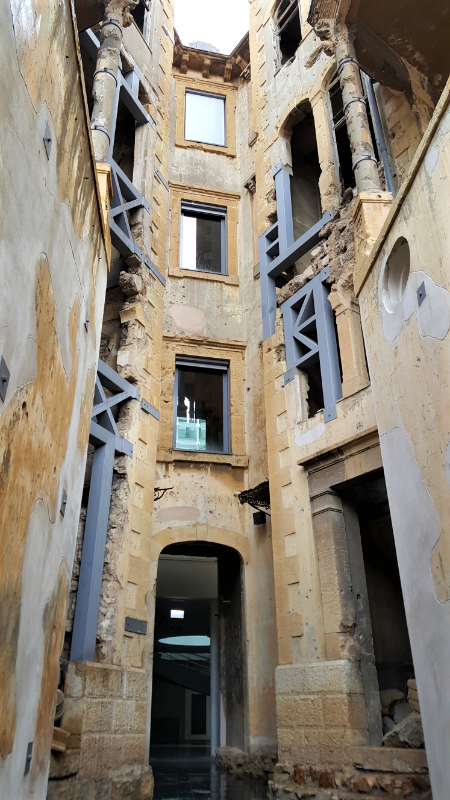 We started off at another museum, Beit Beirut (House of Beirut). Unfortunately, it was closed, but we looked at what we could from the outside, and Badveli explained the story and described the interior to me. The building was built in 1924. It was an apartment building, originally called the Barakat house after the family that commissioned its construction. The building's architecture was very transparent, connecting the occupants to the city around them with beautiful, unobstructed views. There were eight families, both Muslim and Christian, living in the building when the civil war broke out. They evacuated, and the building was taken over by Christian militias.
It is located along the Green Line, the road that divided the east and west sides of the city during the civil war. There are five major crossings, and the Barakat building is on the corner of one of them. That strategic location, plus the architecture that allowed for such fantastic views, made it into an ideal location for snipers to prevent people from crossing the street.
After the war, it was discovered by a Lebanese architect, Mona Hallak, who became determined to preserve the building and share its history. She said, "To me it represented Beirut: before the war through the archives I found under the dust and debris, during the war through the sniper additions, graffiti and bullet holes covering its walls, and after the war through my fight for the preservation of our heritage, identity and memory against the sweeping amnesia."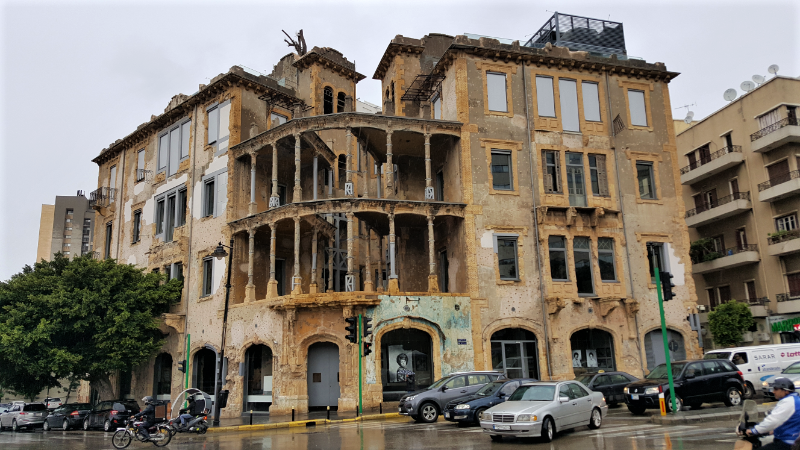 It took years of battling with both the Barakat family and the city, but she was eventually successful in ensuring its preservation. It went through a serious restoration process to make sure it was structurally sound while preserving the interior and exterior damage or "war architecture". There was also an addition to support its new function as a museum.
I would have loved to go inside. It seems like a pretty spectacular and powerful place, and despite the damage, you can still see the beauty and elegance of the building. Welp… guess I'm going to have to go back to Lebanon! Oh darnnnn…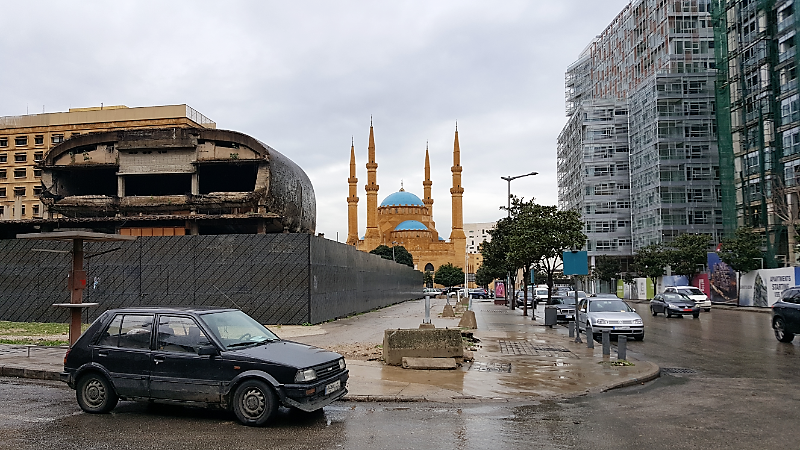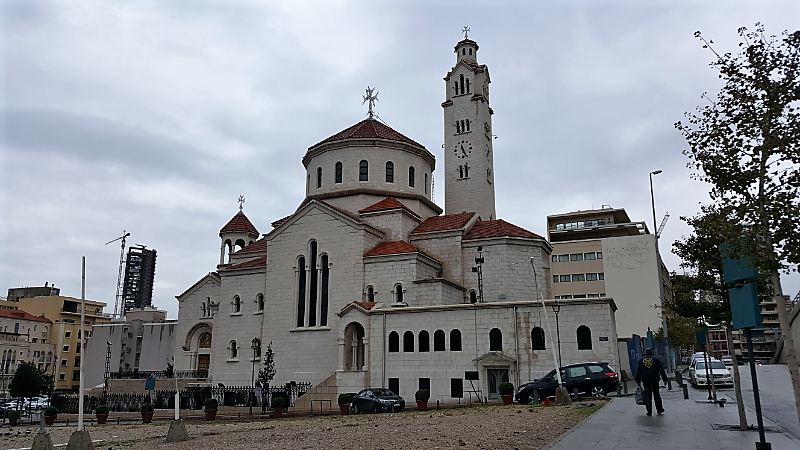 From there, we wandered towards downtown, pausing to observe the absurd amount of construction happening along the way and wonder about the buildings that have gone seemingly untouched since the war. There's a big developer that has control over practically all of the rebuilding and development in the downtown area. They have compulsory purchase power which means that they can force people to sell their property even if they don't want to and pay them way less than it's worth. There's a weird feeling that you get in a lot of parts of town that they've heavily developed. They certainly look nice, but they're missing personality and life. There's no color, both figuratively and literally because everything is built out of the same, yellowish stone. The streets look like they should be full of people, but it's like the city falls asleep as soon as you step into one of the little development pockets.
I kept having these conflicting feelings because often, I thought that the buildings were pretty. But what's the point of having pretty buildings if no one can afford to use them? Buildings are made to be used. Otherwise, they're worthless. Yes, architecture is also art, but what makes it such a cool art form is the fact that it needs to be both functional and beautiful. Without function, you have nothing more than a very large sculpture. The city changes from a living, breathing place into an inauthentic, amusement-park-type attraction.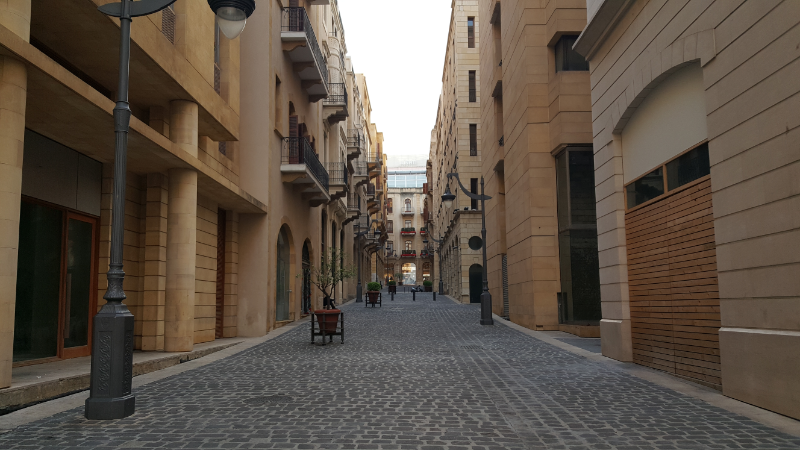 Also, sometimes you have to wonder if more buildings really are better. More buildings means more people. More people means that you need more space for people to do their living. Not just apartment space, but outdoor space. Space for kids to play and people to socialize. A city with only tall buildings quickly turns into a very isolating, suffocating place.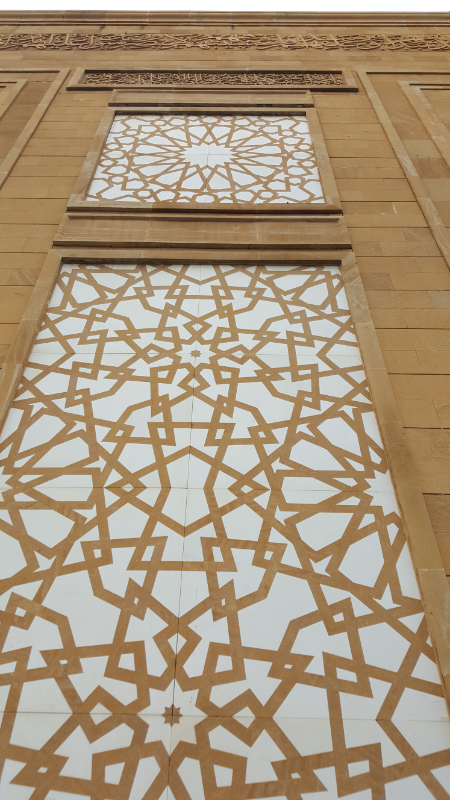 From there, we walked past Al-Amin Mosque. It was built between 2001 and 2008 and is the largest mosque in Lebanon. There's some controversy surrounding the procurement of the land that it's on, but I can't mentally handle learning about more complicated history sooo… here's the one second summary of what I think I know, and we'll leave it at that: the prime minister at the time was the one who managed to do the previously un-doable purchasing of land which seems a little questionable. That's all I'm going to say.
Of course, the controversy doesn't stop there because why would there ever be a simple story for me to tell you? That would be way too easy. The mosque's architecture is Ummayyad, Mamluk, and Ottoman-inspired, and many people think that it looks out of place in the center of Beirut. It's also extremely large which makes it stick out even more. The minarets are 72 meters high!
Personally, I didn't love the exterior. It definitely felt like it was forced and didn't quite match the other things around it. However, I went back later on my own and went inside… and it was spectacular. The painting, calligraphy, and gilding in the dome were like nothing I've ever seen before. I could have stared at the ceiling, marveling at its beauty and complexity, for hours. I kept thinking, "Who the heck can do something like this? And HOW LONG did it take them??"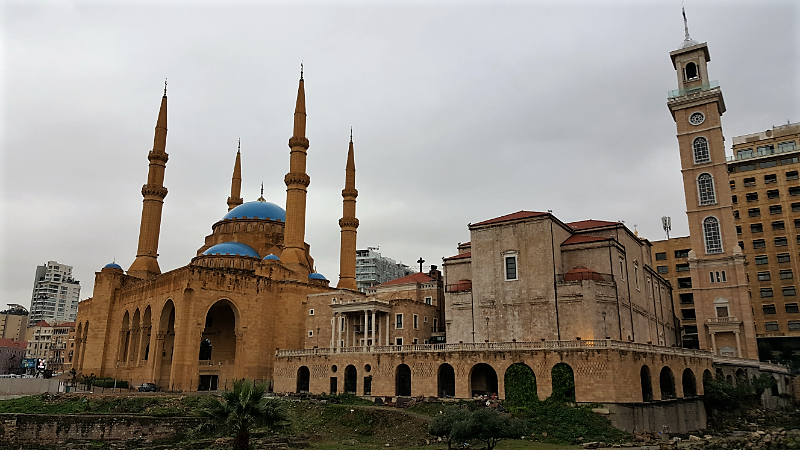 Well, let me just say… the internet, my friends, can be a wonderful thing. Guess what? The dude who did all of that is named Harout Bastajian, aka definitely Armenian. He specializes in the painting of religious buildings, and he says that the painting of Al-Amin Mosque took him and his team ONLY 3 MONTHS. Ummm how.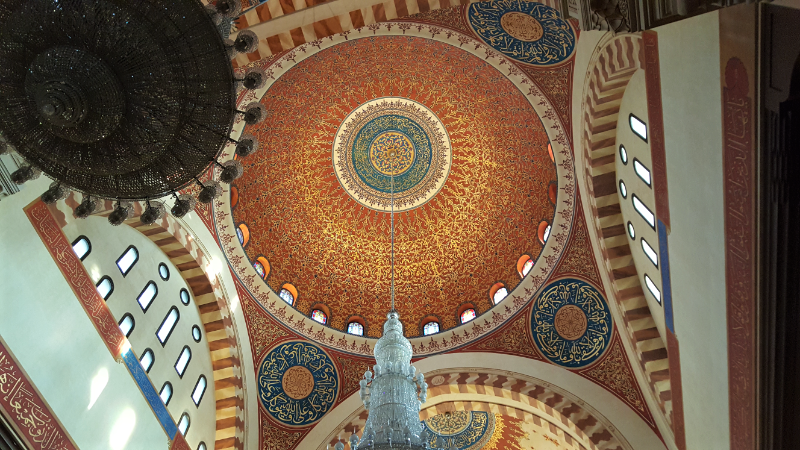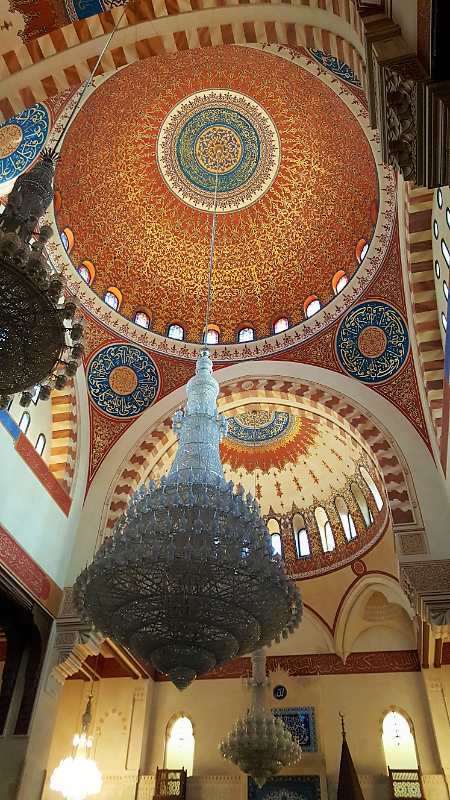 My visit to the mosque was also very interesting because they have a guy there just to talk to visitors. I was the only visitor at the time, so I got to ask him anything I wanted about the building or Islam. He was trying to convert me which obviously wasn't going to work, but I was excited to have someone to answer my many questions. I've been getting more and more interested in learning about other religions so that I have a basic understanding of what other people believe, and reading about religion on the internet only leads to headaches. When you're talking to someone, you can ask them exactly the things you've been wondering about and get answers that aren't written for religious scholars.
Directly next to the mosque is a church, St. George Maronite Cathedral. One of the complaints about the mosque is that it dwarfs the church, and I guess they decided to deal with that by building a randomly tall clock tower topped with a tacky (in my non-objective opinion) light-up cross. To be honest, I don't know why they built the clocktower and if it actually had anything to do with the mosque or not, but there is kind of a nice sentiment behind the height they chose for it. It was going to be a bit taller to match the height of this clock tower in Rome, but they decided to cut off a few meters so that it's the same height as the towers on the mosque to send a message of harmony and solidarity between the religions.
I think that's enough for now, right? I don't want to overwhelm you with information all at once… we'll save more overwhelming for the next post. 🙂