I'm finally starting to feel like I hit my groove at the farm, and that's usually when things start going wrong. As soon as you're feeling too confident, something happens to put you back in your place. We sowed another corn field this morning, and I was actually managing to move at an acceptable pace! I think I have the technique figured out. Things were going great! Anddd then I was an idiot and started being overconfident and managed to cut my pinky finger with my machete. 
I was so embarrassed and we only had about 15 minutes left and I didn't want the guys to know what had happened, so I was planning on just pretending nothing was wrong and finishing the work. Great plan except that apparently fingertip cuts bleed excessively. After about 1 minute of trying to keep going, I had to stop and signal to Amber to come help me. We didn't have a band aid and didn't want to ask, so she took the random objects (some string and a water bag) I had in my bag and pulled something together. Once we got back to the house, she cleaned it out and put an actual band aid on. It's really not that bad (so Mom, stop freaking out).
After breakfast, we went around to the three schools we're working with. We've spent a lot of time at EP, but I hadn't been to Baptist or the junior high yet. We met the headmasters of both schools and talked a bit about what we can do to help out. Baptist still doesn't have a teacher for P3, so that's good…
Anyway, today was still a cleaning day so the kids were outside, chopping down some of the tall grass around the school with machetes. I'm glad that a bunch of 10 year olds can handle their machetes better than I can. It was a good morning for my ego.
In the afternoon, James had plans to go to the orphanage to train their soccer team, and we all decided to go with him. I haven't been yet, and I was interested to see it. That's where the food from the farm goes. It's about a 20 minute tro ride and a 15 minute walk from our house. I was actually pleasantly surprised by the situation there. They have about 35 kids, and they all have their own beds and there are flush toilets and running water. They definitely aren't living in luxury or anything, but it's actually probably a step up from our house. The floors are even tiled!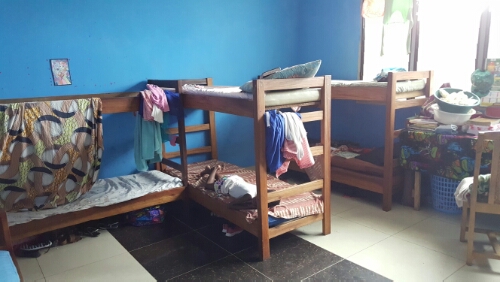 WAIT. There's more. They have a washing machine. Yes, an actual clothes washing machine. And it works! I almost lost my mind. I actually had a dream last week where we got a new house with a washing machine and I almost cried I was so happy. It's funny the things you end up missing… I don't think I would have put that on my list ahead of time. I probably would have mentioned running water, but I'm actually doing just fine without that. Anyway, they also have an oven and a microwave and a couch. Mmm I also miss my couch. It's okay though. We'll have a beautiful reunion in November.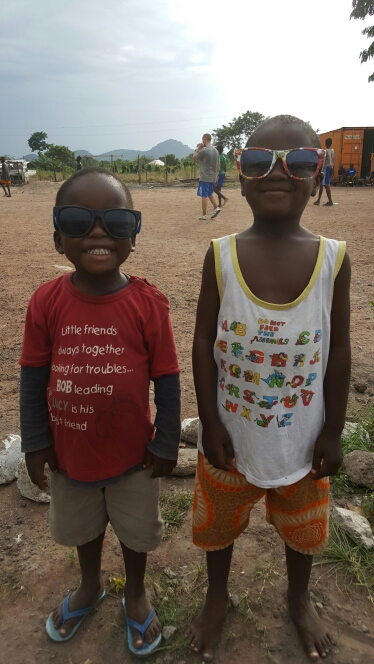 Okay sorry, I got distracted. Like I was saying, it was nice to see what we're working for at the farm every day. We got home just before dinner and then spent the night assembling school supply bundles for the kids at EP and Baptist. Avy raised money before she came to be used wherever she saw a need, and after seeing how many kids don't have what they need to be successful at school, she started looking into getting some supplies for everyone. Each kid is going to get a notebook and a pencil case with a pencil, pen, eraser, sharpener, and ruler. They'll still need more notebooks and the pencils won't last all year, but it's a start! It's also good motivation for the kids because who doesn't love new school supplies? We all helped put the pencil cases together, and they'll be distributed to all of the kids later this week.