Here is a random collection of funny/interesting things I learned and experienced during my time in Ghana that I don't think I mentioned previously in my blog. Note that I tried to make these all as accurate as possible, but some of the cultural things especially are what I was told by various people, so who knows if my understanding is completely right. It wouldn't be the first time some things were lost in translation.
Greetings
Everlasting walked me through the traditional greeting process (in Ewe) once, and it was amazingly long. I don't remember every question exactly, but here's the general gist.
Person 1: "Good morning/afternoon/evening"
Person 2: "Good morning/afternoon/evening. Are you fine?" ("Are you fine?" is how their "how are you?" equivalent directly translates)
Person 1: "Yes, and are you fine?"
Person 2: "Yes. Is your household fine?"
Person 1: "Yes, and is your household fine?"
Person 2: "Yes. Are your parents fine?"
Person 1: "Yes, and are your parents fine?"
Person 2: "Yes. Are your children fine?
Person 1: "Yes, and are your children fine?
Person 2: "Yes."
Obviously replace any of the "yes"es with the appropriate answer if that's not the case. I asked about the children question because what if you don't have any children? He said that it's just assumed that there are children in your household, whether they belong to you or a sibling or some other relative.
So this used to be what you were supposed to say anytime you saw anyone, even in passing. Everlasting said that it was cause for a lot of misunderstandings because if you didn't have time for the whole thing and moved on without finishing the full greeting, the other person would think that you were mad at them. Now, in passing, you can get away with just saying "good morning/afternoon/evening" and asking the other person how they are. If you go to someone's house to visit with them though, you would still go through the whole thing.
Handshake
This is something that I never managed to master. Can you snap? If so, good for you. If not, you have no hope of being able to properly shake someone's hand. You shake hands normally, and on the release, you slide your hand back so you're both pinching the other person's middle finger between your middle finger and thumb. Then, you both make the same motion as a snap, so your middle finger hits your palm and makes a snapping noise. I can't snap like a normal human, so I could never get my handshake to make a sound. Instead, I just went through the motions and hoped that the other person could do it right and make a sound to cover up my failure. Usually that worked, but on the odd occasion that neither of us could do it, we were left with an awkward silence.
Right hand
This is another thing I struggled with. Your left hand is considered unclean (hooray for lefties!), so you aren't supposed to use it for much of anything. Anytime you're interacting with another person, whether shaking hands, exchanging money or goods, or even just waving, you're supposed to use your right hand. If you are unable to use your right hand for some reason, you say "sorry for left" so they know you're not insulting them. You're also only supposed to use your right hand for eating which is quite a challenge. Luckily, we usually ate in the house, with the other volunteers, and with silverware, so this wasn't a challenge we often had to face. The waving thing though… that was hard. I had to make sure if I was carrying something to put it in my left hand so that my right would be the one free for waving. And next time you buy something, try giving the money to the shopkeeper and accept the item you just bought with the same hand. Not very easy!
The Ghanaian hiss
A common way of getting someone's attention, whether it's a waiter or a bartender or just someone walking by, is to hiss at them. It's kind of a "TSSS" sound, and while you'll probably get smacked for doing that anywhere else in the world (at least anywhere I've ever been), in Ghana it's just a way of saying that you want to talk. I felt super uncomfortable doing it at first, but it really is normal there. Shopkeepers in the market (when they weren't yelling "obroni" or "yevu" at us) sometimes did it to get us to come over and talk.
"Are you sure?"

This was one of our favorite Ghanaian questions. People asked this all the time, even about things that you are definitely sure about. For example:
Person 1: "What did you do this morning?"
Person 2: "I went to the farm."
Person 1: "Are you sure?"
Person 2: "Yes?" and thinks: I was there wasn't I? I don't think it was a dream. Was it a dream?
Or
Person 1: "How are you?"
Person 2: "I'm good, thanks for asking!"
Person 1: "Are you sure?"
Person 2: "Yes?" and thinks: Am I sure?? Do I not seem okay? WHY ARE YOU ASKING THAT??
After we realized this, we all started asking each other "are you sure?" after every question, no matter how ridiculous. I still think it's funny and have had to catch myself from saying it since I've been home.
"You are invited."
When someone is eating and is in the company of someone who is not, it's polite for the person who is eating to invite the other person to share their food by saying, "you are invited." This is one thing that really caught us off guard because it's a rare occasion at home when someone offers you some of their food. At home, it's usually when you're finished eating and have some fries left on your plate. In Ghana, it's whenever the other person is there. To say no politely, you just say "thank you", NOT "no, thank you".
Water
The locals could handle drinking the well water in our village, but we, with our weak Western bodies, couldn't. Instead, we used spring water anytime we needed water for drinking or tooth brushing. You can buy bottled water, but the cheapest option is to get water in sachets (you can buy a sachet of 500mL of water for about 5 cents US or a bottle for about 25). A sachet is basically a plastic bag of water, and it's one of the things that I consistently thought was funny. Rare was the occasion when someone managed to drink out of one without getting water on themselves, and I mostly just poured mine into water bottles to avoid the trouble.
Litter/Trash
It's amazing how well trained we become to live in our societies without even realizing it. Until I went to a place where recycling and trash cans aren't as prevalent as they are here, I didn't realize how reflexive my actions regarding trash have become. I can't even make myself throw something on the ground without feeling horrible and having to go back to pick it up. In contrast, in Ghana there is a lot of trash everywhere. Everywhere. I only know of one dumpster in town and it was always overflowing with trash. I assume it got emptied at some point, but I don't remember ever seeing it less than full.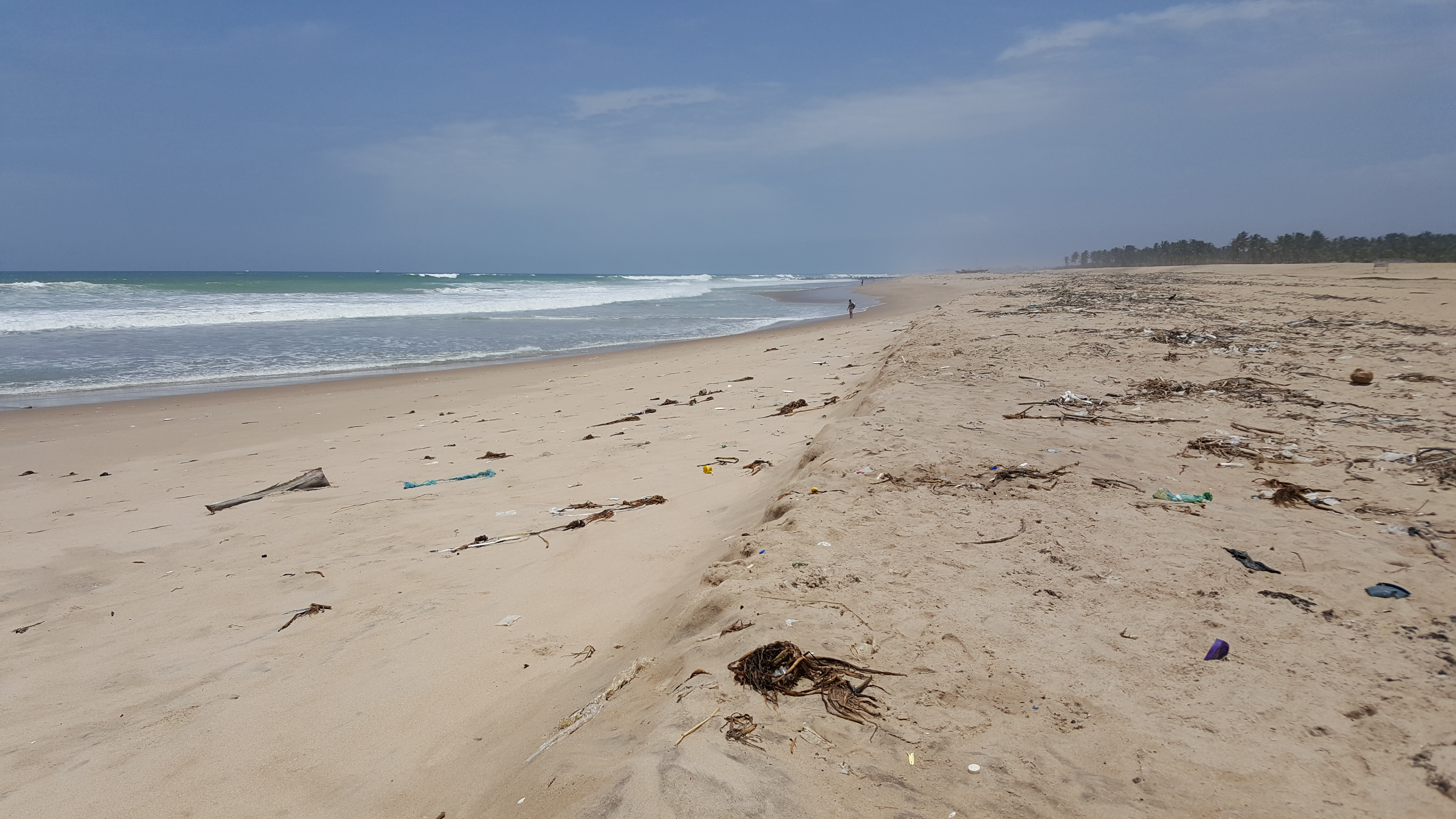 At home, from the way my conscience reacts to throwing a plastic bottle in the trash, you would think that one bottle alone is going to destroy the world. Recycling, as far as I saw, is pretty nonexistent in Ghana. The only thing that we separated out from our trash was our water sachets. Everything else was thrown away, and then the trash was thrown into a pile in the woods. Which leads us to…
Fires
You know how when you see smoke, you instinctively panic a little and assume the thing that's burning probably shouldn't be? Yeah, I've lost that reflex. It maybe lasted two weeks in Ghana before I realized that almost every fire is intentional, whether it's a field being burned to get ready for a new crop, a fire for preparing a meal, or pile of trash being burned for disposal. Yes, you read that right. Lots of toxic chemicals are being thrown into the ozone from Ghana.
A funny and also somewhat terrifying story – when we had only been in Ghana for a couple weeks, we were planning a bonfire and asked Joe if there was any firewood at the farm that we could use. He said, "no, but there are some old tires you could use"… crickets… "oh I guess it's not very good to breathe that in." Ha. Haha. Hahaha. I mean, it was so ridiculous that we couldn't help but laugh, but at the same time it's like… what the heck is happening here?
Goats and chickens
When you arrive in a village in Ghana, one of the things that sticks out first is the fact that there are always goats and chickens all over the place. It seems like they're all just roaming wild and that they don't belong to anyone, but that's not the case. They all have owners, and when their owner calls, they know how to find their way back home.
One day, Avy and Fernanda wanted to take a picture with a baby goat. We went to a house near ours where they usually have a big pen of goats, but none of them were home. We started walking away, disappointed, when the woman who lives there saw us, asked if we were looking for the goats, and proceeded to call them home. Her goat call was a combination of Ewe words and some clicks and other sounds, and within seconds, we could hear them all running home. It was insane!
Drive through markets
I know I've talked about these before, but it's one of my favorite things and I finally have a picture, so I'm going to talk about it again. When you're on a tro tro and are driving through a village, stopping in traffic, or doing anything else that would cause you to slow down, there are often people selling things off of their heads. Now, if you followed my journey at all, you know that carrying things on your head is not the easiest thing… for me, at least. For a lot of the people here, it's as easy as carrying nothing. People are chatting and walking around and running like they don't have, for example, a bowl of drinks on their heads. How? That's something I can't explain. Best I can do is carry a stack of books on my head.
Anyway, I digress. It's totally normal to buy something through the window of the tro. Why is this not a thing everywhere? I don't know, but all I'm saying is that it should be. If you want something in particular and there's no one in view who has that thing, you can ask anyone and they'll go get the appropriate person for you. Talk about customer service!
—
So there you have it! A few (okay, more than a few) fun facts for you to remember Ghana by. I'm off to Peru in just TWO weeks, so start preparing yourself for more culture shock!