​
I skipped the farm again this morning, partly because Nico wasn't going and partly because my stomach is still a total mess. All I've eaten the last two days is plain spaghetti, plain rice, and I had plain toast for breakfast this morning. What could it possibly be complaining about anymore? I'm thinking now that maybe it wasn't food poisoning..? How long does that last anyway? It's times like these that I really wish Amber was still here. We were sending her messages all day yesterday with our symptoms and such, trying to get a diagnosis, but it was way better when she was just here to stitch us back together herself.
So that I didn't feel totally worthless (and so that I could pretend for a little longer that Nico wasn't leaving), I went to school with Avy this morning. She's been teaching P3 at Baptist because they still don't have a teacher. They're supposed to have about six different subjects, but she's just doing English and Math during the morning, and the P2 teacher combines them with his class in the afternoon.

In English, they're just working on phonics. Avy went over the short vowel sounds today. Watching her in action is kind of crazy. I don't know about you, but I definitely don't remember anything about when I was learning how to read. Teaching that to kids is a HUGE job! She's really good at it though, so I was happy to have a chance to watch and learn (while simultaneously grading their homeworks). I was planning to teach Math, but my stomach wasn't up to it, so I just observed that as well. It was good to have a day to figure out where the class is and see how she manages the kids. Assuming that I feel better tomorrow, I think I'm going to take over Math. They're learning about saying numbers in words (for example, 5,698 = five thousand, six hundred and ninety-eight) and I've already taught that multiple times, so I think I can handle it.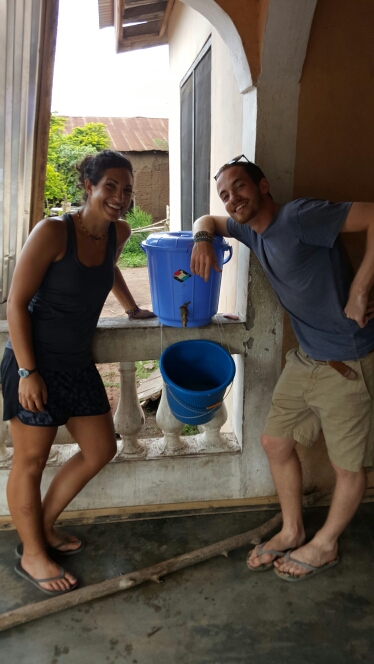 After lunch, the moment I'd been actively ignoring for the last couple days finally couldn't be ignored any longer. Nico left. This might have been the hardest goodbye, partly because Nico and I spent so much time together, but also because aside from Avy, he was the last of our original group. He's also the last of the people that I came here with, and I think you have a special bond with that group because you're all figuring out and experiencing things for the first time together. It feels like the end of an era.
The house is so empty now. We're down to just Avy, James, and me, at least until Saturday when we're supposedly getting six new volunteers (I say "supposedly" because we can never get a straight answer from anyone about who is coming or what program they're doing, and anything they do tell us ends up being at least a little wrong). It'll be interesting to see the house dynamic with so many new people. Fingers crossed that it's still good! They said we're getting two new agriculture volunteers, thank goodness, because I'm really not into the idea of going to the farm by myself every morning. Maybe this week I'll just focus on teaching and get back into the farm groove next week.