​Normally we don't work on Fridays because we're travelling, but we're staying in town this weekend to be here for the new volunteers. I think Avy wanted to take a mental health day, but I pressured her into coming with me. Pretty sure she was just going to come along for moral support and then ended up teaching English. I helped though! Sorry, Avy…
I graded the homework while Avy did some phonics work. It took me forever because it was HORRIBLE. For English, they just had to say what greeting they would use at five different times throughout the day. For Math, they had to write five numbers in words. It was so bad that probably 25% of the class got "3" wrong. This is what I'm talking about with the whole "the kids are unlearning what they already know" thing. They absolutely know how to say "3", but they panic because they think it's more complicated than that. We re-taught the greetings and the numbers and then gave the kids a math test. I honestly don't even want to grade it because I don't have high expectations.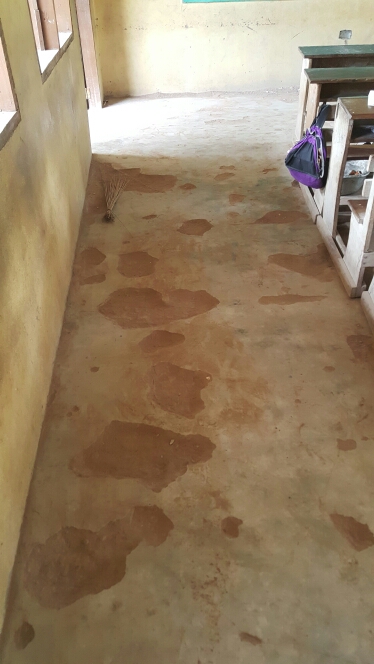 Today's big event of the day at school was a sand delivery! Exciting! Somehow, nothing here ends up being simple. The sand delivery is because the floors in the school were constructed horribly when the school was first built, so now the classrooms all have giant potholes in the floors. They've since fixed three out of six of them, and Avy is using some of the money she raised before coming to fix the rest. The sand truck came to bring the sand they'll need for the project, but the ground is so soft from all the rain we had recently that the truck got stuck and just dumped the sand there. Luckily, Everlasting, the P2 teacher who has been helping to coordinate the job, said that it was okay because he thought that might happen and asked the kids to bring pans to school. The upper primary kids spent part of the morning carrying sand (on their heads, of course) from the dump location to the school. I think it's hilarious that all of the kids actually brought pans with them, and it's awesome that they're always doing things to help out around the school.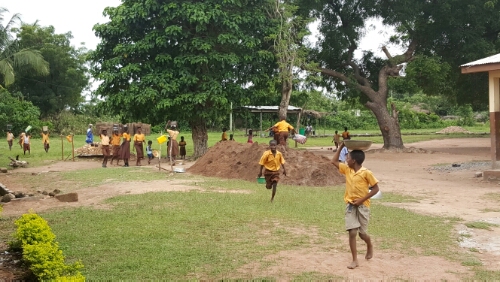 We headed home after lunch, and guess what??? Best day ever!! (Yes, I know that I claim best day ever pretty often, but so what?) Everlasting has a bike, and he offered to let me borrow it for the weekend when Avy said something about how I miss my bike. With no hesitation, he said I could take it over the weekend. How cool is that?? I haven't decided how I'm going to handle riding on the road here, but maybe if I go early in the morning, there won't be many cars out.
The rest of the day was spent just cleaning and organizing to get ready for the new volunteers. Avy and I moved my bed around, so I hopefully will get better air circulation from the fan and won't wake up every morning feeling melted and gross. I actually think I like the new setup better anyway. Fingers crossed that Joe puts all of the new volunteers in the other room, and our room can stay just the two of us! We finally found out (maybe) that we're getting six new volunteers, 4 girls and 2 guys, 5 teaching and 1 medical. That means zero agriculture (unlike the 2 that they told me before), but I'm thinking that maybe I'll be able to convince some new people to come along anyway. I really hope so.