​For the last two days technically being "off" days over the weekend, we certainly did a lot of work. I think that's the teacher life though. You work whenever you need to in order to be ready for class. Good work, teachers of the world. I don't know how you do it.
The morning started off with a trip into Lima for church. The church (Camino de Vida) that the team goes to is pretty cool. It was celebrating its 28th anniversary this week! The mood was relaxed and welcoming, the people were passionate, and the music was great. We sang some songs that I know in English which was nice because then I had a much easier time mentally translating while singing (not the easiest thing to do, as you might imagine). Also, the pastor is originally from the US which meant that his Spanish during the sermon was easier for me to understand than if he was a native Spanish speaker (that's a generalization, I know, but he talks more slowly than a lot of people here and says things in ways that make sense to me). I'd put my overall church comprehension at about 80%, and that's being completely honest. That was also with me focusing extremely hard and not letting myself get distracted for even a second. If I had lost his train of thought, it would have been game over I think. I'm happy with that though!
We went grocery shopping after church but had to keep an eye on the time because the southbound side of the main highway is closed at 2PM on Sundays during the summer to accommodate beach traffic. People in Lima go south on the weekends to go to the beach which means that the northbound traffic on Sundays is horrible. To try to help with that, for part of the way the southbound lanes are closed to southbound traffic and are used for northbound traffic. That's crazy! I mean, it certainly makes some sense, but it would have been a big inconvenience for us to have to find an alternate route home if we hadn't made it in time. I can't even imagine how much people would freak out at home if anyone even SUGGESTED doing something like that. At 2:05, we drove past all of the police officers who were just about ready to start redirecting traffic. Phew!
During the afternoon, Debbie and I went into Chilca to get the materials prepared for class tomorrow. We're only teaching one class in the afternoon to allow time for the students to settle in during the morning (after this week, we will have a morning and an afternoon class on Mondays) which is a relief because we'll have some time tomorrow to do some final planning. We got our maps printed out and then drove around and planned some stops and a route for the scavenger hunt we want to do in Chilca during our second class.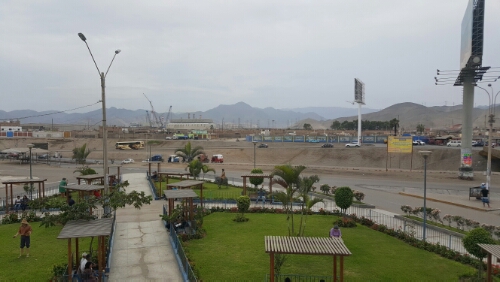 I'm getting excited about this class! I think it has the potential to be really cool, and I hope that we can pull it off. By "we", I mostly mean "I". I'm not worried about Debbie. She is going to take the lead on the explanations since obviously the class is going to be in Spanish, but I'm determined to help out. Hmm you know what? This could be perfect… Probably the best people I can talk to are kids because they're the closest to my level of Spanish (probably like a 2-year-old kid, that is… they can mostly understand but don't necessarily talk that much).
Keep us in your prayers (my Spanish skills especially)… I'll let you know how things go tomorrow!