​The last two days have been one, big, notebook-wrapping blur. The team has been working on their service projects, and I'm in charge of the "vinifan" project. Let me attempt to summarize the ridiculousness that is this process:
The kids need notebooks for school, and it's way more than you would ever think that someone might need. A 2-year-old needs 2 notebooks. A 4th grader needs 13. A 7th grader needs 17. What the heck are they doing with 17 notebooks?? Well, that's beside the point. Each notebook is for a specific subject (geometry, arithmetic, algebra, etc. – even though those are all math, they all need a different notebook). There are a bunch of different line types in the notebooks – graph paper, blank, lined, 3-lines, bigger squares, even bigger squares, bigger 3-lines, etc., and each subject needs a specific type of lines and a specific color. Each notebook also has to get covered with plastic (vinifan is the brand of the plastic) to protect it. If the notebook itself isn't the right color to begin with, you need to first cover it with paper that's the right color and second cover it with the plastic. They also all have handwritten labels that have the subject, kid's name, grade, and school written on them. I think that we have about 24 kids that we are wrapping for, and they range in age from 2 years to 8th grade.
Does that sound like a very complicated situation for some school notebooks? The correct answer to this question is "yes", by the way. We figured out a system yesterday, after a little trial and error, and it ended up with me writing all of the labels, picking out notebooks, and leaving a note if their colors needed to be changed. I had volunteers assigned to me from the team, so at least I wasn't doing it alone. By the end of the day yesterday, I think we had only done about 60, and we have over 200 to do.
The last two days have basically just been hours and hours of wrapping books in plastic. Actually, I spent most of my time writing labels. It was a fabulous moment when I finished writing and my hand could finally relax.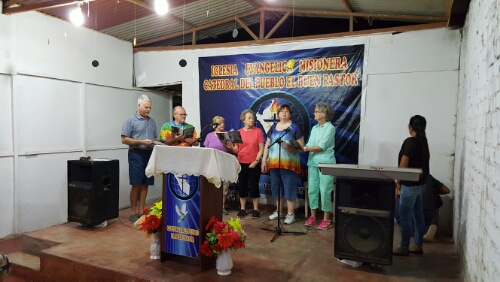 Tonight, after dinner we went to the church where the kids are taken during the school year. The music was really fun and upbeat, and I knew some of the songs in English. The sermon was also really well done. Dina was translating it, so it wasn't that hard to follow, but I tried to translate the Spanish and then only count on her for help when I definitely couldn't figure out what was going on. I'm going to put my comprehension level of that service at about 85-90%. I'm definitely improving!!
I'm exhausted and have to wake up at 5:45AM again to put the coffee on before breakfast, so ciao for now!