I don't know that I'm ever going to get used to this feeling. The feeling of "where did the time go?" and "I feel like I just got here, but now it's time for me to leave". How does time always feel like it's moving quickly or moving slowly? That should be one thing that we can always count on – time moving at the same speed. And yet, how many times in life have you thought, "ah, time is moving exactly as it should"? Probably zero times.
This is The Year of the Airports, so it's fitting that I'm sitting in the Lima airport right now, 8 hours before my flight to Cuzco. Eight hours that will, almost definitely, move slowly. Plenty of time for some airport people-watching (one of my favorite things because I just imagine that everyone is going to or coming from someplace awesome, and how fun is that?!), snack-eating, potentially freezing to death because I'm sitting under an air conditioning vent, and trip-planning the last few details for my day tomorrow. I'm not completely sure how I'm going to make it through the day without falling asleep, but that's just part of travel, right?
I can't complain because 1.) I made these plans so there's no one to blame but myself and 2.) I'm on vacation so complaining is illegal. Realistically, in a couple hours I'll be too sleepy to complain anyway. Here's my schedule for the next 24ish hours:
Now: sit at the airport and amuse myself for 4 more hours until I (maybe?) can check in for my flight
2AM: check in and hopefully find a nice place to sleep near the gate
4:50AM: flight departs, hopefully with me on it and not asleep by the gate
6:10AM: flight lands in Cuzco, hopefully after a glorious 1 hour and 20 minutes of plane sleep
The rest of the day: drop stuff at hostel, go on a culture-filled, caffeine-powered sleepwalk through the streets of Cuzco.
When I feel like collapsing (ideally after at least 6PM): go to hostel, check in, be that super cool person who goes to bed at 7PM on a Friday night. Hibernate for 12 hours minimum.
Aside from the inevitable, impending physical exhaustion, I'm feeling a bit mentally drained. Today was great, but it was also filled with goodbyes. Be proud of me though! I didn't cry at all! Well, except for that one time but it was just a little bit and not really in front of anyone.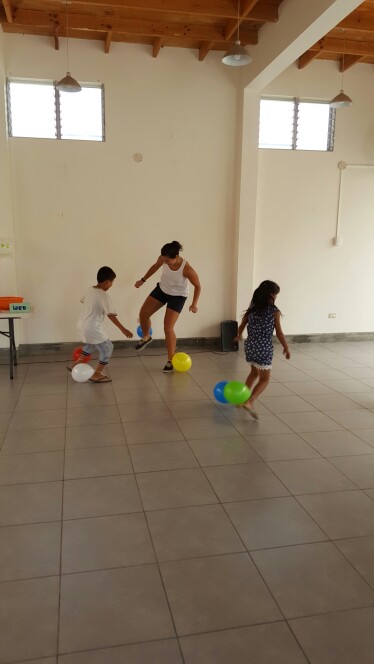 I woke up and packed/organized until I only had 10 minutes until for worship, so I quickly got ready and walk-jogged there. Afterwards, I had to shower (since I didn't have time before), and Debbie came in when I was conditioning my hair saying something about the lights in the cafeteria not working and "it's not urgent but kind of is so you can finish showering but hurry". Okay… weird.
I got out and got dressed, and the two of us walked back to the cafeteria and into a surprise farewell party! I'll be honest; I wasn't COMPLETELY surprised. Debbie's story was sketchy at best. I didn't, however, expect a party! The fact that the kids are off from school this week made it possible, and I'm glad because it was so much fun!
First, we played this game where everyone has a balloon tied to each ankle, and you have to stomp on everyone else's balloons while protecting your own. No big deal, but I won. Shh ignore the fact that the majority of my opponents were under the age of 12. Really that makes it more impressive because they have better endurance. Next, there was some limbo (I didn't win…), musical chairs (Debbie won… she's very strategic), and a cup-stacking game where the kids had to make a cup tower and then carry it across the room. The finale was a race to run to a chair, sit on/pop a balloon, run back, and repeat two more times. Debbie and I were in all-out sprints in the cafeteria. The first round ended in a tie, so we had to do a tie breaker where I edged her out. I'm not convinced that she didn't let me win since it was my party, but we'll ignore that.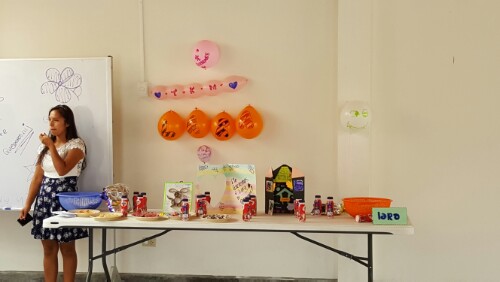 The party ended with the presentation of some awesome thank you cards and hugs from each of the kids. It was really sweet. As much as I joke (/am totally serious) about not being a "kid person", sometimes kids are pretty cool. The rest of the time though…
The afternoon was filled with wrap-up meetings and semi-successful attempts to fit all of my snacks in my bags. Before I knew it, it was 8PM and time to leave (Jim has a flight out tonight too, so I got to hitch a ride to the airport with him). I was happy to be able to mostly sneak out and avoid a million goodbyes. Julie, Debbie, and Tony were all there to see us off.
Saying goodbye was weird but not as dramatic as the goodbyes in Ghana. There, I knew with almost complete certainty that I wasn't going to see most of those people ever again. Here, I feel like I was just saying a "bye for now" to some friends. I don't know when or where, but I truly believe that I'll see them all again. True or not (though I hope it is!), it makes for a much easier goodbye.
Now, I have a week of sightseeing, and I'm super excited! I'm spending some time in Cuzco and am going to Machu Picchu. It's going to be awesome! I'm just 6 hours away from take-off now. Time to attempt a relocation to a warmer spot, ideally with a nearby outlet.
My snack situation is still solid. I've already eaten an apple and some Oreos. Next up, peanut butter sandwich at midnight, maybe some "red fruit" mentos at 1AM, and probably some crackers at 2. Scheduling snacks is the best way to stay awake… I used to do the same thing in college to get through late work nights. Okay, now get some sleep (so I can live vicariously through you), and I'll see you in Cuzco!