After my mountain biking struggles, part of me just wanted to call it a night at about 6PM. The other part of me was saying, "Lara, you only have one more day here. Make the most of it!" My Machu Picchu hiking friend and I made plans to meet up for dinner, and afterwards, we were going to hang out with one of my friends from the tour I went on my first day and one of her other Machu Picchu hiking friends.
With this trip, I finally understand the whole solo travel thing. I kind of did it in London, but I was meeting up with old friends throughout my time there. In Cusco, I didn't know anyone. I had no prior connections to work with. I was forced to choose between making new friends and just not talking to anyone for the entire week. Talking to strangers and making friends in those settings is hard for me, but I did it. And you know what? It wasn't so bad. More than that, I met some really cool and fun people.
The travel world is weird. It's filled with people from all different life situations and stages. First (in my non-exhaustive list), there are the families. In general, that travel world runs completely separately from the other traveler world. Families interact with other families, and that's it. Next, there are the friend pairs and friend groups. Some of these are short-term travelers (aka normal work vacationers), some are doing longer trips during a school break, and a few rare long-term travel pairs. Usually though, the long-term travelers are going solo because chances are slim that two people have life breaks that coincide.
That brings us to the third group. The solo travelers. This group was a complete mystery to me before this year. I didn't realize that some people do actually go on solo short-term vacations. Like they have a job, they take vacation, and they go somewhere by themselves. I think that's incredibly brave. Also, how cool? You don't have to put all of this pressure on finding someone to travel with. You find somewhere you want to visit, and you just go. Then, there are the solo long-termers. This group is the biggest mystery. Do they have jobs? How are they supporting all of this travel they're doing? I can't judge them though. Out of all the groups, I guess this is the one I most fit into. That's something I NEVER would have predicted. I would never have pegged myself as a "solo travel kind of person". Whatever that means.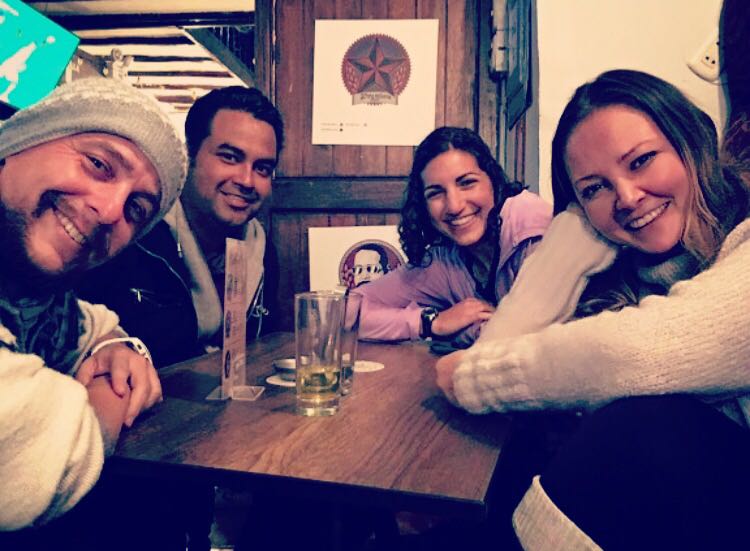 Before, I didn't understand how people did it, but after a night of hanging out with my travel friends, into and back out of my life in the blink of an eye, it makes sense. Solo traveling doesn't mean you're alone. It means that you're given a unique opportunity to connect with other people from around the world. Now, I have friends in so many different countries!
You can learn a lot about yourself from people who are just passing through your life. Many of the people I've met are incredibly insightful. They're only going to be around for a short time, so they're more open and sometimes tell you things about yourself that you didn't realize before. Some seem to know you better than the people who have been in your life for years.
That night, with three people who I had known for at most 3 days and at least 5 minutes, I had the feeling of hanging out with old friends. I know it doesn't always happen that way, but the fact that it EVER does is incredible. We had three hours together, and then that was it. We'll never all be together again. Likely, even just two of us will never be together again. But for those three hours, we connected. We laughed together, imparted wisdom, and when it was time to go, we said goodbye and good luck. There's something beautiful about touching someone's life for just a second and having that second be one that they remember and carry with them when they go back out into the world.