After visiting Qorikancha, my adventure really began. I wanted to see the four major ruins outside of the city. They're all within about 16 km of the city center (road distance, not direct distance), so it's not crazy far but definitely enough to not want to walk it both ways (plus it's uphill). I heard through the grapevine that it's possible to take a bus there, even though the ruins aren't an official stop. (I don't even know why they bother having official stops because you can usually get off wherever you want.)
I considered this my first true Spanish test, and I was determined to pass. The girl at the desk in my hostel said I should just rent a cab for the day, but why should I when there's another perfectly good way of getting there? Plus I would feel rushed if I knew a cab was waiting for me, and I like to take my sweet time wandering around.
I found my way to what looked like a bus stop after a taxi man tried to convince me to hire him and I told him I was fine taking the bus. I tried to look like I knew what I was doing, but apparently the bus stop isn't at the little hut with a bench and is actually like 50 feet away. Silly me. The taxi man sassily filled me in while trying to use that as proof that I should really just take a cab. Thankfully, after about 8 minutes of waiting at the random piece of sidewalk he pointed me to, a woman asked me if I was going to Pisac (the bus I needed to get to the first ruin), I nodded, and she directed me onto a bus that didn't say Pisac anywhere on it. How is anyone supposed to figure these things out??
Well, luckily for me, it all worked out. I told the driver as I got on that I wanted to get off at Tambomachay and headed to the front of the bus when we got close. He let me off right in front, and I only had to pay 2 soles (about 60 cents)!
Tambomachay
Let me start off by saying that when it comes to Incan ruins, everything is pure speculation. 95% of the time, no one knows for certain what something is, why it's there, what it was used for, etc. For example, Tambomachay. All that's certain is that there are aqueducts and canals that feed water into a pile of rocks that looks like a fountain. Maybe it's an ancient bath, maybe it's a water temple. The name is Quechua and means "resting place".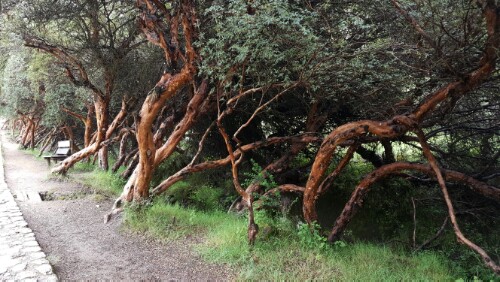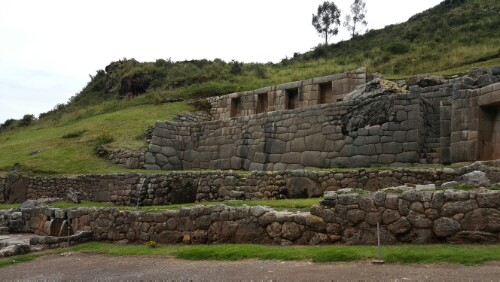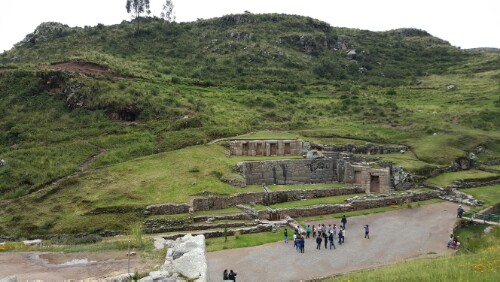 The ruins were fine, but I was more interested in the scenery. I'm a fan of taking random paths and seeing where they lead. There was one that went up behind the fountain, and I followed it up into some terraced gardens and around the mountain (hill?) to a secret view of the valley. I say secret because I didn't see another person ANYWHERE, and at a tourist-filled site, that's an extra special treat. For a few moments, it was just me, peaceful green-ness, and a herd of alpacas grazing in the far distance.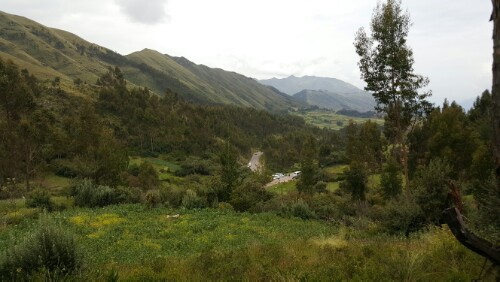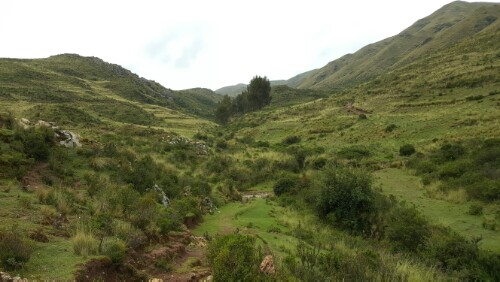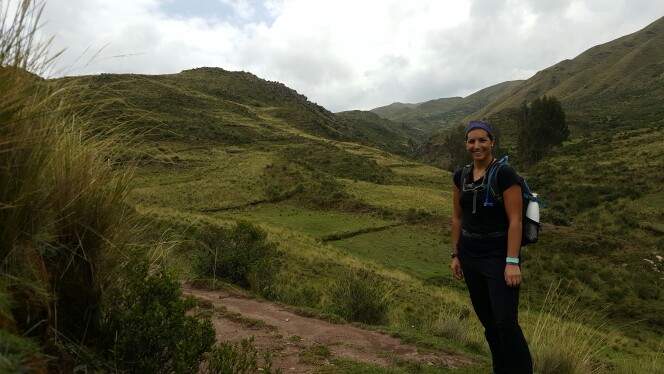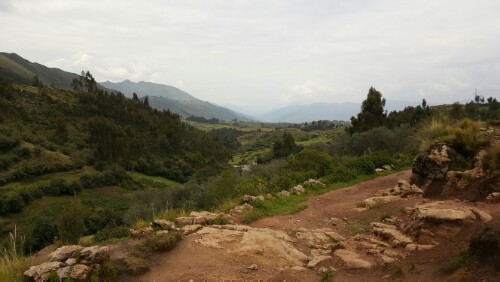 Once I managed to drag myself away from the view, I headed across the street to ruin #2…
Puka-Pukara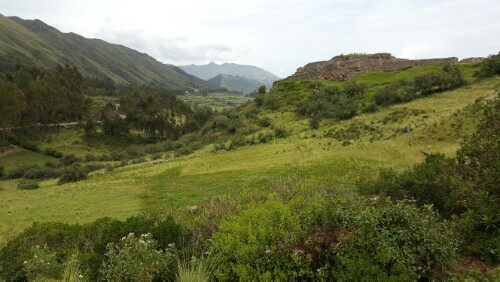 One guess is that this was a military base, but maybe it was a hunting lodge, guard post, and stop for travelers. The name means "red fort" because the stones look red in some lighting. It's another "the ruins are kind of cool but the thing that makes the stop worth it is the view" situation. Some people had guides who I assume told them more information than that, but like I said, it's probably 95% made up. I'm more than happy to just embrace the mystery and be impressed by the Incas' site selection skills. They sure knew how to pick a site with a view.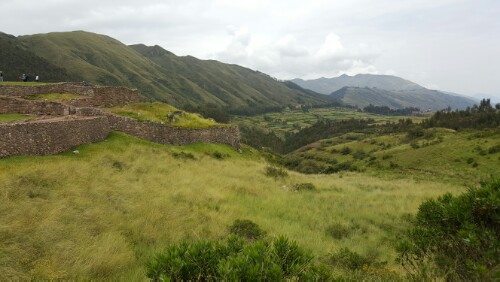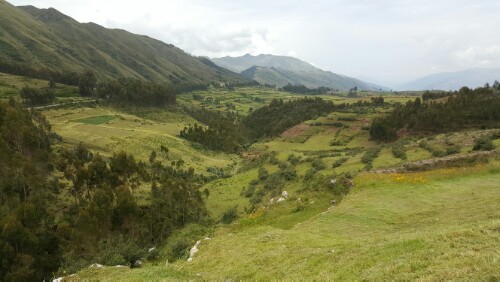 There's an almost 5 km walk between Puka-Pukara and the next ruin, and I was not interested in walking if it could be avoided. Lucky me, a colectivo (mini-bus) was driving by right as I left the site, and I flagged it down and hopped in for a 1 sol ride to…
Q'enqo (ken-koh)
Q'enqo means "labyrinth", and they think ("they" being whoever it is that comes up with these theories) that it was a religious something. It's a huge rock with passageways and channels carved into it. I wish I could have gotten a bird's eye view because it's way more interesting from the top.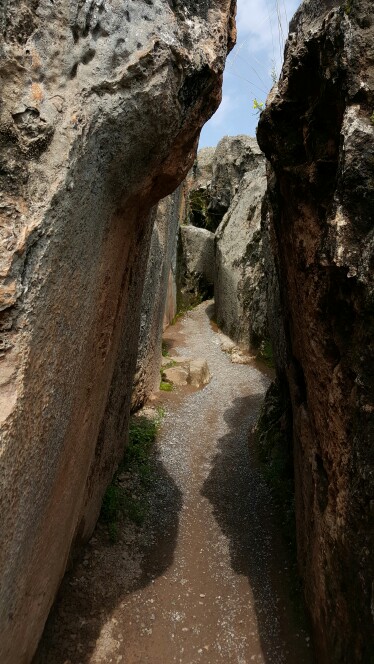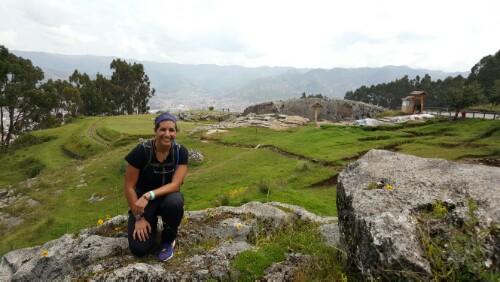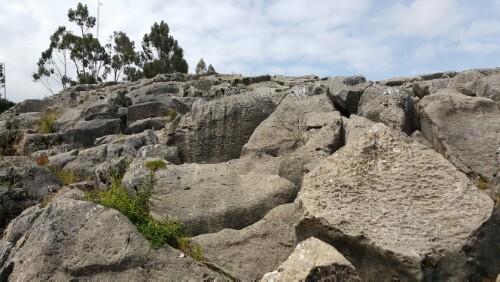 I used my same "follow whatever random path you see" strategy and ended up on a huge rock overlooking the town of Qenqo. I could also see Cusco in the distance, and no matter how many times I do, I still am amazed by the view. This and my other detour were probably my two favorite parts of the day. Hooray for exploration!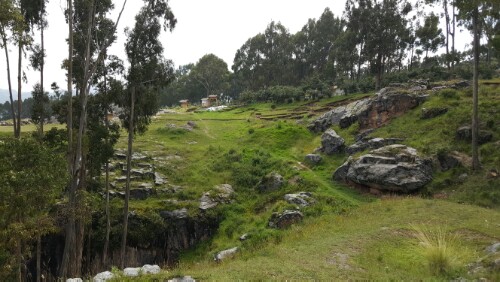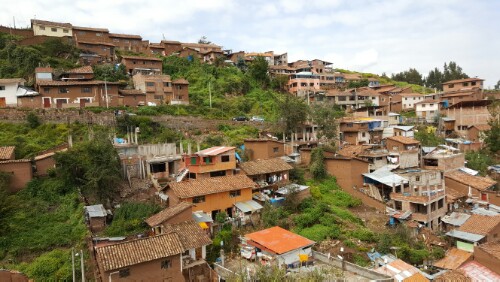 I walked from Qenqo to the next ruin, passing through "Qenqo Chico" (small Qenqo), which I didn't even know existed. This was my third favorite part of the day… another unplanned detour. There's another overlook of the city and plenty of big rocks to sit on. I stopped for a minute to eat a snack and soak in the view.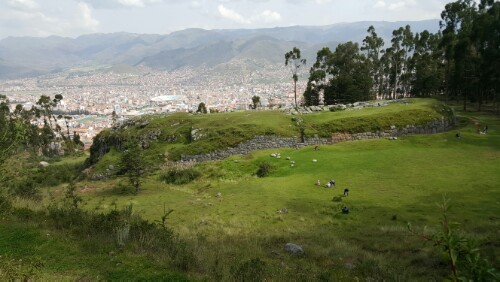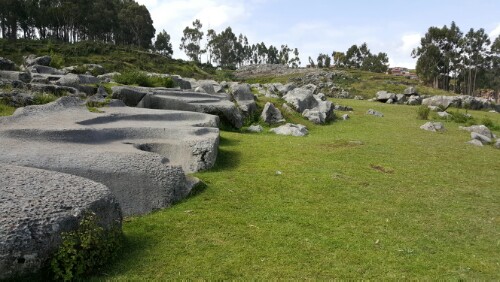 Saqsayhuaman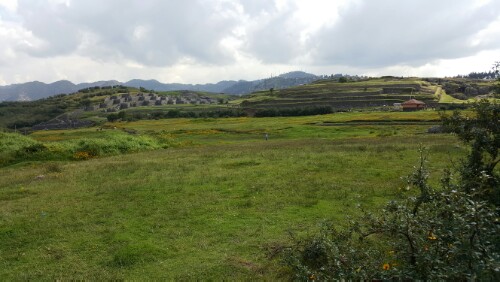 The pronunciation guide for this ruin is that it sounds a bit like "sexy woman" (sack-sai-WHA-man). It means "satisfied falcon" and was a big military fort. It was one of the last Incan strongholds during the Spanish invasions. After the Spaniards conquered the fort, they took many of the stones build houses for themselves. The biggest stones are still left.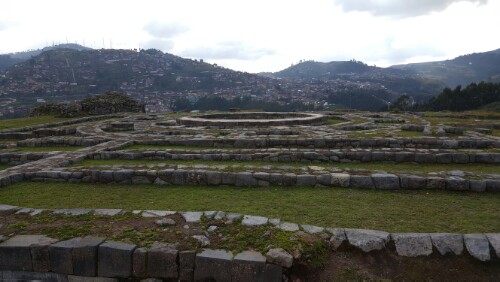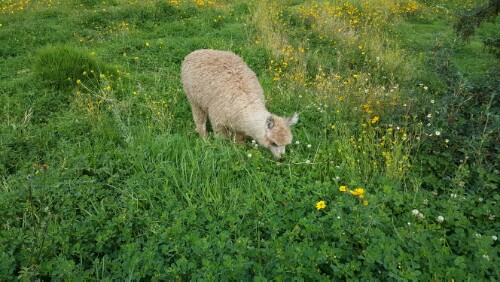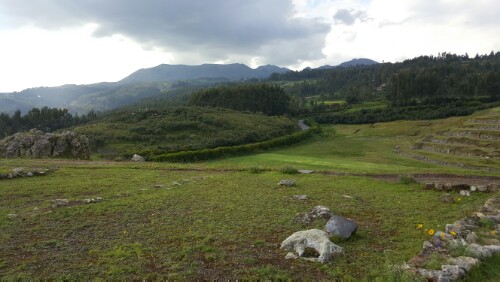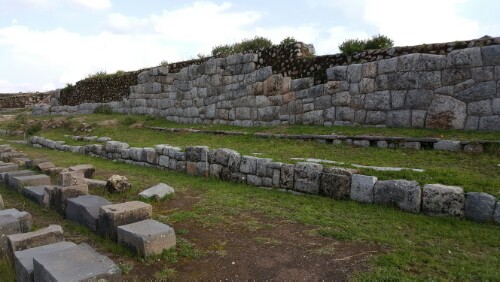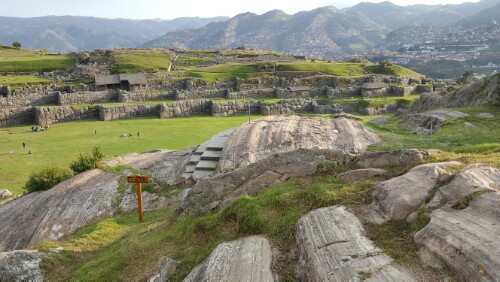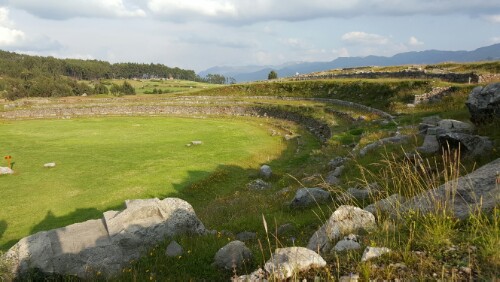 Fun fact: there's a big zig-zag wall on the fort because the ninth Inca ruler saw Cusco as having the shape of a puma with the zig-zag walls as its teeth. Also, there's a rock slide there. As in, smooth rock that can function as a slide… and people are allowed to slide down it. I think it's hilarious. I also apparently have very good slide pants because I flew down with literally no way of slowing myself. My hands did nothing and my sneakers were worthless.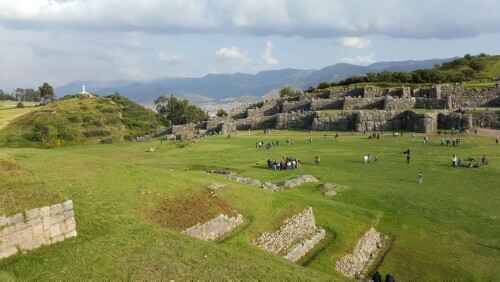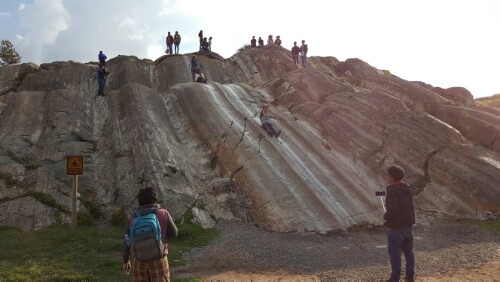 After wandering Saqsayhuaman for a couple hours, I was wiped and ready to get back to my hostel. I walked down the path to Cusco (which they say that you can walk up to the ruins if you want… only if you're crazy, in my opinion) and felt like I teleported into the middle of a forest. The walk was beautiful, but if I was going up, my thoughts would have been focused on not passing out.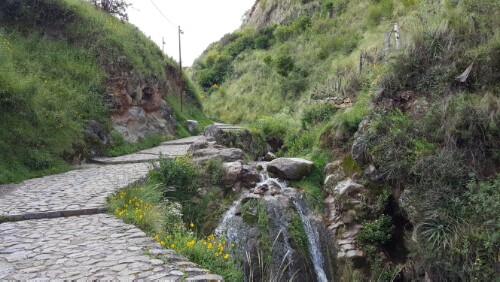 By the time I reached the bottom, my head was pounding. I'm not sure if it was an altitude-related problem or just a dehydration problem, but I downed some electrolytes and painkillers and flopped on my bed until I felt functional again. Altitude sickness can be a big problem for people going to Cusco from lower altitudes. Cusco is at 11,152 feet of elevation. For comparison's sake, Denver is at 5,690 feet. People all react to the altitude differently and can range from no symptoms to headaches, dizziness, and vomiting. I thought I was superhuman because I felt fine on my first day. I guess this means there's a chance that I am only human.