Finally! Test day! And it's also Pastor Daniel's birthday! Today was another one of those days that just reaffirmed the fact that I know what's going on approximately 10% of the time. More likely, that number is 0%, but 10% of the time, I just don't find out that whatever I thought I knew was actually wrong.
I got to school around the usual time, and it was chaos. Kids were getting sent over here and over there, teachers were running left and right, and it looked like there had been a balloon explosion. So, what did I do? I asked once if there was something I could do to help, got a half-answer that I decided to take as a no, and stayed as far out of the way as possible. Everyone was getting ready for a small birthday ceremony for Pastor Daniel.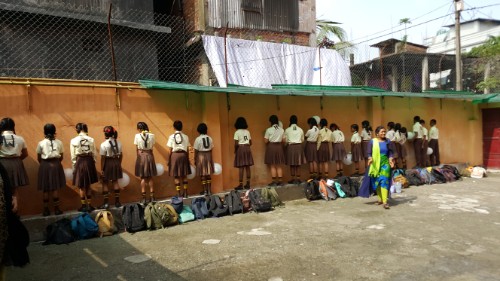 Here's the 20-second summary: Pastor Daniel showed up, and everyone clapped. A prayer was said, a Bible verse read, and then he was serenaded by a happy birthday remix (including a rap), courtesy of the class 9 and 10 boys. All of the teachers were called to the stage for something that we were apparently supposed to be aware of, and I was happy to see that the couple of teachers I was standing with also got the panicked "ummm whattt???" eyes. We tried to refuse, got forced onto the stage to perform some songs that I didn't know, and quickly returned to our hiding spots in the back. Paper letters were pinned to the backs of some kids' shirts to read "WE WISH YOU A HAPPY BIRTHDAY". That was kind of awesome. The cake was cut and some pieces were stuffed into the mouths of random, nearby kids. The gifts were presented, a "thank you" speech was given by Pastor Daniel, and that was that.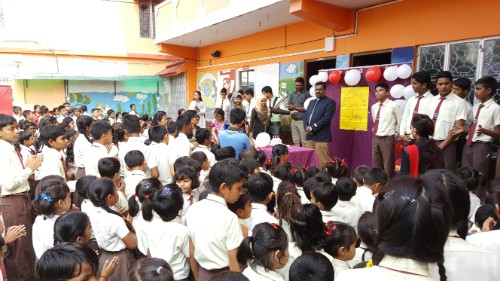 Speaking of the cake thing, that's something else that I don't understand. Anytime there's a cake cutting here (which, in the two weeks I've been here, there have been more cake cutting ceremonies than the rest of my life combined), there are like 10 people with their hands on the knife, and after the cut is made, everyone feeds each other cake. It's like what people do at weddings except it's not a wedding. Today, Pastor Daniel cut the cake and then fed pieces to like 5 random people who were standing close-by. I need to do some asking around about this because I really don't get if there's some method to the whole thing or what, and with my luck, I'll end up doing a cake-cutting at some point and will offend everyone with my lack of cake-feeding knowledge.
That about wrapped up the birthday ceremony, but SURPRISE! Half day of school to celebrate! Of course. I totally knew about that… not. The one thing that DID go according to plan was that the English test actually happened. Spoiler alert: I was in physical pain after grading the class 9 tests. Teachers of the world – is that something that happens to other people, or is it just me? Class 10 did pretty well. I personally think that everyone should have gotten a 10/10 because it was insanely easy, but they at least had a large majority who got 8/10 or higher. Class 9 though. My gosh. There were so many questions that people didn't even answer. What is wrong with these kids? When you don't know the answer, you GUESS! You write ANYTHING and hope that you'll get partial credit. Anything is better than nothing! If you write nothing, you're going to get zero points, guaranteed. We're going to have to talk about that. These are essential school skills!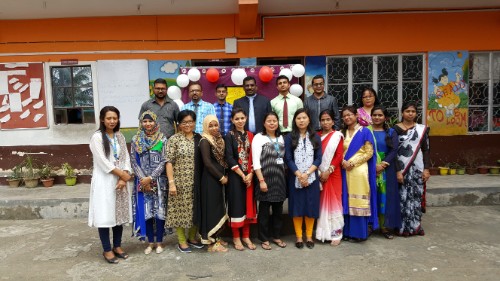 Part of the reason I'm bummed about the scores is because I know that when kids do poorly on tests, it's partly a reflection of how the teacher did preparing them. That means I have work to do. I'm not going to take all the blame though because part of the problem is the way they've been educated up to now. The way I see it, the kids in classes 9 and 10 have been speaking and learning in English for at least 10 years at this point. How long does it take to get a good grasp on a language when you're speaking it every day? And when you start from a young age? They should be able to write complete, coherent sentences by now. They should be able to read and comprehend a basic story. They should know how to study for a test where they don't know the questions ahead of time. Am I being unreasonable? You remember how I mentioned the big board exams they have to take at the end of year 10? They're in English! There's no escaping the fact that they need to be able to read and write proficiently.
Sorry, I'm ranting. It's frustrating though! Now I'm all invested in these kids, and I want them to do well! I want to help them do well, but I think I probably care more than they do. Teacher life is exhausting. I don't think I'm emotionally cut out for this.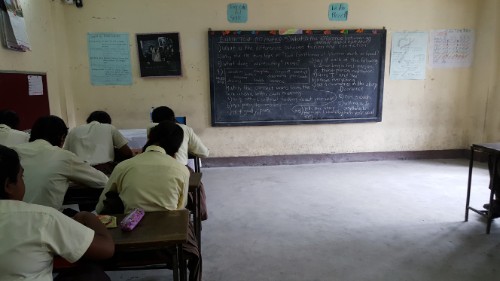 Anyway, after school, I headed home to finish grading the tests and was interrupted by a knock on my door. It was my sister (#2), Prisha, asking if I was ready. Ready for what? I never know. I figured it was something to do with Pastor Daniel's birthday, and she was wearing a dress which meant I should probably change out of my pajamas. I said, "of course!" like I totally know what was going on and then rushed to get changed into something presentable before running downstairs. I caught the car just as it was pulling out of the driveway. Phew.
It turns out that Pastor Daniel puts on a lunch for the teachers every year on his birthday. We were headed to the Bible school where we enjoyed a few more birthday serenades, another cake cutting/cake feeding, and a lunch. I was directed towards the "non-spicy" foods which means "tolerably spicy for a non-Indian and non-spicy for an Indian". One dish was pointed out as being spicy, and I steered VERY clear of that. Trust me, if you're a normal human and an Indian tells you that something is spicy, run the other direction.
All in all, it was an exhausting day. It was really cool though to see how much the teachers respect Pastor Daniel. I've talked to more than one who mentioned how he's been a mentor/a friend/like a father to them. He's one of those people who makes everyone feel special and appreciated. I really admire him as a leader, and more and more I'm realizing how lucky I am to get to spend so much time with him. I have so many opportunities to talk to him and ask questions and learn from his experience. To put it simply, he's kind of a big deal, and I get to be part of his family. How awesome is that?!?