There is a lizard in my room (or maybe it's a gecko… does anyone know what the difference is? We'll just go with lizard). Now, I'm not afraid of lizards or anything, but that doesn't mean I want one in the room where I sleep. I have some lizard-related nightmares that I'd rather not have come true.
Nightmare #1: There's this scene in The Parent Trap (the newer one with MK and Ashley) where the step-girlfriend ends up with a lizard half in, half out of her mouth. I keep having these horrible visions of me waking up in the middle of the night with a LIZARD IN MY MOUTH. Ew ew ew ew ew ew.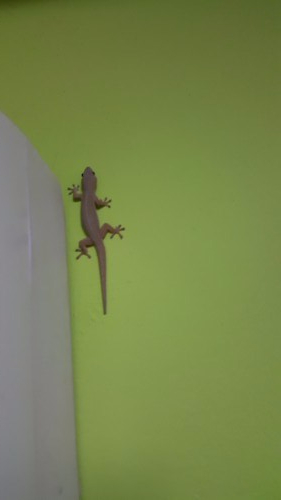 Nightmare #2: I don't know if you recall the lizard-meets-A/C incident of 2016, but apparently, I'm scarred from it. Today, my new roommate was hanging out on my wall, my air conditioner was running (which is rare, but it was HOT), and all of a sudden, it decided to move TOWARDS the A/C unit rather than away from it. COME ON, LIZARD! Be smart! It disappeared from view, and I was sure that at any second, a dead lizard was going to be dispensed onto my bed. I'm currently sitting on bed #2, far away from the drop zone.
My A/C is now off, and my lizard friend was last spotted heading away from my bed, so I think we're safe at the moment. Nothing is for certain though. On the bright side, these lizards make this weird sound… I don't even know how to describe it. My best attempt would be that it's like when I try to imitate a dolphin. I know, that's very unhelpful, but it's the best I can do right now. I'll start trying to catch it on video. Anyway, that's a positive in my mind because then you can always tell where they are. I would rather know if my room has been infiltrated, even if it's going to freak me out a bit.
If I'm being honest, the lizard was probably the most eventful part of my day. I'm still sick, so I went to school for 1st period and then came back to sleep. I need to take advantage of all the rest time I can get because tomorrow I have three classes to teach. Jenrika has been with the class 9 English class doing grammar the last couple of days, but I have them back tomorrow, plus the class 8 Science period. Wish me luck!
Oh! The other mildly exciting thing that happened today was that it was a kid's birthday at school, and that means candy! I love how birthdays are celebrated here. This is another "I don't know if this is an Indian thing or just how things are done at this school" thing. Every day during assembly, they ask if it's anyone's birthday. If it is, they come up to the front, and everyone sings "happy birthday" to them (and it's a much better version than the one we use. I've decided that our "happy birthday" song is horrible and kind of sounds like a funeral march. We should work on that). The kid doesn't have to wear his/her uniform that day, and they walk around the school giving out candy. Tell me that doesn't sound like the best thing ever! With almost 400 kids in the school, we have A LOT of candy days. This should be a thing everywhere.