My teaching responsibilities here are officially finished! I won't pretend that I'm terribly upset about that, but I am sad that my time here is coming to an end. I've made some great friends, and it will be hard to say goodbye to them.
The last days of extra classes with the class 9 kids were good. We made it through two dramas in their book, and I think that the kids understood the main ideas of both. With our foolproof story-teaching formula, how could they not understand? As long as you explain the story 5ish times, you're set.
I'm glad that Jenrika and I are on the same page about the kids needing to be able to think for themselves. We've both been trying to work on that, and it makes me feel like everything I tried to teach them over the last couple months isn't going to go completely to waste after I leave. I feel bad that she's going to have to continue the efforts alone, but hopefully we've laid some sort of foundation… maybe?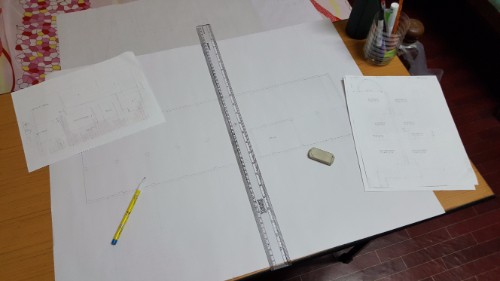 My afternoons have been spent working on the architecture plans for the addition at the Bible school. Okay, not all of the afternoons. I've also spent some time reading and swinging on the roof, but now I'm running out of time, and I really need to get those plans done. It takes SO long though. I don't have the computer programs that are usually used to make plans, so I'm drawing them by hand. As if that didn't already take forever, I also don't have all of the tools that you would normally use for hand drafting. I have a pencil with those points that you take out and stick in the back of the pencil when they go dull, an eraser, and a ruler. That's all. Fully equipped, I would have a drafting table with a slide rule, a ruler, multiple pencils of various hardness, a sharpener, a triangle, shape stencils, an architecture scale, and a thin eraser. At the very least. Since I don't have all of those things, it's taking me much longer than it otherwise would, and my drawings are definitely not going to be as precise as they should be.
I am enjoying working on them though. I have everything mostly figured out, so now all I have to do is draw lines… well, and covert dimensions so that the drawing is to scale, but that only requires a little thought. Even with that, it's a relaxing task, and it will fun to see the finished product… assuming I ever manage to finish.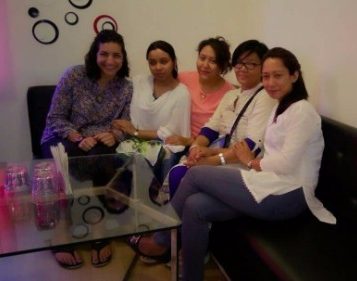 Today, however, was an exception! To celebrate our last day of extra classes, I went to lunch with Jenrika, the other teacher who's been teaching this week, and two other teachers from school. It was so much fun! I really did feel like a normal person, and even though they didn't speak in English all the time, they at least TRIED to. If a conversation went on for too long in Nepali, someone translated to clue me in. It was really nice.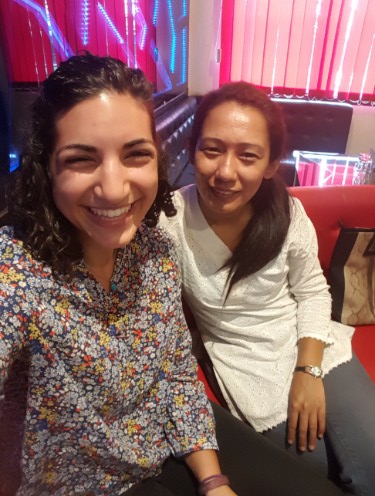 We were going to go for a walk after lunch, but the wind started blowing dust around (I'm telling you, the dust is one of the worst things about being here… If you were here, you'd understand why people sometimes wear face masks. Breathing that stuff in is not good) and it looked like it was going to rain. We went back to Jenrika's house instead and just hung out. I felt like I was back home hanging out with a bunch of my friends. It kind of stinks… I finally feel like things are really coming together for me here, and I'm leaving in a couple of days. Well, all I can do is enjoy the time I have left and celebrate the fact that I achieved my goals of making real friends and feeling like I belong.
We also played dress up, and who doesn't love that? Jenrika is from Bhutan, so she has a bunch of traditional Bhutanese clothes. They dressed me up in a kira… and when I say, "they dressed me up", I literally mean that I was like a doll. I don't know how anyone dresses themselves in these outfits. First, I put on the wonju, a long-sleeve, sheer blouse (long sleeve like it went about a foot past my fingertips). Next was the kira. It's just a big, rectangular piece of fabric that you wrap around you. They put a "half-kira" on me which means that it only went up to my waist instead of all the way to my shoulders. The toego goes on top of that. It's like a jacket with sleeves that go about to your fingertips. The sleeves of the wonju and the toego are folded up together, the toego is secured with a brooch, your hair goes up in a bun, and you obviously also need to add a necklace.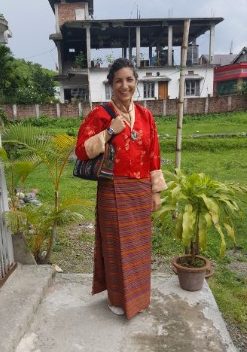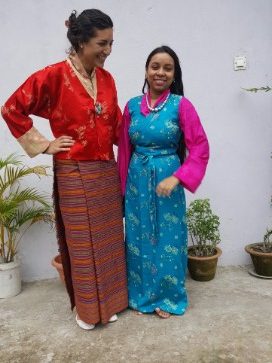 By the time they were done with me, I felt like a queen. I also felt like I was going to melt into a puddle because the kira was like a blanket and the toego was NOT lightweight. Jenrika also had a traditional Tibetan dress, so one of the other teachers put that on and it was like an international clothing party. It's really cool visiting these places where the culture and traditions are so strong and SO different from home. What would the traditional dress of the United States be? Jorts (jean shorts, for those of you not down with the lingo) and t-shirt?
We're supposed to hang out again today, so cross your fingers for good weather! (I know, how weird is it that I have actual PLANS! To hang out with friends! As if I'm a normal human!)