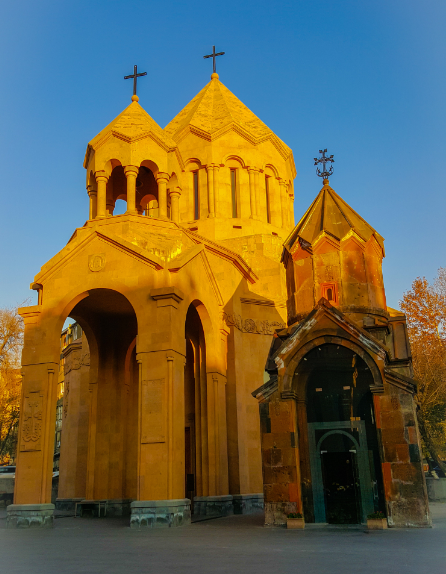 A couple weekends ago, my determination to not waste the time I have left in Armenia led me to a mini church tour around Yerevan. By the time I motivated myself to go outside into the cold weather, it was already the afternoon. That limited my options a bit, but there were a couple churches on my list of places to visit that are right in the Yerevan city center. I've walked past one of them probably twenty times and have always thought, "I'll have to come back to look at this, but I just don't have the time right now." The other was a bit hidden, but I've been within a block or two of it more times than I can count. I guess this goes back to the whole "walking around with your eyes open" thing.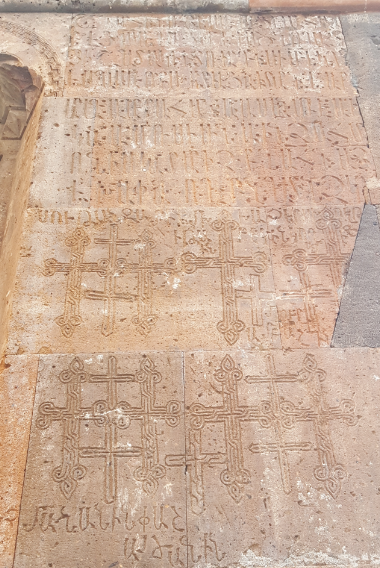 My first stop was the Holy Mother of God Kathoghike Church. It's the oldest church in Yerevan, and it has an interesting history. According to inscriptions on the walls of the church, it was built as early as 1229. There was a large earthquake in 1679 that destroyed the other churches in the city, but somehow, this little chapel survived. A new church was built on the site in the 1690s where it sat until Soviet years.
Fast forward to 1936 when Soviet authorities ordered the demolition of the "new" basilica so that apartment buildings could be constructed in its place. They did make the concession that the large church could be disassembled and cataloged by archaeologists and historians, and during this deconstruction, the little chapel was found built into the larger church. They could tell that it was a different, older church because of the inscriptions carved into the walls.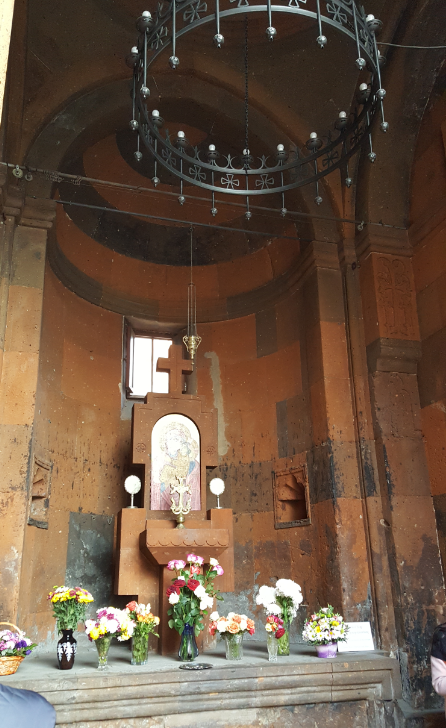 After discovering this previously hidden cultural gem, archaeologists protested the demolition orders and asked authorities to spare it due to the historical significance of the structure. The request was granted! Buildings were constructed all around it, but the chapel was allowed to remain. After the end of the Soviet Union, the surrounding buildings were demolished, and now it's a part of a religious complex that includes a new church and the Yerevan residence of the Catholicos.
The chapel is only used for praying because of its size. Unlike so many Armenian churches, the chapel and the new church are nice and bright inside. That's because one entire side of the chapel is glass, and the church has two gigantic windows! I didn't think twice about (or even really notice) the church windows until I was inside and was trying to figure out what made it feel so pleasant.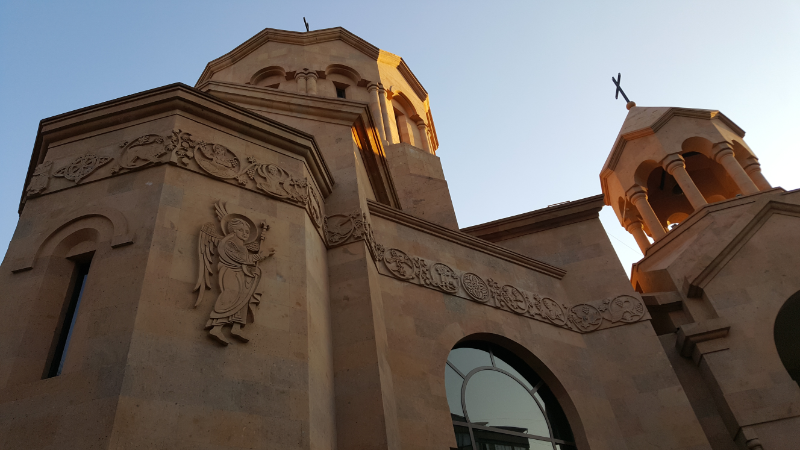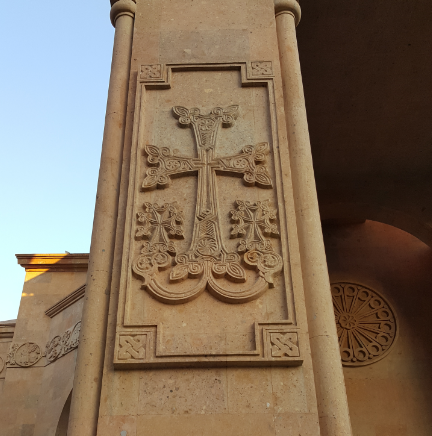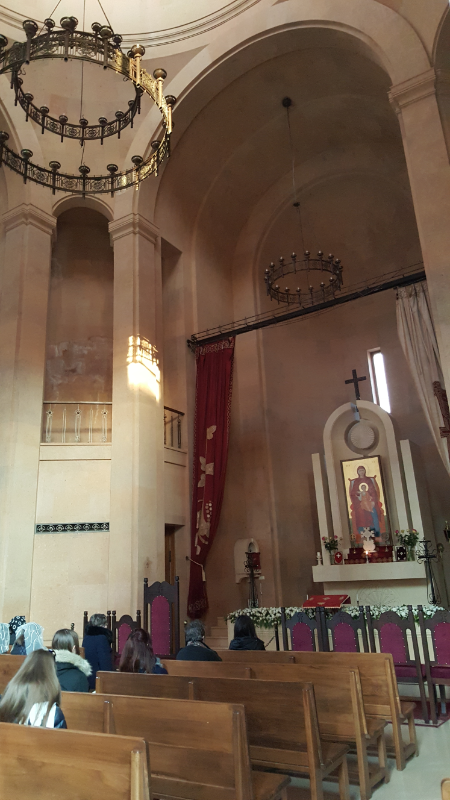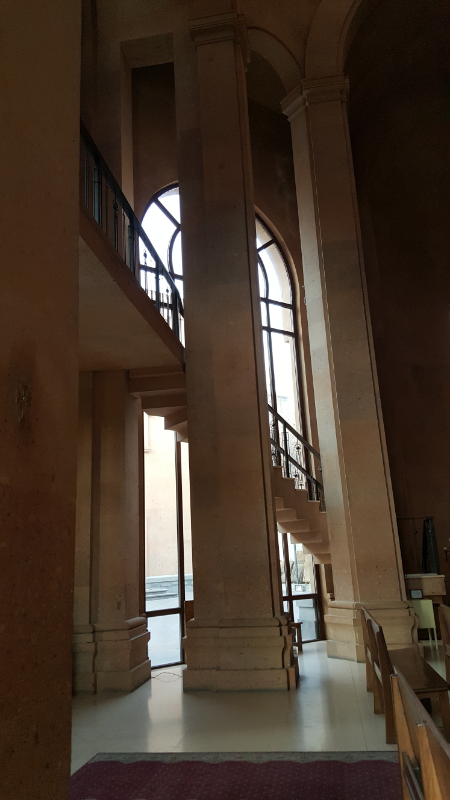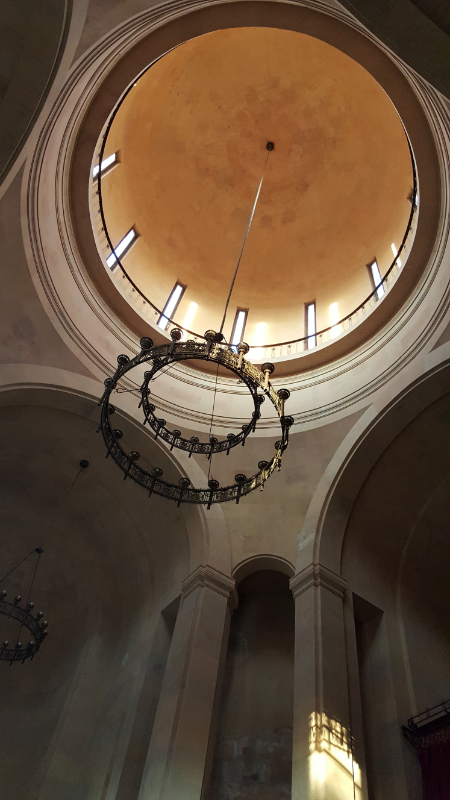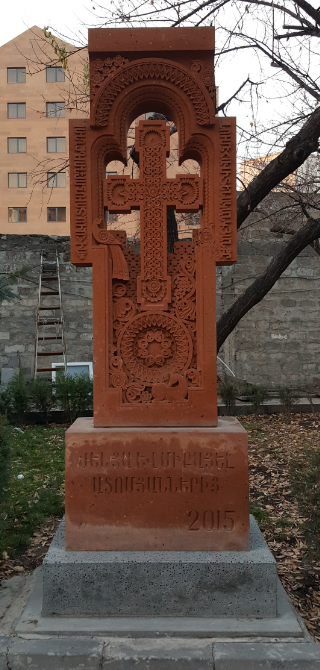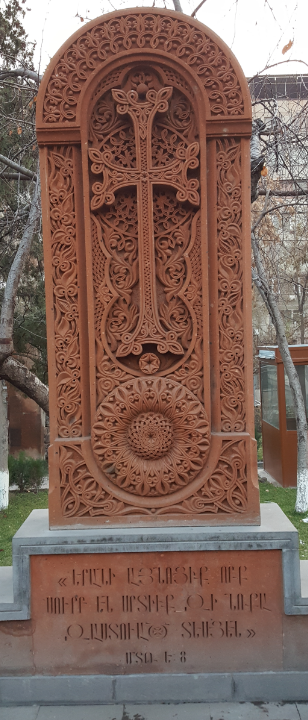 From there, I walked a few blocks to Zoravor Surb Astvatsatsin Church. This place was barely on my radar and ended up being full of surprises! Getting there was the first adventure. It's hidden in the middle of a bunch of tall apartment buildings. If I hadn't read about it ahead of time, I would have thought that I was going the wrong way. I was still second guessing my route a bit, and then, out of nowhere, there it was! The church isn't anything grand or magnificent, but I liked it. There was a service going on inside, and everything about the building felt cozy and homey rather than cold and impersonal like some other churches.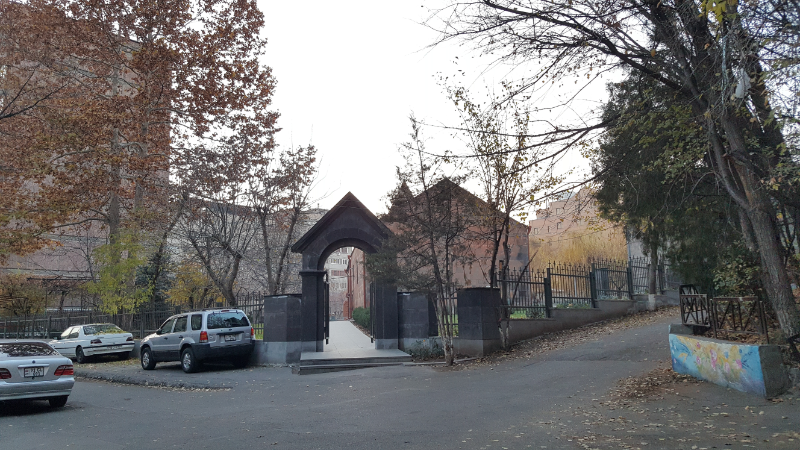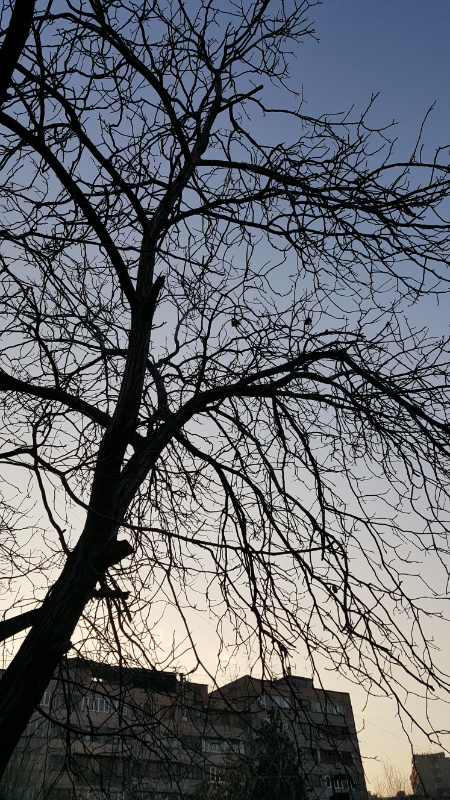 The original church was part of a monastery complex built in the 1630s, but after the earthquake of 1679, the entire complex was destroyed. The church was rebuilt on the same site in the 1690s. The thing that makes this church unique is the second building on the grounds, Saint Ananias' Chapel. In case your brain isn't a Bible dictionary, here's a refresher on Ananias. When Saul (later called Paul) was visited by the resurrected Jesus, he left the interaction blind. God spoke to Ananias, told him about Saul, and sent him to restore his vision. After Ananias prayed over Saul, he could see again, stopped persecuting Christians, and was baptized. That's the only mention of Ananias in the Bible, but according to historians, Ananias was eventually martyred.
Did you know that relics are often actual body parts/bones? I didn't. Maybe I should have, but I didn't. Is it just me, or is that a little weird?? When we went to visit the museum at Etchmiadzin, there were all of these "right hand reliquaries". I thought that was just some clever name or weird Armenian Apostolic thing that I didn't understand. Well, I guess the latter is partly correct, but I thought there was just some symbolic reason for the fact that they were shaped like hands… NOT because they contained ACTUAL parts of the saints' hands! Freaky.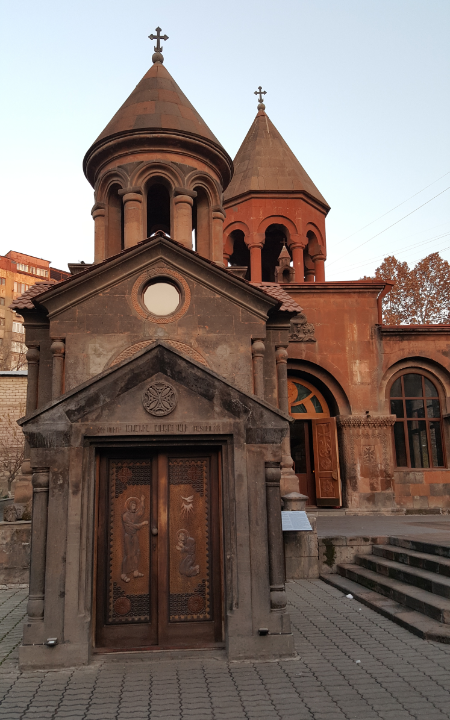 The chapel includes a mausoleum for Ananias. I'm not sure if there are currently any parts of him there, but they used to have his right hand reliquary until it was moved to Etchmiadzin's museum. Each year, it is brought back to Zoravor Surb Astvatsatsin for the commemoration of Saint Ananias. According to the signs at the chapel, "his sacred relics bear miraculous power". Okayyy. I understand why people want relics if they believe that they bear power, but at the same time, wouldn't it be nicer to leave people's bodies intact?? I'm obviously missing some essential piece of understanding because I still don't quite get it.
The church and the chapel are simple, but I thought they were beautiful. There are some nice carvings and pretty khachkars on the grounds. They also have heat in the building which I was not upset about because it was a chilly day. For a last-minute, reluctant sightseeing excursion, it was great! It's amazing how many random, hidden gems there are to see in this city. You could live here forever and never see them all which is precisely why I need to make the most of my time here! Sometimes I peruse Google maps to see what less mainstream things might be worth a visit. That's how I found Zoravor Surb Astvatsatsin! There are SO many churches and other places to visit here that even some cool ones end up getting filtered out when you look for sightseeing recommendations. Goal: find and visit as many random, underrated sites as possible before leaving Armenia.
That's going to have to wait for at least a week though because I leave tonight for Lebanon!!! I. Am. So. Excited!!!!!