​I have farm friends!! Clarina, Yara, and Anna all agreed to come with me this morning! They haven't fully committed to making it a regular thing, but I'm hoping. I only need them to commit to two weeks because my college friend, Nick, is coming on the 15th (!!!). and I'm planning to force him to come with me.
It's been a week since I last went to the farm, so I had no idea what we would be doing. I was happy to see that the hoeing we started a couple weeks ago was since finished by someone else. Hoeing is the worst. It turned out that we were sowing more corn. Yay! That's one of my favorite things to do. I was a little confused about what fields we had left because I thought all of them were full. John walked us over to the biggest eggplant field and said that we were going to plant there. Apparently the eggplants are nearing their end of life, so we're just planting corn around them and I guess they'll die when the corn gets big enough to block out the sun. I'm not really sure because some of them still have eggplants on them… I'll have to talk to Joe and see if he's planning another donation soon.

Anyway, we sowed the eggplant field, and I stopped by the poop hole on my way out. With all of the rain last week, there's a little lake inside and some of the walls need to be straightened out a bit. I know I need to just suck it up and finish the job, but it's no fun alone. Maybe I'll take this week to get back in the farm groove, and NEXT week I'll finish the hole. Yes, I know I'm making excuses. It'll happen though, I promise!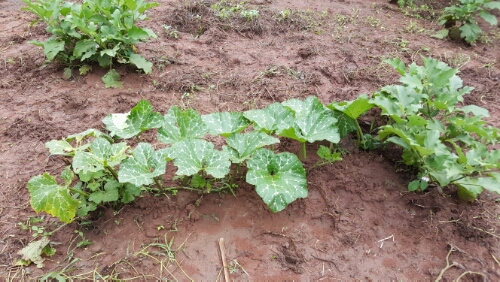 After breakfast, we took the new teaching volunteers around to all of the schools so they can start deciding where they want to work. We started at EP, then went to Baptist, and finally to the junior high. Avy and I headed to Baptist after making the rounds because we wanted to observe Everlasting, and we didn't have to feel guilty deserting P3 because the new teacher was finally there! It's actually the old P1 teacher, and the new teacher that the government sent is teaching P1.


It was cool getting to see another teacher in action. I hadn't done any observation of a local teacher before today, and I think it's really important to get an understanding of what the kids are used to. I thought he did a really good job with them. He teaches P2, and there are 32 kids in the class. There aren't enough desks for everyone, so some of them have three people sharing instead of the two they're made for. Apparently they spent half of last year requesting new desks from the government, and at the end of the year they got sent ten wooden chairs. Unhelpful. So they still don't have enough.


Even with a big class and limited resources, he's so good at keeping the class under control. They were learning about the number 100, so he did an activity using sticks and bottle caps that the kids brought in (I told you, they'll bring in anything you ask for!). After Math class, they had Language and Literacy and were learning about morals. Everlasting told a story in Ewe and then told the same story in English, and the kids talked about the morals of the story he told. I liked getting to see a class taught in Ewe. They were learning some English words, so at the same time, we learned some Ewe words. The Ewe alphabet is the same as the English alphabet but with I think 10 additional letters. After class, he taught Avy and me some of the sounds of the additional letters. One step closer to being fluent! Actually though, that's never going to happen. Ewe is HARD. It's more musical than English and you need to pay close attention to your pitch and emphases. I'm going to keep trying though!

We checked out a class at the junior high after lunch and learned about vitamins. They have to know all of the alternate names of the vitamins, why your body needs them, and the symptoms of a deficiency. It's kind of intense… I never even learned most of the stuff they had to memorize. Education is so interesting because different people have different ideas of what is important, and there isn't necessarily a right or wrong answer. Here, the schools don't get a choice of what to teach because all of the curriculum is set by the government and standardized across the country. I can see how that has its benefits, but at the same time, it can be kind of limiting and assumes that all schools and kids are at the same level.