​
I woke up early this morning and went for a bike ride!!! As much as I hated waking up earlier than I had to, I did NOT want to bike on the road during the day when there are more cars. Since there's only one paved road in town, my options for non-dirt routes are limited to the busiest street. I figured that at 6AM, it would be light but it wouldn't be too hot or crowded on the road yet. If I put it off until later in the day, there's no way I would have mustered up the courage to go. We can pretend that I had a helmet and that there's a huge shoulder on the road, if that makes you feel any better.


I decided to bike away from town and towards the orphanage because I think that way is a little less populated. I went for about an hour, did around 11 miles, and made it all the way to Asikuma, the town where the orphanage is. Even though it was early, plenty of people were awake, and I was apparently quite the spectacle, a yevu on a bike. Some guy even took a picture. I would equate it to one time in Philly when I saw Benjamin Franklin on a bicycle. I thought it was funny and ridiculous, and most of the locals seemed to think the same about me.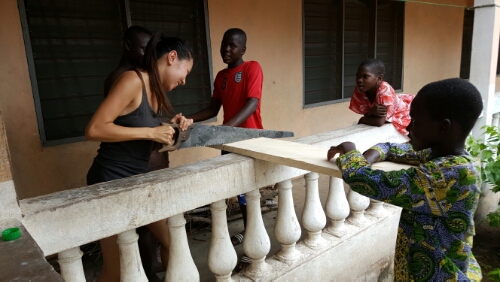 It's amazing how much time there is in the day when you get up early! I got back to the house and still had time to do some stretching and a workout before breakfast and church. We went back to Agnes's church (it's looking like that's going to be our church home) and brought all of the new volunteers with us. The setup of the chairs was different AGAIN, which means it's never been the same twice in all the times I've been there. This week was really fun. I can tell that people are starting to remember me, and I'm beginning to feel like they're accepting me (not that they were ever unwelcoming or anything, but like they're seeing me as an actual part of the community rather than just a one-time visitor).


When we got back from church, one of the neighbors was on our porch with two saws! He said that his dad would be mad if he let us use them, but he could cut the wood for us. Fine with me! He ended up letting me use the small saw to cut the pieces to reinforce the back, and we helped a little with the big cuts for the shelves. I was just happy to be able to finish the job. We stabilized the back, measured out the shelf heights, nailed in the shelf supports, and we were finished! Now you can actually see all of the books and games we have, and there's even some space left over! When Joe came over later, we asked him if he regretted doubting us. He said yes, but who knows. I'm just happy that we didn't talk ourselves up and then get stuck and have to ask for help.