​We stuck around in Accra for an extra day because Avy and I both had things that we needed to get done, and we needed wifi do to them. The internet situation in Frankadua is, as you might imagine, somewhat of a nightmare. I have data on my phone, but it's the slowest speed at best and completely not working at worst. The cell network was down all last week, and I guess the cell phone company's first priority isn't fixing coverage issues in the middle-of-nowhere Ghana.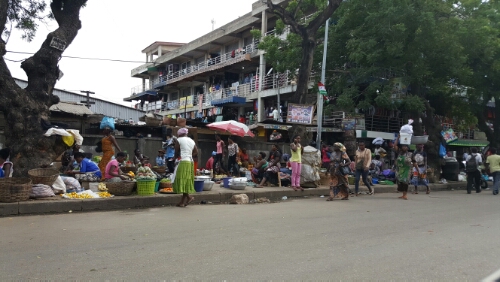 Avy has an interview next week for Teach for America that she wanted to prepare for, and I had a million emails to respond to and some blog work to do. I was happy to be able to respond to emails from a computer rather than having to type them out on my phone or, what I do when I have long ones to send, type them in word on my computer, transfer them to my phone, copy them into emails, and send from there.
We left the hotel around 3:30, took a cab to the Tudu tro station, and got a tro from there to Frankadua. I got to sit in the front seat, but it was actually kind of terrible because I was sitting in the front middle on a high seat that left my head about 2 inches from the ceiling and a head rest digging into the middle of my back (what kind of tiny person did they think was going to be sitting on that seat when they designed the tro?). Our driver was a bit of a maniac and was getting angry that there was so much traffic. He kept attempting to cut around the traffic and took some "shortcuts" that I'm convinced actually slowed us down. On one, we almost got stuck in some mud just to try to get around like 10 cars.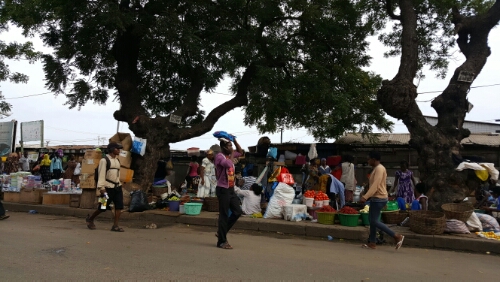 Think about the things that people do on the highway at home when you're in traffic that really make drivers angry… and now multiply those things by about 1000. There are basically no rules when it comes to driving here. At one point, we were on a one lane exit ramp, and people had formed two lanes of traffic. Another time, we drove next to the road in the equivalent of a strip mall parking lot so that we didn't have to sit in the slow-moving line of cars next to us. Driving on the shoulder of a road to get around traffic is so normal that the shoulder is basically just another lane with its own traffic.
Anyway, we eventually made it home about 4 ½ hours later. We had really good timing because the other volunteers told us that the power had been out for an entire day and was just turned back on. Apparently there was some issue at the pole near our house, and all of the light bulbs exploded in our house and the houses around us. People's TVs got fried, and anyone who had something plugged in had their transformers totally destroyed. Eek. That just reinforces my idea that the electrical situation in this country is absolutely terrifying. But now all is well, and I'm glad I missed it!
Besides that, James is sick, and I'm pretty confident that he has malaria. He went to the clinic today, but the guy who does the malaria tests was out, so they couldn't do a real test for him. He thinks he just has some stomach thing, but I don't believe it. We'll see tomorrow when he goes back.