​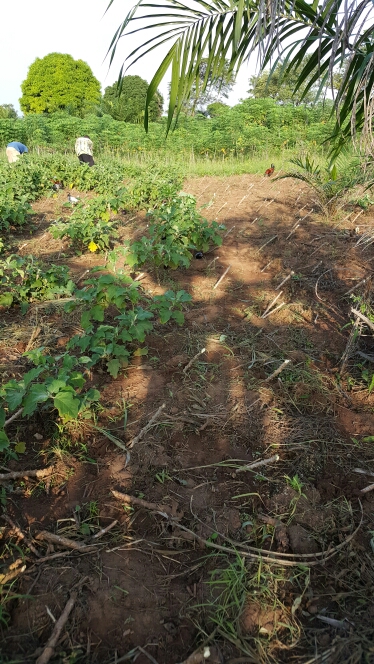 This was a great day! I feel like the last week has been so productive, and today was no exception! James, Yara, and Anna were travelling for the weekend, so it was just me at the farm this morning. I was nervous about managing to wake up and motivate myself to go without any company, but it actually wasn't that bad. AND I got to do something new at the farm! We planted cassava sticks. You start out with a pile of sticks that are about 4' long, dig a hole, shove the stick in, push the dirt back around it, and chop it with your machete to be 8-12" long. I haven't gotten to use a machete to actually cut things in a while, but don't worry, my skills are still exceptional. After John showed me how to do it, he and Anthony watched me try once to make sure I had it right. No pressure. My machete instincts took over, and I chopped that cassava stick like a Ghanaian. Yes, you should be impressed. I ended up planting most of the little field by myself, so I must have convinced them that I knew what I was doing.
I was the most excited about the next part of my morning… I got to help with the construction at the clinic! I've been telling Joe for weeks that I want to help, and a couple days ago he finally asked me if I wanted to go and work. We headed over after breakfast, and after I jokingly gave him a hard time for saying hi to a guy on a motorbike without asking for a lift, he called one of his uncles to take us there. Yes, it's less than a 15 minute walk, but it was hot and as Joe pointed out, princesses don't walk. I guess that nickname is going to stick, but if it comes with motorbike benefits, I'll keep any complaints to myself.
We got to the clinic, Joe shoveled some mortar for maybe a minute, and he vanished. I didn't know where to go or what to do, so I just stood out of the way and watched how they did things until the guy mixing the mortar, Elisha, called my name. He knew my name! I was excited about that, and when he said, "do you want to help…", I'm pretty sure my whole face lit up, and I ran over without even waiting to hear what he wanted. I started out by just helping him carry the mortar to the masons who needed it. They were starting to put the walls up, and honestly, I didn't mind standing around just watching for a while because it was cool to see how they did things. Anyway, I gradually started getting more responsibilities. I got to mix mortar with Elisha, shovel sand, clean the site, measure things, make sure walls were straight, wind up the strings (that they use to line up the blocks), carry blocks, fetch things, etc. You know, all of the high-level tasks. I was just happy to be there. I felt like I was part of the team when Senyo, one of the masons who is really good, made me his designated tape measure holder. After that, he started trusting me to break blocks for him! When there was a gap that needed a block smaller than a full one, he measured, told me the size he needed, and I broke it to that size.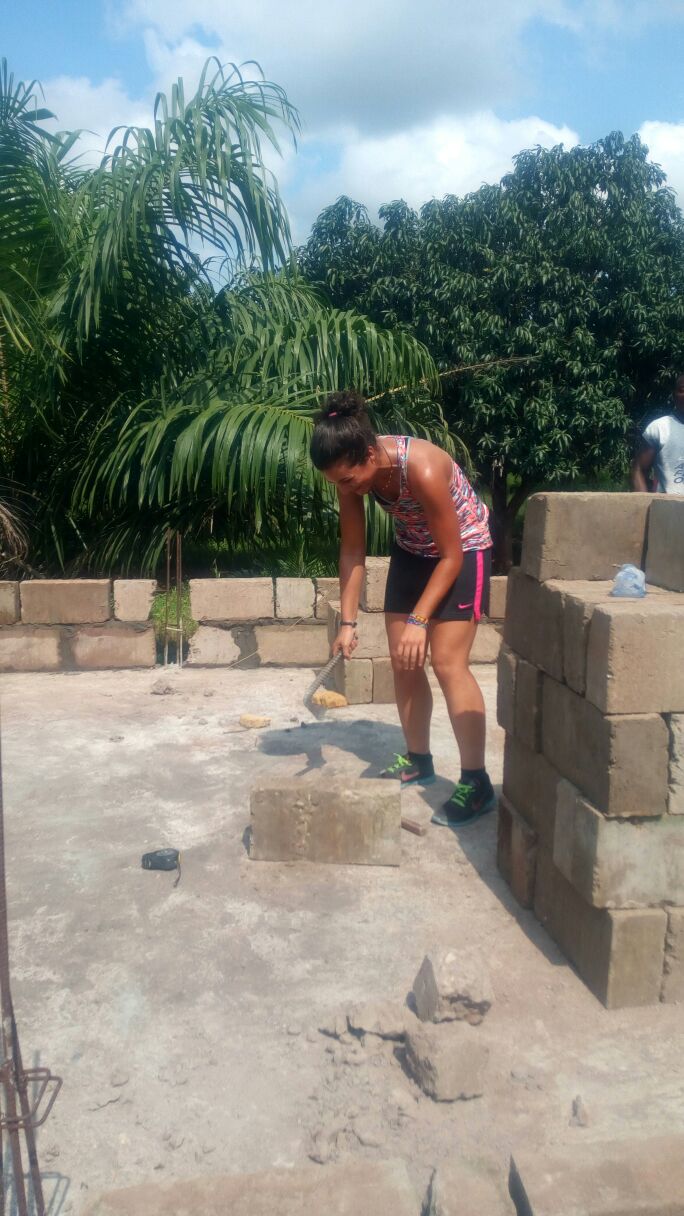 They kept asking me if the work was hard or if I was tired, and I kept saying no because I wanted to prove myself. They asked if the sun was too hot and told me I could go in the shade, but I shook that off too. I was doing fine until my hands started to fail. I had gloves with me but obviously didn't use them because no one else uses gloves, and I don't want to look soft. I know, stupid. Extra stupid when the tool they use to break the blocks is a mini-ax with a handle that's like a piece of rebar (imagine a metal cylinder with a thick metal wire wound around it… aka not smooth at all). I got to the point where I couldn't even break a block because of my blisters. Senyo figured out my issue, felt my palm, shook his head, and said, "too soft," before showing me his hand for comparison's sake. I have a lot of work to do.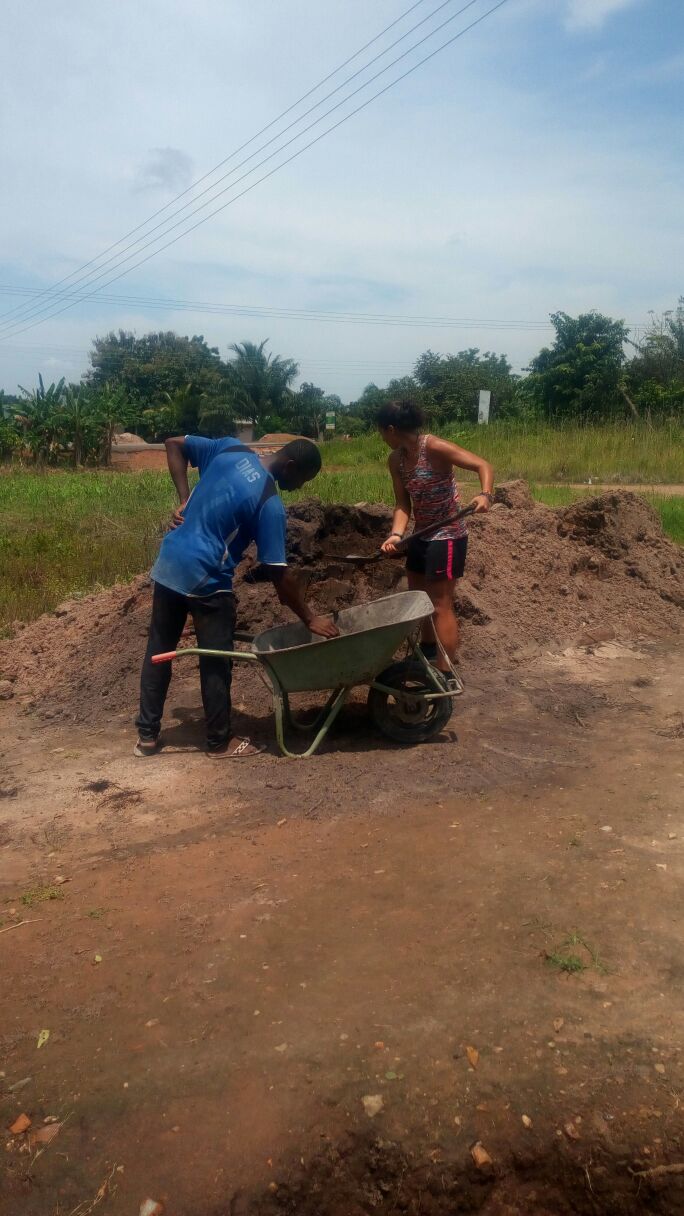 When it was time for me to go home for lunch, I said goodbye to everyone and headed out with Joe. I actually think that they looked sad to see me go! They were all saying, "wait, you're leaving??" That made me feel better because I was a little worried that they were just tolerating me because they felt like they had to, even though I told them that I was happy to help if I could but would happily stay out of the way if I would just be a bother. I told Joe to follow up and see if they'd be okay with me coming back because I really enjoyed myself.
For the way home, Joe asked if I wanted to take another motorbike. I said, "oh no, we can just walk," and he looked at me, shook his head, and said, "no, it's too hot." Well like I said before, I'm not going to argue with a free ride. He had trouble getting in touch with anyone, said we just had to walk, and we got about 50 feet down the road before someone stopped to pick us up. That's the princess life, I guess.
The rest of the day was quiet. I was exhausted after working for 5 hours in the sun during the morning, so I mostly just hung out and enjoyed some time in our mostly empty house. Clarina left around 3PM, and I stood with her by the street until she got a tro tro straight to the airport. I really am an emotional mess now when it comes to people leaving. I almost started crying AGAIN. I can't even think about the fact that someday soon it's going to be my turn.
Anyway, for now, I'm going to ignore that unwelcome truth and instead focus on enjoying my weekend with the house basically to myself. It's so nice to have some quiet and time to sit and relax without a million things going on around me. At least until tomorrow when new volunteers come, AND NICK IS COMING!