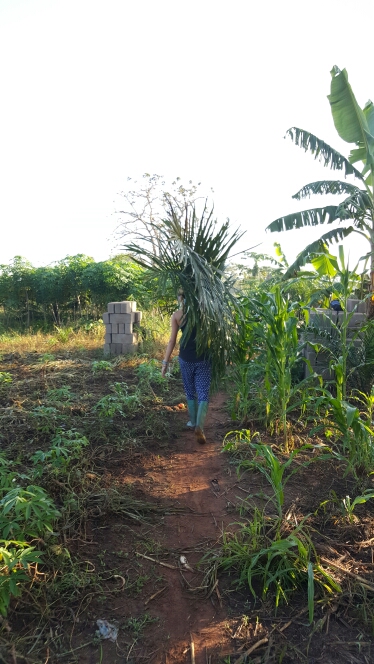 Our farm numbers were back down today; only Anna and I went. We were rewarded with a morning of carrying massive palm branches from a nearby farm to ours. The pig house roof is made from palm branches, and it broke in a couple places. We cut new branches (by "we cut" I mean John and Anthony cut and Anna and I carried) to replace the ones that were crumbling. I was just happy to have something new to do, and it was a fun challenge to carry the branches without toppling over or running into anything. Plus, the actual labor wasn't very hard which was a nice change from hoeing.
After breakfast, I took a trip to Baptist to see some of the kids getting measured for new uniforms. Avy is using some of her donated money to replace the uniforms of some kids whose are in bad condition and whose families aren't able to afford new ones. I don't know that the kids understood what was going on, but I can't wait to see their reactions when they get their new uniforms!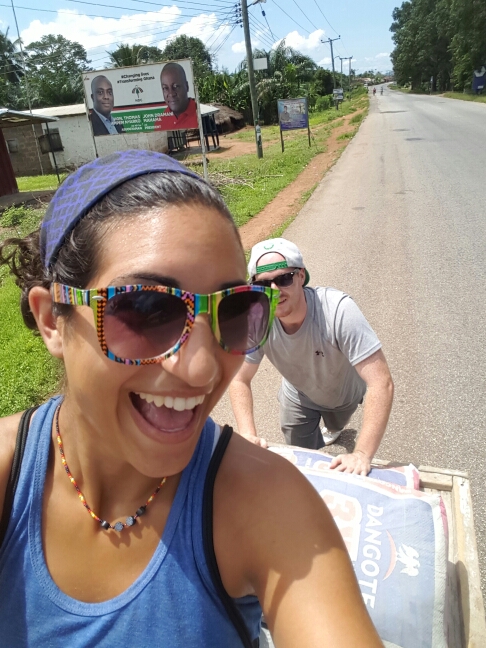 I didn't spend the whole morning at the school as usual because Joe and James were taking cement to the clinic and asked me to come along and help. Turned out that they really didn't need help because you only need two people to pull/push a cart with five cement bags on it. Joe told me to get on the cart too, and I thought he was kidding until he stopped walking and insisted. Well okay, I'm not going to refuse a ride if it's repeatedly offered. I got on, and he and James took me the whole way there. I don't think the people in town had seen anything like it before because they were all laughing and taking pictures. Joe started calling me Princess Lara, and I'm a little worried that it's going to stick.
We dropped the bags off, and I feel like I made up for my ride there because I pulled the cart most of the way back to the market and insisted that James ride for part because he was whining about being tired from the malaria (but then refused to take it easy, so what can you do?).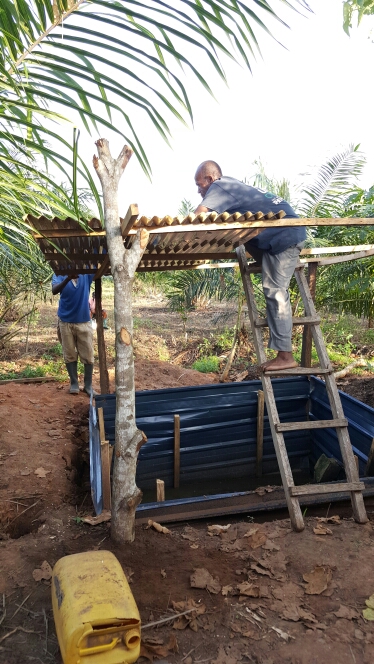 I took it easy for a couple hours after lunch because it's so incredibly hot, and around 3PM, John stopped by to pick me up and walk over to the farm. I decided that I couldn't keep procrastinating on this poop hole roof, especially since it's been raining and the hole is just going to keep getting wetter (the hole is to turn the pig poop into fertilizer for the farm). Really, it's stupid that I'd been putting it off because I didn't even need to build the roof. John and Anthony built it, and I just had to supervise and make sure they did what we wanted.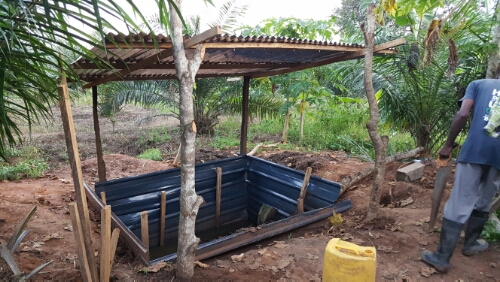 We fixed the last two columns in place, added the beams to support the roof, and put on the roofing material. I can now confidently say that this is the most beautiful and intense poop hole in all of Ghana (*disclaimer* this statement is pure speculation. But really, how much competition can there be?). The whole thing took maybe an hour and a half, and after seeing the construction in action, I'm positive that having them do it was the right choice (even if it wasn't totally intentional). John took about three hammer swings to do what would have taken us ten, and I'm pretty sure that we wouldn't have been able to manage parts of it. Anyway, it's finished now, and I'm happy for that. All that's left is to finish filling in the dirt around the walls… ehh that's a project for another day!