By the time I get home, I'm going to be a machete queen. It's too bad that this training only started in the last couple of weeks because I think it's going to be a very useful skill. Would it be weird if I brought a machete home with me? No, seriously… I'm strongly considering getting one, but what on earth would I do with it? Without it, I think I'll feel lost. It's like when I went to China and came back and wanted to use chopsticks all the time. Now I think I'm going to find a lot of opportunities to machete things. For example: hmm okay I'm having trouble coming up with an actual example, especially if I end up living in a city again. On a hike if plants are overgrown? In case I get into a fight with a bear? Chopping firewood (but only from very thin trees because otherwise it will take me way too long)? To scratch my back? If I had a fireplace, I would hang it on the wall above like a sword. Sorry, I'm getting sidetracked. Let me know if you have any ideas. I need to justify buying one. Anyway, in case you didn't guess, we spent the morning machete-ing more weeds. I haven't gotten sick of it yet.
After breakfast, I headed to Baptist and bumped into Everlasting and the headmaster on the way there. They had to go to a kid's house, and Everlasting said that his students were doing some reading practice on their own. When I got to the classroom, there were some kids sitting, some kids standing at the back of the room, and two kids at the front. The girl at the front was reading a list of words, pointing at each one with a piece of broken desk, and the boy was yelling at her anytime she got one wrong. The class was actually under control, so I took a seat in the back and let them keep going. I'm pretty sure that the boy was left in charge, the kids sitting had already read the list correctly, and the kids standing hadn't. It only took about 20 minutes for things to start falling apart, so I took control (that makes it sound a lot more impressive than it was… I just made them all sit down) and wrote some math problems on the board for them to work on. I was impressed with how well-behaved they were once they had some work to do! It made my job very easy.
Everlasting got back after the first break, and I got to observe him teaching an ICT class (their computer/technology class). The interesting thing about ICT is that the school only has one working computer, so often, the teachers don't even bother going to the "computer lab". Today's lesson was about the spacebar and backspace keys. I must say, I was impressed by his computer-less explanation.  To give you an example, for the spacebar, he explained the concept, had a couple kids come up and write sentences, and explained that those kids have spacebars in their minds so they put spaces between the words. He said that he doesn't have a spacebar in his head and showed what those sentences would look like without spaces. It's funny because the schools always say that it would be great if we helped with ICT class since we all know a decent amount about computers, but there's no way I would be able to teach that class better than he did without having any resources.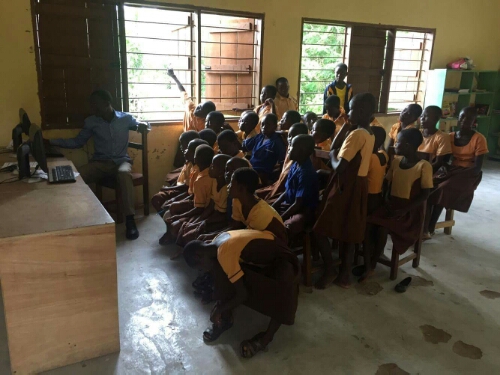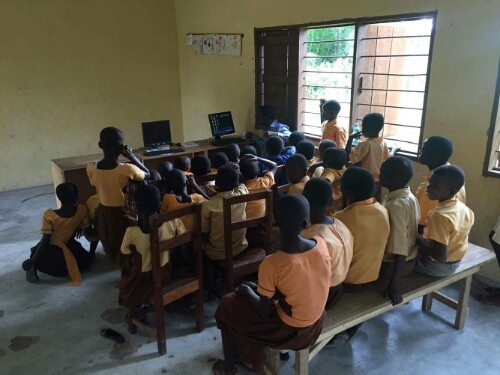 Then, I don't even know how this came up, but during break, he gave me this long speech about how all of the people in the town are always keeping a close eye on the volunteers and how they're behaving. He said that sometimes, the volunteers act in a way that the townspeople find appalling, such as drinking or smoking in front of the kids or dressing inappropriately. He said that people have an idea in their minds that "yevus" are completely different from them, and when we come to town and they see us trying to fit in, it helps to change their perception. People love it when we try to learn the language and carry things on our heads and go to work on the farm because those are all things that they do, and it makes us relatable. He said that people notice when the volunteers are making an effort to be a part of the community and that he's heard people saying nice things about Avy and me specifically (probably just because we've been here the longest).
I was happy to hear someone affirm my attempts to fit into the community. That's been one of my goals since the beginning of my time here. I want people (including me) to feel like I belong. Until he said all of this to me, one thing I didn't realize was how much people pay attention to what we're doing. I think that's an important thing to remember any time when you're clearly an outsider. People are watching to see how you behave, and from that, they form judgements about a group much bigger than just you. No pressure, but you represent a lot of people!
It was interesting to hear all of these things from his perspective, and it definitely gave me some things to consider. I have a feeling that the understanding he's led me to will continue to help me throughout my journey this year (and beyond).