This was the best machete day! My current favorite farm task is machete-ing weeds, and today John took us to work in a field that had some really tall weeds! We usually just do short grass. This was so much better! It was as satisfying as chopping down corn stalks. You smack them really hard with your machete and then just watch them fall. It was definitely much harder than clearing the short stuff, but it was also a million times cooler. Worth it.
Nick, Avy, Anna, and I went to Baptist after breakfast and were met by a stream of kids with pans and buckets of rocks on their heads. Typical. There were some big piles of stones in the schoolyard, and the kids were helping to move them to someone's house in the village who was probably going to use them for some construction work. I didn't get the whole story, but it's not really important. Even after being here for almost 3 months and seeing things like this happen all the time, I'm still impressed by the kids and what they're capable of. They're always carrying heavy things on their heads or going to get you a chair to sit on or offering to carry your bag or running errands for the school or chopping something with a machete. It's really an awesome part of the culture here. Kids are taught to help from such a young age.
After the rocks were finally finished being moved, class started. I was planning to help Everlasting in P2, but Nick was teaching P4 because their teacher was out sick. I thought I would be more helpful if I went with him, so the two of us worked on teaching P4 math. They're supposed to be learning about some more advanced things with operations, but after looking at the homework, we realized that they're don't even understand the basics. Due to that, we just taught them some foundational stuff about operations (for example, in addition, the order of the terms doesn't matter, but in subtraction, it does). By the end, it seemed like they were getting it, but it's hard to measure that without grading an exercise or a homework.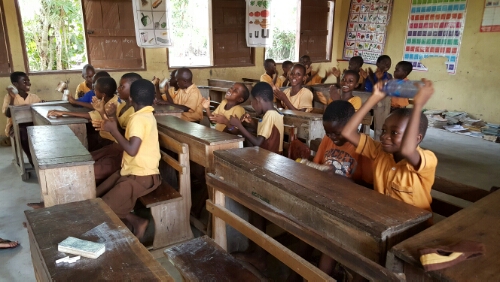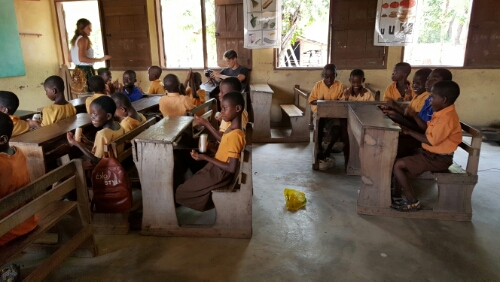 Just before lunch, I joined Everlasting and Anna in P2 for creative arts class. This week's topic – music! They were supposed to be learning about making their own instruments. Anna made some shakers last night using beans, jars, and toilet paper rolls, but we don't have nearly enough resources for their whole class to be able to make one. Instead, we brought what we had, split the class into groups, and gave the shakers to one group at a time. The rest of the groups got a beat to make, and we did a couple rounds of making "music" with each group doing their beat. If I'm being honest, they all sounded horrible (probably because Anna and I didn't plan beats ahead of time, so they didn't mesh well together), but the kids had a great time so who cares?