​Well here we are. No more ignoring it. No more convincing myself it's a lie. I'm at the airport, and there's nothing left to tell myself besides the truth. After months and months of being emotionally drained by people leaving, it's my turn to be the leaver rather than the left. I'll be honest, I think it's easier to be in my position. For me, tomorrow is a new adventure in a new place. For the friends I left behind, tomorrow is another day in the same place that's just missing something… assuming they're going to miss me, that is. For the sake of my ego, we'll go with yes.
This morning already feels a million miles away. I woke up at 8AM and started packing my bags. You know, you'd think I would have learned this by now, but everything always takes longer than you expect. Duh. I thought it would take maybe two hours for me to pack. How hard could it be, right? I've been organizing and sorting out my things for almost a week now. Two hours, max.
Four hours later, I was finally zipping up my backpack. Time flies. I finished just in time for lunch (fried rice and fried chicken, one of my favorites!), and we all ate together and watched our performances from last night (they were just as good the second time). You might have noticed that there were a few things I didn't cross of my Ghana bucket list yet… here's a reminder:
Walk across the Atimpoku bridge

Go canoeing on the Volta River
Take a picture with a goat
Catch a chicken
Carry water on my head with no hands
Finish the poop hole

Climb the mountain by the clinic

Stargaze in the soccer field

Watch the fireflies

Watch the sunset one last time

Go to the Akosombo Dam

Eat s'mores

Ride a motor bike home from Juapong

Have another lip sync battle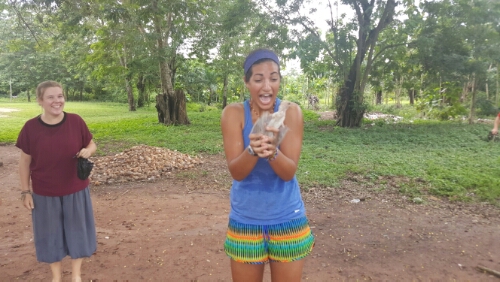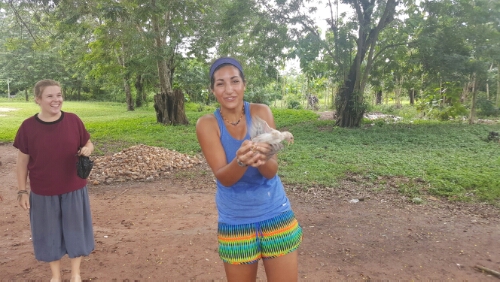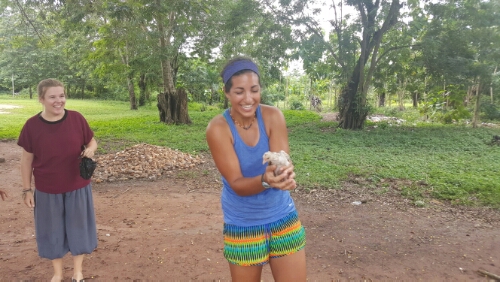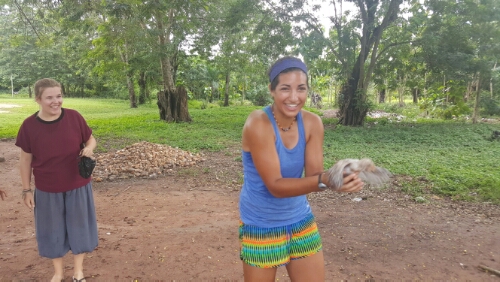 After cancelling the canoeing, I still had to take a picture with a goat, catch a chicken, and carry water on my head with no hands. I was surprised by how determined everyone was to help me finish my list. When I asked if anyone wanted to come help me to catch a chicken, we ended up with a whole crew (Avy, Lily, Nick, and Yara). None of us knew what we were doing, but luckily I had nicked some corn from the farm on Friday in anticipation of the chicken-catching. The original plan was to put a pile of corn on the ground and box a chicken in while it was eating, but do you know how hard it is to box in a chicken?? Just trust me when I say it's nearly impossible.
We spent at least 20 minutes scaring the crap out of most of the chickens around our house. I had one near-catch, until I touched the chicken and freaked out because I wasn't expecting to even get close. After that, none of that group of chickens wanted anything to do with me. Even the corn didn't tempt them.
We decided that a change of scenery (and a change of chickens) was in order, so we walked around a bit and ended up next to the school, thinking that maybe we could use the walls to cut off an escape route. Ha yeah right… chickens are smart. They knew what we were up to. Finally though, I perfected my chicken catching technique. I dropped some corn near my feet and stayed bent over with my hands near the ground, and when one came close, I pounced! I got it!!! A small, terrified chicken, but a chicken nonetheless. It never stopped screaming while I had it, and as soon as we got sufficient photo (and video) evidence, I set it free. Does anyone know the memory span of a chicken? I'm a little worried about the permanent emotional damage I might have caused. I don't think those chickens will ever trust a human again. On second thought, if that's the case I probably did them a favor because the next humans who try to catch them will probably want more than just a picture.
We were on a high after the chicken success and figured it was a good time to try to catch a goat. Unfortunately, the woman who usually catches goats for pictures for us was at church, so after about 10 minutes of chasing a couple of baby goats around, we felt bad and left them alone.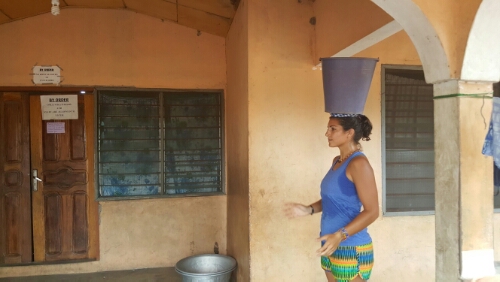 The last thing on my list was carrying water on my head with no hands. I wasn't feeling great about this one to begin with, and after countless attempts in a high-pressure, time-crunched situation, my best walk was about 6 steps. You know what? I'm okay with that. Balancing water is really difficult, and even though I can't walk across town with a water bucket on my head, I can easily stand in one place with it, and I'm decent at moving with static loads. Give me a stack of books, and I'll knock your socks off. That's good enough for me! Plus, as Avy pointed out, usually people use one hand when they're carrying water, so I'm basically a local.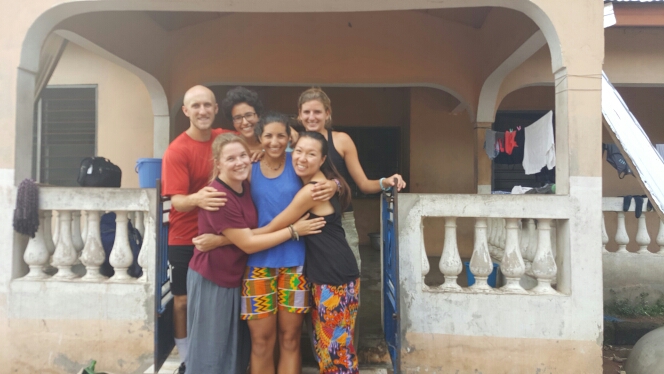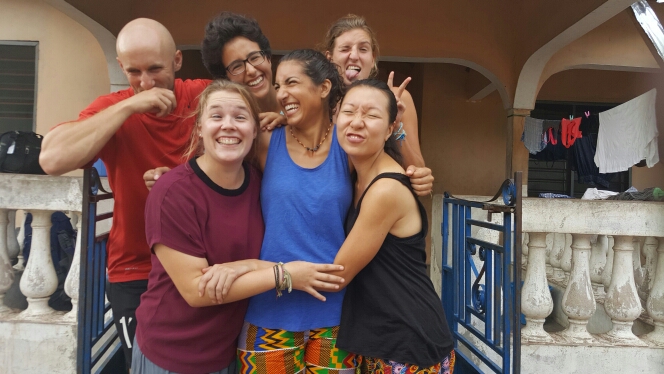 At this point, it was 3PM, and the plan was to leave at 2. Ha. Haha. Hahaha. So much for plans! It wasn't a big deal though because I had a lot of buffer time scheduled in, so I didn't actually HAVE to leave until probably 4:00 at latest. I took a quick, final bucket shower, stuffed my last few things into my bag, and assembled the crew on the porch for my goodbye picture. After that, we walked out to the street and caught me a tro to the mall. I got a prime seat in the front row for my last ride, and off we went, away from my 3-month home for the last time.
I met Evans at the mall for dinner before my 11PM flight, and as we said goodbye and he loaded me into a cab, I couldn't let myself think about it as anything more than the same kind of goodbye we always say. A "bye for now, but obviously see you soon". Thinking about it in realistic terms would have left me awkwardly crying in a cab, and I'm not into that.
So now here I am, at the airport, and honestly, I'm doing okay. I think part of that is because this was the perfect weekend. I did everything I needed to do. I spent it with all my friends. What more could I ask for? The other thing that's probably keeping me sane is the fact that I still have some excitement ahead. I'm off to London for the next week! I'm going to see Sosane and James and my friend from high school, Maddy. I have another city to explore! For now, I have something to distract me from the reality that this phase of my adventure is over. We'll see how I'm feeling a week from now…