​This was my last full day in London, and I had an ambitious schedule that, as you might expect, didn't go quite as planned. Failed plan #1: waking up at 7AM and leaving by 8. I know what you're thinking. Why did I even think that was a possibility? I was thinking that I used to wake up at 5:30 every day, so why would waking up at 7 be a big deal? Well, it's different when you don't actually have anyone counting on you… and when the room is cold but it's so nice and warm under the covers.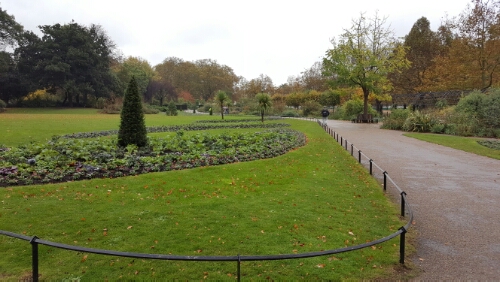 By the time I dragged myself out of bed and pulled myself together, it was about 9:30. I had plans to go on a walking tour at 11, so I killed an hour in Hyde Park before meeting up with the group. Hyde Park is one of the biggest parks in London, and Kensington Palace, the official residence of Prince William, Kate, and Prince Harry, is on the far west side. I didn't make it that far though… not enough time. Failed plan #2: the other six things I planned to go see before 11.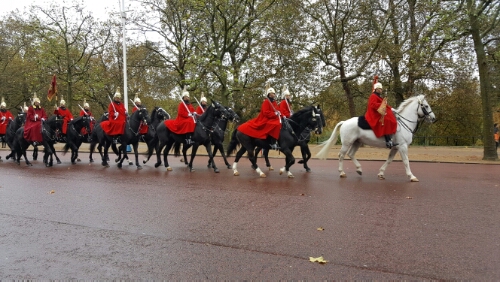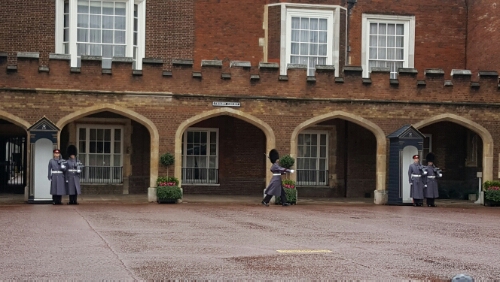 The tour was a nice change of pace. I've spent so much time over the last three days wandering around in circles and trying to make plans, and it was a welcome change to not have to think about directions or where to go next for a couple hours. I just followed along and learned things. We saw Buckingham Palace (and apparently the queen was actually there, according to the flag), watched the changing of the guard from a distance, and then walked over to St. James Palace to see the changing of the guard there up close. I'll be honest, yes it was interesting, but I can't say I understand why people get so hyped up about it.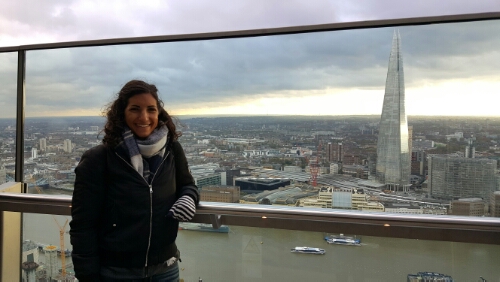 Me!
Afterwards, I had an appointment to go to the Sky Garden. It's a "park" on the top floor of a 525' tall building, and you can go up for free with a reservation. I'd say that the calling it a park or a garden is a bit of a stretch, but yeah, there are some plants up there. Either way, it's a cool setup. You can walk all the way around and see out in every direction, similar to the Tate Modern terrace except that it's about 300' higher and there's glass in between you and the view. Pros and cons!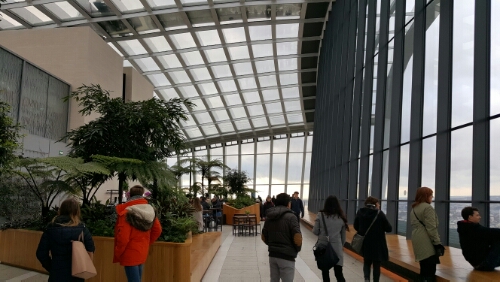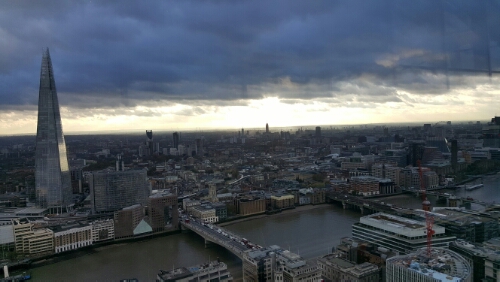 My last stop of the day was the Evensong service at St. Paul's Cathedral. The building is absolutely amazing. It reminded me of a lot of the churches in Rome… there's an awesome dome and a lot of incredible detailing. The service was great too! I didn't get the prime seat that I got at Westminster Abbey, but the music and the sermon were both very well done. The building is huge and there were a ton of people there, but somehow it still felt intimate. Plus there was audience involvement in the singing, and there's nothing better than singing a beautiful song and hearing everyone's voices melt together and become one. Good job, acoustics. What a way to end the day!