​This weekend has been completely packed. I didn't get a chance to write yesterday because it was crazy from morning to night… we didn't get home until after 11PM! I, of course, was a total mess and couldn't keep my eyes open, so I decided it was better to just go to sleep rather than attempt to write something (that inevitably would have been incoherent).
Yesterday was the team's last day, aka my last day of coffee duty! I rolled out of bed just in time to get the coffee started at 6AM, took a quick shower, ran back to the kitchen to make breakfast, etc. etc. etc. until after worship when I took a 45 minute nap because I knew there was no chance of me making it through the day without one.
The team was ready to go around 11:30AM, and that's when our adventure started. Most (if not all) of the flights to the US from Lima leave in the middle of the night, so we had the entire day to spend sightseeing in the city. Our first stop was for lunch, at a hotel in Punta Negra where Jim and Tony used to live before the EA buildings were complete enough to move in. Tony ordered a bunch of different dishes so that people could try a few things. I had some arroz chaufa (basically fried rice), lomo saltado (beef stir fry), sweet potato slices (potatoes are very popular here), and a piece of corn tamale (ground up corn and some other things all mushed into a rectangle). The sweet potatoes and tamale weren't my favorite things… The potatoes had a confusing bitter taste to them, and the tamale wasn't my favorite texture. It was nice to have a chance to try some different things without committing to a whole plate though!

The beach at the hotel was also nice. There's no beach access without going through one of the hotels/restaurants in the strip, so that makes it into a kind of private beach. It wasn't very crowded there, partly because of the "private-ish beach" thing, and partly because the waves are huge which makes it a less desirable location for people who want to go in the water. I had no interest in touching the sand or the water though, so I was happy to have less people and get to see the big waves (from afar).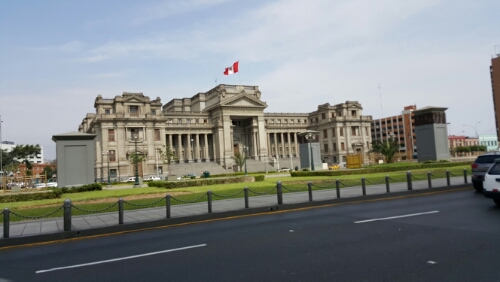 The rest of the day was filled with sightseeing! We drove into central Lima, checked out some of the historic stuff I saw a couple weeks ago (though all access to the plaza was blocked, so we didn't get to go back there to see the President's house, etc), and then drove up the coast to an overlook where you can see the city. The coast is awesome because there are these huge cliffs between the city and the beaches. They're probably a pain to walk up and down and to deal with (and they're all covered in netting because I'm sure they have rock slides all the time), but they're definitely beautiful.


The overlook was one of my favorite parts of the day because I don't think I fully appreciated the size of Lima before seeing it from that vantage point. When I say that the city stretched as far as the eye can see, I am not exaggerating. In every direction, the buildings just looked like they continued on forever. There's also a massive statue of Jesus at the top (Cristo del Pacifico), and you can see him standing on top of that mountain from miles and miles away.


The last part of the day before dinner and heading to the airport was a stop at the Inca Market, an artisan market that's great for souvenirs. We split into groups, and I enjoyed walking around, seeing everything that the stores had to offer, and practicing my Spanish. A lot of people spoke enough English to say prices and such, but they were definitely happy when they realized that they could speak Spanish to us instead! And I even spoke a little! And no one looked at me like I was speaking gibberish! Maybe they were just being polite, but we're going to go with "I nailed it" instead.


Dinner, the drive to the airport, and the drive back to EA after the airport were completely exhausting. I was falling asleep in the van all the way home. I even started doing that thing where someone talks to you and you can understand them, but when you go to answer, you're way too tired to put words together so it just sounds like gobbledygook. Needless to say, the discoteca is going to have to try harder if it wants to keep me awake because I've been having some exhausting Saturdays recently!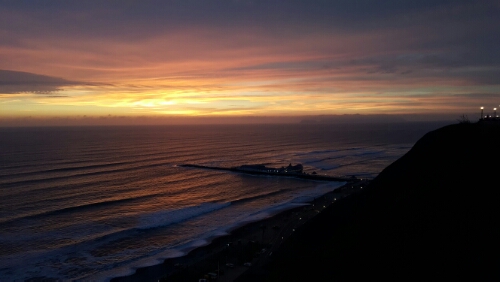 Today was one of those days where you have a lot to do, make a to do list, work on things all day, and realize that you actually completed zero of the things on your list, despite the fact that you were running around all day. I don't even know how I filled the hours today, but I blinked, and the day was close to over. I spent a decent amount of time doing laundry, cleaning my room, and moving from the room I'm in right now into Debbie's room because Kait, the last missionary, is coming back this week, and I was in her room.
Okay, I should get to bed now… Tomorrow is bound to be another hectic, nonstop kind of day, and Debbie and I have to start our robot lessons in the morning. I'm keeping my fingers crossed…