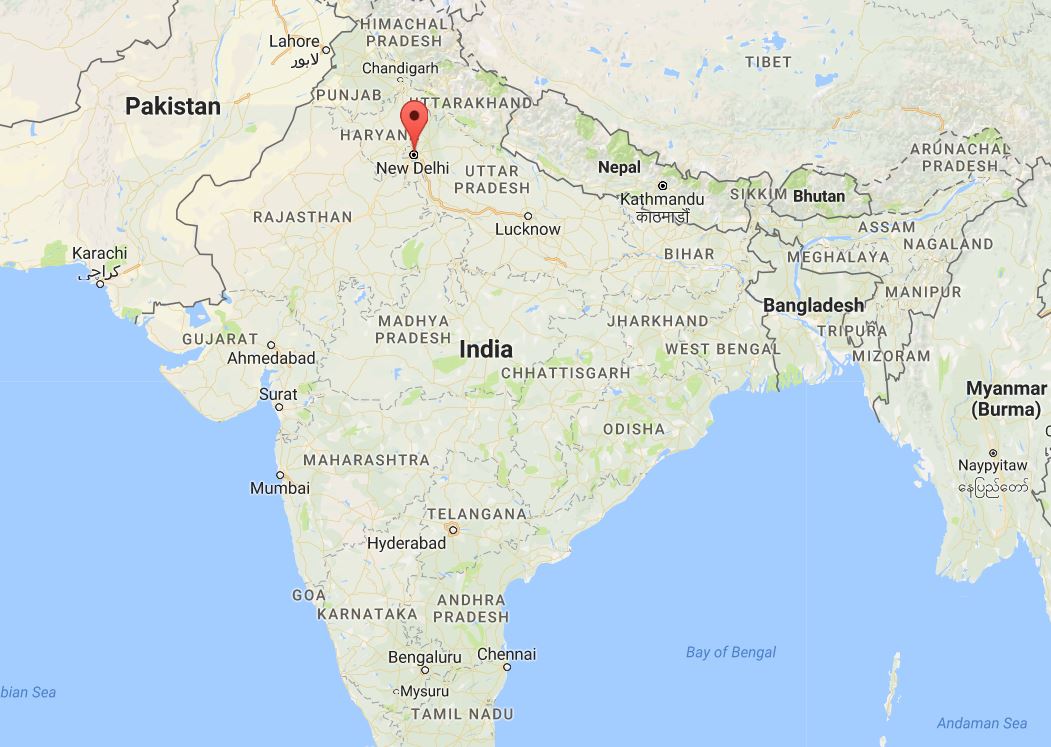 We hit the ground running on my first day in Delhi. We have three sightseeing days scheduled before flying to my final destination, so I wanted to see as much as possible. I wasn't worried about having any jetlag because I landed at night, and if there's one thing I can always do to get onto the right time schedule, it's sleep. I had no trouble going to bed after getting to our hotel, and when I woke up in the morning, I was ready to go.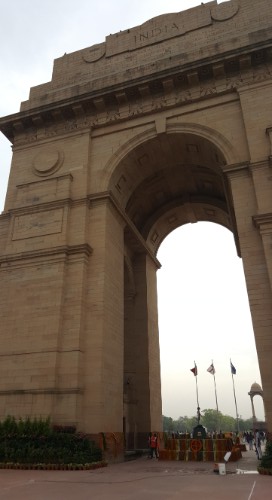 My friends for the first few sightseeing days in Delhi are Andrew, the guy who helped to organize my trip here, and Rohan, a Delhi-ite who is a friend of a friend. Andrew had an ambitious list of places to visit on day one, and we managed to get through them all! I'm all about efficient sightseeing. I can't even count the number of tuk-tuks we took (took… lol get it? I know, I'm too funny) today, but they made it possible for us to quickly zip around the city.
The first stop was India Gate, a war memorial triumphal arch. It's located on the same stretch of road as the President's house and other government buildings like Parliament and some department headquarters. Most of these buildings were designed by the same British architect, and the others were designed by one other British architect. It's not hard to tell that they weren't Indian designs. They look like someone picked them out of a catalog for British architecture and plopped them down in India instead of the UK.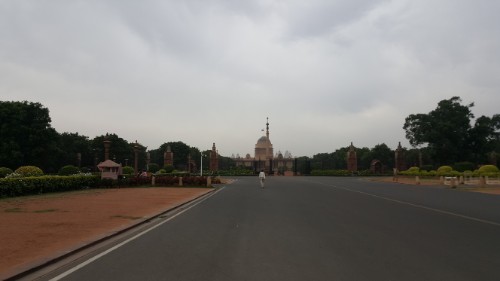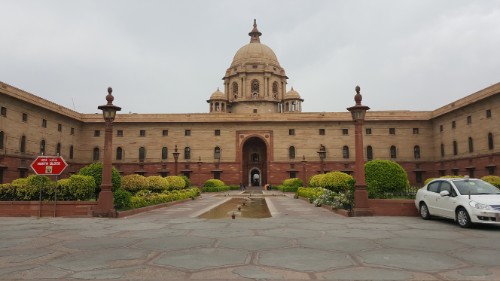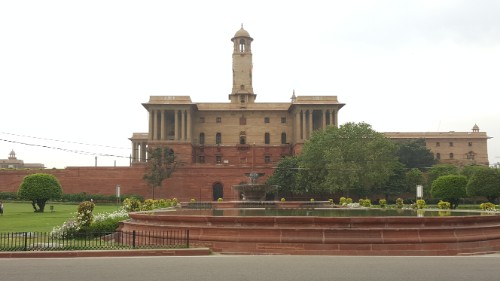 From there, we made our way to the Red Fort, the former home of many of the Mughal emperors. That's who was in power before the European power struggle that resulted in the colonization of India by the British. The fort was built in 1639 by Emperor Shah Jahan, the same guy who was responsible for the Taj Mahal. The outer wall encloses over 250 acres with 1.5 miles of wall. That's crazy. We didn't go inside, but I think a lot of the interior was plundered and destroyed throughout history anyway.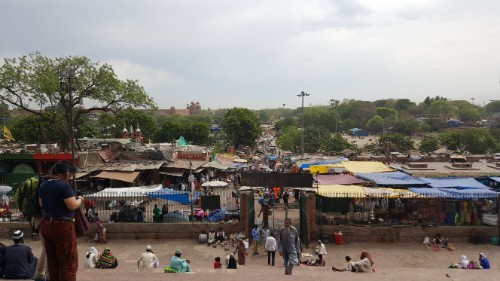 A short walk from the Red Fort gets you to the Jama Masjid, one of the biggest mosques in India. If you're Indian, you can get in for free. If you're not, you have to pay the "tourist tax" (as in, EVERYTHING is more expensive here if you're not Indian). You also have to take off your shoes to enter, and this is where I fell in love with barefoot culture. It feels so weird! Even when you "enter" you're still outside, just in a courtyard. And you're walking around barefoot. And so is everyone else. How weird, right? But here, it's completely normal, and I intend to fully embrace it.
Anyway, this mosque was also built by Shah Jahan in the mid-1600s. Busy guy. The courtyard is huge, and they say that 25,000 people can pray in it at the same time. The architecture is absolutely beautiful. Shah Jahan was clearly not the kind of guy who was okay with second best.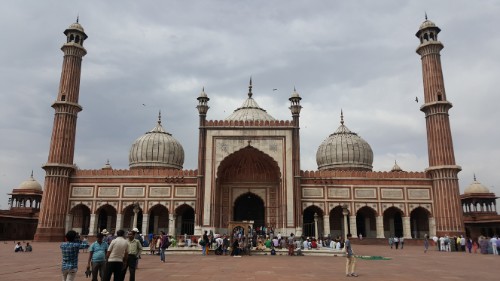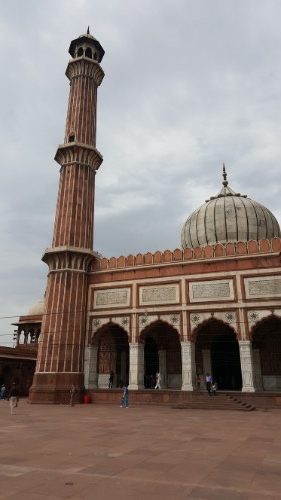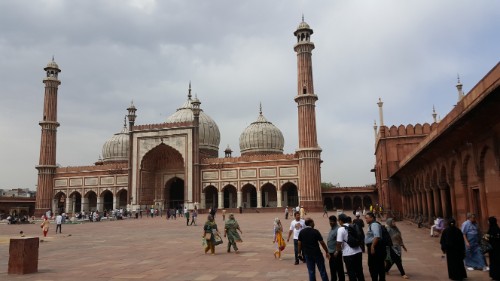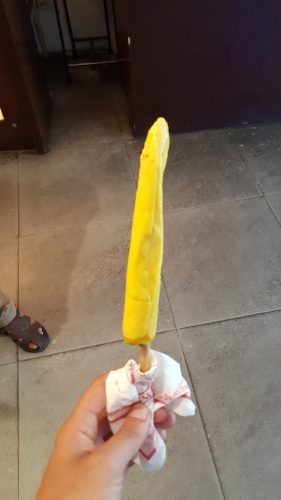 At this point, it was about 1PM and things were starting to heat up. We decided to head to Connaught Place, a shopping area, to find some lunch and hide from the sun. I'll give you one guess as to who built Connaught Place… most British name ever. We went to a place with Mughal cuisine for lunch, and apparently that means spicy. I mean, I expected it, but that doesn't change the fact that I'm pathetic and can't handle it. We got a bunch of things whose names mean nothing to me: mutton korma (lamb in some spicy sauce), chicken biryani (like fried rice but spicy), and khameeri naan (bread and my mouth's lifesaver). I think my nose was running for all of lunch, and I ate like half the bread at the end trying to get the spicy taste out of my mouth. We got some kulfi (ice cream on a stick, but with indescribable taste and texture) to cool us down and also because who needs a reason for ice cream?
We only had a couple more stops to make after lunch. Number one was Humayun's Tomb. This is another tourist taxed location… it's something like 50 cents for an Indian to enter and 5 dollars for a foreigner. The complex has more than just Mughal Emperor Humayun's tomb, though that building is definitely the highlight. There are some other monuments on the grounds, plus the 1547 tomb of Isa Khan, a noble who fought against the Mughals. Humayun's tomb was built in 1572 by the Emperor's wife, and now in addition to him, she and some other significant Mughals are buried there as well.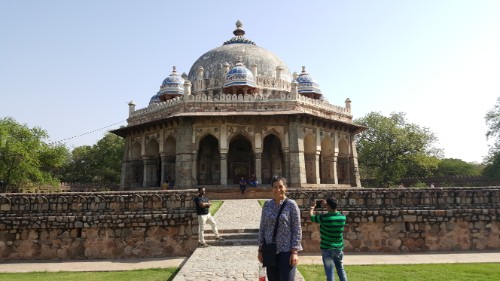 The tomb is spectacular. It came before the Taj Mahal, and it's obvious that the Taj was built after looking at it. They have a lot of architectural similarities, though material-wise, they're quite different. Humayun's tomb is built from red sandstone. It's undergone a lot of restoration work recently, so the building looks quite good actually. They also had an exhibit talking about the restoration work which was cool. I'm fascinated by that stuff. Fun fact – the finial on top is gilded in actual gold.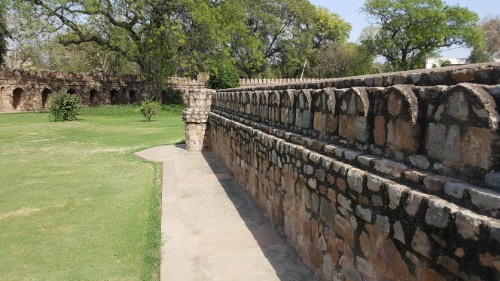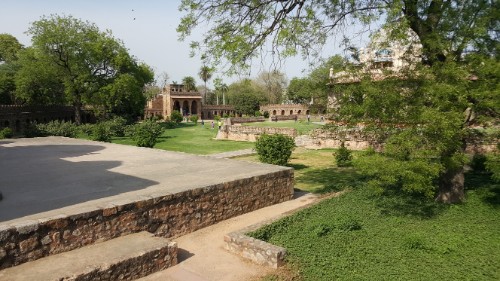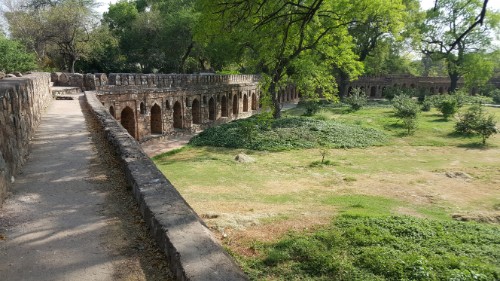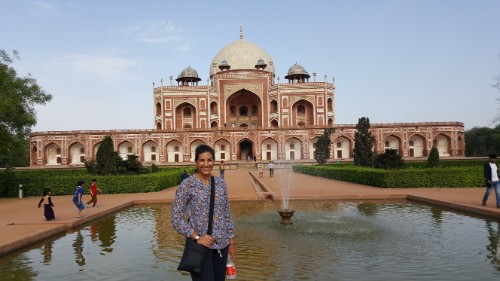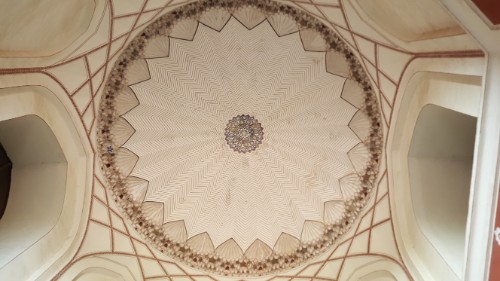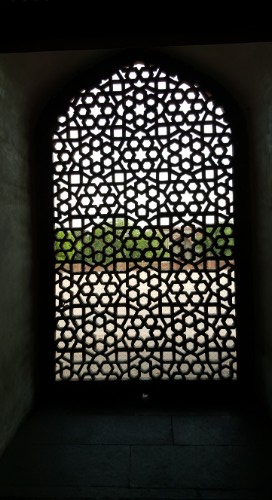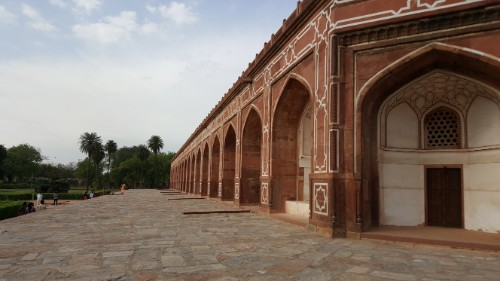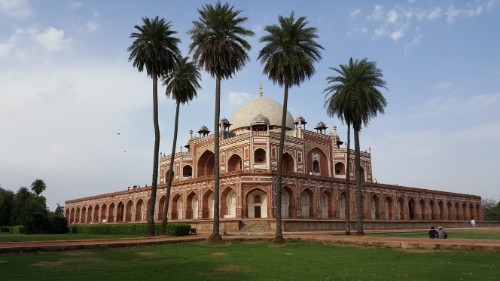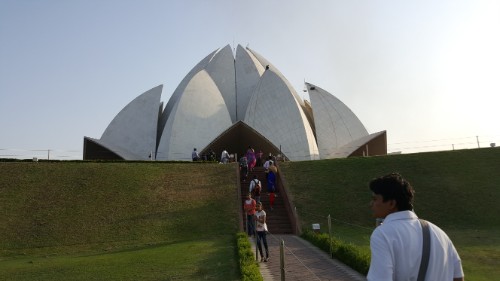 Okay, don't worry, we're almost finished. Now, the last stop of the day! We went to Lotus Temple, a Bahai temple. The Bahai faith is one that I had never heard of before, and honestly it seems more like a nice worldview rather than a religion. It started around 1844 and talks about the "oneness" of the human race, unity of people, condemnation of prejudice, gender equality, shrinking the wealth gap, the value of hard work, and the establishment of peace.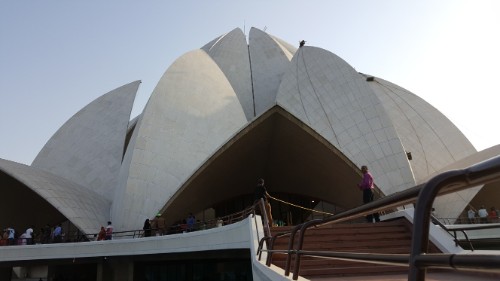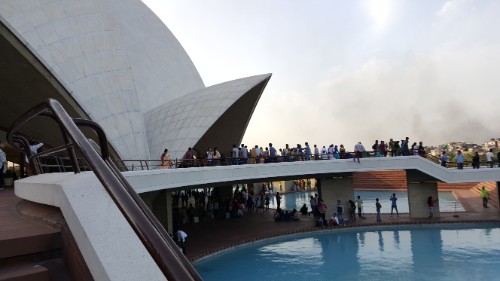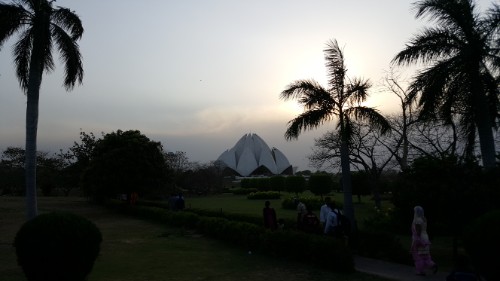 All that aside, the building is awesome. It's made to look like a lotus flower, and each "petal" is covered in marble. I have no idea how they built the thing, but it's beautiful, and from the inside is just mind-blowing. Anyone can enter for free, but you have to take your shoes off, can't talk, and can't take pictures inside because it's a place of worship. You can stay as long as you'd like and pray though, regardless of your religion. The whole concept is very interesting.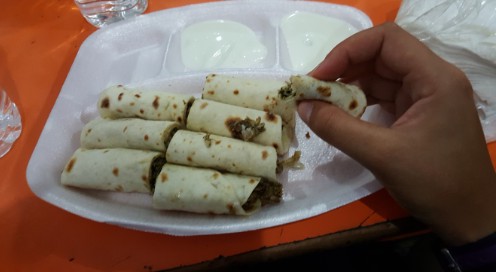 While I was sitting and attempting to pray, I'm pretty sure that I was falling asleep in my seat. The day took quite a toll on me, but I was happy that we had a chance to see so many things. We stopped and grabbed some dinner – spicy (of course) lamb shawarma – before heading back to the hotel and crashing.