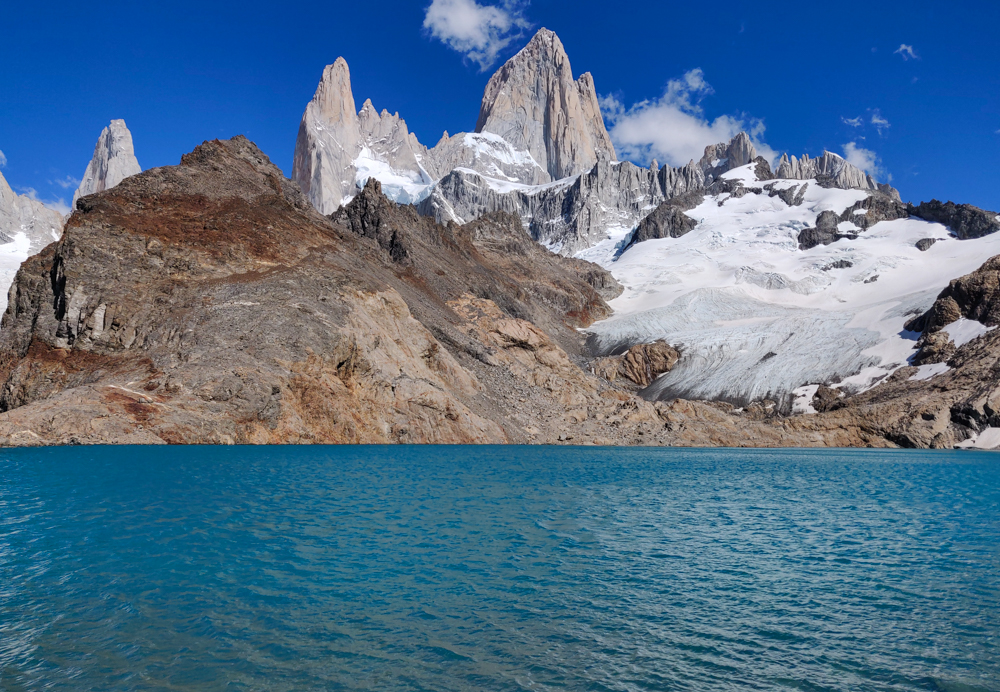 Our only full day in El Chaltén was dedicated to the hike to Laguna de los Tres. It's the most popular hike in the area, is listed as "difficult", and is supposed to take 8 hours, so we were prepared for all of the above. In our usual "let's avoid the crowds" fashion, we aimed for an unrealistic early departure time (6:30AM) and left at a more reasonable early departure time (7AM) which is apparently still long before anyone else in town is even awake. Well, except for this one guy we met who said he hiked there for the sunrise, but he was a rare bird (we've been over this before, but who wants to hike for 4 HOURS in the dark??). Anyway, we were not in good company at 7AM. We were in nearly no company. Fine with me!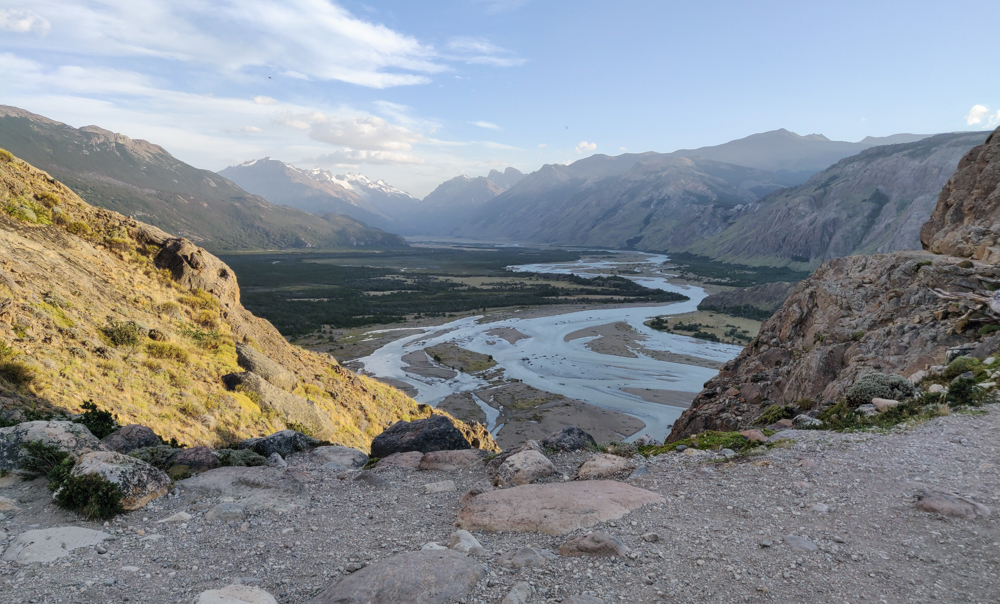 The general profile of the Laguna de los Tres hike felt pretty similar to Laguna Torre, the hike we did the day before, but slightly "more". The beginning has a bunch of unshaded uphill with great views of the valley. When you feel like you might collapse, it turns flat, and trees start popping up!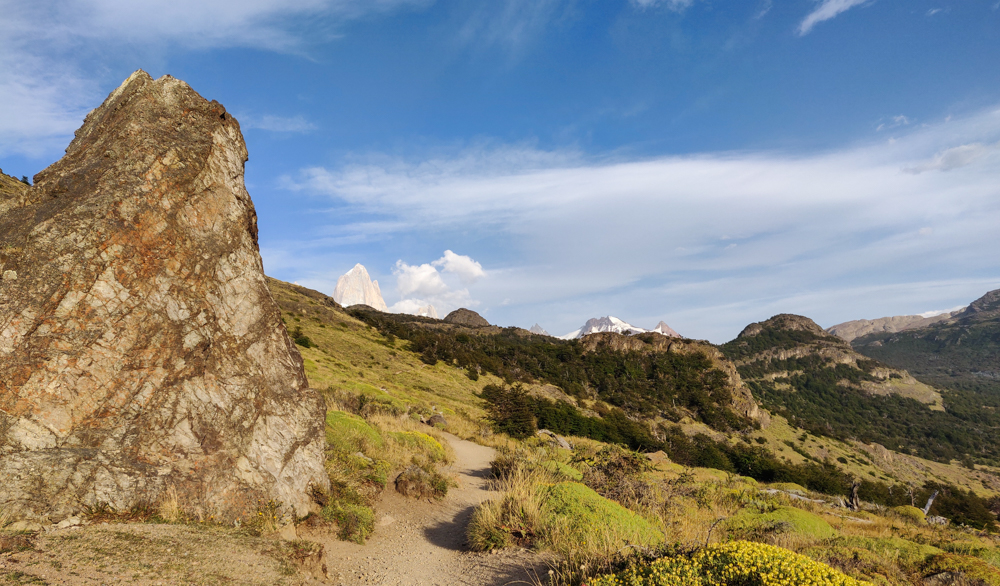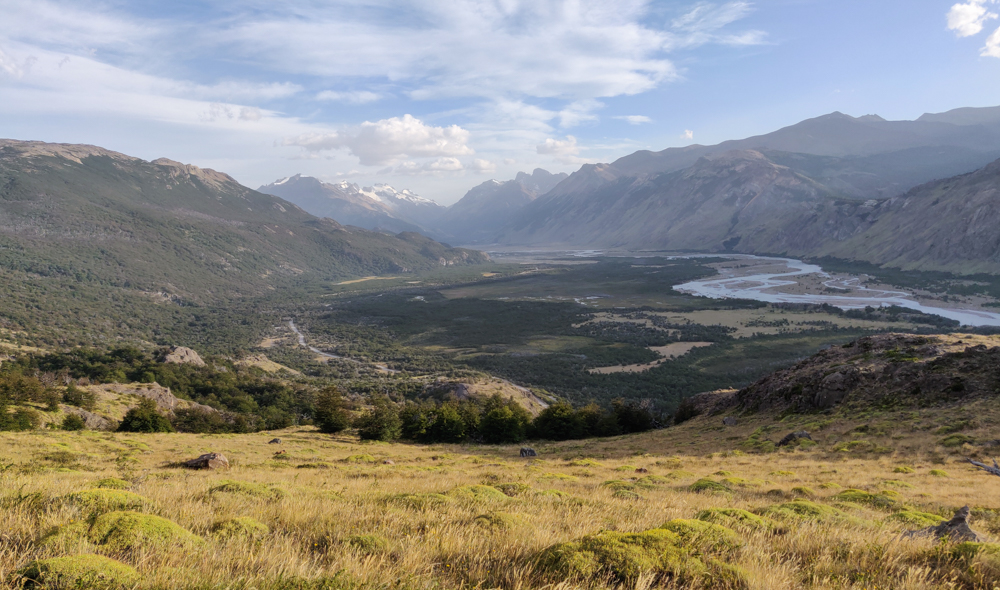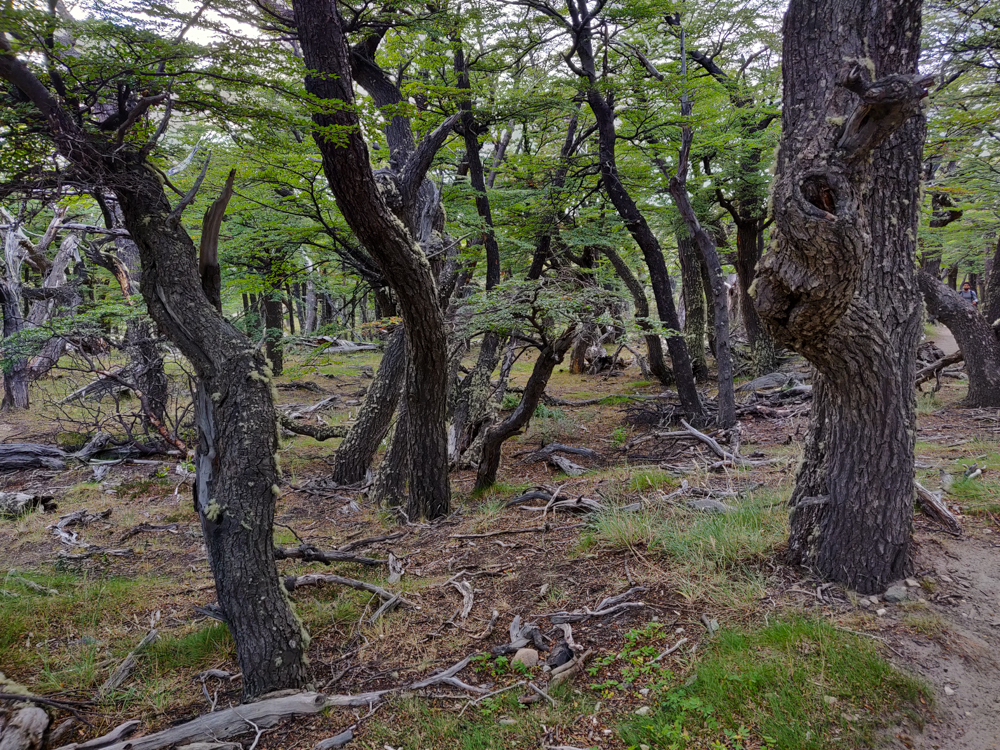 About an hour in, the trail forks, and we picked the path that goes to a viewpoint where we got our first glimpse of the mountains we were headed towards. It was breathtaking! And we were super lucky with the weather again, so the skies were clear and the views were completely unobstructed. Seeing the mountains was good motivation to keep going but was also like… "Wait, we're walking ALL THE WAY THERE??"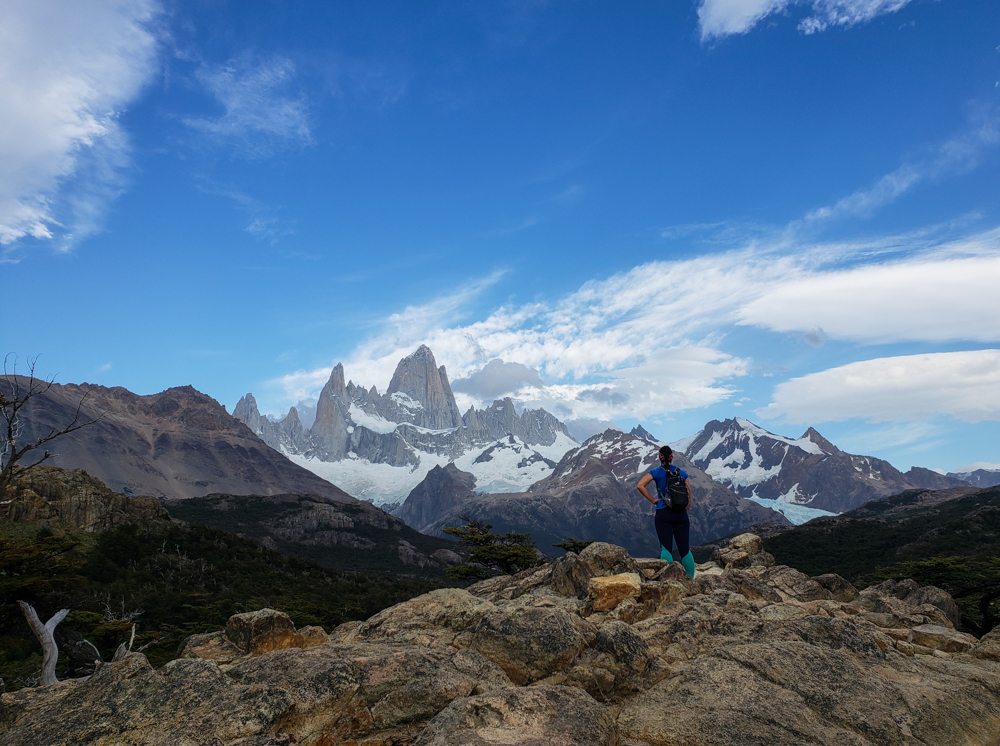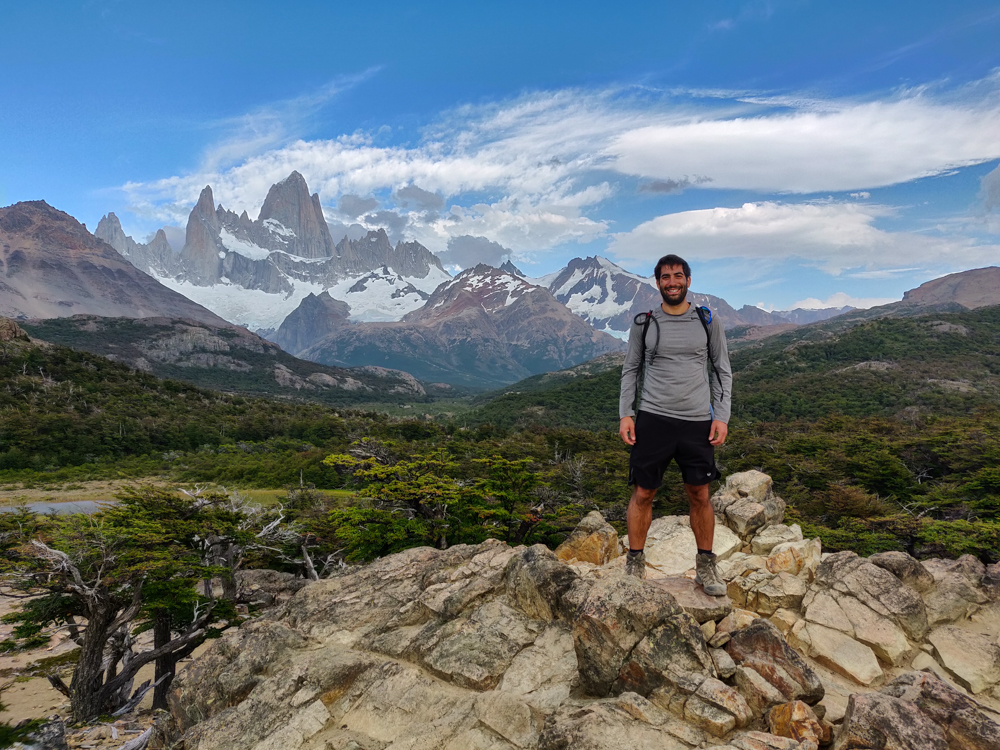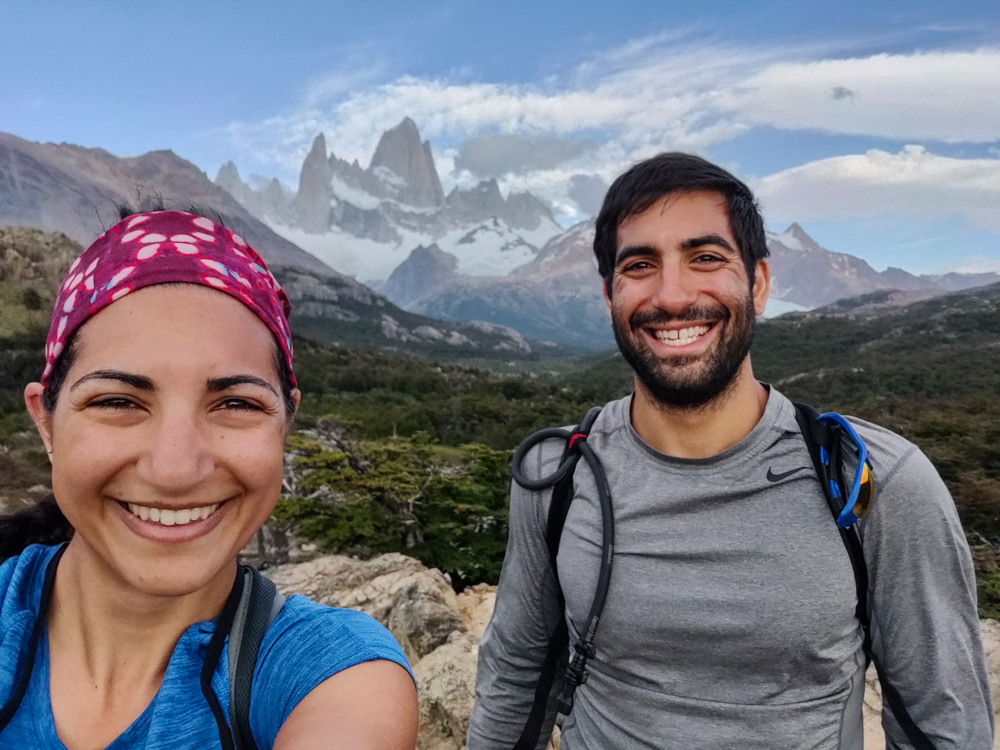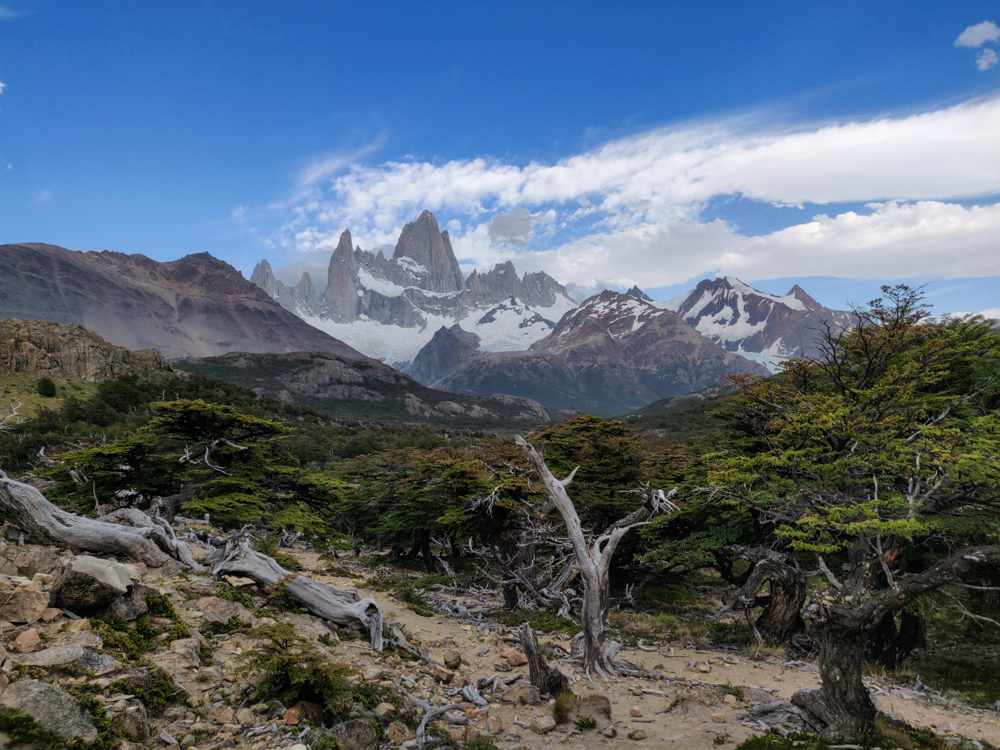 From the viewpoint until the very last segment of the hike, the trail wasn't bad at all. It's basically flat… and then you get to the end, and there's a sign that says the last kilometer is going to take an hour because it's like 400m of elevation. And then it actually takes an hour. And it is SO steep. And long. And steep. It wasn't the worst hike I've ever done, but it wasn't exactly a walk in the park either (lol but technically it was a walk in the national park).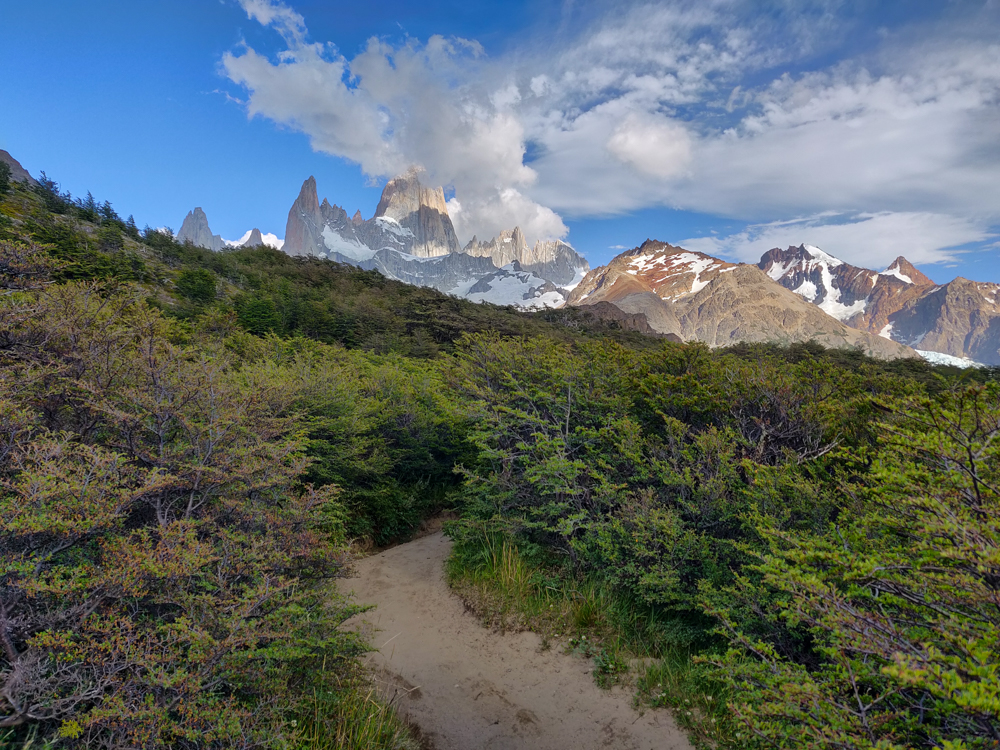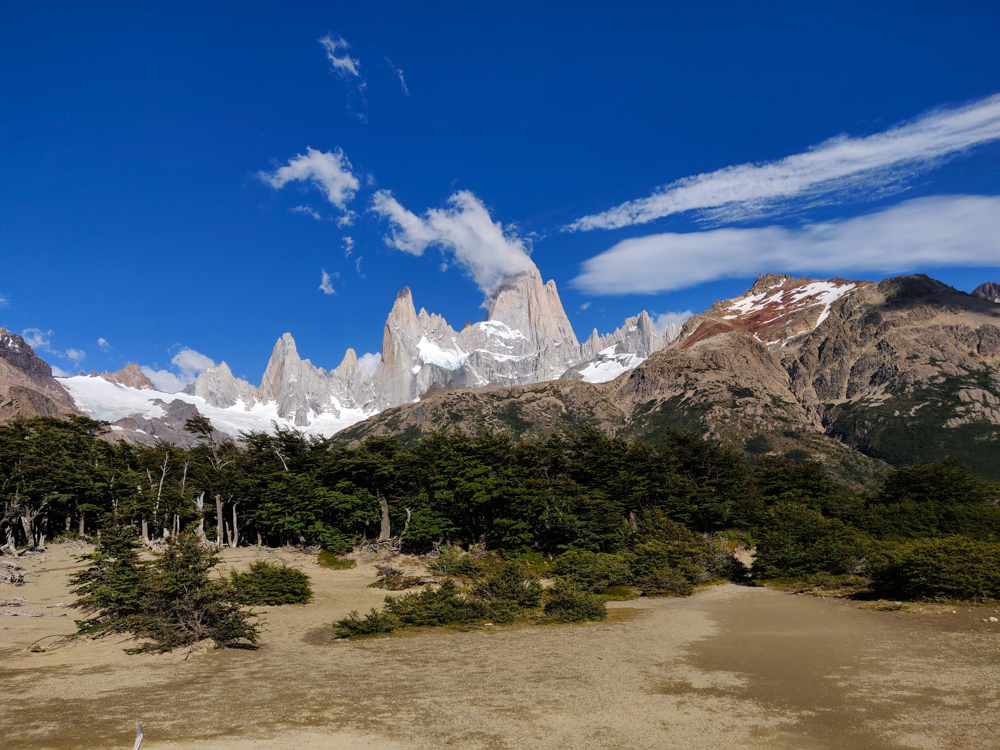 The good news was that we were there early, so there weren't a lot of people coming down. That part of the trail is only really wide enough for one person at a time, and it would have made things much worse if we had to keep moving aside to let people pass. And, probably most importantly, the sun still wasn't too hot because of course there was zero shade from that point on.
The one thing that was far from ideal was the wind. It was crazy! Most of the way was shielded from by the mountains, but the final stretch was completely exposed. I know I've said this before, but I meant it then and I mean it now… I was not confident that I was safe from blowing away. At the very least, there was a very real possibility of blowing over, and it was so steep that blowing over would probably also mean rolling down the mountain. I stopped multiple times and just dug in because I wasn't confident that I could land my foot where I wanted.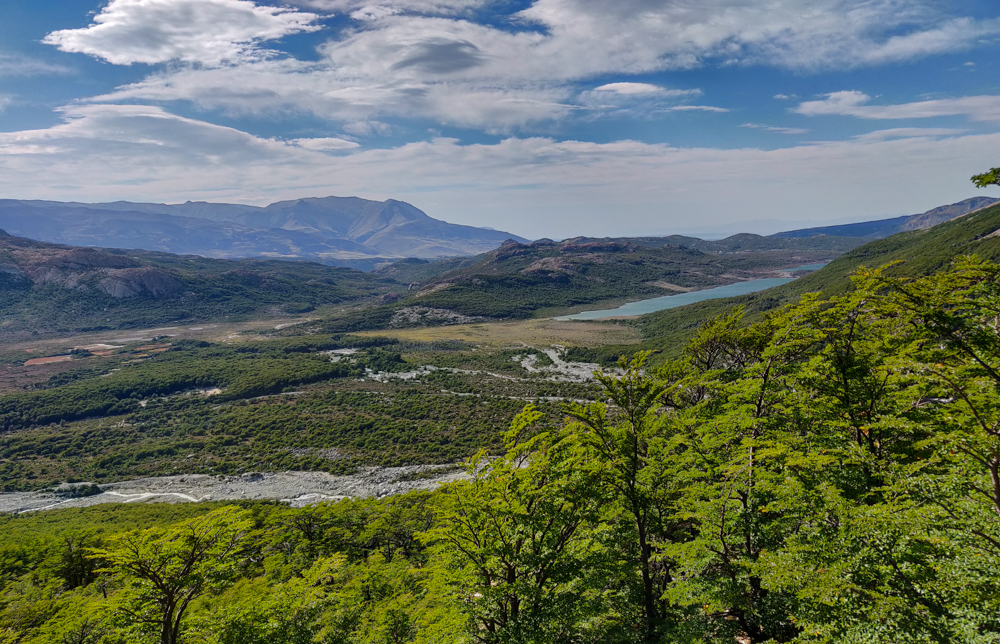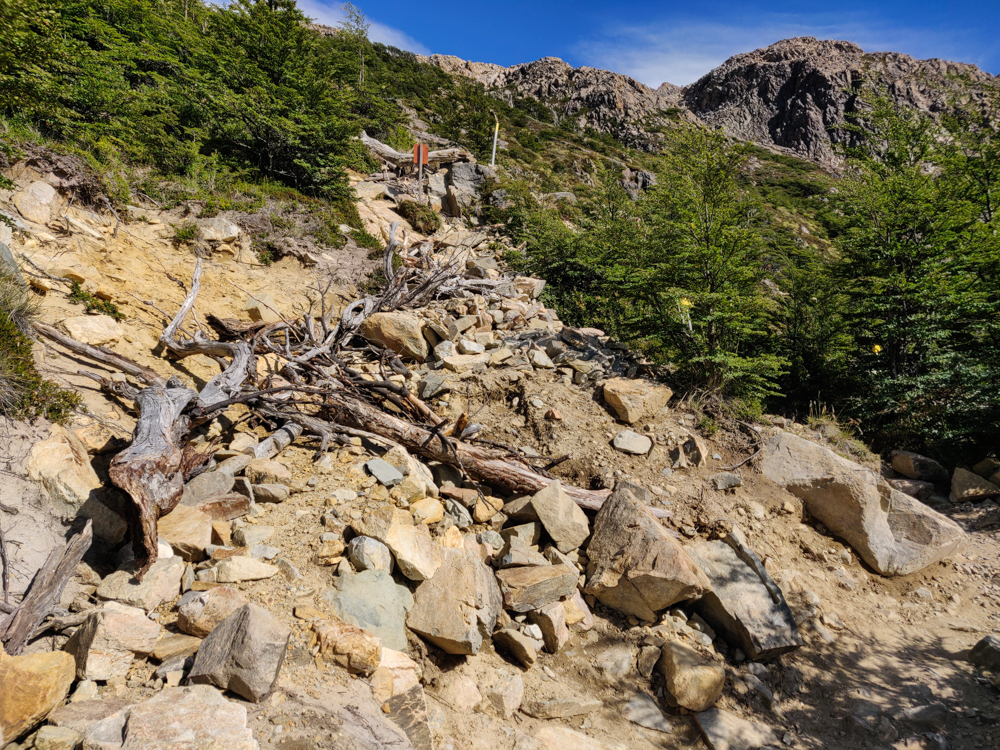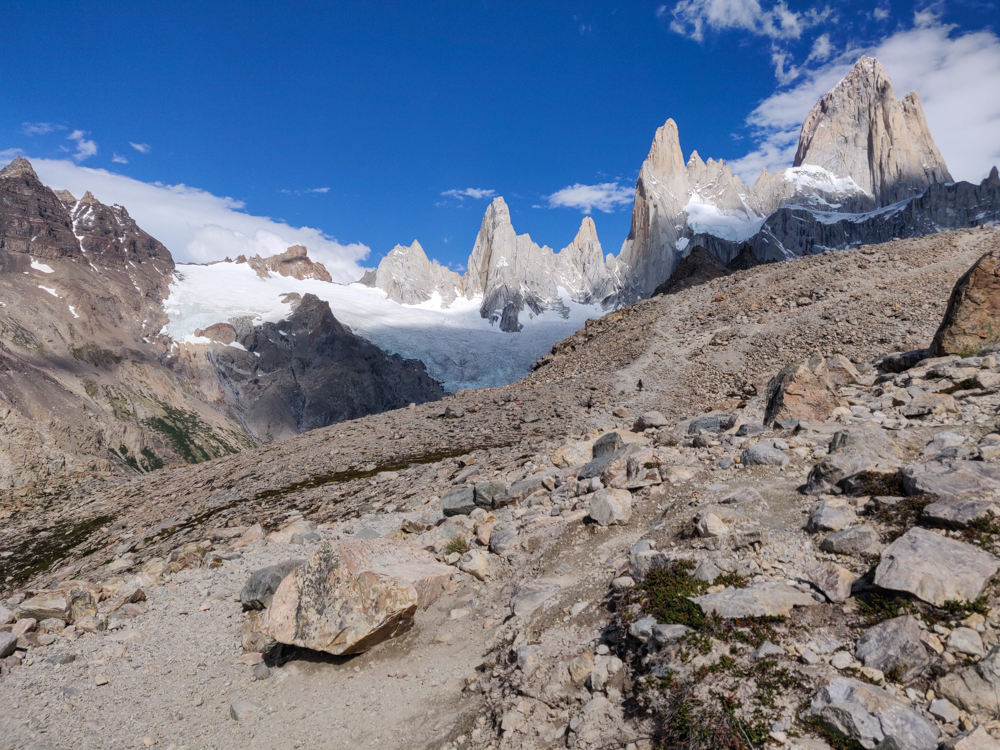 Then, I got to the top (Mike was already there), and the struggle was all but forgotten. The mountains you've been looking at all day are RIGHT THERE, with their jagged peaks and snowy slopes. The lake below them is the bluest blue you've ever seen. (After the brownish Laguna Torre from the day before, it looked especially blue.) There weren't many people there, and it felt like we were part of an exclusive group lucky enough to experience the magic. Like what the heck is this world we live in??? Who would expect a lake like that, tucked up in the mountains? It's not even fair for places like that to exist in the world. You blink and blink again and then one more time just to be sure… and it's still there. And it's still incredible. And even though it's clearly real considering you're standing there looking at it with your own eyes, you think they must be messing with you. How is this place real??? And the weather! I can't talk enough about the weather. There was one little cloud near the peaks when we first arrived and then it cleared away completely.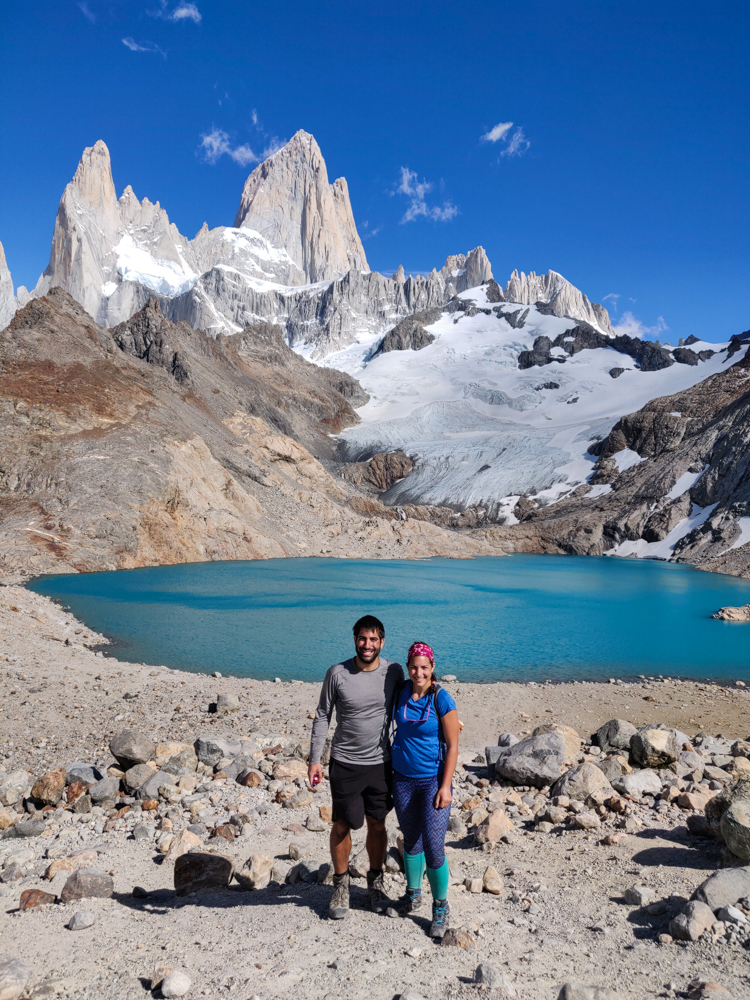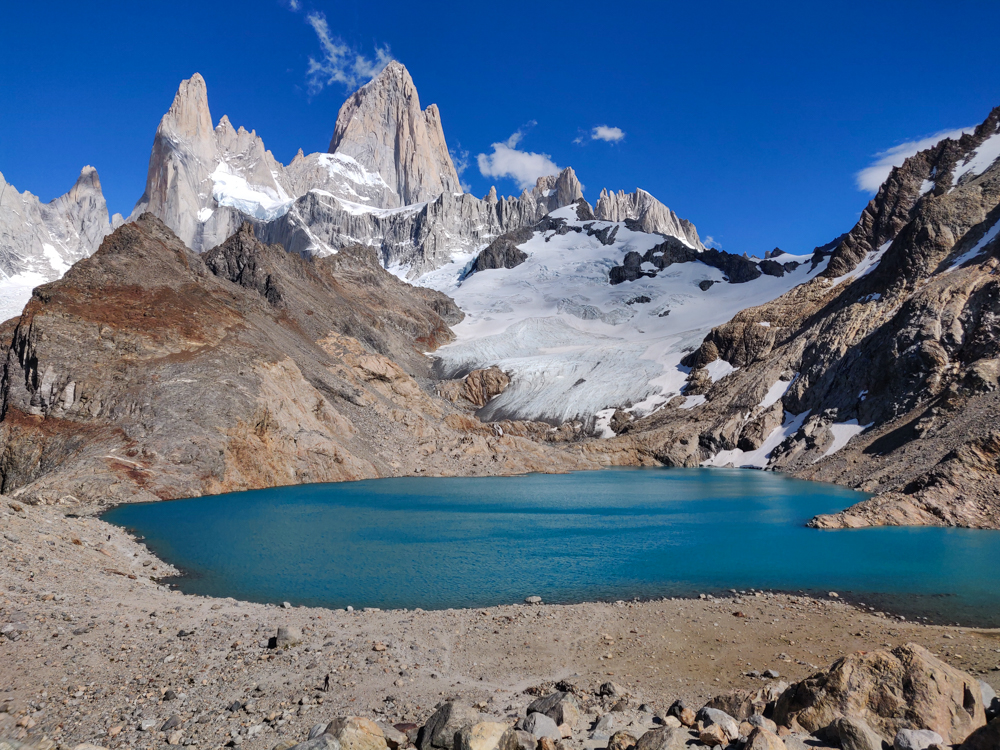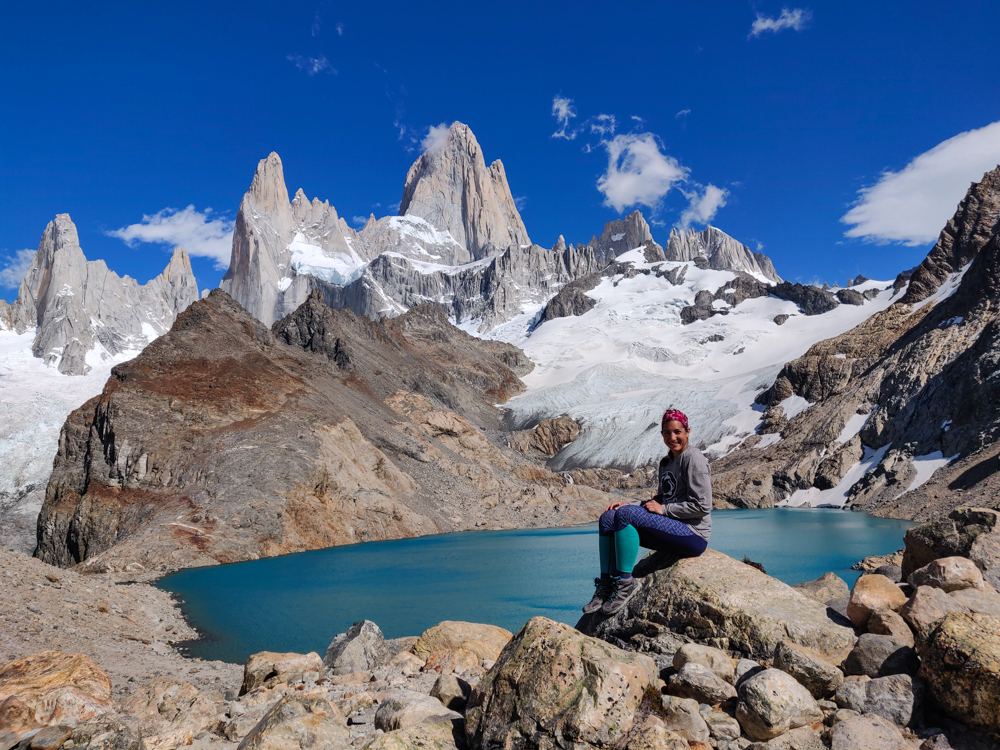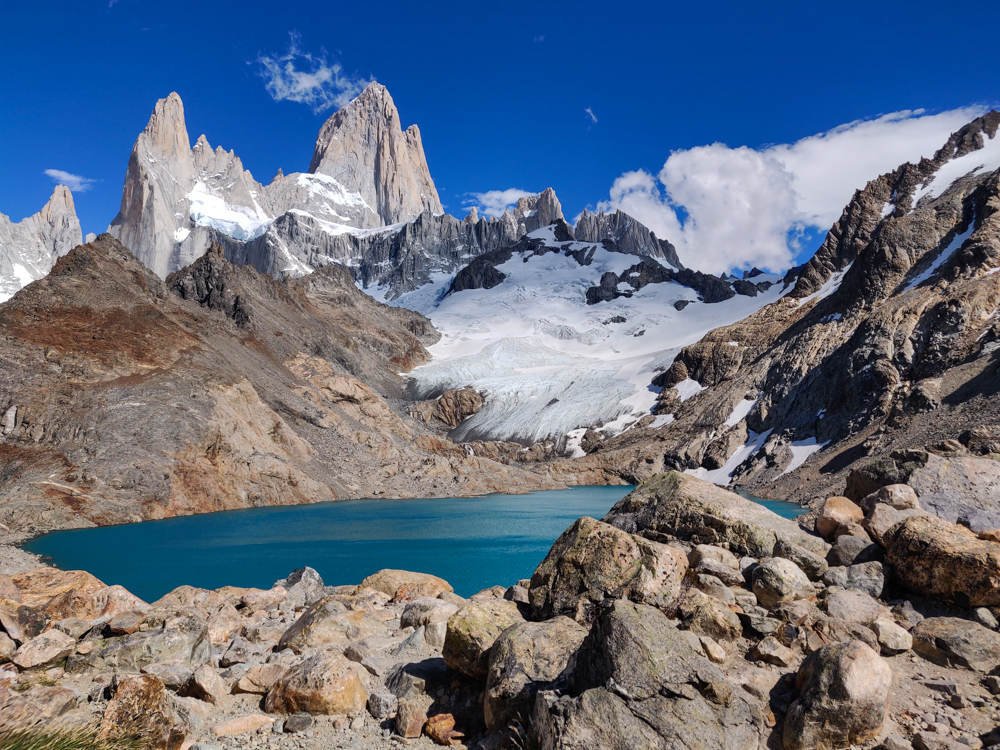 We walked down to the lake and then around the edge until we could see another lake right next to Laguna de los Tres, Laguna Sucia. That must be one of those Iceland/Greenland naming things (they named the green land Iceland and the icy land Greenland so that people would leave the green land alone) because "Laguna Sucia" means "dirty lagoon", and that name couldn't possibly be less suited.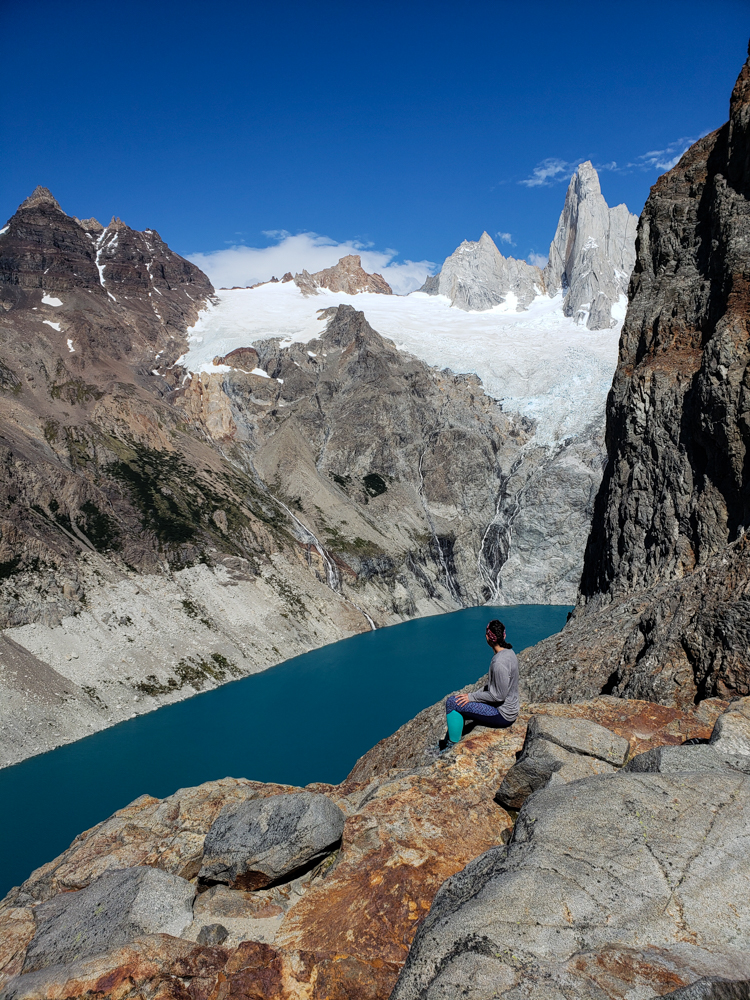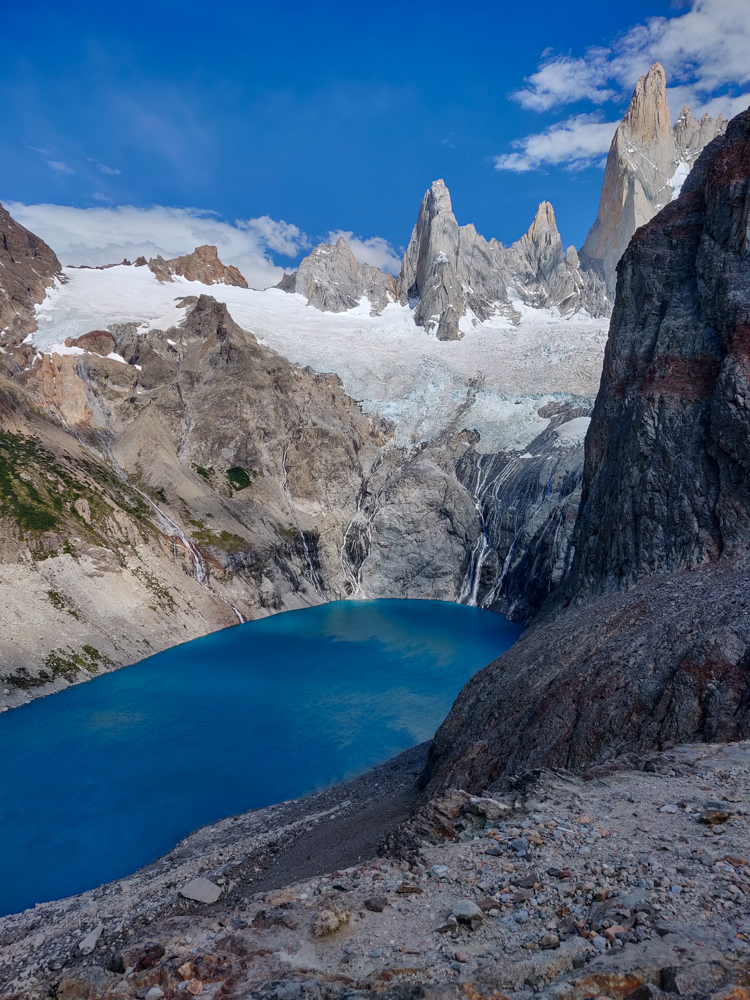 While the two lakes are, basically, right next to each other, it's super weird because Laguna Sucia is like 100m lower in elevation (that's a pure Lara estimate though, so take it with a grain of salt because my estimates can absolutely not be trusted). There are waterfalls coming out of the top lake that turn into rivers flowing past the lower lake. So strange.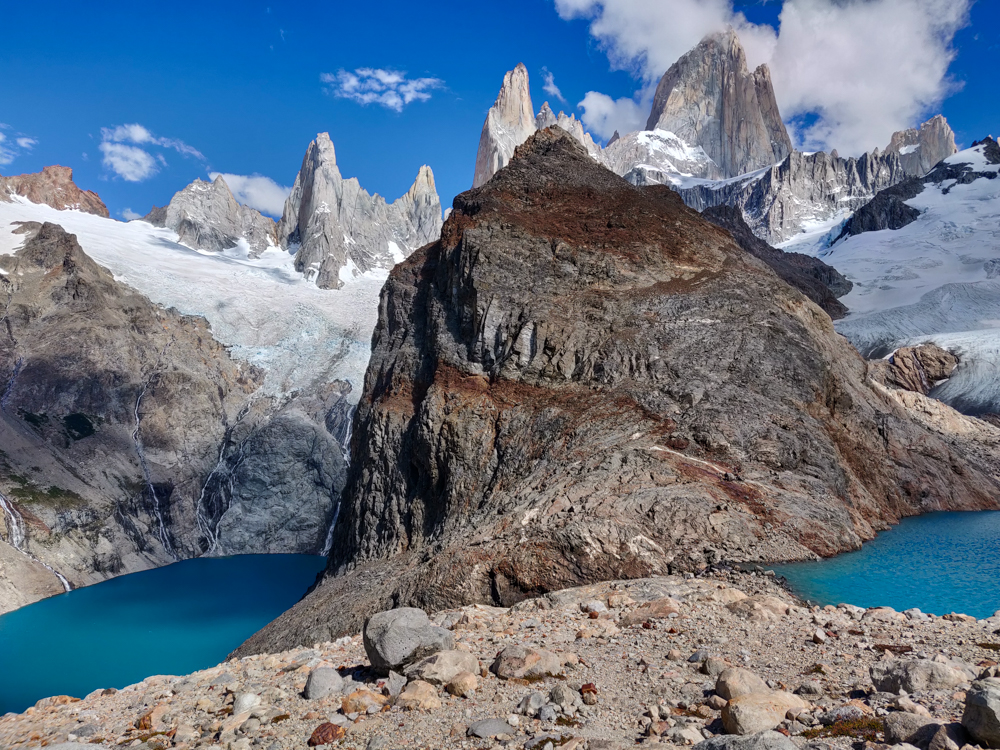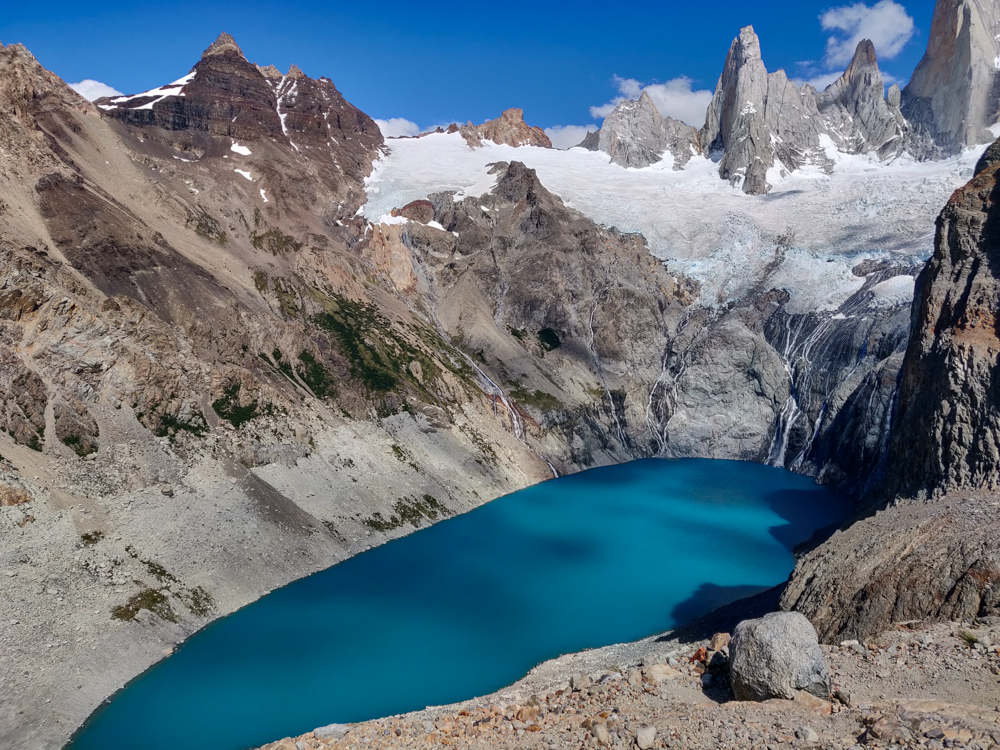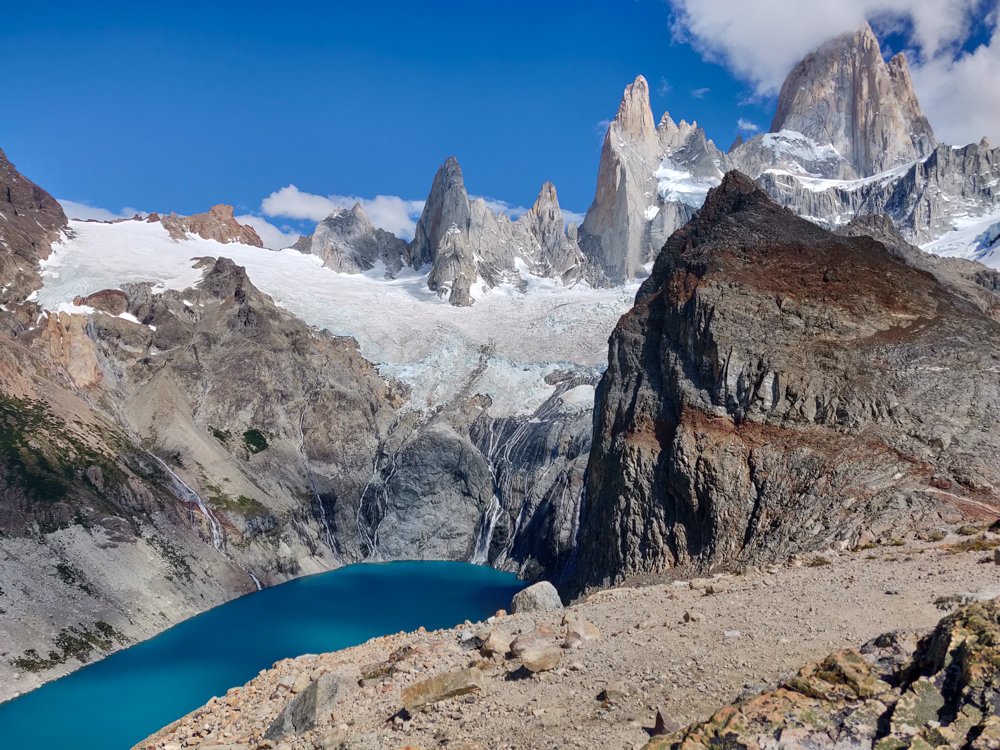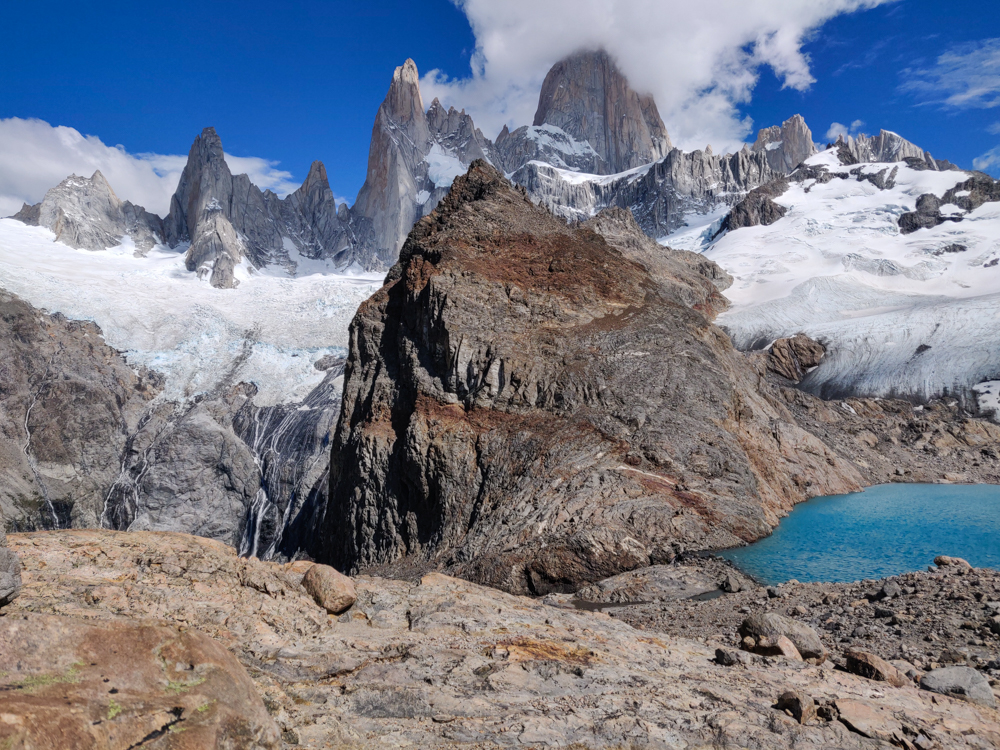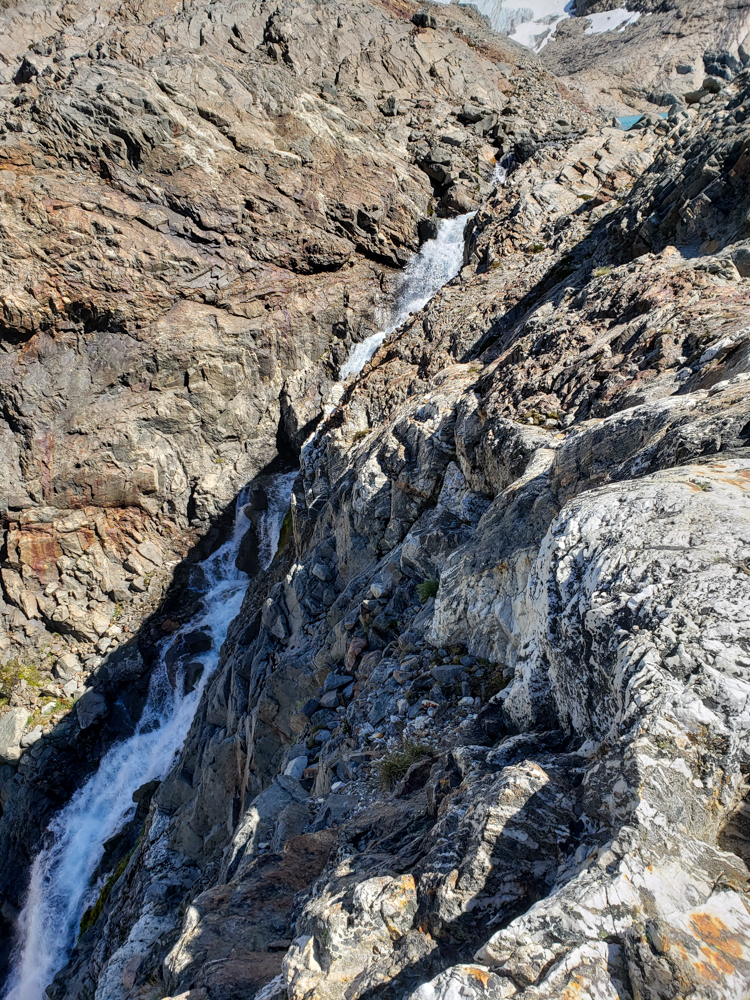 We admired the lakes for a while until Mike said he was getting cold from the wind (he was in shorts and a t-shirt. I had long pants and a jacket). Then, we hiked up this little mountain nearby to get one more view of the two lakes before heading back down. Already, we could see that the crowds were getting bigger (aka they actually existed), and clouds were starting to gather around the mountain peaks!
We also eavesdropped on this tour group whose guide was explaining how people rock climb Mount Fitz Roy, the tallest peak. After doing the hike that we just did, they walk around the lake, strap on crampons, and hike up the ice. Probably they will stay the night on the ice, so he pointed out a good place to set up your ice cave for sleeping. The next morning, they walk the rest of the way up the ice, partly having to ice climb until finally there's just rock. They'll switch into their rock-climbing shoes from there and take one of the routes that have been defined over the years, basically all named for the origin country/state of the people who first completed it. And after all that, they have to go allll the way back down. Geez. People are crazy!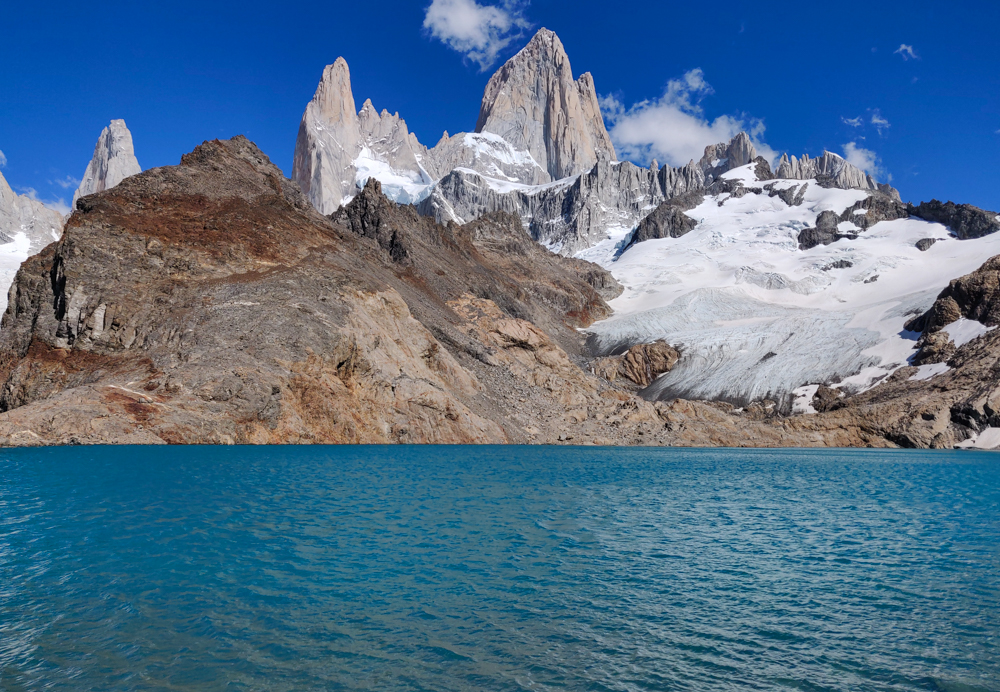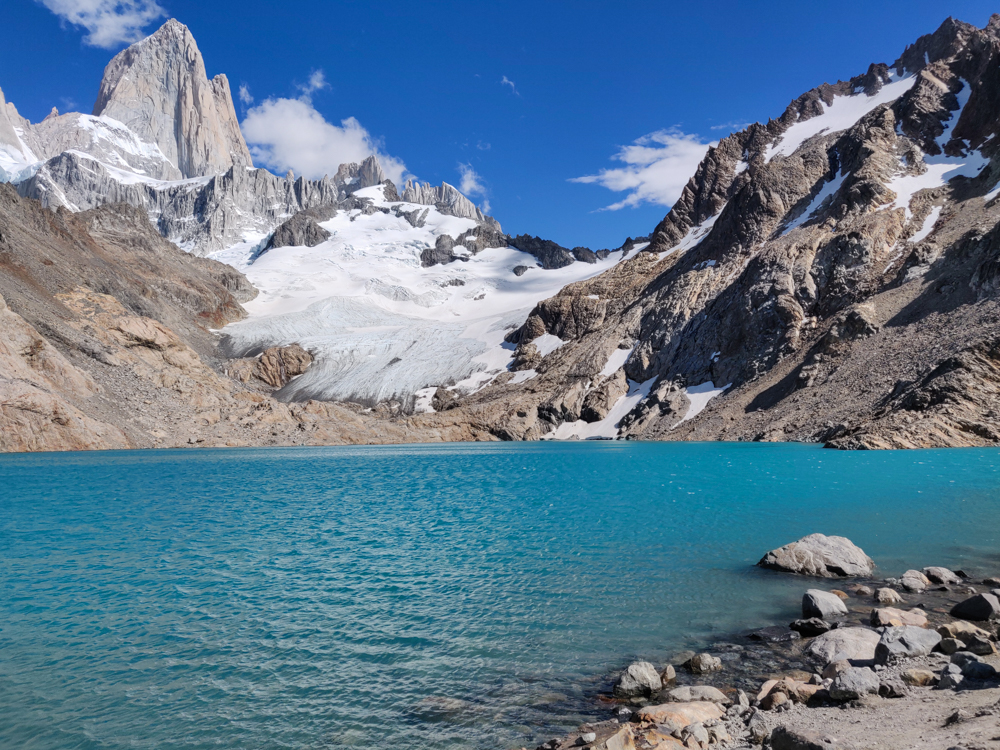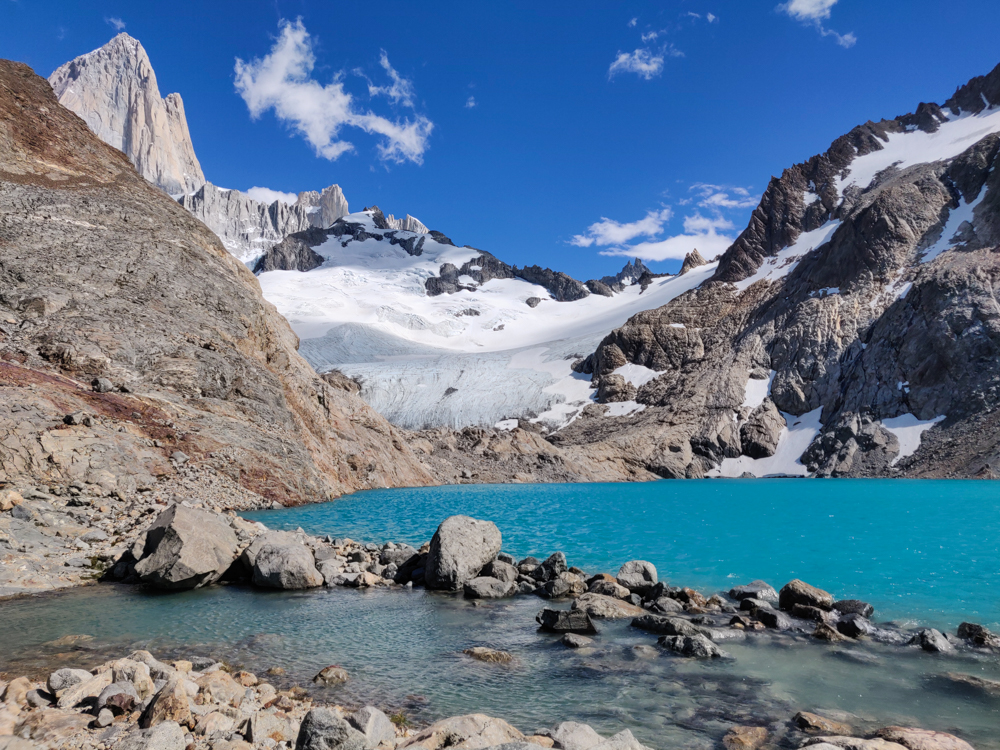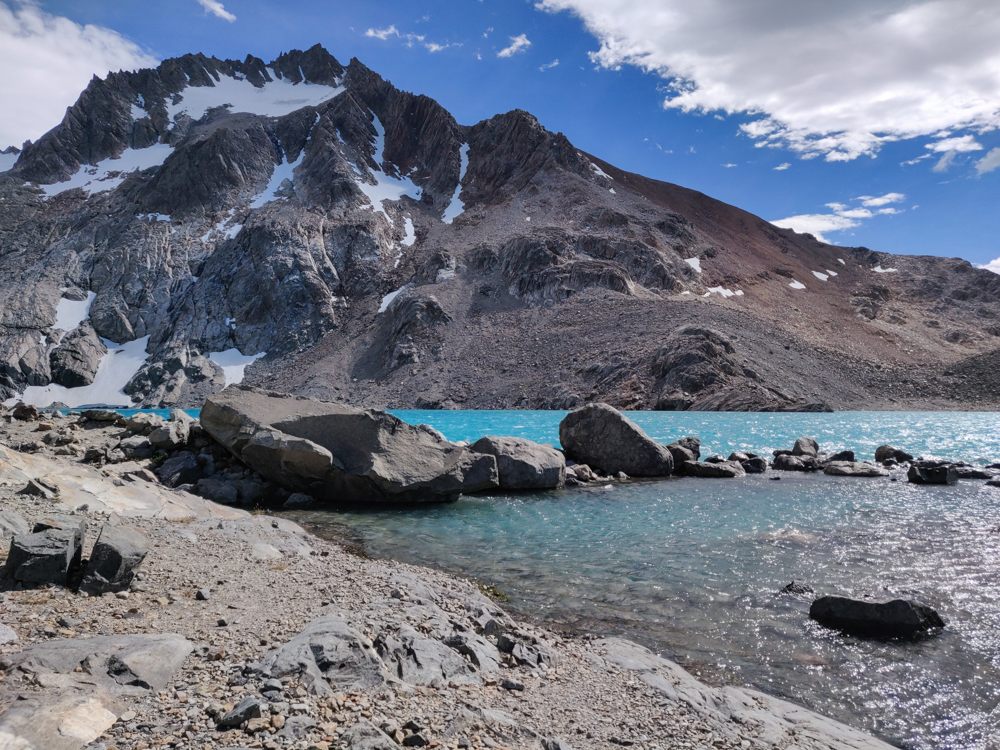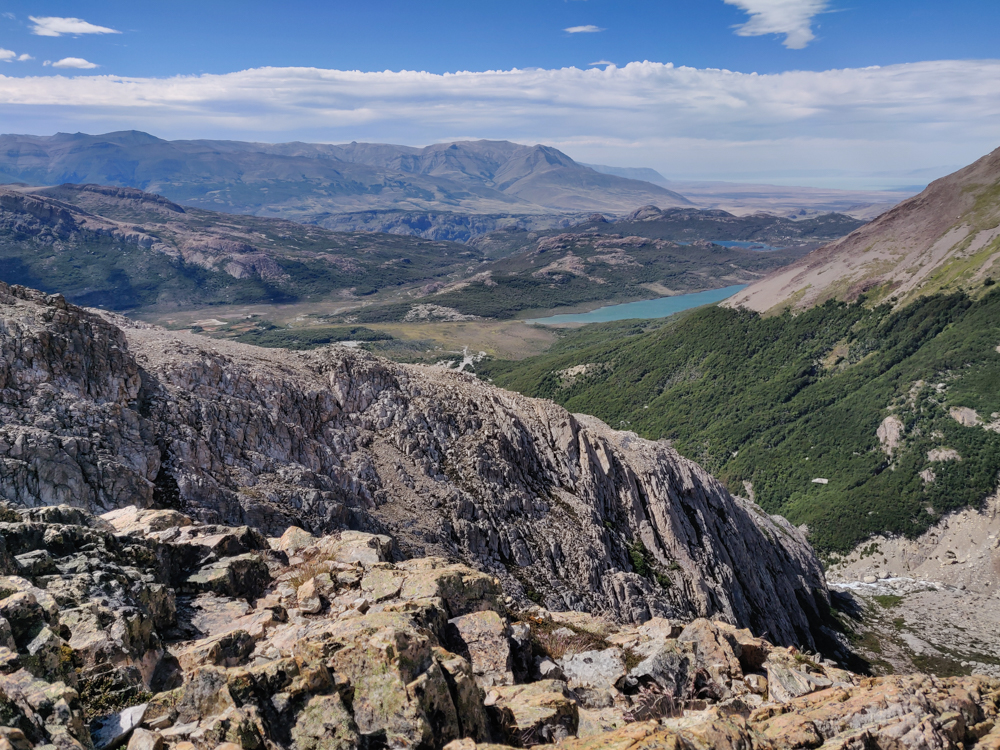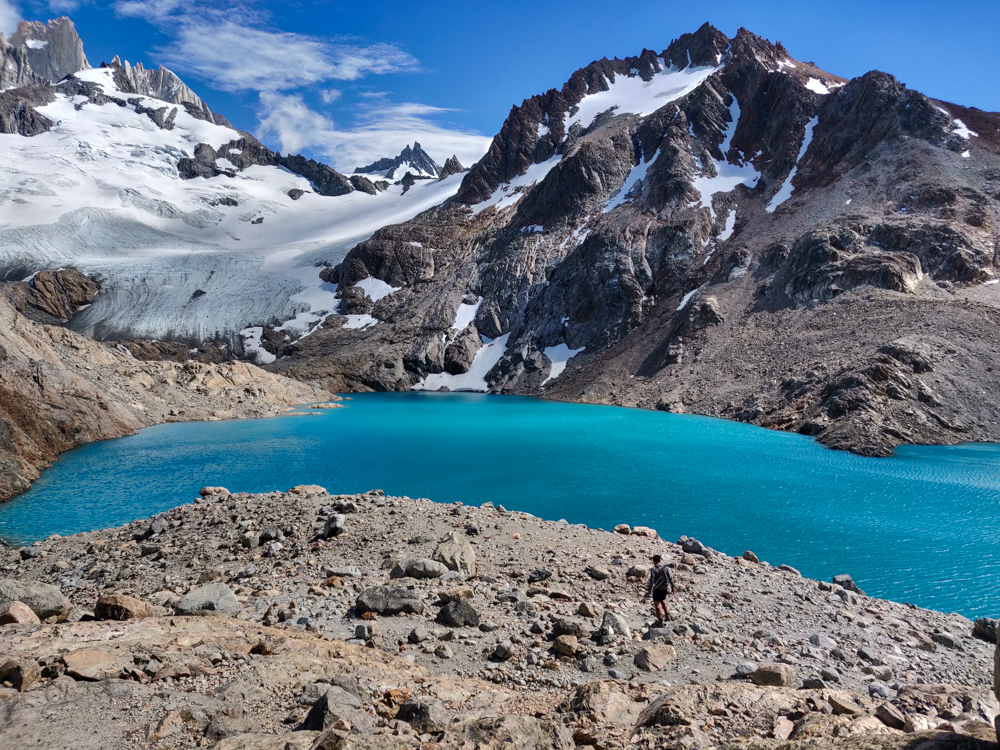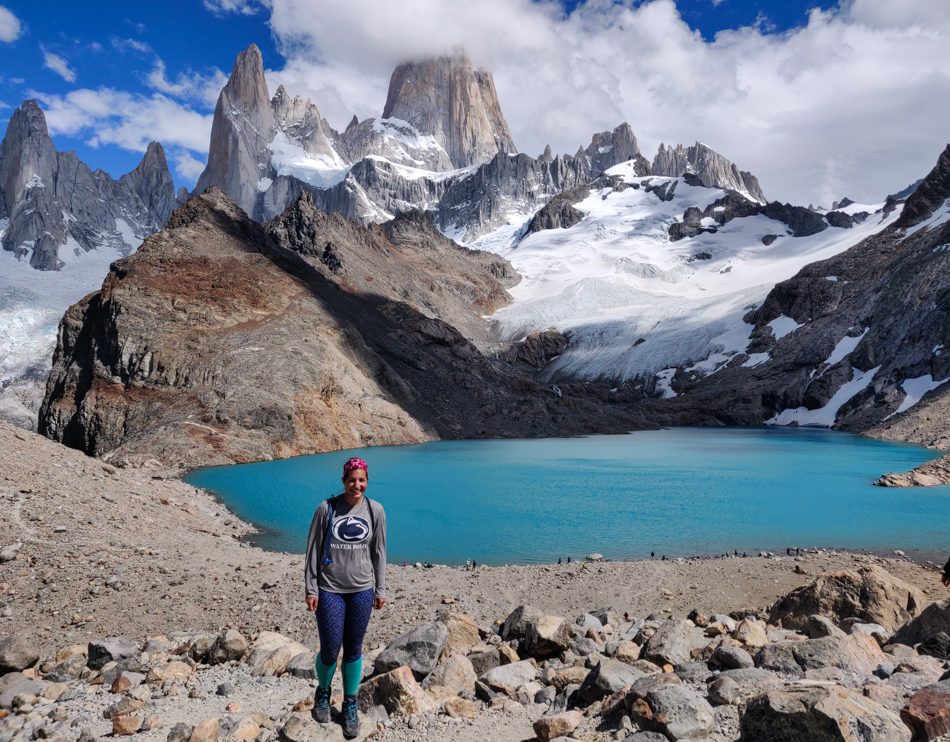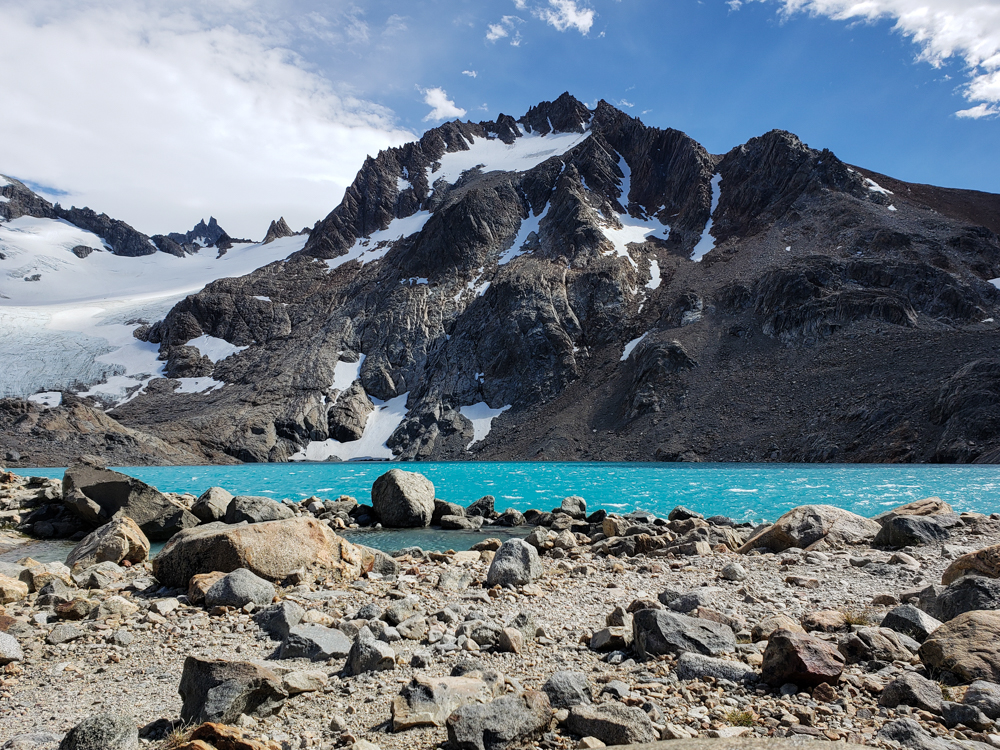 Mike had big dreams for the rest of our hiking excursion. After we hiked down from the lake, he wanted to explore these two other offshoots of the trail. One was to see another glacier, Piedra Blanca. We walked until we had a good view (we decided there was no need to go all the way to the viewpoint when we could see it just fine already) and then turned around and walked back to the main trail.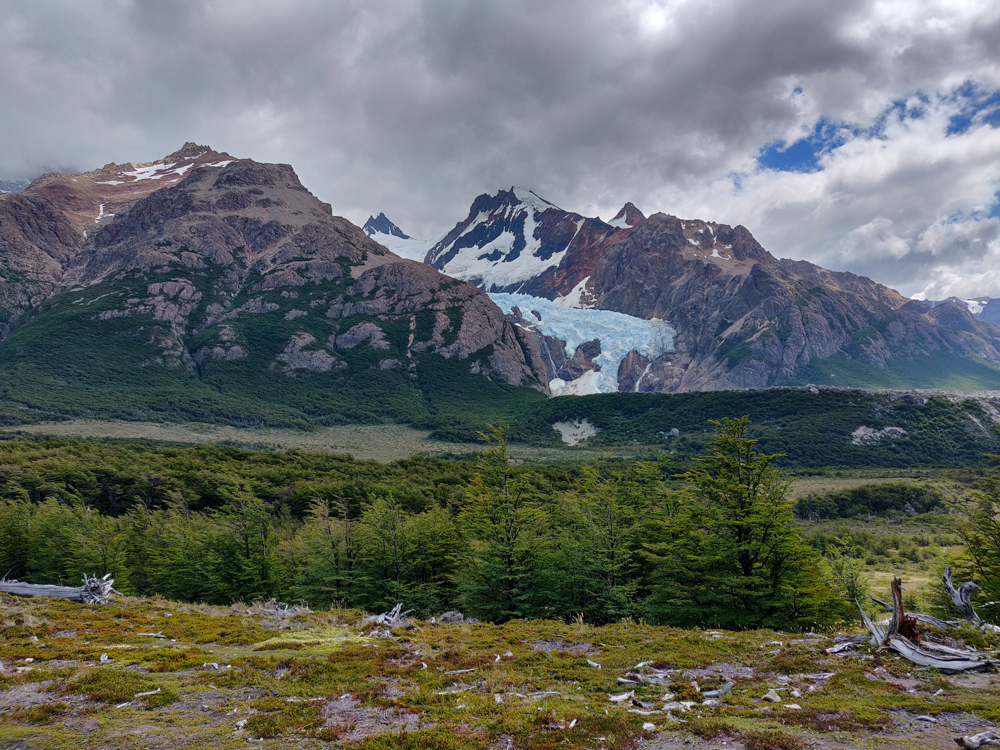 On that path, there were SO many caterpillars. Earlier in the day and the day before, we noticed that there was a weirdly large quantity of caterpillars on the trail, and we tried to avoid stepping on them. On this trail, there was no avoiding them. It seemed like they might have been an invasive species because there were WAY too many. Besides being all over the path, they were also EVERYWHERE in the branches of the tree and bushes. It got a little creepy once you noticed all of the places where they were lurking.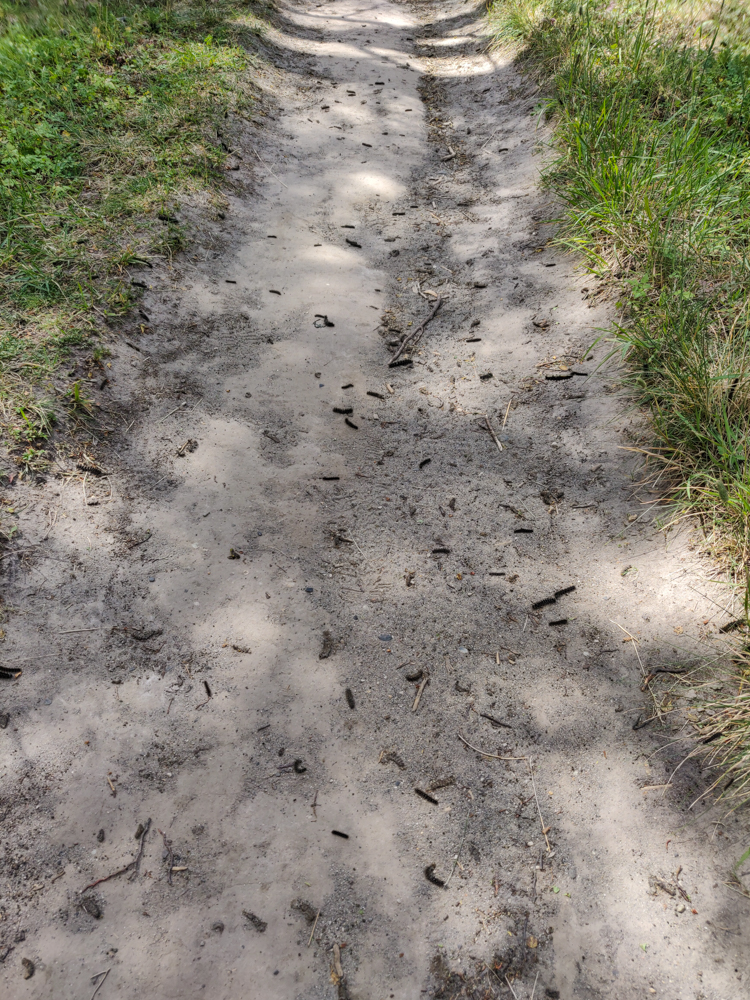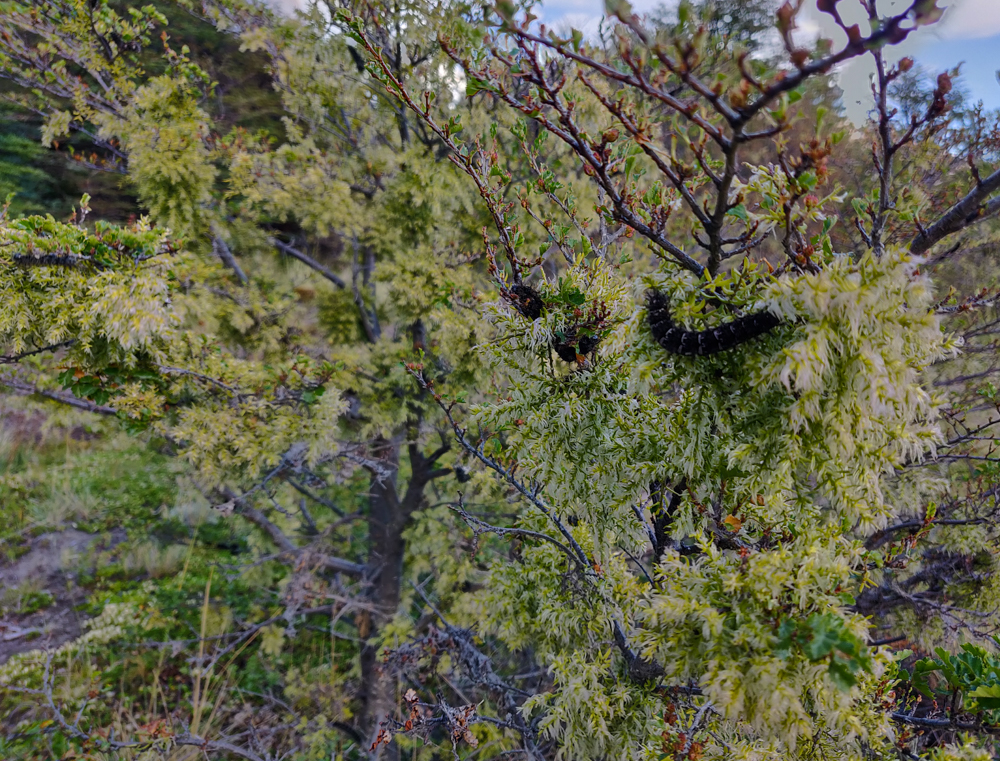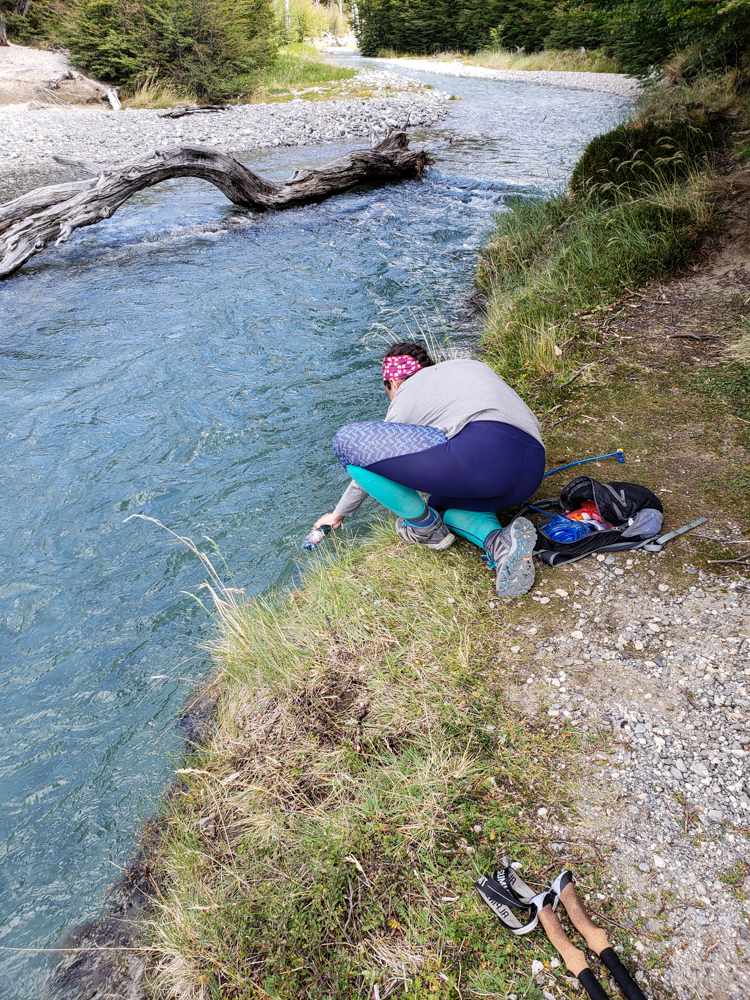 There was one more offshoot that Mike wanted to check out, and I had decided that I was fine with doing whatever he wanted to do (my feet were feeling surprisingly okay). We got about 6 steps down the path before he decided that the weather seemed questionable, so we should head back. Also fine with me! We still had like 3 hours of hiking ahead. The skies had been getting cloudier and cloudier from the moment we left the lake, and by the time we decided to head back, you could see almost nothing of Fitz Roy! Thank goodness we went early! I'm sure the lake is still beautiful even with cloudy mountains, but if you have the chance to see them all together, there's no question that clear weather is the best way to see it.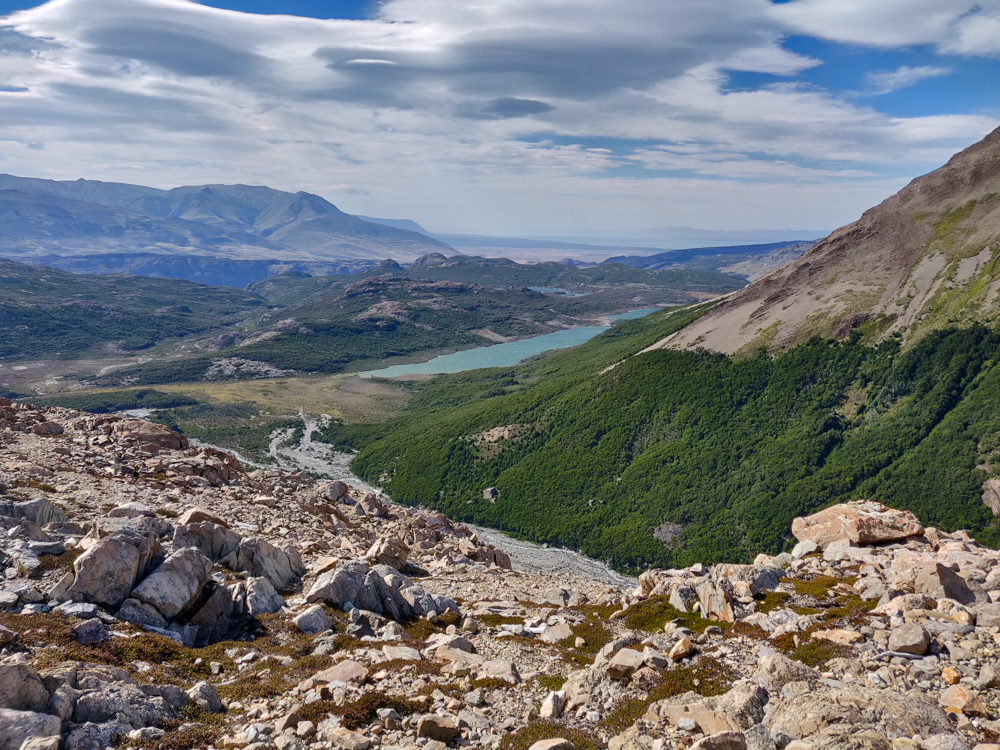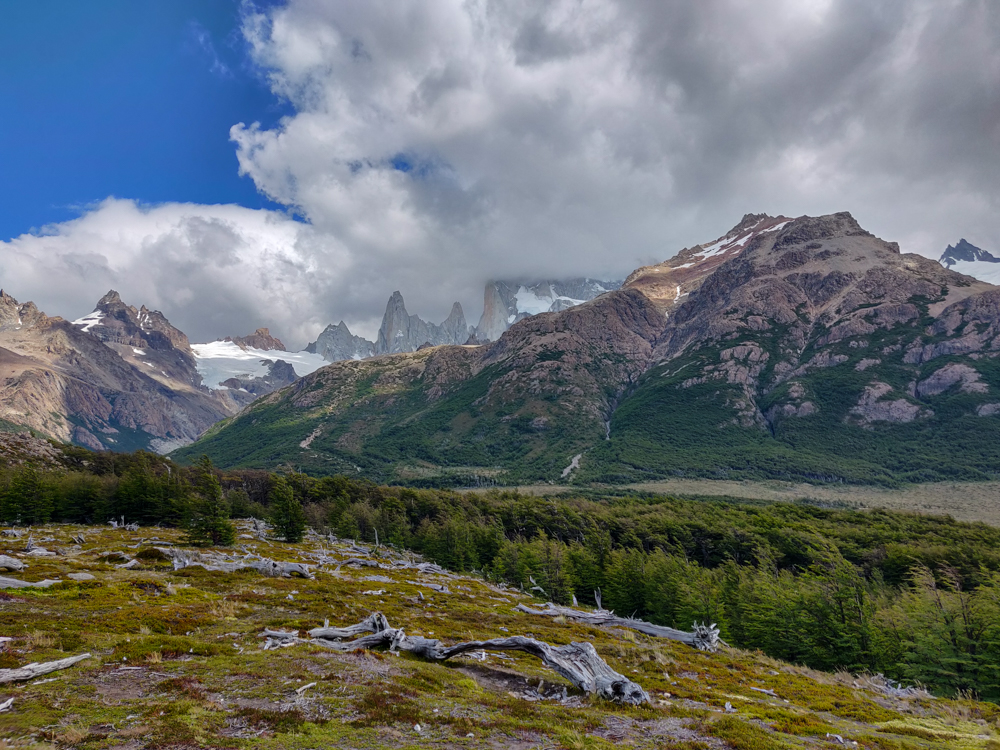 On the way back, we went the other way at the fork and walked by another lake, Laguna Capri. I wasn't expecting to walk right along the shore! I imagined that we would be up high above it. It was a cool surprise. We didn't stick around for too long, though, because I think we both just wanted to get back at that point.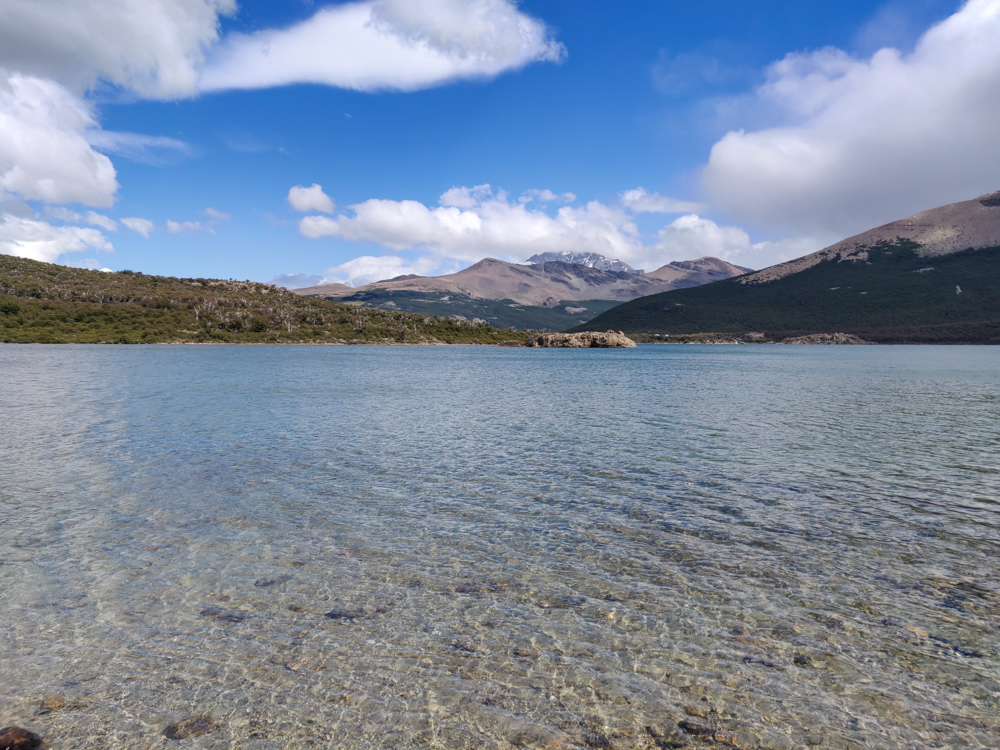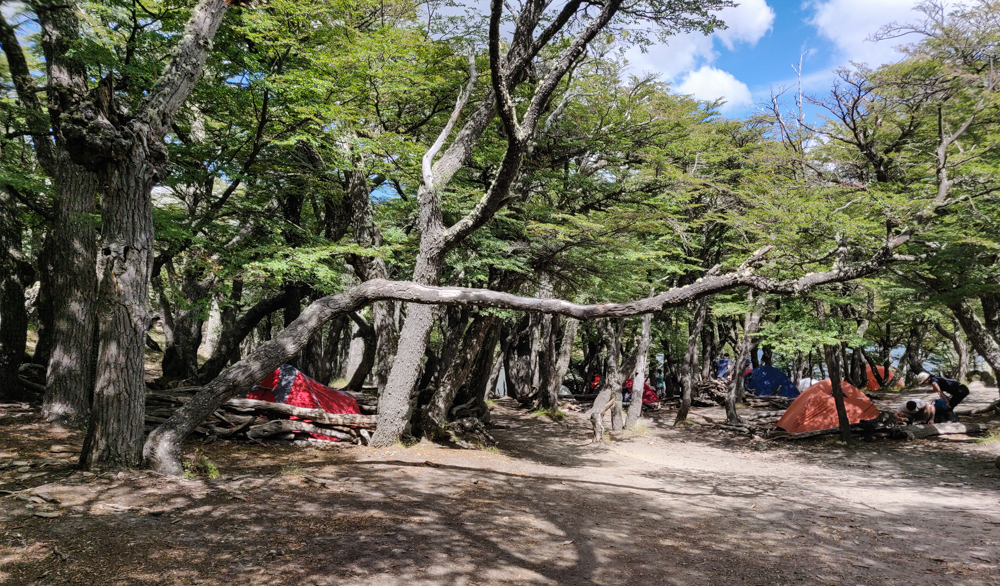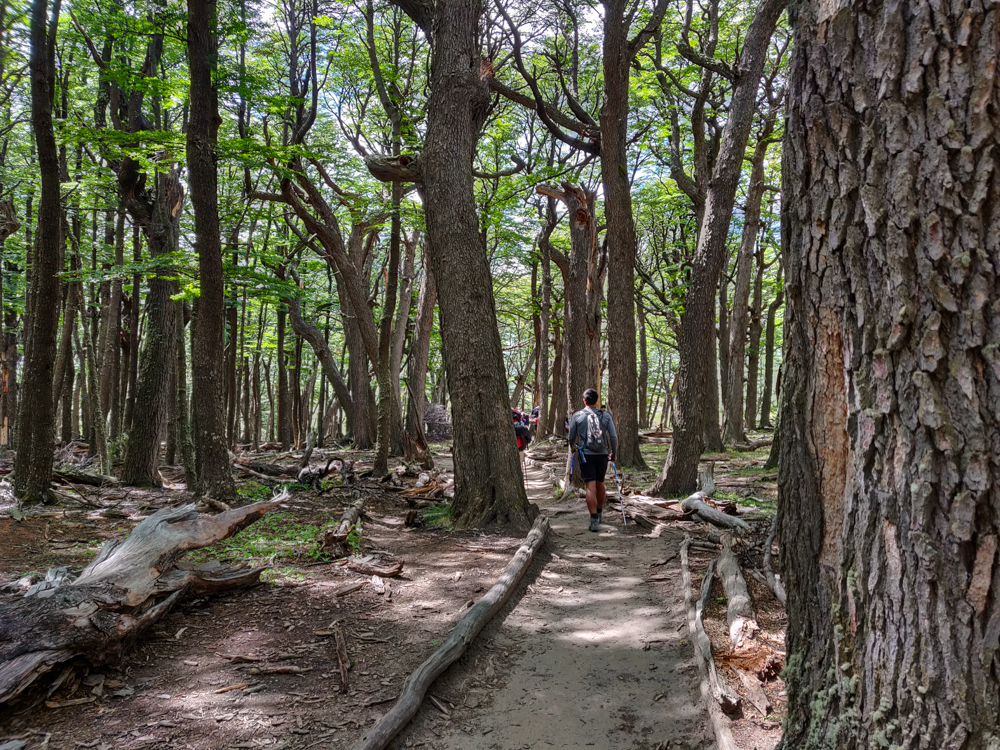 Back at the hostel, I think I sat on the ground and "stretched" for about 2 hours before I felt like I wanted to move again. We hung out with some of our new hostel friends, ate our usual ravioli dinner feast, and went to sleep at the usual "way later than planned". At least we could sleep in the next day, for once!