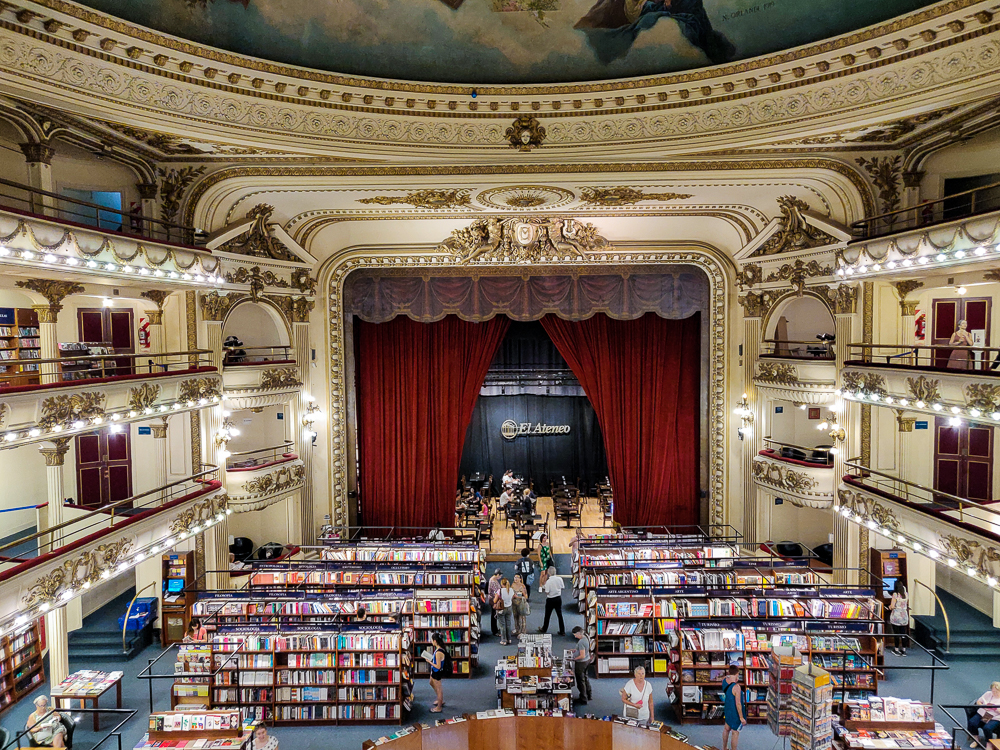 Instead of spending another day aimlessly wandering the city, like on our first day in Buenos Aires, we attempted to formulate a plan to make the most of our only full day in the city. The ongoing Lara-and-Mike travel struggle is that, outside of hiking, we have completely different interests. Mike doesn't understand the point of visiting cities because "What do you do on vacation in a city?" Um… More like WHAT DO I DO WITH THIS QUESTION, MIKE? You go to museums and look at the buildings and walk around and eat ice cream and experience the culture… but the only thing on that list that Mike's mildly interested in is ice cream (though he'll say he doesn't really eat sweets. Get outta here with that), so I'm not quite sure what to do. His input is generally, "I don't care," which is not helpful. I try to end up with an itinerary of a few things I hope he won't totally hate, plus a few that he will but, oh well, because I really want to do them.
We planned to go on an 11AM tour of Recoleta Cemetery and built the rest of our plans around that, picking out some stops to make along the walk there. First, we went to the national theater, Teatro Colón, to get tour tickets for later in the day (a "Lara really wants to do this" activity, in case you couldn't guess). From there, we did a walk-by of El Palacio de Aguas Corrientes (literally "The Palace of Running Water") because I read somewhere that it was architecturally interesting. Well, it's definitely that! I'm mostly confused by it because functionally, it seems like it should be a bland building… like it was built in the late 1800s to be a water-pumping station, bringing running water to the city. Why on earth did they spend the money to import 300,000 glazed tiles and enameled bricks from England and slate for the roof from France, on top of all the cast iron for the structure from Belgium? (Can you say, "World's Most Beautiful Water-Pumping Station"? I bet this building would win… How much competition could there be in that category?)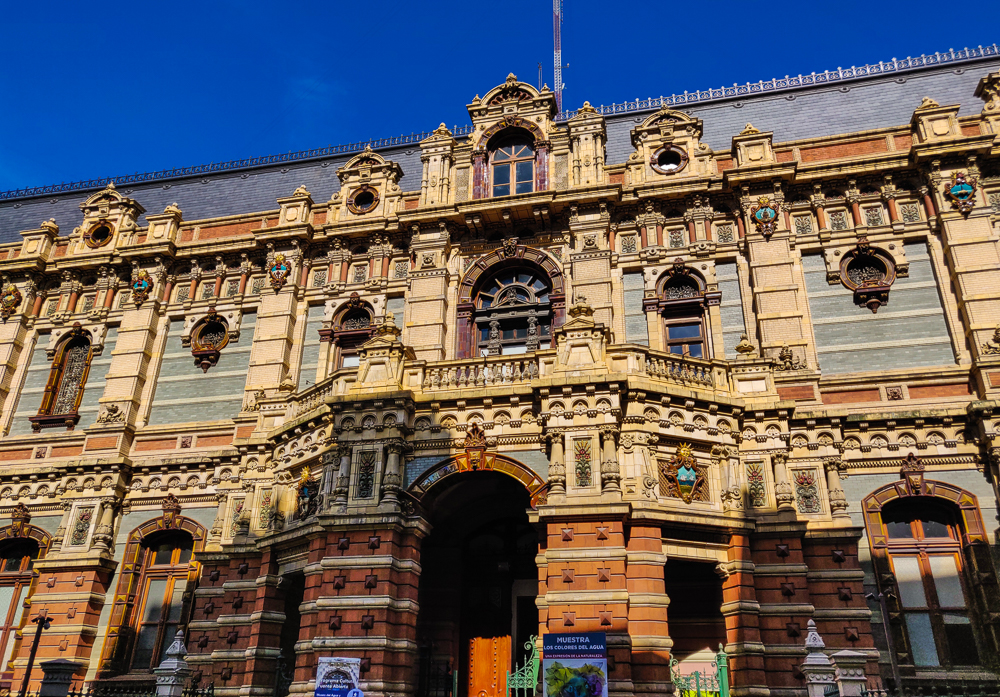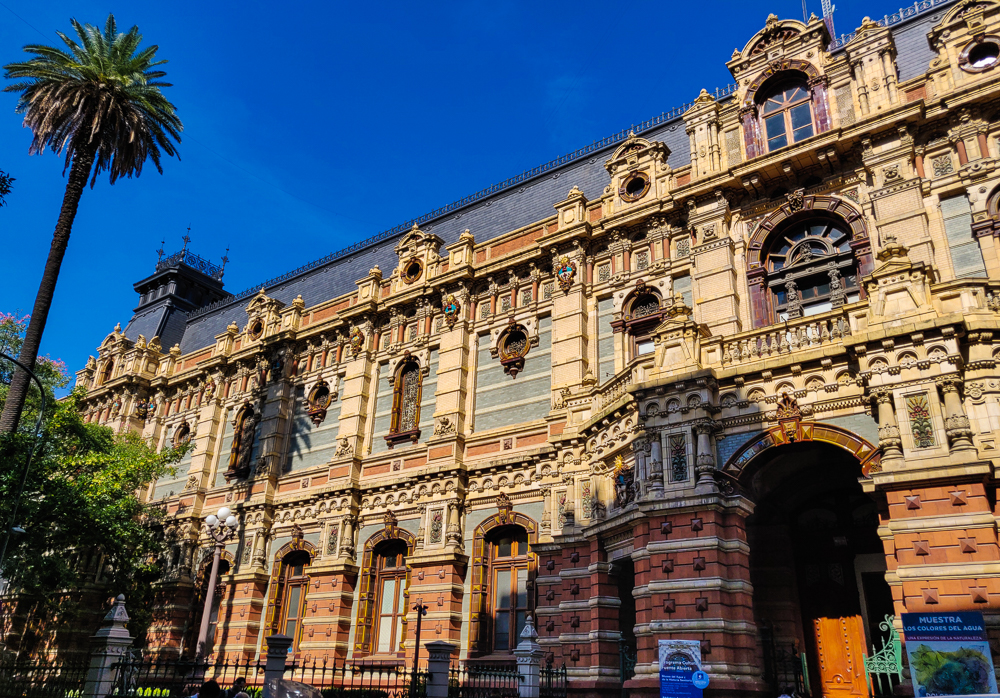 Today, it still is used as an administrative building for the water company, and there's a museum inside which is the definition of offbeat… The Museum of Water and Sanitary History, featuring (according to their website) pipes, meters, faucets, and "sanitary artifacts" like toilets and bidets. I'm confused by its existence, honestly. But I will say this, if I'm ever back in Buenos Aires, especially without Mike in tow (quirky isn't really his style), I will absolutely be checking it out.
After taking a lap around the building (a lengthy endeavor, considering it occupies an entire city block), we made our way to El Ateneo Grand Splendid, a bookstore a few blocks away. It's in an old theater and is, of course, the world's most beautiful bookstore. Unlike the water-pumping station title which I just made up, this is something that people actually do say. I don't know who gets to be the authority on these claims, but it's undeniable… "most" or not, it is very beautiful. I'm biased, though, because books and theaters are two of my favorite things, so combining them is a surefire way to win me over.
The building dates back to 1919, originally built as El Teatro Grand Splendid. In its heyday, it hosted performances by the tango greats (another thing for which Argentina is famous) until becoming a movie theater in 1929, one of the first in the city. It didn't take its current form until 2000 when, in danger of demolition, it was rescued and converted into a bookstore.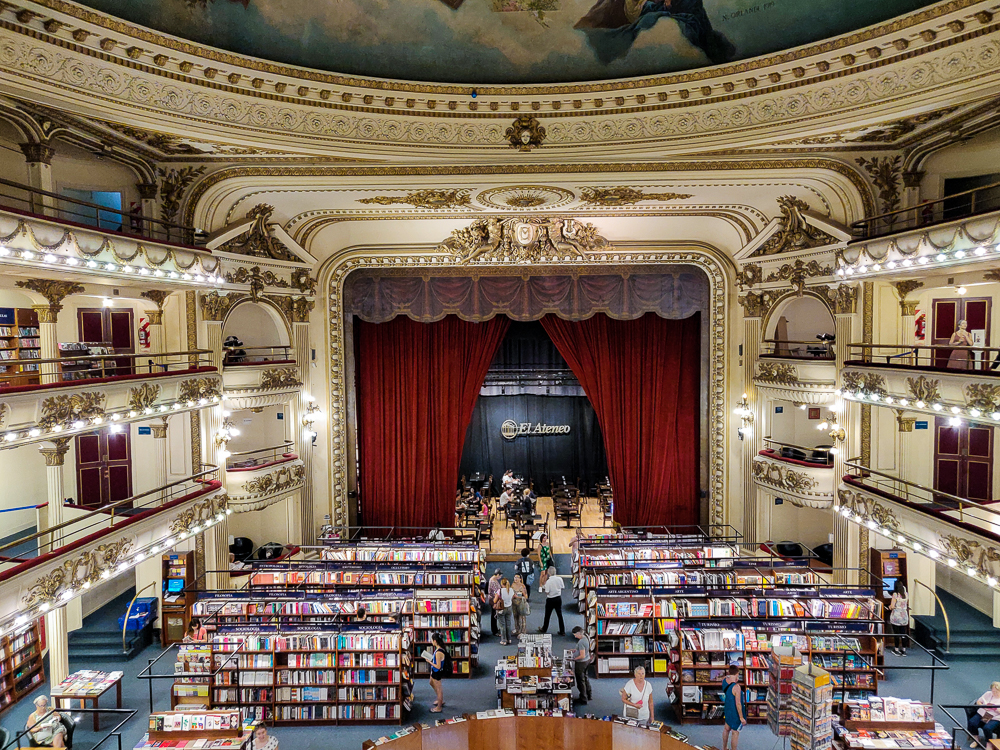 Except for the seating areas, I imagine that the building looks pretty much as it did in its theater days. The stage is a café. The seating areas have been taken over by bookshelves. There are wrought iron balustrades and gilded balconies. A massive fresco dominates the ceiling. One of the boxes by the stage is a reading nook. It's a dream.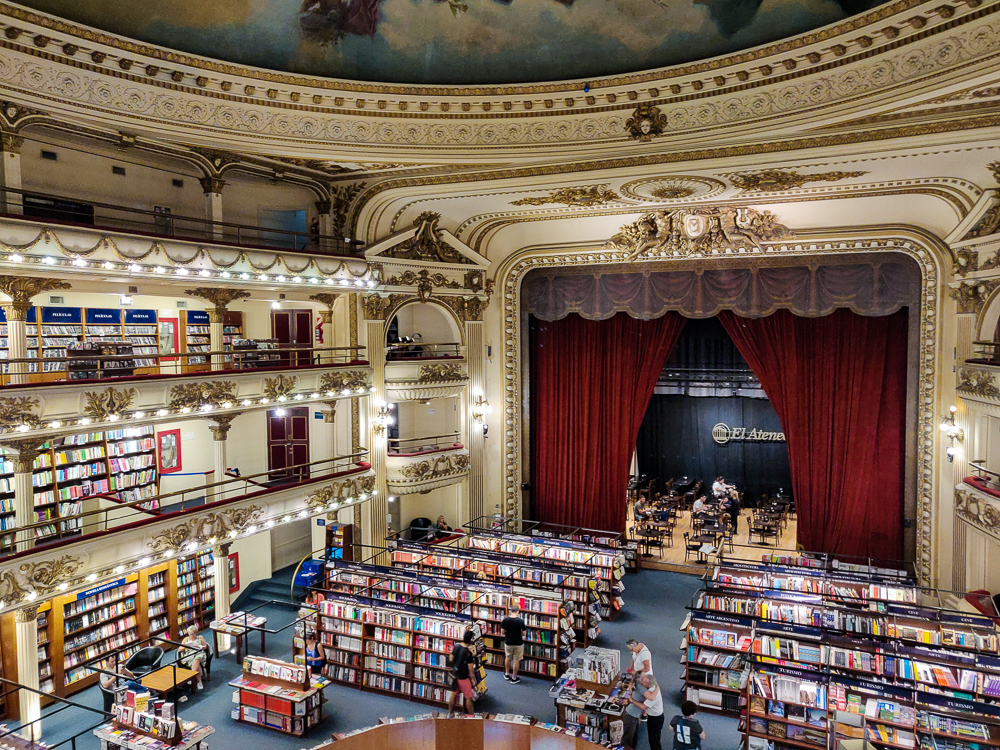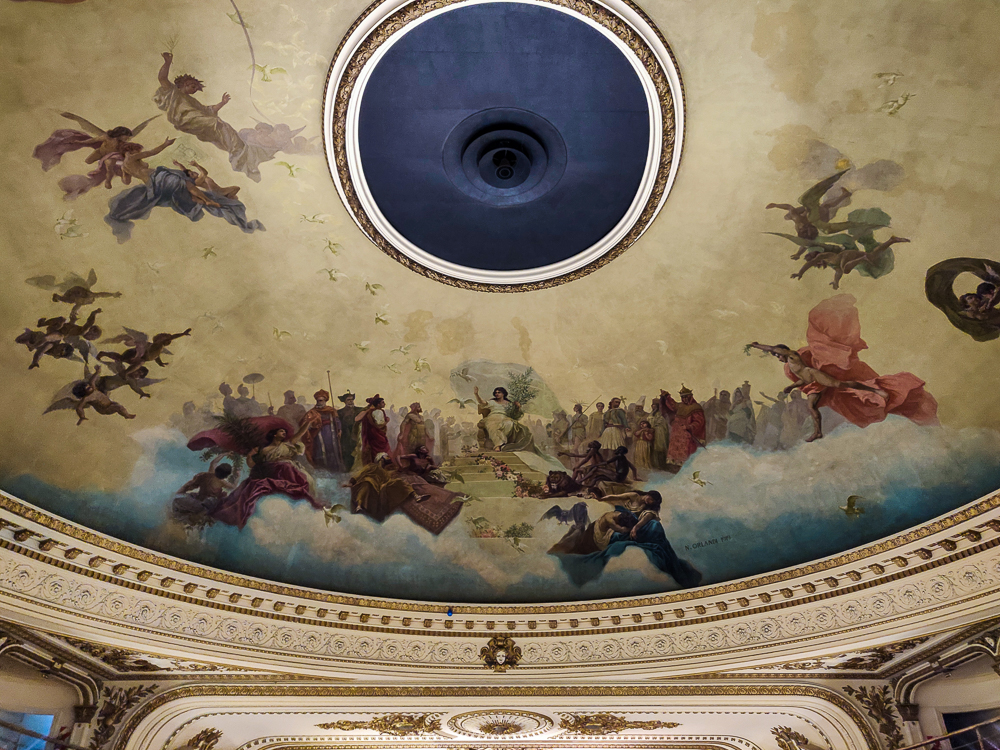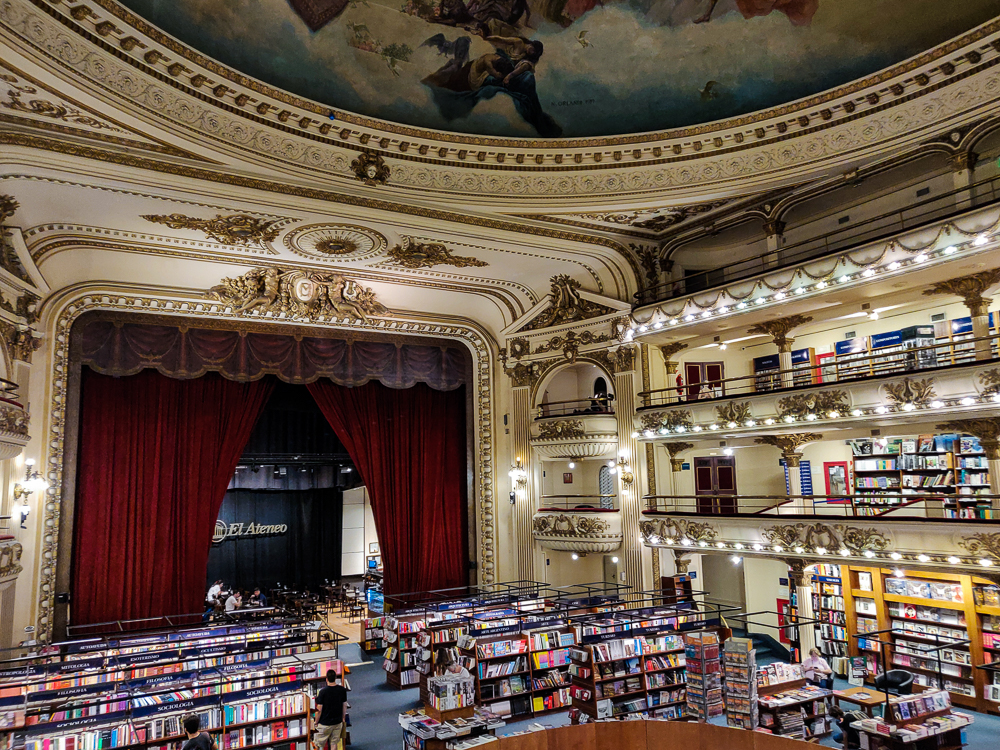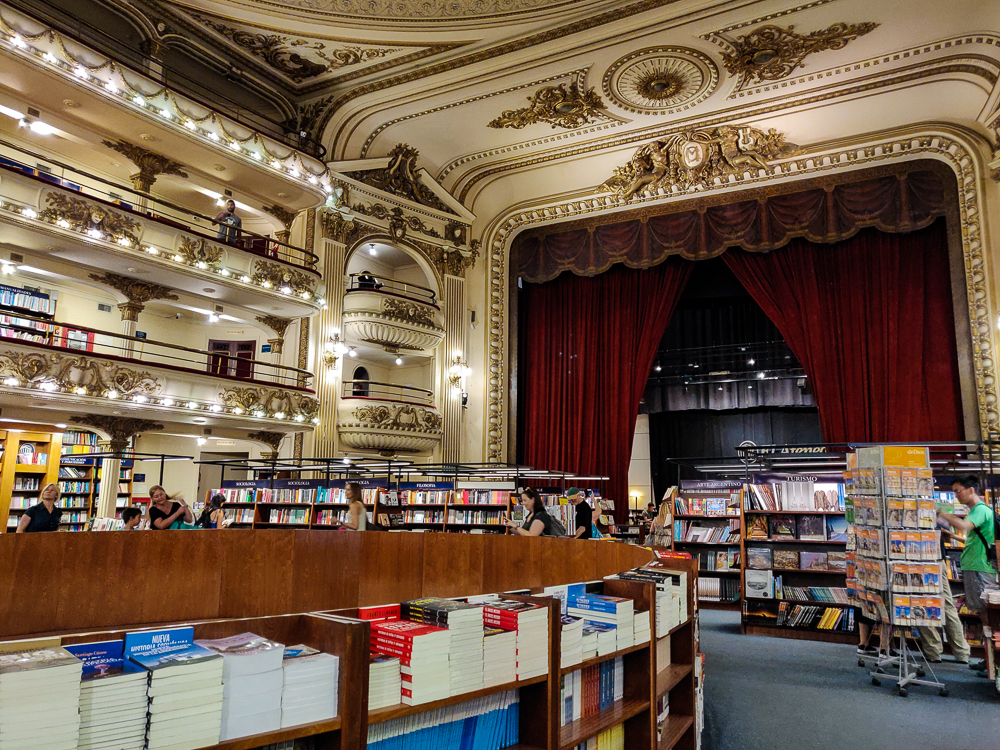 I hoped that it would be cool enough for Mike to enjoy even without a love of books or theaters, and I think it was! Maybe it was just the air conditioning that won him over, but hey, I'll take it. We spent at least half an hour there, wandering around to soak in the general splendor and check out the books. I could have stayed all day (or forever), but alas, the cemetery awaited, so we headed back onto the sauna streets.
The cemetery has free daily tours… in Spanish. Why not, right? Get a little language practice, maybe learn a few things. Well, it was a nice thought, but the only thing we learned was that we were NOT up to the challenge. I caught maybe 40% of what the guide was saying, between the cemetery vocab that I lacked (all of it), the speech rate (rapid), and the castellano accent (strong). My gosh. My Spanish brain maxed out after maybe 20 minutes, and Mike was on the same page. We ditched the group and wandered around on our own.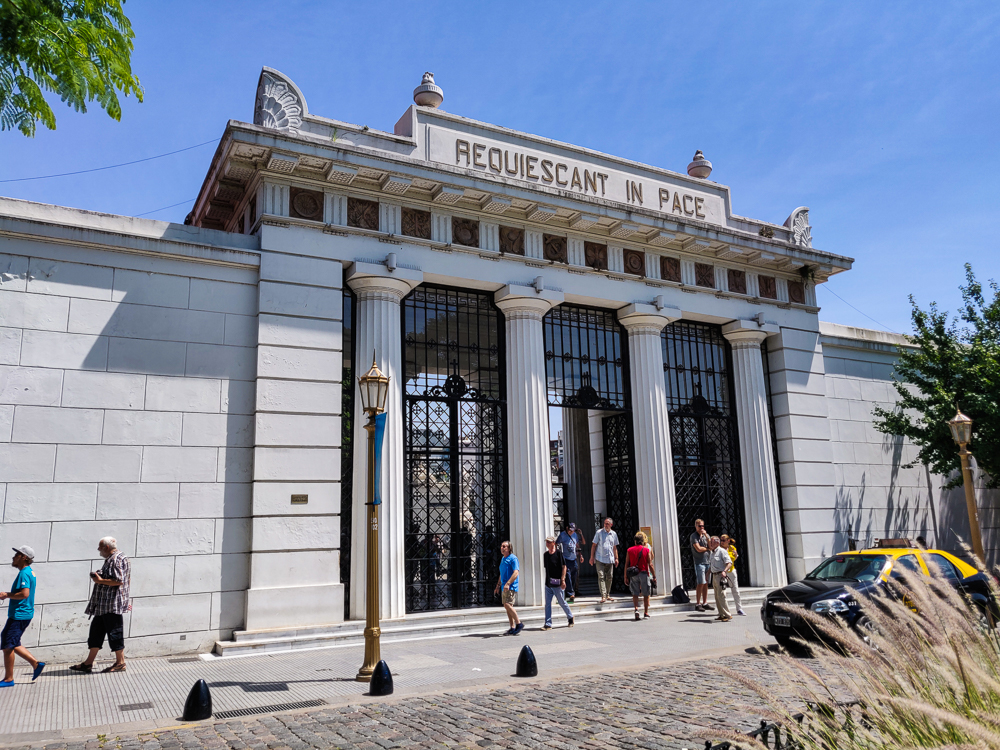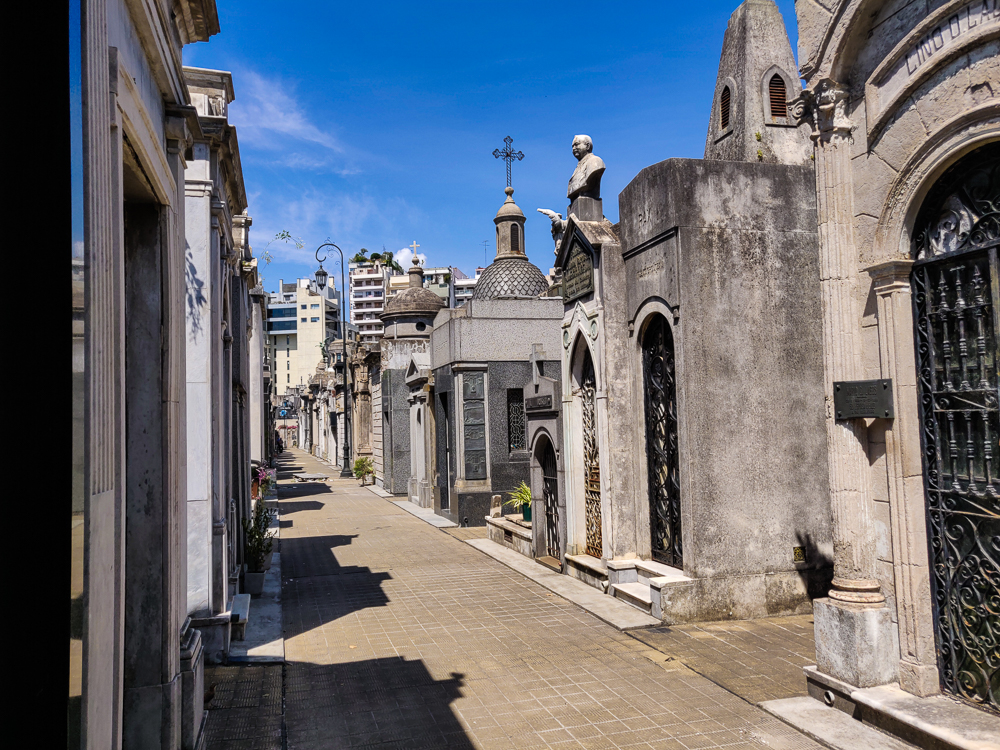 This is where I discovered that Mike doesn't have the same appreciation for cemeteries that I do (I love them, in a completely normal/not creepy/not weird or worrisome way). You're shocked, I'm sure. He lasted maybe five minutes after we left the tour before saying, "Whenever you're ready to go, I'm ready." I know he wasn't trying to put pressure on me, but geez. I thought it was fabulous.
Recoleta Cemetery is one of those sites that everyone says is a "must visit" in Buenos Aires. Established in 1822, it was the first public cemetery in the city, and it's THE place to be buried if you're rich and/or important. It's like a small city, stretching across 14 acres with more than 4600 vaults. It's a good thing that they took the time to design a layout because without the predictable grid of walkways, it would be all too easy to get lost inside. (As much as I like cemeteries, I am not interested in that. Noo thank you.)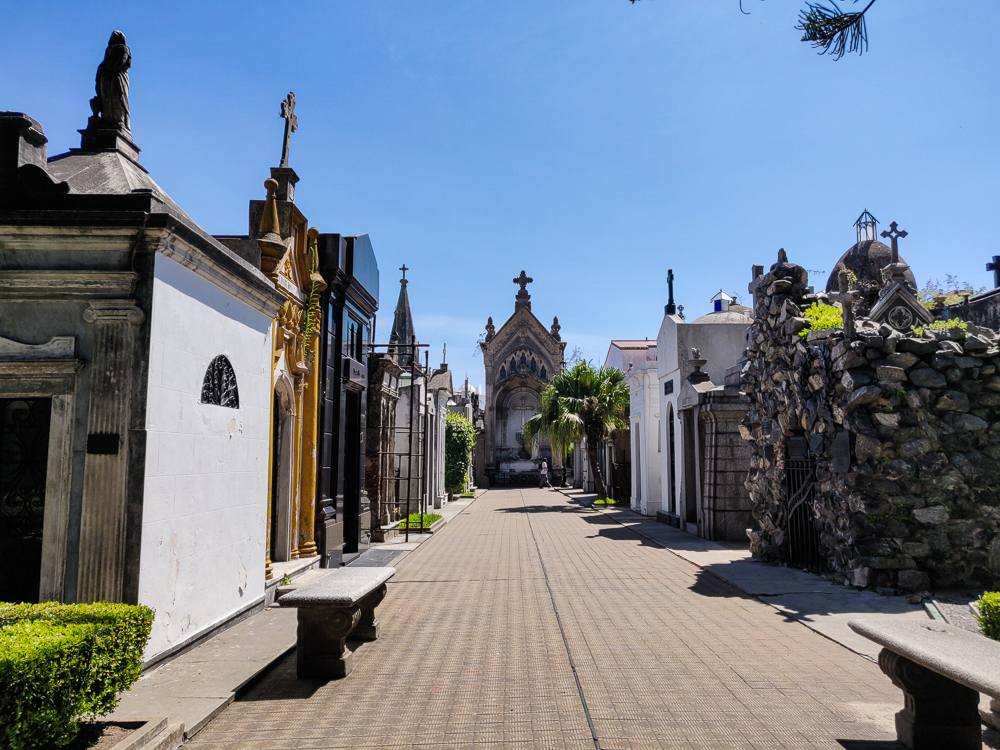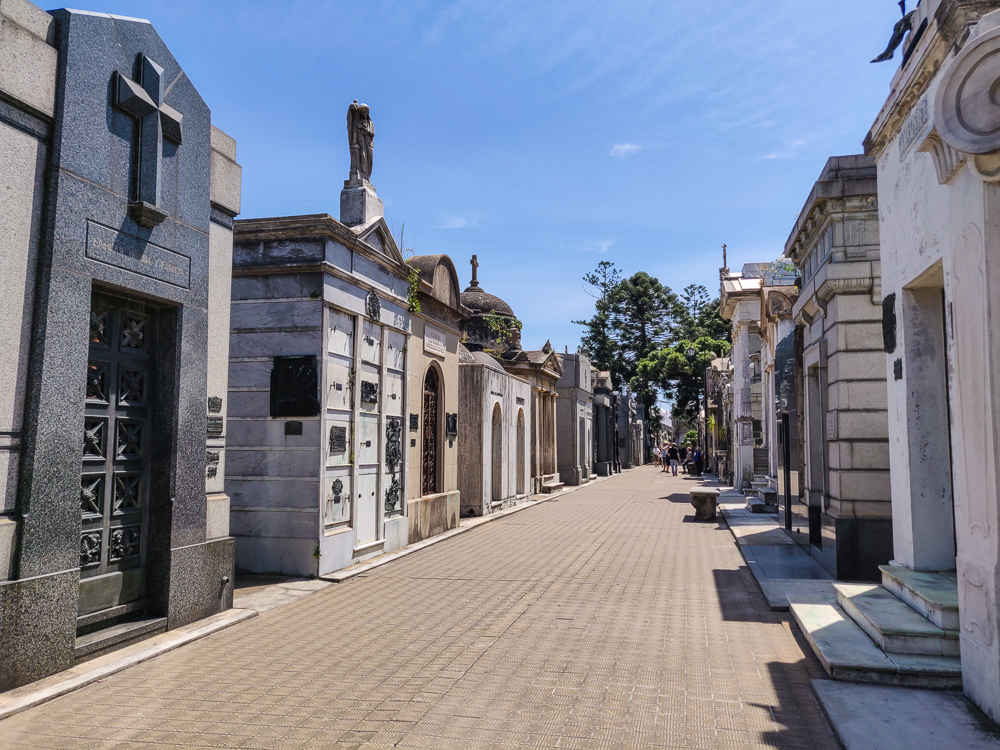 It's been ranked as one of the world's most beautiful cemeteries, and while I'm not looking to dispute that, I do think it's a weird thing to rank. Also, how many cemeteries did the authors of these articles visit before deciding? What were the evaluation criteria? I mean, it is quite nice. But like… what?
The mausoleums are the definition of extravagant. It's a little strange, actually. A lot of them have windows, so you can see what's going on inside. Above ground, there are usually one or two caskets and then some skinny minnie staircase leading underground to what I assume is more casket space? And architecturally, they each have their own personality. I felt like I was walking around an architectural style sampler… a little baroque here, some art deco there, classical and neo-gothic sprinkled about.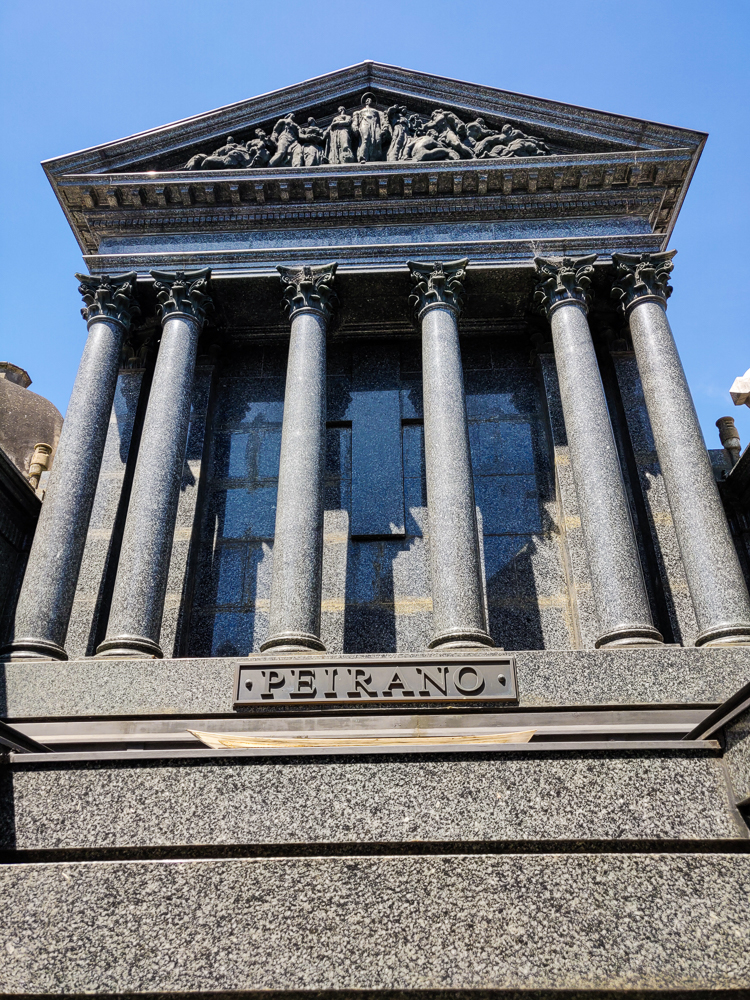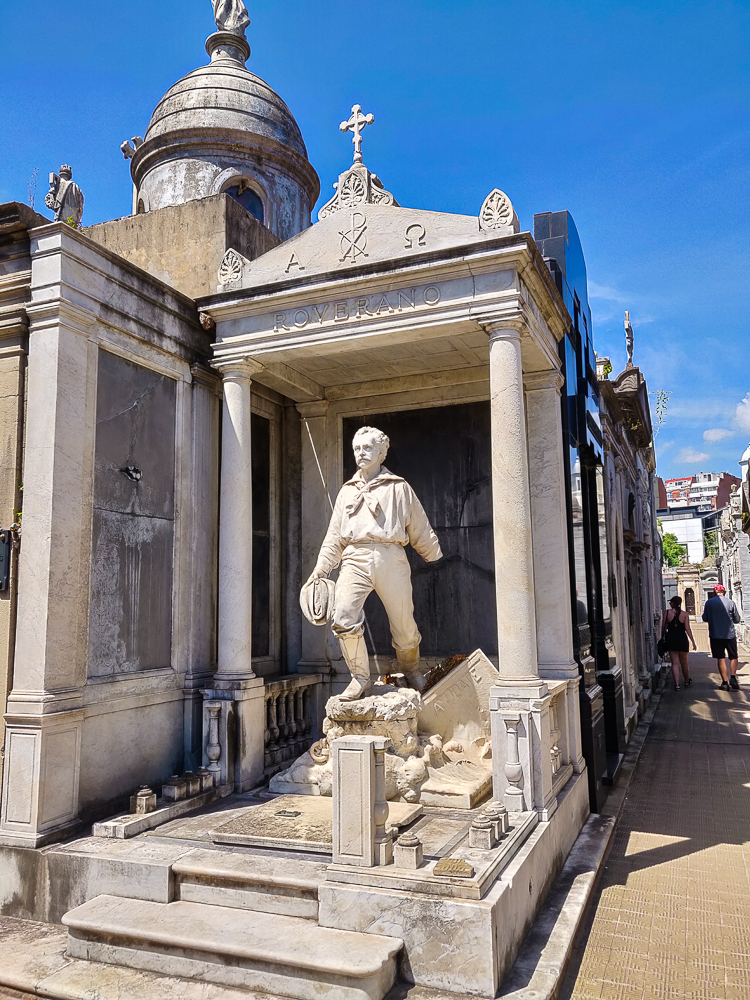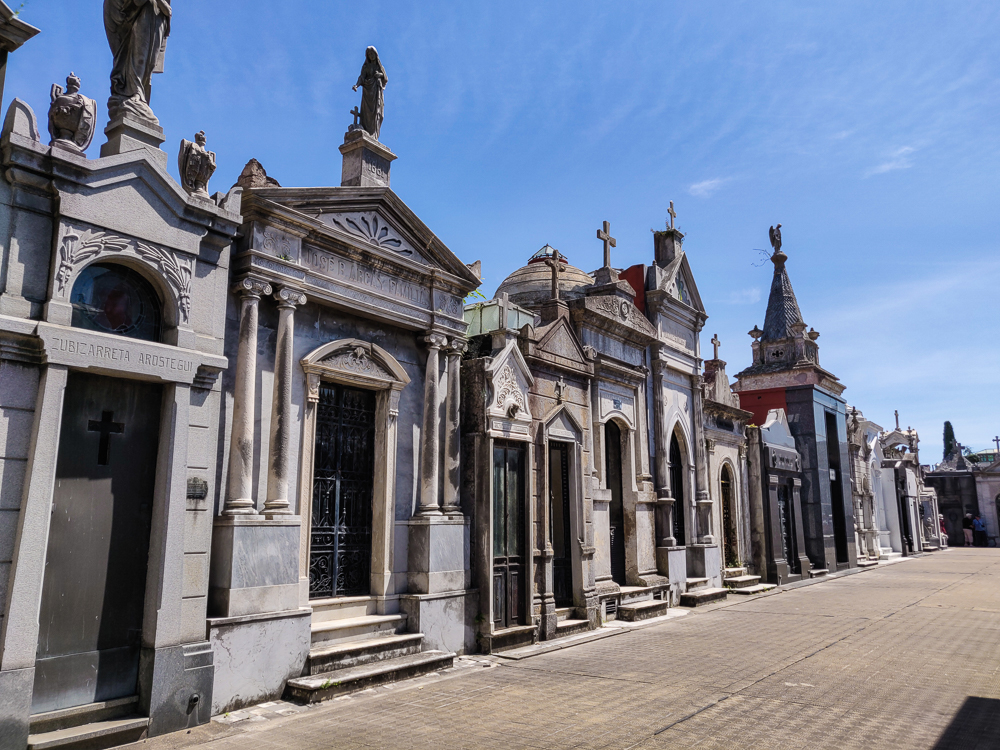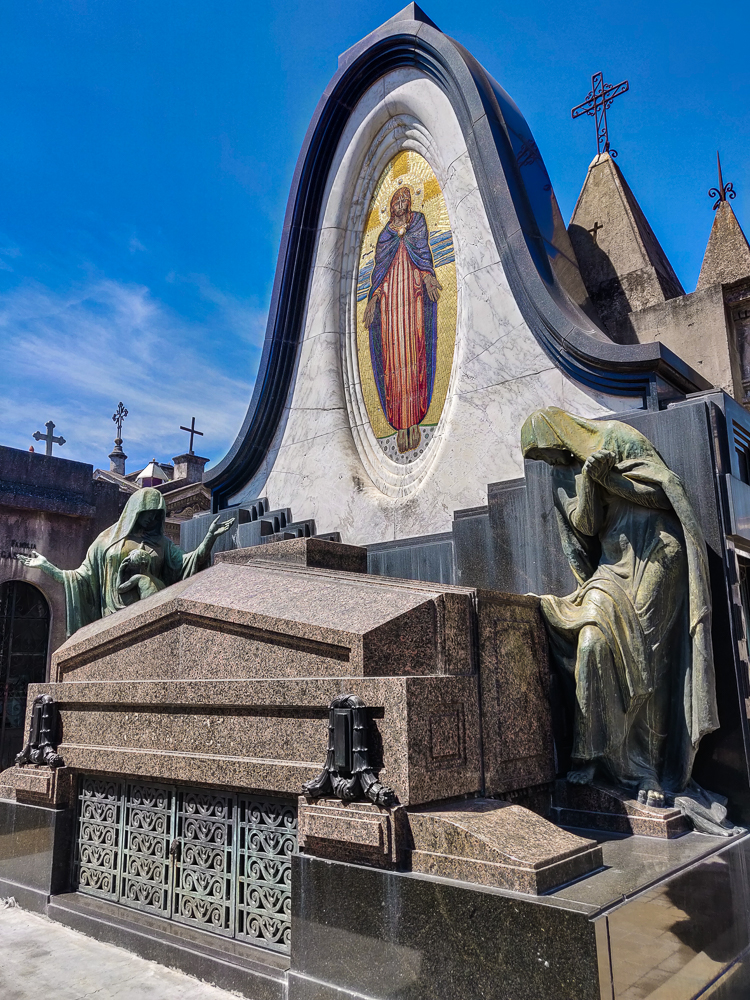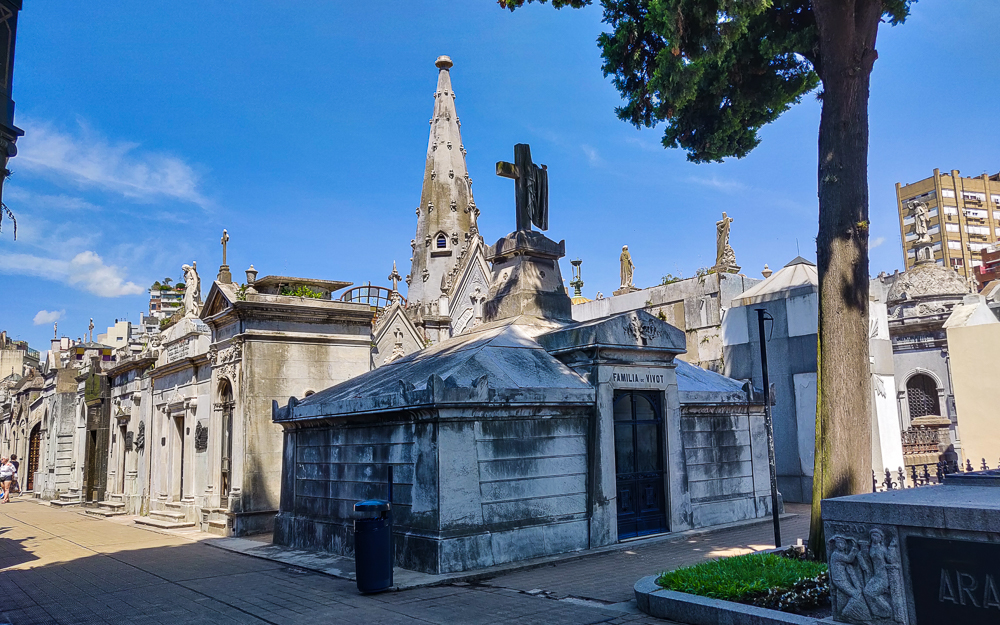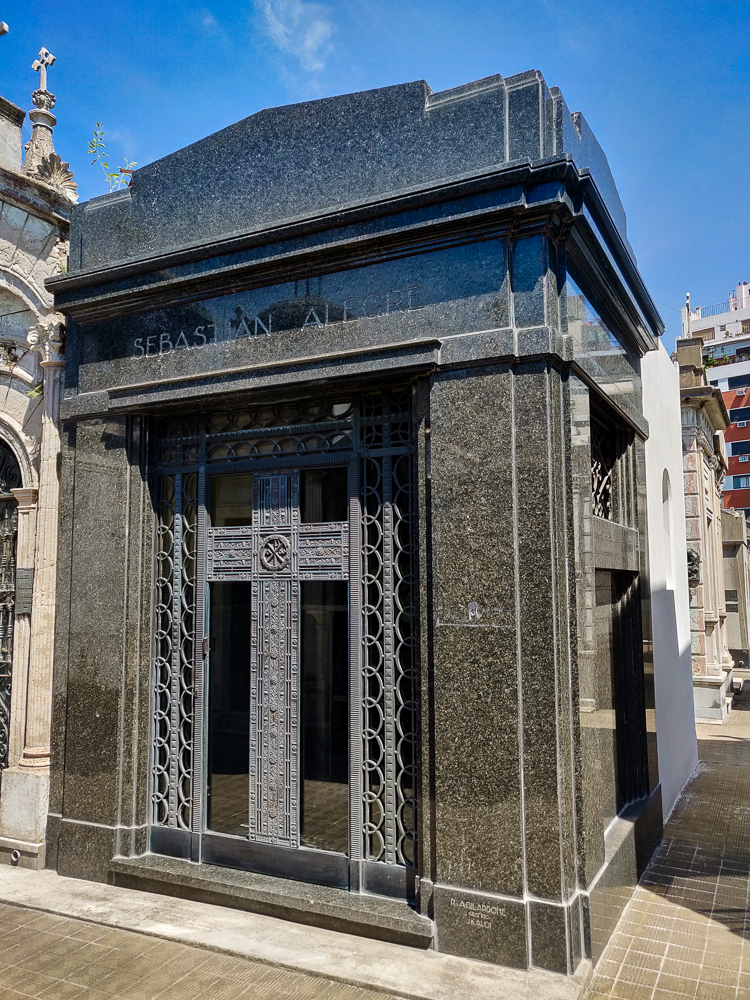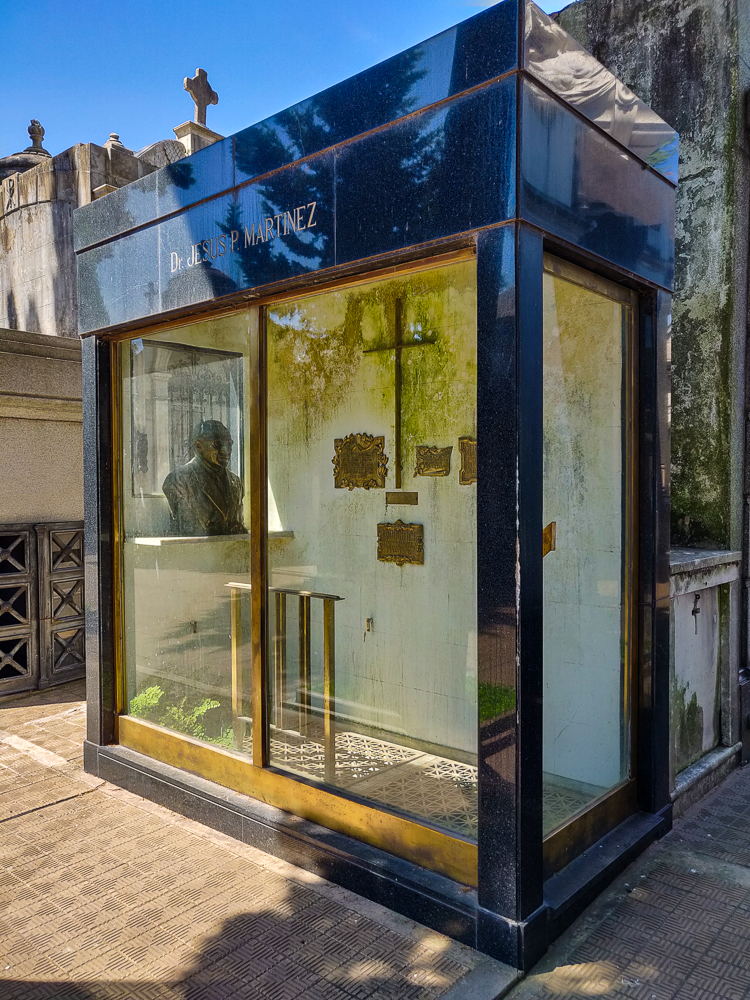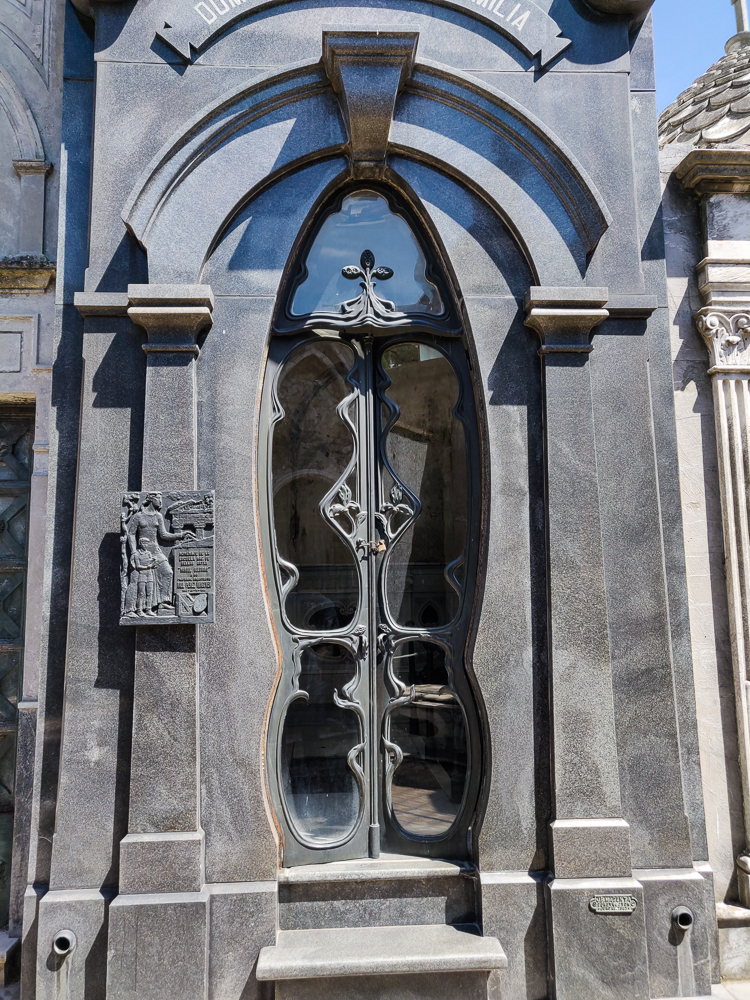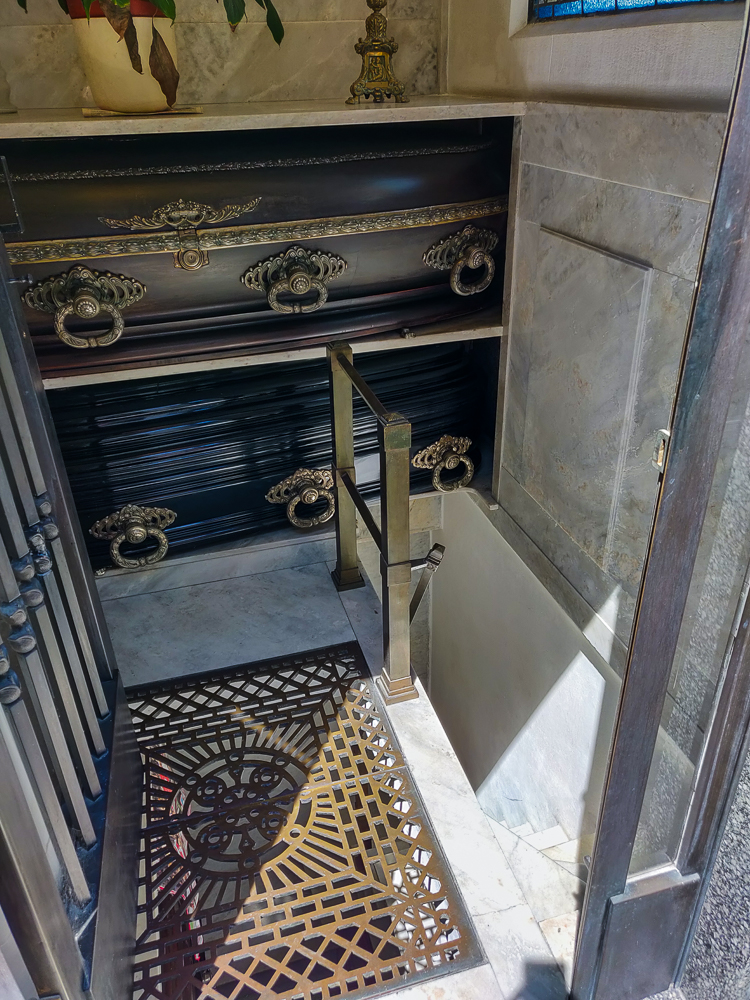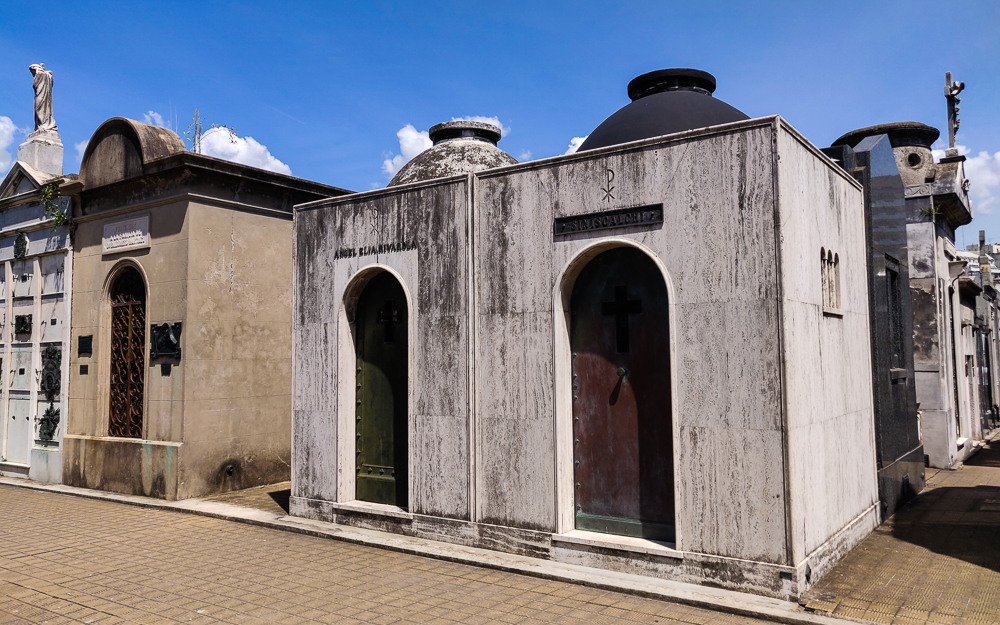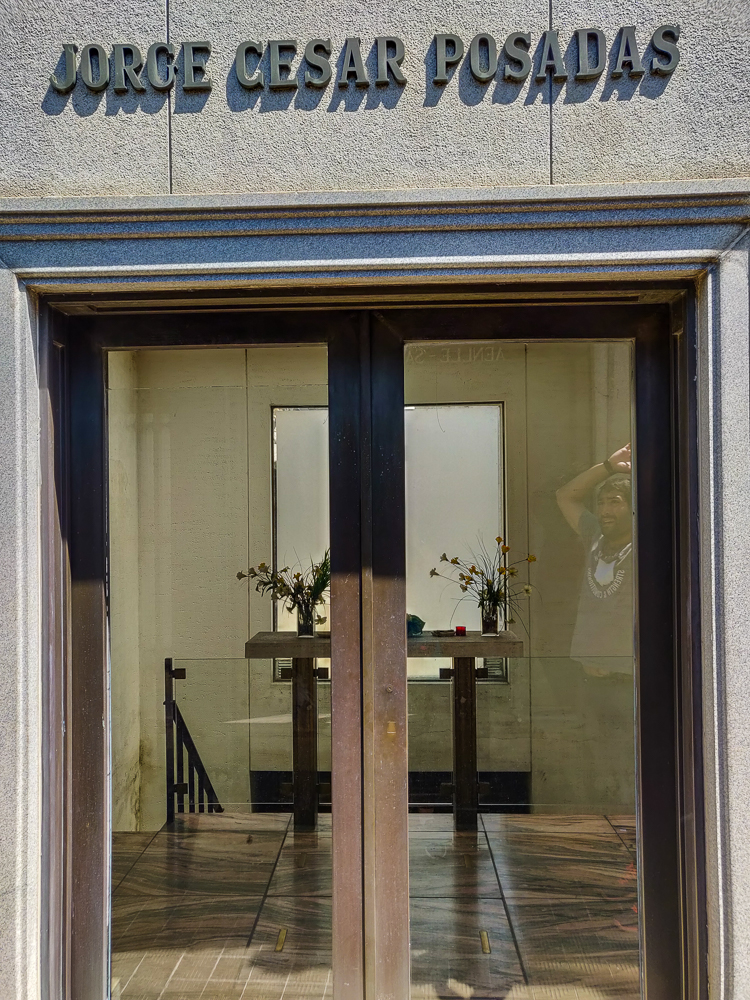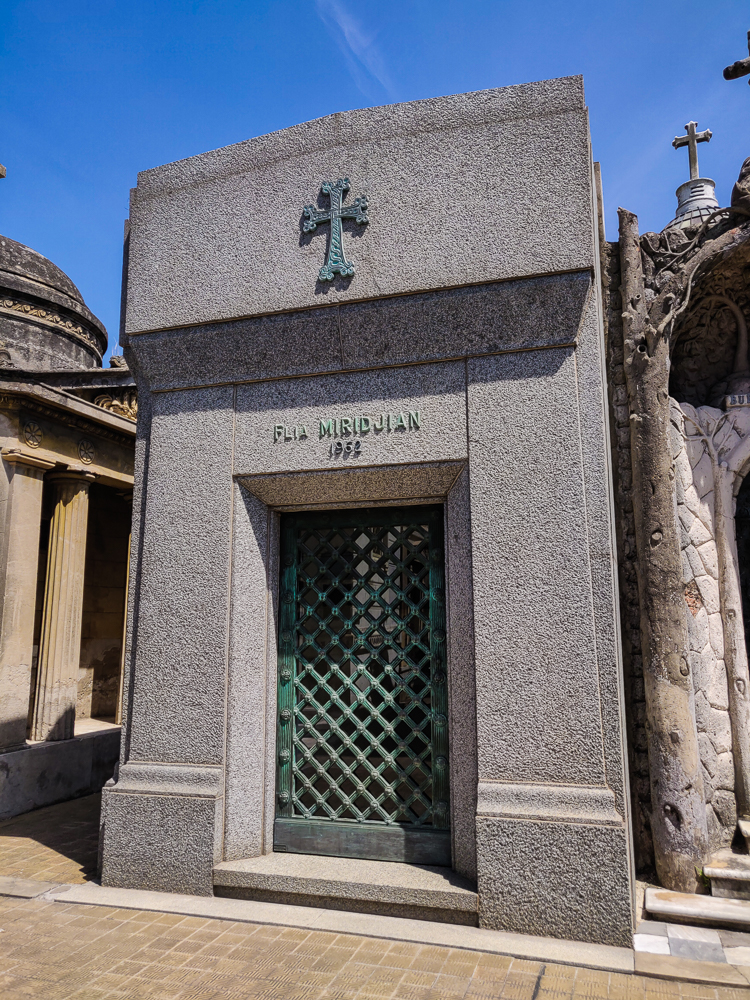 Even though we skipped out on the tour, I thankfully had done a little reading ahead of time and knew a few of the "famous" mausoleums to look out for.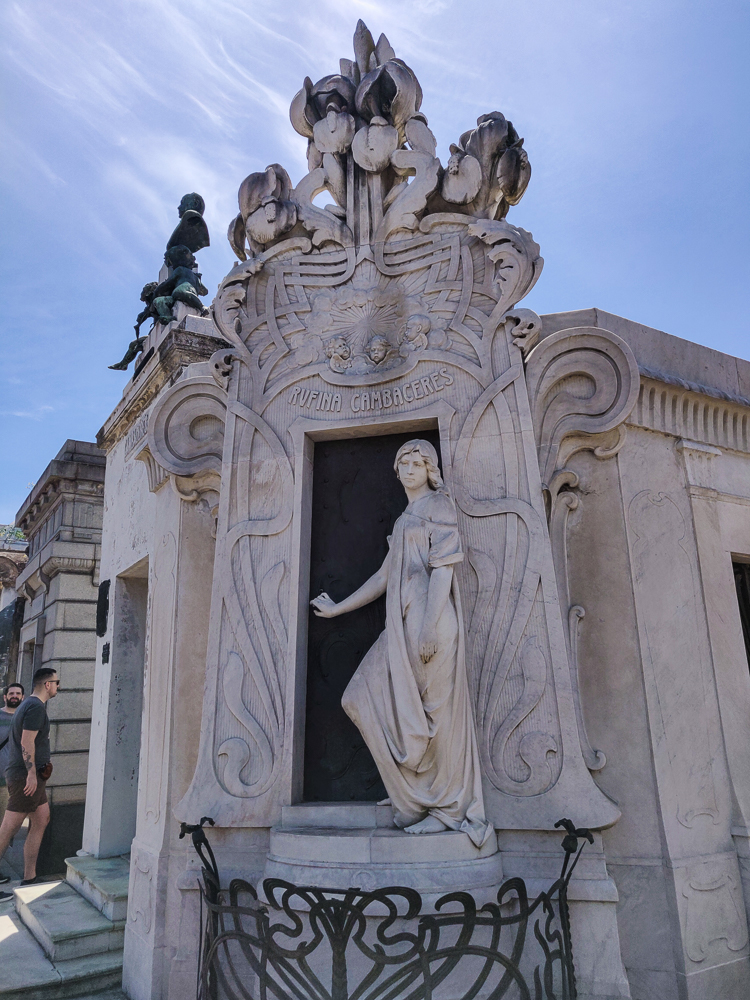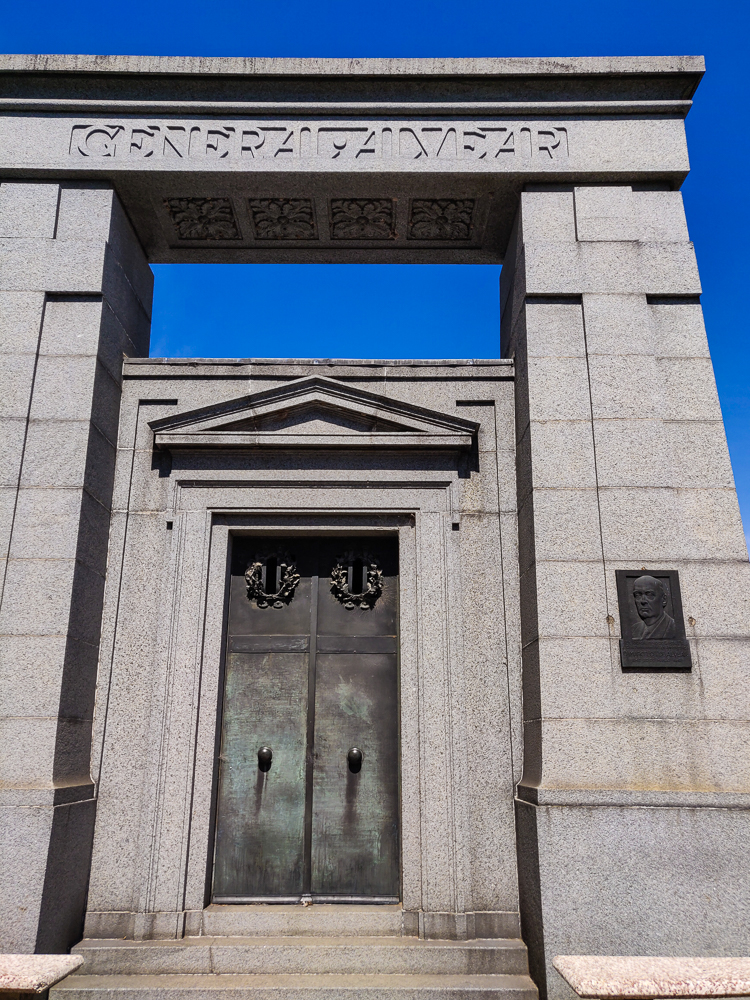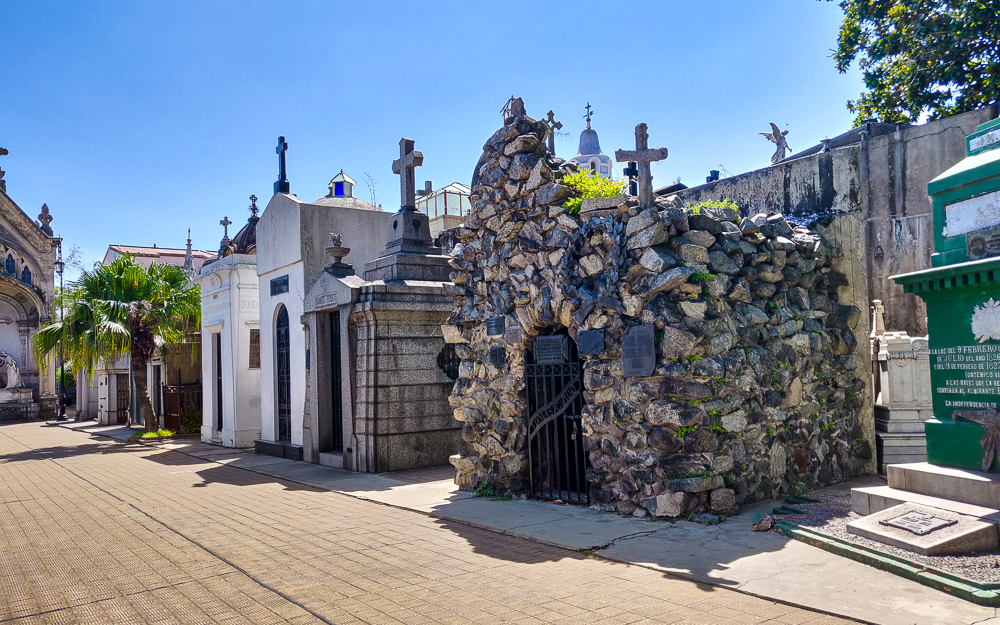 We wandered long enough to see most of the graves I was looking for and to admire the general award-winning beauty and then called it a day right around when we found the Armenian mausoleum. It seemed like a fitting way to end our time there. Plus, we had a tour to catch at Teatro Colón, and I didn't want to risk being late! Coming up next time, get ready for some fab stained glass!