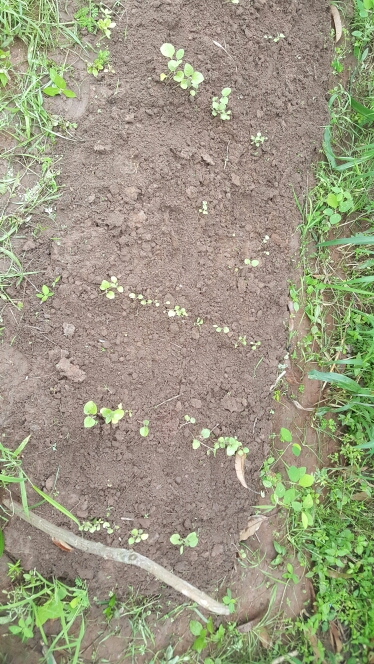 I basically forced Nick to come to the farm with me, so I have another farm friend! Yara also decided to rejoin the group which got us to four people going to the farm this morning. Talk about a farm party! It was a good day for Nick to start because we were clearing weeds out of the beds, and that's definitely one of the more relaxing farm tasks. I also had more "realize how much I've learned" moments when I had almost no trouble identifying weeds vs. eggplants and had to check the work of the others (after John showed us what to do, he turned to me and said, "make sure your friends don't kill all of the eggplants." No pressure or anything…). I remember my first week when we were hoeing and couldn't even tell the difference between weeds and fully grown eggplants. Now I can even identify them when they're only a few inches tall! How exciting! I'm sure these eggplant spotting skills will serve me well for the rest of my life…
After breakfast, Avy and I went to Baptist to teach P2 because their teacher was at the doctor. In Math, they were learning about addition of single digit numbers. We tried to do an activity where we split the kids into groups and used rocks as counters, but it was a total disaster. Imagine any movie where kids have a substitute teacher and totally try to take advantage of that fact, and you'll have something close to our classroom today. Even with the two of us, it was impossible to keep the kids in their seats and paying attention.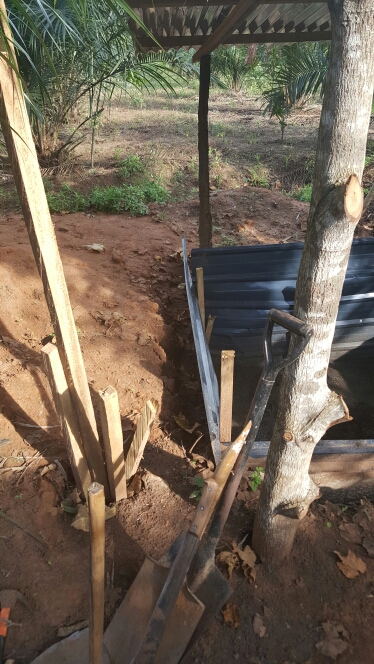 To give you an example, since we obviously don't cane the kids to discipline them (which is still the method used by many of the teachers here, though we have found some who don't approve of it), we need to have another method of punishment when they misbehave. After a warning or two, Avy has the kid stand at the front of the room facing the wall for about a minute (or longer if they don't stand still). At one point, we had two kids standing about 3' apart, and one was smacking the other on the head with an eraser while that kid tried to do what he was supposed to be doing and not move. I took the eraser and moved them farther apart, putting the hitter in front of the board. Next thing I knew, I looked back and the kid was wiping the math homework off of the board with his face. Seriously?? I'm not proud to admit it, but after that, I started losing patience and motivation and basically shut down. Major props to Avy who battled through it and kept teaching.
When we hit lunchtime, both of us were mentally and emotionally drained. We put some exercises on the board and told the kids we weren't coming back after lunch because they were behaving so poorly. There was only one thing that could even begin to make us feel better, and that was Fan Ice (ice cream!), so we picked some up on the way home and tried to forget how much we felt like failures.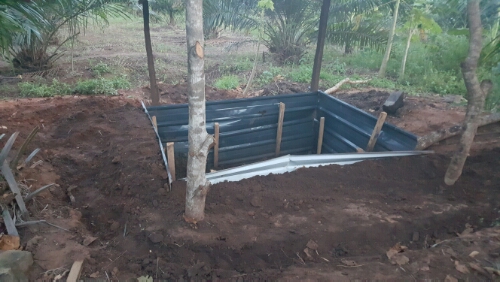 I didn't feel too bad about not going back to school because I headed to the farm in the afternoon to do more work on the poop hole (aka the pig poop to farm fertilizer converter). After finishing the roof last week, I figured it would be a good idea to ride out that momentum and try to just finish it for good. The only thing left to do is basically the landscaping around the hole. I need to fill in dirt behind all of the walls, slope it away from the hole for rain drainage, and put in a gutter. Also, one of the walls started collapsing, so the most unpleasant task of the day was to get into the hole to add a new support for the wall. That was made infinitely more unpleasant by the fact that there's already poop in the hole, and of course it was directly in front of the wall I needed to get to. If you had told me even one day ago that I would find myself calf-deep in pig poop, I would have laughed in your face. I'm not laughing anymore. It was disgusting. I probably set a breath-holding world record because I don't remember inhaling a single time while I was in there.
Grossness aside, it was a very productive work session. I finished 1 ½ sides of the hole which means I have 2 ½ left, plus I'll never have to get back into the actual poop again. If that's not something to be celebrated, I don't know what is!