​Warning! This post is long, but there's a lot to cover! I'm going to split today into two parts because otherwise there's too much.
Today marked the beginning of Lara's Last Weekend of Fun. It's tradition (unofficial) that when someone is leaving, they get to make the plans for their last weekend. Often, it's a trip they didn't get to take yet and want to fit in before going home, but Kumasi was that for me. For my last weekend, I just wanted to stay in town, hang out with everyone, and finish my Ghana Bucket List.
Here's my list:
Walk across the Atimpoku bridge (did this last weekend!)
Go canoeing on the Volta River
Take a picture with a goat
Catch a chicken
Carry water on my head with no hands
Finish the poop hole (I know, I know… but I had to mention it because it's on my list)
Climb the mountain by the clinic
Stargaze in the soccer field
Watch the fireflies (yay for that awesome night with the million fireflies!)
Watch the sunset one last time (did this on a run yesterday)
Go to the Akosombo Dam
Eat s'mores
Ride a motor bike home from Juapong (did this last week!)
Have another lip sync battle
And here's the weekend schedule:
FRIDAY
Last day at the farm
Last day of school
Go to the Akosombo Dam
Lip sync battle
And: picture with a goat, catch a chicken
SATURDAY
Hike the mountain that we hiked before (by the farm)
Hike the mountain by the clinic
Lunch
Go canoeing on the Volta
Bonfire and eat s'mores
Stargaze
And: carry water on my head
SUNDAY
Pack
Don't cry
Picture with everyone on the porch
Action packed weekend! BUT if everything goes according to plan, I'll do everything on my bucket list before I leave. I know better than to think that's realistic, but it's worth a try, right?
The farm this morning was bittersweet. Will I miss waking up at 5AM? Probably not. Will I miss feeling accomplished at breakfast, having that extra time to spend with everyone each morning, and chopping things with a machete like that's totally a normal part of life? Yeah, I think I will. Yara made the effort to come today because of the occasion, and it was nice to have one more day with just Nick, Anna, Yara, and me (Ricardo wasn't there because they already left for Cape Coast). We started digging the foundations for the pig house expansion. I'm a little bummed that I won't get to work on that, but at least I got to do some construction work on the clinic. When it was time to go, I said goodbye to the guys, the piggies, and the corn, and I kicked a chicken (not really, but I wanted to). And that was the end.
We walked back to the house, I ate my last pancake, and I got ready for my last day of school. I've concluded that my coping mechanism is avoidance (only in dealing with things like this though) because I've been doing an incredible job of pretending that none of this is real, just like when I was coming here and managed to convince myself that I wasn't, even up to the point where I was at the airport about to get on the plane to Ghana.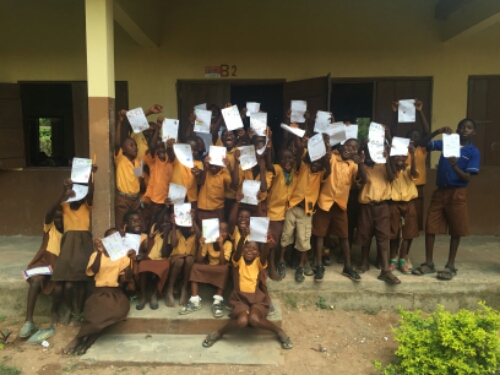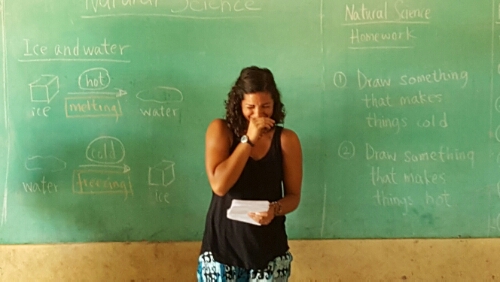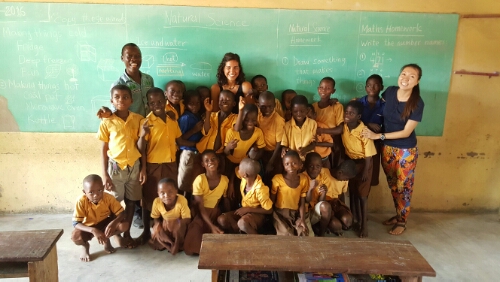 Honestly, I didn't want to go to school because I knew it would just make me sad, but I forced myself because I knew it would be worse if I didn't. I went to Everlasting's class, helped him grade homework, and just laid low in the back of the classroom until it was time for us to go home for lunch. Nick and Avy came in to pick me up, and before we left, Everlasting asked if I wanted to say anything to the kids. I said no because I knew that I would cry immediately, but I did want a picture with the kids. He made me come up to the front of the room, told the kids that it was my last day, and turned to me and said that they had something for me and I should just accept it.
One of the girls stood up and gave me a stack of drawings they had made for me, all with notes saying "thank you" and "safe journey" and "ayko" (good work). It was hopeless… I was barely holding back my tears before, and as soon as she stood up, I lost it. Then, before I had a chance to pull myself back together, one of the boys stood up and gave me another stack from the boys in the class. I was a complete mess. I still am… just thinking about it is making me cry again. After I choked out a "thank you" and kind of stopped crying, all the kids came up and we took a picture (they say "say kenkey!" here instead of "say cheese". It's one of their classic foods made from ground corn) while I was crying and smiling and, of course, sweating. It's a pretty gross combination, so I'm sure those pictures turned out beautifully.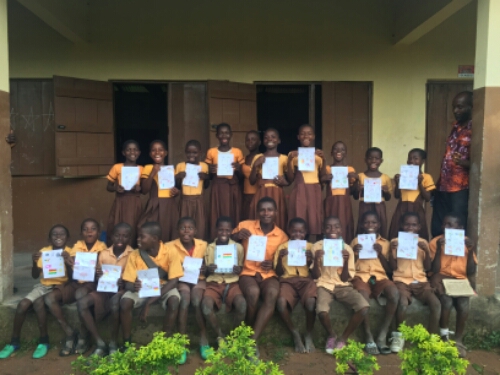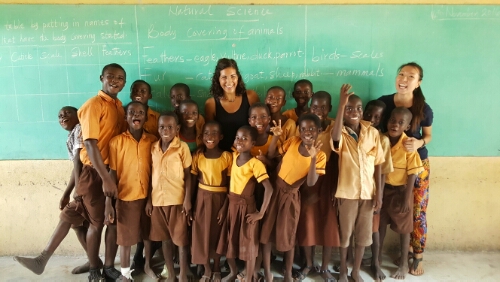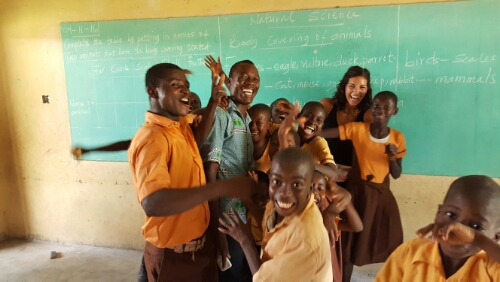 Emotionally, I couldn't stay any longer, so I said goodbye to the kids and Avy asked if I wanted to pop in to say goodbye to P3. I said sure, but just for a second. As soon as I got inside the classroom, all the girls came up and handed me drawings they made, and I was a crying disaster all over again. We group hugged and then the boys came up and the whole drawings/crying/group hug cycle repeated. As annoyed as I've gotten at all those kids throughout my time here, it doesn't matter anymore. This is what I'm going to remember. One girl in particular, Mavis, kept saying, "Miss Lara, don't go. I'm going to miss you." What am I supposed to do in response to that besides just cry more? I tried not to get too close to any of the kids because it can't be good for them to keep getting attached to volunteers and having them leave over and over again, but there's only so much you can do.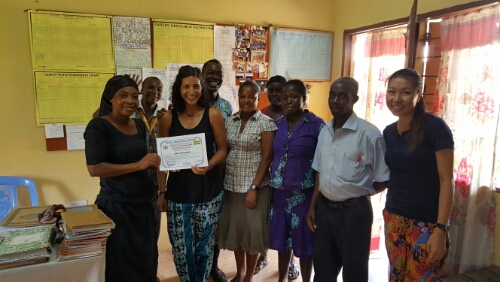 At this point, I just wanted to go home. That wasn't the end though. Mike, the headmaster, made us all go into his office, and he called all the teachers in as well. We sat down, he told everyone that it was my last day, and he thanked me and said that I'll be missed. Mavis got up and presented me with a certificate they made to say thank you, anddd cue tears again. You may be thinking that it's physically impossible for one person to cry so much in the span of about 20 minutes. I probably would think that as well if it didn't just happen to me, but believe me, I wouldn't make this up. I should probably drink some rehydration salts because it can't be healthy for me to be losing so much water. We took a group picture, I cried and shook everyone's hands, and Avy and Nick escorted me, the snotty, sweaty, crying mess, home.
*to be continued*