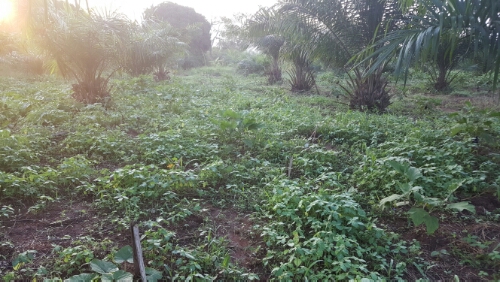 Happy goodbye week! Tolu left today, so now we're down to six of us in the house. There's still enough going on that you can kind of look past the fact that people are leaving, but I know that won't last much longer. It's just a matter of days before the house is practically empty.
The morning started off with hoeing, so I could already tell that it wasn't going to be a great day. We were back to doing the first field that we did our very first week here, but the weeds this time were even more intense. I seriously can't believe that I once said shucking corn was worse than hoeing. I must have been delusional! Hoeing is the actual worst because at the end, your back aches, you feel like you barely covered any ground, and you can practically already see the weeds growing back.
Nico and I stayed late to start installing things in the hole! It's exciting to do something besides digging, and this part is fun because it's so much easier to see progress. We put three of the walls in so far, and I think we have a plan for how the roof and the roof supports are going to work. All I can say is, the finished product is definitely not going to be pretty or elegant, but it will be the prettiest poop hole (it's to convert the farm's pig poop into fertilizer) in all of Ghana. Hm… that's kind of a bold claim. I can guarantee that it'll at least be the prettiest poop hole in all of Frankadua and potentially Ghana and who knows maybe even West Africa.
Tolu left after lunch, and instead of a tro, some businessman in a shiny car (that probably even had working air conditioning!) pulled over and agreed to take him to the airport for only a little more than it would have cost in a tro. Whatttt?!?!? Joe said that sometimes random people will pick up passengers to help pay for gas on longer trips. So basically Tolu hitchhiked to Accra. After Joe explained it, we all kind of looked at him like, "what? Are you sure he's going to be okay?", and Joe said, "it's fine, I could tell the man was good." Hm. Okay. We have a lot of T.I.A. (This Is Africa) moments here. Basically anytime something happens that is so beyond our realm of comprehension that we have no response, we just say "T.I.A." and accept it.
To continue the happiness and good feelings (sarcasm) that were going on when we got back inside the house, Isabel chose that moment to tell us that she's leaving tomorrow to go to the Gold program because she wants to do childcare, and we don't have that here. I spent about half an hour trying to convince her through songs that she should stay (aka I searched "stay" on my phone and played every song that has it in the title) before accepting defeat and the next half hour telling her that Gold has more lizards and spiders and snakes and that they have to carry their shower water half an hour from the well (all true statements). So I guess the leaving parade will continue tomorrow. Ugh.