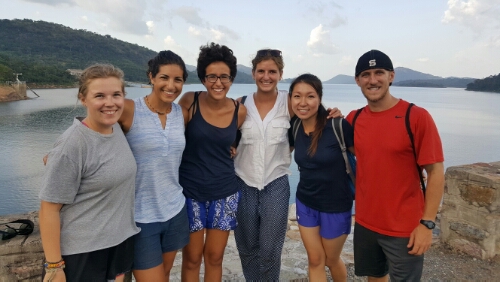 *continuation of Friday 11/4*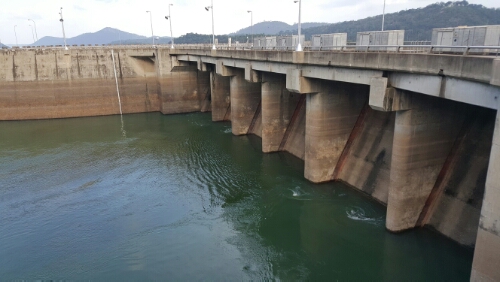 Our first real adventure of the weekend started with a trip to the Akosombo Dam. The procedure for visiting is complicated, to say the least. I filled out a reservation form online, didn't get a confirmation, emailed the office, and got instructions to go to the dam office (hehe) in Akosombo to get a pass to visit and a tour guide. We took a tro to Atimpoku and cabs to Akosombo. Our driver knew where the office was, so once we got to the Akosombo tro station, the six of us (Anna, Yara, Avy, Nick, Lily, and me) piled into one cab and he took us there.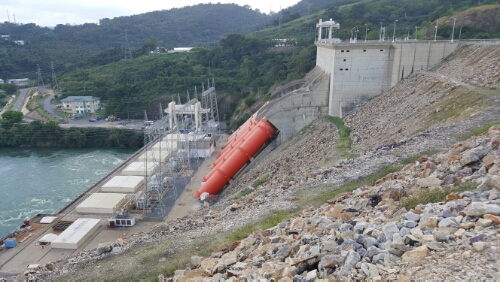 When we arrived, we found out that you can't take a cab to the dam; it needs to be a private vehicle, like a tro. The woman at the office said that a group just left for the dam, but if we were willing to wait, we could go when they got back in about 45 minutes. We decided that was fine, and it was extra fine when she showed us the waiting room in their AIR CONDITIONED office with 3G internet. The time flew by, and before we knew it, we were on a tro with our tour guide headed to the dam!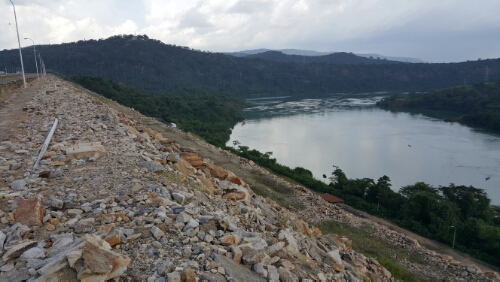 None of us had any clue what to expect, but it ended up being awesome! We had our own tour guide, and he walked us around the top of the dam and explained everything. We also had a great group. Everyone asked questions that were interesting and made the tour way better, and I had one of those moments where everything felt perfect. These people are awesome. The views of the river and the lake were also incredible.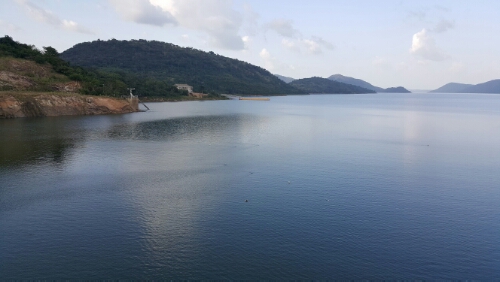 Somehow, none of us realized that Lake Volta is a man-made lake because of the dam. It's the largest man-made lake in the WORLD based on surface area (third largest in volume), and it covers about 3.5% of Ghana. That's insane! Now it makes sense that I read Lake Bosomtwe (the lake we visited by Kumasi) is the largest natural lake in Ghana.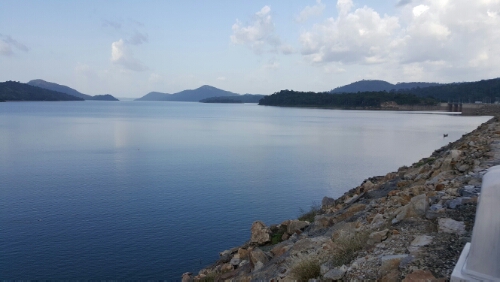 The dam was built from 1961-1965 and cost $258 million dollars. It must have been a logistical nightmare to figure out how to divert the water and build everything, and to make things more complicated, 80,000 people had to be relocated. There were hundreds of villages that ended up being combined into 52 new villages. I know that things like this happen everywhere, but still, can you imagine being told that the land you've been on forever is not yours anymore and that you have to move? We asked if that meant there are hundreds of little houses underwater, but the guide said they were mostly mud houses, so everything would have washed away by now.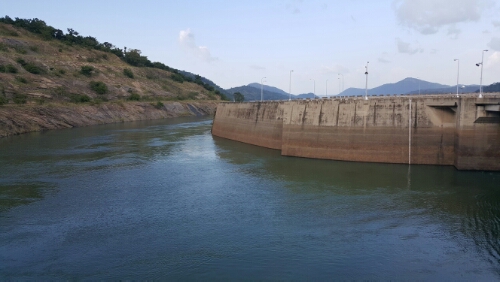 The craziest part is how much electricity the dam generates. It has an output of 1,020 megawatts (there are six 170 MW turbines that can be controlled individually by opening or closing the intakes), which is enough to supply most of the country with electricity, plus it's exported to Togo, Benin, and other neighboring countries. To give you a bad comparison, they say about 1 MW can power 1,000 homes, but that's assuming the homes are in the US and contain more than a couple of lightbulbs. Here, a couple lightbulbs probably describes houses in most of the country, so a MW goes way farther than one in the US. When we were there, three of the six intakes were open. The guide said that during the day, they only open as many as they need to meet demand, and usually at night, they're all open. He said that there are also natural gas power plants in Ghana, but the dam supplies the most power. They're also apparently exploring the possibilities for wind power near the coastline and solar power in the north, but it didn't sound like those would happen soon.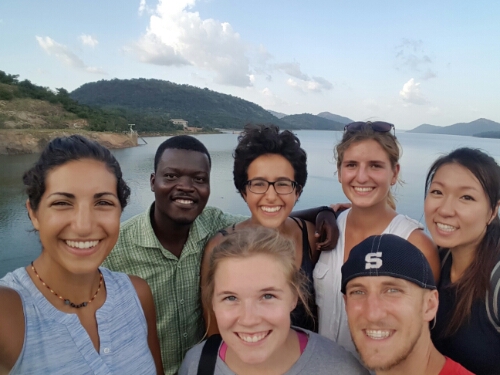 For something that we went into with no expectations, I'd say it was a pretty good trip! Everyone was glad we went, and I was happy because I'm the one who dragged everyone along. By the time we got home, everyone was tired and no one was ready for the lip sync battle, so we decided to postpone it until tomorrow night (when it absolutely WILL be happening!).
Tonight we're just going to hang out and play some Fishbowl (basically a combination of Taboo/Catch Phrase and Charades). We have a packed day tomorrow, so everyone needs to sleep!