​Welcome to Day 2 of Lara's Last Weekend of Fun! This was an incredibly ambitious day… see the amended schedule below (after the postponement of last night's lip sync battle and some other things that I didn't get to).
SATURDAY
Hike the mountain that we hiked before (by the farm)
Hike the mountain by the clinic
Lunch
Go canoeing on the Volta
Lip sync battle
Bonfire and eat s'mores
Dance party
Stargaze
And: carry water on my head, catch a chicken, picture with a baby goat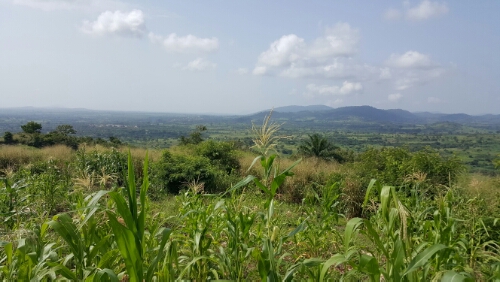 We left around 9 to begin our trek to farm mountain. Avy, Anna, Yara, Amy, Nick, and I went, and the only two of us who had been there before were me and Avy. I knew that I didn't remember the way perfectly, but I had some confidence in my sense of direction and didn't recall getting there as being too complicated. The only thing I was nervous about was finding the path to get up the mountain, since we failed to find that the first time. I did have a picture of a landmark tree to help me find the way again though, so I thought we could manage.
The way to the base of the mountain was mostly uneventful. We made one wrong turn, but I quickly realized the mistake and turned us around. There were other parts that I was maybe 70% sure about… For those, I just acted like all was well and kept marching forward with feigned confidence until I eventually saw something I recognized and was closer to 90% sure again (realistically, there was never any chance of 100% certainty). Eventually though, we made it! The next issue was just finding the footpath to the top…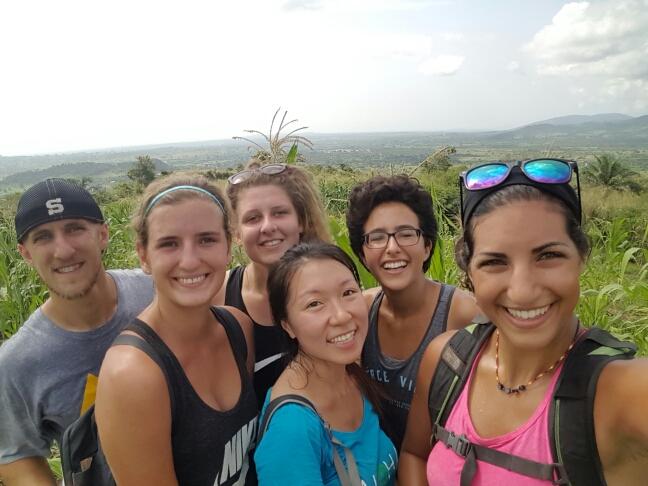 A word of advice: when choosing a landmark to help you find your way in the future, pick something that will look the same at that future date as it does in the present. Yes, I know this sounds like common sense. Yes, I did know this when I picked my landmark the first time. No, I didn't do a very good job of following my own advice. I picked a tree that was about 5' tall and looked dead. When we went the first time, there were empty fields around it, and it stuck out like a sore thumb. Fast forward two months anddd…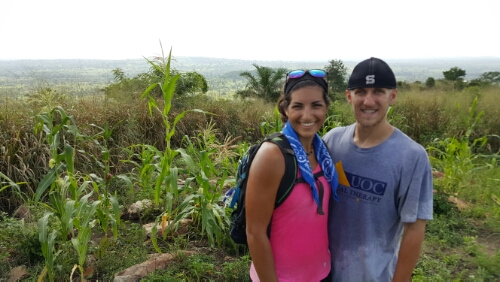 Corn grows quite quickly, did you know that? It gets pretty tall too. Like 7 or 8 feet within a couple months. Another fun plant fact for you: there are some trees here that can look like they're completely dead but then they start sprouting new growth! How cool! Do you see what I'm getting at? Yes, I picked a "dead" tree in an "empty" field 2 months ago, and today it was a somewhat living and green covered tree with a field of 8' corn stalks surrounding it. This might shock you, but we somehow managed to miss my fabulous landmark and walk right by.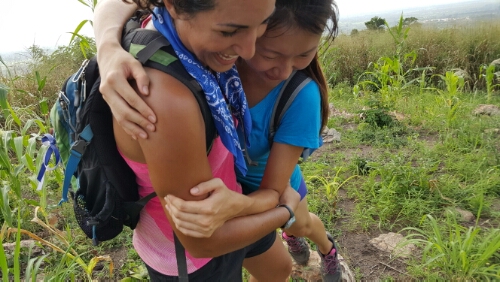 Twenty minutes of wandering later, Nick shouted out that he thought he might have found the path, and sure enough, he had. I located my worthless landmark tree on the way up and realized the problem. Oh well! Won't make that mistake again! From there, the way was easy. In 15 minutes, we were at the top, looking over Frankadua and the surrounding towns.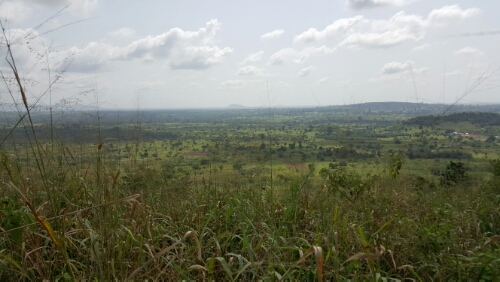 We hung out and wandered around for a bit until everyone was ready to continue our journey to clinic mountain. That mountain (disclaimer: I keep calling these "mountains", but they're barely more than hills. This is my story though, so I can say whatever I want) isn't as off-the-grid as the other one. There's a hotel and restaurant on top and a car path to get you there. Walking up took probably less than 10 minutes, but the views on the way were nice enough to make me happy we did it. At this point, everyone was out of drinking water and ready to collapse, so we chilled on top for a couple minutes and then headed home.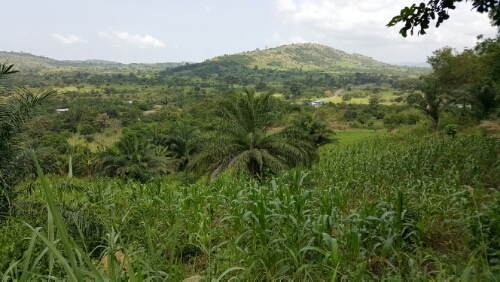 Lunch was ready soon after we got back, and the next thing on the schedule was supposed to be canoeing on the Volta. I decided to cut it because I had some things to organize, everyone was exhausted, and I was more concerned about people being rested enough to participate in all the nighttime activities. I'm okay with not doing it though. There were two original reasons why I was into the idea: 1. I wanted to canoe in Ghana and 2. I wanted to see the views on the river. I put it on my list before we canoed on Lake Bosomtwe and got cool views from the walk over the bridge and the dam, so now, I don't feel like it's something I HAVE to cross off.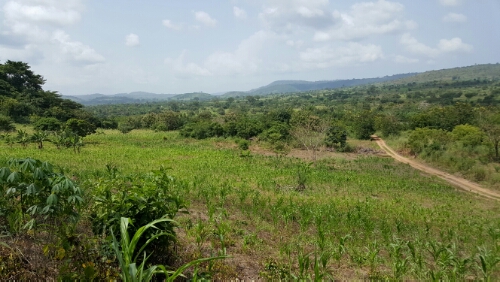 Instead, I spent the afternoon pulling myself together and saying some goodbyes. Everlasting and I met up one last time, and it was surreal. We met in the market, exchanged gifts/letters, said goodbye, shook hands, and that was that. I started crying again on the walk home… how am I supposed to wrap my head around the fact that most of these goodbyes are goodbye forever? I'll tell you how – by pretending that they're not. Like maybe someday I'll come back to Ghana and Frankadua and see these people again. I know it's unlikely, so I take the 1% possibility and count that as definite. Otherwise I think I would lose my mind.
**to be continued**