Our last day of sightseeing unintendedly ended up being somewhat rock themed. Since we obviously hadn't seen enough monasteries yet, we had another one, Geghard, on the docket for the morning, plus the only remaining pagan temple in the country, Garni Temple.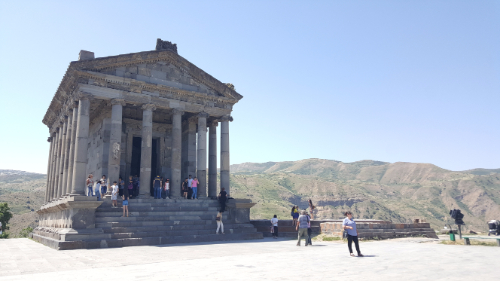 By now you're used to the process of getting around… we took a city bus to a marshrutka station and a marshrutka to Garni, the town where Garni Temple is. It took under an hour to get there, and the walk from the bus stop was less than 10 minutes. Easy peasy.
Back in the day (like waaay back), the Armenians were sun worshippers. It's interesting because you can look at the Christian art and architecture that came after the country's conversion to Christianity and see how it's connected to the art and architecture that came before. Pagan symbols were re-explained in Christian terms, rather than getting rid of them. For example, the pomegranate is used A LOT as a symbol here. In the pagan days, it was a symbol of fertility. In the Christian days, it was changed into a symbol of unity (people are the seeds, all individuals but part of the same body of Christ).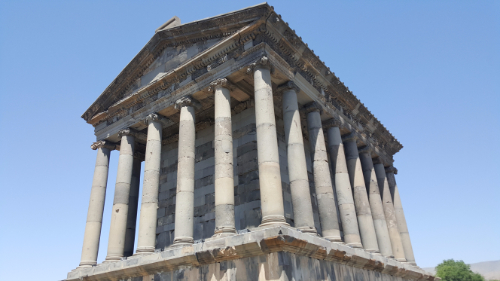 Anyway, I kind of went off on a tangent. The point is that Garni Temple was a temple built in the first century AD and dedicated to the sun god, Mihr. The reason it survived even after Armenia's conversion was because it was turned into a royal summer house. An earthquake in 1679 caused it to collapse, and it was finally excavated and reconstructed in the 1970s. They used almost all original stones to reconstruct it, but the ones that are not original were made obvious. It's built in the classical Greek style with a little bit of an Armenian twist. The temple is cool, and the location makes it even better. You can get a great view of the Azat River gorge which is part of a big national park, Khosrov Forest State Reserve, one of the oldest protected areas in the world. It was founded in the 330s AD! I'm getting sidetracked again, but I'm definitely putting it on my list of places to visit while I'm here.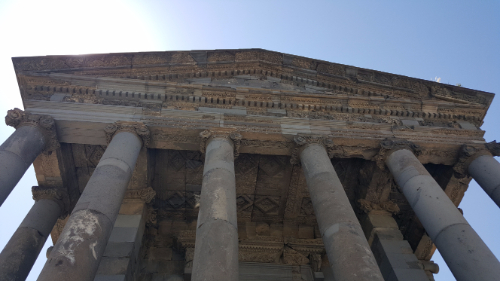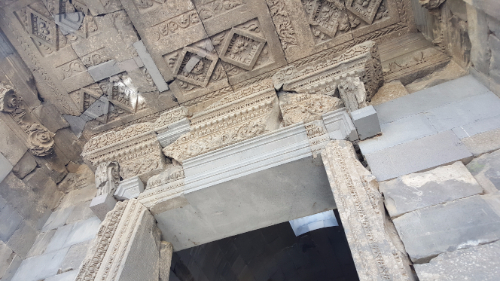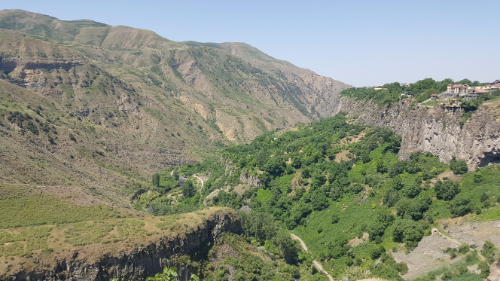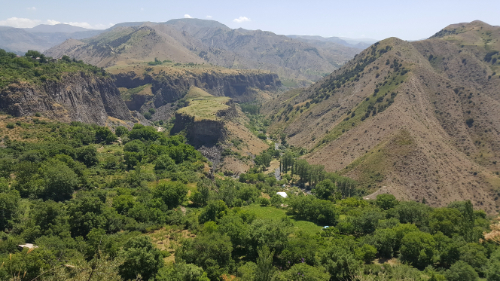 After Garni Temple, we headed to Geghard. That required getting a taxi which we weren't too excited about, but it ended up being extremely easy! Walking back towards the main street, we met an older gentleman who asked if we were going to Geghard. He asked if we needed a taxi and offered to take us in his, there and back for 2000 dram (a little more than $4). It's about 10km away, and he said he would wait for an hour which is plenty of time to see everything. We agreed because that price was definitely lower than it should have been (and we gave him some extra at the end because we kind of felt like we were cheating him), and we were off!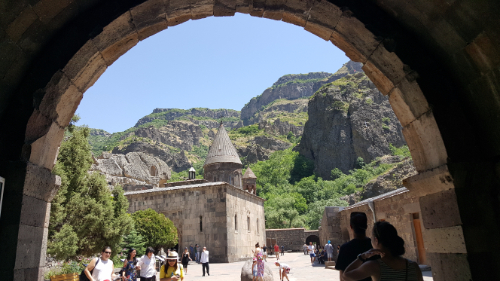 Geghard Monastery has a connection to everyone's favorite historical figure… that's right, St. Gregory! In its current form, it has multiple churches and tombs, but it started out just as a cave church. There's a spring inside where you can wash your hands and face or drink some fresh, freezing cold water. There's some great water in this country. The name "Geghard" comes from the word for "spear" because the monastery used to house the spear that was supposedly used to wound Jesus during the crucifixion and brought to Armenia by the apostle Thaddeus. That spear is now kept in the museum at Etchmiadzin.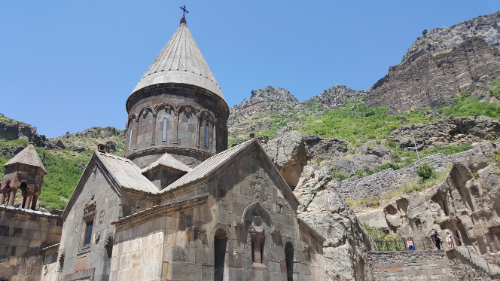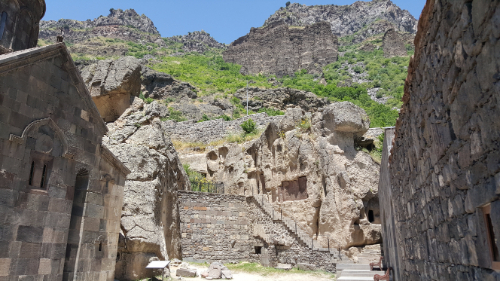 The monastery has a few different chapels now, with most carved into and one built out from the cliff. There's one chapel in particular that is completely carved into the cliff and has some amazing acoustics. There are khachkars (stone crosses) EVERYWHERE, with some stuck into the cliff. They're there to commemorate donations or in memory of the deceased. The "khachkar style", if you will, was developed because stone crosses with the stone following the shape of the cross broke too easily. With a khachkar, the stone is a rectangle, and the cross is carved into it with elaborate decorations surrounding it.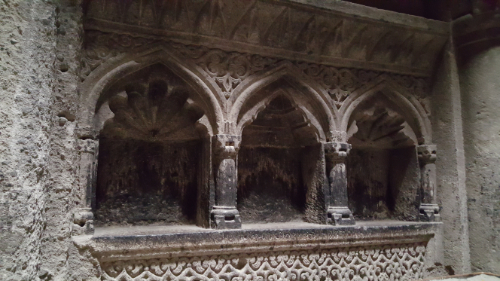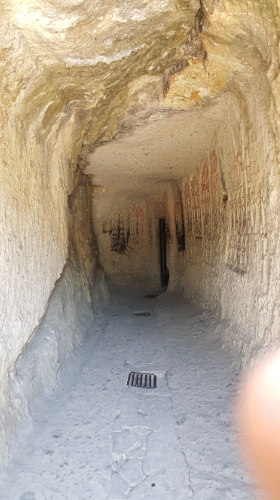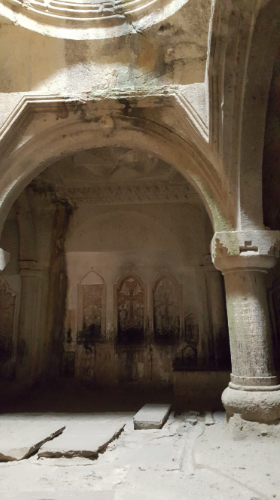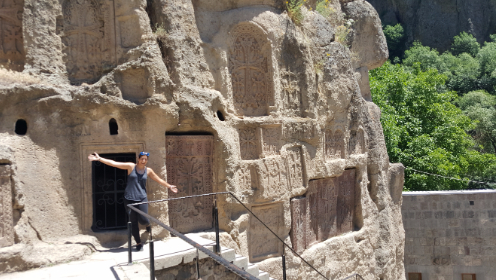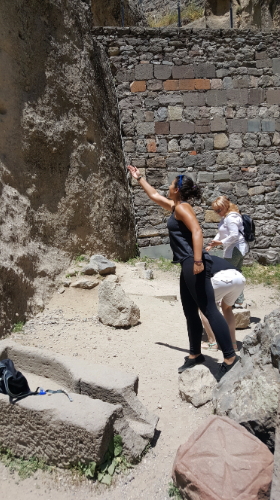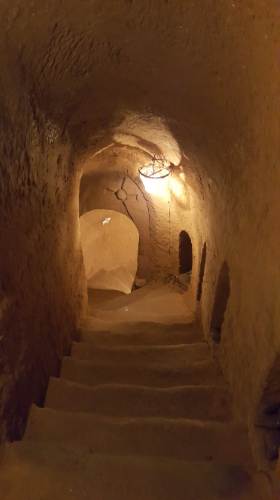 Our day ended with a trip to a slightly more offbeat attraction. Sarah and I are very into going to see things that are a little bit weird, so when we found the information about Master Levon's Divine Underground, we knew we had to see it. The story goes (and this I know for a fact is a completely true story) that a man named Levon, a builder by trade, was asked by his wife to dig a potato cellar. He started digging, hit rock, moved over and kept digging more. And then he kept digging. And digging. And digging. And digging. He said that he had divine visions that told him to keep going, so he did. He dug for 23 years, until his death, with just a hammer, a chisel, and a bucket to carry out the rubble. The underground complex he created still isn't complete according to his plans, but my gosh it's amazing. My favorite quote by his wife, Tosya, is, "all I wanted was a good house and a potato cellar, and I got neither." On the bright side though, she now has an ongoing revenue stream from visitors, so maybe Levon knew exactly what he was doing (it's free to enter, but they accept donations).
At its deepest, the complex goes down 70 feet below the house! How crazy is that?!?! There are seven rooms connected by corridors and staircases, and decorations are carved into the walls at every turn. The pictures don't do it justice, but they can at least give you the beginnings of an idea of what it was like.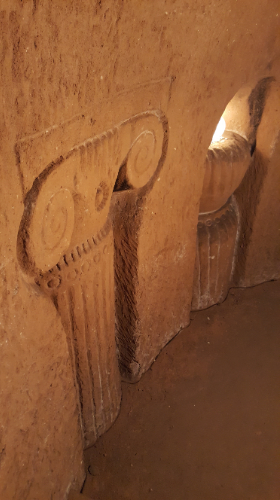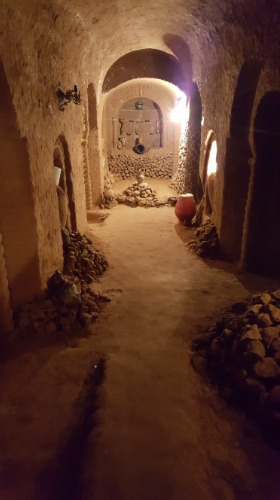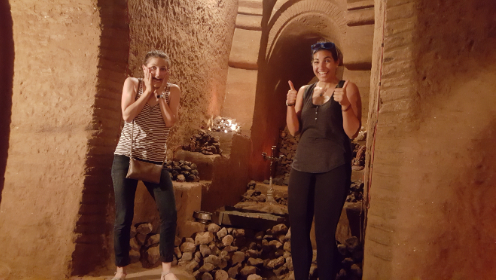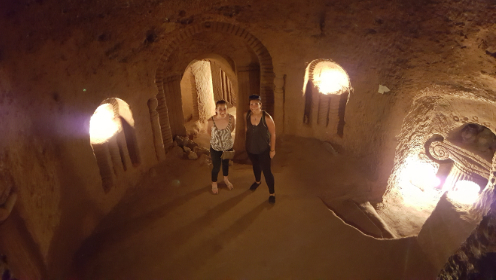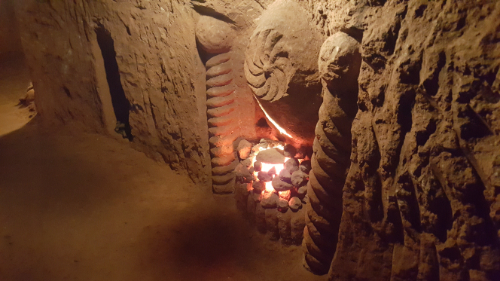 We were welcomed in by Tosya, and she left us to explore the caves on our own. At 50 degrees F (10 C), it's fabulously cool down there, and thankfully, there are arrows marking out the route or we would have been hopelessly lost. When we came out, Tosya showed us to a little museum inside the house where you can see the hammers and chisels that Levon used, plus his clothes and a bunch of news articles that have been written about his creation. She spoke no English, but once again, we managed to communicate enough. After that, she led us outside into the garden where the walls were covered with stone mosaics and two paintings: one of Levon, and one of Tosya. This was one talented guy. We signed a guestbook with notes by visitors from all over the world and headed back into the city, our minds still blown by what we had just experienced. Who knew that this would turn into a cave exploration day?