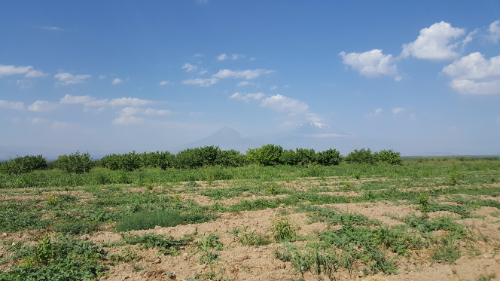 I'm exhausted. The weekend was a whirlwind, and I spent most of it wanting to take a nap. Each day was so ambitiously scheduled that it was literally impossible to get enough sleep, but I survived it and didn't even get sick! That's pretty good. I do want to go to sleep ASAP tonight though, and I know I'm going to spend the rest of the week trying to catch up on the hours I should have gotten over the weekend.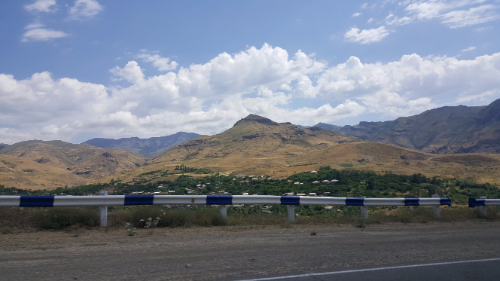 The sleep deprivation started on Friday morning when we had to meet at 5:30AM to go to Yerevan. I somehow managed to drag myself out of bed on time and scored a prime seat in the taxi (we had one packed van and one taxi) where I logged another hour of semi-restful sleep.
In Yerevan, we joined up with the other volunteers who are living in Yerevan and Vanadzor. Again, I lucked out with the seating and got a spot in one of the two vans rather than in the big bus with most of the volunteers. Perks of the van: no microphone for people to yell into, functional air conditioning, (slightly) less vomit-inducing movements, faster, and fewer people. It was basically paradise.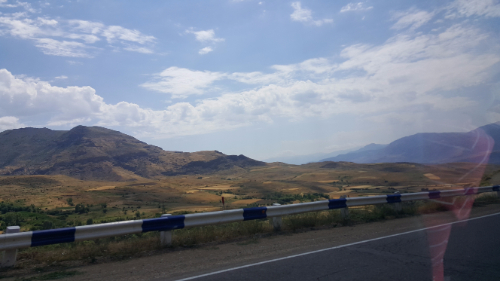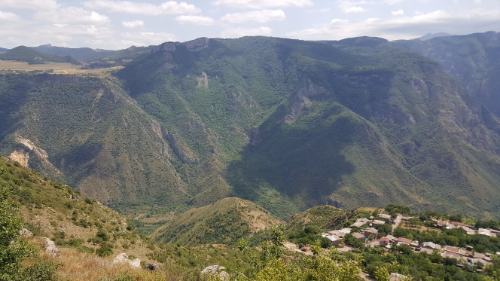 After multiple snack/bathroom stops and about four more hours of driving, we made it to Tatev Monastery. Well, to be accurate, we made it to the town of Halidzor where the end of the cableway that takes you to Tatev is located. The big claim to fame of the cableway is that it's the longest non-stop double track aerial tramway in the world. It's 3.5 miles (5.7 km) long, and the ride takes about 10 minutes. It's in the mountains, so the views along the way to the monastery are incredible. It's probably the most expensive thing to do in Armenia, with round trip tickets costing 5000 dram for tourists (about USD$11).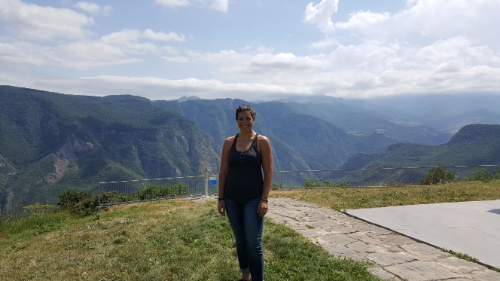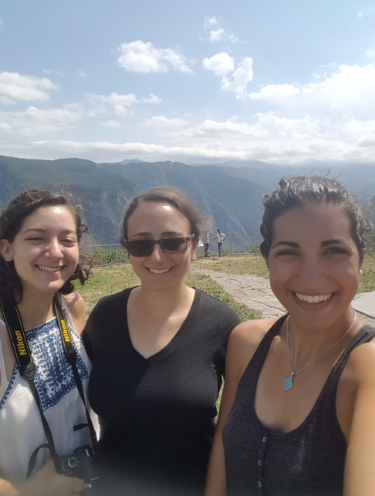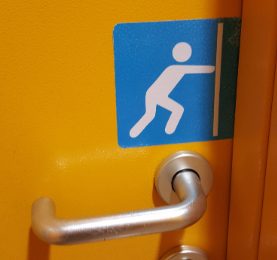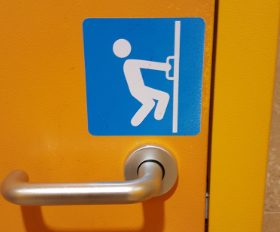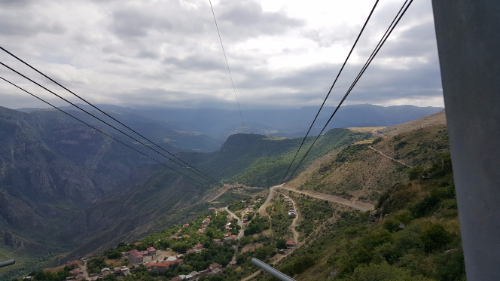 The cableway would have been awesome even if it didn't lead anywhere, but it's even better because it gets you to the town of Tatev and the monastery. The complex is pretty extensive. There are multiple churches, residential areas, a library, a dining hall, school buildings, an olive mill, and more. The olive mill is from the Middle Ages, and we visited that first. I can't tell you any real information about it because I zoned out when the guide was talking. Then, instead of getting facts, I asked people to tell me made up explanations about what the different things there were used for. I definitely had more fun on my made-up tour, but I also definitely left with zero accurate information.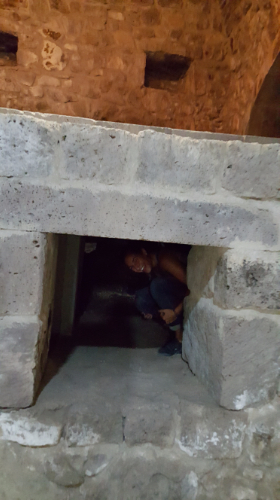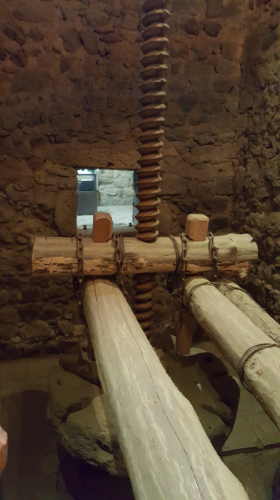 The monastery was built originally in the 9th century on the former site of a pagan temple. There was also an important university there in the 14th and 15th centuries that was a leading cultural and scientific center and trained teachers who then taught across Armenia. After that, the complex was attacked, damaged, and looted multiple times throughout history by different groups as they invaded Armenia. In 1931, there was an earthquake that damaged it even more, and there's still restoration work going on now.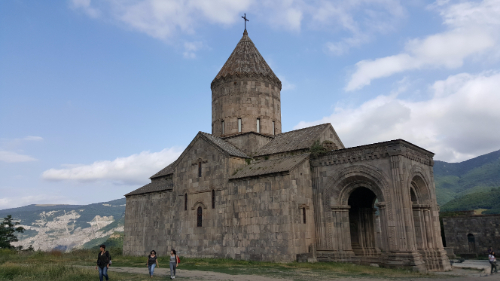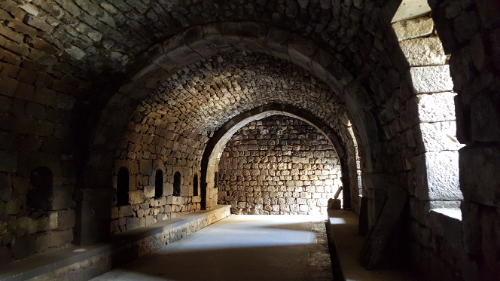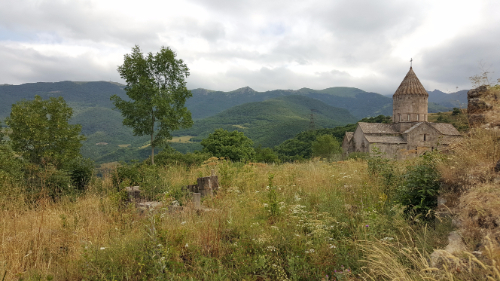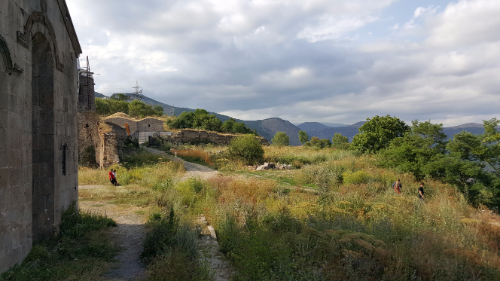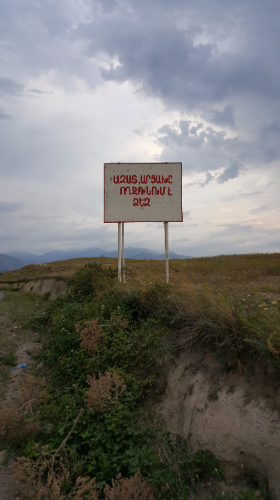 After leaving Tatev and taking another scenic ride through the mountains, we continued our trek to Artsakh. We had a few more hours of driving, and by the time we got to Shushi, the city where we were staying, I was ready to pass out. We were in homestays, and the process of getting everyone where they needed to go was just as much of a mess as you would expect. I fell asleep in the van as we were driving around and then completely ate it on my way out because I was still 95% asleep and my leg collapsed instead of holding me up when I stepped down. Oops. I was fine and too tired to even be embarrassed about it. I think the total drive time for the day was something like 10 hours, though I didn't keep track so who knows. Whether that's right or not, it wasn't a short amount of time. I don't blame my leg for collapsing because that's really what my entire body wanted to do!