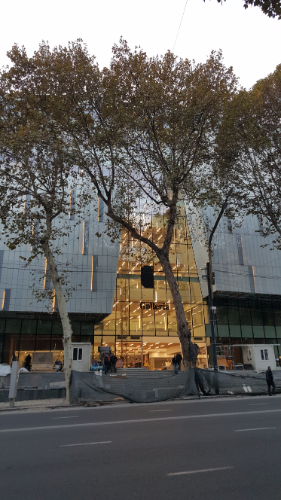 Sunday started off with khinkali for brunch. It's not really a brunch food, but brunch also happened at about 1PM so at that point I don't think it matters anymore. Khinkali is a classic Georgian food that you can also get in Armenia, and it's one of my favorites… after I describe it, I'm sure you'll be shocked. It's basically a dumpling with any variety of things inside – beef, cheese, mushrooms, other meats, vegetables, etc – and either boiled or fried. They're folded up to look like little money bags (I'm unfortunately not one of those "take pictures of my food" people, so you have to use your imagination), and you're supposed to pick them up, bite the side, and drink the broth. Definitely not a first date food. Fried cheese khinkali is the best, in my opinion.
Maybe we didn't go to the right place (though we did ask a bunch of people for recommendations), but I didn't think they were much better than the khinkali you can get in Armenia. I mean, they were still great because how can you mess up khinkali, but I assumed that going to the source would result in a superior culinary experience. This is very Armenian of me. "Yes, khinkali is originally Georgian, but in Armenia, we do it better!" Not necessarily better, but about the same. Like I said, maybe we didn't go to the right place.
The plan for the day was to walk down the main street, Rustaveli Avenue, and take in the sights along the way. The only other thing that I wanted to do was go to the church with the golden top. I had no idea what church it was, but it was bright and shiny, we saw it from every overlook in the city the day before, and I wanted to see it up close.
Our walk took us past the Opera and Ballet Theatre, a gigantic, wedding cake-looking building painted in yellow and maroon. The theatre was completed in 1851 and went through its most recent restoration just last year, so it was at its best for us. I wanted to go inside, but the doors were locked… I suppose that means I have to go back and buy some tickets to see a show! We tried to peer in through the windows which didn't work very well. The glass was too dark to see anything more than the hint of some chandeliers. Darn.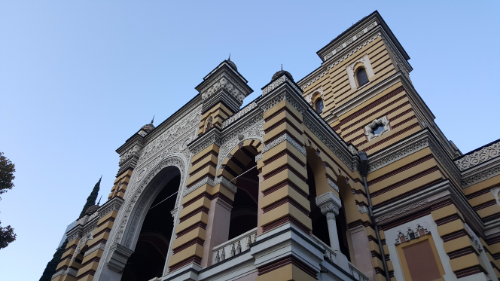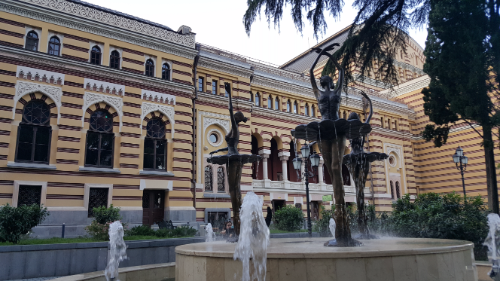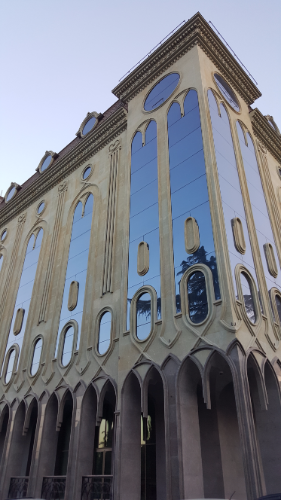 As we continued down the street, we started noticing some interesting outfits. Tara and I were in the middle of a "have you noticed that fashion is way more of a thing here?" conversation when we walked past the building where Tbilisi fashion week was in full swing. Oh. I guess that explains it. We tried to snoop around a bit inside, but we stuck out like sore thumbs in our bland clothing. We couldn't get a good sense of what was going on before feeling like we should get our boring, regular outfits out of there.
We also saw Parliament, the Georgia National Museum, another church (because you can't walk 5 feet without hitting another church), and the City Assembly before hopping on the metro to go see the shiny church! Turns out that church is called Holy Trinity Cathedral, and it's basically the equivalent of St. Gregory the Illuminator Cathedral in Yerevan (with a little bit of Etchmiadzin mixed in). It was built to celebrate 1500 years of the Georgian Orthodox Church, is massive, and is still unfinished despite being "completed" in 2004.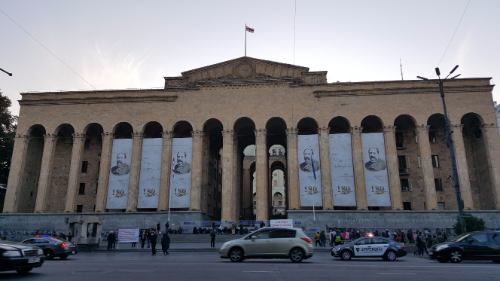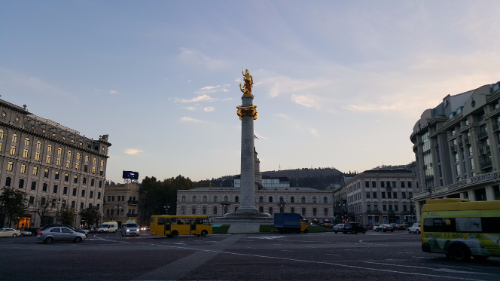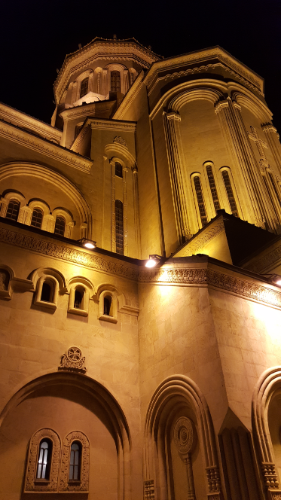 I didn't know it at the time, but apparently, part of the church complex was built over an old Armenian cemetery, Khojavank. It started out as the site of an Armenian church, built in the mid-1600s, and the cemetery grew around it until the 1920s. It contained more than 90,000 graves and was the largest Armenian cemetery in Tbilisi.
The first destruction happened in the 1930s, ordered by a Georgian Soviet politician. The church on the grounds was demolished, and the church materials plus some gravestones and khatchkars (carved cross stones used for a variety of things including marking graves) were taken and reused in the construction of other buildings.
The Armenian Pantheon was opened in 1962 and contained saved gravestones and khatchkars and the remaining graves. When this new church was designed, it supposedly wasn't going to touch Khojavank, but that wasn't true, and a significant part of the park was dug up and destroyed. Armenians obviously weren't thrilled about this, and during construction, they said that it was horribly disrespected. Bones and tombstones were dug up and scattered by excavators before getting carted off to some unknown location. Protests managed to stop construction for a second, but it soon resumed without any changes.
Now, a much smaller Pantheon houses the graves of numerous significant Armenians including Hovhannes Tumanyan (a poet/writer who has a lot of roads in Armenia named after him. Not to be confused with Alexander Tamanyan the architect who ruined Yerevan).
It was fairly dark outside by the time we made it to the church, but we still could have checked out the Pantheon had we known it was there. Some prior research in this situation would have been helpful. That's one of the dangers of just going with the flow… sometimes you miss things. Well, in general, my conclusion after writing about the weekend is that I need to go back to Tbilisi to do the things we didn't have time for, so I'll add that to my list of places to visit.
The church, besides being built on the graves of Armenians, is pretty cool. It's huge. Like super huge. It also has the same number of lights shining on it as the rest of Tbilisi combined. That's made up, but I do have some night pictures of the city where the church is unarguably the brightest spot. It's part of a whole complex that also has a monastery, seminary school, and more.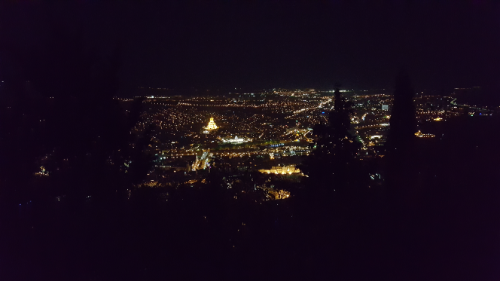 I'm a fan of smaller churches because they usually have more personality, but there were definitely some nice features of this church. The carvings were spectacular. The inside was overwhelming, but honestly, it wasn't my favorite. It was one of those "makes you feel like an ant" churches. I felt like it was too big. That's okay though. I liked the outside much more.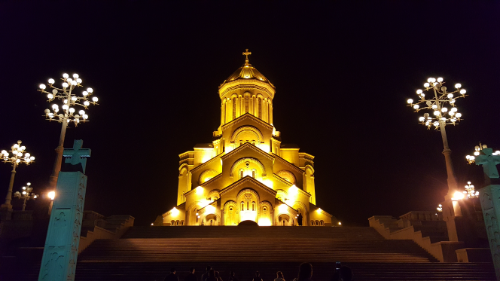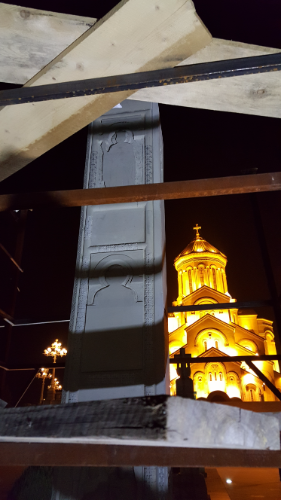 After we finished getting lost in the church, we hightailed it back to the hostel to meet our ride. We had the same driver as on the way to Georgia, and it took the same impossibly long amount of time. I don't know how. We didn't get a flat tire or anything, and it still took seven hours. HOW?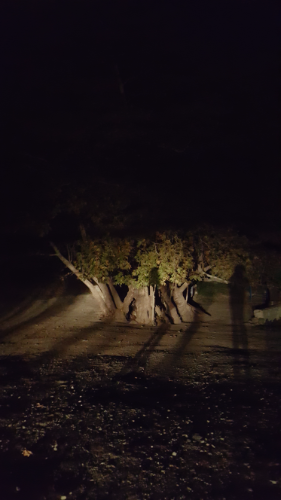 I passed out in the backseat and woke up to us stopping in the middle of nowhere. No lights. If we were in the States, I would have been sure that he was going to murder us, but this is Armenia so that never crossed my mind. My friend in the front seat said that he wanted to show her some tree. What. I got out with them because that sounded sketchy to me, but he literally just wanted to show her some gigantic, hollowed-out tree that has a church inside (of course). It was supposedly planted by Vartan Mamigonian… he's an Armenian saint and military hero who was commander of the armed forces in the 5th century. He and his army fought in a battle against the Persians that is credited with leading to religious freedom for the Armenian people. They lost the battle and he was killed, but he "saved Christianity" in Armenia because eventually a treaty was signed allowing Armenians to worship freely. It's a little depressing that the greatest Armenian military hero both lost and was killed in the battle he's famous for, but we won't get into that. Anyway, what everyone DOESN'T know about Vartan is that when he wasn't fighting battles, he was planting trees in Sarigyugh. I'm sure.
If you look at a map, you'll probably understand why it took us seven hours to get home because Sarigyugh is absolutely not on the way. Oh well. If it made sense, we wouldn't be in Armenia.