Here we go, back at it! To reorient you, we're in England. I spent a few nights in Bristol on the suggestion of a random couple I met in Georgia, and while I was there, I did a couple of day trips: one to Bath and one to my final random-stranger-selected destination of the UK, Cardiff. Here's where I once again embarrass myself by admitting that the only thing I knew about Cardiff was that it's in Wales, and I only knew THAT because the previously-mentioned random strangers told me as much. It took me more than half the day to realize that Cardiff isn't just some city in Wales, it's the capital. Only slightly more embarrassing is the fact that I learned this from the city buses, branded as, "capital transport for our capital city". Oops. On the bright side, travelling alone means less talking which means less opportunity for me to accidentally say something stupid before I figure things out.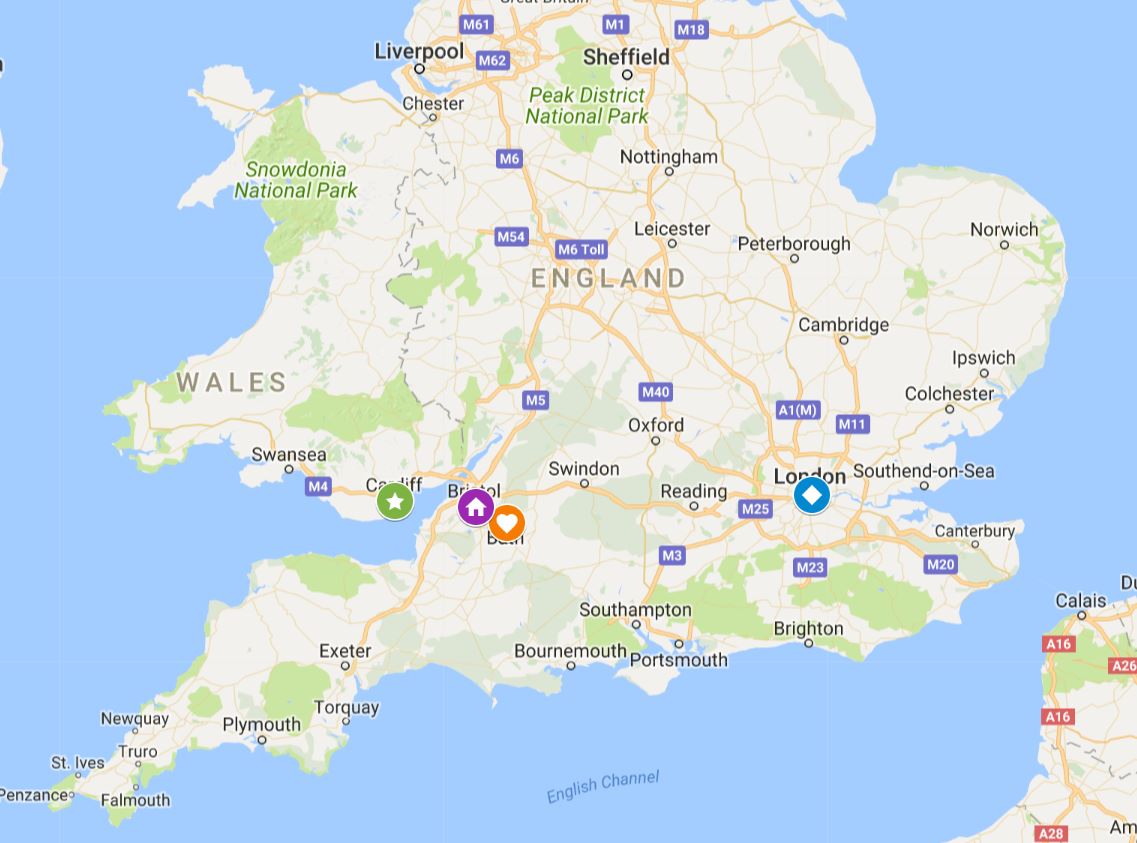 For anyone confused by the whole UK/Great Britain/England thing, here's a five-second explanation. England is a country. Great Britain is the name of the island that contains the primary land area of England, Wales, and Scotland. The UK (United Kingdom of Great Britain and Northern Ireland) is a collection of four countries: England, Wales, Scotland, and Northern Ireland. London is the capital city of both England and the UK as a whole. The UK countries have the same currency, military, and overall government (the Queen, Prime Minister, and the two Parliamentary houses), but they are four distinct countries with their own smaller executive governments, education systems, cultures, flags, and even languages. There are four Celtic languages spoken in various parts of the UK. In Wales, about 20% of the population can speak Welsh. Fun side fact: the blue, white, and red UK flag is the one you're probably most familiar with. It's a combination of the flags of England, Scotland, and Northern Ireland.
That was more than five seconds, I know, but even that is a SUPER simplified explanation. The full details are enough to make your brain explode. Now that we have the essentials covered, here we go. Once again, I was advised that the best way to get to my destination from Bristol was the train. I still don't understand how the train can possibly be the cheapest option, but I'm not going to question it!
When I walked out of the station in Cardiff, I had this feeling that I couldn't completely understand… I felt like I had been there before. Things seemed familiar. Since I had definitely never been to Wales, I disregarded my feeling and kept moving. But still, it was disconcerting.
My initial thoughts:
Wow it really does look different than England! (*facepalm* at my ignorant past self)
There are so many flags here! Guess they don't want you to forget that you're in Wales! (Yeah, plus it's the capital… silly Lara.)
Is that Welsh on those signs? Whatttttt? HOW DO YOU PRONOUNCE THAT?
Hm… sooo where should I go?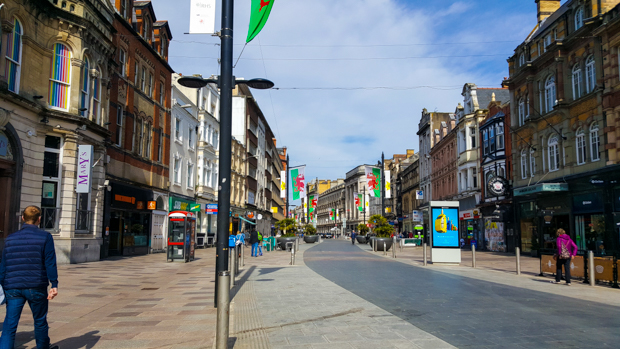 I guess maybe I should've done some planning beyond flagging things on Google maps on the train ride from Bristol. It's hard to plan when you're going somewhere new every day! So maybe it wasn't my best-planned day, but I knew I at least had to go to Cardiff Castle and decided that the rest would work itself out.
I have a never-fail strategy for times when I don't know where to go: Look at the people around you, and walk like you have a clue. I followed the crowd, impulsively turned into a cool-looking building, and found myself in the central market! Okay, so I didn't actually realize that's where I was until after I walked out… Whoops! Thank you, GPS and Google maps. But it was on my list of things to see, so be impressed with my intuition and natural directional abilities. The market has two levels – the ground floor and a balcony that wraps around the perimeter. It's been around since 1891, and the stalls sell a WIDE range of things, from produce and prepared food to souvenirs and vintage vinyl (side note: in case you were wondering, there is such a thing as NON-vintage vinyl. Apparently, vinyl is making a comeback and you can actually get records for new music). I had fun just walking around and checking out the offerings.
From there, I made my way to Cardiff Castle, popping into St. John the Baptist City Parish Church along the way (I think they need a few more words in that name. Way too short).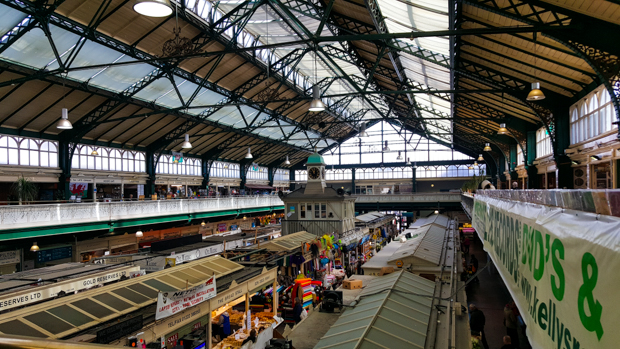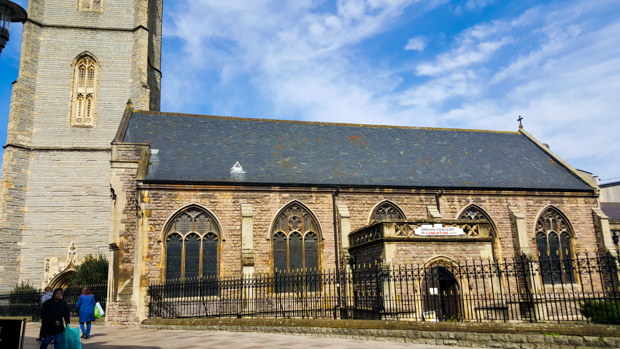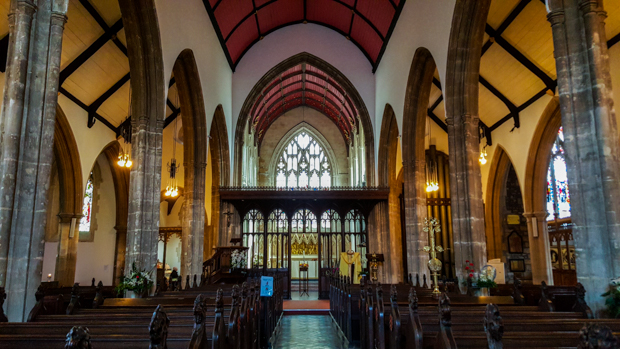 The first known fortification at the site of the castle was a 3rd-century Roman fortress, but there were probably smaller Roman defenses there starting in the 1st century. It still blows my mind that the Roman Empire stretched all the way to Wales. I know it was huge, but like… whoa. After that, a castle was built on the site in the 11th century. Throughout the years, it was held by various forces and owners who all made their own additions and modifications. It didn't become the property of the city of Cardiff until almost 1950!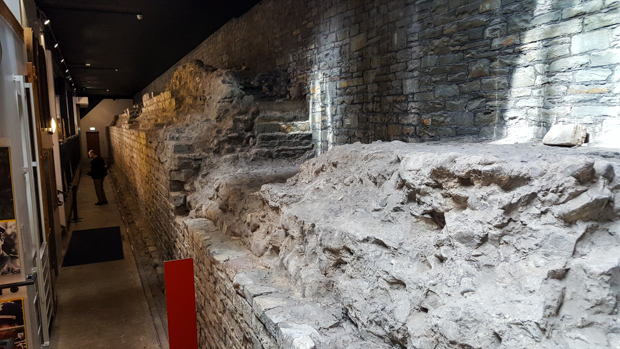 I don't know if I've mentioned this before (just kidding… I'm sure I've mentioned this at least 100 times), but I LOVE CASTLES. Sometimes when I say that, especially in front of jaded backpackers who have been wandering around Europe for far too long, the response is an eye roll, a knowing smile, and the question, "How long have you been in Europe?" Their assumption is that I haven't spent much time in Europe because if I HAD, I would be bored with castles like they are because EVERY town has a castle and they think they're all the same and oh how cute that this little amateur traveler still finds castles exciting. You know what I have to say to those people? I have been to A LOT of castles, and guess what? I still think they're all exciting. And a lot of churches. And I've walked a lot of bridges and visited a lot of cities and seen a lot of amazing views… but I'm not sick of any of those either. I think that if you're sick of those things, you need to go back to wherever you lost your "awe" glasses and put them back on because the fact that other amazing places exist doesn't make the one you're at any LESS amazing. End rant. Sorry. I had to get that out. But seriously. If you're travelling and you're not surprised or amazed by anything, take a pause and check yourself because the world is freaking incredible. Okay, NOW I'm finished.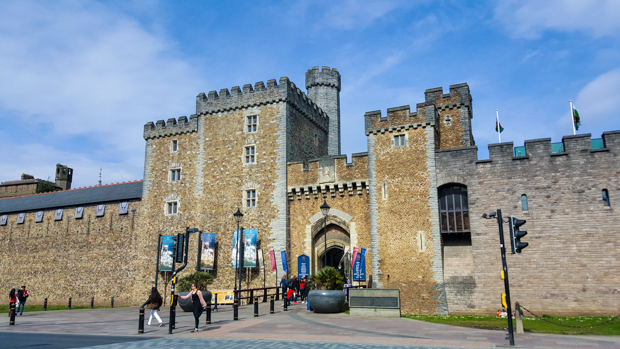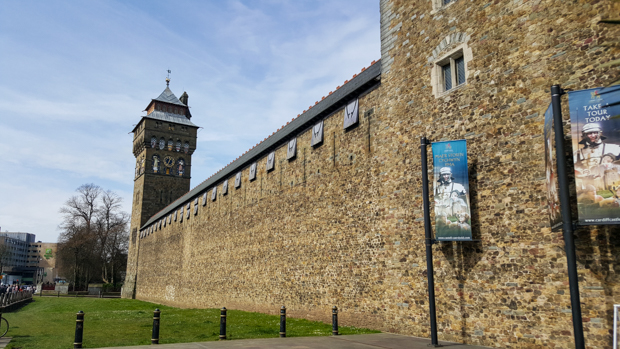 Like I was saying, I LOVE CASTLES. Even better if you can walk along the walls because my favorite thing to do (feel free to judge me for this) is walk along the walls and pretend I'm a princess. Or better yet, a queen. (As I get older, I more often go in the queen direction.)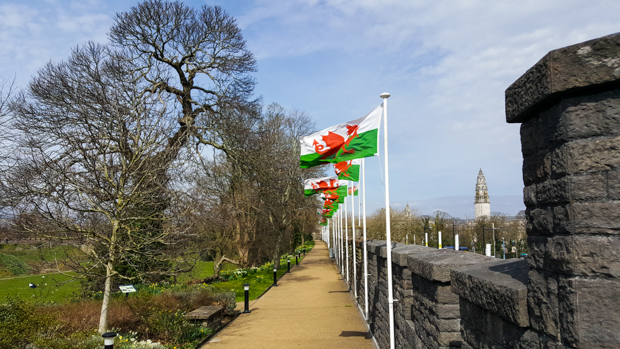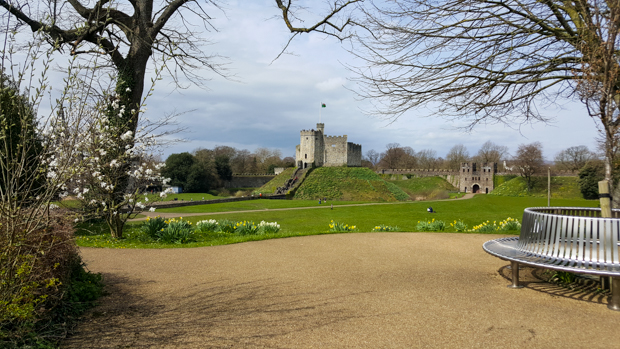 I had no idea how many parts there were to the castle complex. After my regal wall-stroll, I went INSIDE the walls. During World War II, the walls were used as air-raid shelters and could hold almost 2,000 people! As an important port city, Cardiff was heavily bombed during WWII, killing hundreds of civilians. In case you had trouble imagining that terrifying experience, there was a soundtrack that included air-raid sirens and planes flying overhead. I closed my eyes and tried to imagine how it felt. Total darkness. Stale air heavy with fear. Silence except for the sound of breathing and the occasional cry of a child. Feeling completely powerless. I started feeling claustrophobic and had to go outside.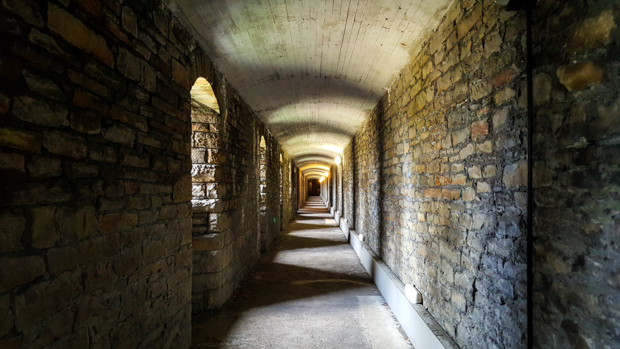 ---
---
---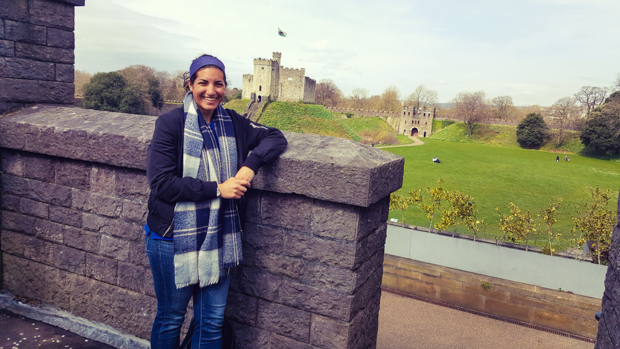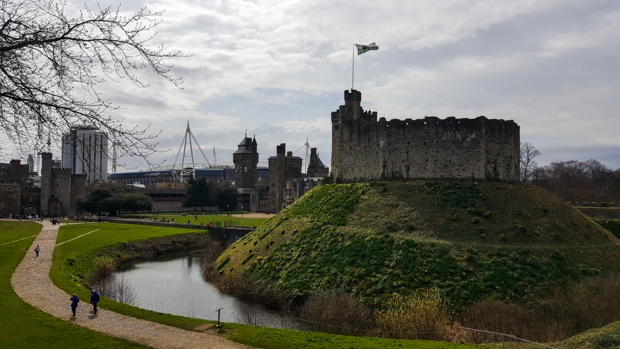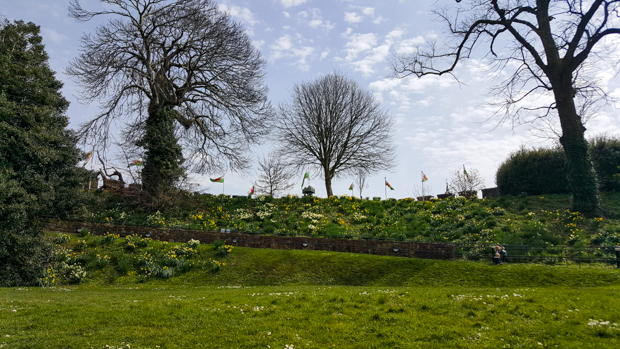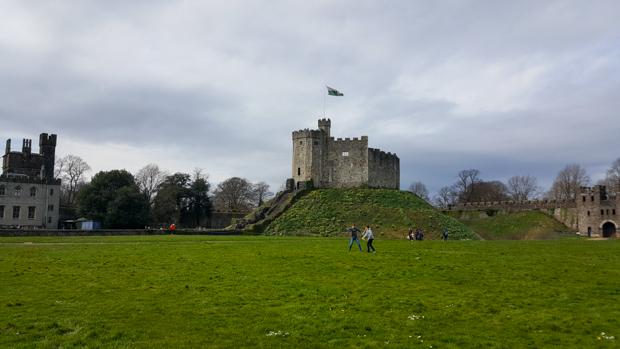 After leaving the walls, I climbed up to the keep. The current structure was built in the 12th century, and for those of you unfamiliar with castle terminology, was the main stronghold of the castle. This one is basically just a very tall stone cylinder on top of a very natural-looking hill (or motte), and from the top, there's a nice view of the city.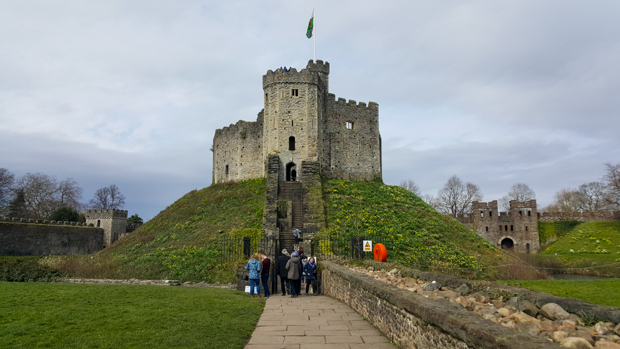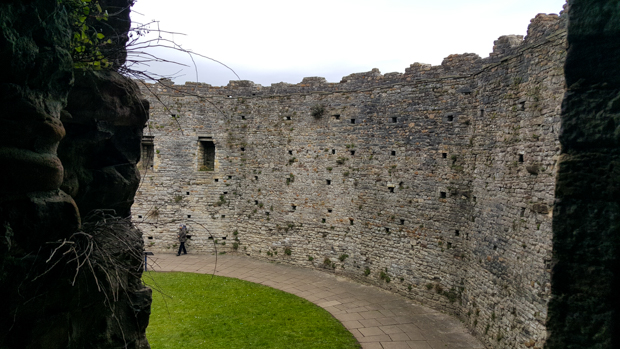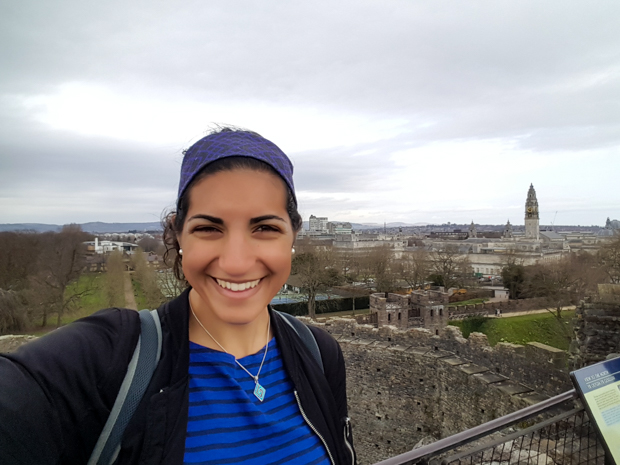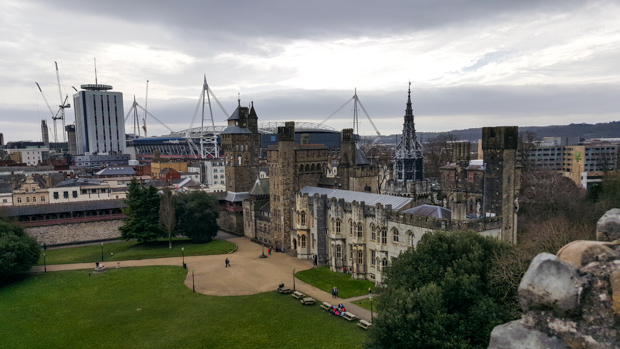 The last building inside the castle walls is the "House" (their words), or more accurately, the mansion. The first structure was built in the early 1400s, but practically every subsequent owner made modifications, giving it a strong architectural-collage vibe.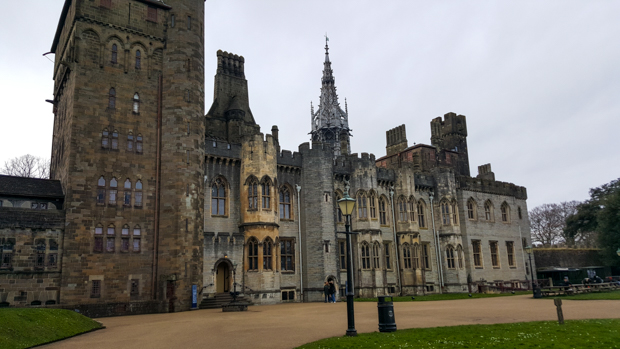 The inside of the mansion was predictably lavish, but the décor was surprisingly varied. There was one room called the "Arab Room" that was definitely not what I was expecting to find in Wales. Then, the next second, I was in the banqueting hall that looks like the set of a movie in the Middle Ages where people are meant to be swigging beers and slamming their glasses down on the table. There's also an absolutely amaaaaazinggg library where I wanted to touch everything and, of course, was allowed to touch nothing.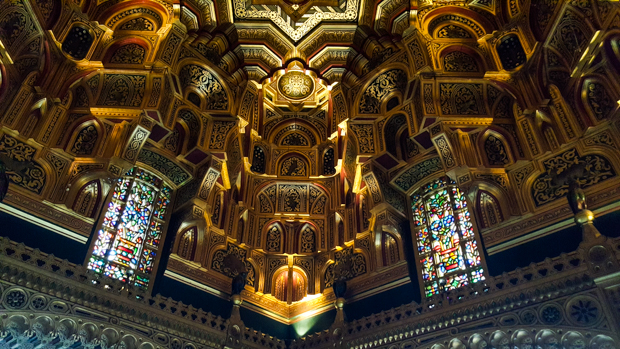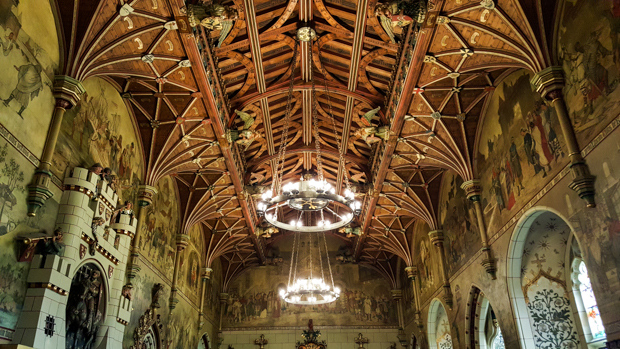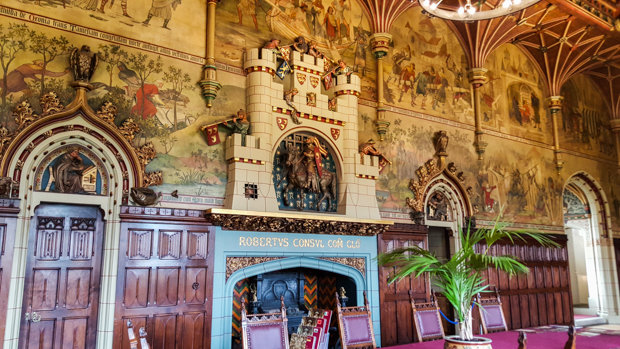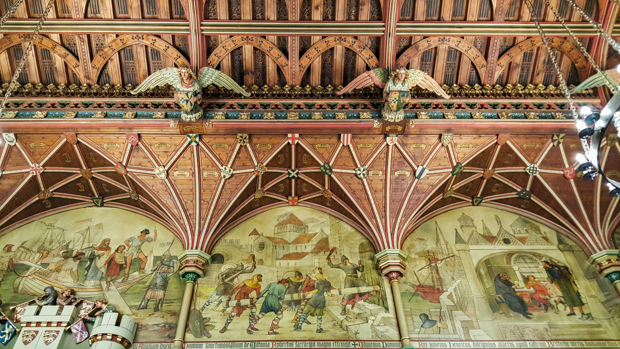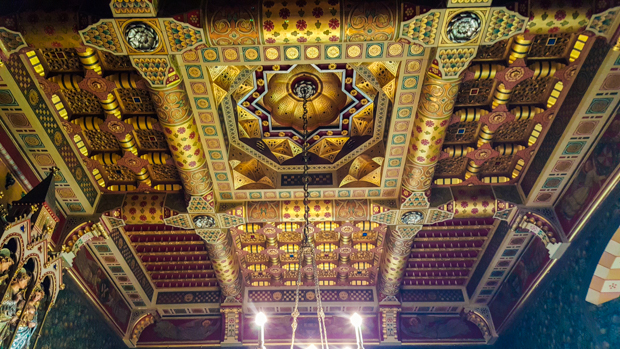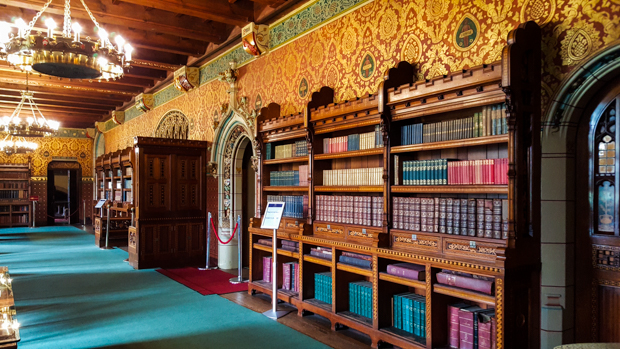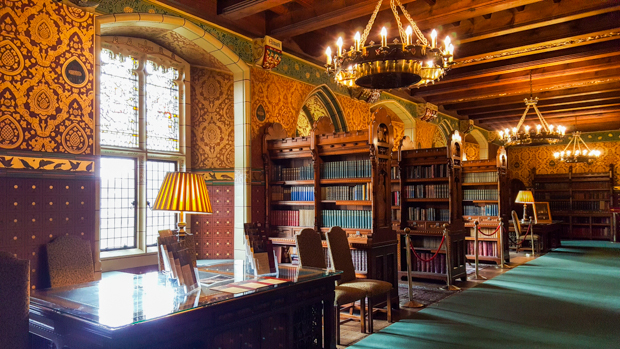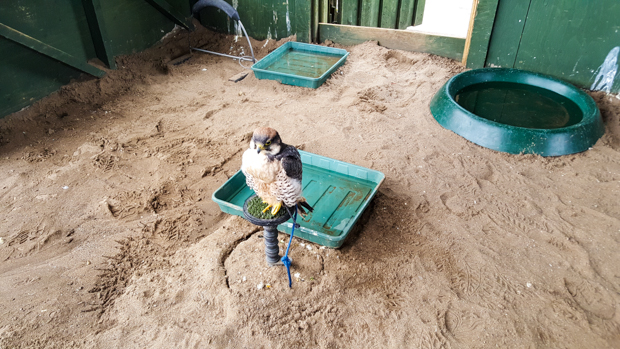 I was all castled-out after I finished walking through the "House", so I started the long walk to my next destination, Llandaff Cathedral. To be honest, I have no idea why I decided to go there. I saw it on the map, decided it might be nice to walk around a bit, and apparently wasn't deterred by the fact that it was three miles away… ha. I tried to at least pick a scenic route through some parks, and I saw lots of normal people doing normal things. That's another one of my favorite things to do when I'm travelling: wander into the parts of the city where regular people live life.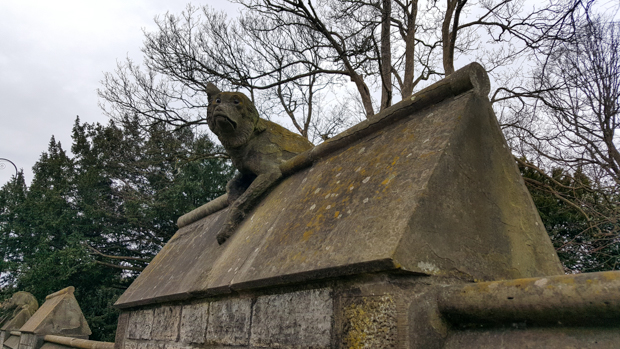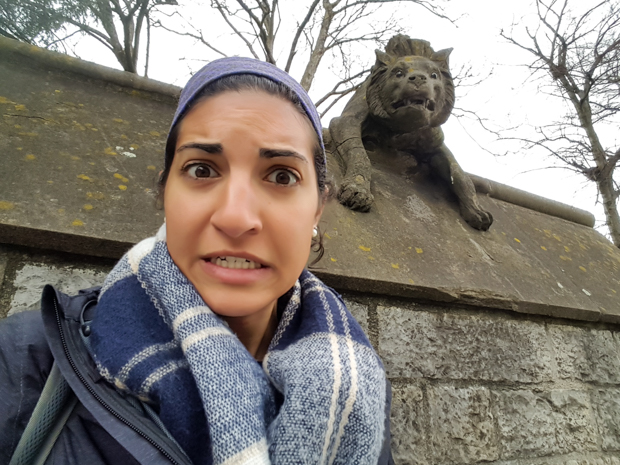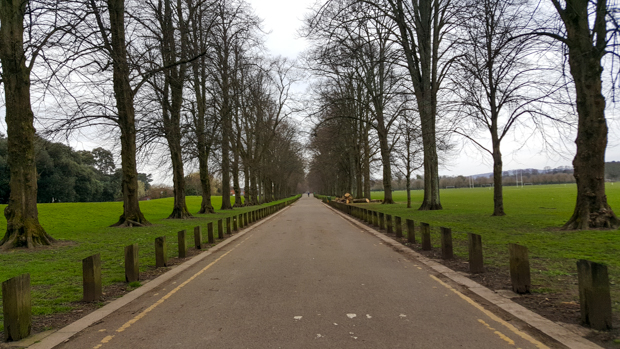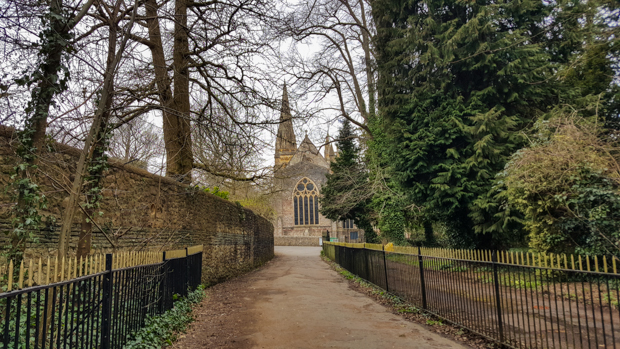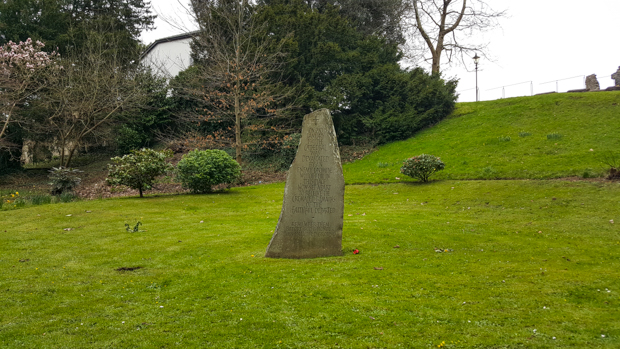 The cathedral was massive and beautiful, as expected. The current building isn't actually that old because it was built after WWII when the previous building was severely damaged. I wandered through the church and around the nearby neighborhood before heading back into town.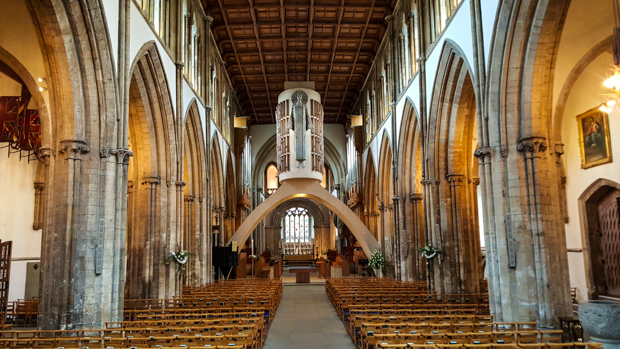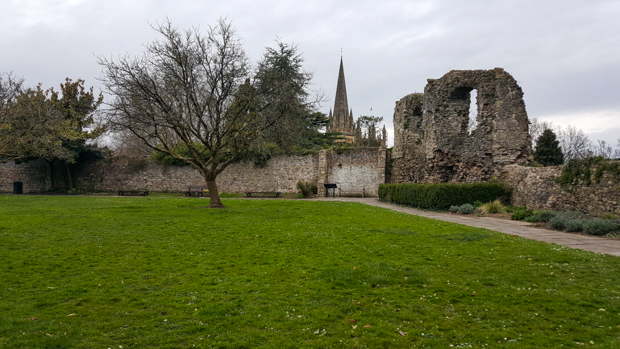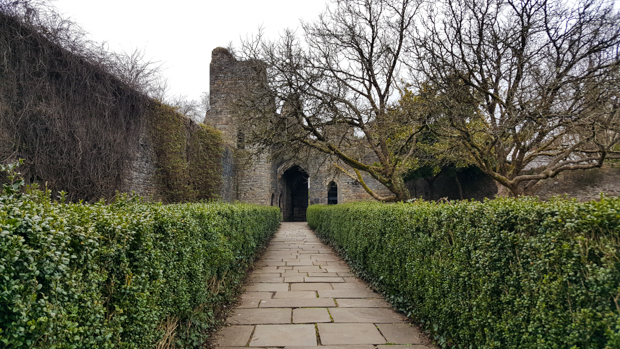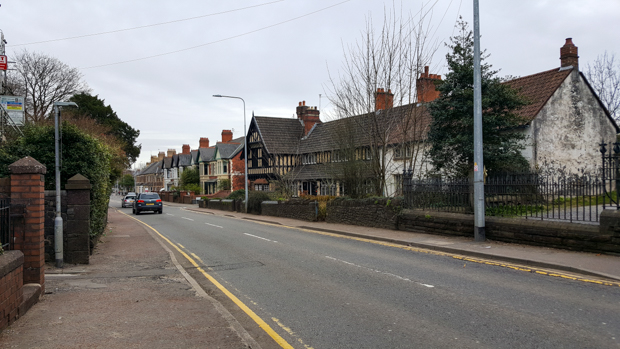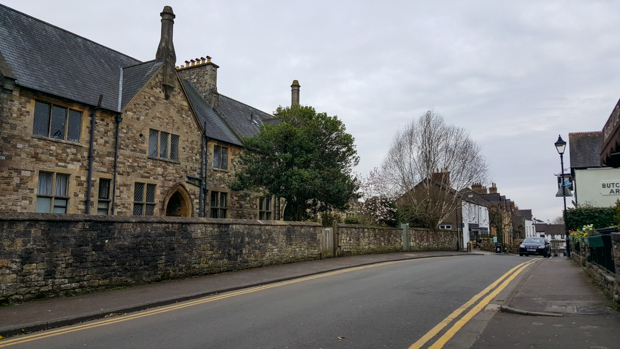 I still had a few things that I wanted to see down on the waterfront, but when it started drizzling and I was near the train station anyway, I decided to call it a day. Plus, my feet were hurting. A couple minutes later, I patted myself on the back for a well-made decision because it started POURING rain. No, thank you!
At the end of the day, after all of my wandering across the universe, I still couldn't shake the feeling that I had been to Wales before. The houses, the terrain, the names of places… everything seemed too familiar. It wasn't until a couple days later that I realized the reason why. Many of the early settlers of the area where I grew up in Pennsylvania were from Wales. In fact, the Welsh Quakers were granted a large tract of land west of Philadelphia and even attempted to make it a separate county with a local government that operated in Welsh. They established settlements with Welsh names, some of which have carried on until today, such as Bala Cynwyd, Bryn Mawr, Berwyn, etc. If you're looking at those words and wondering how the heck you pronounce them, exactly.
So, there you have it. The very long story of how I went all the way to Wales just to realize that I could have walked around at home and gotten the same effect.