Our first full day started out bright and early with a 7AM bus pickup from our hostel. In writing that, I realize that 7AM isn't actually that early, but on vacation after a day of travelling… just give me this, okay? This was our only day with an actual organized tour, and it was nice to not have to think for ourselves on our first day. We were headed to nearby Glaciers National Park for a glacier trekking (aka WALKING ON A GLACIER HOW COOL IS THAT) tour on Perito Moreno Glacier.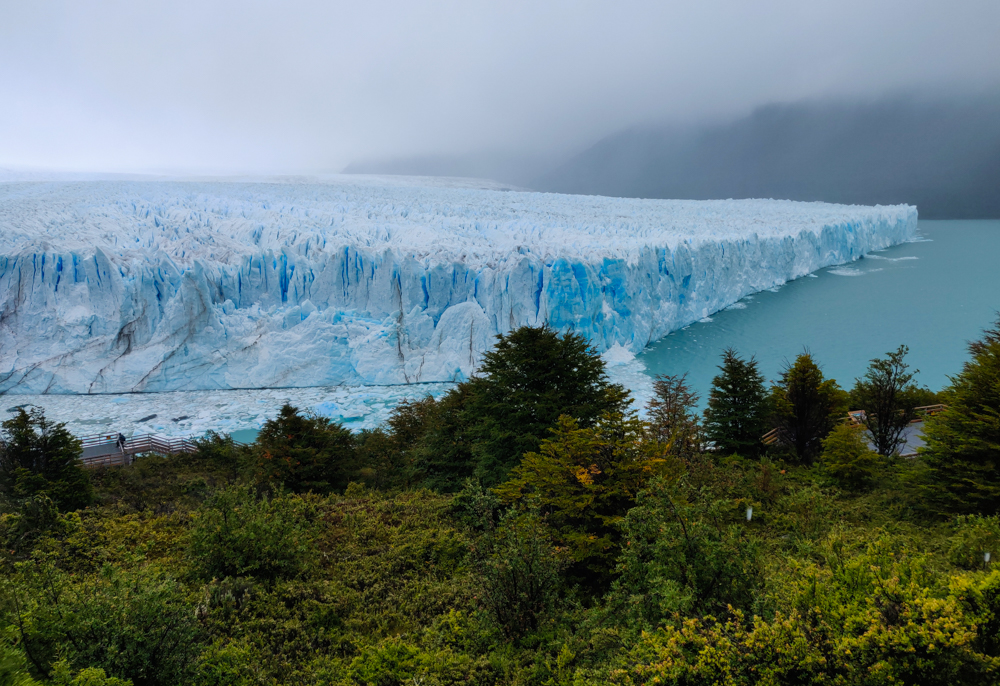 The bus ride from El Calafate to the park entrance took about an hour and a half, and we were thinking that we got lucky with the weather because it was a beautiful day. NOPE. Almost as soon as we entered the park, it started to rain and the bus windows fogged up, making it seem even more dreary and impossible to see outside. The tour guide explained that it rains VERY often in the park. Even though it's not too far from El Calafate, it gets an average of 900mm (35") of rain annually, and El Calafate gets around 200mm (8"). So yeah… minor difference.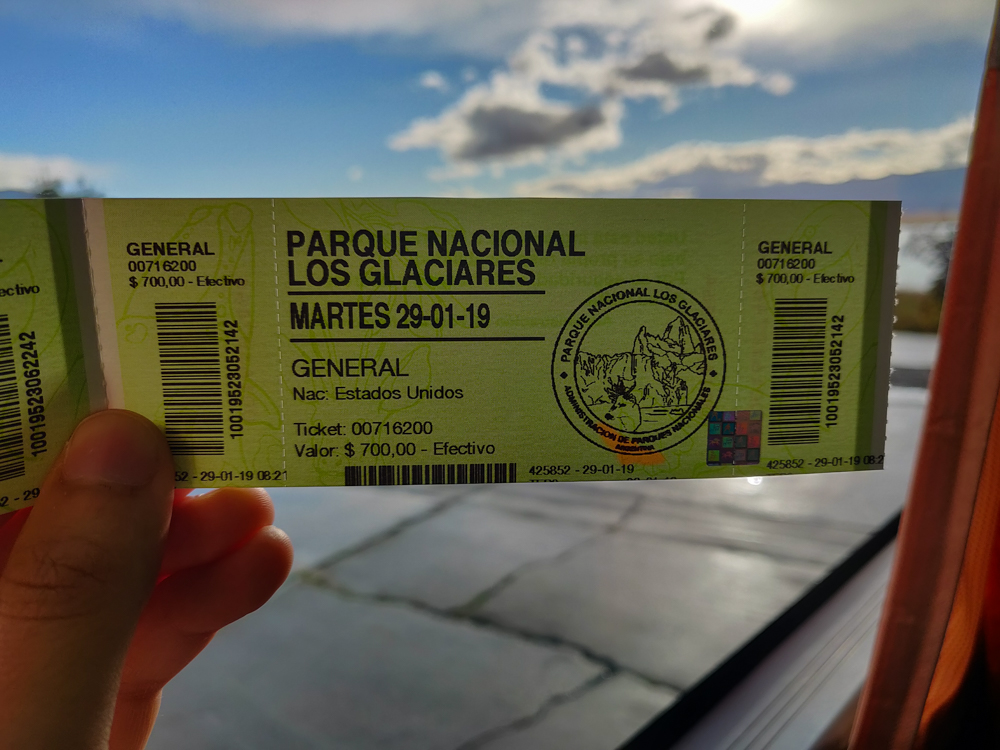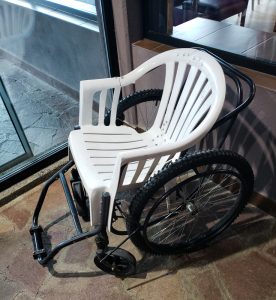 At our first stop, we got to see the glacier from afar. There are a bunch of metal walkways where you check out the glacier from different viewpoints. Of course, Mike wanted to walk on as many of them as possible, so we added a couple of little offshoots onto the route that the guide recommended. She also stressed that since it was raining, we should be extra careful because the walkways get slippery in the rain. I'm sure you know where I'm going with this… I ate it. Hard. I slipped down a flight of maybe 6 stairs and stayed on my butt at the bottom for a second to figure out how I was feeling. I could tell my legs were a little banged up, but I felt okay until Mike said, "Your thumb!" and I looked down to find a huge gash in my finger. Perfect. Fingertips love to bleed, too. Thankfully, we were nearly finished with our wandering at that point (and the views were beautiful, by the way, even with the rain and the freezing cold and my bleeding finger), so I didn't have much more to endure before we got back to the bus and the guide hunted down a band-aid for me.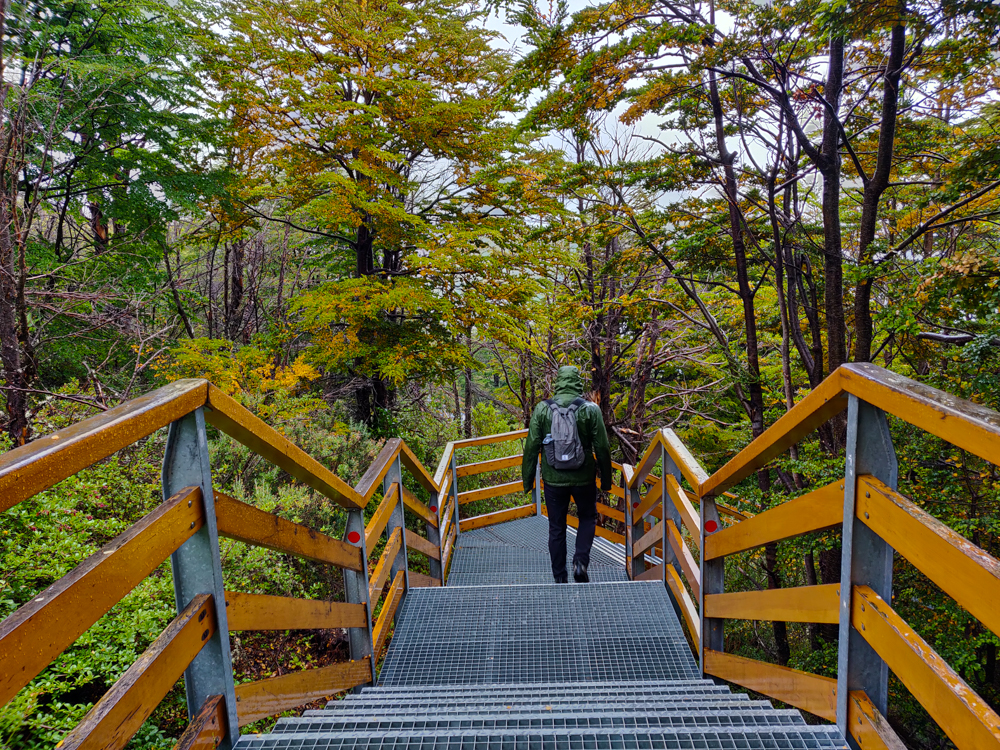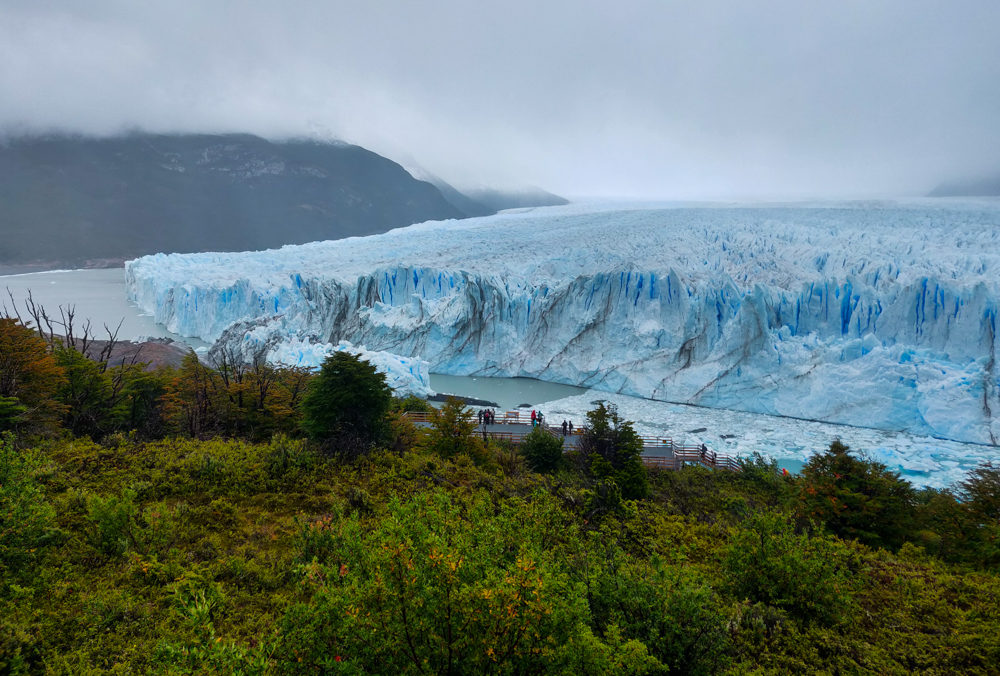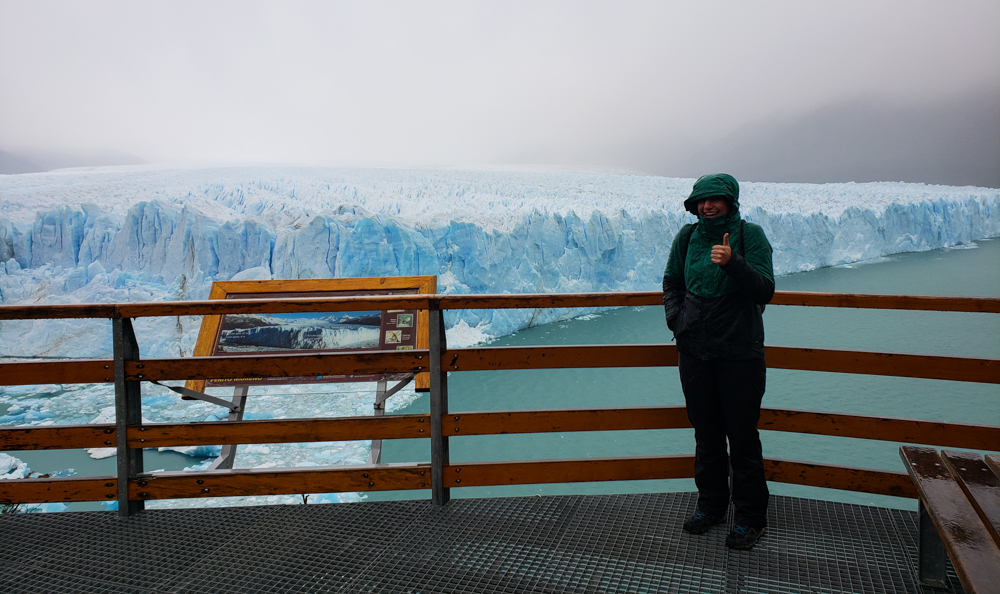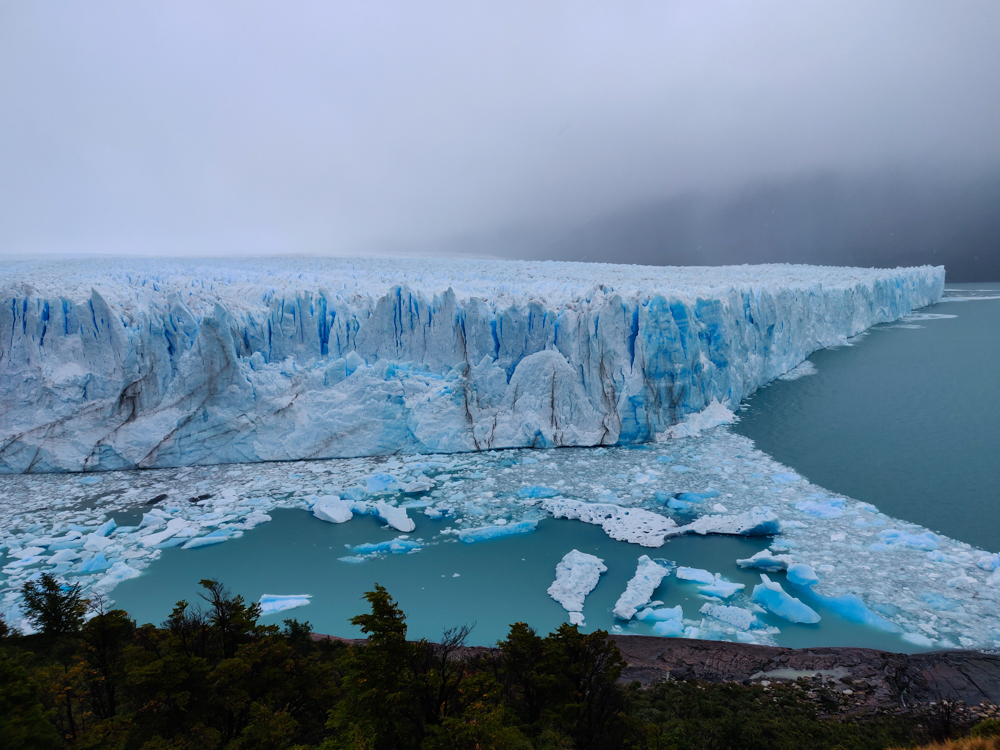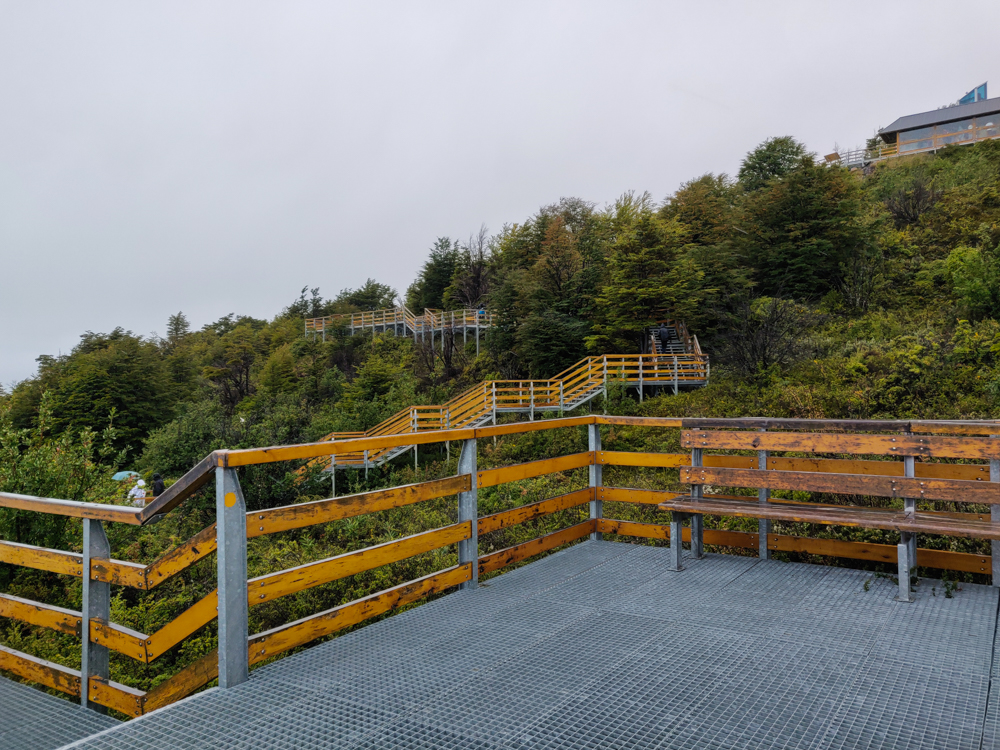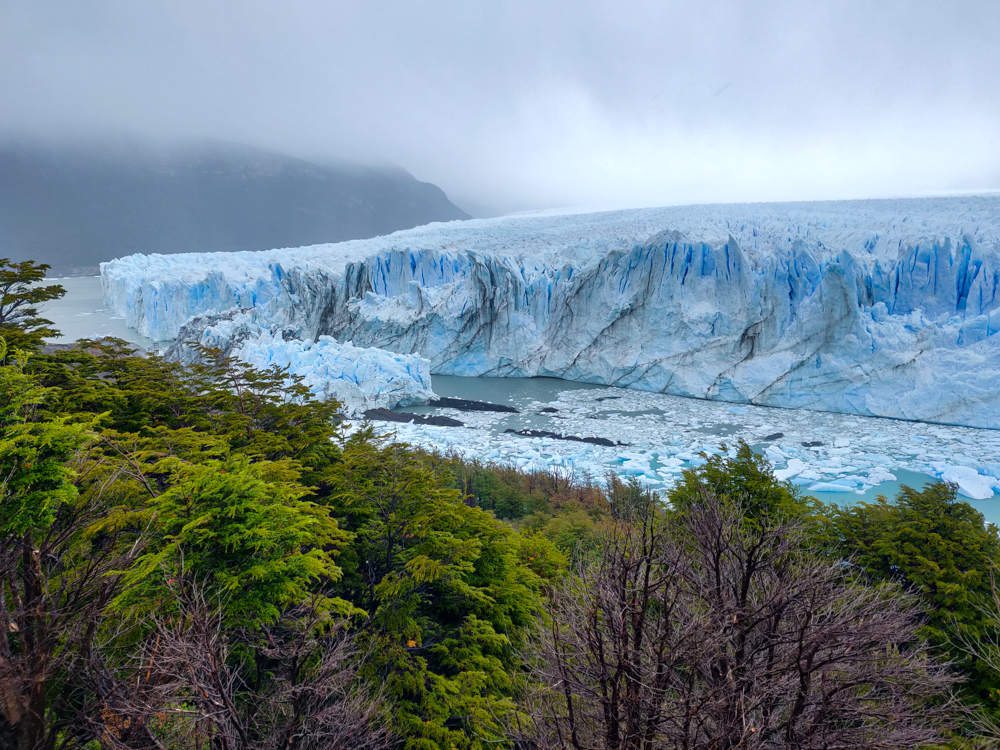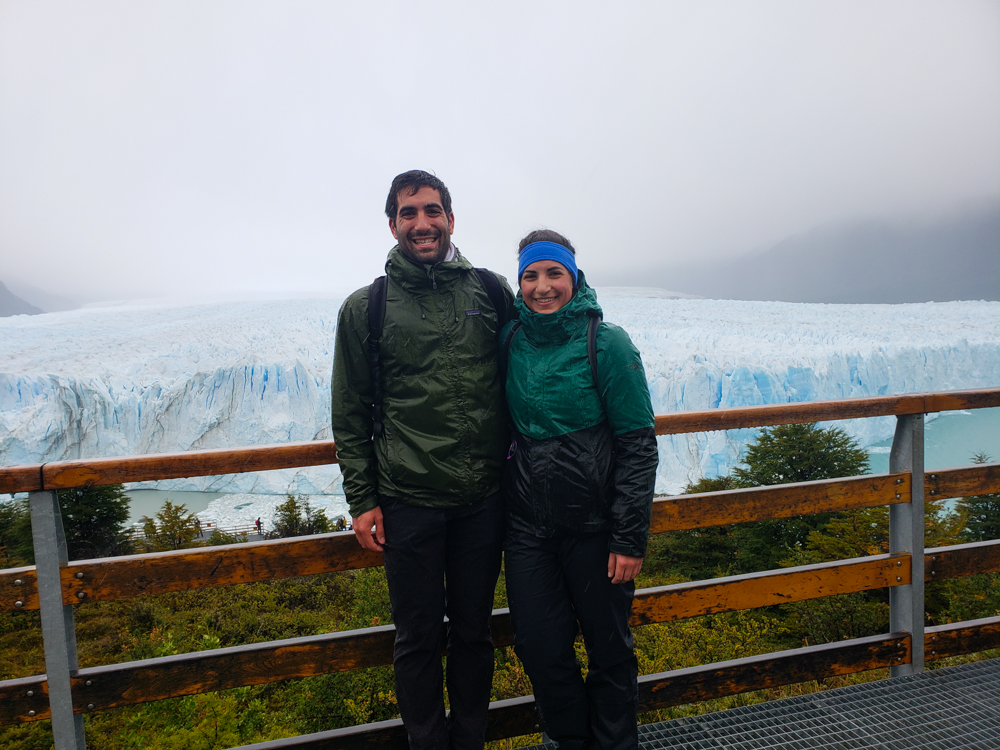 The next part of the tour was the main event: glacier trekking. The bus dropped us at a boat where we all loaded up to get closer to the glacier. It dropped us off across the lake, and we started our land trek to get to the starting point of the glacier trek. Along the way, we made a few stops to get suited up in our gear. First, we stopped in these little cabins where you could leave your stuff, and there, the guides outfitted people with the things that they absolutely should have brought with them… things like waterproof shoes (because walking on a block of frozen water in sneakers seemed like a good idea??), waterproof jackets (they tell you to expect rain), backpacks, etc. I was baffled by these people. Some were wearing jeans aka not what I would choose for physical activity and also the worst thing to wear when it's wet and rainy. Did they get on the wrong bus? Come on people, pull it together.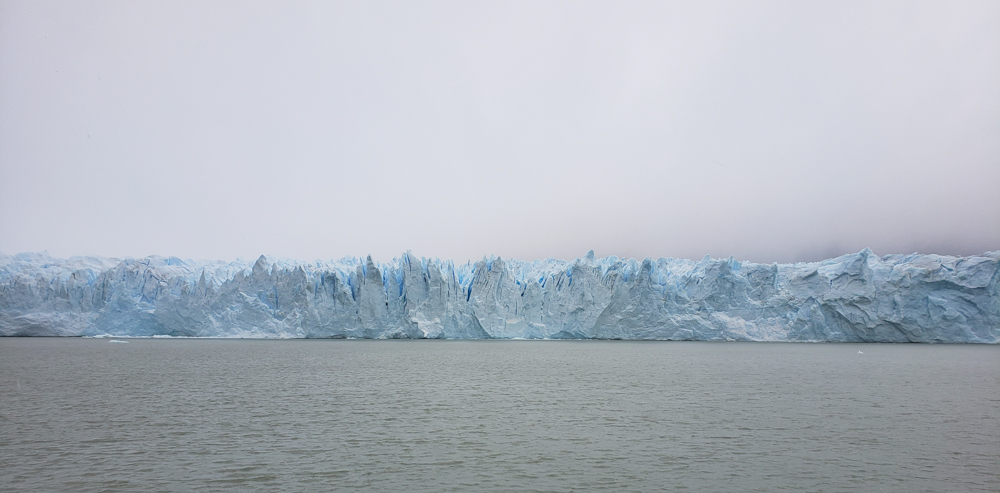 Once the group was appropriately dressed, we headed back out into the rain (much to everyone's dismay) and walked maybe 15 minutes to the first basecamp where we were outfitted with harnesses and helmets (which we didn't use at all, but they said it's protocol so you have to wear them). Then, we walked another 40 minutes or so to the second basecamp. This walk was through the woods, mostly uphill, and I was ready to collapse by the time we got there. Good, right? Considering we hadn't even started the walking-on-ice portion of the day.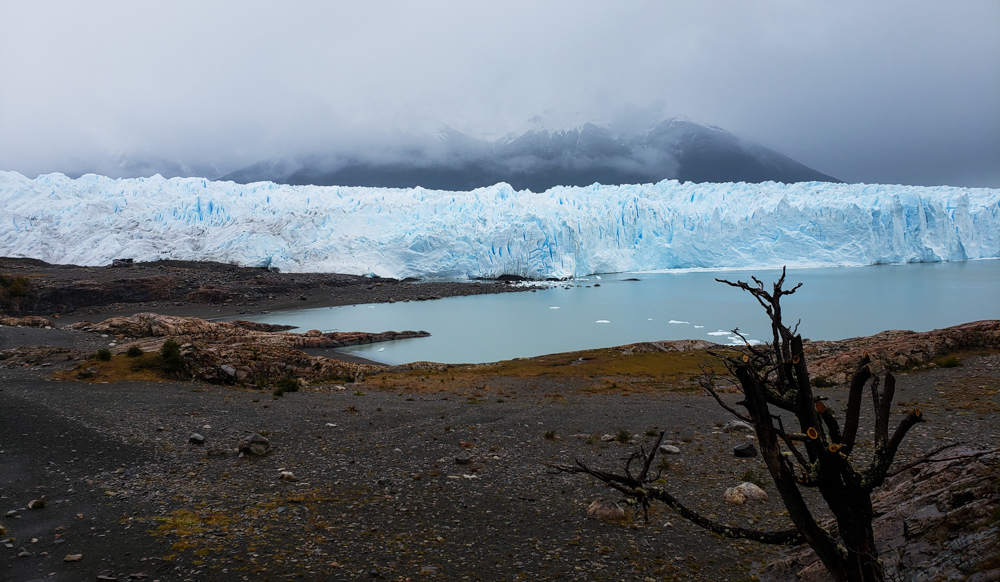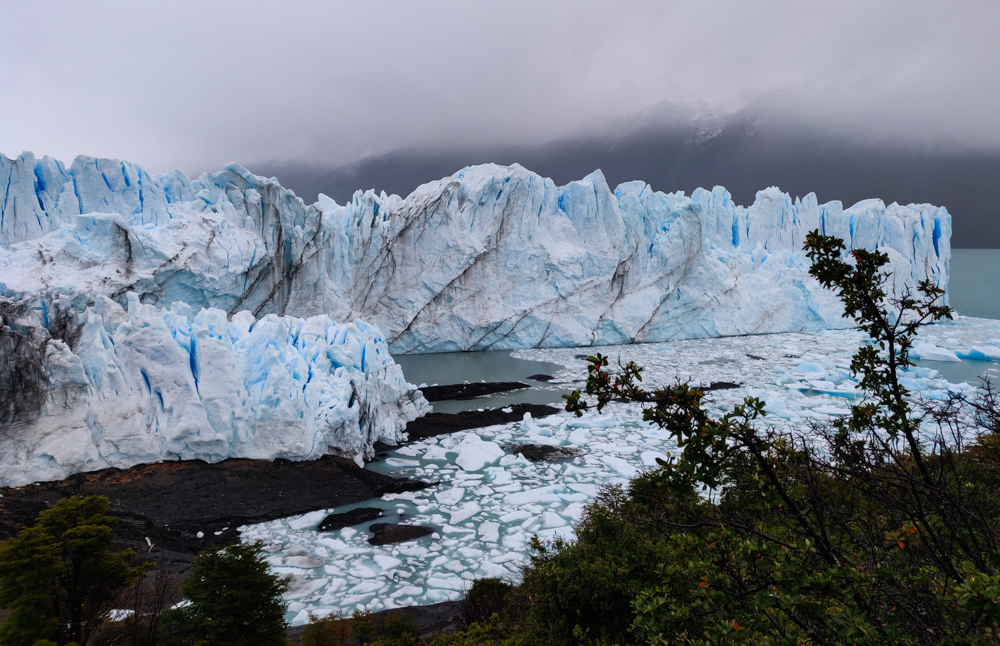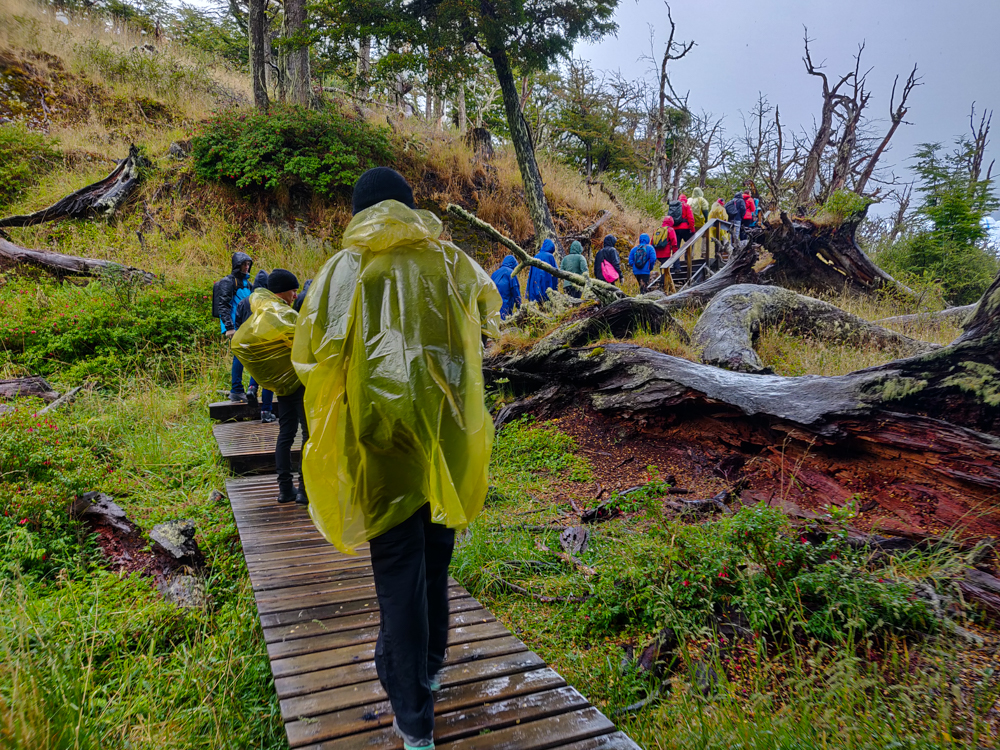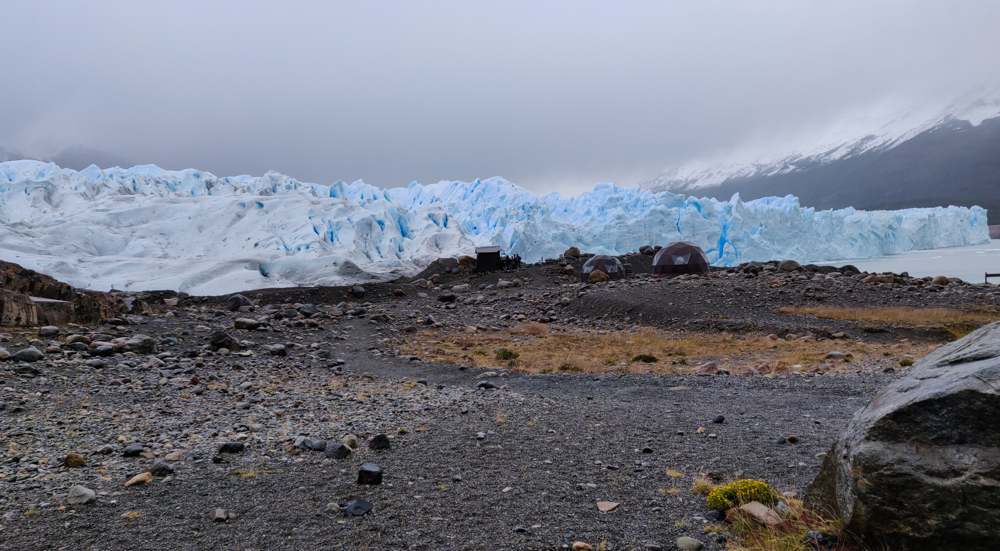 At basecamp #2, we were fitted with crampons. Prior to this trip, the crampons I was familiar with are those little metal claws that you wear to walk on icy sidewalks. These… these were not like that. It's more like having the tips of six spears coming out of each foot. The guides told us to be careful not to spike ourselves or get our feet hooked on each other. Eek.
With our crampons in hand, we walked the last 10 minutes to the glacier where the guides helped us put them on. First though, we had to walk like 20 feet onto the ice without them, and it was terrifying. After that, you don't question why they're necessary!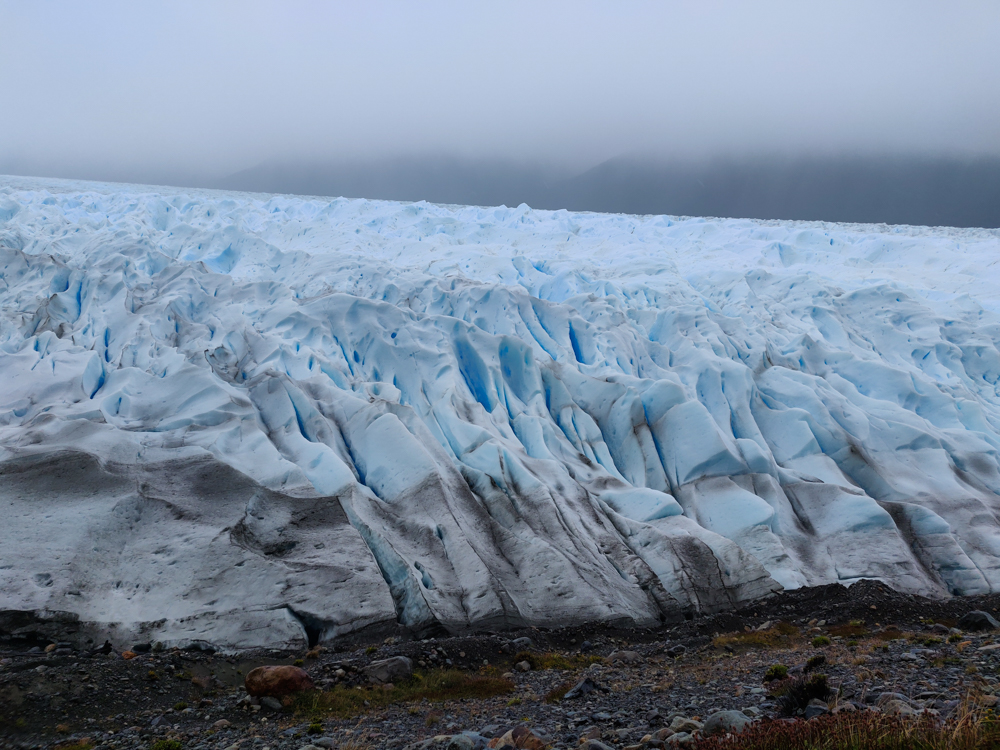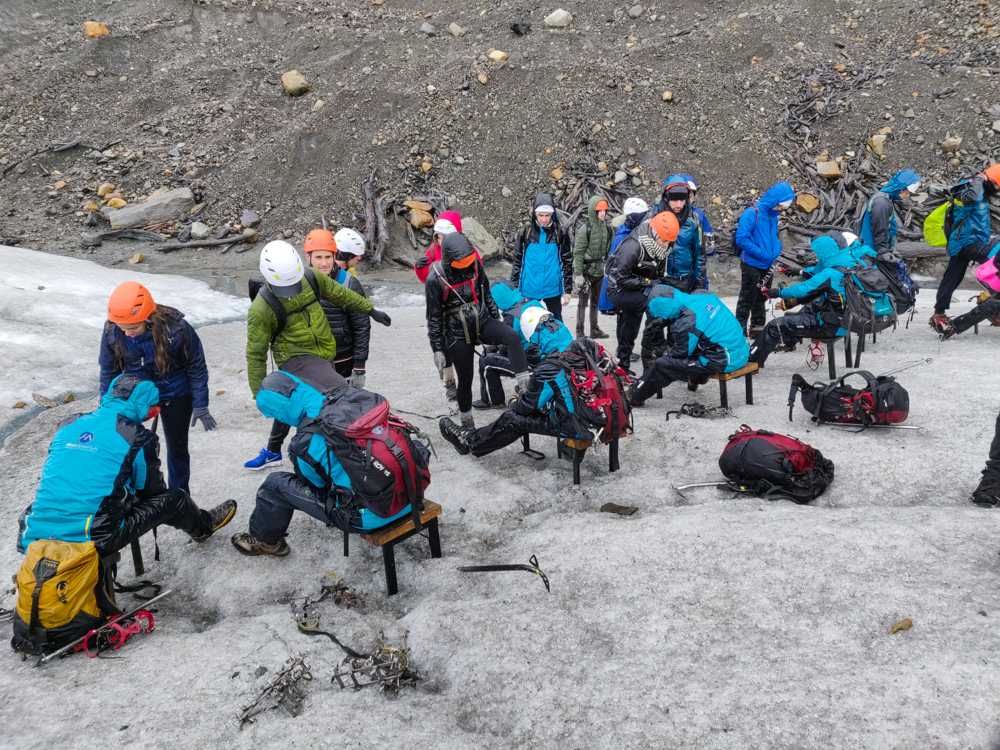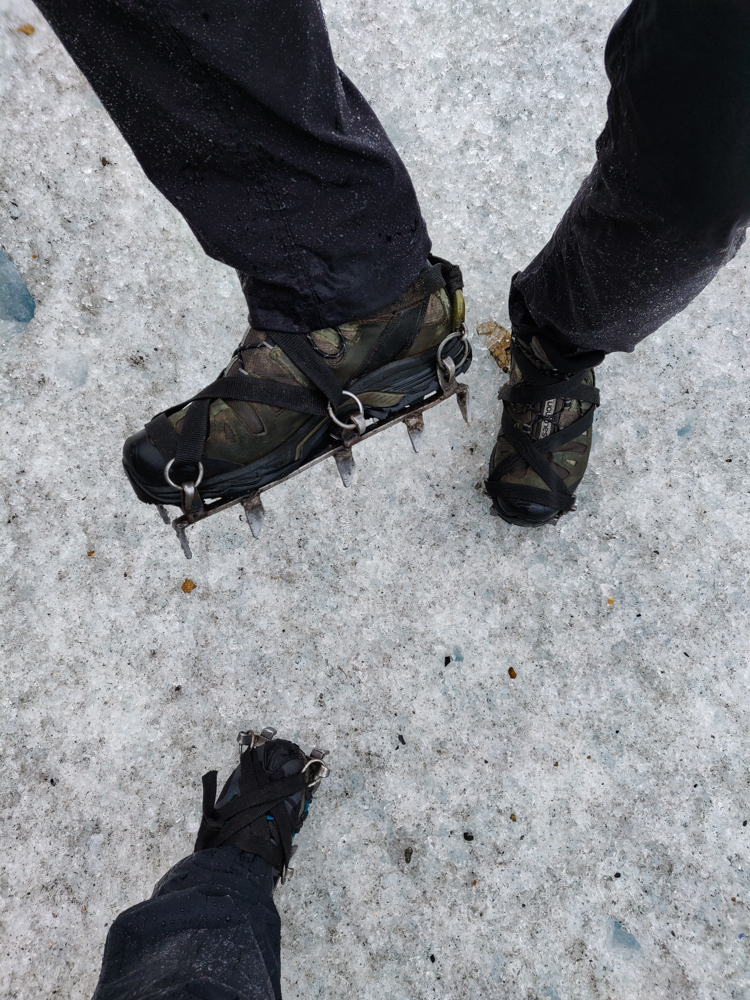 First thought, "My gosh, did they just strap anvils to my feet? SO HEAVY." Step, step, step. Second thought, "Thank goodness I have these anvils on my feet!" We divided up into smaller groups and headed out into the icy expanse. From afar, a glacier really looks like it's covered in snow. It's not. It's ice. All ice. (I mean, there's snow in the places where it's snowing… but where we were, no snow.)
Near the edge especially, the ice was in these huge waves, and looking at it, I had no idea how we were going to go anywhere. We started walking up and down and up and down them, and the crampons are like magic. I felt like I had superpowers! (Possibly the world's lamest superhero.)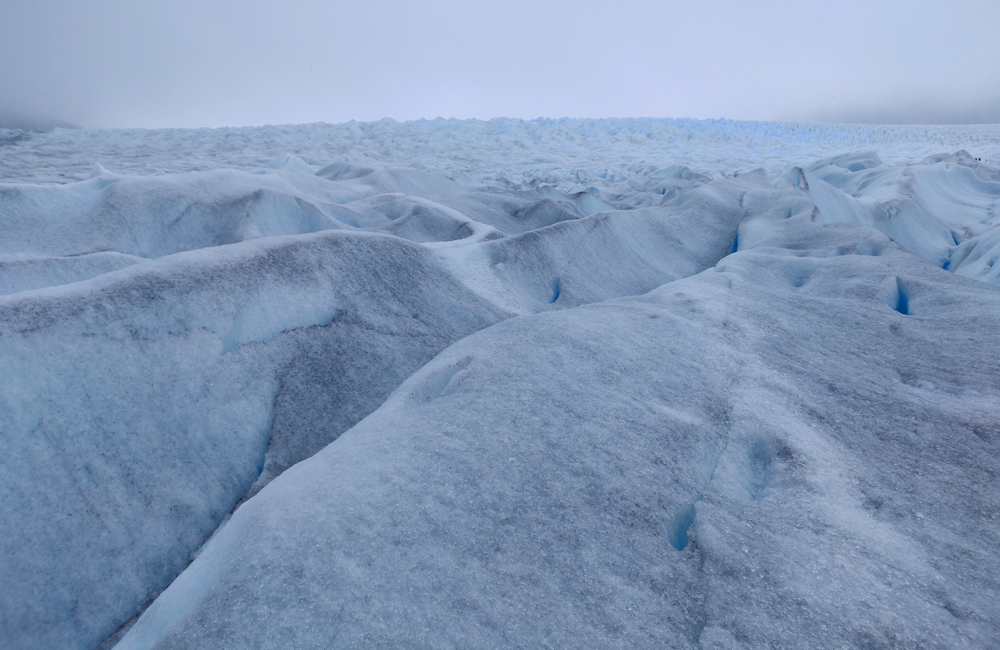 The glacier has two main areas to it: the accumulation zone and the ablation zone. The accumulation zone is the upper part where it snows a lot, adding volume to the glacier. The guide said that it snows there around 300 days a year! We were in the ablation zone where the ice is melting and moving, so you can find rivers and lakes on the surface. Since the ice isn't all moving at the same speed, sometimes it splits apart and forms these crazy deep cracks filled with the bluest water I've ever seen.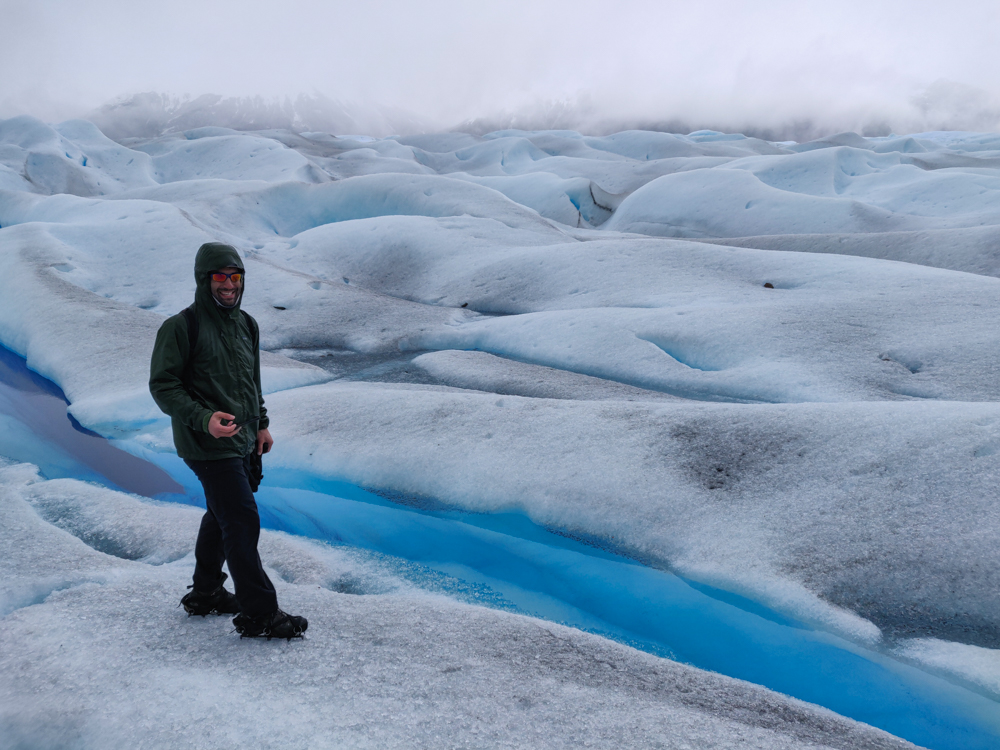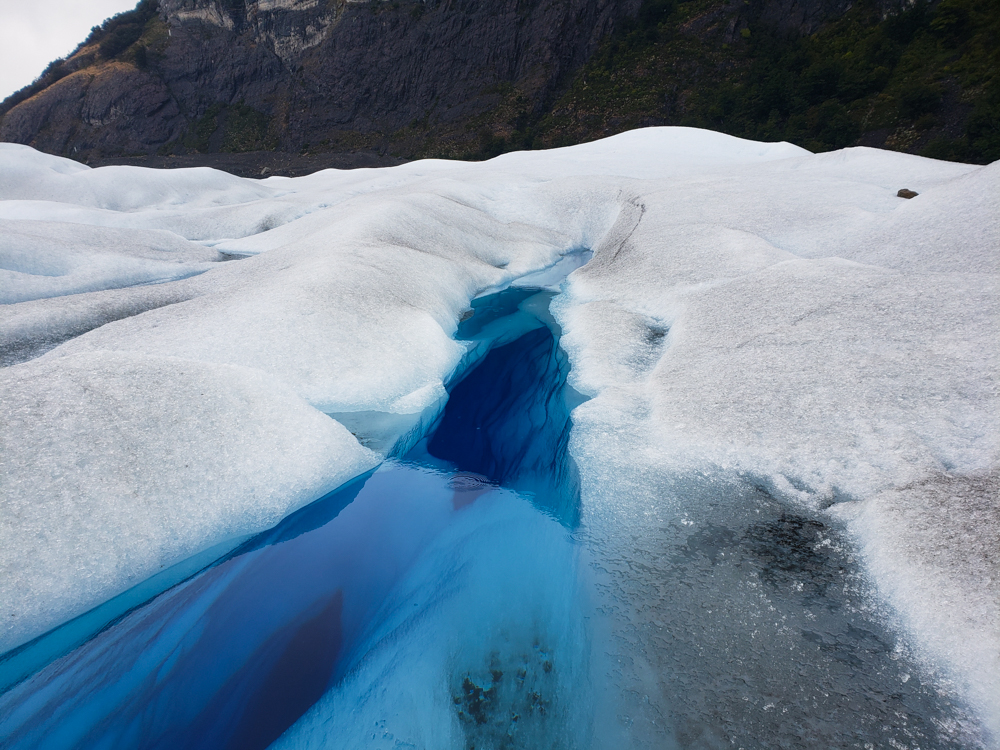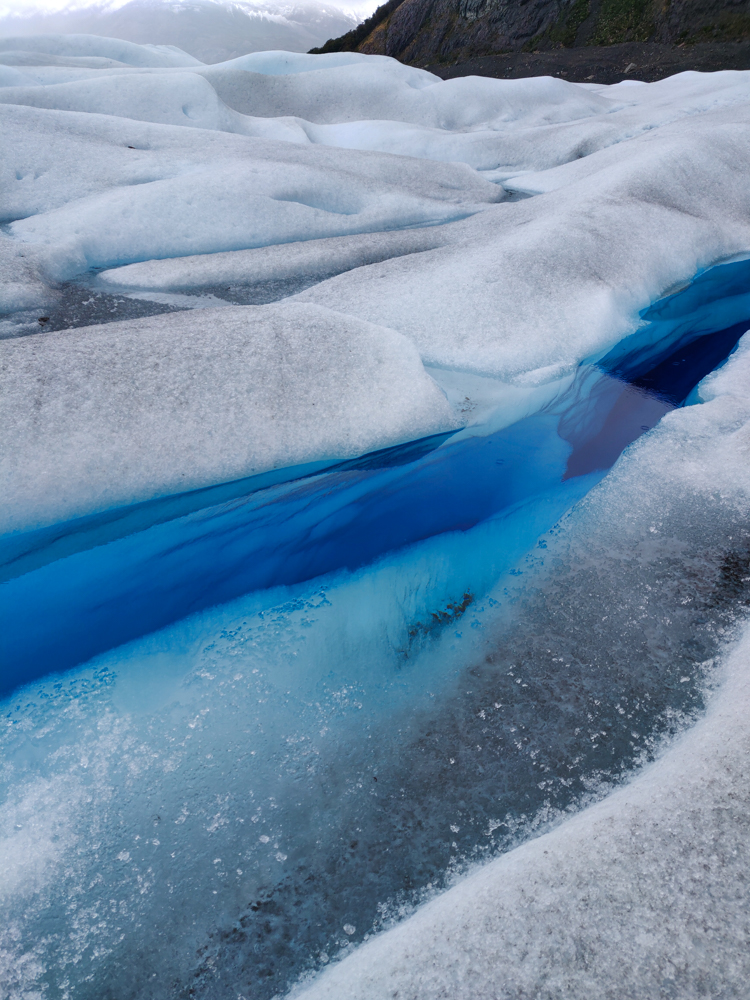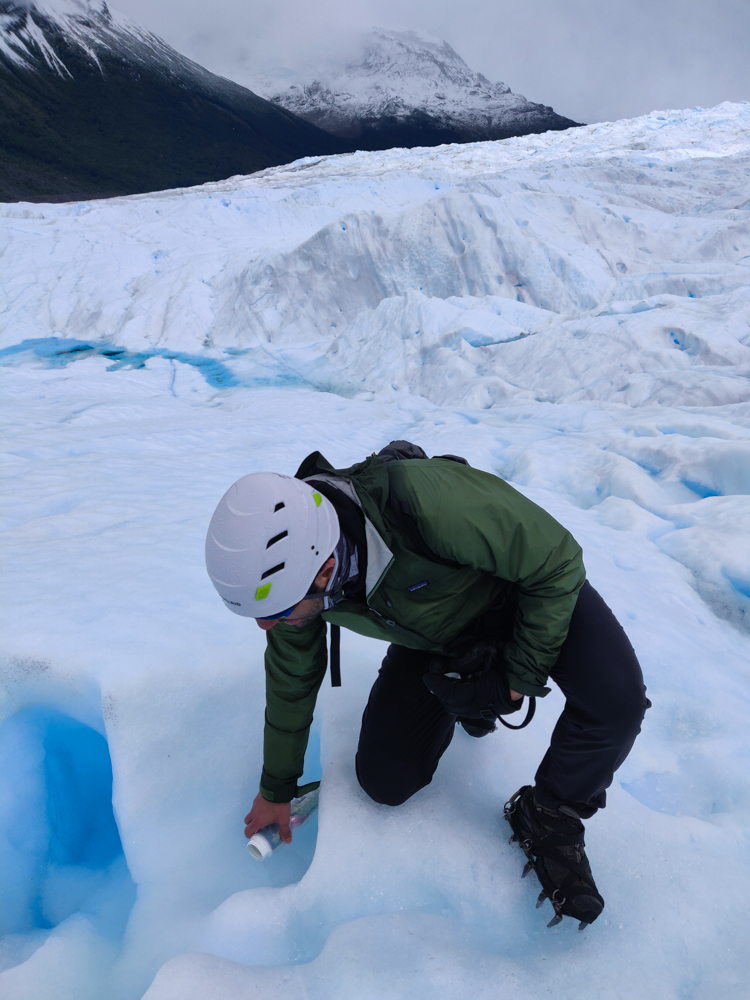 ---
The whole experience was awesome! Being on a glacier is like nothing I've ever experienced before. It's like walking on a giant, abstract ice sculpture, and it's a big mashup of white and blue and black (which is the dirt, but somehow even that is pretty). Also, just the concept of a glacier is insane. It's a huge, dynamic piece of ice. They said that the deepest point from top to bottom is about 700 meters. The deepest point we stood on was about 500 meters. Looking down and trying to comprehend 500m of ice underneath my feet was impossible.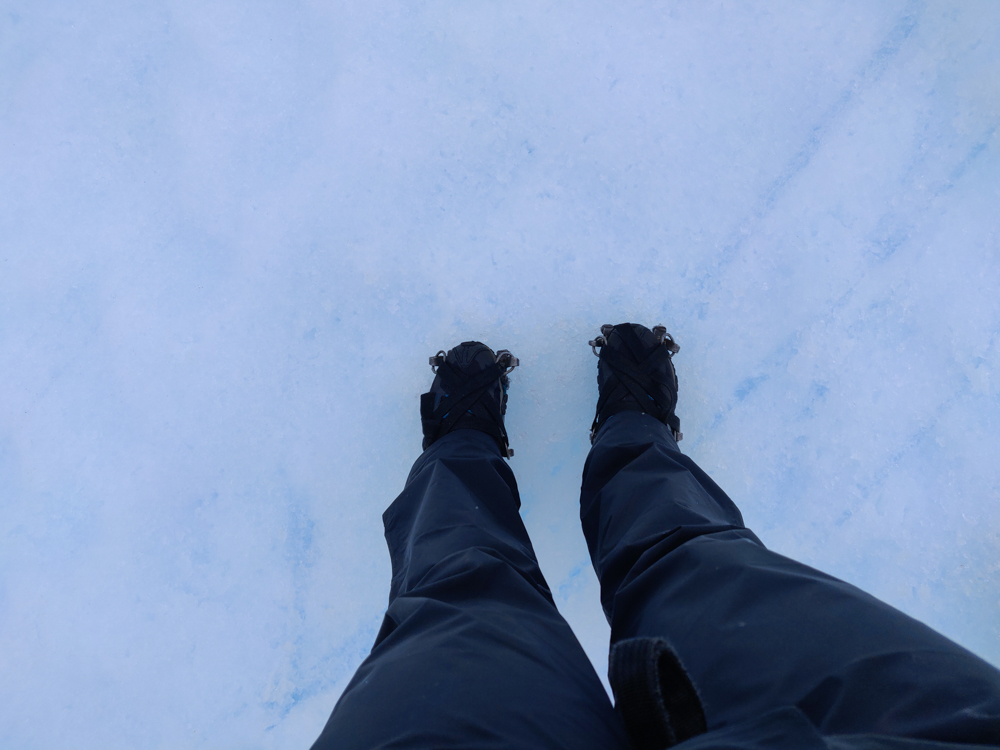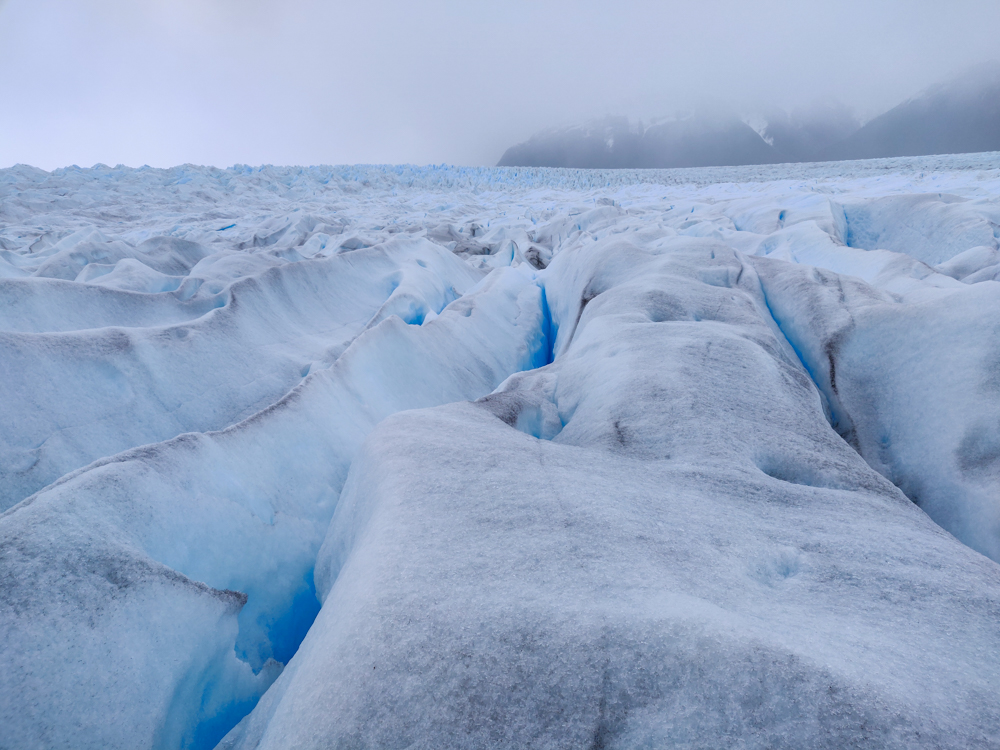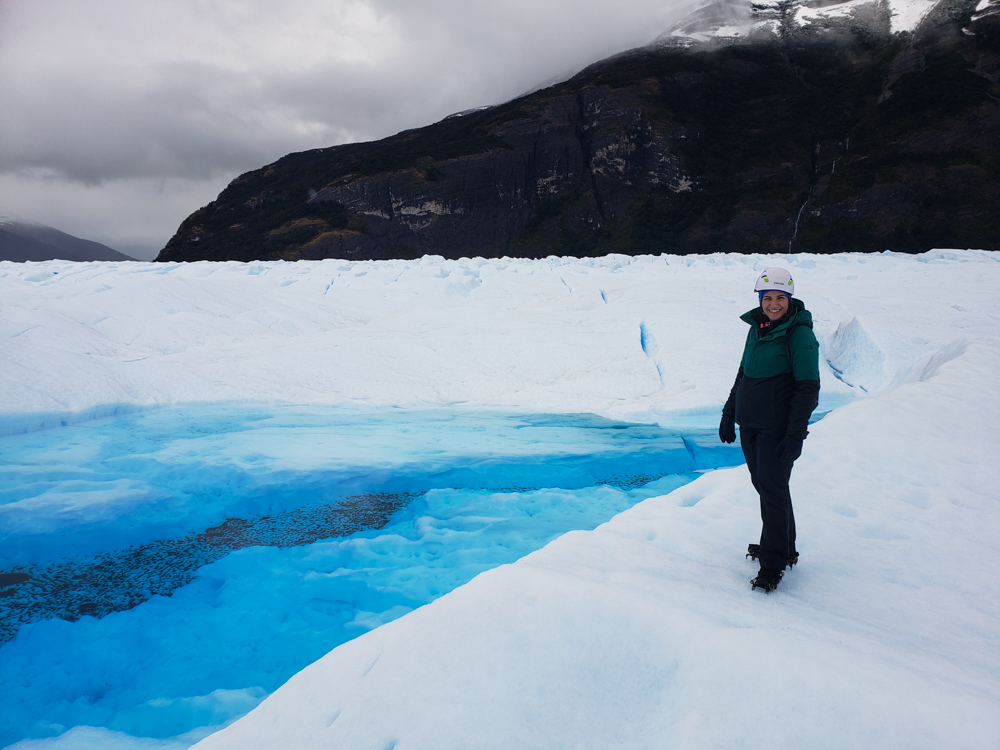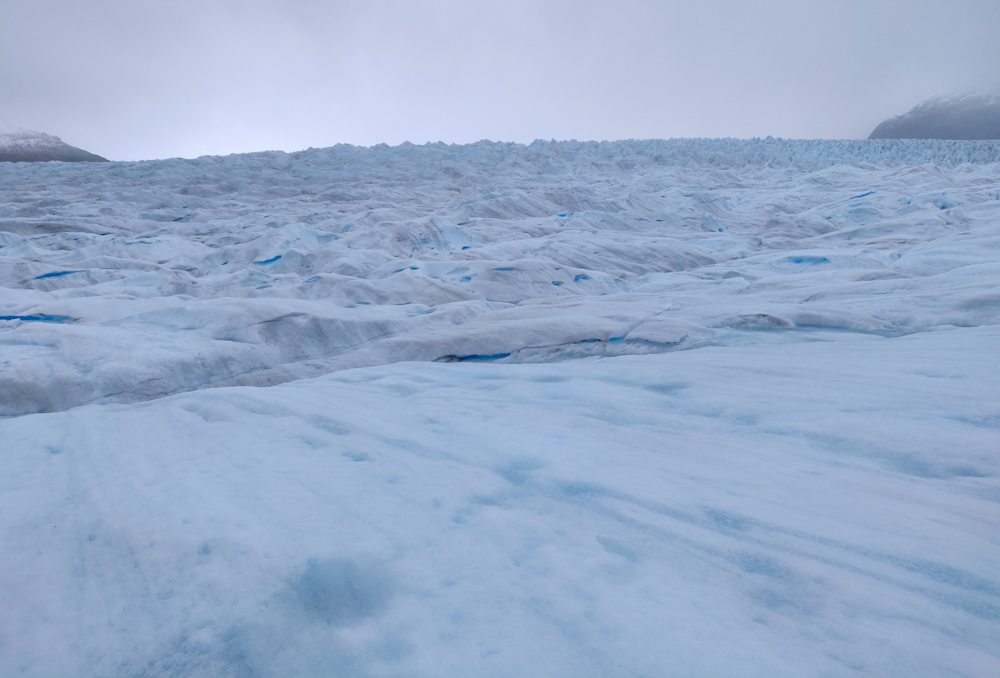 We walked around for about 3 hours, and it rained for about 2 hours and 55 minutes. There was one 5-minute period when the SUN even came out! And then it was gone again, and we were back to the grey and the dreary. The time flew by until maybe the last half hour when we were walking back to land. That's when I realized how tired my legs were, and every anvil-laden step was a struggle. When we finally got to take our crampons off, my feel practically floated off the ground.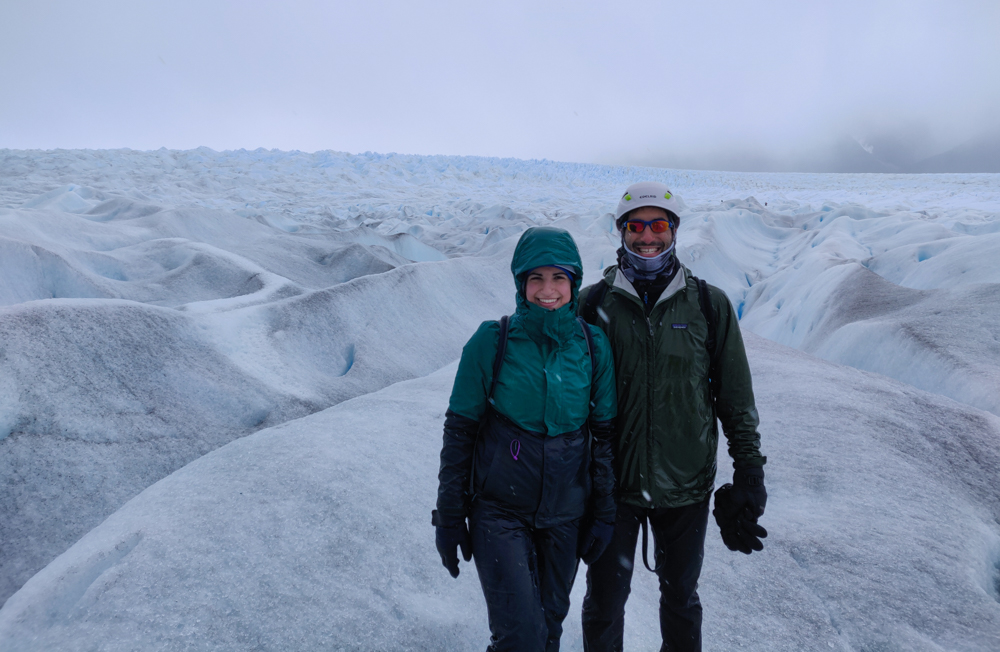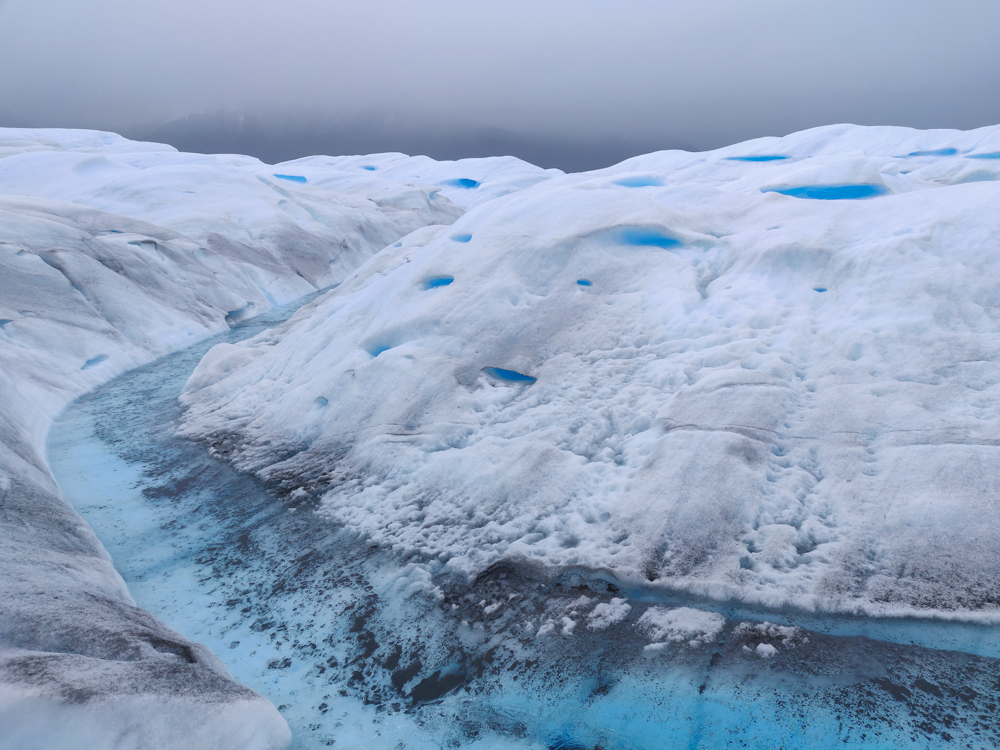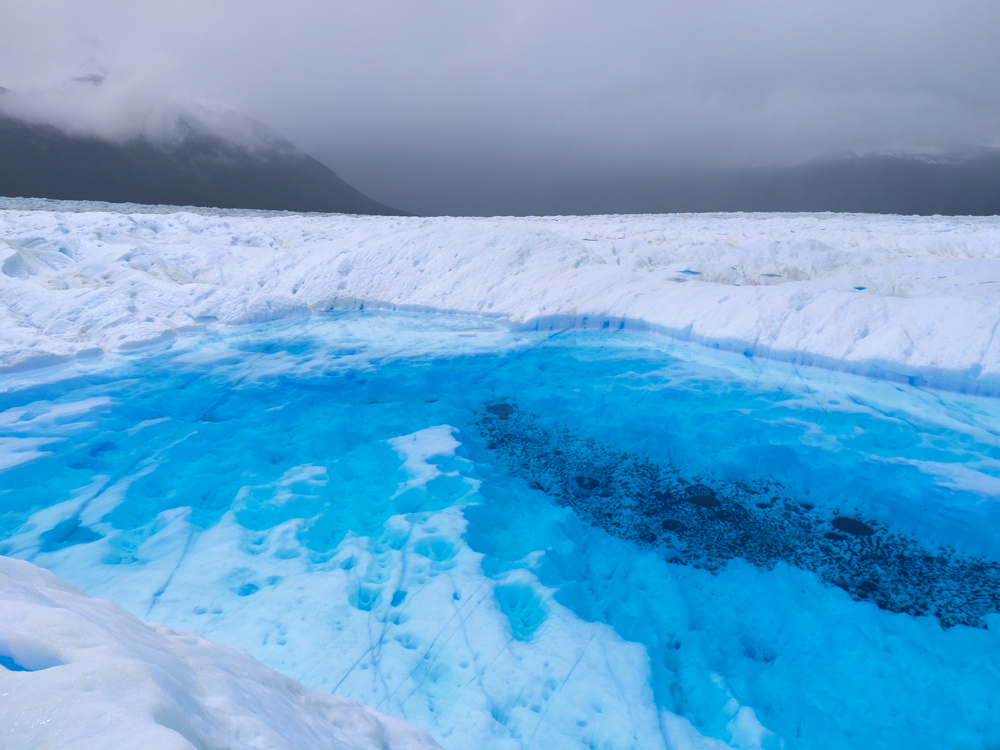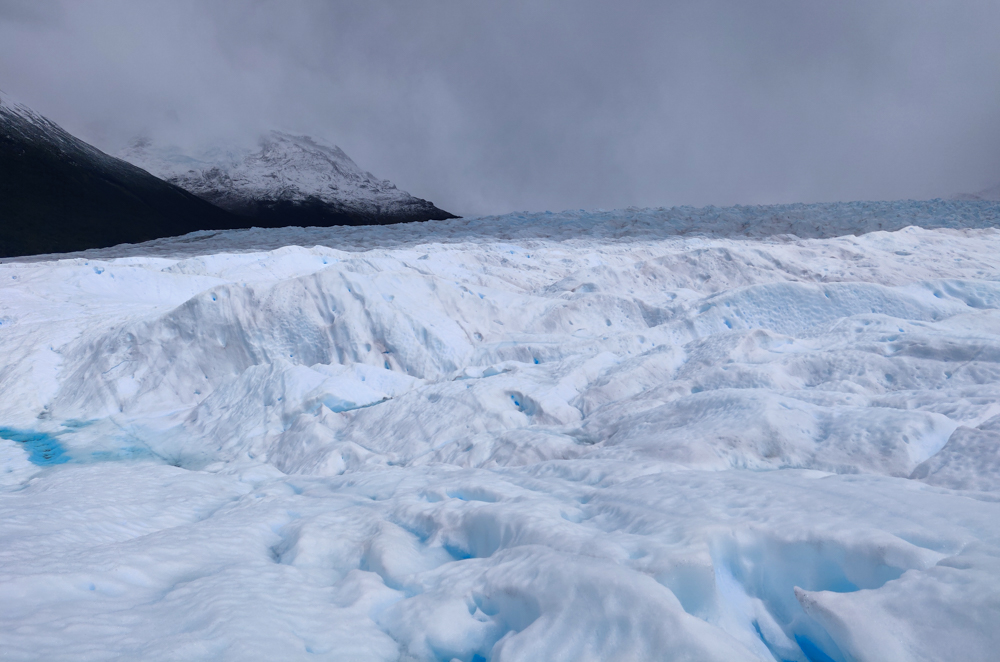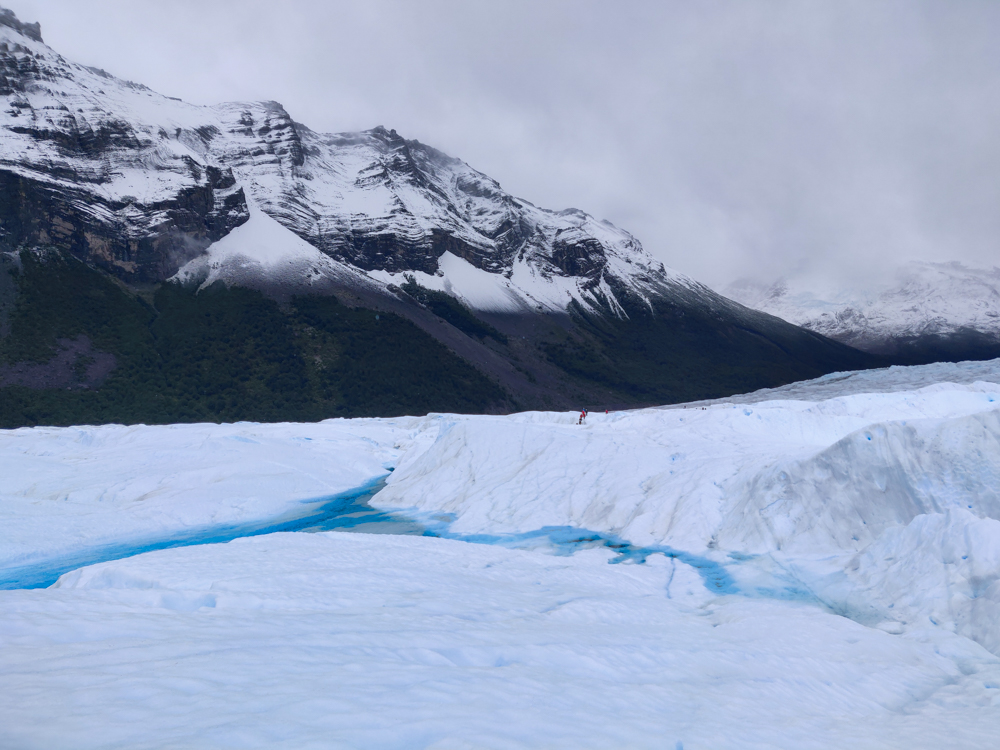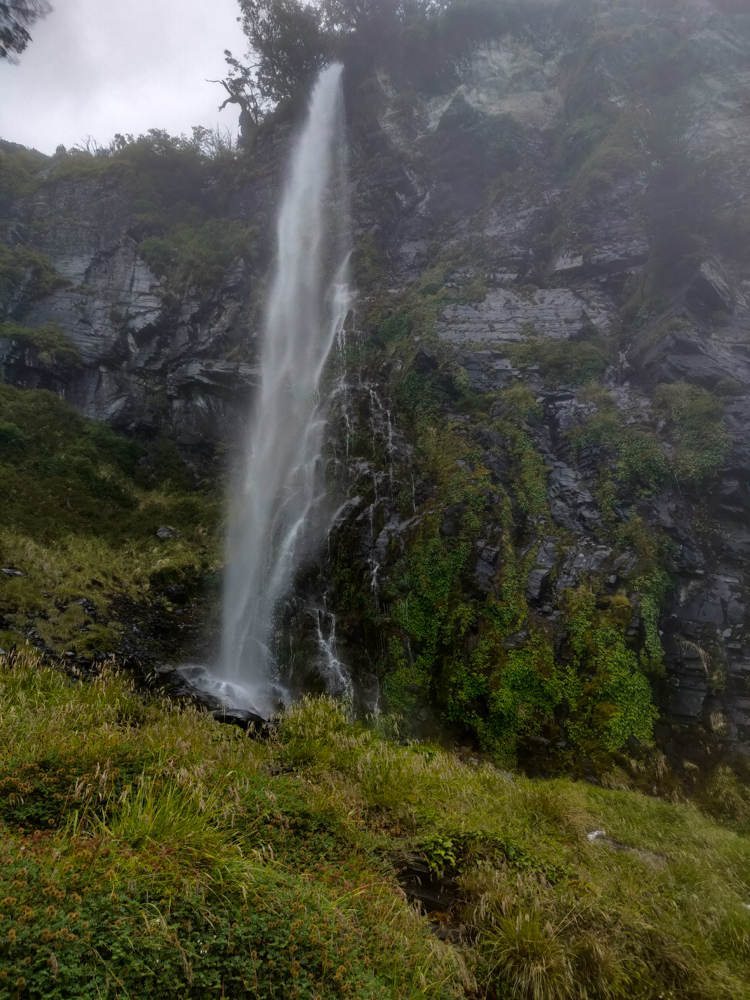 Of course, we still weren't completely finished. We had to trek back to basecamp #2 and then basecamp #1 and finally to the cabins at the beginning where we got to sit inside and wait for the rest of the group to get back. I was thrilled to have a chance to sit indoors, take off my winter jacket, and eat some snacks. We barely ate all day because we were supposed to have lunch on the glacier, but the weather was so bad that no one wanted to stop.
The highlight of the day? Eating the chocolate cake that I brought for lunch dessert (the best way to end a day of hiking!). The second highlight of the day? Walking on a glacier. Kidding. Reverse those, but the cake comes in a VERY close second.
When we got back to town, we went straight to the grocery store to finish shopping for the upcoming leg of our trip. We were headed to Chile the next morning for a 4-day trek, so we needed to buy all of our food for the next 4 days. If it was just me, I would have taken 4 days' worth of cake, but Mike eats too much. We'd never have been able to fit enough cake in our bags to feed him.