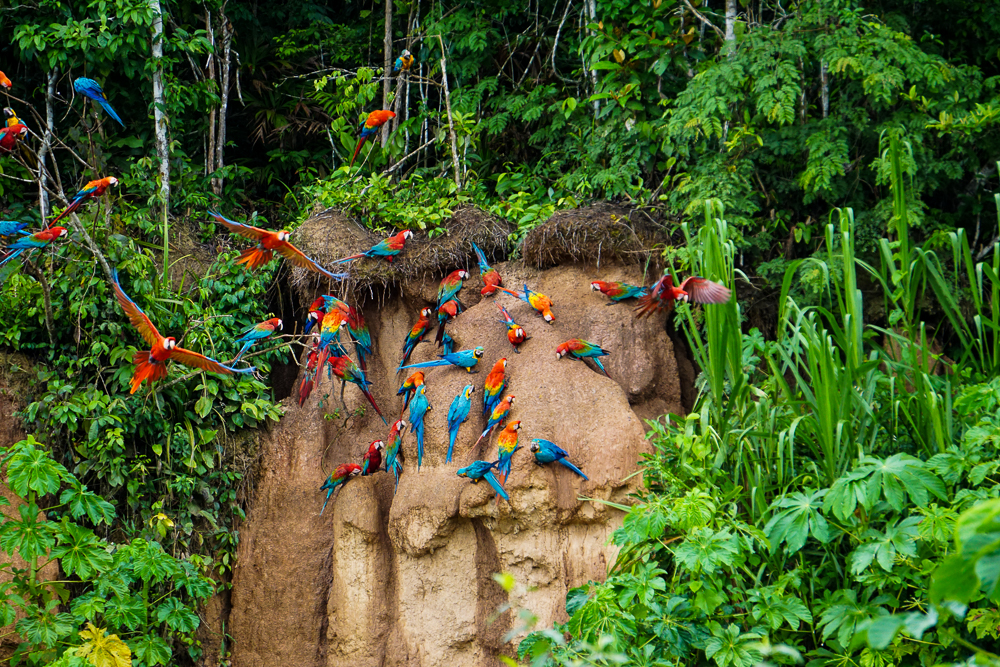 If you're looking for a relaxing vacation where you can sleep in and lounge around, the rainforest probably isn't a good destination for you. Well, there's plenty of lounge time, and you couldn't pick a prettier place… but don't expect to do much sleeping in. We set our alarms for 3:30AM because we had a 4:15AM meeting time with our guide, Juvenal.
So, what exactly was exciting enough to rouse us at such an absurd hour? Macaws. We'll get to that in a bit, but at the end of this post, you can be the judge and let me know if you think it was worth waking up well before dawn was even considering cracking.
When our alarm went off, it sounded like it was raining outside, and Juvenal had mentioned that it's only worth going if the weather isn't bad. We got dressed anyway and headed to the lodge to figure out the plan.
Juvenal said that he thought the rain might stop, and it was up to us if we wanted to chance it and go or if we wanted to try the next morning instead. I was 100% on team "let's go" because no way was I trying to have ANOTHER 3:30AM wake up call the next day! The only thing worse than an early-morning wake-up is an unnecessary early-morning wake-up! And what if it was raining even harder then? We delayed for a few minutes in the hopes that it would let up a bit and then grabbed our boots and umbrellas and hit the road. Well, hit the trail. And then the boat.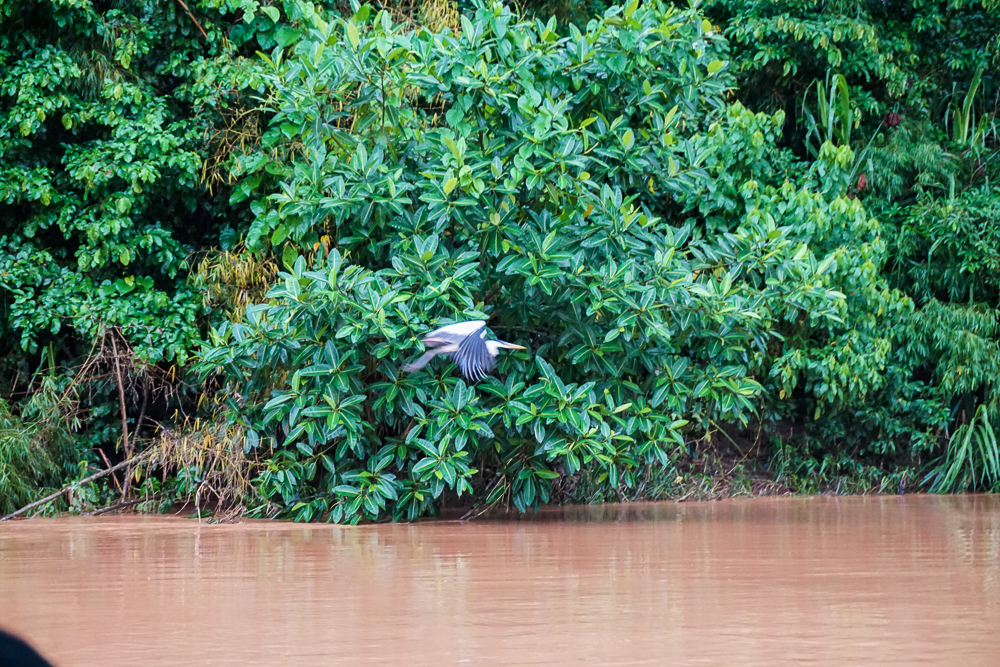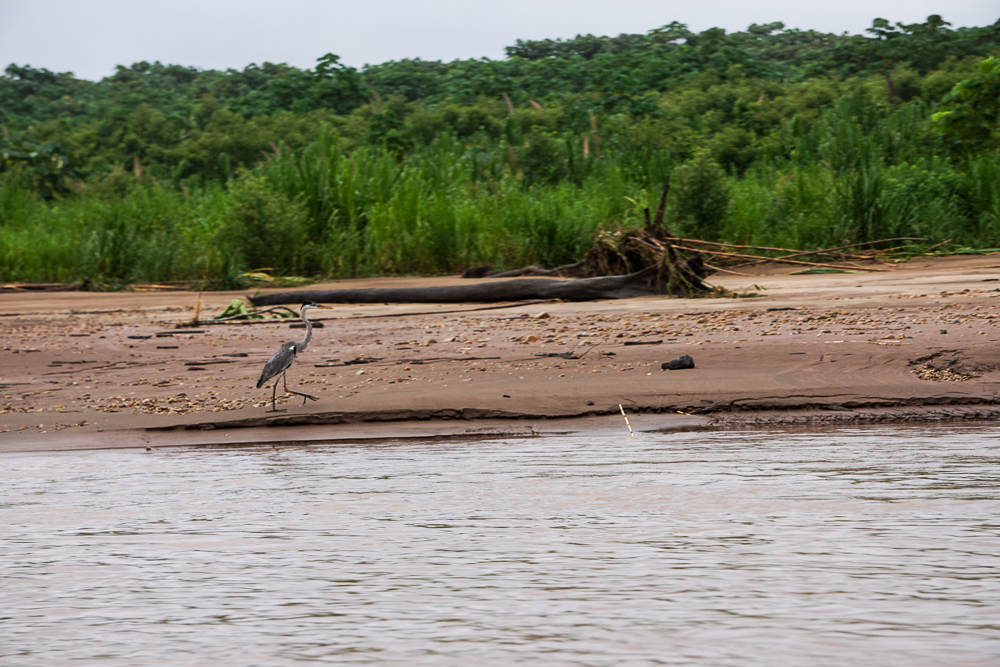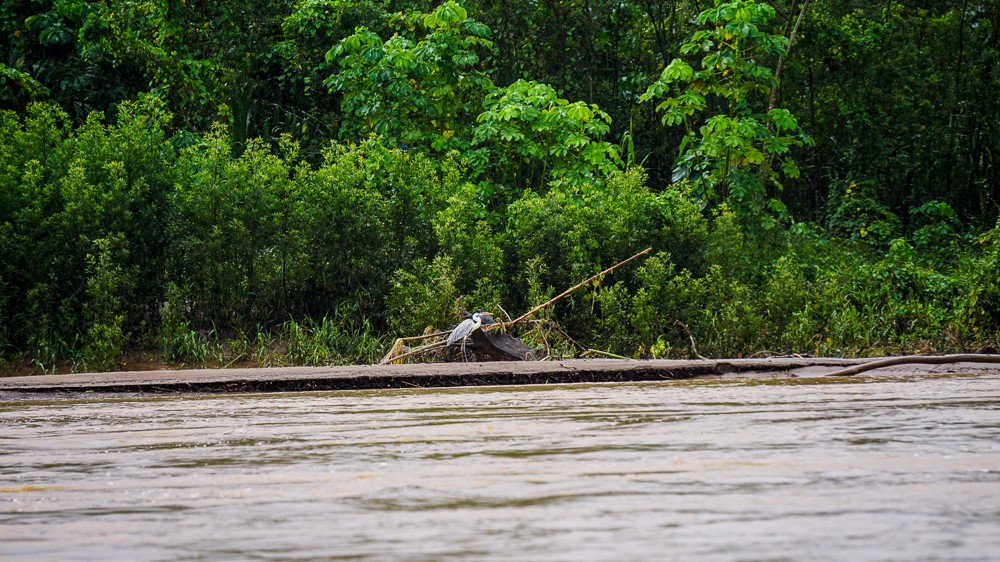 We had a two-hour boat ride, and by the time we reached our destination, the rain had stopped completely, and the weather was absolutely perfect!! So, what exactly WAS our destination?
Every morning, as long as the weather is nice, you can find huge numbers of macaws gathering at clay licks to, as Juvenal put it, "get their daily vitamins". The macaws visit these areas to literally eat the exposed clay. Experts aren't entirely sure of the reason for this behavior, but a leading theory is that the clay contains salt that is otherwise hard to find in the Amazon. Salt is important for many bodily functions and helps to keep the nervous system and heart functioning properly. Animals, like macaws, with a primarily plant-based diet can have trouble getting sufficient salt from their food. Consuming the salty clay helps to cover this deficiency. Another theory is that the clay helps to cleanse the naturally occurring toxins that are found in plants and prevents them from being absorbed by the gastrointestinal tract. The sodium theory is more widely accepted because studies of macaw behavior have found that they prefer saltier clay. There was one clay lick in particular in Peru where macaws were seen eating from a specific clay layer, and analysis showed a much higher concentration of sodium there than the layers above and below. This isn't a behavior of only macaws in the Amazon. Other plant-eating birds, like parrots and parakeets, do the same, and even mammals like jungle pigs and deer make regular visits to the clay licks, though not quite as often as the macaws.
The boat docked, and from there, we had an easy 10-minute walk to the viewing area. There was one other tour group already there, but everyone had plenty of space and a good view. Juvenal said that it can get very crowded in the high season, so I felt pretty good about our timing, even though the more unpredictable weather of the rainy season was less than ideal.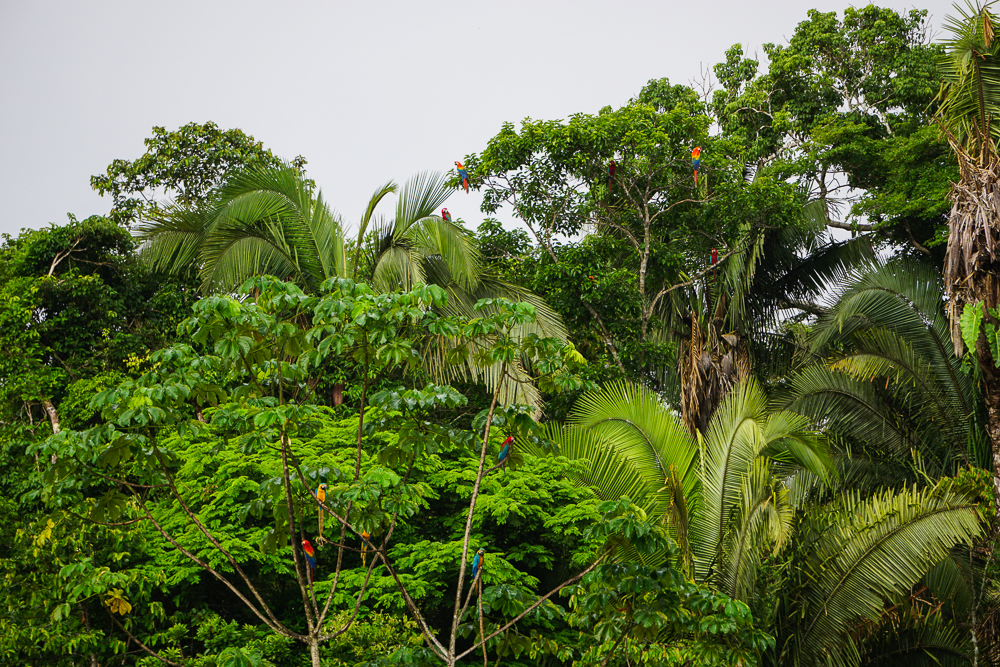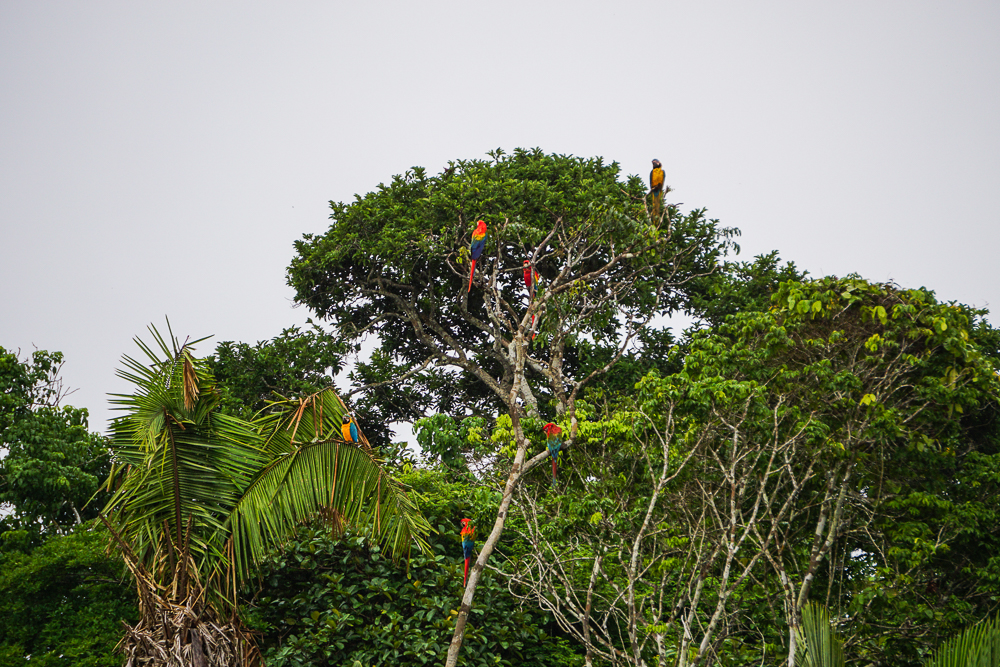 When we first arrived, there wasn't much going on. There were some macaws high up in the surrounding trees, but none of them were anywhere near the actual clay lick. Juvenal said that they partner up for life, so if we watched closely, we'd notice that they go and come in pairs. More and more gathered, and then they started creeping down to lower and lower branches. He said that all they needed was for one bird to make the first move and then they'd all be on the clay. Sure enough, one brave soul boldly landed, ate some clay, and flew away… and then came back after nothing disastrous happened. Pretty soon, there were birds all over it!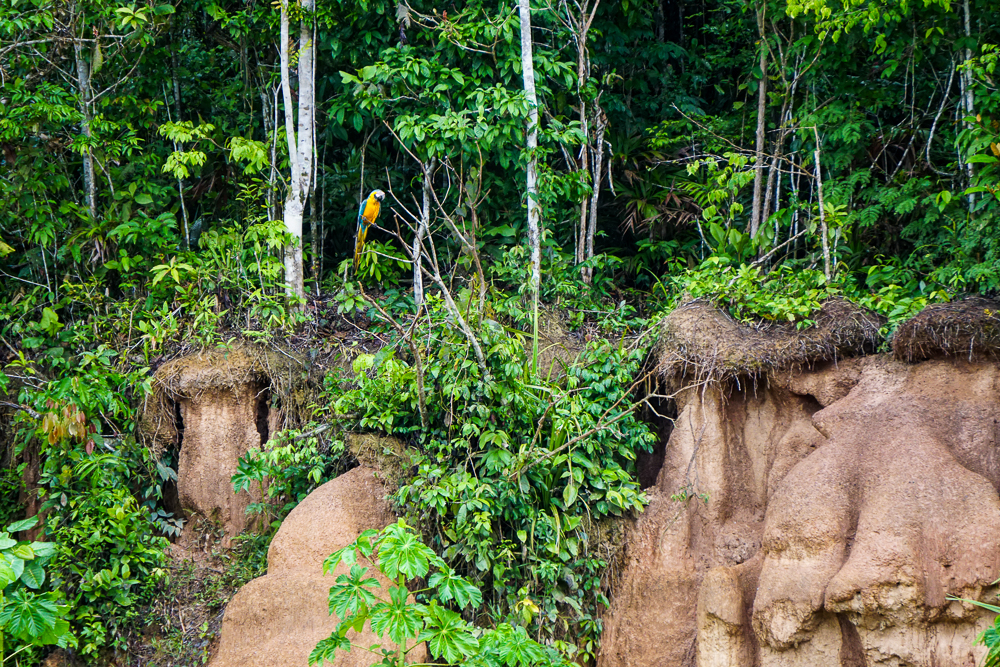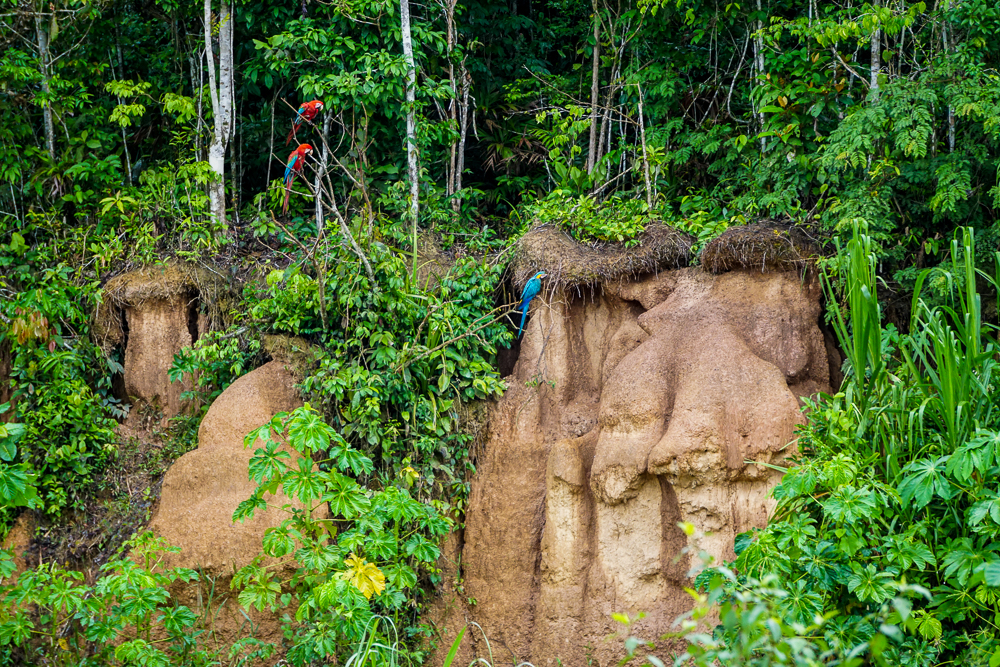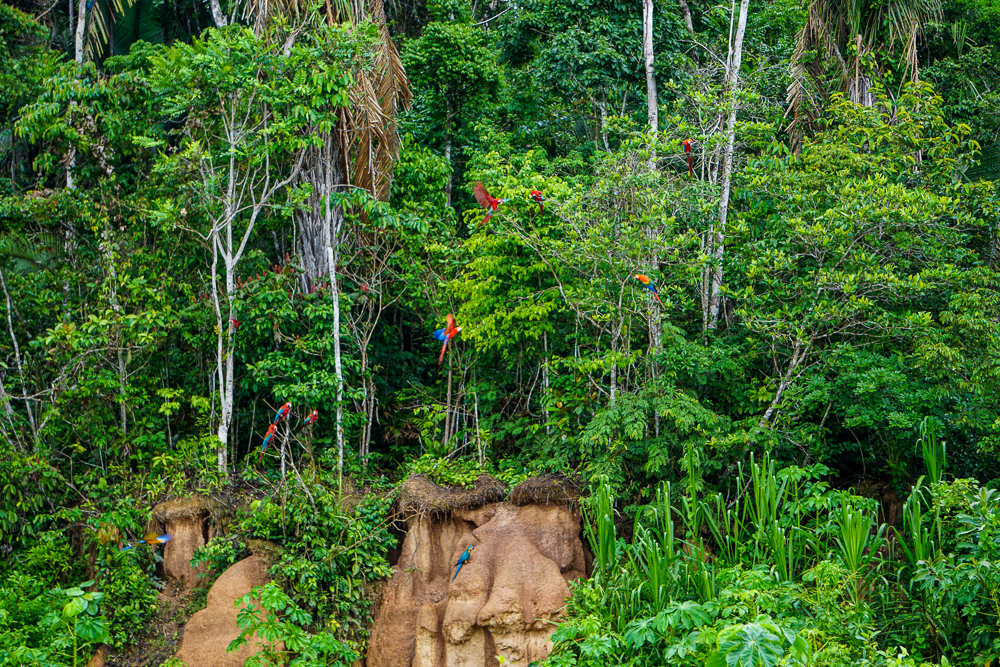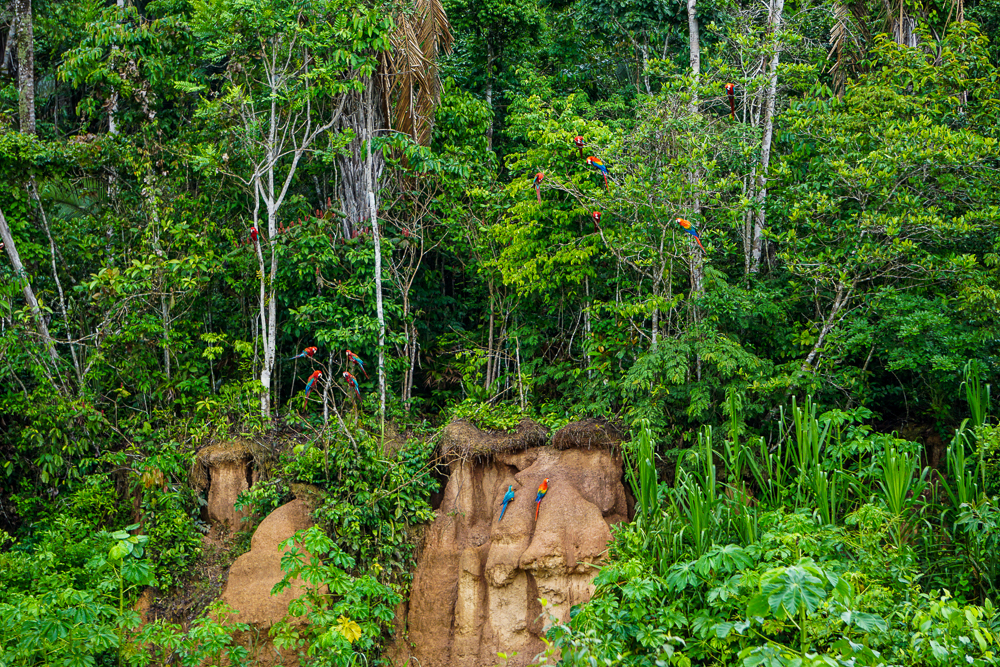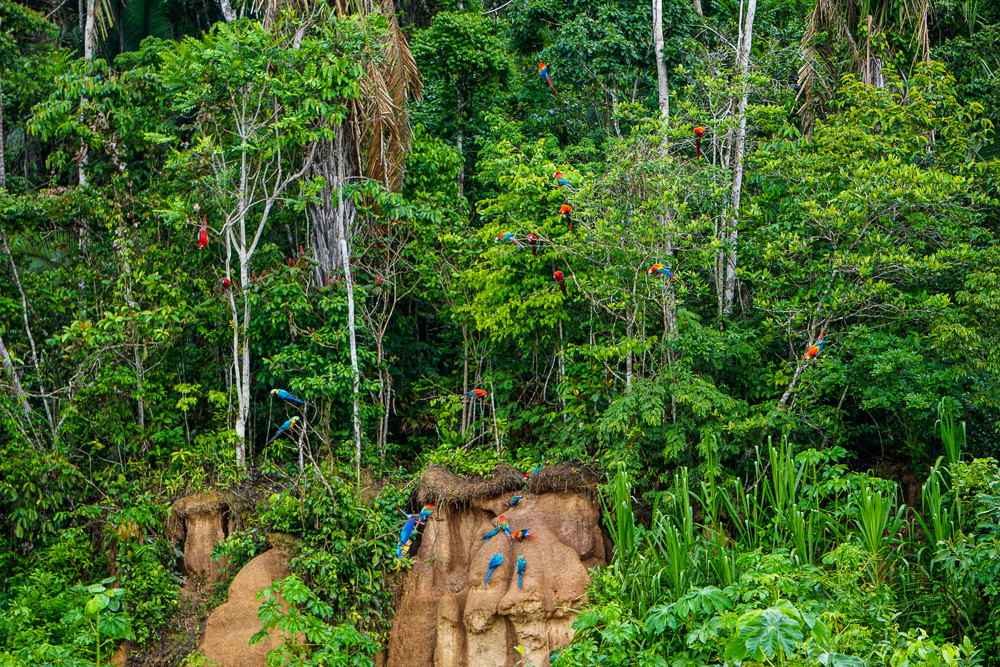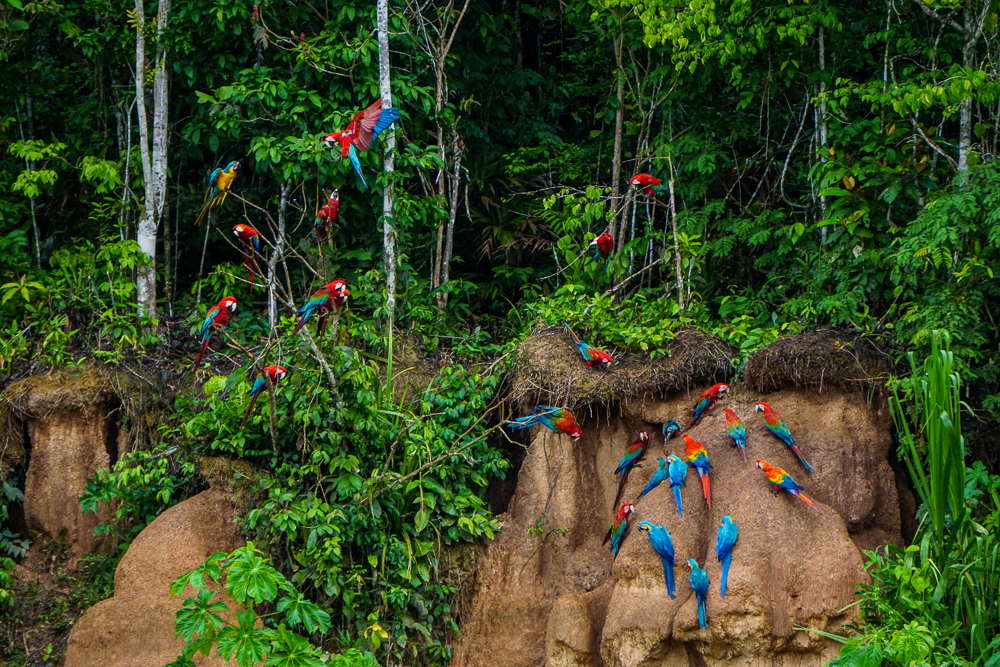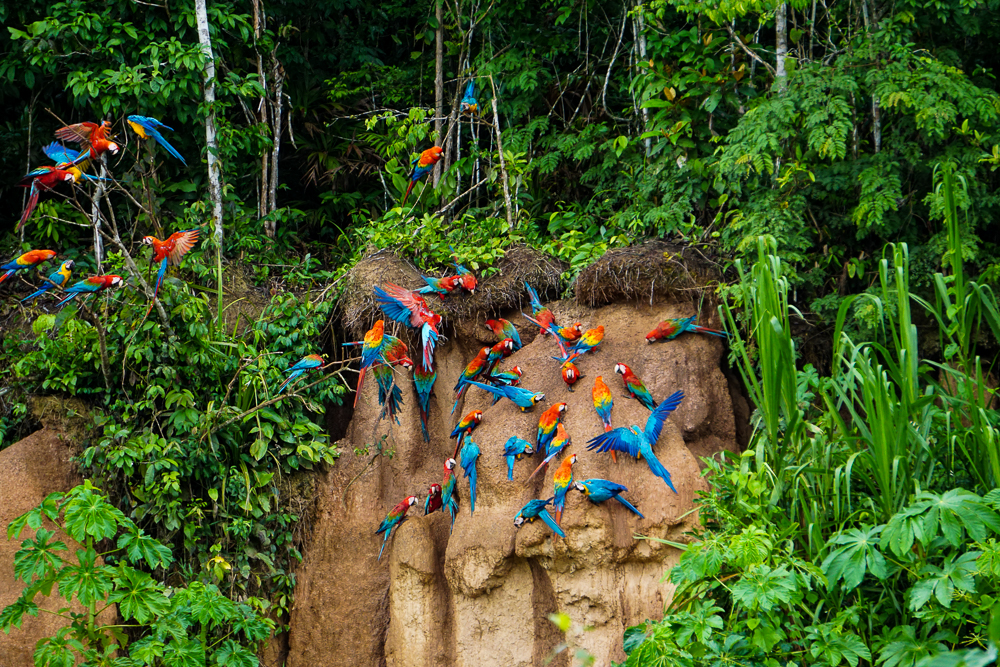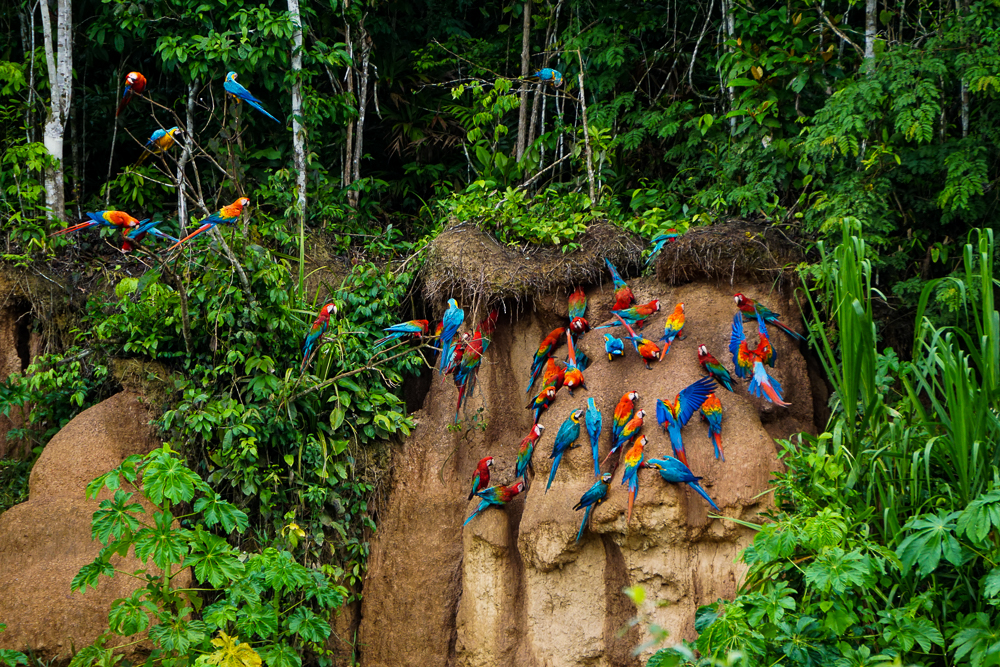 I'd never seen anything like it! I mean, I don't know when I would have, but the screeching and the sounds of their wings flapping… well, I think you have to hear it for yourself.
I was having quite the orientation with my new camera. I still wasn't really sure about the settings or what everything meant, and Dad told me to just shoot on auto because it would still be better than anything I would take with my cell phone. True. The next leg of my trip, after my parents left, was with my aunt, uncle, and cousins, and my uncle knows a lot about cameras. I planned to take advantage of his knowledge, but until then, I just had to make do and play around with it. So… yeah, these aren't the best pictures. But I'm pretty sure that taking pictures of distant, flying birds is just about the hardest thing to start with.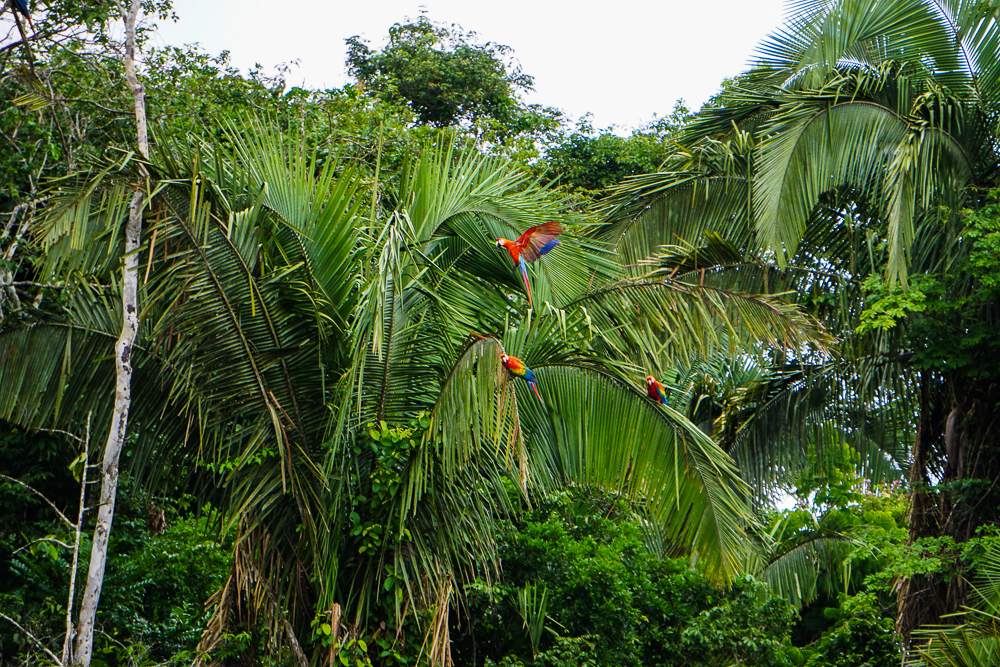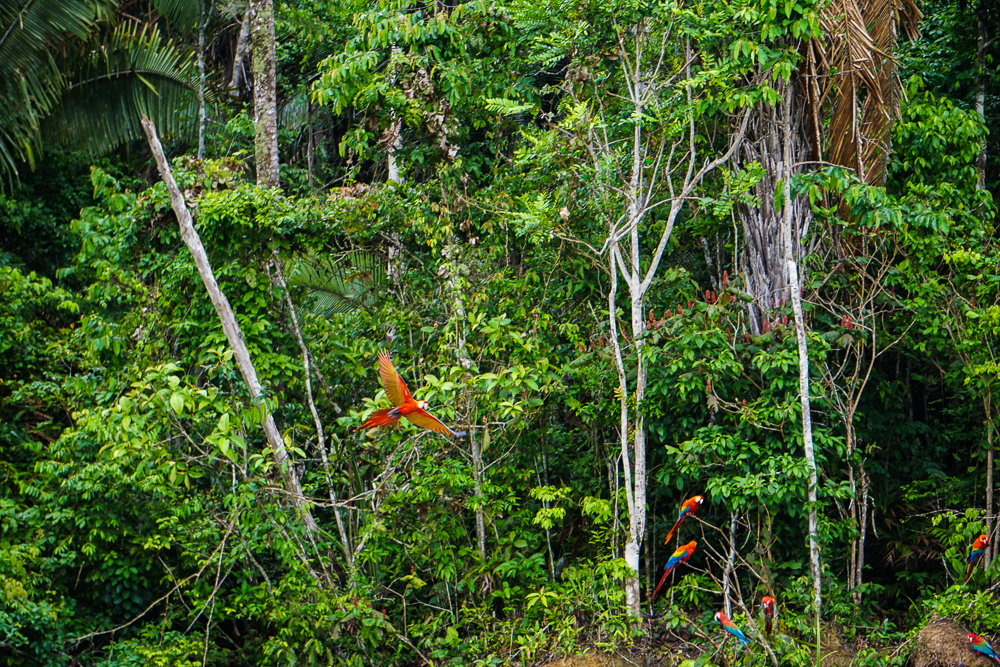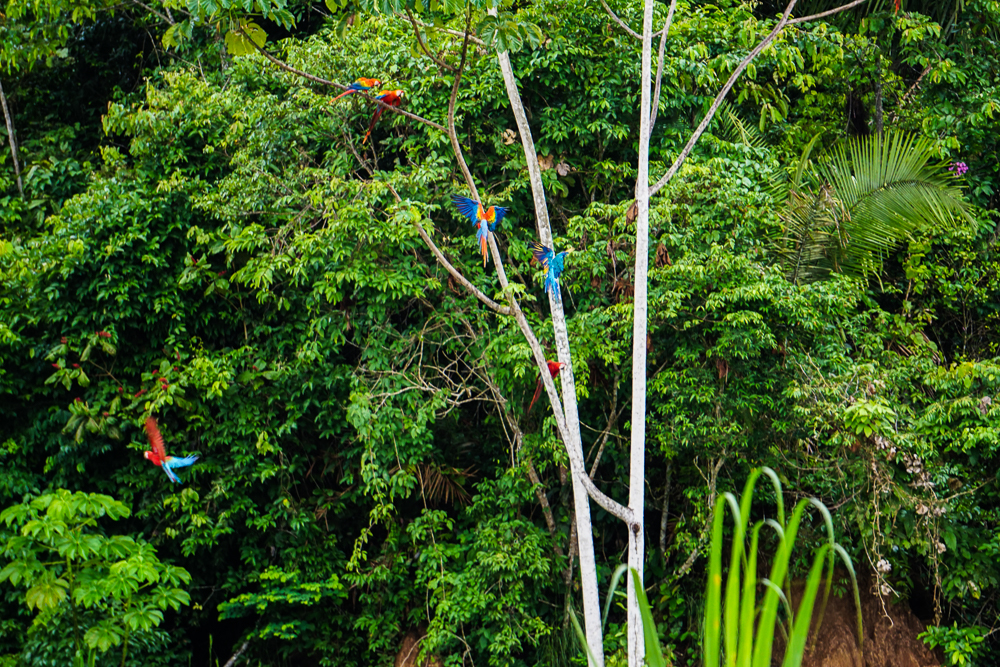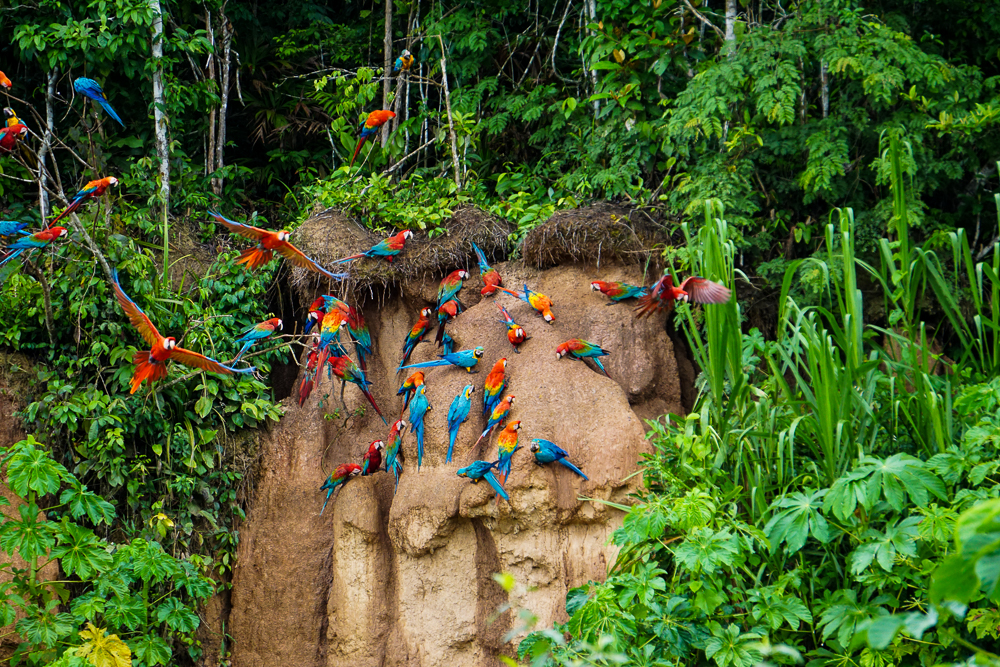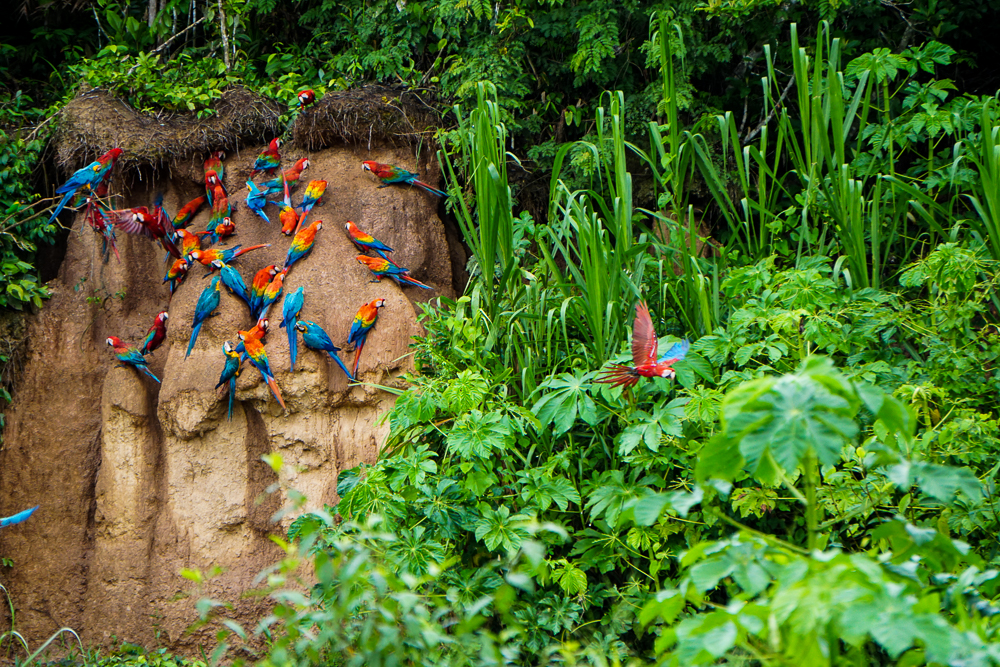 The best thing, though, was that Juvenal had a telescope with him. It made you feel like you were right next to the clay lick! And you can literally take pictures through the telescope using a phone camera which is crazy!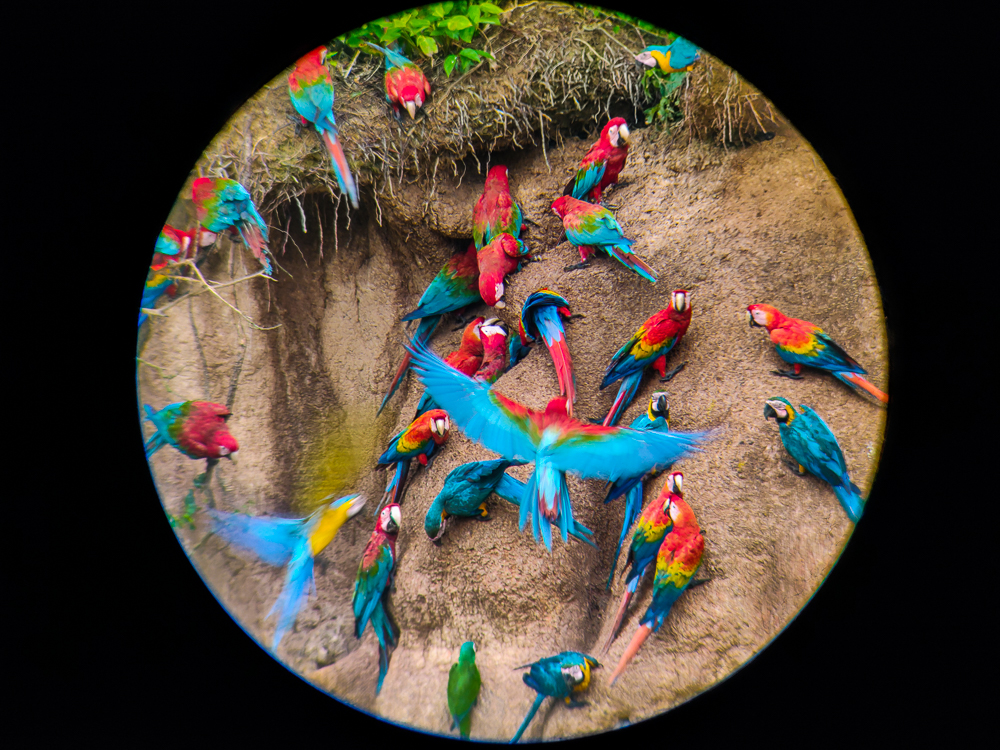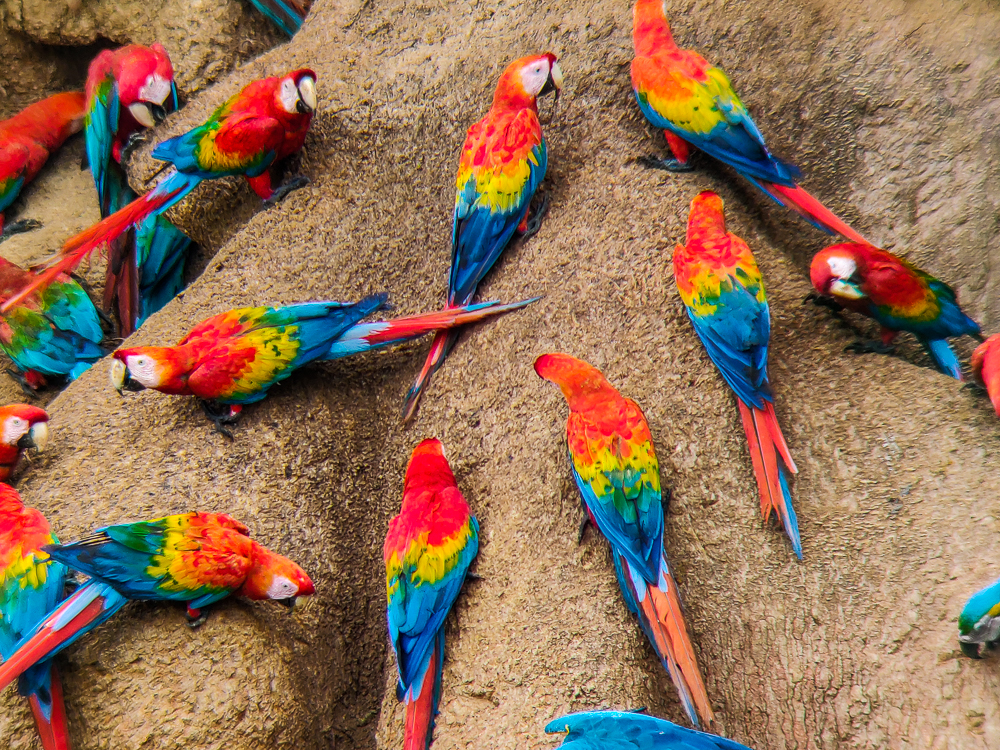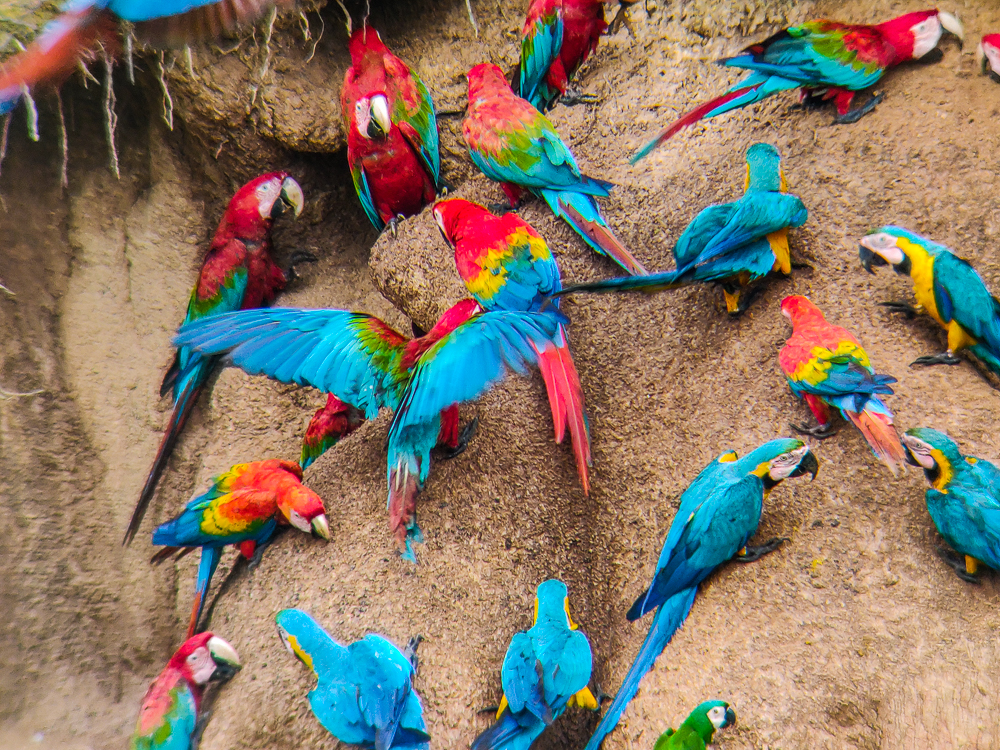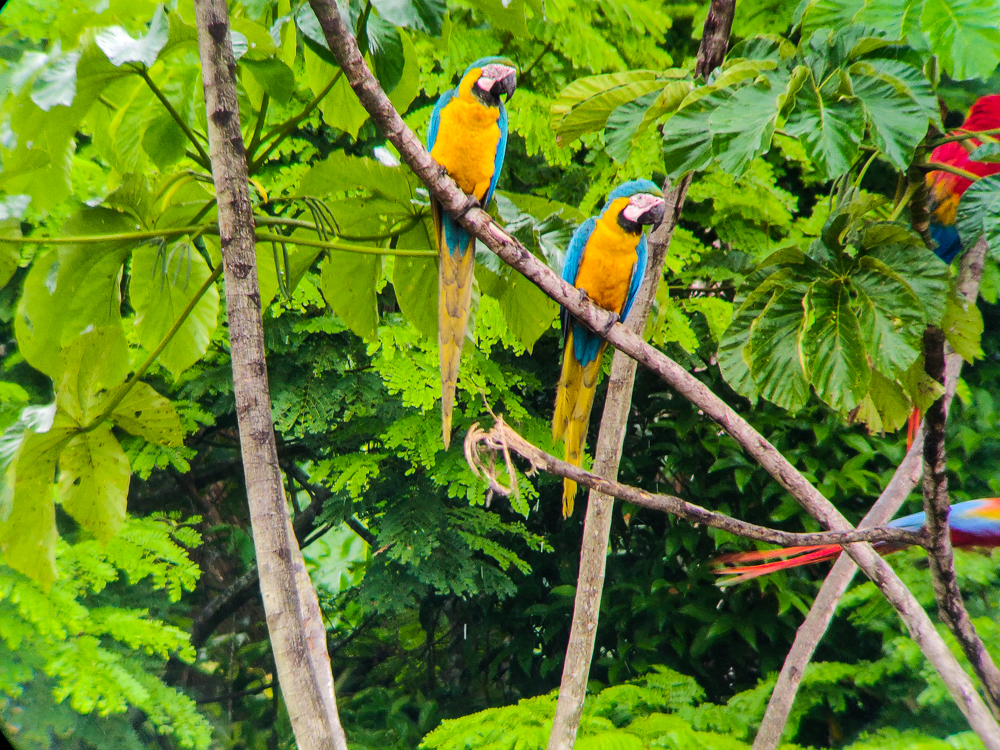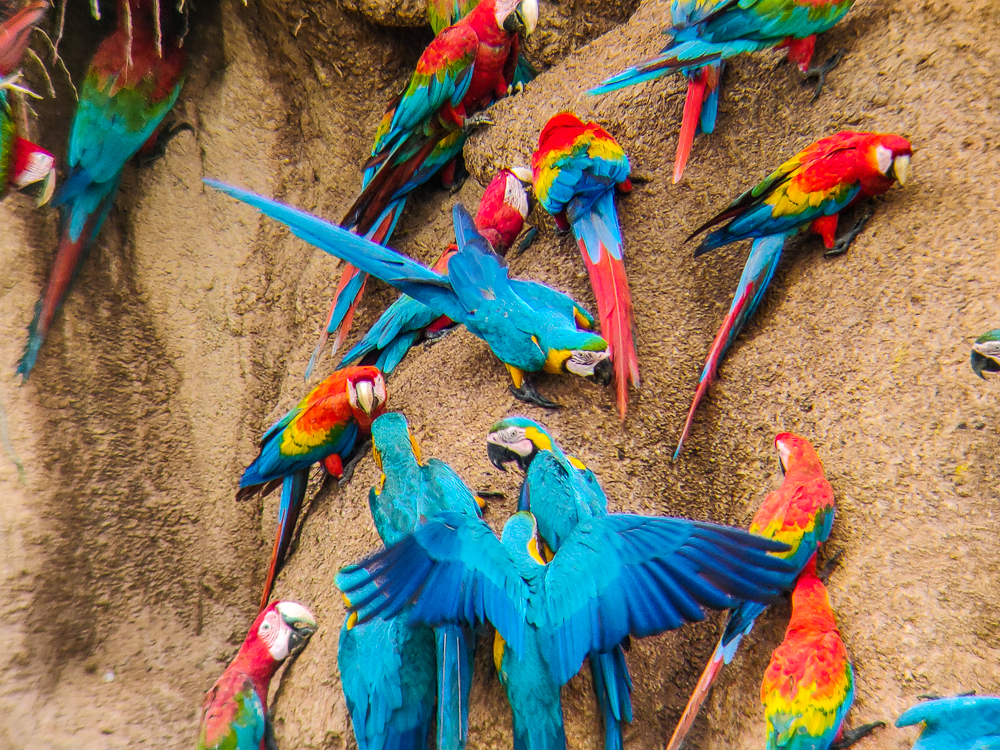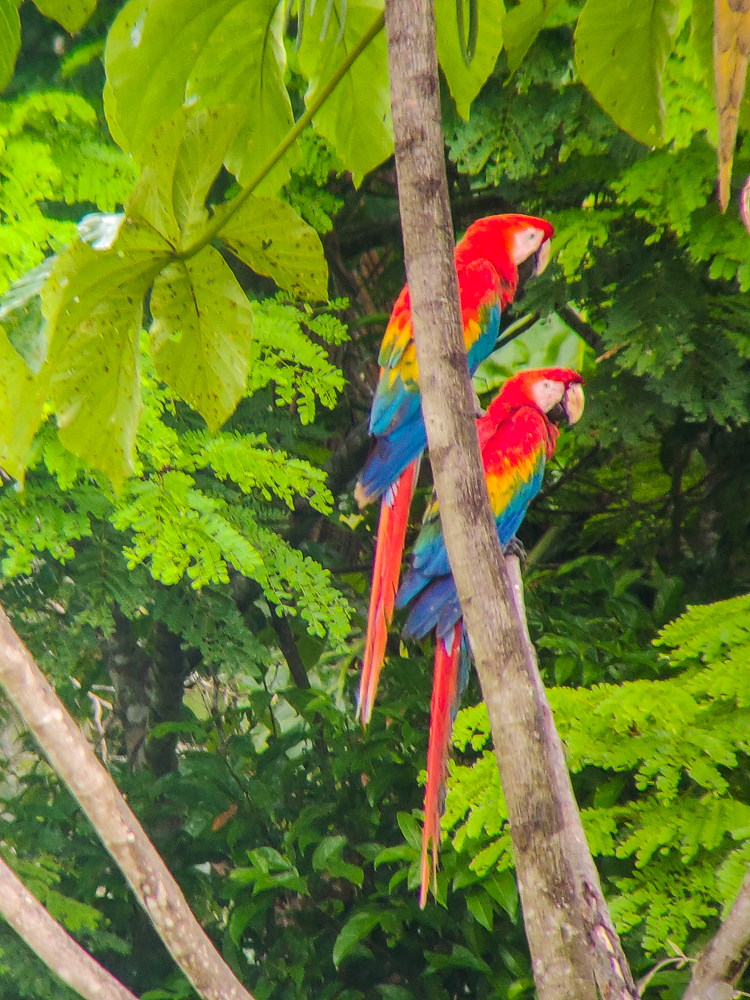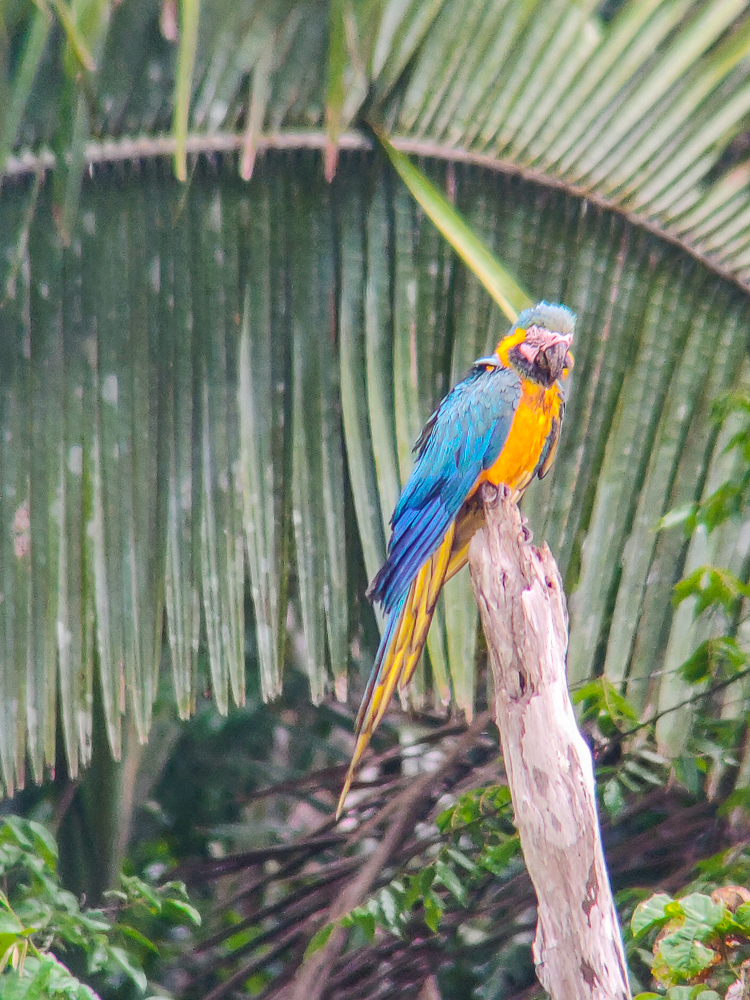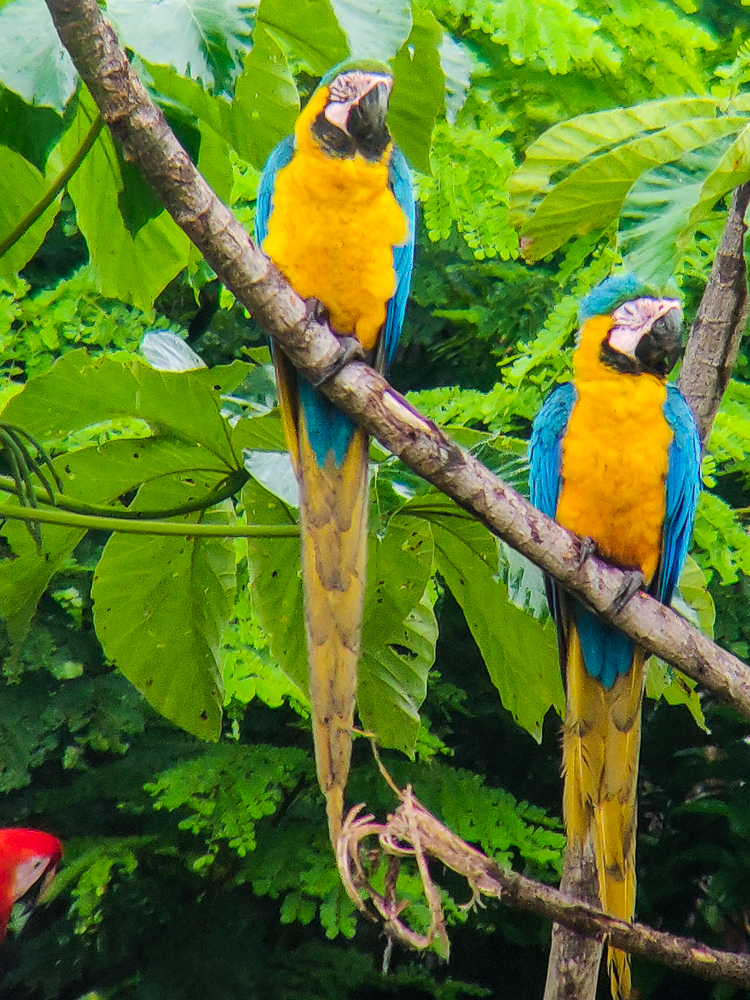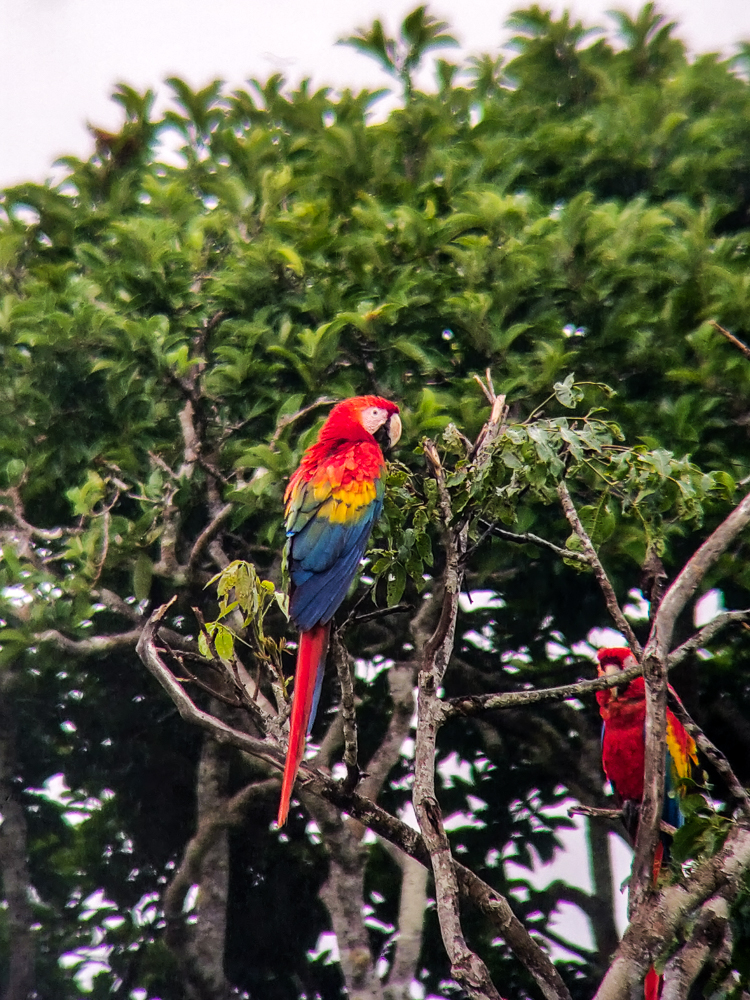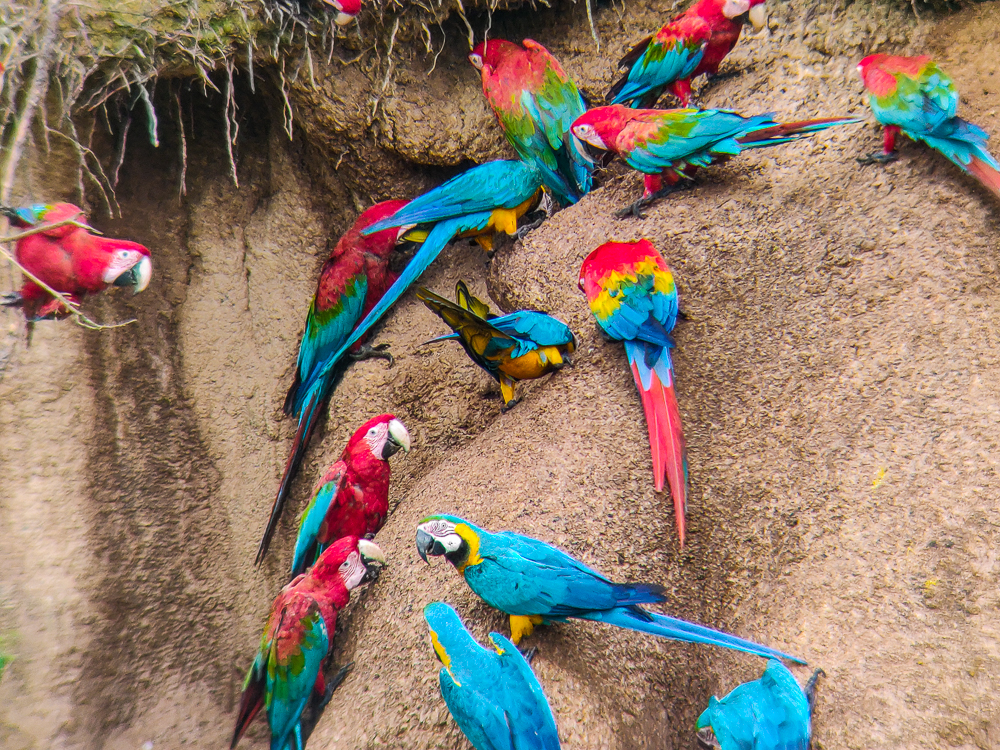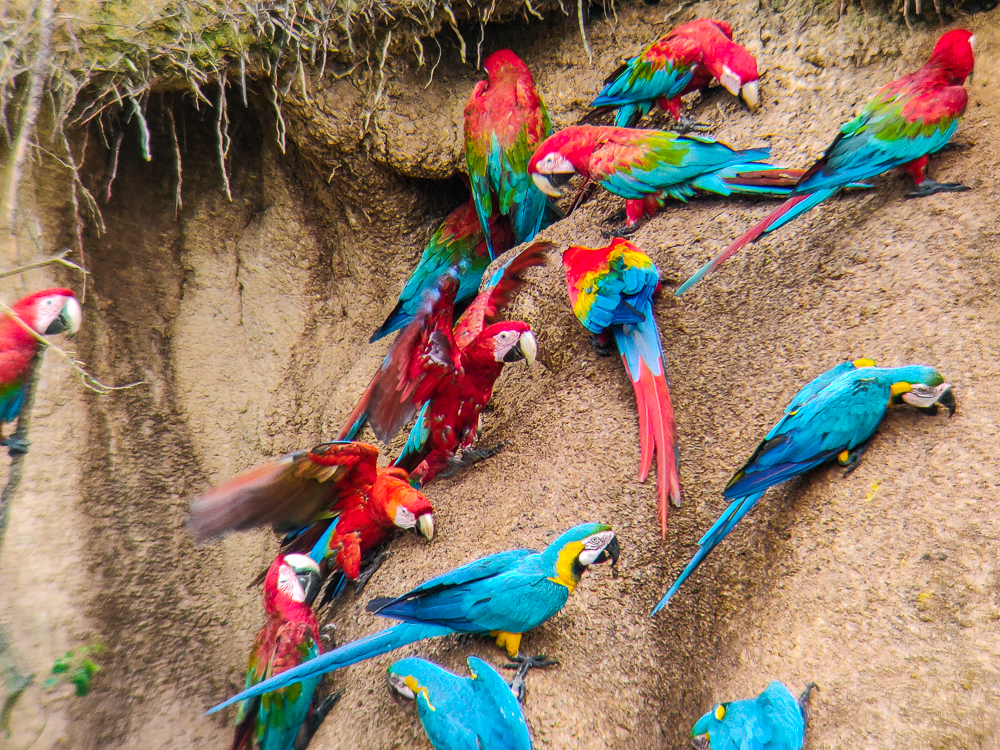 We saw three different types of macaws. The scarlet macaws are, to me, the classics. They're the ones that look the most rainbow-like. The red-and-green macaws are very similar, but they don't have yellow feathers like the scarlet macaws. And finally, the blue-and-yellow macaws are pretty easy to separate from the other two. See if you can spot all three types in this photo!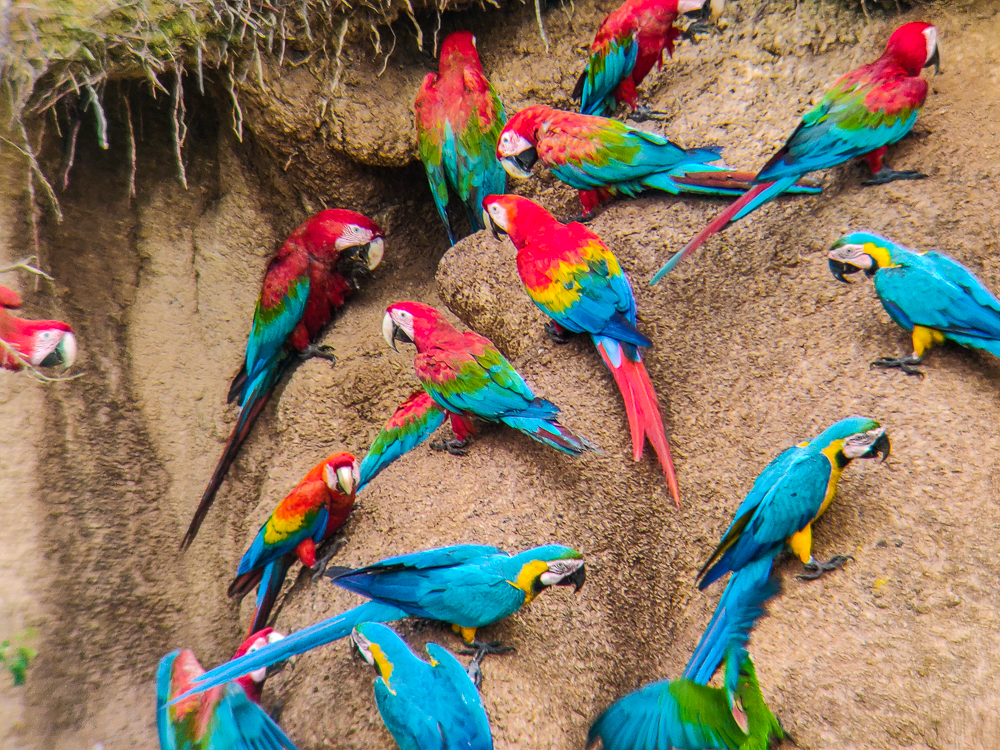 At one point, something scared the macaws and they all flew away. It happened so quickly… they were all on the clay lick, and then a second later, they were gone! I guess they just went and took a lap or something because soon enough, they started gathering in the trees again, and the whole creeping process repeated until they were back on the clay lick in full force.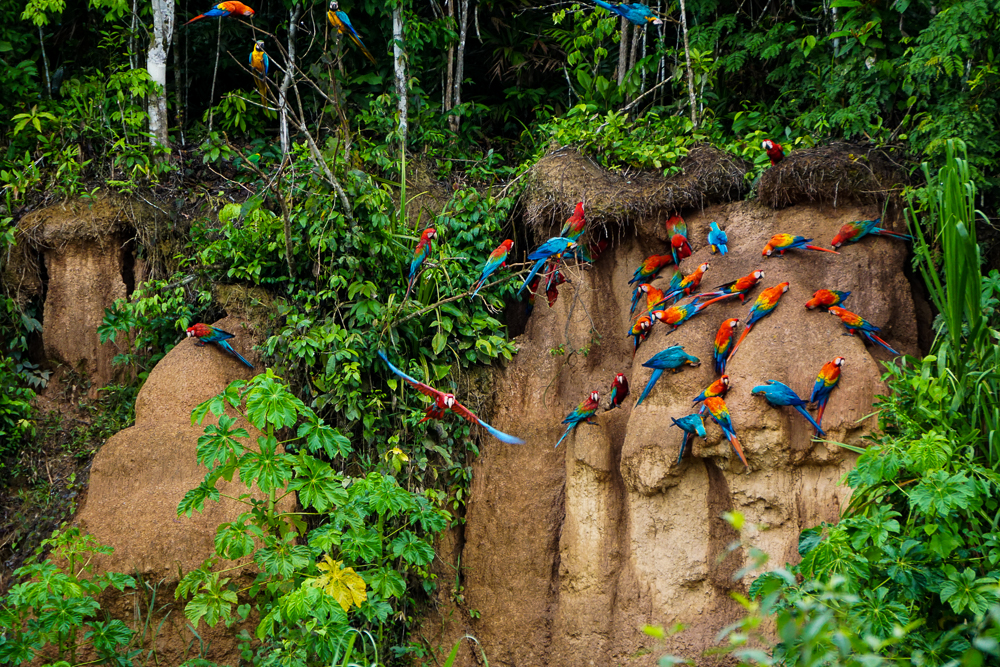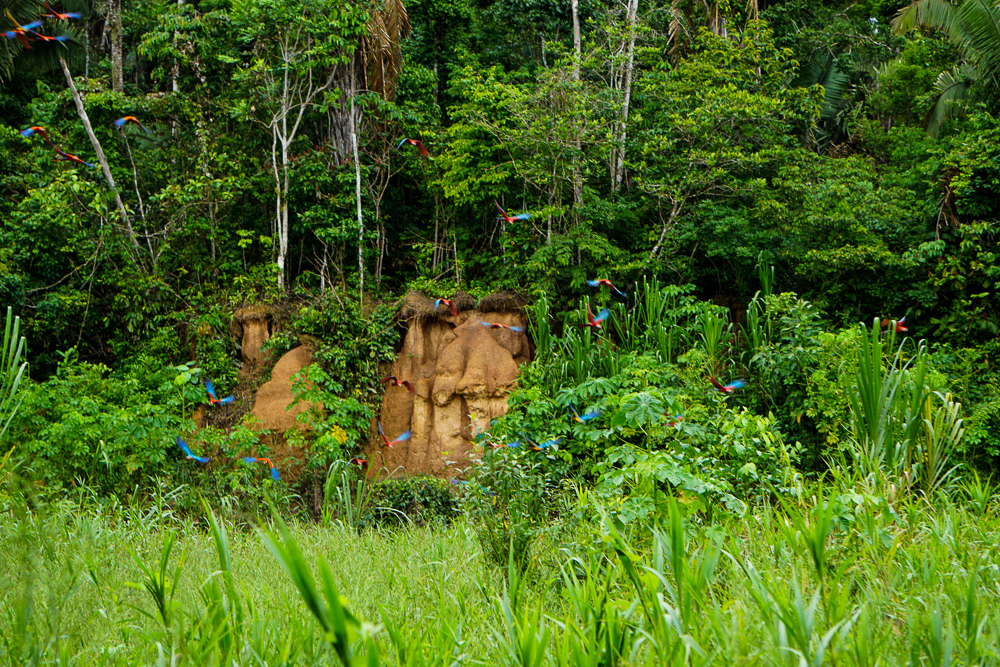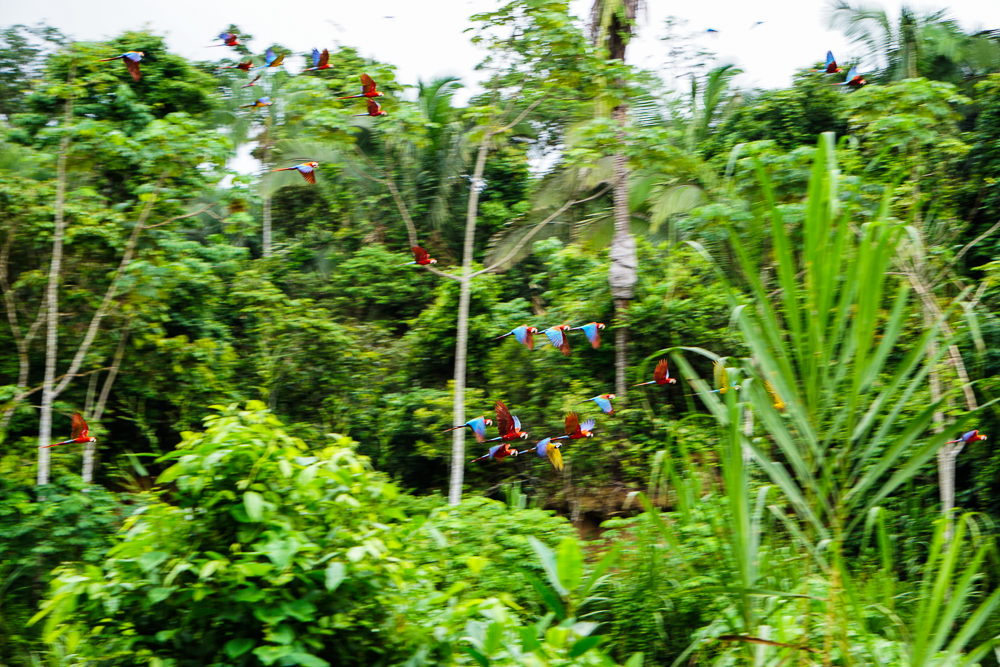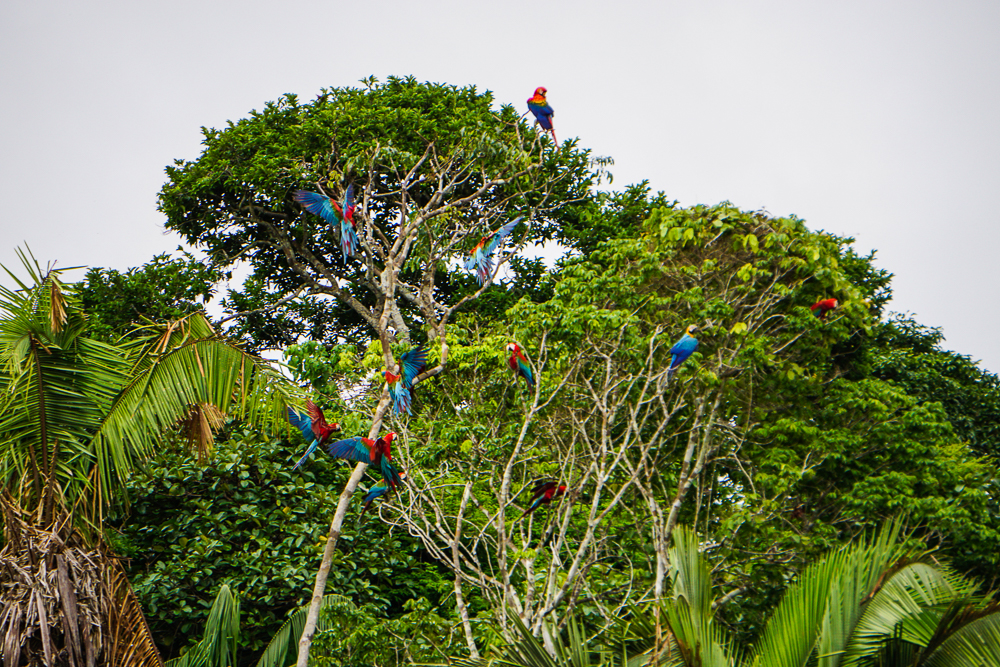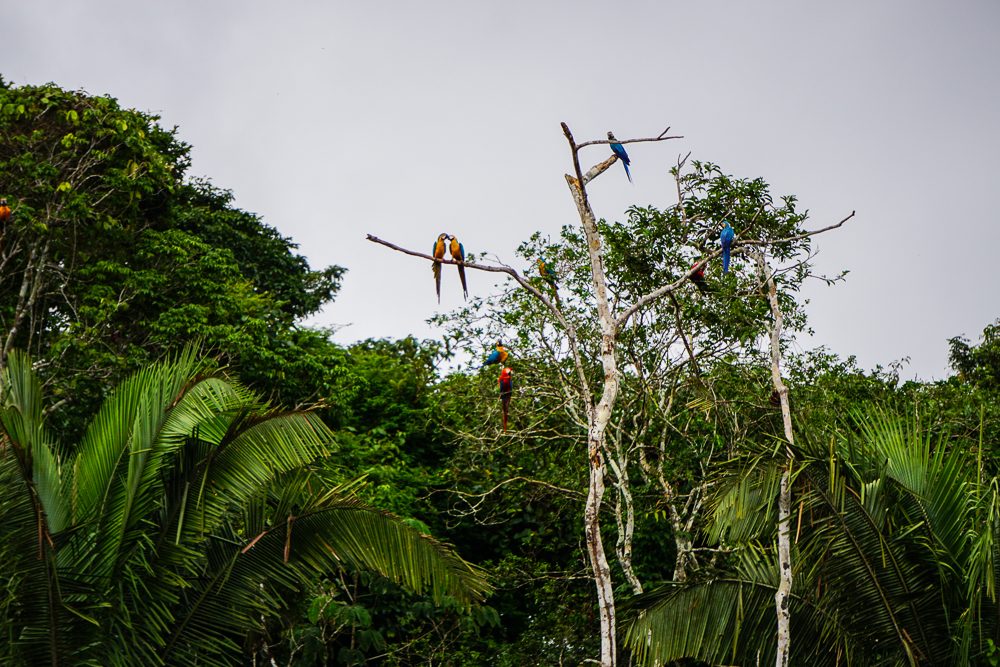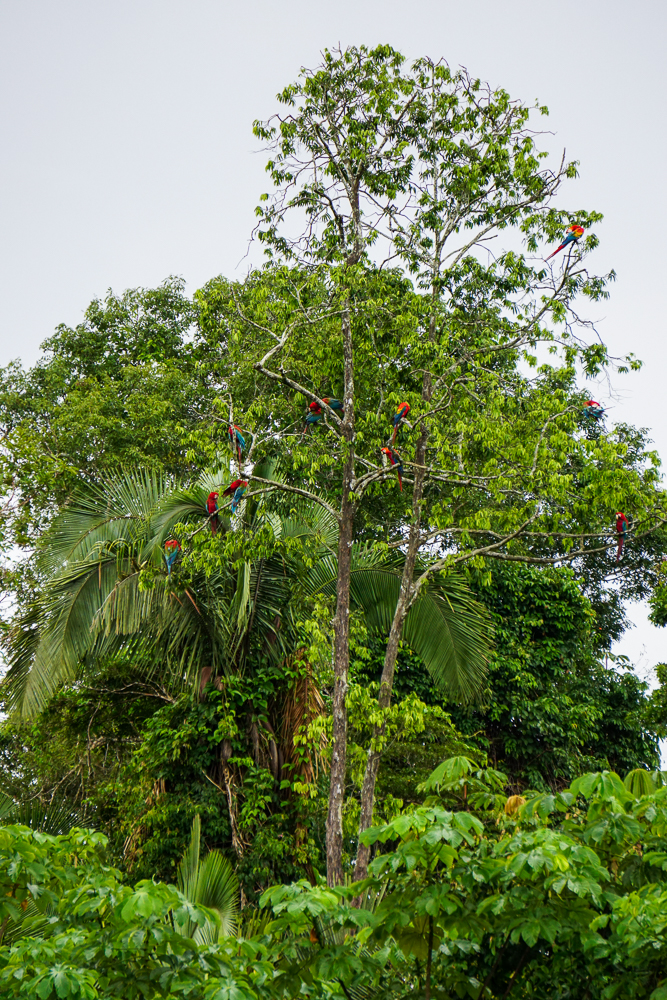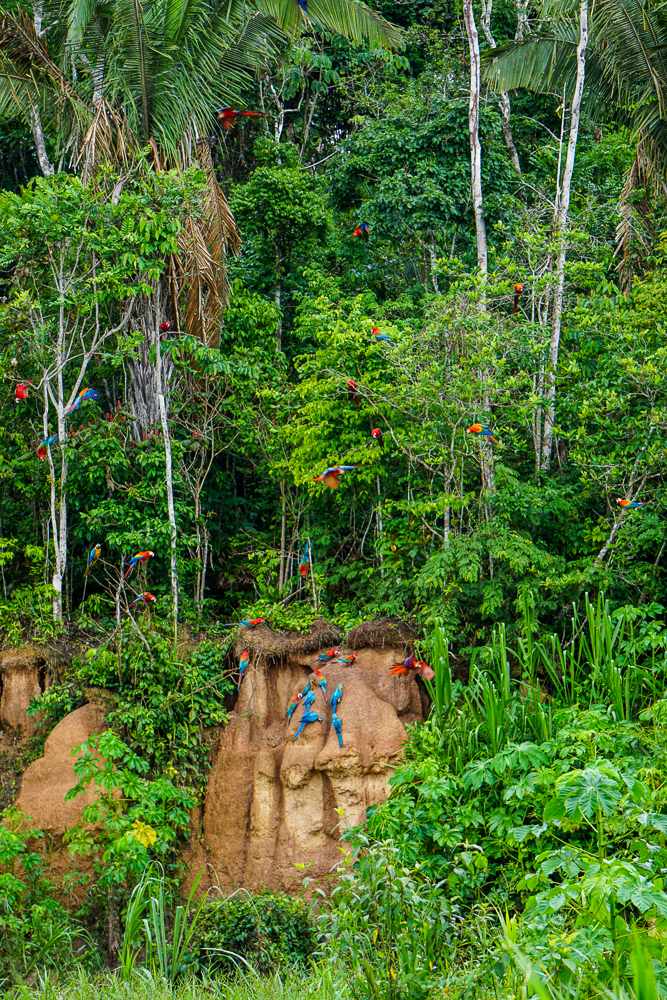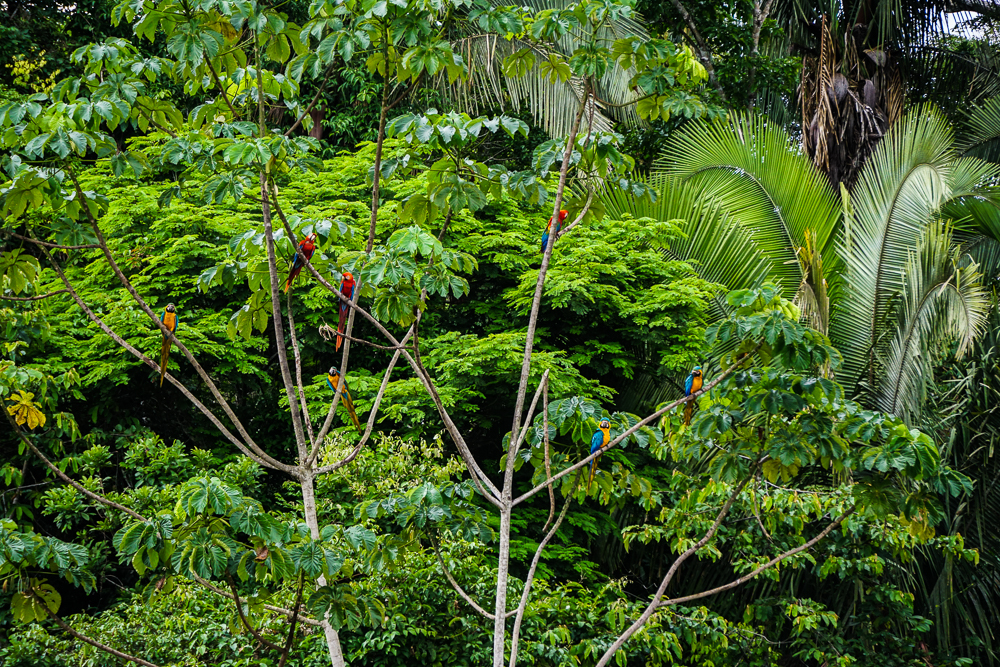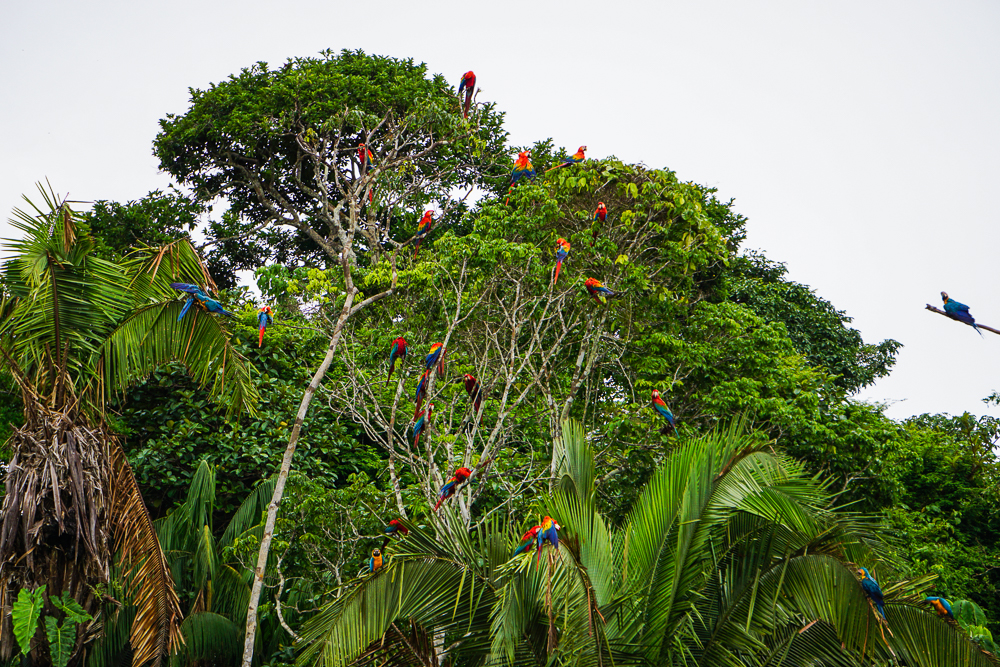 I think I could have stayed there watching until all of the macaws left, but after a while, we called it a morning and headed back to the boat. The ride back to the lodge was so pleasant. There was no sign of the nasty weather from the morning. The sky was blue, and being on the boat on the river was the best feeling in the world. I sat cross-legged on the bench so that I could face forward and look out at the riverbanks and decided that I was at my peak happiness on the river. You think I can live on one of those boats?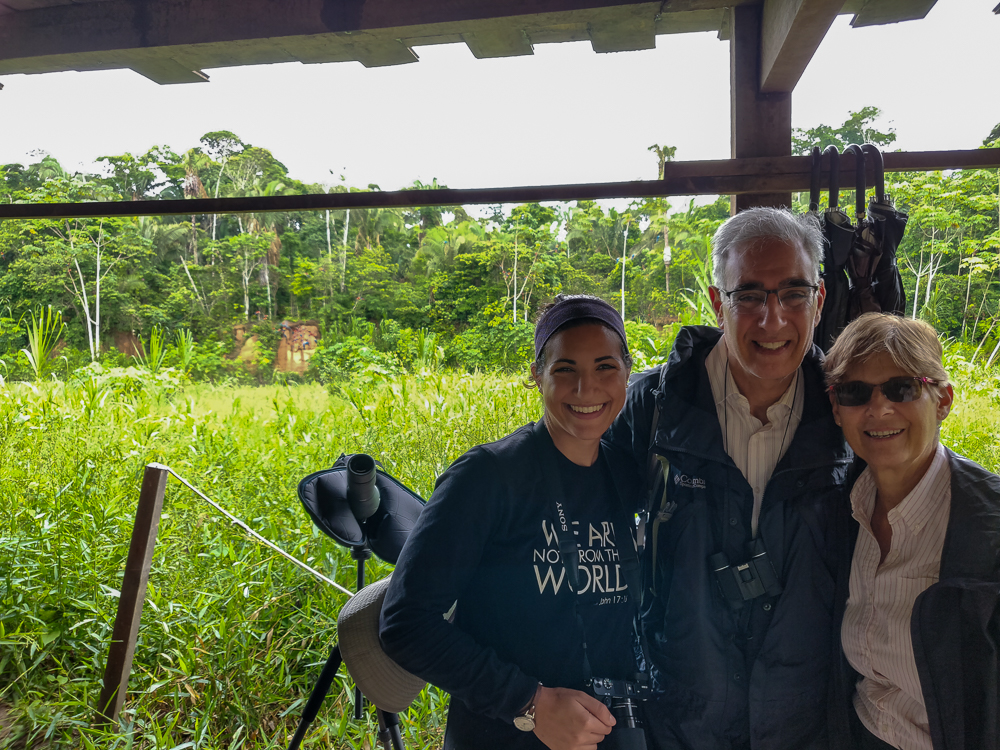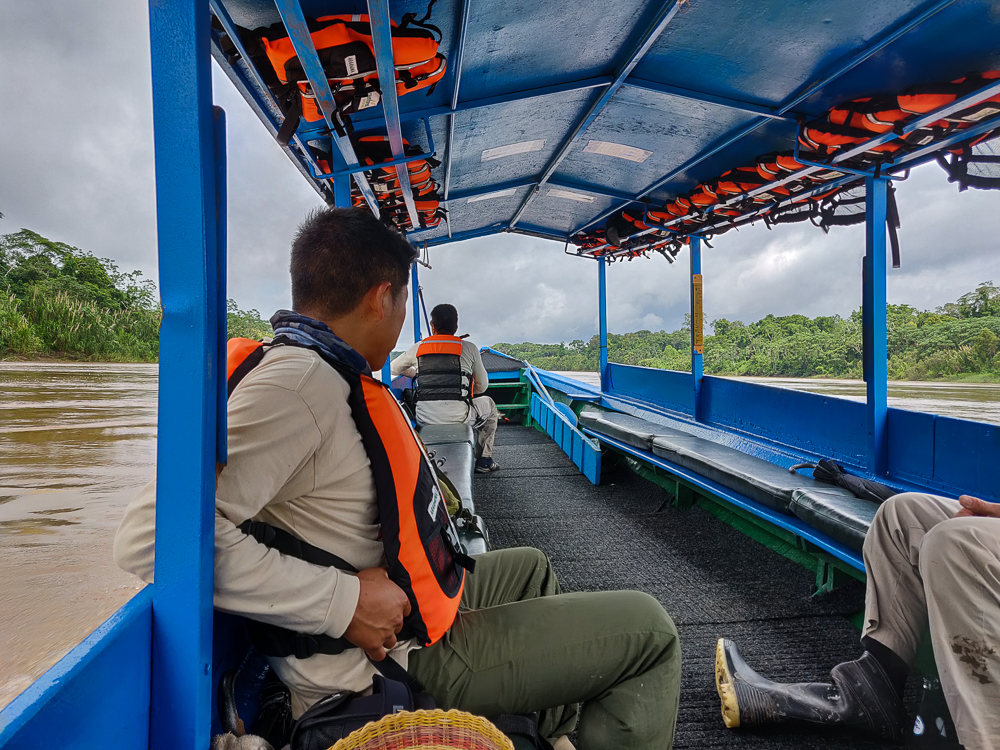 We didn't see anything too thrilling on the way back, but we did see a bunch of birds. We cruised past another, small clay lick right on the edge of the river. I was no longer afraid of using my camera on the boat, so I had it out (with the strap around my neck and a VERY tight grip in my hands) and was snapping sure-to-be-terrible pictures along the way. The only way to get better is to practice!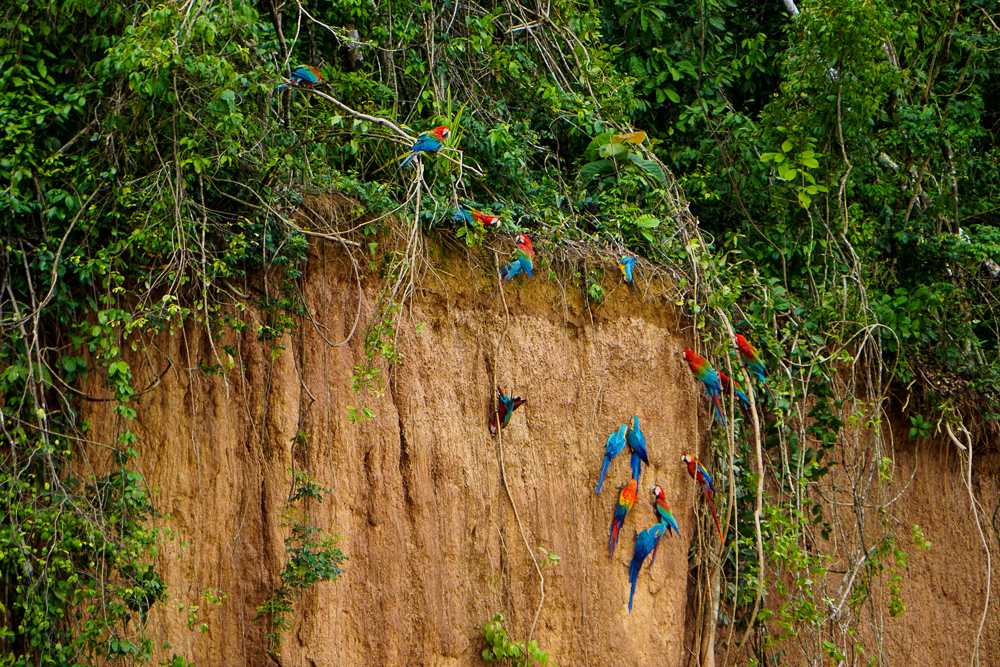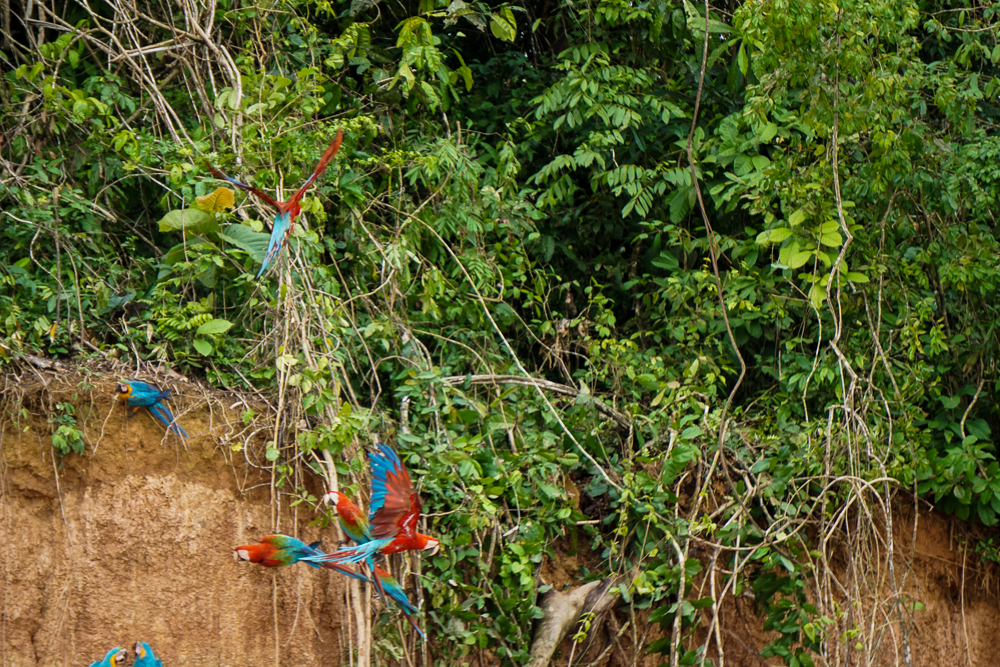 It was only about 10AM when we got back to the lodge, but I felt like we'd already lived an entire day! Thankfully, we had some downtime before lunch, and I used the time to lounge on my bed and rest up for our afternoon adventures… which I'll talk about next time!