The day after we explored San Cristobal's highlands, we made our first relocation from San Cristobal to Santa Cruz, the second largest island in the Galapagos and home to their most populous city, Puerto Ayora. After a few days in Puerto Baquerizo Moreno, San Cristobal (~7,000 inhabitants), Puerto Ayora (~12,000 inhabitants) made me feel like a small-town girl in the big city. It was a bit jarring. Also a bit jarring was the ferry ride… I spent most of it with my eyes closed, praying it would end soon and lying to myself by saying that I didn't feel the least bit seasick. (And like I've said before, I do NOT get seasick easily. It was rough.)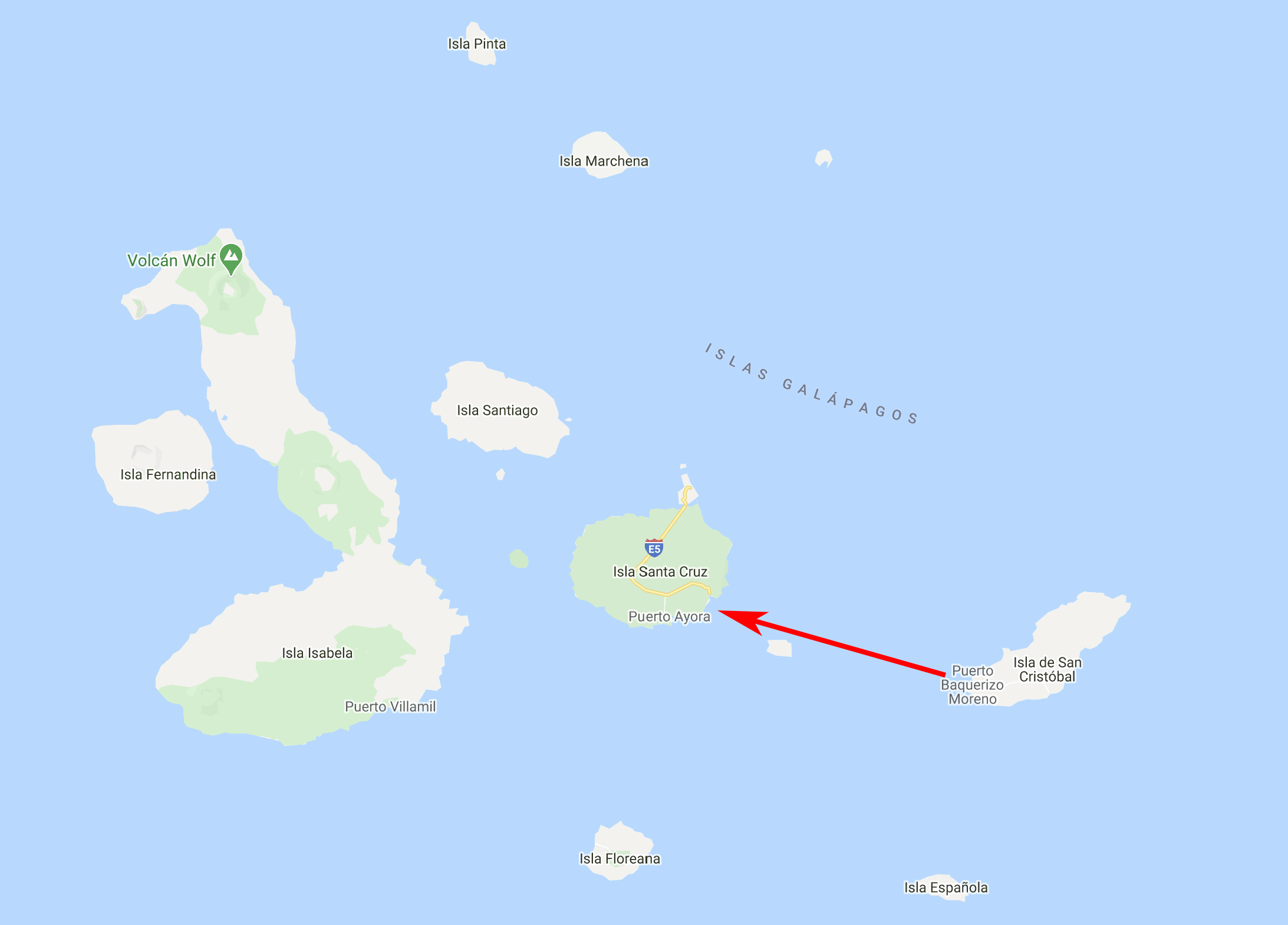 The next morning, we were back at it with another tour, this time going to the uninhabited island of North Seymour, north of Santa Cruz. We had a bit of a hybrid journey this time. Puerto Ayora is on the southern coast of Santa Cruz, so we took a 45-minute bus ride from town to the island's northern port, and from there, we took a 40ish-minute boat ride to North Seymour. Well, actually "yacht ride". This was a fancy tour which meant hellooo, luxury! The yacht had real bathrooms, air conditioning, and an upper deck! That was the best part. Our family claimed the upper deck while everyone else sat inside in the A/C. Whew! Too much luxury like that and I'm going to be ruined for traveling on the cheap! Just kidding, but it was a fun one-time thing.
Unlike many of the archipelago's islands, North Seymour was NOT formed by a volcanic eruption. It's a seismic uplift, formed when the Earth's crust was pushed up by the lava underneath it over the course of thousands of years until it lifted above sea level, forming an island. As a result, it's very flat (the max altitude is only about 90ft/28m) with dramatic cliffs along the shoreline, and evidence of its previous life as part of the seafloor is abundant, with shells and large rocks scattered across the island. It's also small, only about 0.75 square miles (~2 square kilometers) in area, and there's not much vegetation. It's very low and bushy, but that doesn't bother the TONS of birds that nest there during the year.
Once we reached the island, we started off with a walking tour. North Seymour is known for being a great fishing and nesting site for birds, especially frigatebirds. They're the weirdest! The males have these red chest pouches that inflate during mating season because what could be more attractive than that? The mating ritual is the weirdest thing. We didn't see it, but my goodness, look up a video because I can't possibly explain it. Nonetheless, I will try. The males build nests. They sit in their nests, puff up their chest pouches, spread their wings, and then make this noise that can only be described as extraterrestrial. Their entire bodies vibrate from the effort. And the females fly around until they find a nice nest and pouch, and when they land nearby, the males wrap their wings around them to tell other males to scram. The exciting thing about North Seymour is that you can find frigatebirds nesting year-round whereas, in other places, it's a rare treat to get to see a puffed frigatebird (unofficial terminology).
There are actually two varieties of frigatebird found on North Seymour, the magnificent frigatebird (which is endemic to the Galapagos) and the great frigatebird (also found elsewhere). They look very similar, especially the males. The magnificents are slightly larger with a purplish sheen to their black feathers, and the greats have a slightly wider wingspan and a greenish sheen. They also make different noises, and the great frigatebirds go farther from land to get their food, which is good because then they don't compete with one another for resources. The guide pointed out both varieties and I think I have pictures of each, but don't quote me…
The females are easier to tell apart. The magnificents have a blue eye ring and a black throat, while the greats have a red eye ring and a white throat. I don't think we saw any great females, or at least I haven't found any in my photos.
And we saw some chicks and immature frigatebirds which I attempt to identify below…
Anyway, the chest sack isn't the only odd thing about frigatebirds. They don't have waterproof feathers, so unlike many of the other Galapagos birds, they can't go diving for their food. Instead, they eat things off the surface, like crabs, squid, flying fish, small turtles, etc. and sometimes they steal food from other birds, earning them the nickname "pirate birds". At first, I thought this meant that if another bird was carrying a fish or something, they'd make them drop it. NOPE. Well, that is part of it. They dive-bomb other birds and make them drop their prey… but more disturbingly, they sometimes make the other bird regurgitate its food, aka they eat bird vomit. How do they do this? Either by chasing them around until they're so stressed out that they throw up, or by grabbing them by the tail feathers and shaking them around until achieving the same result. And then they swoop down and grab their "food" (ew) before it hits the water. Nature is gross.
Other interesting/less gross facts… they have a really high wingspan to body weight ratio which makes them great at gliding and maneuvering. Their wingspans are up to 8ft (2.4m)… which is crazy. Their bodies are about 3.5ft long (1m), so it's not like they're small birds in any way, but still. They can spend more than a week floating on wind currents! They also care for their babies longer than any other bird. A baby starts to fly at around 4-6 months, but the mother continues to supplement its diet for another 6 months to a year+, depending on oceanic conditions (in years when it's harder to find food, the length of care is usually longer).
Blue-footed boobies are also a big attraction of North Seymour, and people come to watch their weird mating ritual which, most famously, includes some dancing. They lift their feet one at a time like they're casually trying to show off their vibrance, bow their heads, maybe give a gift, and finish off with a finale of wing-spreading and head-lifting. If a female is into it, she goes over and joins the dance. Unlike frigatebirds, blue-footed boobies are great hunters which, unfortunately for them, makes them a frequent target for the pirate birds.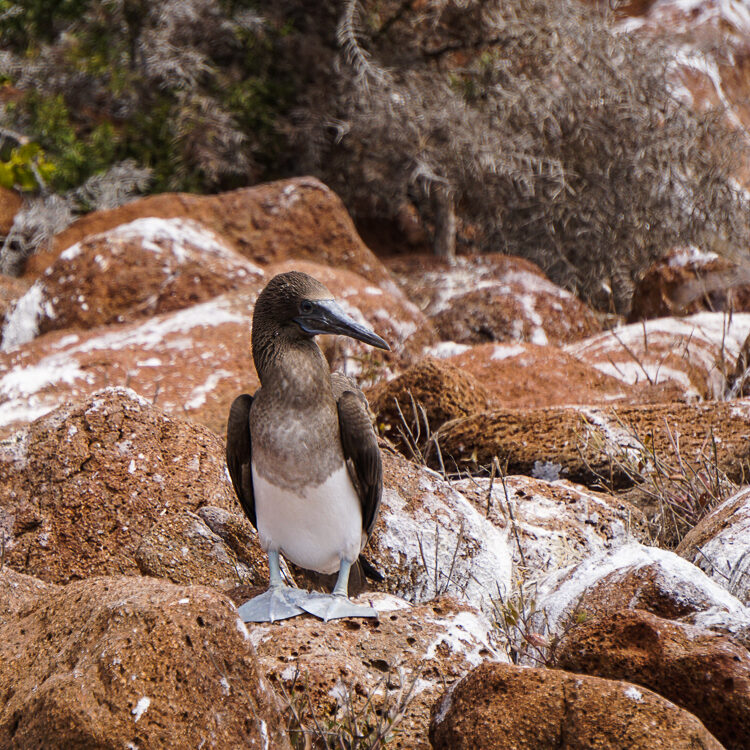 Even as an uninhabited island, North Seymour has had its share of issues with non-native species messing with the island's ecosystem, primarily rats. There was a big effort to eradicate the rat population in the 2000s, and by 2007, the island was rat-free. About 10 years later, though, in 2018, more rats were discovered. You may be wondering how they got there… Did you know that rats can swim? Some can swim for over a MILE (1.6km). Baltra Island, home to one of the islands' airports, is within swimming distance, and it's thought that they came from there.
The rats are a big problem. They eat iguana and bird eggs (and many of the birds on North Seymour literally just nest on the ground), gnaw on the plants and eat their seeds, eat pollinating insects, and reproduce quickly… basically, they wreak complete havoc on the ecosystem. Usually, poison would be spread over the island using helicopters, but that's crazy expensive and imprecise for such a small land area. So, in early 2019, they tried something new and used drones to drop the poison! This was great because they're much more precise which means that they could minimize water contamination, and it's much cheaper than renting a helicopter! The island was closed for a few months, and they think that the rats have been completely eliminated which is pretty cool. They'll keep monitoring the island for the next two years to see how the ecosystem is recovering and to make sure that no rats return.
I think it's really interesting to hear about how they're trying to repair these island ecosystems because it's such a unique situation. Since they're islands, you can actually contain the problem and control more of the variables, unlike if you're working with a larger landmass. Another sort of "test case" that happened on North Seymour involves land iguanas. There are a LOT of land iguanas on the island, but interestingly, they actually aren't native. These iguanas originated on Baltra Island, but Baltra had a goat problem that was damaging the land iguana habitat and population, so in the 1930s, a few were brought over to North Seymour to give them a better chance of survival. By the 1950s, land iguanas were extinct from Baltra… but since they were thriving on North Seymour, some of them were taken to be reintroduced! The North Seymour land iguanas have also been taken to Santiago, another island where the native population became extinct, and have repopulated there as well.
Land iguanas are larger than the marine iguanas that we've seen before, and unlike marine iguanas, which you'll see in large groups on the coast, it's rare to see more than one at a time. They are vegetarians and mostly eat cactus pads which seems like a painful diet, but they have really thick skin in their mouths, so they can eat them spines and all!
Before heading back to the boat, we walked along the beach, looked at some sea turtle nests, and visited a lake where the guide said you can sometimes see flamingos! We lucked out, and even though it was suuuper far away, it was still awesome to see.
We had a little time for swimming and snorkeling before the end of the tour, too. I didn't take my camera with me, and even though there were some cool fish, I didn't regret it because the water wasn't very clear. You'll just have to imagine.
After that, we headed back to Santa Cruz, and everyone was exhausted by the time we got back to the hotel. We did go on one more adventure that night… my aunt read that you can sometimes see sharks from the end of the pier because the lights illuminate the water, so we figured we might as well check it out (especially since I thought it might be good to see a shark from outside of the water to help me get over my paralyzing fear of them). We weren't expecting much, but we actually did end up seeing a few!! They were maybe like 3 feet (1m) long, and it was hard to see because it was dark, but still, how cool! Enjoy my super clear photo… I promise it's a shark.
Related Posts
Española Island – check out more Galapagos birds, including the waved albatross and Nazca booby!
Welcome to the Galapagos – learn about the formation of the Galapagos Islands and a bit about their early human history.