It was back to the farm this morning! The only person who came with me today was Anna, and I give her credit for sticking with it. She was rewarded with a fun morning of… hoeing! My old friend, how I've missed you. We hoed around some eggplants, and at one point she said, "I wish we were planting corn." Ha! She now understands my opinion about the four days of sowing last week. It wasn't actually that horrible because there weren't too many weeds to cut through, and the field we were working on was small enough to finish in one day.
We had a fun day ahead after breakfast! Yesterday, some of the other volunteers went to the farm and picked eggplants from the field we planted corn over to be taken to one of the other orphanages supported by our organization (the Pink program). We had a whole crew with us for this trip – Anna, Yara, Clarina, Evans, Joe, Jamie, and me. We took a tro to the town where the orphanage is, Dodowa, and from there, everyone except for Evans and me packed into a taxi with the food for the last part of the trip. He and I walked about 20-25 minutes to get there, which wasn't too bad except that it was really hot, the sun was out, and there was NO shade.
After making the donation, we ate lunch with the two Pink volunteers before heading back to Frankadua. Evans went back to Accra, Joe had already left, and Jamie was transferring to Pink, so our group was down to Anna, Yara, Clarina, and me. We took a tro to Kpong and then had to switch to another one for the rest of the trip. The second tro sat in the station for probably 45 minutes until it filled up, which once upon a time might have bothered me, but now I'm the queen of patience. It didn't hurt that a bofrot lady AND a fan ice guy came by around the same time, so I double fisted a donut and some ice cream and was perfectly content to wait.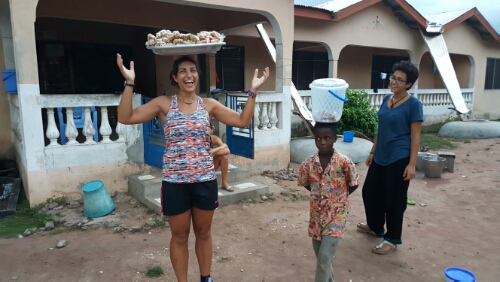 When we finally got back, James said that he went to the clinic again, and he does have malaria. It's a mild case – they rank it out of 4 pluses with 4 being the worst, and he only had 1 plus. Still though, it's miserable. He's taking the anti-malaria meds that you're supposed to take, but they don't actually guarantee that you won't get malaria. If you get it, it's just usually a milder case than it could have been. Some people don't take them because they "don't really work", but my opinion is that it's not worth taking the chance, and anything is better than nothing. Hopefully he starts getting better soon because it's definitely not fun.