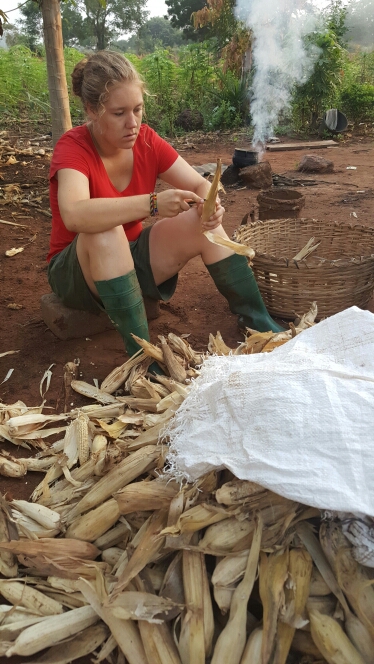 We had a really cool day!! Amber, Nico, and I took a food donation to the orphanage, and it was awesome to get to see the payoff from our work.
Our trip to the farm this morning was bittersweet because it was Amber's last day, but we were getting the food together for the donation. We spent part of the time shucking more corn and the other part picking some eggplants. After everything was assembled, we had to take it out to the street which is easier said than done when you're coming from a farm that's probably a 25 minute walk from the street.
Nico took one sack of corn in the wheelbarrow, John carried the sack of eggplants on his head, Anthony (another one of the local farmers that works with us) carried another sack of corn on his head, and they made a mini sack of corn for me. Amber offered moral support and carried the eggplant bag for part of the walk. I was carrying my sack in my arms until Anthony shook his head and told me to put it on my head. Learning how to carry things on my head is on my to do list, so I felt like I had to try. I think I did okay! It was a little uncomfortable because corn cobs were digging into my skull, but that's just because I didn't have anything to use as a cushion. People usually coil up towels or other fabric pieces and put them between their heads and whatever they're carrying. By the end, I could even walk a little distance without using my hands. Woo! I'm not going to be carrying water on my head anytime soon, but it's a start! (I was feeling inspired and actually tried carrying some water with no hands this afternoon… It did not go well.)
We left the sacks by the side of the road for a couple hours while we ate breakfast and got ready to go to the orphanage and just trusted that no one would touch them. Apparently, having someone steal your food from the side of the busiest road in the village is not something you need to worry about. Sure enough, we caught a tro by our house, and when we drove down the street to where we left the stuff, it was all still there.
The tro dropped us off in Asikuma, the town where the orphanage is, and we still had probably a 15 minute walk to get there. Joe called one of the guys who works there, he came on his motorcycle and rounded up three other guys with motorcycles, and they all took one bag of food in front of them and one of us behind. My first motorcycle ride! Let's just pretend that we all had helmets on.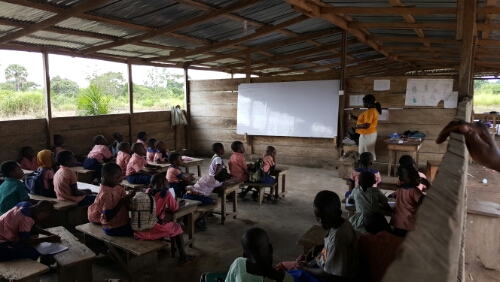 After handing over the food, we checked out the primary school that's right next door. It's really cool! The school just started this year, so they're using a temporary structure while the permanent one is under construction. They said that as long as they have a steady stream of funding, the project will take two years total. This is the only school in the area, so all the kids who go there now either didn't go to school before or had to travel to the next town to get there (probably getting there by walking, and the towns aren't that close together). It was fun to see another school, and it felt like there was such a good energy there. Obviously we were only there for a few minutes, but the teachers seemed passionate and the kids were engaged. Whoa.
We worked on the hole (to store the pig poop and convert it into fertilizer for the farm) a little more in the afternoon, and Isabel came along again to help. It's so nice to have extra hands!! Oh yeah, as you can see, Isabel didn't leave today. Apparently now she's going on Monday. At least we can put off another goodbye for a few more days! We didn't make as much progress on the hole as we had hoped, but isn't that what always happens? We should have known.
This is Amber's last night, so we're having a bonfire (of course) to celebrate. How did 6 weeks go by so quickly?? Ah! That reminds me! Originally, I was planning on doing agriculture for 6 weeks and construction for 6 weeks during my time here, but I've changed my mind. I would have to switch to Gold to do construction, and as you know, they have a lot of lizards and snakes there. But actually, I've decided to stay here because I really like the village, and I love being able to work on the farm and teach and help out with whatever projects the other volunteers have going on. I feel like I have some momentum here, and it seems stupid to interrupt that and move just because of a decision I made before I really understood what I was getting myself into. So yeah… In conclusion, I'm not moving, and time to get ready for Amber's bonfire party!