While there are plenty of negatives to not having a plan when you're travelling (many of them clearly displayed in Istanbul days 1-5, such as being unprepared, inefficient, and uninformed), there are also some positives. One of the biggest positives is flexibility. When you don't have a plan to stick to, you can take opportunities as they come.
After my long day at Topkapi Palace, I spent some time hanging out in the common area of the hostel, trying to warm up and enjoying sitting down for a change. I started talking to this guy who told me about his plans to take a day trip to Bursa the following day. I didn't have anything figured out, so I thought "why not?" and asked him if I could join. Voila! Just like that, plans!
I knew nothing about Bursa. You're shocked, I'm sure. I kind of thought that the guy would know something about it because he had the idea to go there, but I soon found out that he didn't really know anything either. Great haha. He had a couple of places that he wanted to visit, but otherwise, we were just going to go with the flow.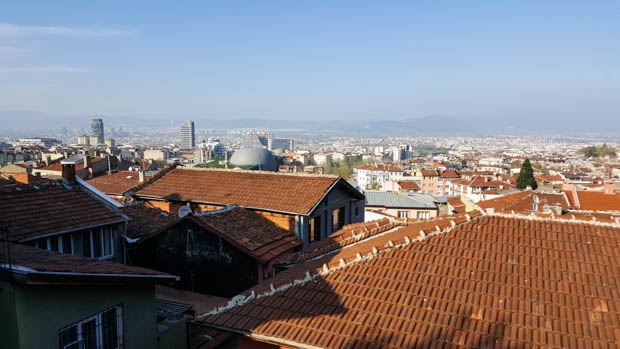 It's estimated that the first settlement in the area was around 5200 BC. Bursa spent time as part of the Roman Empire, and when it was captured by the Ottomans, they made it their capital city from 1335-1363. The city grew rapidly during this period, and even after the capital was moved, Bursa remained an important part of the empire as a center for silk trading. As we all know from our visit to Topkapi, the Ottoman royals had expensive taste which means that the silk needs of the palaces were plentiful.
Today, Bursa is an industrial hub and the fourth most populated city in Turkey (after Istanbul, Ankara, and Izmir).  The city is nicknamed "Green Bursa" because it's dotted with parks and other green spaces, and it's surrounded by forests and a fertile plain. There are also mountains around the city, and any city where you can see mountains in the distance gets at least 100 extra "cool points", in my personal opinion (and also the opinion of anyone who knows anything about assigning cool points to cities).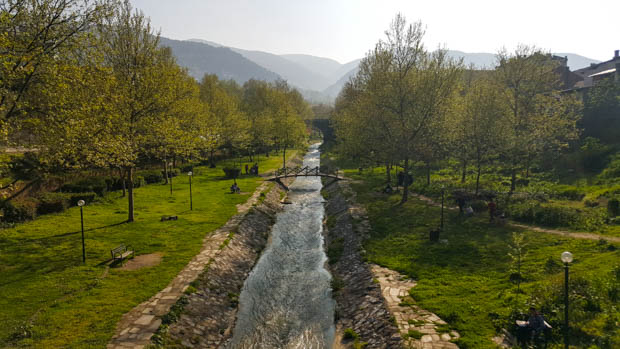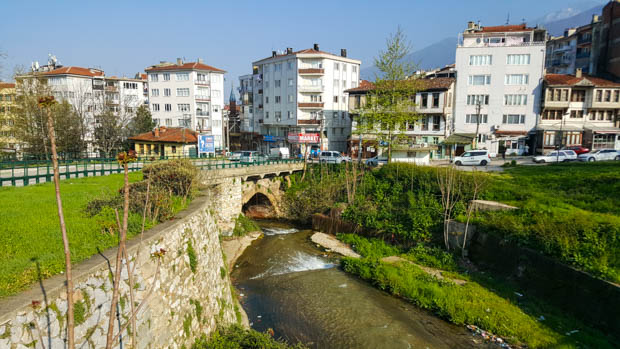 Despite my lack of knowledge about the city, I was excited to see a slightly less touristy side of Turkey. Bursa is still a relatively popular tourist destination, but "relatively popular" is nothing in comparison to Istanbul.
Since I was tagging along, my plan was to, well, tag along. I didn't assert myself too much when it came to making decisions about the day because I was already imposing, and I wanted him to feel like he could do whatever he was planning to do. If I had been in charge, I would have set a painfully early departure time (for reference, at this phase in my life, "painfully early" = anytime before 8AM which yes, I'm aware, is ridiculous), looked up the ferry schedule beforehand, and figured out exactly how to get from point A to point B so that there would be no surprises. I guess I assumed that other people are similar to me… and you know what they say about assuming.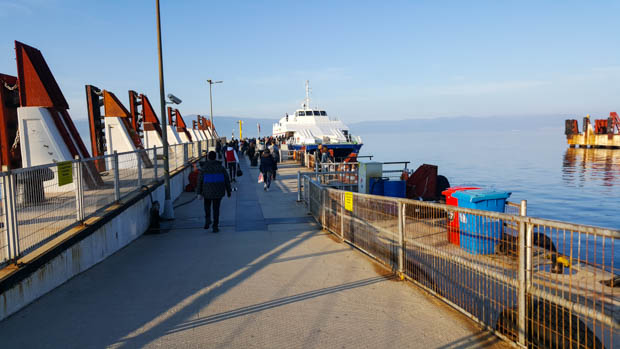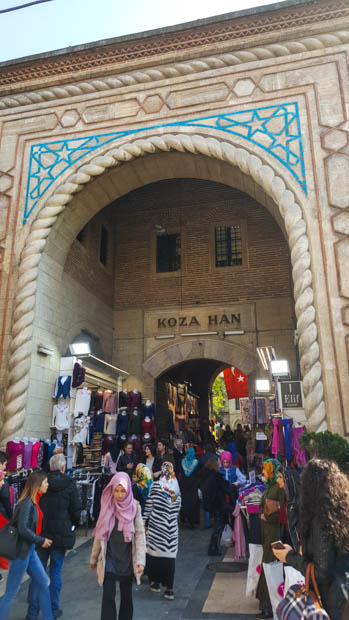 My travel buddy was almost TOO go-with-the-flow. He was like, "I was thinking about leaving around 10." Okay, I thought. Seems kind of late but I'll go with it. I'll spare you all of the details, but in summary, we definitely should have left earlier in the day. We had to walk to the ferry terminal, buy a ticket for the next ferry, take a 1.5 hour ride to the coastal town nearest Bursa, and ride the bus/metro from there into the city center. That whole thing took like 3-4 hours with the actual transit from Istanbul to Bursa city center taking around 2.5.
By the time we made it there, we only had a few hours to wander around before we had to start heading back to catch the return ferry. Not ideal, but I was still happy to be in a new setting seeing some new things, so I was determined to make the most of our time.
Our first stop was Koza Han which was the historic location of Bursa's silk market. It's a two-story rectangular building with a big interior courtyard. The architecture is typical Ottoman style and is beautiful with its domes and arches. Today, the building's 95 rooms house silk shops, souvenir shops, and a bunch of restaurants and cafes that fill the central courtyard with tables. I had no idea what to expect, and I definitely didn't think it was going to be so fantastic. I guess the word "market" makes me think of folding tables and tarps strung up above tables to shield customers from the sun rather than a proper, permanent marketplace.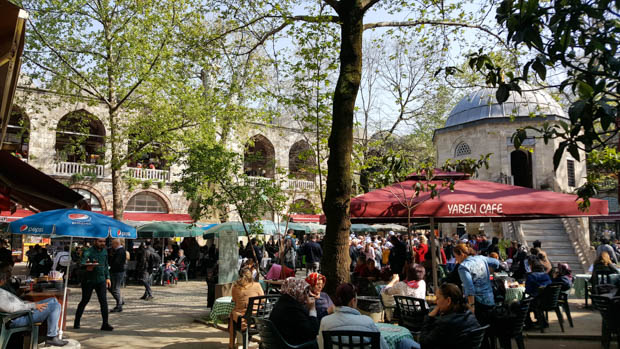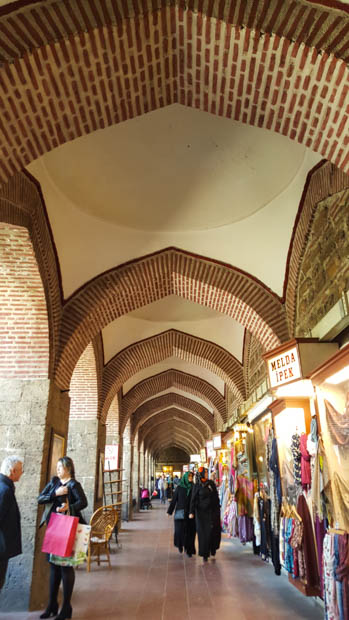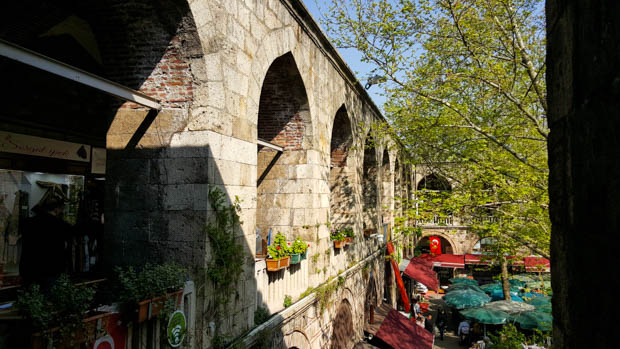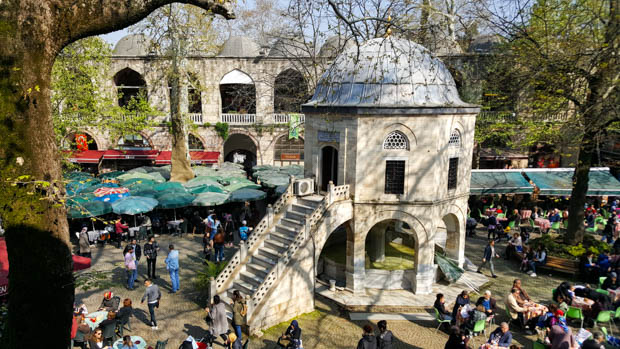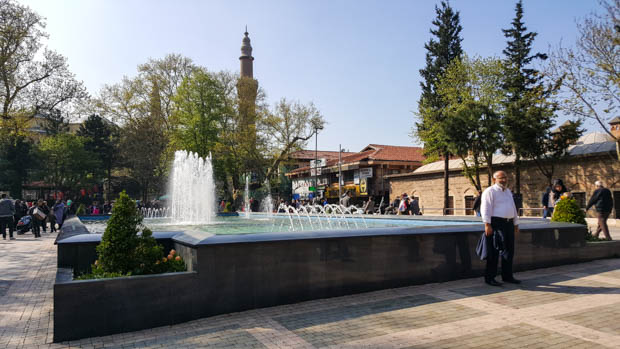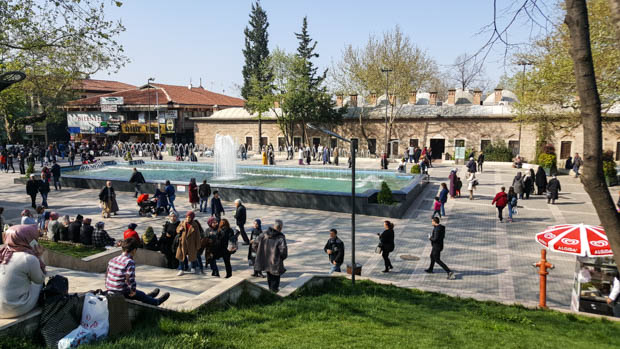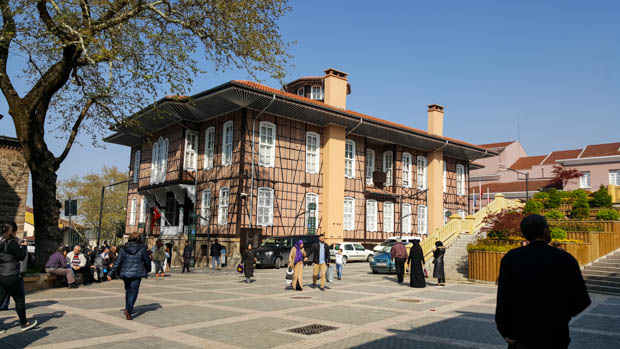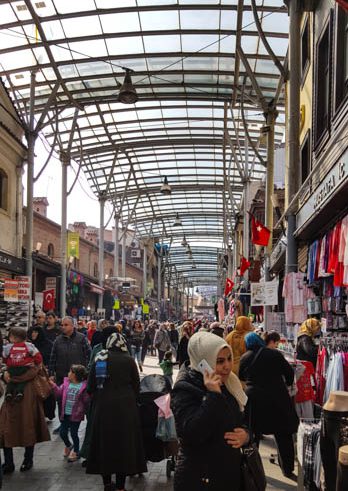 Oh yeah, and the walk there was also a bit unexpected. I plotted a route from the metro stop to Koza Han without any clue about what was along the way. It turned out that most of the walk was on this massive pedestrian market street called the "Long Bazaar". It was PACKED with people, and if I wasn't enjoying people-watching so much, I might have wished that it was a little calmer.
Right next to Koza Han is the Grand Mosque of Bursa, or Ulu Camii, built in the late 1390s. It's the biggest mosque in Bursa which is already enough to make it worth a visit, but there's also an uncommon interior feature – a fountain, directly in the center of the mosque.
---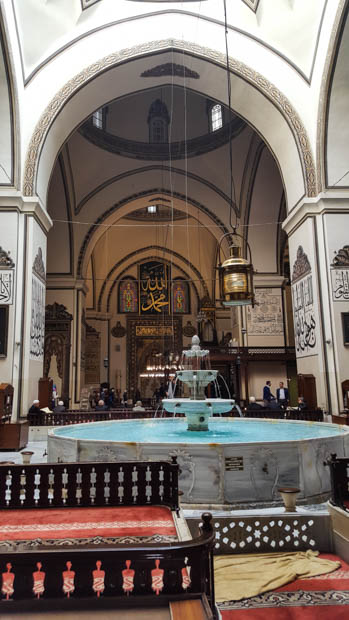 There's one of those "maybe true or maybe not but told like it's fact" stories associated with the construction of the mosque and the strange addition of the fountain. The story goes that the Ottoman Sultan wanted to build a grand mosque for Bursa, the capital at the time. He started buying plots of land, but one old woman repeatedly refused to sell… and her property, of course, was in the very center of the site. When the woman died, her land was acquired, and construction of the mosque finally moved forward. She didn't leave a will or anything, so legally, no one knew her final intentions for her property. To avoid the risk of having people pray on potentially illegitimately acquired land, the architects were directed to place a fountain there. In another version of the story, the woman had a dream that finally changed her mind, and after she sold the land, the fountain was built there in her honor.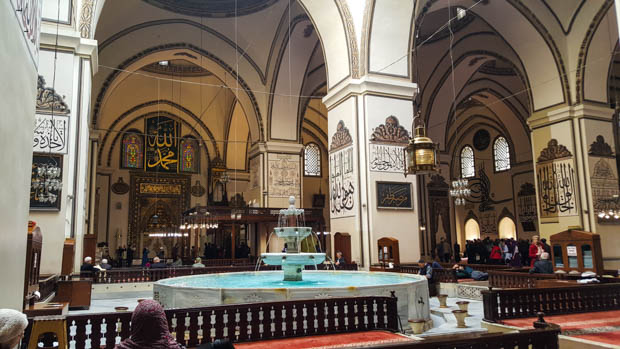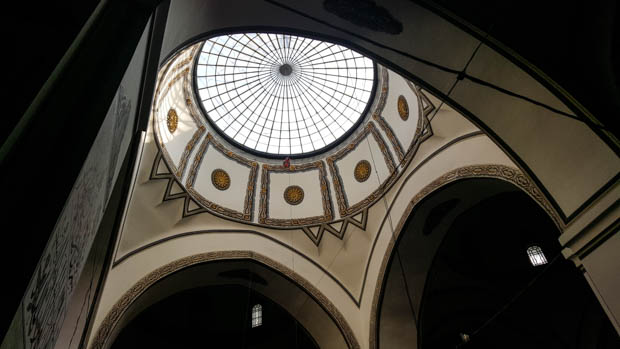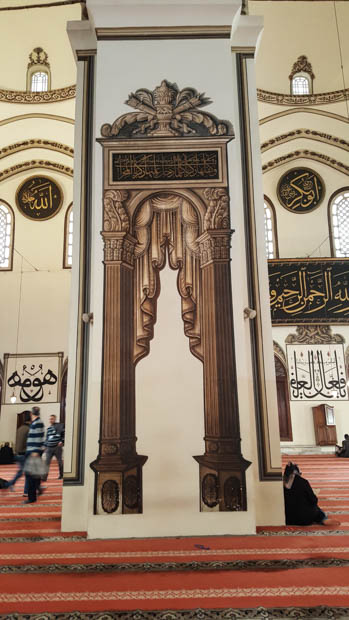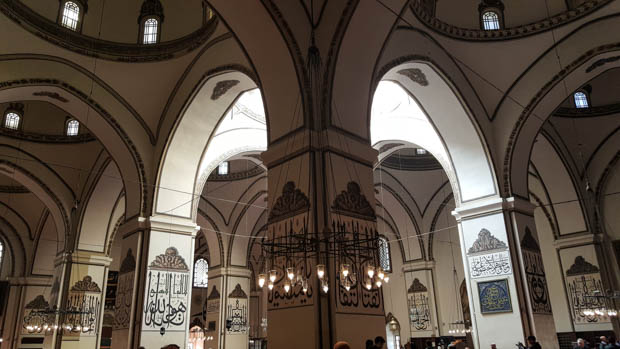 After leaving the Grand Mosque, we had just enough time to make it to another well-known mosque in the city, the Green Mosque (Yesil Camii), before having to head to the metro and start our trek back to the hostel. This mosque was built in 1424 by Sultan Mehmet I and gets its name from, you guessed it, the green color of the interior décor.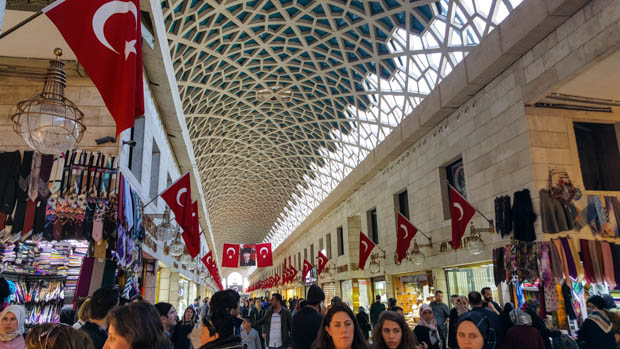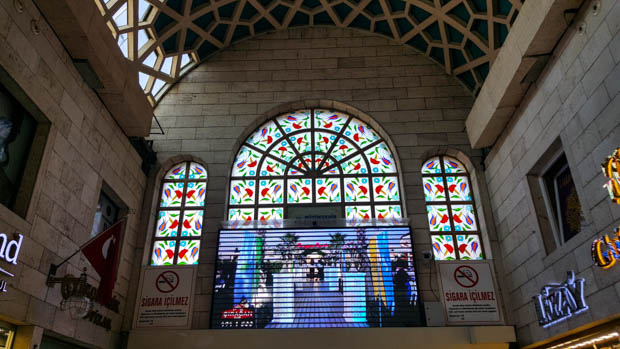 We wove our way through the streets, only getting lost maybe once or twice… no comment on who was navigating (it was me)… before arriving at the mosque JUST as afternoon prayer was starting. Perfect timing… NOT!
Since I'm a woman and the women in that mosque have a separate prayer room (sometimes it's within the same central space but is along the side or in a balcony or something, but this time it was a whole separate room), I couldn't go in to see the main sanctuary while prayer was happening. I was happy to be able to just look in the window though. The details were all spectacular!
If we had all the time in the world, we would have waited around until prayer time was over and we could wander around as we pleased. Since we absolutely did not have all the time in the world, we had to run out before it was over, and I had to be content with my through-the-window views (not so bad, honestly, but that does mean I don't have any interior pictures… okay actually I have no pictures because I completely forgot to take some of the outside. It was hectic when we got there, and we were in a rush when we left. Oops).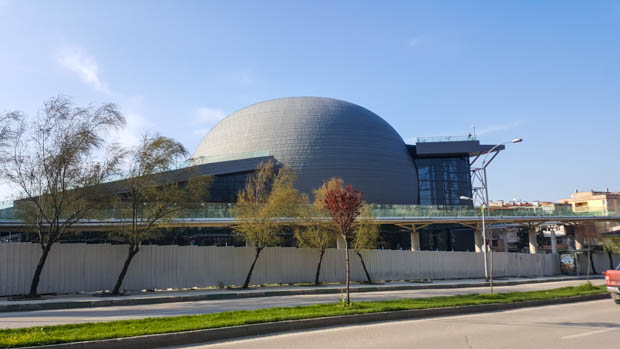 Thankfully, everything after that went without a hitch. We made our way to the closest metro station, rode the metro to the end, hopped on a bus, rode again to the very end, and collapsed onto the ferry in exhaustion. Despite getting back to the hostel around 9PM, it felt like midnight (for all you party animals out there who think that midnight is like midday, I like to go to bed at about 10PM… so midnight is extremely late). Definitely not the most relaxing of days, but I'm glad that I managed to see a tiny bit of the country beyond Istanbul!