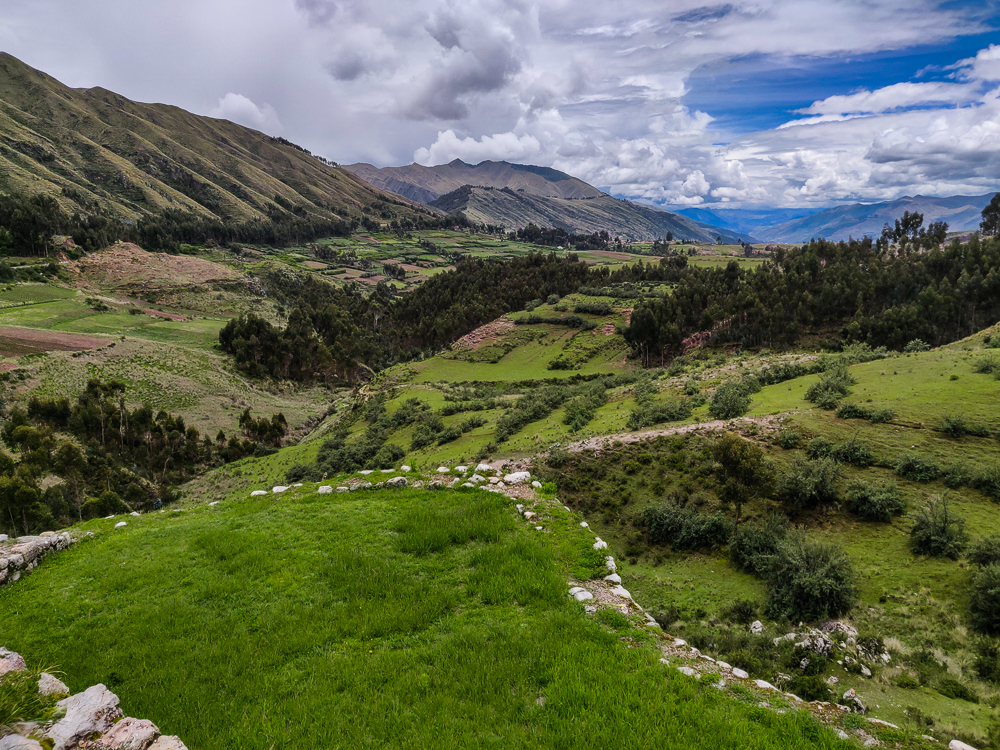 I had all sorts of plans for our full day in Cusco. Essentially, I wanted to follow the same schedule as my first time in Cusco because I thought that it was a good intro to Incan ruins. There are four major sites within about 20 minutes, driving, from the center of Cusco. Last time, I tromped all over the city searching for a public bus to drop me at the farthest one and then worked my way back from there. This time, the lady at the hotel convinced me it wasn't worth the pain to take the bus when a taxi was only 20 soles ($6), or 40 for the two we needed. The group seemed to agree which I guess is what happens when you travel while actually having an income. Weird, I don't know what that's like.
I asked her to schedule them for a couple of hours later (and I was really proud of myself… this all happened in Spanish. The woman's daughters speak English, and she was going to call them to help with our conversation until I told her I wanted to try. She was really nice about it and spoke clearly and gave me a big confidence boost. Good way to start the day!), and she gave us directions to a grocery store so we could buy supplies for lunch on the go. On the way, we stopped at the famous 12-sided stone, another example of Incan stoneworking excellence, though after the 14-angled stone from Qorikancha the day before, it's just another rock. Kidding! I still think it's awesome. Seriously, Incan stonework is a detail-oriented, precise, engineering-minded person's dream.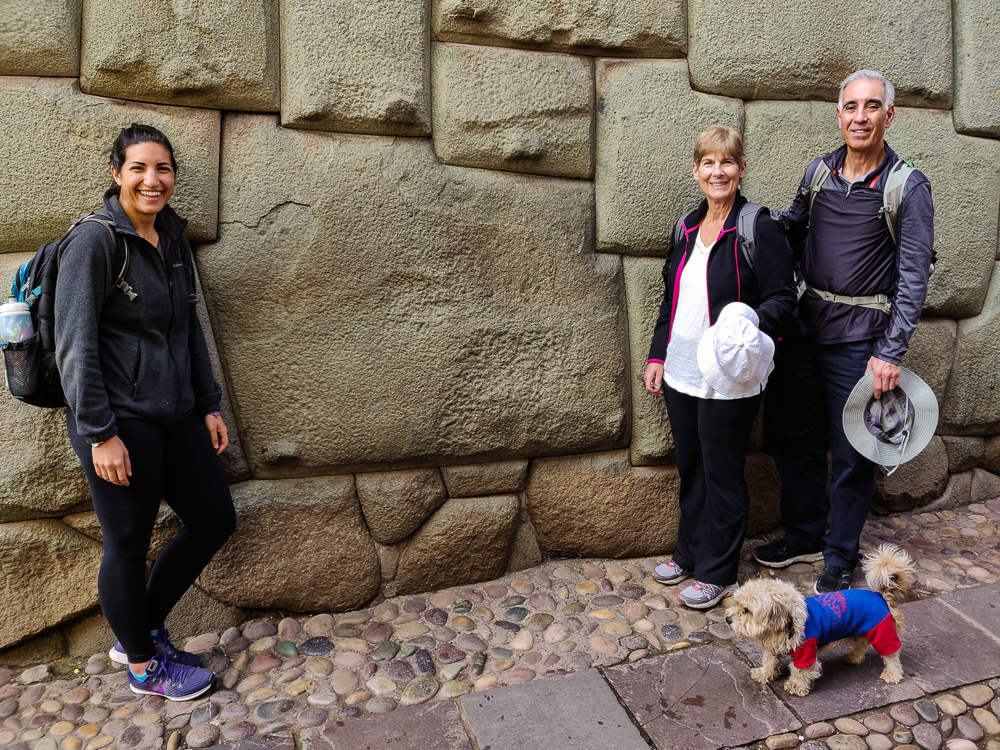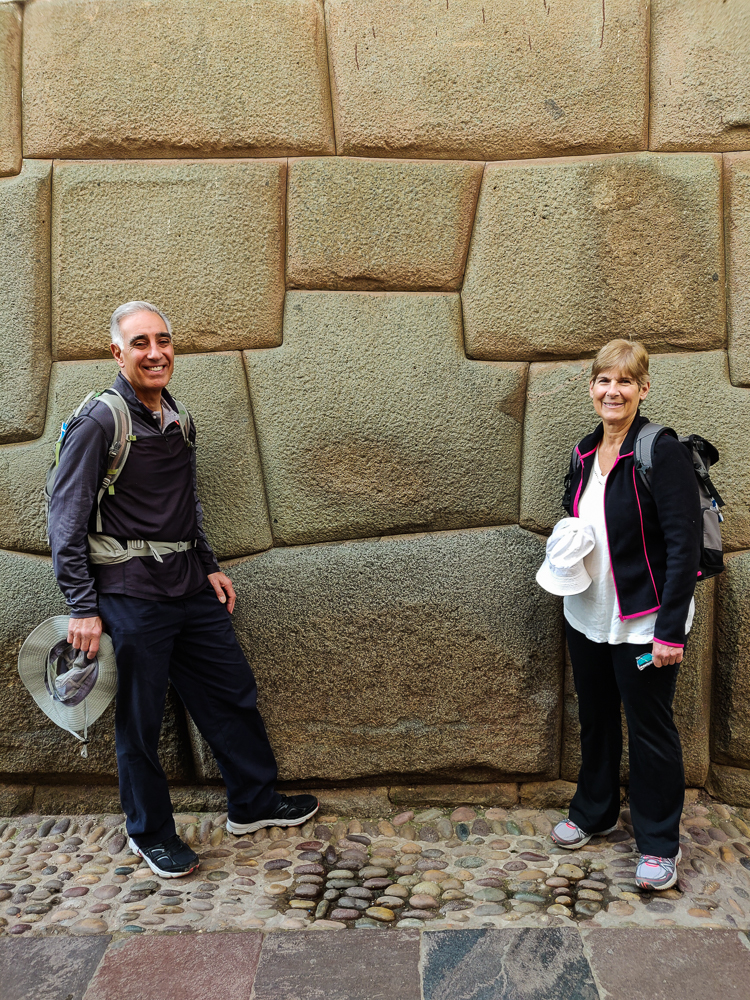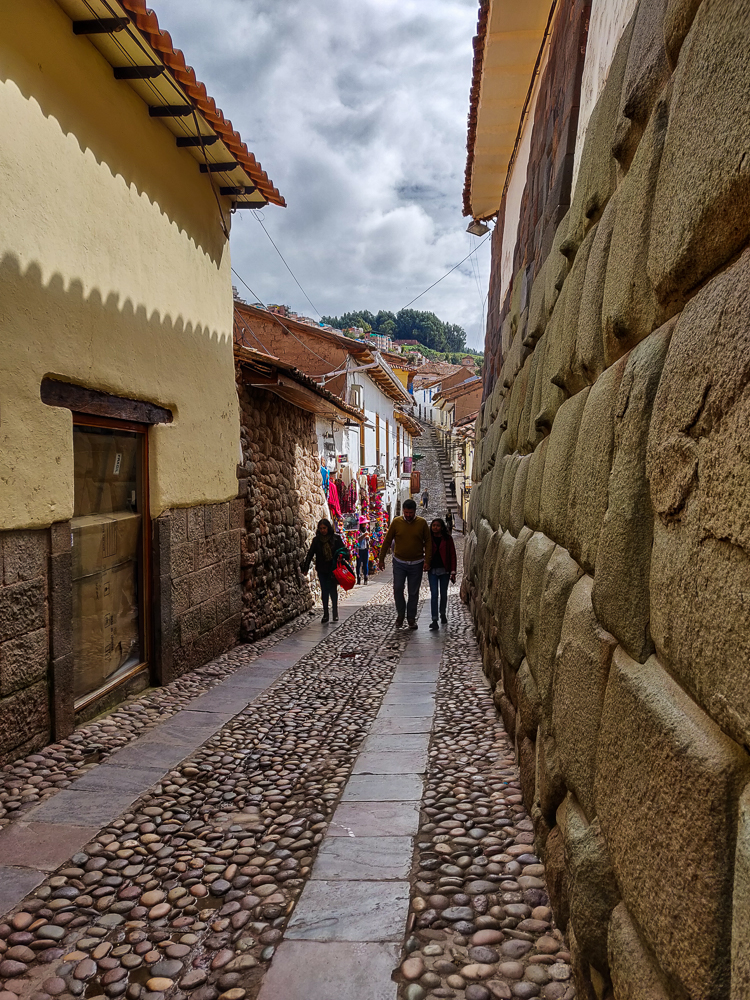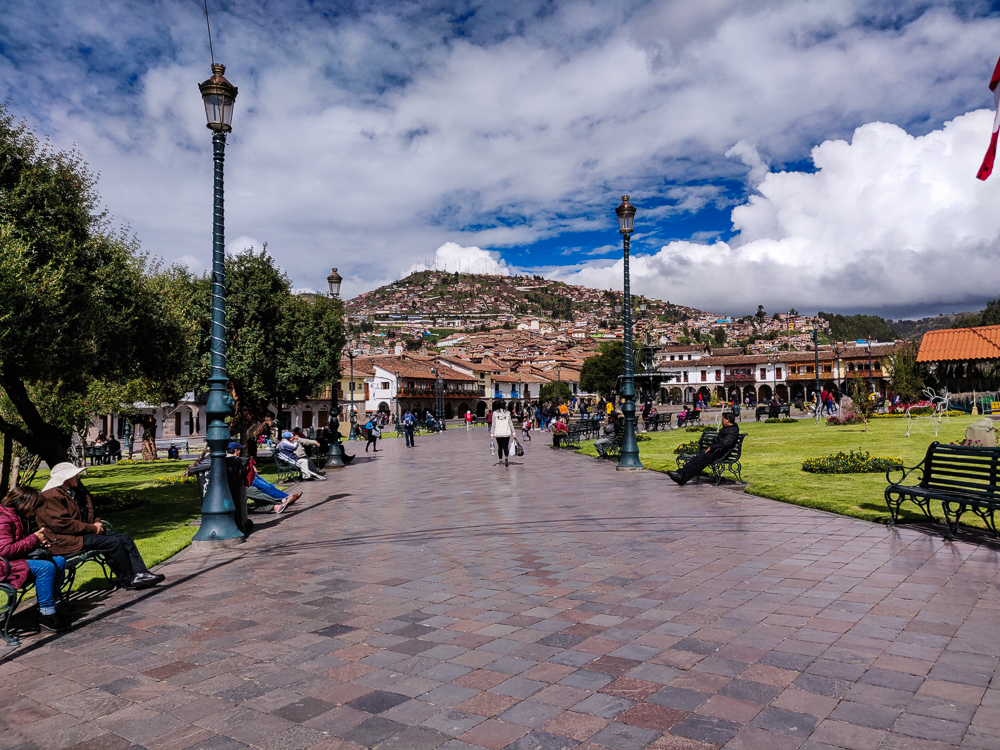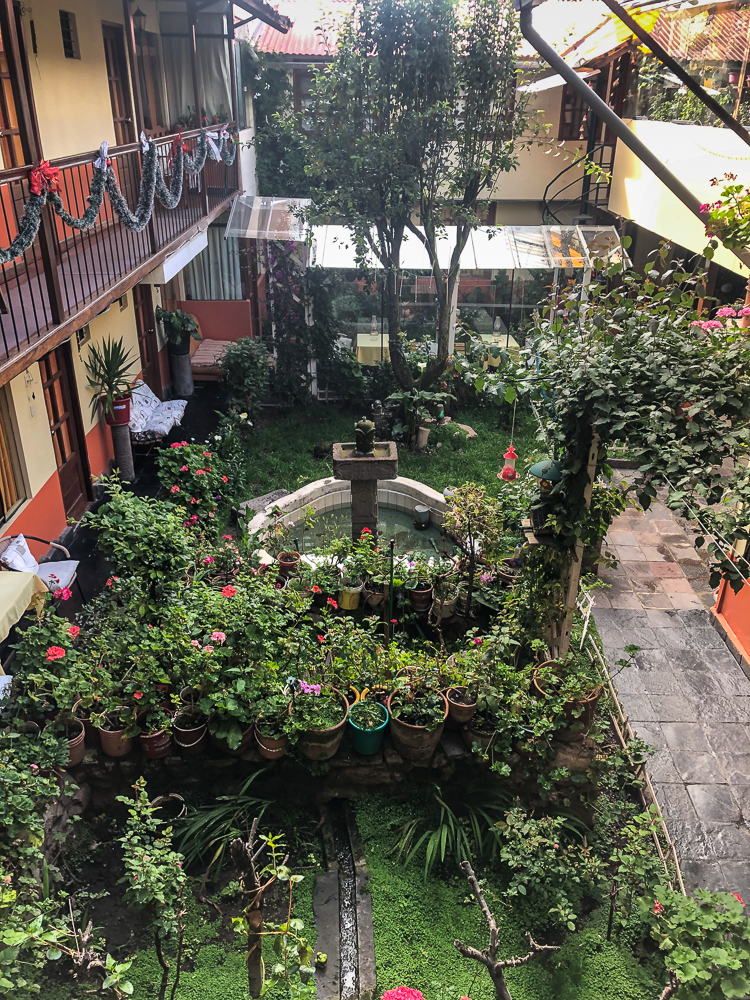 We also picked up our tourist tickets along the way. They're good for something like 12 different sites across Cusco and the Sacred Valley (technically the "Sacred Valley of the Incas" which is the valley at the heart of the Incan empire and has a ton of significant sites), and four of those were the ones we were planning to visit that day. From there, we rushed back to the hotel, grabbed our bags, and were reconvening in the hotel courtyard just as the taxi guys arrived.
Most actual tours of these ruins start in Cusco and work their way out from the city. Since the official Lara-guided tour goes in reverse, there was practically no one around when we got dropped off at our first stop, Tambomachay. Also, part of that might have been due to the weather. It was drizzling when we got there, and the rain continued off and on, in varying intensities, for the rest of the day.
Tambomachay was a place of rest and relaxation for the Inkas (the kings – from now on, I'm going to use "Inca" to describe the people group and "Inka" for the kings. This is just for my sanity. In reality, both are acceptable spellings for both). "Tambo" means that it is a lodge, or a place where travelers can receive food and lodgings, and "machay" means that it is a resting place. It is believed to have been used by the Inkas as a base while hunting and was also a sacred place.
The niches in the wall were likely used for golden idols and maybe even mummies. There are a few fountains, still operational, fed by an unknown source and brought to the site through underground channels. Some claim that the water has certain mystical qualities that grant the drinker eternal youth or fertility (one specifically promises to give you twins).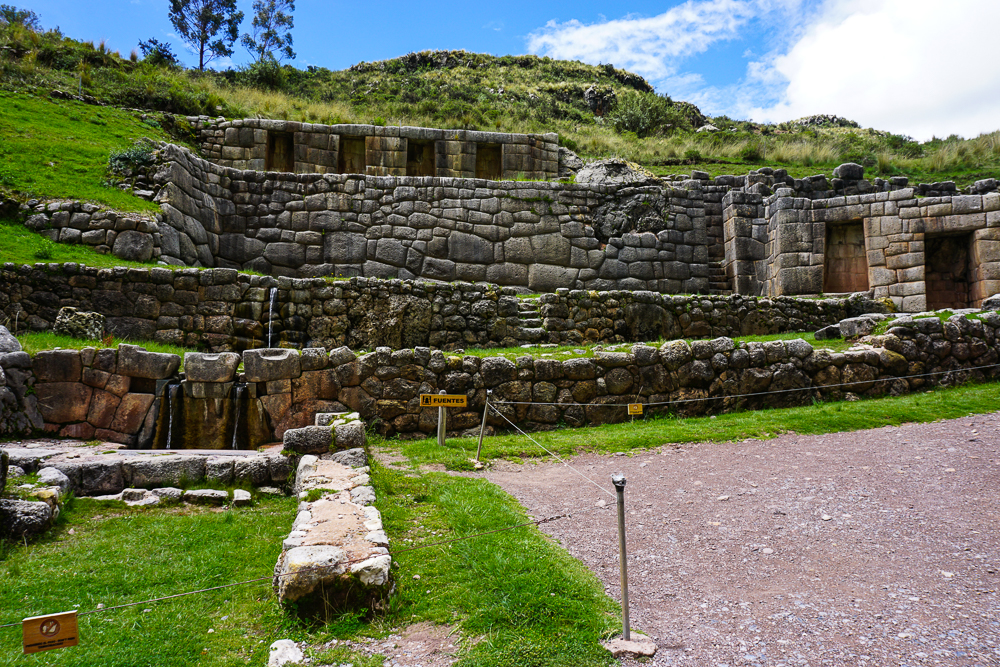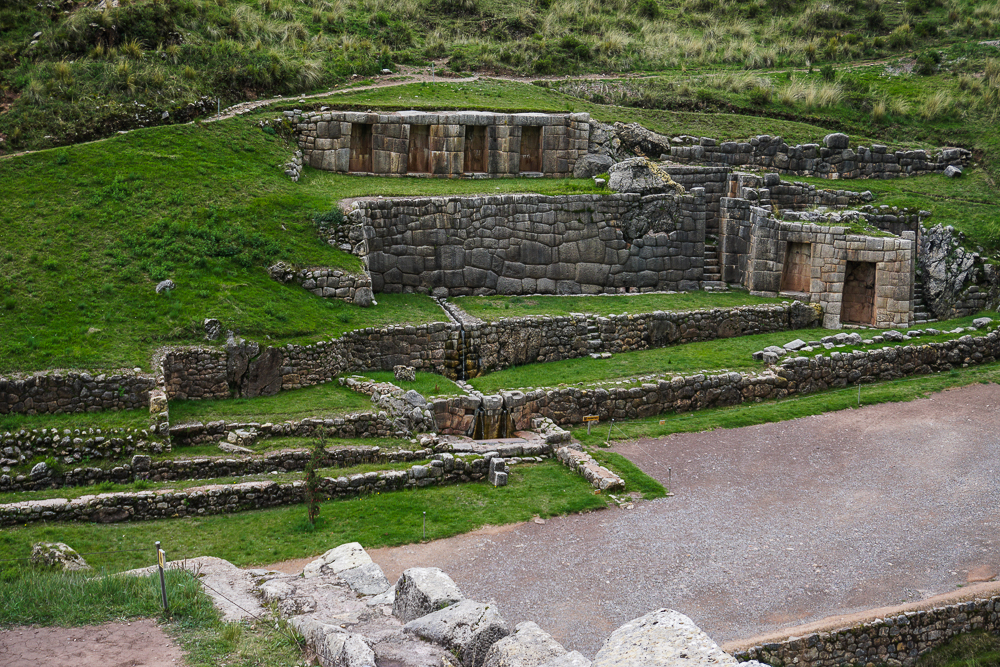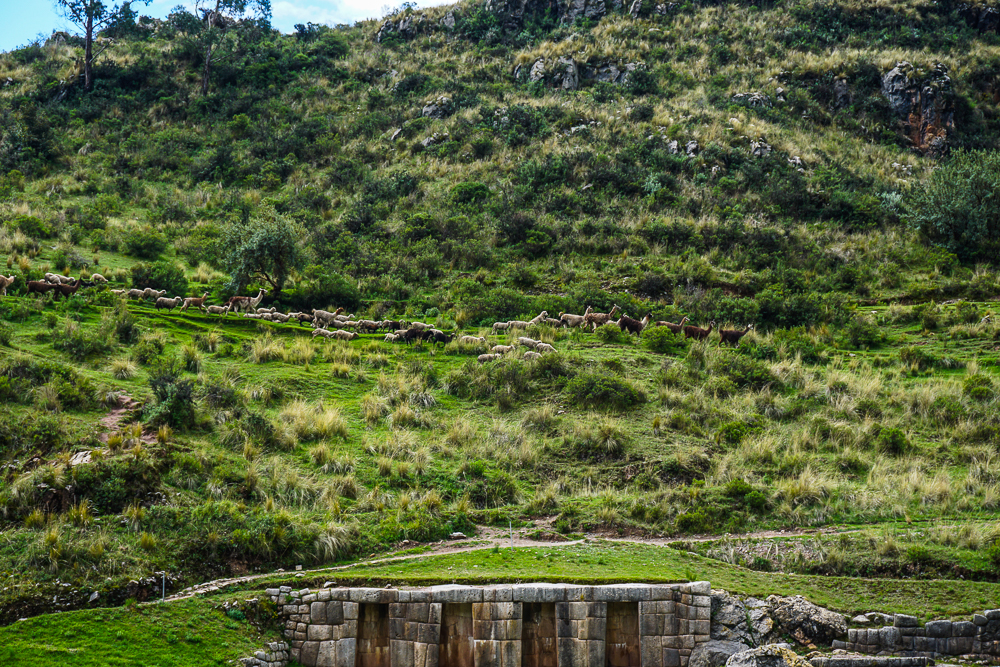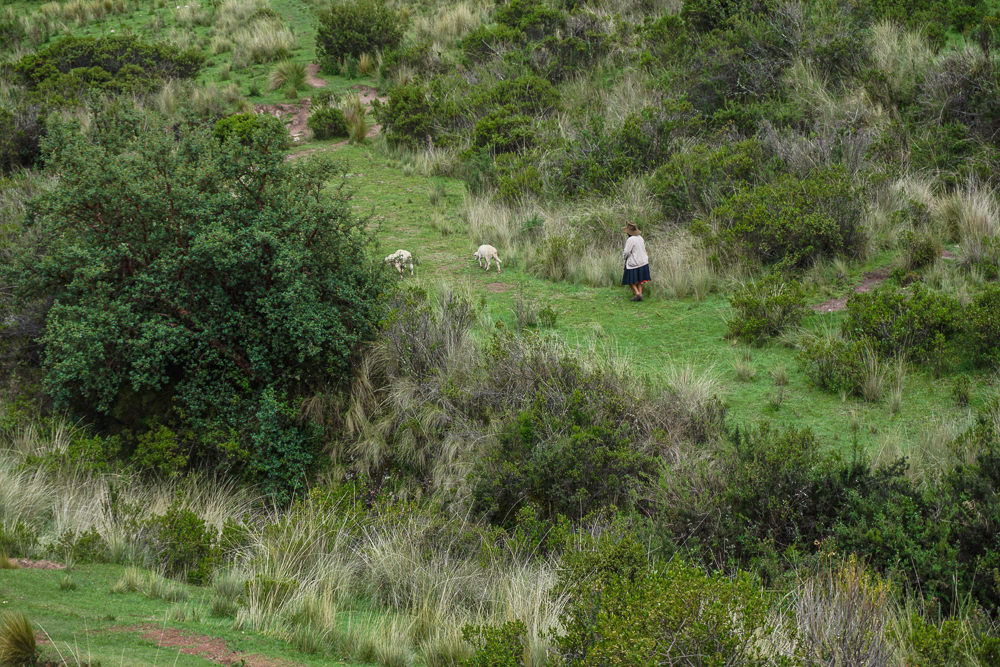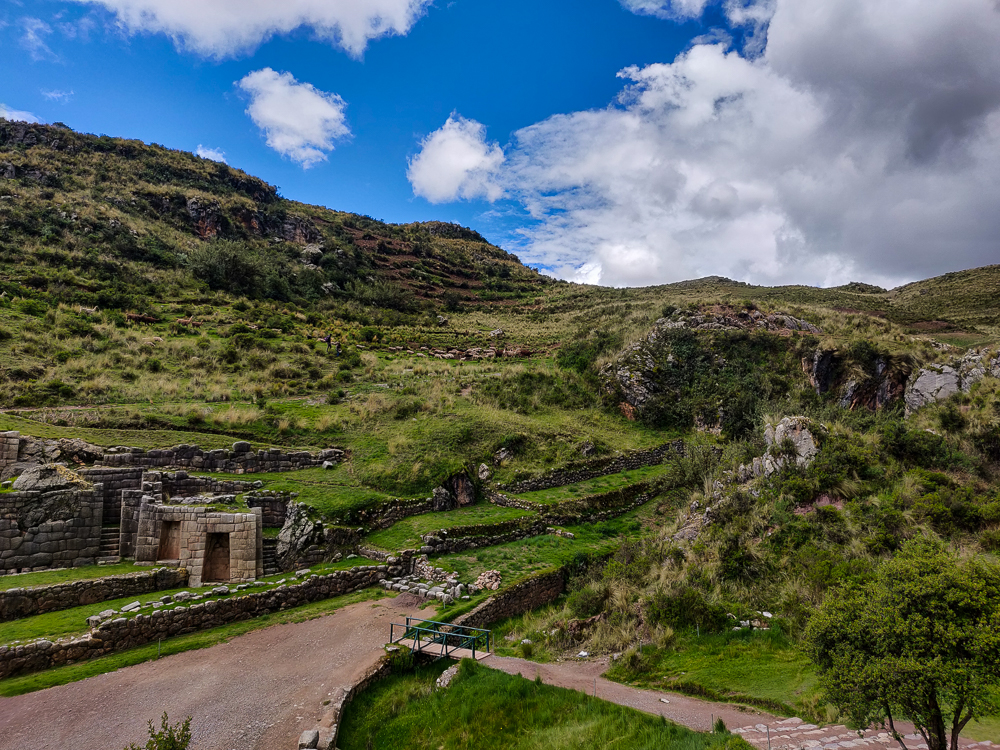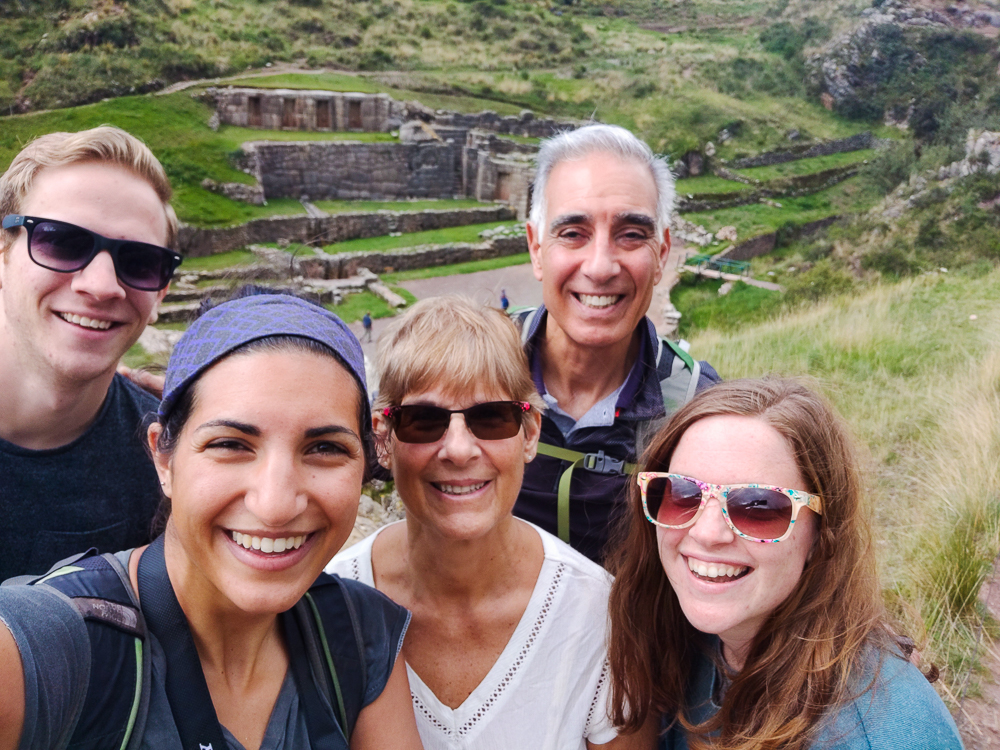 Across from the main fountains, there are the foundations of a destroyed watchtower. According to a park ranger we met at the ruins, it was part of a tower network used to spot enemies and communicate with surrounding towers. From the Tambomachay tower, they would have communicated with the people at Puka-Pukara, the site across the street and the next stop on our tour. Like so many other things, the Spanish destroyed it when they invaded. He told us that it was 30m high (100ft)! That seems amazingly tall for the time and technology, but it's gone now so who knows? And it's not like the Incas didn't accomplish other seemingly impossible feats.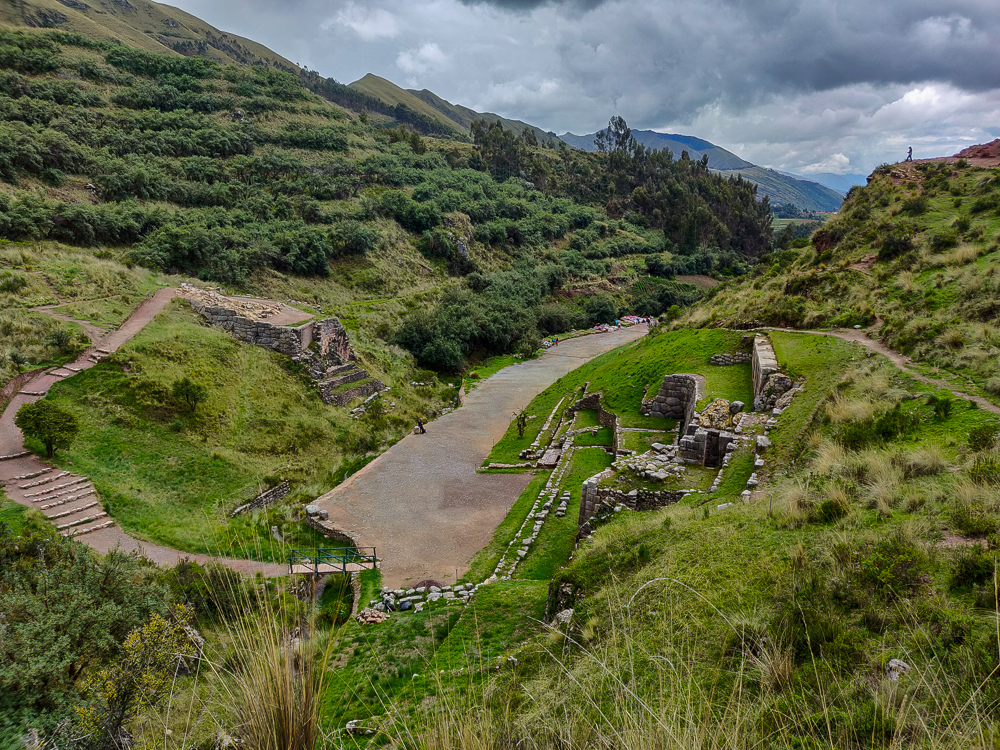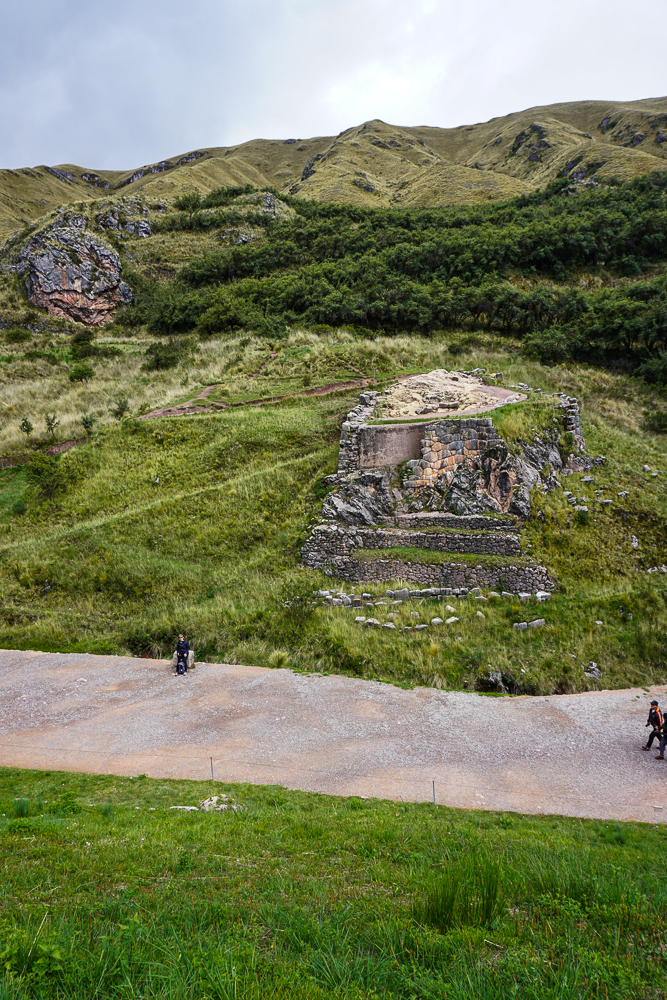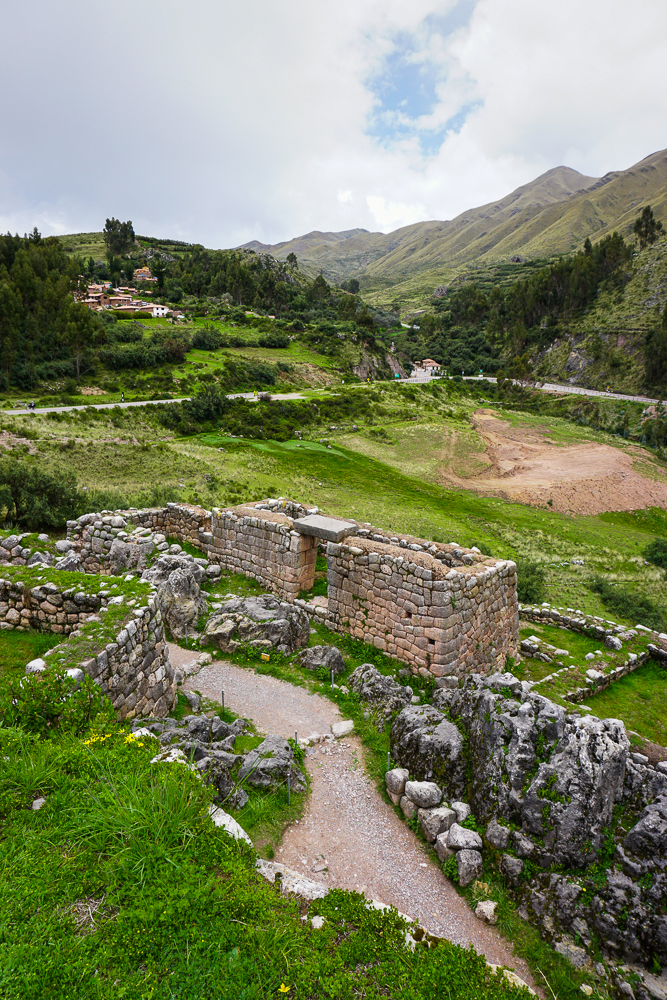 Puka-Pukara, which means "red fortress" in Quechua, was more of an observation post than an actual defensive fortress. The stones used in its construction have a red hue to them, and it's located on a natural high point with a clear view of the approaching valley. It was meant to protect the sacred Tambomachay and was also a lodge for travelers, offering shelter and food. Well, all of that is the speculated use, at least. It also was maybe a storage area and maybe a barracks and maybe a checkpoint for travelers. But whatever it is, it inarguably does have a great view of the valley.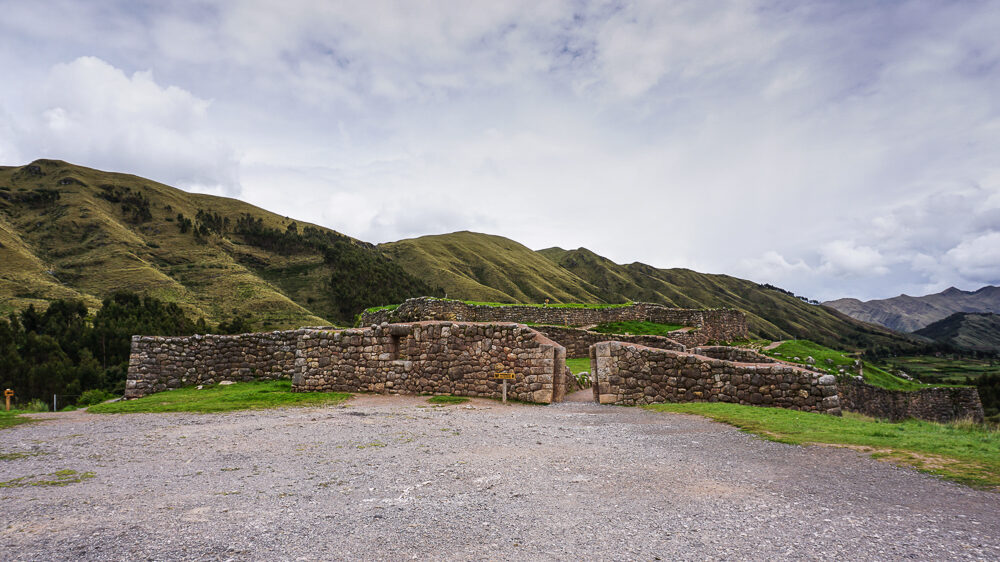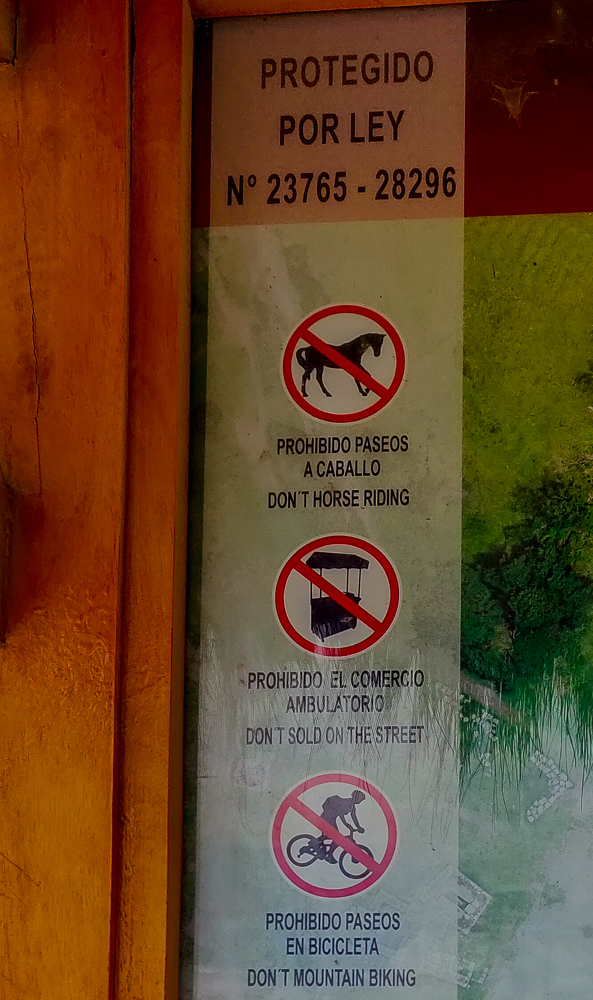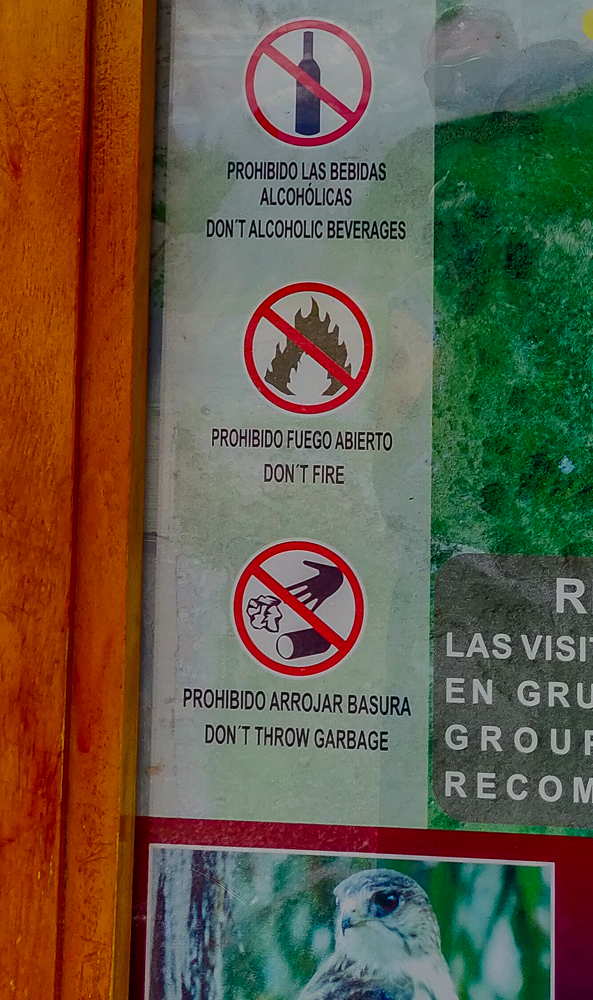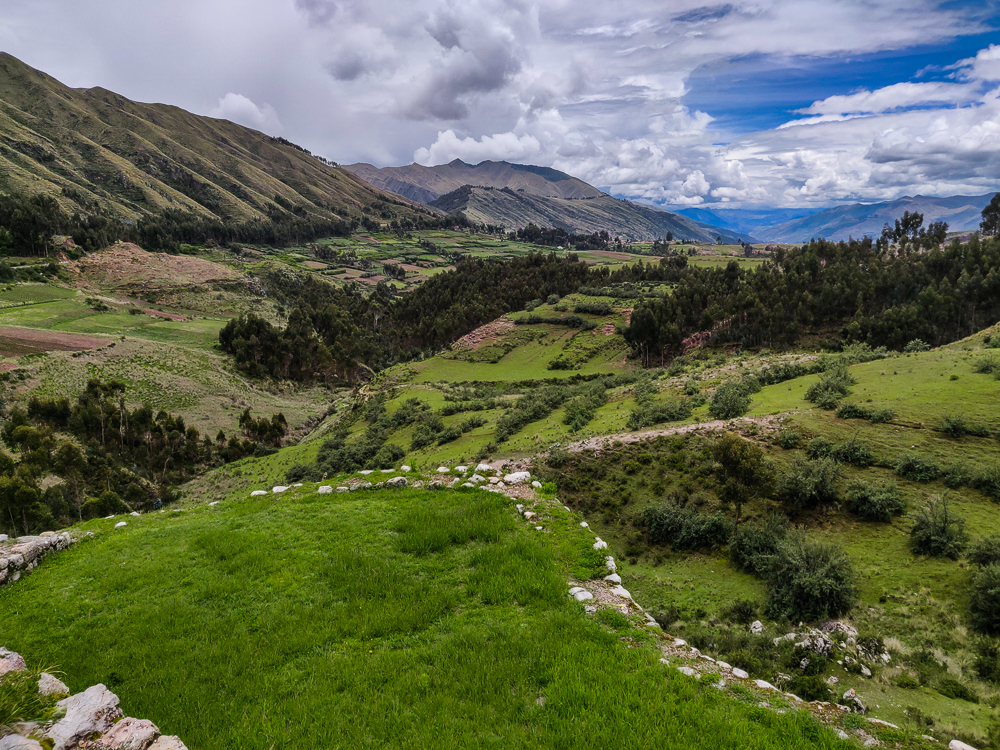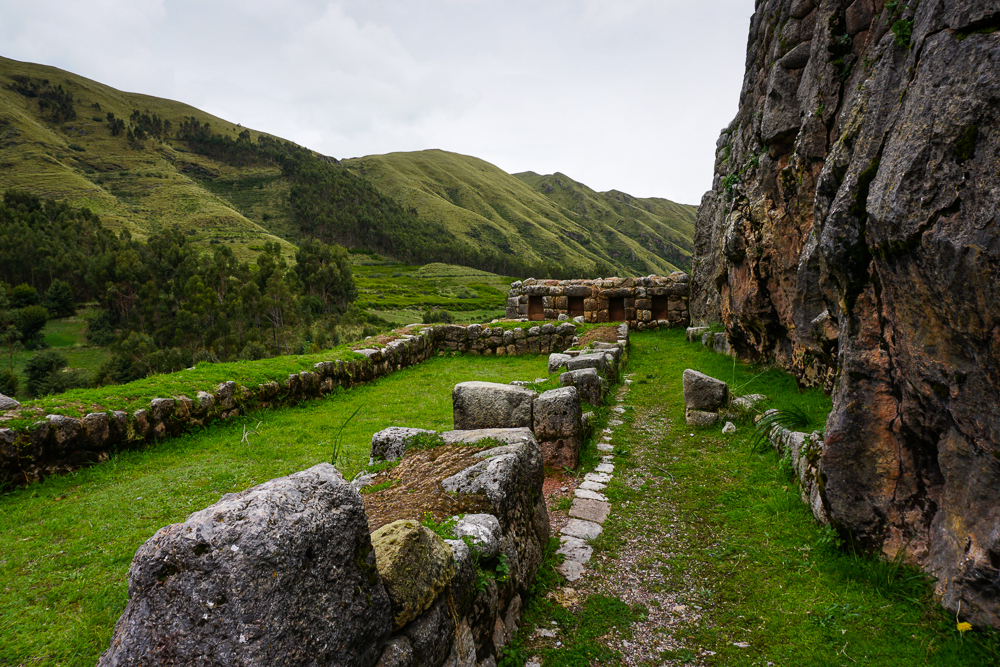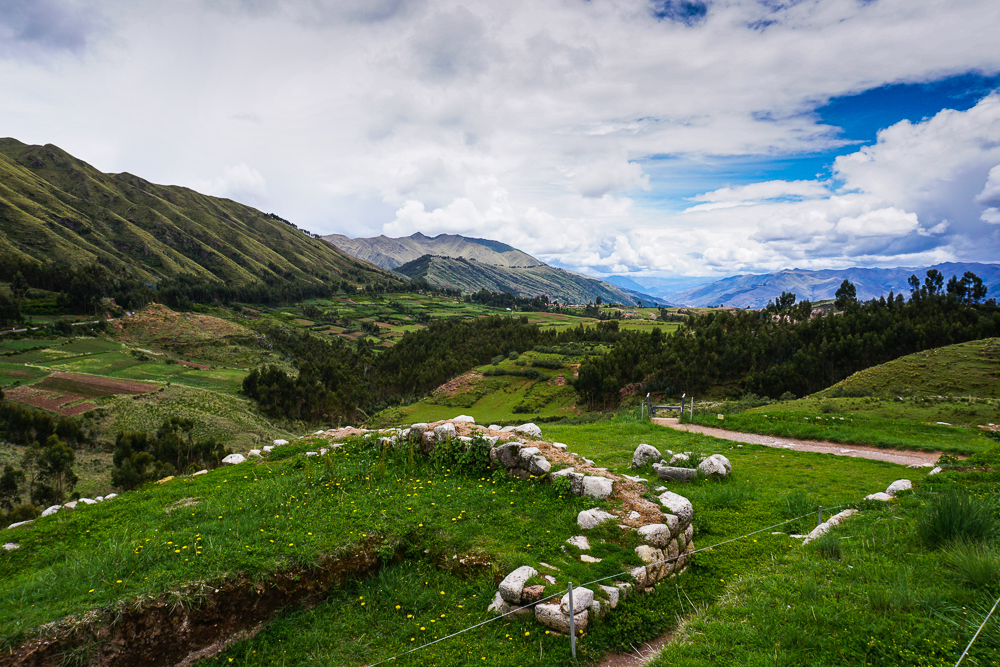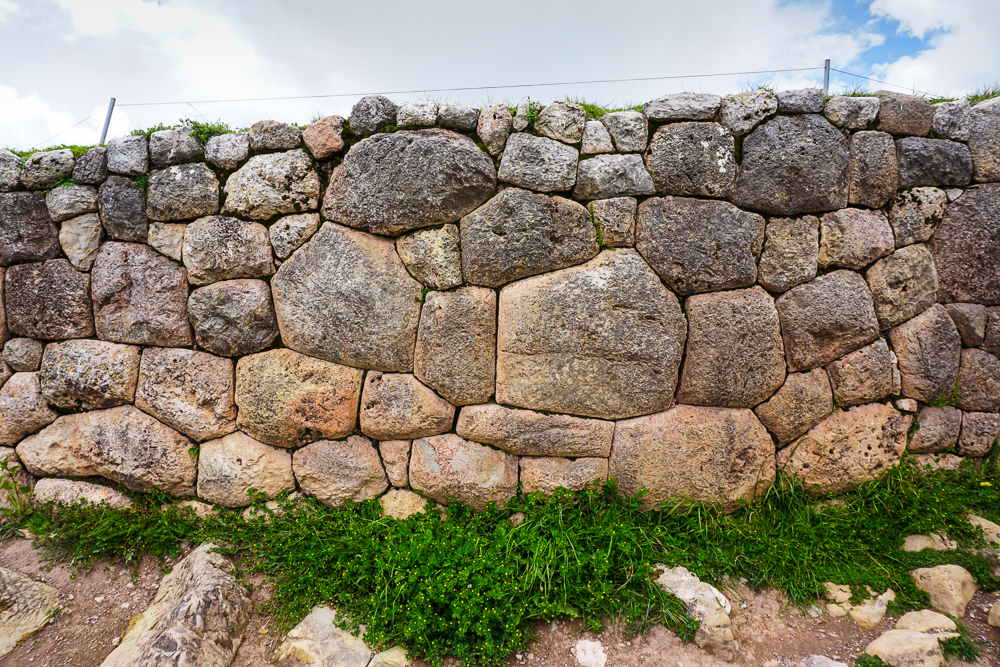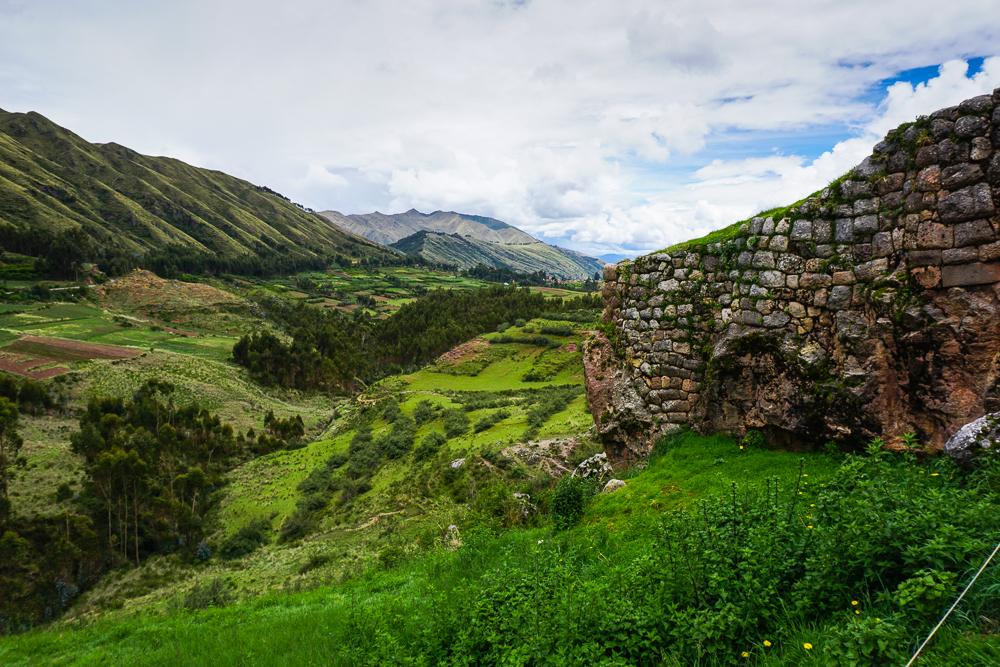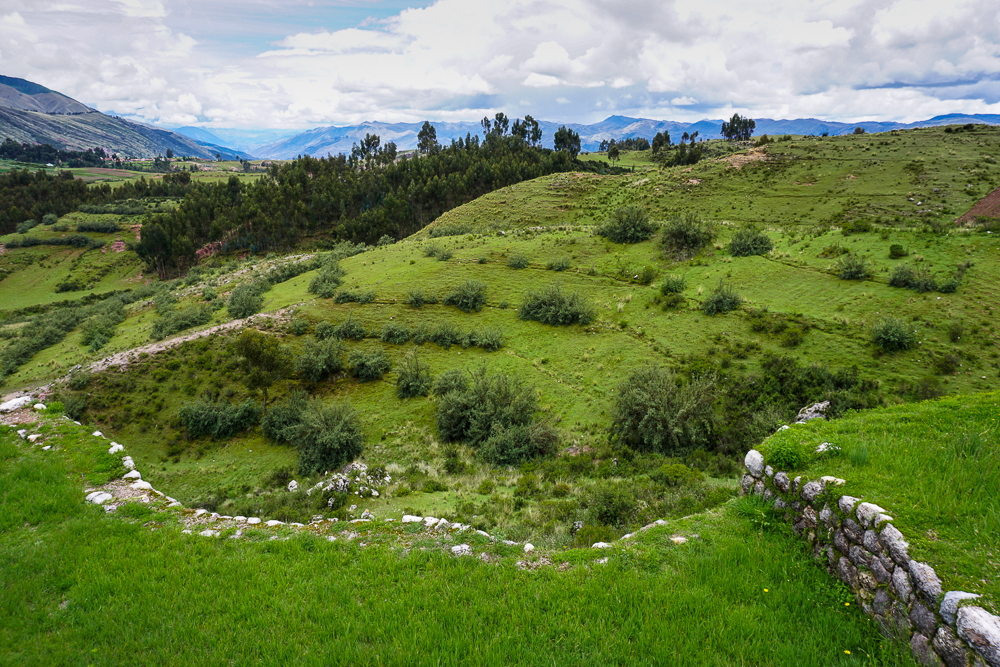 The next part of our adventure was the only part that I was worried about. The walk between Puka-Pukara and Q'enko, our next destination, is fairly long and not especially exciting. I didn't want to make my parents walk it if they didn't have to. There was plenty of mandatory walking in our schedule, so no need to wear yourself out on something that you could do by car! My hope was that we would find a colectivo (public mini-bus) going in the right direction, but you never know when those will come along, plus it was a Sunday which makes "schedules" even more erratic.
Welp. I shouldn't have worried. About half a second after we planted ourselves on the side of the road, a crazy colectivo came whipping around the corner, and we flagged it down. If you've ever seen/read Harry Potter, imagine the Knight Bus, though thankfully a mini-bus doesn't have quite the same tipping potential. Every colectivo driver isn't equally terrifying, but this one was absolutely on that level. Mom, Dad, and Benjamin found seats, and Jocelyn and I were left standing in the aisle. That was preferred, really, since we were the most experienced in uncomfortable public transit. It seemed like the driver was doing his best to knock us over, and he nearly succeeded a few times as we had to release our death grips on the seats to dig out some money – 1 sol (30 cents) each! Thankfully, we were only on there for about 5 minutes – enough to give my parents and Benjamin a taste of the colectivo experience but not long enough for permanent psychological damage.
Back on solid ground, we made our way across the street to the next site on our whirlwind tour, Q'enko. To be continued…
Next time, Q'enko and Saqsayhuaman!